Over a decade ago, Bitcoin laid the groundwork for many financial innovations to take place. Storing wealth without a bank, accessing funds globally without any institution, and becoming impervious to central banking money tweaks are just some of the benefits. For the past year, we have seen blockchain benefits starting to materialize in NFT gaming.
When connected to blockchain networks, in-game assets become transferrable and tradeable outside the game. Any digital asset can be minted as a non-fungible token (NFT). In turn, this capability transforms blockchain games into play-to-earn (P2E) games. This guide on NFT games showcases which P2E projects hold the most potential.
Most popular wallet to store & trade NFT gaming cards
High interest rates
Wirex
Non-custodial cross-chain wallet Create Wirex wallet
On Wirex's official Website
Limited time offer
$15 referral bonus
Trade NFTs
OKX Wallet
Free non-custodial Web3 wallet
Learn more
On OKX's Secure Website
Limited time offer
Up to $10,000 bonus
Wallet Connect
ZenGo Wallet
No seed phrase vulnerability
Download ZenGo
Available for Android & iOS
Limited time offer
$10 referral bonus
Digital assets empower gamers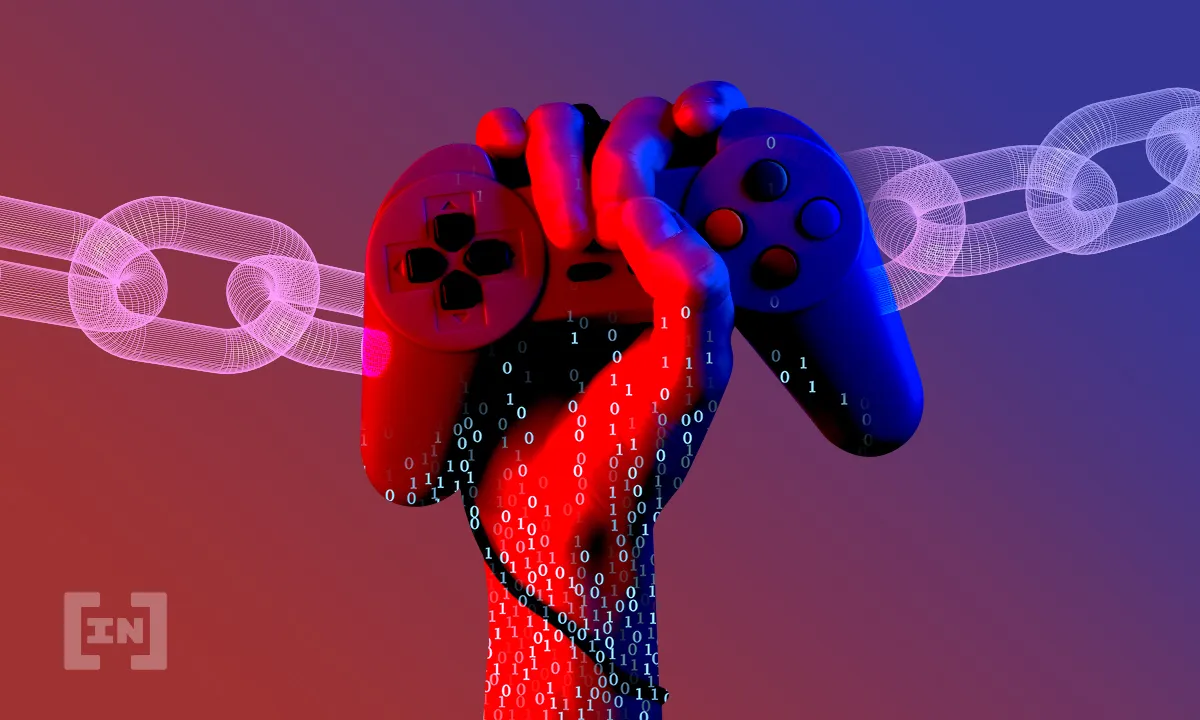 Thus far, earning money in games has largely been a one-way street. Publishers release a game on a digital platform such as Steam, Epic Games Store, Origin, GOG, or Green Man Gaming. More often than not, even fully-priced titles have in-game transactions attached to them in the form of character and weapon customization. These monetization models are forecasted to yield up to $65 billion in 2022, according to Statista.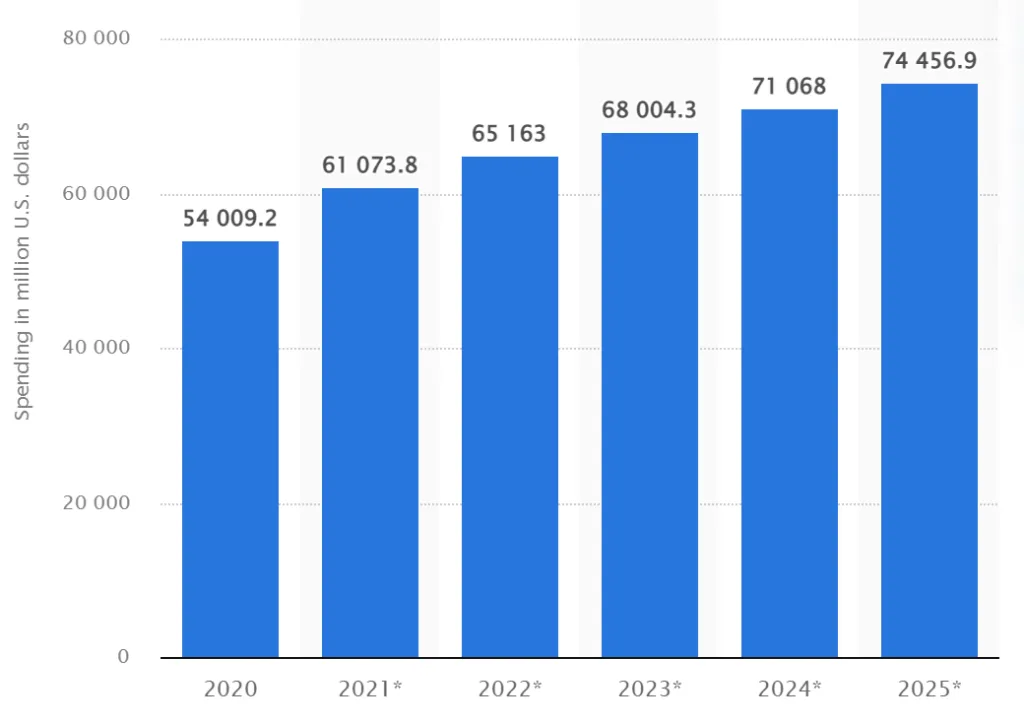 Those games that are not fully priced (free-to-play) entirely run on in-game currencies for monetization. Case in point, Roblox, with its impressive 43 million daily users, relies on Robux to fund the game. Likewise, Fortnite, with double the monthly active users, has V-Bucks. However, both in-game currencies are rudimentary.
They simply represent allotted points converted from fiat money packages. For example, $32 would grant the player 5000 V-Bucks to spend on dance moves, emotes, outfits, gliders, etc. And once those points are spent, that's it! Digital assets are forever locked to that gaming account. Players can't do anything with them.
This is why, outside of special esports events and sponsored streaming, there was no way for gamers to earn money based on the accumulation of in-game assets. NFT games change this dynamic completely, revolutionizing the relationship between developers and players. Typically, developers achieve this by setting the in-game economy based on two types of digital assets — NFTs and the game's native tokens.
What makes NFT gaming revolutionary?
To understand a novelty, it is best to show by example. Ubisoft, one of the biggest North American video game publishers, is the first one to set the stage for NFT games as a triple-A publisher. The first game to include NFTs is the shooter Ghost Recon Breakpoint from the iconic Tom Clancy franchise.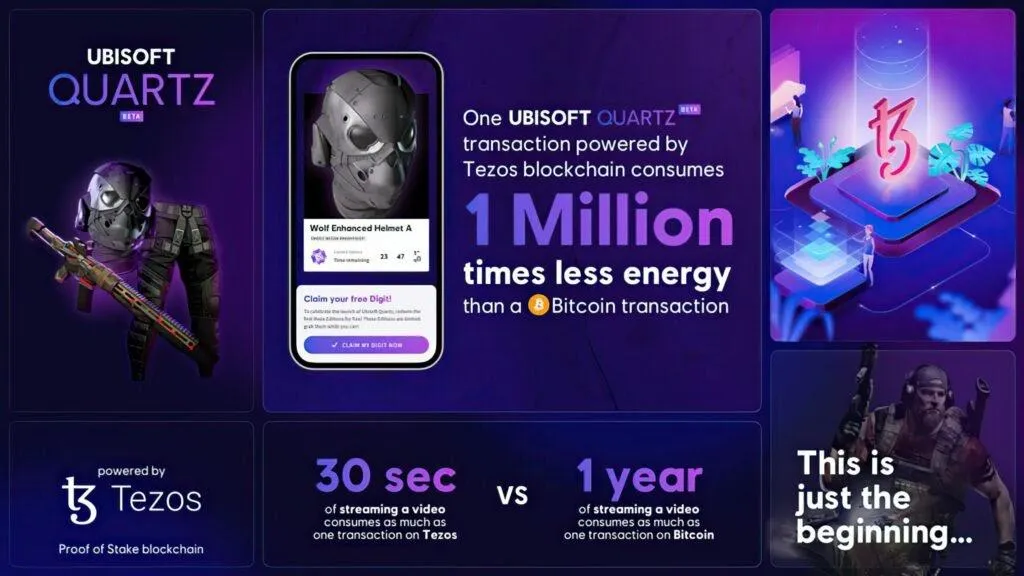 The monetization setup is the following:
On Quartz marketplace, players can trade in-game NFTs they have earned through playing the game.
These NFTs range from weapon skins to limited-edition gear, called Digits. Therefore, they are standard customization items, but this time they are tokenized, so they can be exported outside the game.
The NFT marketplace is run on the Tezos network, a fast and eco-friendly proof-of-stake blockchain. This means that the native cryptocurrency for NFT trading is XTZ, currently worth $4 per 1 XTZ.
Although Ethereum is the dominant blockchain for NFT marketplaces, with its ETH native cryptocurrency and over 2,900 DApps, many marketplaces have started linking to Tezos as well. For example, OpenSea, the largest NFT marketplace with a $14.68 billion trading volume, has announced Tezos NFTs. Likewise, Rarible already supports it.
The process means that buying and selling NFTs is easier than ever. One simply has to install the MetaMask wallet extension and link it to an NFT marketplace. This Web3 integration is the key revolutionary step in exporting in-game assets into the wider world. Depending on the blockchain, some wallets have wider support than others.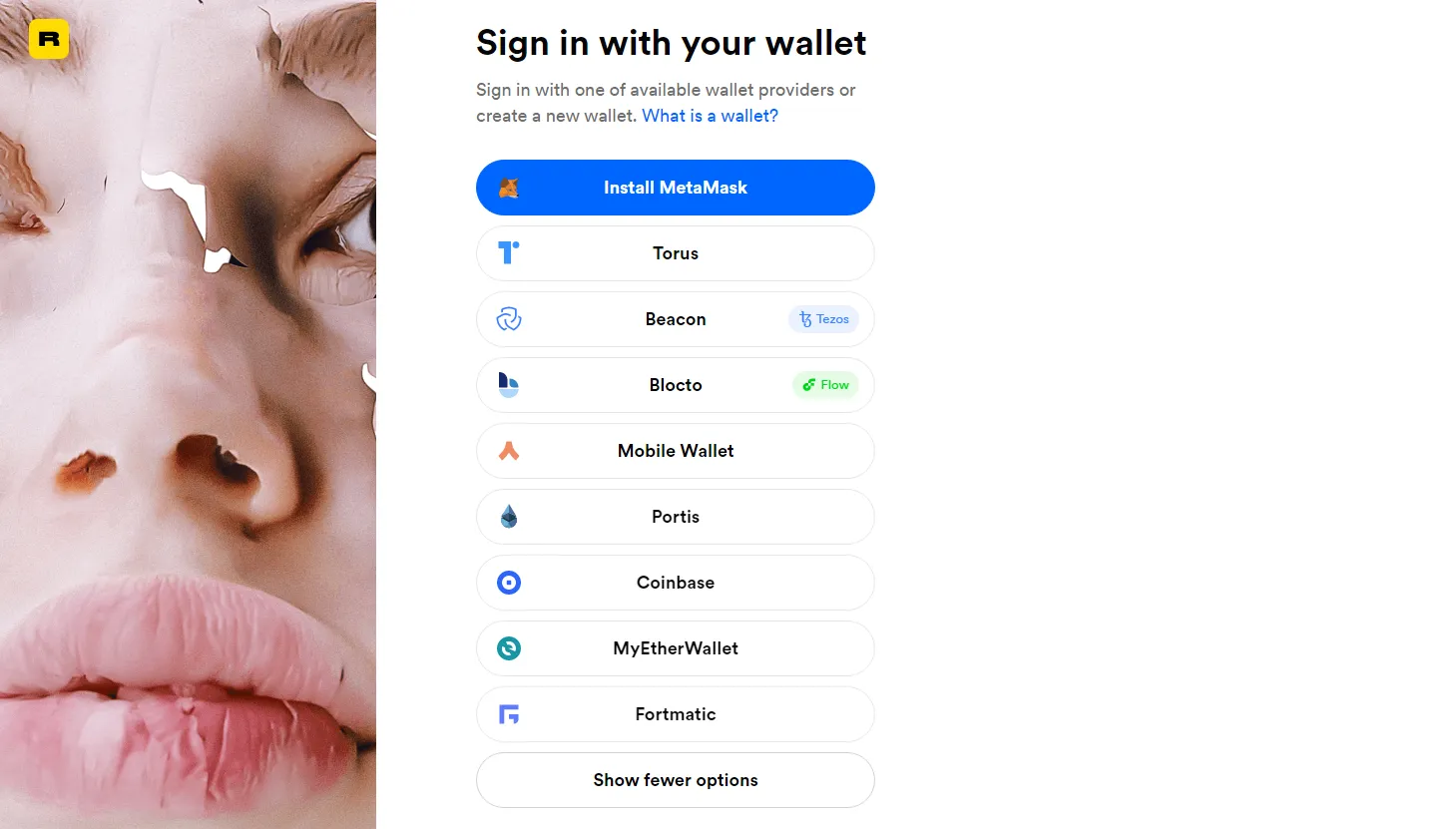 Because of high ETH gas fees, people have started to prefer alternatives, such as Polygon, Ethereum's layer 2 scalability solution. At least, until Ethereum completes its ETH 2.0 upgrade.
Passive income with ease
Once your wallet is linked to an NFT marketplace, all the crypto funds from selling NFTs go into it. Then, it is a simple matter of converting the cryptocurrency into fiat money on exchanges like Binance, Coinbase, Gate.io, Kraken, and many others.
This process is how play-to-earn games transform isolated in-games assets into steady streams of income. The era of blockchain games is just starting, often conjoined with metaverses.
You're going to need a little capital to get started. So, head over to this link (for U.S. users) or this one (for non-U.S. users) to grab some ETH.
How do NFT games make a buck?
So, what makes NFT gaming lucrative? Because NFT games run on a blockchain, everything is quantifiable and transparent. More importantly, everything is programmable. Meaning, whenever a player trades an NFT, the company gets a percentage of that transaction. After all, NFTs are just smart contracts holding digital assets.
Likewise, NFT games have their own native tokens that can be exchanged for real money. They pay for NFT transactions, allow people to vote on the game's development, enable staking and paying for in-game assets. This will all become clear as we go through the top 14 NFT games.
Suffice to say, in an open-world metaverse game like Decentraland; players use its native token MANA to buy all kinds of virtual goods. They range from land plots, plants, and vehicles to gear and outfits.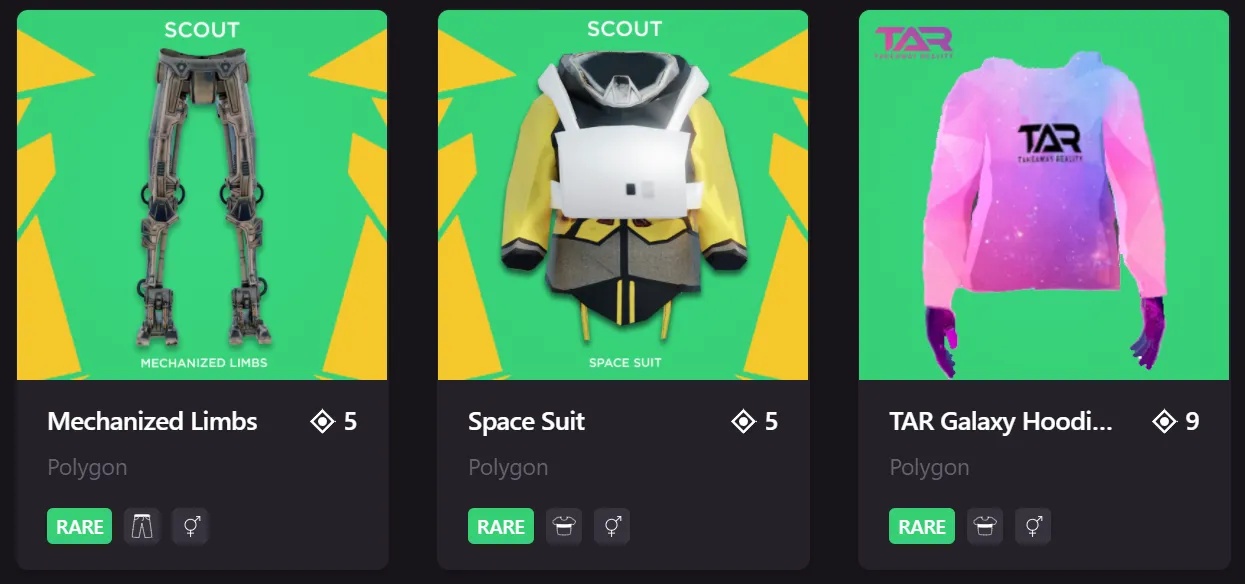 Out of every NFT sale, Decentraland developers get a cut. At the same time, the Decentraland MANA token allows people to transform digital assets into NFTs via its Builder module. The more the game becomes popular and its token in demand, the more the token appreciates in value.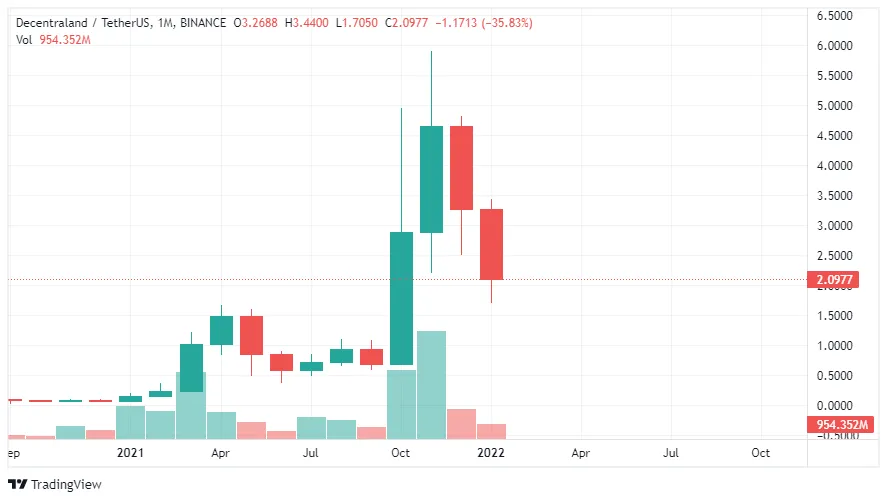 In Dec. 2021, Decentraland recorded 300K monthly active users, which is a far cry from the likes of Fortnite and Roblox. This also means that its MANA token is yet to lift off. That is, if Decentraland plays its cards right and doesn't get stomped by competitive blockchain games.
With the basics of NFT games cleared up, here is how the most popular ones work in action.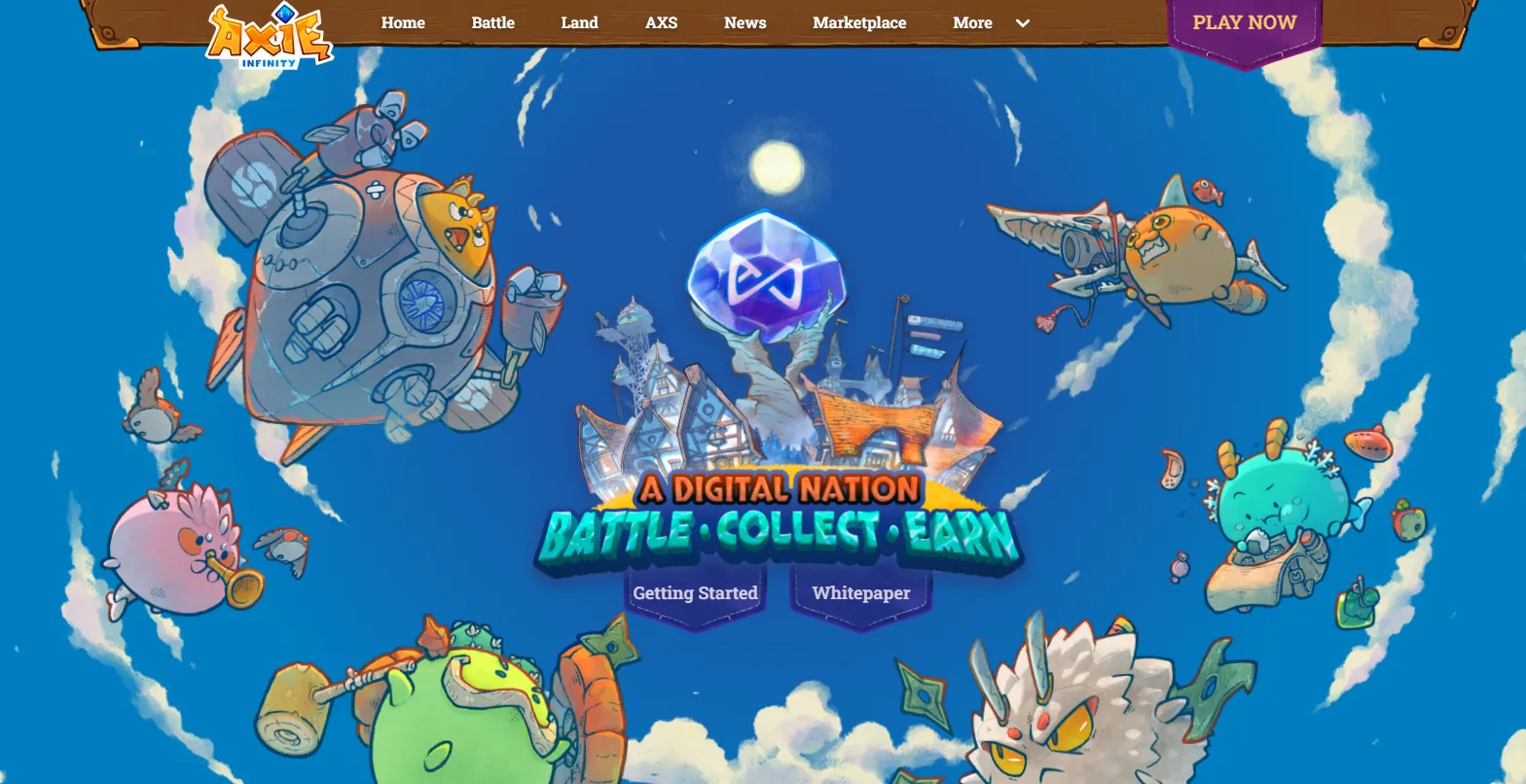 Launched in Mar. 2018, Axie Infinity set the stage for the entire NFT gaming space. Headed by Trung Nguyen, Sky Mavis, the Vietnam-based team, pioneered a highly addictive NFT game that many now use as an income source. Presently, Axie Infinity boasts over 2.7 million active monthly players, exploding in popularity as of Sep. 2020.
Since then, Axie Infinity has become a mini-economy of its own, having generated $2.3 billion in revenue. In fact, its own marketplace is second to only OpenSea, at $3.94 billion total trading volume.
Axie Infinity is all about engaging in tactical, ability-based combat. The player takes control of three Axies, fantastical, rotund creatures, which are also tradeable NFTs. Players receive Smooth Love Potion (SLP) as a reward for winning battles. This is the in-game resource and a tradable token used to evolve Axies, just like one would do with Pokémon.
Each Axie has four main attributes that are amenable to evolution: health, speed, skill, and morale. In turn, these attributes determine Axie's performance in combat. Predictably, those Axies with the highest performance score, receive the highest price on the Axie Infinity NFT marketplace. Furthermore, although 2D, Axie is a complex metaverse, consisting of crafting, land plots, biomes, roads, farms, potions shops, etc.
Game economy
Effectively, three digital assets run Axie Infinity's multi-billion dollar economy:
Smooth Love Potion (SLP) for Axie breeding
Axies as NFTs — the core of the economy. Their price can range from $60 to over $300 on the Axie Infinity NFT marketplace
Axie Infinity (AXS) token — the native governance token of the blockchain game. Sometimes referred to as Axie Infinity Shard tokens.
Additionally, players can buy NFT land plots, as their base of operations. However, this is often the most expensive part of the game, reserved for the wealthiest.
Both AXS and SLP tokens are earned by playing the game, while players can also use AXS for staking and voting on the game's development proposals and fees. Just like you would deposit money in a bank, AXS staking means that you lock up the tokens in a liquidity pool. In exchange, the player receives more AXS tokens. This serves as the incentive to support the whole ecosystem.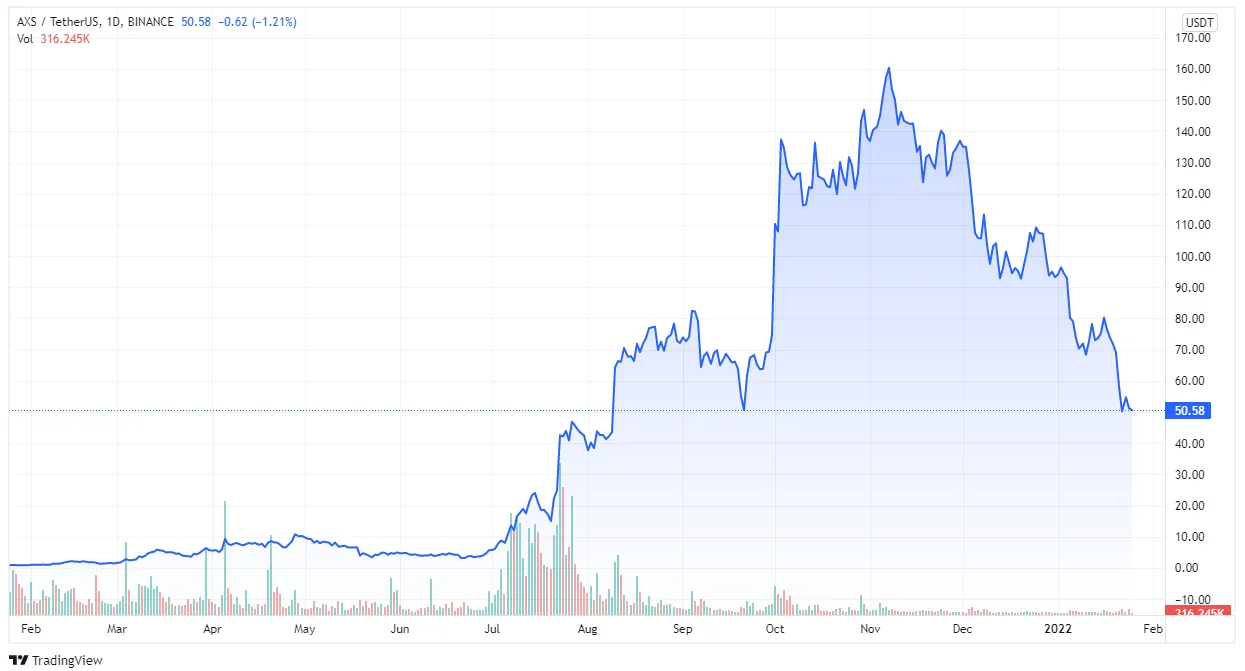 There are 270 million AXS tokens in total, of which 21% is in the possession of Sky Mavis as a funding vehicle. For play-to-earn issuance, 20% of AXS tokens have been allotted over 4.5 years. Presently, 1 SLP is worth $0.0187, while 1 AXS is worth $75.45.
If one were to play Axie every day, it is possible to earn around $400 per month. Suffice to say, Axie Infinity is a highly complex world. Each cog would warrant a long guide of its own, which is why this trend-setting NFT game became so widely popular.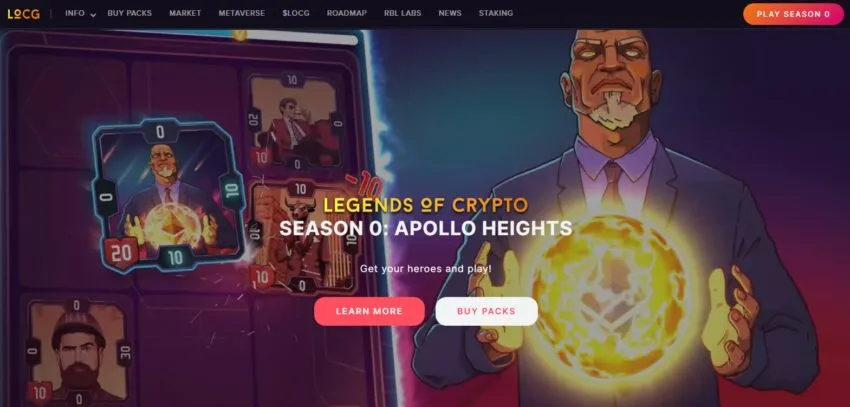 LegendsofCrypto (LOCGame) is one of the more recently launched NFT games on this list. Developed by RBL labs, LOCGame is an NFT collectible strategy card game, which also features a metaverse that allows players to interact in a variety of ways. From passive income streams to NFT galleries, the game plans to include a wide variety of features to keep users engaged.
The metaverse itself is called Cryptise City, and it has a powerful narrative backing the metaverse up. The city will include a VIP club, an NFT gallery, a club, a laboratory, a temple, and a battle arena, among other things. The team has also released a music album on Spotify.
The LOCG token can be used for both governance and for staking. For in-game activities, players are rewarded with an in-game token that can later be exchanged for LOCG. Broadly speaking, the use cases of LOCG are payments, governance, staking, access, and play-to-earn.
The LOCGame marketplace allows users to buy cards, and they can view all the cards in the "Card Library" on the official website. If they wish to sell their cards, they can visit the marketplace. There are several game modes as well, including both PvE and PvP. Players will be able to take part in both leagues and tournaments, adding a serious competitive flair to the gameplay.
DeFi Kingdoms (DFK) is a newcomer to the blockchain gaming scene, released on Aug. 22, 2021. However, it was primarily launched as a decentralized exchange (DEX) for yield farming. Reminiscent of a pixelated King's Bounty from the 1990s, the clue is in the title. DeFi Kingdoms is a gamified, visualized decentralized finance protocol, as if Uniswap suddenly got a medieval aesthetic.
Over the course of last month, nearly 160k users have been engaged in blockchain-based kingdom management, conducting a $1.68 billion trading volume across 8.14 million transactions. These transactions are powered by the Harmony network. It uses sharding as a scalability solution to create parallel chains, which then connect to Ethereum, Avalanche, and Binance.
With technicals out of the way, what does it mean to play DeFi Kingdoms? Those familiar with 4x management and civilization games would find the setting and style familiar.
The economic power of Kingdoms revolves around the JEWEL token, used in:
Token swapping within its DEX
Staking as liquidity providers within in-game's Garden and Bank. While the Bank allows for staking in exchange for dividends, the Garden provides land plots based on the size of the staked token pool.
NFTs as interactive heroes for-hire alongside land plots. Each hero has RPG-like stats and traits, including pets.
Therefore, JEWEL is both the in-game currency and tradeable cryptocurrency, with a maximum supply of 500 million JEWELs. From heroes and pets to land plots, JEWELS pay for everything, with a fraction of proceeds going to developers. The token's ATH price was $23.36 on Jan. 5.
Being recently released, DeFi Kingdoms is still in development, with a fully-featured battle system and tournaments planned. This RPG module would then go hand-in-hand with the economic management of the realm.
Gods Unchained is a trading card game (TCG) trying to mirror the success of Magic: The Gathering. After raising $15 million in 2018 by selling millions of cards, brothers James and Robbie Ferguson have created a triple-A card collecting and battle experience akin to Blizzard's Hearthstone. In fact, those who have played Hearthstone will feel right at home.
Interestingly, Chris Clay is the game's director, previously having worked on Magic: The Gathering Arena, Lord of the Rings Online, Asheron's Call, and Infinite Crisis MOBA. Other team members have a similarly impressive background from Google and Riot Games.
Because of generous funding and technical expertise, Gods Unchained doesn't only look good, but it is the first blockchain game to be released on Immutable X, founded by Robbie. This ZK Rollup scalability solution for Ethereum offers low fees and snappy transactions.
You have 30 NFT cards in your deck. So if you want to get rid of one or more cards, you can sell it for a fixed price, auction or sell in bundles on OKX NFT Marketplace.
The cards are ranked by four tiers of quality: diamond, gold, meteorite, and shadow. Although smaller than the action/shooter market, TCG sector is still formidable, projected to grow annually by 7.8% from 2022 to 2026. Presently, card gaming revenue sits at $6.46 billion, according to Statista.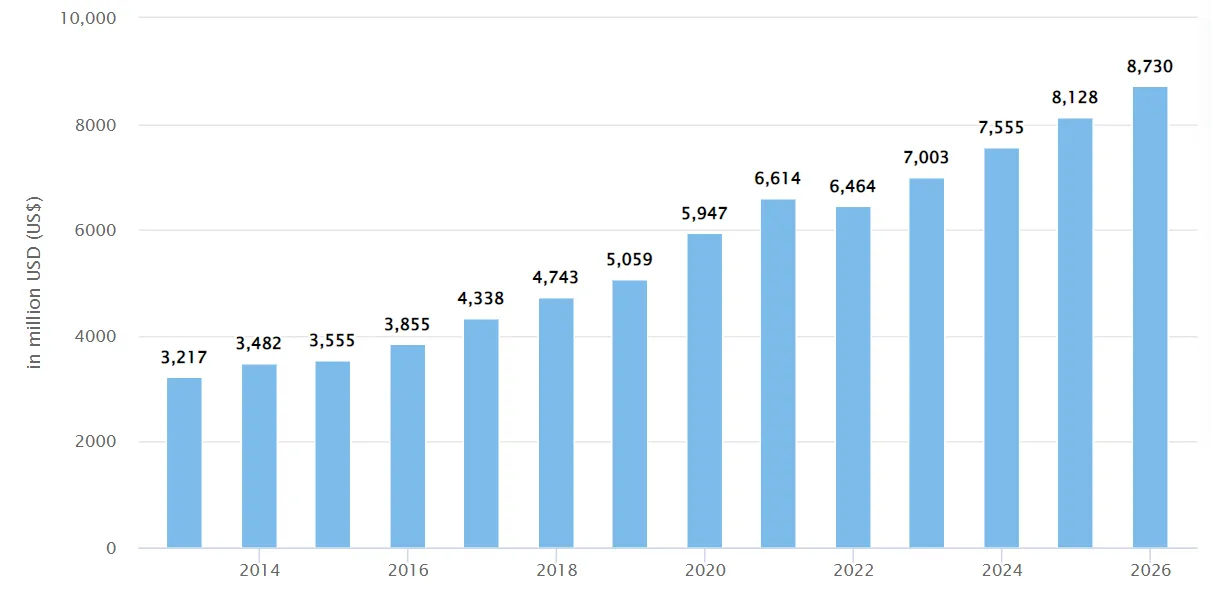 Within that market, Gods Unchained is just getting started with over $17 million worth of cards exchanged. Next to tradeadable NFT cards is the GODS token, the game's native coin. Players earn GODS by playing the game and winning tournaments. Then, they can use GODS to craft new cards, buy chests and card packs, or stake the token to earn yield rewards.
Game economy
Of course, players can both sell NFT cards and GODS tokens for real money. The latter is capped at 500 million tokens.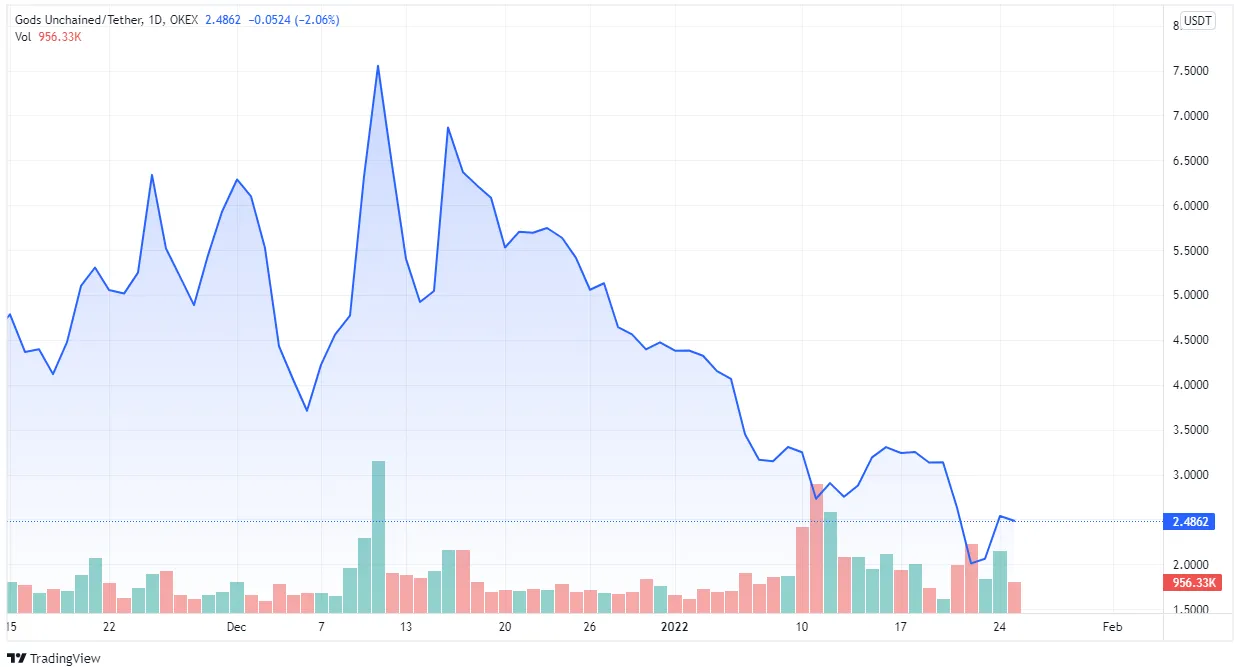 GODS' ATH price was $8.83 relatively recently, on Dec. 10, 2021. Because it is on Immutable X, layer 2 networks for Ethereum, card-collecting enthusiasts would be pleased to note that NFT-card minting is gas-free and nearly instantaneous. Given its exceedingly high production value, and the ability to earn real money instead of just sinking time, Gods Unchained has what it takes to become the star of blockchain TCGs.
Alien Worlds is similar to DeFi Kingdoms, but in space. Sarojini McKenna and Michael Yeates have deployed this sci-fi NFT game over three blockchains so far — Ethereum, Wax, and Binance Smart Chain, where it really took off at the end of October.
Across the blockchains, Alien Worlds metaverse crossed the one million user count threshold as of Sep. 2021, being the first blockchain game to break the 100k user ceiling. What's special about Alien Worlds is its real-world background. Namely, McKenna and Yeates tried to install a decentralized governance system in Liberland, a no man's land on the border between Croatia and Serbia.
With this knowledge in hand, they created Alien Worlds as a system of DAOs — decentralized autonomous organizations — spread across six planets. As you might imagine, such governance simulation can get complicated.
Simplified, players mine Trilium (TLM), the game's native token. Trilium gives them DAO voting rights, staking, and weekly planetary elections. Based on their TLM pool, they exert their voting influence in picking council candidates, or they can themselves run for planetary council. In turn, council members decide how the planetary treasury is distributed.
Essentially, just as one would think of real-world elections and national budgets, if they are tokenized and in space. While Trilium powers the economy, the gameplay itself revolves around NFT management: land, tools, minions, weapons, avatars, and even missions.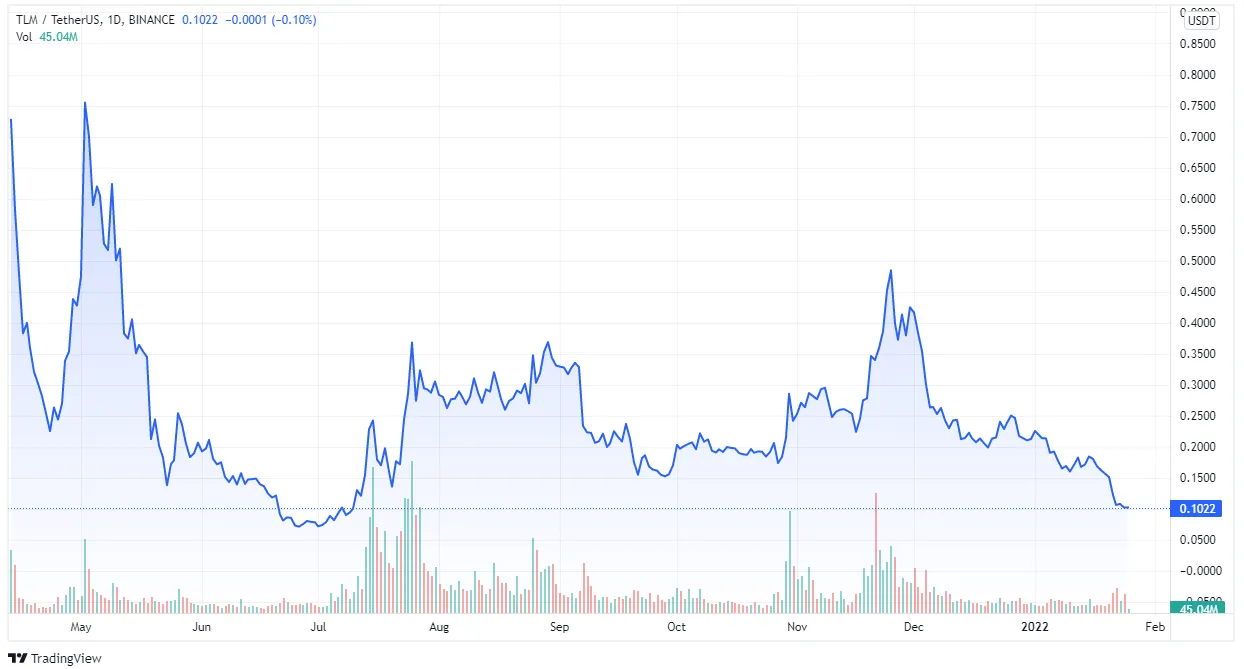 After an initial growth spurt in Apr. 2021, when TLM reached its ATH price of $7.19, the native coin has been trading well under $0.5 since. Perhaps, 10 billion TLM tokens is too large of a supply in this stage of the game's development?
Mines of Dalarnia (MoD) is hailed to be the next Axie Infinity. Developed by two blockchain startups, Workinman Interactive and Chromia Studios, the game launched in Nov. 2021. MoD is the first 2D blockchain with procedurally generated levels. The player actively controls a miner, similar to an arcade platformer game.
With each mine run, the player collects various resources, artifacts, and rare relics. These are then employed for crafting and combat. Likewise, there are different biomes to explore: Terra, Lava, Ice, and Darkness. Once you go from mining to crafting weapons, you have to fight various monsters to gather items.
Unfortunately, the deeper the mines, the tougher the enemy encounters alongside their unique attack types.
Game economy
Just like in Axie Infinity, players can also buy land plots with the game's main token DAR, first launched on Binance Smart Chain. These land NFTs can be rented in exchange for DAR rewards, used for DAR giveaways, or for resource airdrops. The maximum DAR supply is 800 million coins.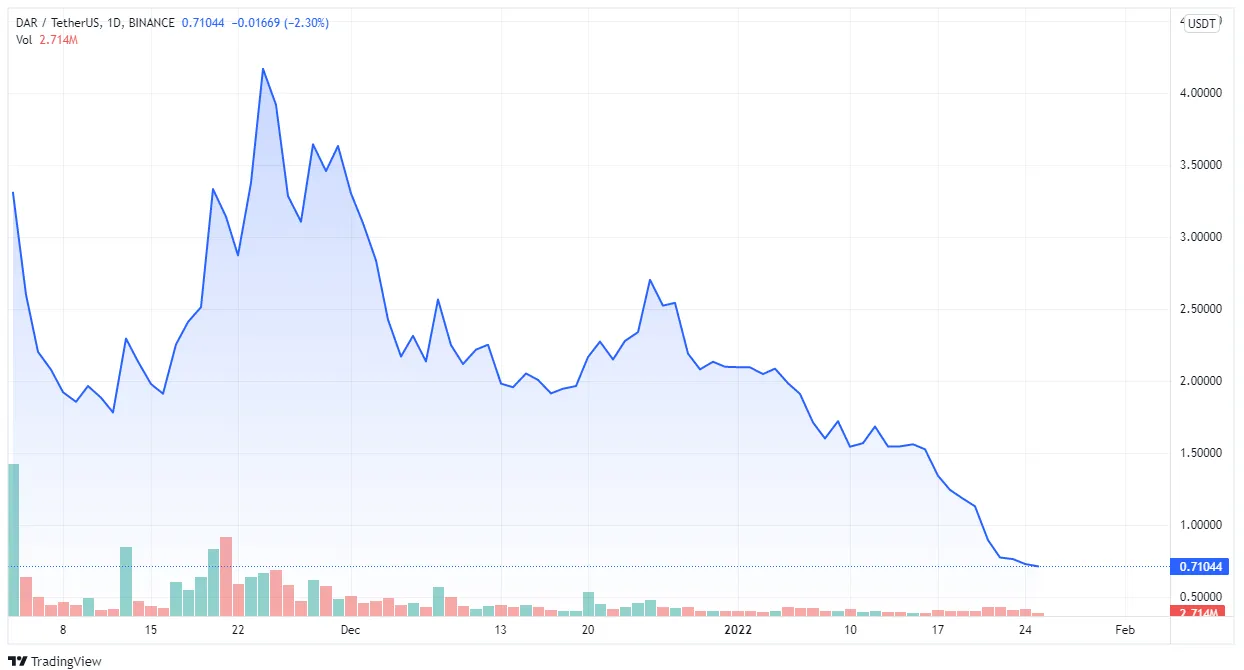 Although promising, Mines of Dalaria's DAR has yet to repeat the performance of AXS. DAR's ATH price was $4.91 in Nov. 2021, having dropped by over 70% since.
To start the game, players first have to buy a starter pack, consisting of pickaxe and an oxygen supply. Dalaria's NFTs are all items encountered in the game, from relics and artifacts to land plots. Moreover, as of Oct. 2021, developers boosted the Dalaria metaverse with the Mining Apes NFT collection.

Consisting of standard 10k mining apes, they can accompany the player on their mining ventures. Additionally, they boost the chance of receiving DAR tokens, based on their rarity. Lastly, they make the NFT holder eligible for access to free NFT drops in the future.
Still in development, for 2022, Dalarnia should see planetary storyline release, additional gameplay types, in-game chat, social features, side quests for DAR rewards, and NFT-based derivatives.
Yet to be fully released in 2022, My Neighbor Alice is building upon the success of Farmville. This was Facebook's game launched in 2009, spawning the virtual farming management franchise. My Neighbor Alice shares its pedigree by being a multiplayer blockchain NFT game. Likewise, it borrows inspiration from Animal Crossing, published by Ninentio as a social simulation game.
In My Neighbor Alice, NFT land plots, as virtual islands, are the base of players' operations. As with other metaverses, they are limited in number, driving up the scarcity and their price tag. Representing the player's customizable avatars, through which they interact with other players.
All the in-game assets available, such as animals, vegetables, houses, decorations, and outfits, can only be purchased with ALICE tokens. This is the game's cryptocurrency, enabling players to trade NFTs, buyback, staking, and collateralization. These DeFi features allow players to rent their NFT land to others.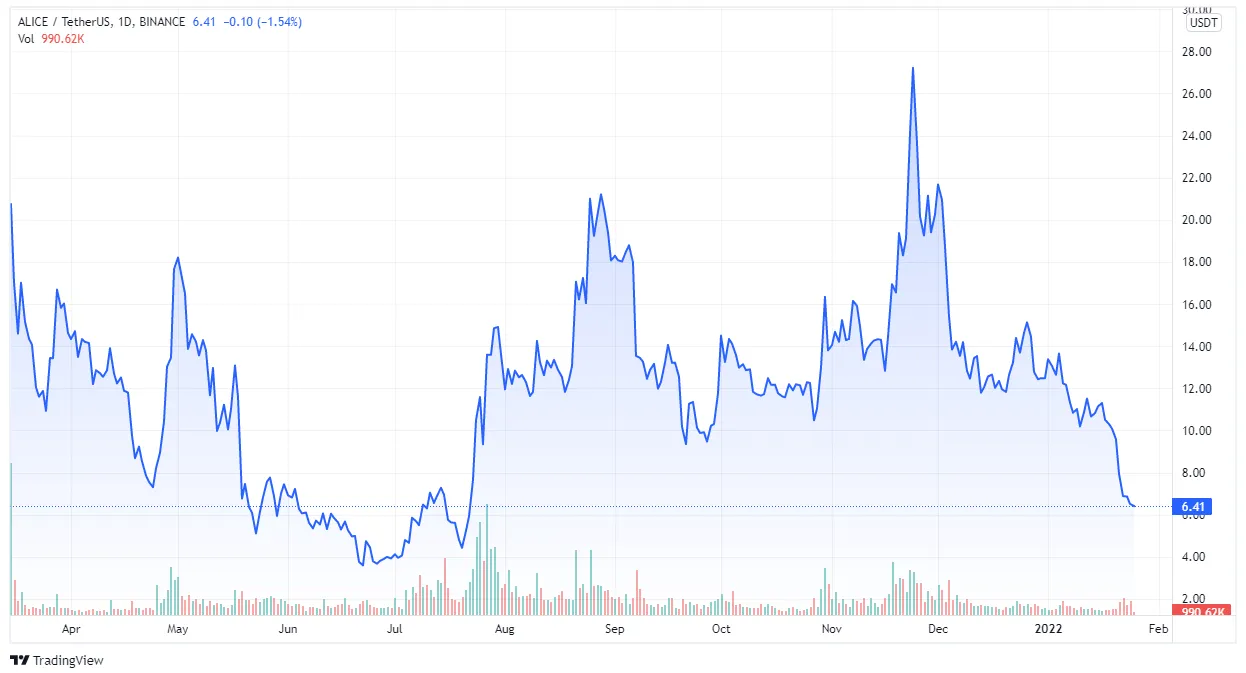 Likewise, NFT collateral means that purchased NFTs could be sold back for the price equal to locked collateral, while the NFT itself is destroyed. According to Etherscan, maximum ALICE token supply is 92 million coins, already held by 5,257 holders. Since its ATH price of $42.55 in Mar. 2021, ALICE had its ups and downs, waiting for full release.
Lastly, one of the novel features in My Neighbor Alice is a reputation system that rewards players for being good landowners. How that is determined we have yet to see. One could surmise it will involve neighboring players using ALICE tokens to vote on the issue.
Illuvium is one of the most anticipated NFT games. So far, aside from Gods Unchained, you may have noticed that blockchain games tend to be on the lower side of the budget when it comes to visuals. Illuvium goes against this trend with triple-A production values, built on the cutting-edge Unreal Engine 4/5.
Although not yet released, we have a good idea of what this ambitious NFT game will be like. To start, it is an open-world, sci-fi game revolving around a crashed spaceship on an alien world. The player then assumes the role of a Hunter, set to explore the unknown landscape and capture various creatures called Illuvials.
Of course, these alien beasties are NFTs, just like in Axie Infinity. Moreover, even the combat system seems to follow its footsteps, except in a highly detailed 3D arena.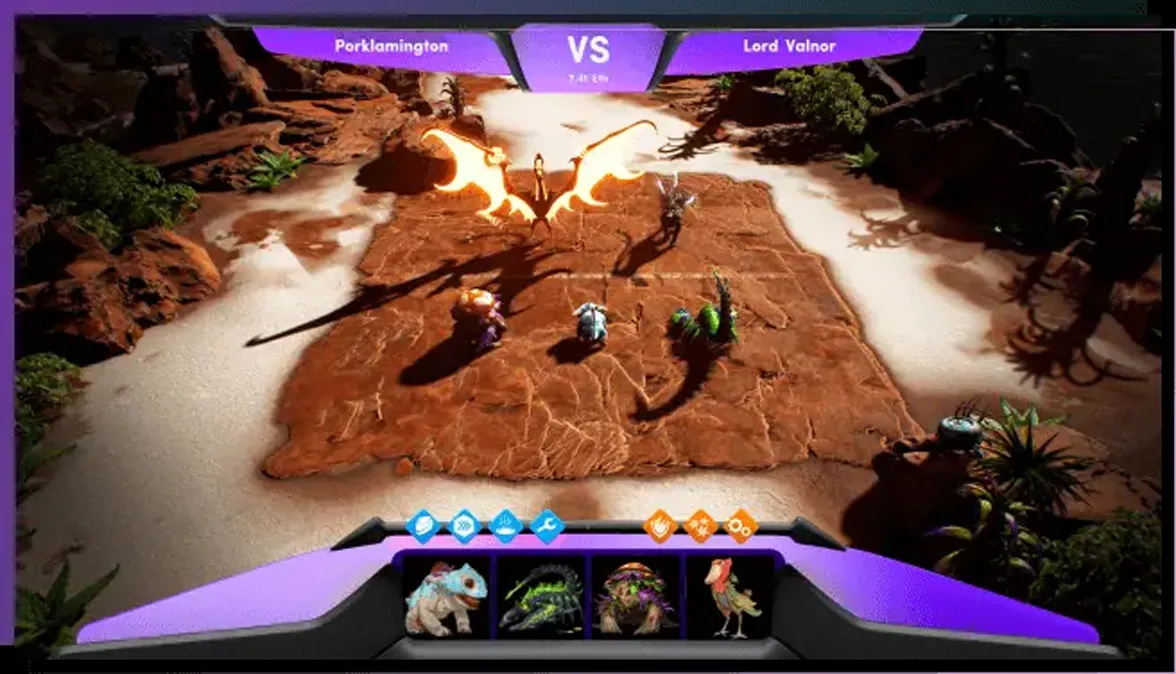 To spice up the combat, Illuvials have four classes: fighter, rogue, psion, empath. From the screenshot above, you can also see they have affinities: water, fire, earth, air, nature. This mechanic is also similar to Axie, which is a good thing. After all, affinity combos drastically deepen the game's tactical prowess.
In addition to Illuvials, weapons, skins, and armor will also come as NFTs. Illuvium further consists of two important game features:
Illuvium Zero: facilitating land management similar to Decentraland. Upon it, players can gather resources to build an industrial complex that adds many benefits.
IlluviDex: a DAO-governed marketplace for trading acquired NFTs
Game economy
Illuvium (ILV) token will drive the NFT gaming economic aspect, serving all the usual DeFi perks: governance, yield farming, and staking. There is only a slight tweak to consider. sILV tokens are only usable for in-game purchases without lock-up staking periods. On the other hand, staked ILV tokens will have a lock-up period of one year. The dynamic between the two tokens ensures a stable economy and high liquidity.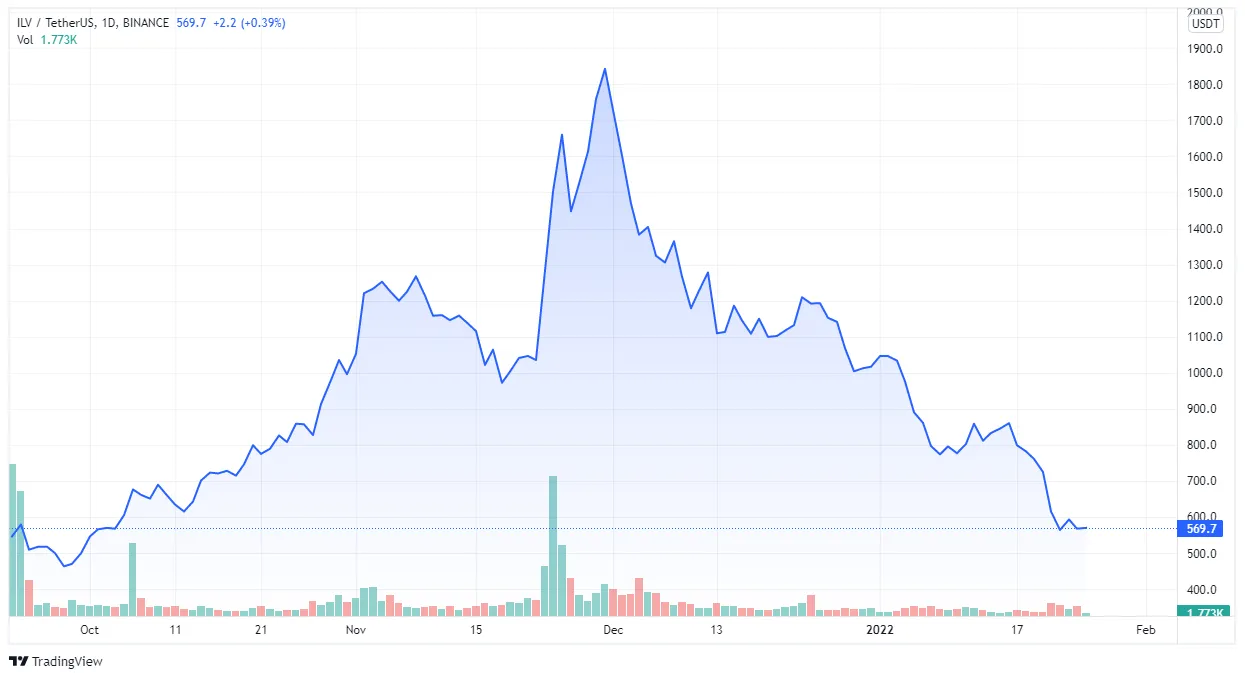 The maximum supply of ILV tokens is 10 million. Given the game's high production values and relatively low token supply, it is the most expensive one yet. Illuvium (ILV) rose to its ATH price of $2,868 on May 29, 2021, having dropped by 74% since.
When all things considered, Illuvium has the highest chance of beating Axie Infinity at its own game. After all, it mirrors the same tokenomic and combat mechanics, but at a highly polished level. This lends it more appeal to break through the mainstream blockchain gaming.
It looks like Immutable X is racking up NFT blockchain gaming left and right. Another one is Guild of Guardians, a mobile action RPG game similar to Diablo in playstyle. Stepico studio is behind the project, with 23 team members in tow. Lead Game Designer is Josiah Wallace, notable for his key contribution to the Temple Run series, having accrued over 1 billion downloads.
Departing from the trend, Guild of Guardians will offer both a single-player campaign and co-op multiplayer experience. Although there are four heroes per squad, the player controls only one of them at a time. Those who have played Left 4 Dead know the drill. In co-op raids, players team up against a powerful boss.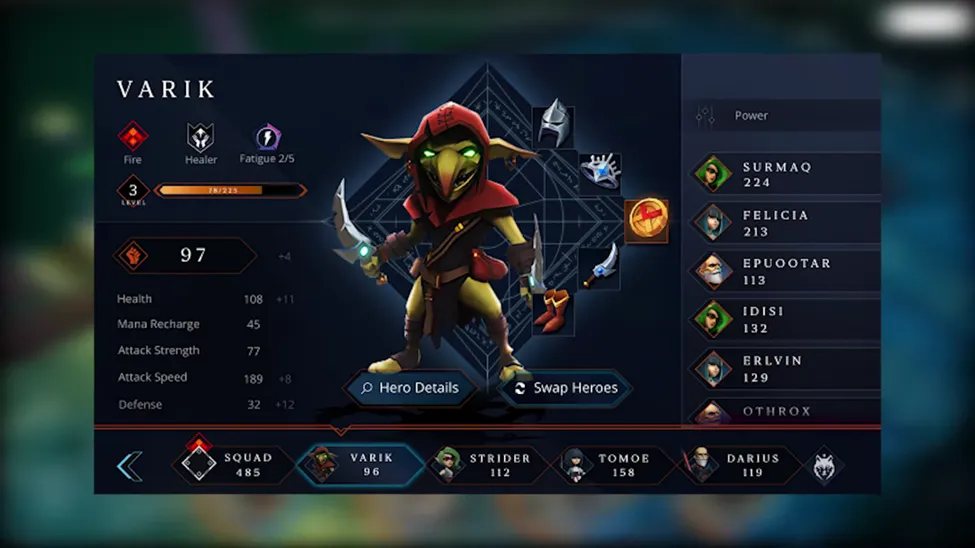 As you can see, each hero has classic RPG stats, with strengths and weaknesses, covering magic, tanking, rogue-stabbing, role-playing, and healing archetypes.
Game economy
Guild of Guardians (GOG) token launched in Oct. 2021, portrayed as Gems in the game. As with other NFT games, players earn them while playing. After which, they can use them for staking, voting, and trading in its NFT marketplace. GOG coin's total supply is 1 billion, of which 20% goes to developers.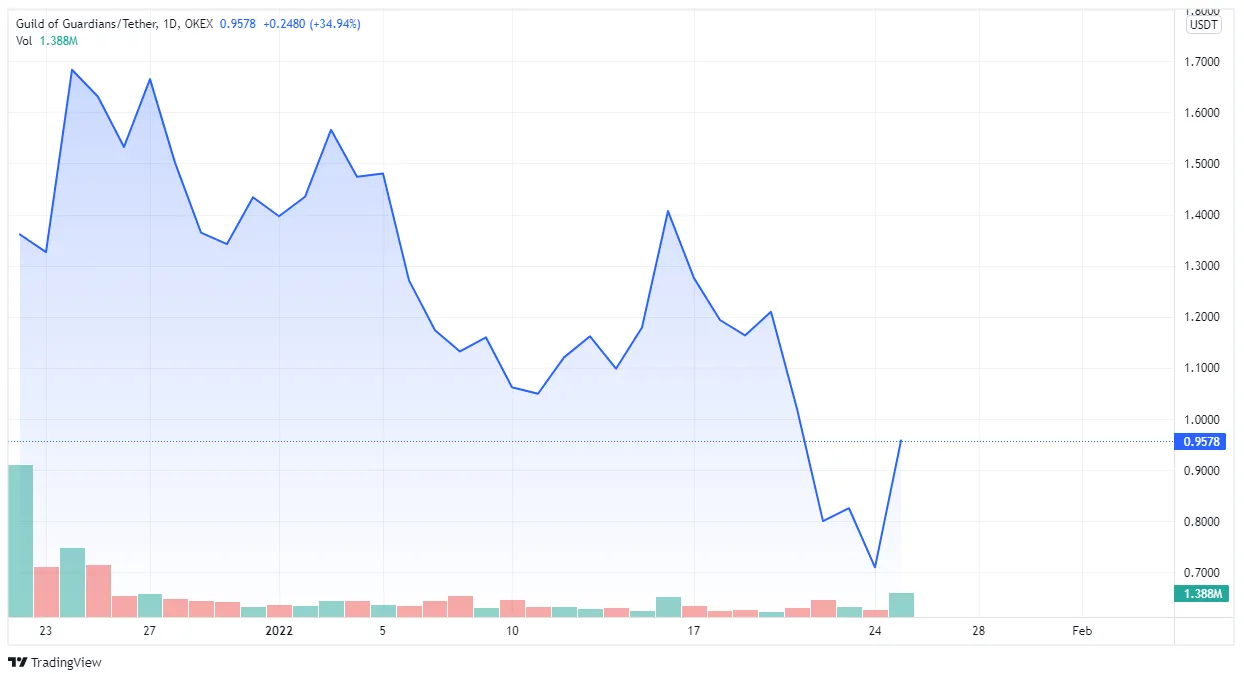 GOG's ATH price was $2.81 on Dec. 22, 2021. Of course, because the game hasn't yet been released, the price has dwindled down since. However, because of the popularity of the ARPG (action role playing game) genre, much is expected of the Guild of Guardians. It supports both Android and iOS devices, so it remains to be seen how the NFT game will be received sometime in H1 2022.
Given the fact that the NFT game raised $5.3 million in GEMS sales and that it was oversubscribed by a factor of 82, it is safe to assume that its native token is bound to reach multiple ATHs following the release. This alone gives credence to the escape velocity of NFT gaming for mainstream adoption.
Jam City, the California-based mobile gaming studio, is expanding into blockchain gaming with its upcoming Champions: Ascension. Gaining fame with its previous Harry Potter: Hogwarts Mystery, Jam City has taken an uncommon approach to marry narrative-driven games to mobile platforms.
Moreover, the studio's Jurassic World Alive game showcased very high production values. Champions Ascension follows through on that standard, as a triple-A adventure game set in a high fantasy setting. As the title implies, the player chooses a champion to fight in a gladiatorial arena. Sounds a lot like Mortal Kombat, doesn't it?
However, based on Jam City's previous projects and its impressive 1,200-strong employee count, we can expect to see more world-building and more RPG-like elements. The game's 'engineering genes' hint to an Axie-like breeding mechanic, used to upgrade the stats of champions. Of course, they themselves are tradeable NFTs.
Those who have enjoyed their MMORPGs like World of Warcraft, RuneScape, and SW: The Old Republic can look forward to Ember Sword. Founded by four developers, Bright Star Studios is currently headed by Mark Laursen. Although founded in 2018, they received over $2 million in funding in May 2021 for their flagship NFT game Ember Sword.
The philosophy behind the game is ensuring there are no play-to-win elements, pushing out the free-to-play aspect. The visual style of the game can be matched to Wakfu, except the combat is conducted in real-time. Likewise, Ember Sword boasts a sprawling ecosystem made out of NFT land plots, resources, crafting, character skill progression, and dynamic Wakfu-like economy.
Based on the released gameplay footage, what immediately stands out is top-notch animation quality and a coherent aesthetic. As with most Web3 blockchain games, Ember Sword will be playable from within the browser, making it easy to tie with a crypto wallet.
The world of Ember Sword is split into four biomes:
Solarwood (forest)
Duskeron (desert)
Sevrend (jungle)
Ediseau (Tundra)
Not only does each biome have its own unique resources, but each one is further split into three different sections: Kingship, Wilderness, and Outlaw territory. In turn, each section within a region provides different gameplay styles and objectives, ranging between PvE and PvP.
Such territorial division opens up a host of gameplay opportunities, as one biome lacks the resources of another. This facilitates both land ownership and caravan trading as the game's key features. Besides land plots, all cosmetic items are NFTs, tracking down every gameplay stat as well as ownership.
Ember Sword is also set to be released in 2022, first on Mac and PCs as a standalone browser client.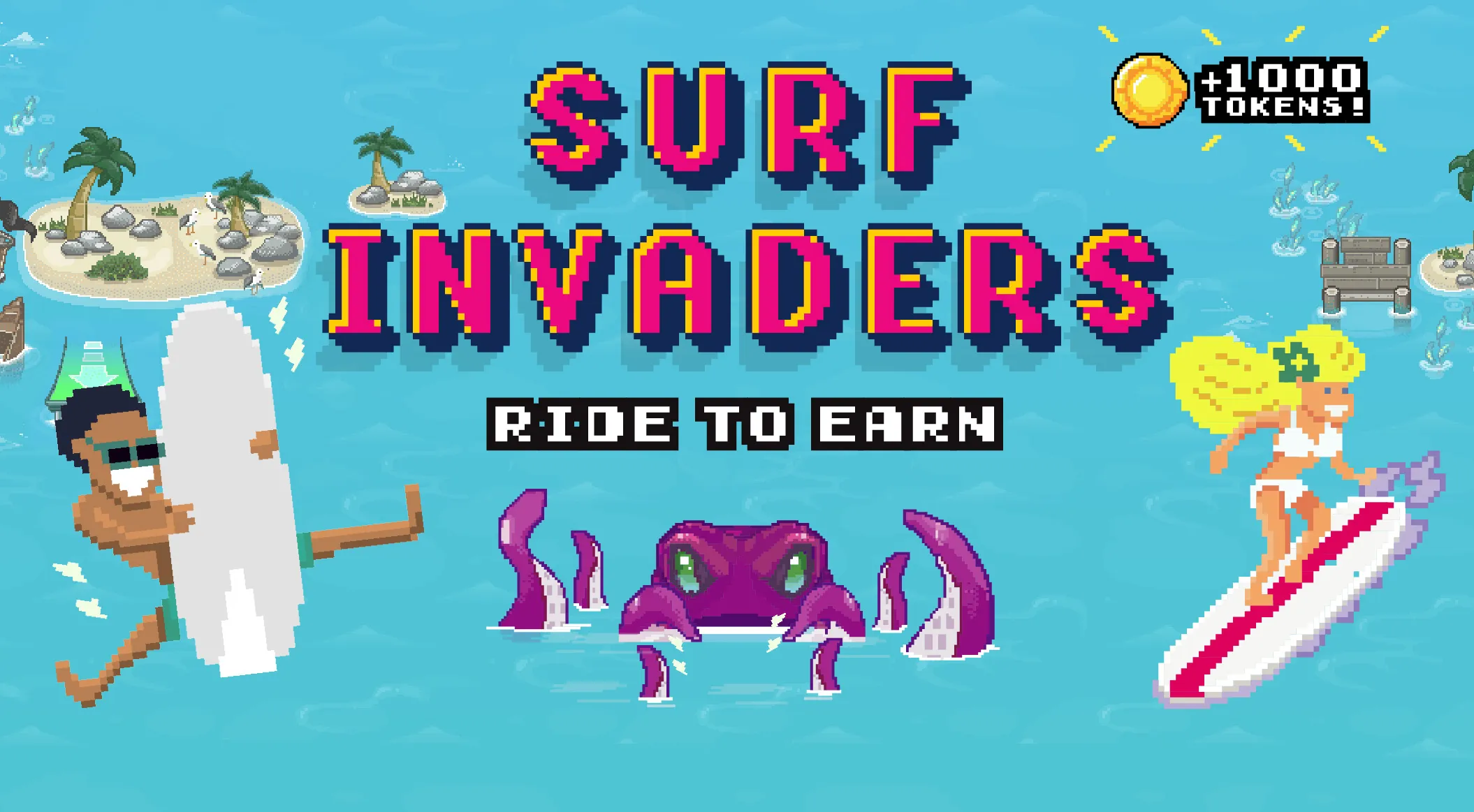 DeFi platform Aloha is behind Surf Invaders. It's a much simpler NFT gaming platform when compared to the others on this list, but that also means it's much simpler to get into it and earn from. Understanding how the game works is much easier than understanding how an MMO works, and this accessibility.
Surf Invaders is an 8-bit endless runner type game where you aim to get the highest score by outsurfing a monster, avoiding obstacles, and picking up powerups along the way. The game has a simple control interface, using the arrow keys to control direction.
One interesting thing about the game is that you can increase the number of lives you have in the game by using Aloha NFTs — the more NFTs, the more lives. Earning a place on the leaderboard gives you a cut of the platform's revenue, which is an interesting means by which players are rewarded.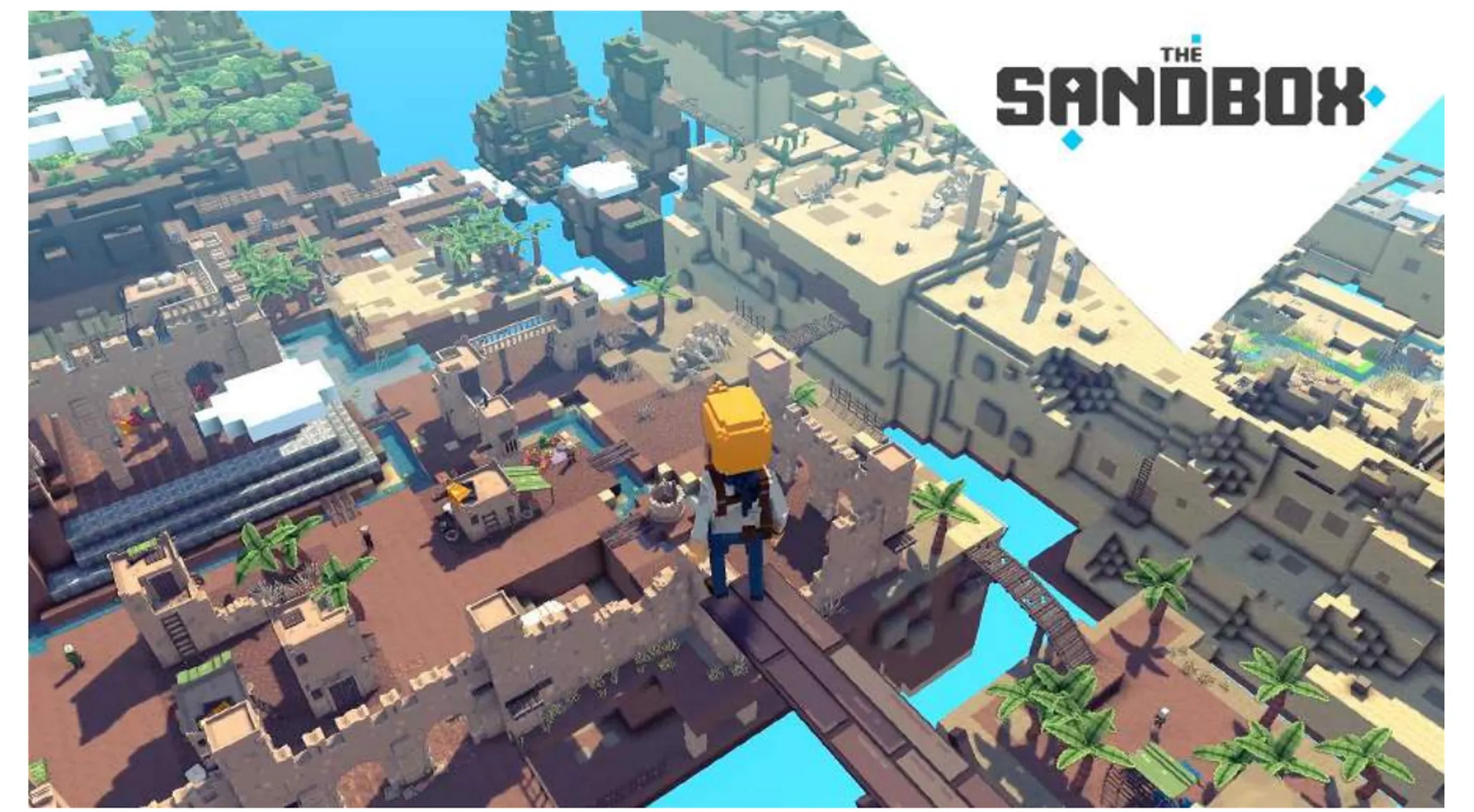 For a while, The Sandbox (SAND) was at the head of the metaverse coin market cap. Now, that first place has been taken by the previously mentioned Decentraland (MANA) at a $4.45 billion market cap, while The Sandbox (SAND) ranks at 4th place at $3.33 billion.
Developed by Pixowl studio and headed by Arthur Madrid, The Sandbox is an ambitious project to make a blockchain version of Roblox. To help with that goal, the game's assets are 3D voxels. Unlike polygons, the most common form of 3D graphics, voxels are akin to pixels in a 2D bitmap. This creates a unique look to voxel-based gaming worlds.
Contrary to first impressions, Minecraft doesn't use voxels. Rather, The Sandbox is aligned with the Trove aesthetic.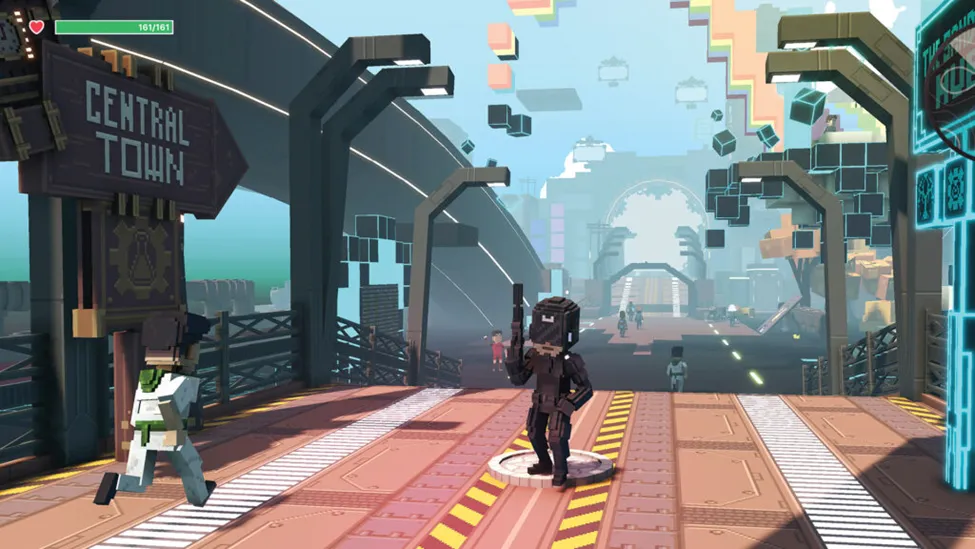 The benefit of this approach is that 3D assets are much easier to create by a non-professional. As a gaming platform for creating such assets, The Sandbox handles it with three modes:
VoxEdit: a suite of tools to create voxel objects and mint them as NFTs
Marketplace: where the trading of voxelized and tokenized assets happen
GameMaker: building your own games based on The Sandbox' rulesets, just like in Roblox
The Sandbox has an impressive backing, ranging from Atari and CryptoKitties to South China Morning Post and The Walking Dead. Alongside 3D objects as NFTs, the Sandbox metaverse holds 166,464 LAND NFTs. Some of which Snoop Dogg grabbed for exorbitant sums of money.
Game economy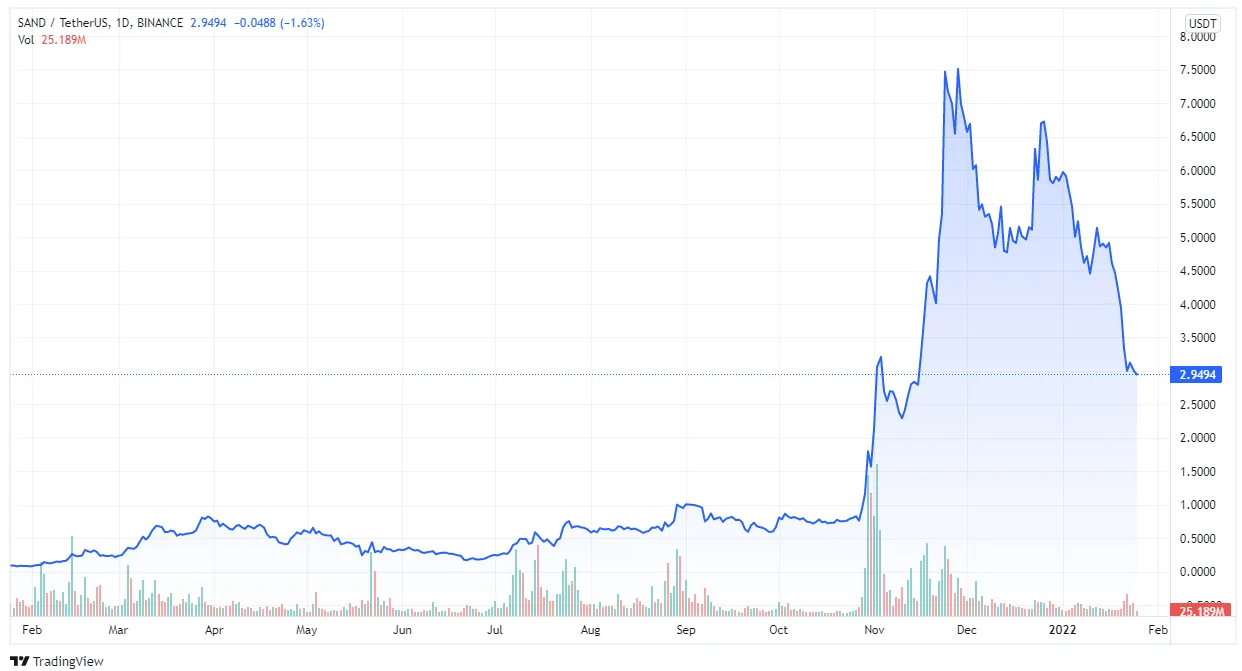 The SAND token is in charge of paying for all the transactions within the metaverse. There are 3 billion SAND tokens in total, of which 921 million are in circulation. SAND's ATH price point happened one month after Facebook/Meta rebranding, at $8.44.
Given the popularity a non-blockchain game Trove achieved, at one point having 19 million players across four platforms, it stands to reason that The Sandbox will outmatch it. Not only does it provide a P2E experience, but players themselves can create content using SAND tokens. If the player base snowballs, SAND tokens will appreciate far beyond its current ATH price level.
Sidus Heroes is one of the topmost anticipated NFT games. Responsible for its development are Dan Khomenko (CEO), Andrey Sudarikov (Creative Director), Dmitry Andreev (Art Director), and Roman Povolotski (Game Producer). After they have released the Unreal Engine 5 cinematic, many have likened this sci-fi game to the legendary Mass Effect series.
So far, only Illuvium comes close to Sidus' visual fidelity. Both are also Web3 games, playable within a browser despite their impressive visuals. However, as a sci-fi MMORPG, Sidus is quite an ambitious undertaking. It includes faction voting, crafting, homesteading, combat, and pet breeding. Heroes are your main in-game avatars as NFTs.
The coin powering the Sidus metaverse is SIDUS, accounting for 30 billion tokens. Players can use it for character/weapon customization, consumables, loot boxes, paying for resources, and collecting pets and heroes. SIDUS coin achieved its ATH price on Jan. 1, 2022, at $0.1933. Accompanying SIDUS coins are SENATE tokens, numbering in 300 million.
SENATE coins facilitate creating and managing factions via voting, buying land parcels and spaceships, and upgrading space stations. Either SIDUS or hero NFTs can be locked for APY gains ranging from 20% to 60%, based on the lock-in period.
One only has to connect it to a MetaMask wallet. Although still in the early development stage, Sidus Heroes would do well if it improves animations and FX assets. If that aspect of the game received more focus, high demand for triple-A titles should take care of the rest.
Will NFT gaming become the new standard?
Developing modern video games is an expensive and complex process. There is no shortage of non-blockchain games that have failed over the many decades since the industry flourished in the 1980s. Blockchain games add an extra layer to that layer of difficulty, requiring developers to have an in-depth knowledge of tokenomics as well.
In other words, the team leaders of the new generation of NFT gamers will also have to be expert economists. With such an obstacle, NFT gaming is bound to be developed slower than regular ones. This especially goes for those aiming for triple-A production values, like Illuvium. It is therefore that much more important that the current cropping of NFT games succeeds.
For the players, the benefits are obvious. Would they rather sink their valuable time on games that have no off-ramp to real money? Or would they rather take advantage of tradable in-game assets — NFTs?
NFTs can be hard to keep up with, so why not join BeInCrypto's Discord server to ensure you're on top of everything?
< Previous In Series | Earn | Next In Series >
Frequently asked questions
How do NFT games make money?
What is the biggest NFT game?
Disclaimer
In line with the Trust Project guidelines, the educational content on this website is offered in good faith and for general information purposes only. BeInCrypto prioritizes providing high-quality information, taking the time to research and create informative content for readers. While partners may reward the company with commissions for placements in articles, these commissions do not influence the unbiased, honest, and helpful content creation process. Any action taken by the reader based on this information is strictly at their own risk.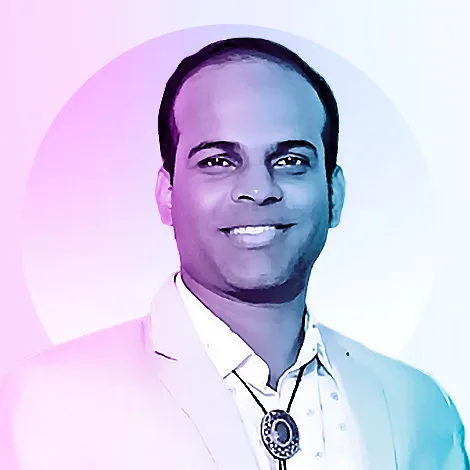 Rahul Nambiampurath's cryptocurrency journey first began in 2014 when he stumbled upon Satoshi's Bitcoin whitepaper. With a bachelor's degree in Commerce and an MBA in Finance...
Rahul Nambiampurath's cryptocurrency journey first began in 2014 when he stumbled upon Satoshi's Bitcoin whitepaper. With a bachelor's degree in Commerce and an MBA in Finance...
READ FULL BIO
Sponsored Sponsored