Illuvium is a play-to-earn AAA NFT blockchain game that is due for release in the coming months, with a beta version soon to be launched. The game is an RPG game with crypto features and a vast world to explore.
What is Illuvium, how does it work, and is it better than Axie Infinity? We talk about everything there is to know about Illuvium in this guide.
What is Illuvium (ILV)?
Illuvium is a blockchain-based game built on Ethereum. It leverages the Immutable X blockchain and Layer 2 Scaling technology.
Role-playing games (RPGs) allow users to create fleshed-out characters and enjoy real-time gameplay within a large world. With Illuvium, users can also earn non-fungible tokens (NFTs) and stake their tokenized assets within a decentralized, zero-fee framework.
llluvium uses a highly scalable, privacy-preserving infrastructure with Zero-Knowledge Rollups. The game also has other unique characteristics. It leverages a decentralized governance structure to maximize the ecosystem's illuvium (ILV) token as well as the Illuvium decentralized autonomous organization (DAO).
Illuvials are creatures that inhabit the world of Illuvium. Players can capture them and then nurse them back to health. They become part of the player's collection and can fight other adventurers in Illuvium's Auto Battler gameplay.
It is a combination of open-world exploration and a PVP war game. The game allows players to explore the world and build their own team of powerful beasts.
Illuvium has been in development since 2020. Created by a global team of over 40 people, the game was conceived by Kieran and Aaron Warwick, whose brother Kain Warwick is the co-founder of Synthetix.
There are many uses for the ILV token within the Illuvium ecosystem. It is the primary token that rewards players for their achievements in-game. It also entitles them to their share in the Illuvium vault.
How does Illuvium work?
Illuvium is still in development and is expected to be released by 2022. Open Beta is scheduled for the first quarter of 2022.
To start playing Illuvium, you first need to register and create an account on illuvium.io using your email address. Afterwards, the game can be downloaded as a desktop app. You can choose between free-to-play mode or premium subscriptions. At the time of this article, the game wasn't yet released and there is no download option for the game.
The Illuvium project's core mechanic is about customizing and collecting your NFT Illuvials. Each Illuvial has a class and an affinity. Illuvials with greater power can combine classes and affinity. When Illuvials have the same affinities or classes, they can provide bonuses in battle. This is called creating synergies. It allows you to make tactical choices about the Illuvials that you use and collect. Once they reach a certain level, users can merge their Illuvials and create new ones with greater power.
To start playing and collecting NFTs, you will need to catch an Illuvial. To do this, you will need to contain it in a shard. Your Illuvial will start to recover its health if it is injured. If you wish to accelerate the process, you may pay a fee or use items to speed up the process. Some Illuvials can be shiny, gold, or holographic.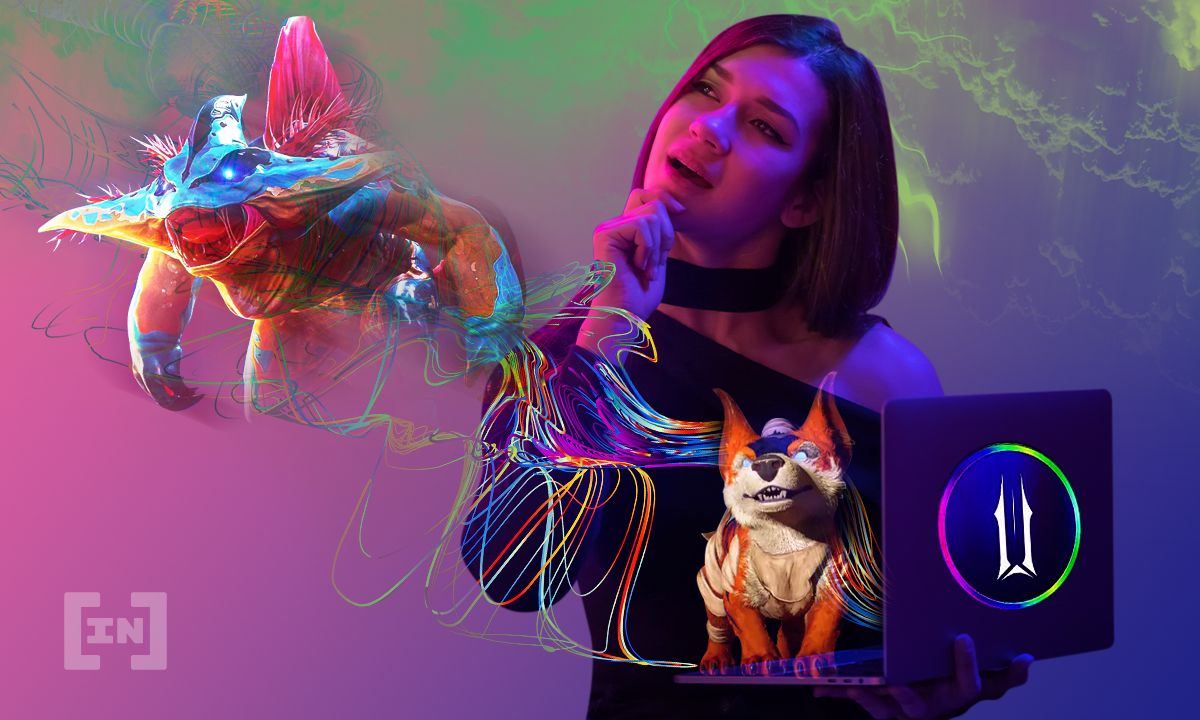 Classes
Illuvium has five classes:
Guardian
Fighter
Empath
Rogue
Psion
When creating a team, it's important to pay attention to the class synergies and affinities. This is especially true for creating the ascended or hybrid classes.
A fighter Illuvial and a rogue Illuvial can be combined to create a slayer.
It is possible to combine two classes of the same type to create an Illuvial with stronger skills of that class.
Affinities
Five affinities are available to Illuvium:
Air
Nature
Fire
Water
Earth
Based on the type of their affinity, each Illuvial deals or takes damage. A water Illuvial, for example, will do more damage to a fire Illuvial and will be weaker than an earth-based one. Ascended Illuvials can be created by combining the five affinities, such as Dust (Air + Earth) and Frost (Air + Water).
Attributes
Apart from its class and affinity, each Illuvial has other attributes that affect its strength, speed, damage, and health. The more you use your Illuvials in battle, the more powerful they become. There are some items that can be used to improve the Illuvial's abilities. These items can be purchased or made with crafting materials.
How to play Illuvium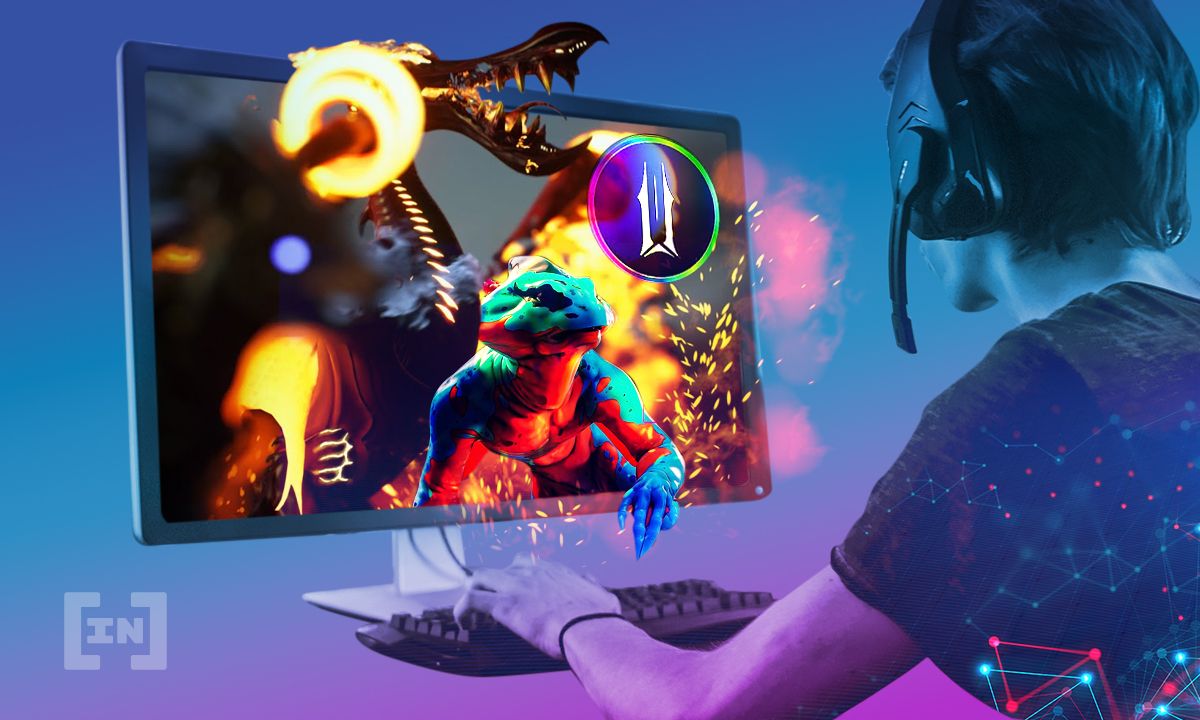 Illuvium is an RPG game where players travel to different regions to battle monsters called Illuvials. They can be captured using shards after defeating them. Collected Illuvials see their powers increase over time as they fight more. They can then be used to fight other players or venture into more dangerous areas.
Combat, which isn't turn-based, is one of many ways Illuvium is different from other RPGs. Each combat instance is an automated battle in which the player strategically places their Illuvials to counterattack their opponent. It is important to choose Illuvials with good synergy and that are strong against the opponent's choice. We will have to wait for the release of the beta version of the game to understand exactly how to play Illuvium.
Combat
Each Illuvial will locate an enemy target when the battle starts and then attack it. Through attacks and damage, Illuvials will gain energy. When they gain enough energy and reach a certain limit, the Illuvial can enable the ultimate ability, which is a special ability that can alter the course of the battle. Ultimates can do damage, boost allies, harm enemies, or knock enemies out. When a team is defeated, the battle ends.
Catches
When playing Adventure Mode, players can capture defeated Illuvials after a victorious fight. They must use fragments (shards) to do this. They have different capture powers. The capture chance is determined by Illuvial and the captured power. If you succeed, Illuvial is yours. Failure will result in the Illuvials fleeing. It is a good idea to bring powerful Shards when you go into higher-level areas of the game. Weaker Shards might not be able to capture them.
Rare catches
It is still unknown how Illuvials are captured, including rare catches. There is a small chance that the fragment (shards) used to capture the Illuvials may be cosmetically altered upon a successful capture. Shiny, rainbow, and holo are rare catches that can make your Illuvial stand apart from the rest. Each rare catch is a great addition to your collection and can be lucrative.
Fusion
Illuvials aren't able to evolve as they would in traditional role-playing games. However, Illuvials are able to merge and create more powerful stages in their development.
There are two requirements for an Illuvial fusion. The first is that the player must possess three of the same Illuvial. The second requirement is that each Illuvial must have attained its highest level through combat.
The more powerful and valuable a fused monster is, the higher the ILV price. If you want to make a lot of money in Illuvium, this should be your main goal. Train and strengthen monsters and then sell them for ETH. To earn more combat bonuses, players have the option of teaming up with another Illuvial. This is a semi-permanent option, so make sure you choose wisely.
Experience and levelling
Illuvials are able to gain experience and level with each battle. That's how two Iluvials of the same type can be distinguished. Also, it's not a good idea to keep an Illuvial in a Shard with no combat because it cannot gain experience and level up if it's not used in battles. Be aware that Illuvials that are defeated during combat in the jungle will return to their fragment (shards) and take some time to recover.
There are ways to revive your Illuvial if you don't have to spend time waiting, including a fee for instant revival.
Resource collection
The fight encompasses more than just the Illuvials. Players also fight the battle.
A player character can be one of the most influential elements on the battlefield. Every player has futuristic weapons and protective armor. Your armor and weapon emit an aura of class and affinity when infused with crystals and gemstones.
To make these weapons, you will need to find and mine resources from the surrounding environment. However, adventurers will always have a chance for a new challenge. Players can compare items and strengthen their character, allowing them to win more powerful and rare monsters. This is the most RPG-intensive perspective of the game.
Traveling around the world
The Illuvium world is wide. Obelisks scattered around the world allow players to travel instantly from one place to another. This allows them to access different regions and Illuvials. As the world grows, more and more Obelisks will become available. Obelisks can also protect against flooding. Small towns are constructed within their dome.
Fast travel happens between "safe zones" and has been called extensive. These cities will likely be home to the sellers and buyers of items, the monster recovery system, and PVP battle locations.
Game modes
There are three games modes described in Illuvium:
Story mode
Ranked arena
Arena Leviathan
In the story more, players will be able to explore the globe and find new Illuvials to fight for them. Soon after this mode is deployed, the battle arenas will be activated.
Within the arenas, players can compete and will be ranked.
The Ranked Arena will offer skill-based combat among players. These normalized levels have a point cost associated with it.
The Arena Leviathan will not have the same restriction as in the ranked arena. This is the place for players to shoo off their collection and earn or lose battles and money. Spectators will also be able to place bets on the matches.
What makes Illuvium unique?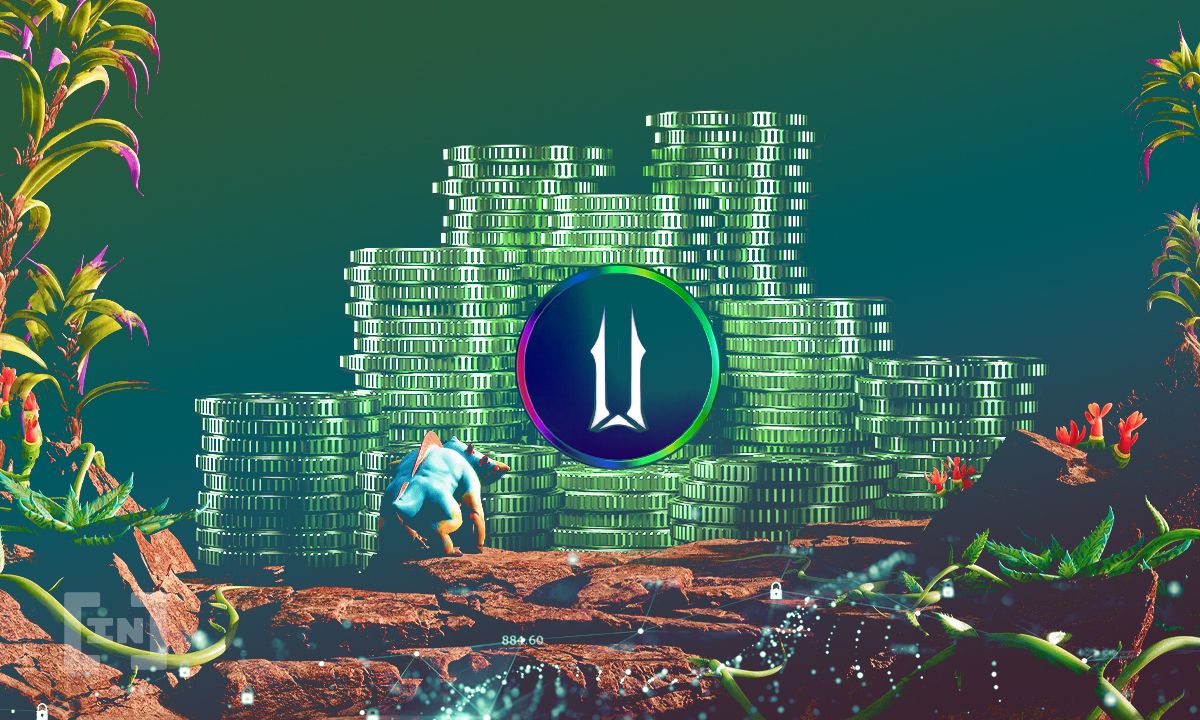 Illuvium is unlike other blockchain-powered games. It features a fully 3D environment with over 100 unique Illuvials scattered across its different regions. Each Illuvial has been designed by a team made up of top-level artists. This makes its graphics appealing to the eye, and gamers will likely appreciate it.
It also counts many features that make it stand out among other blockchain-based AAA titles and games. These features include:
Layer 2 incorporation
IlluviDEX
Yield farming
Layer 2 incorporation
Illuvium inherits the security of the Ethereum blockchain. A layer 2 solution designed to scale applications that use NFT functionality called Immutable X (IMX) also bolsters the network.
Illuvium leverages ImmutableX's capabilities to ensure that players can trade and mint NFTs with virtually instant transaction finality and zero gas fees. Players have full custody of their assets when using IMX.
The IlluviDEX
Illuvium has a built-in decentralized platform (DEX), namely the IlluviDEX.
You can exchange Illuvial assets on IlluviDEX, including Illuvial NFTs. Each sale has a 5% commission funneled into the rewards pool of ILV stakers.
Yield farming
The Illuvium yield farm program has allocated 3 million ILV, which is equivalent to 30% of the maximum supply of 10 million. Participants who contribute liquidity over a three-year period and those who take part in various reward programs will receive this via distribution.
What is Illuvium (ILV) token?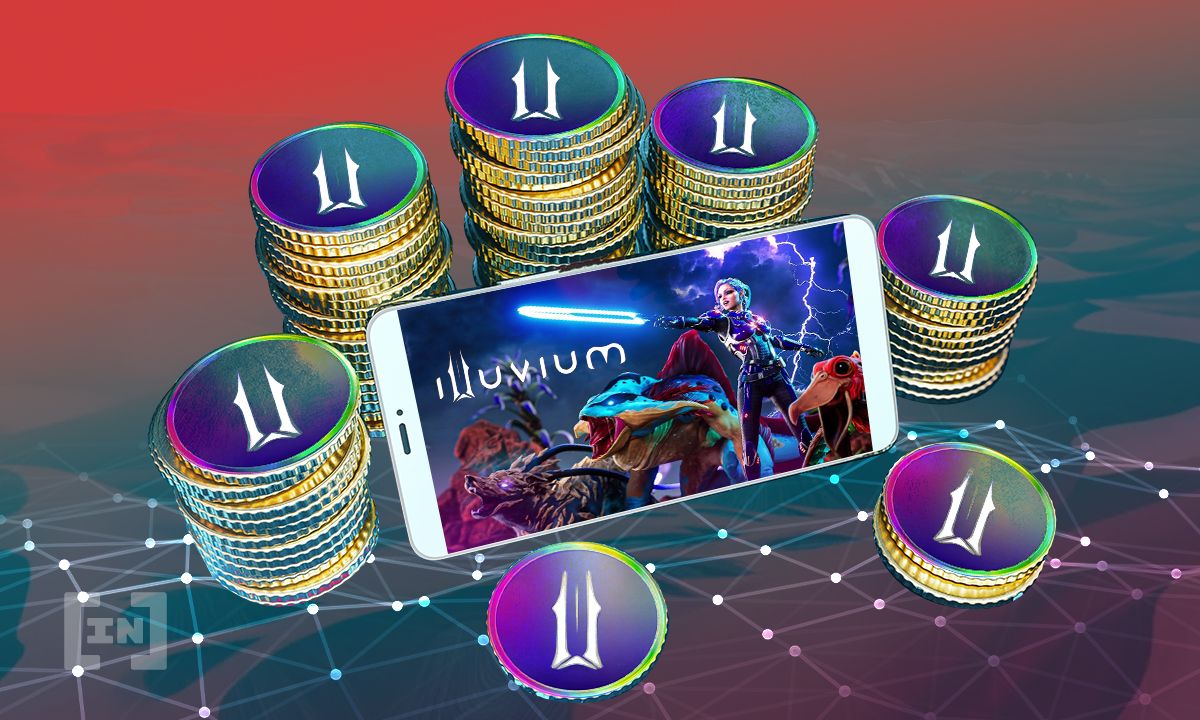 The Illuvium crypto is an ERC-20 token. It has a variety of uses within the Illuvium game and its ecosystem.
There are two types of tokens ━ ILV and sILV.
The ILV rewards can be vested for one year, but sILV may be used immediately to play the game. The combined supply of ILV and sILV will never exceed 7 million. As staking rewards, 3 million will be distributed, giving a maximum of 10 million. The circulating supply of coins will decrease as more users stake their coins.
The Illuvium crypto (ILV) token has three main uses:
In-game rewards: Players receive ILV coins for their achievements in the game
Staking: Holders have the option to stake ILV at the Illuvium Vault. Stakers can receive ILV or sILV rewards.
Governance: Through the Illuvium DAO, holders can take part in game governance. The Illuvinati Council facilitates community collaboration to create game improvement proposals and other modifications.
Users moving ILV or sILV (ERC-20) tokens have to pay Ethereum gas fees. Since Ethereum can have high gas fees, users are still waiting for Illuvium's solution and how it will make transactions affordable. However, by the end of 2022, Ethereum's move to Ethereum 2.0 will mitigate this problem, as it allows faster and more efficient transactions on the network.
The sILV token
Illuvium has a unique yield farming rewards system. All ILV rewards from the yield farm are locked for one year before they can be withdrawn.
Stakers can opt to skip the unlock times by converting ILV rewards into a secondary, in-game asset called sILV. Users can claim their rewards as sILV and receive USD equivalent. They can also spend their rewards earlier to buy in-game assets.
The sILV token cannot be removed from the game. It is not represented as a blockchain-based asset.
Illuvium (IVL) price prediction 
Illuvium's price is determined by a combination of speculation about the game's success as well as its utility in staking.
As of Dec. 2021, the price of the ILV token is $1,537.44 and is ranked #221 in the entire crypto ecosystem. Illuvium has a total supply of 10 million. Price analysis shows that ILV might reach $2300 by 2022.
How to Buy Illuvium (ILV)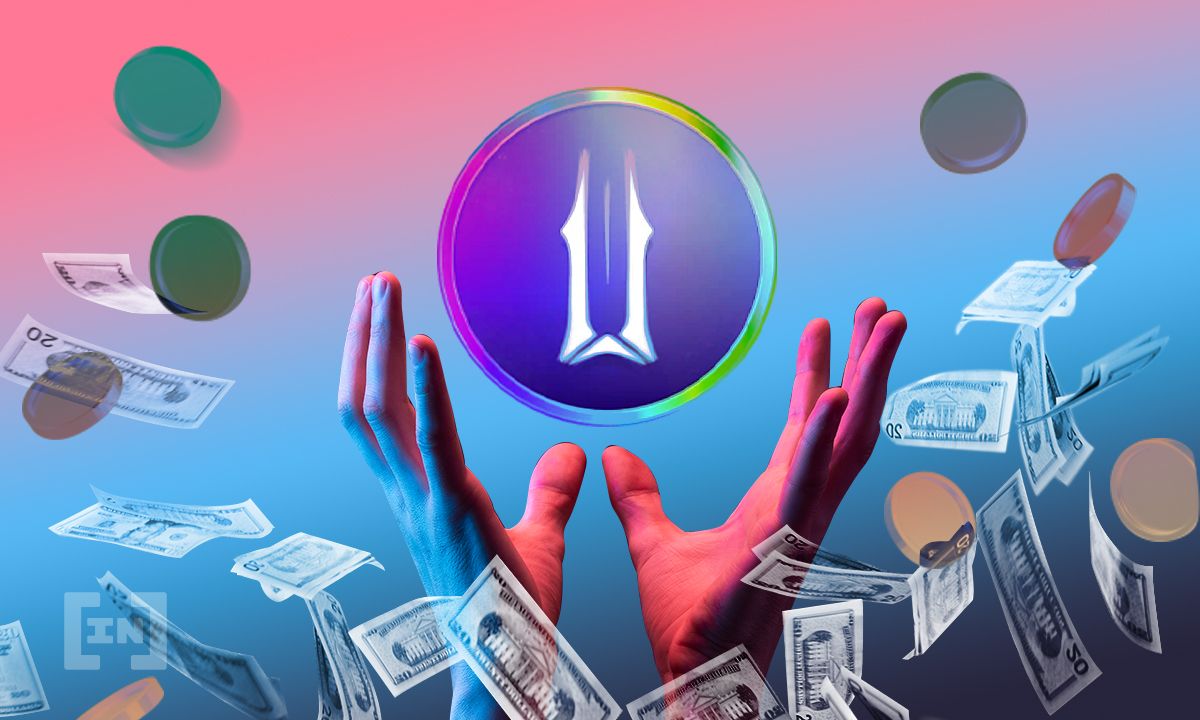 ILV is available on most of the popular cryptocurrency exchanges, including Binance, KuCoin, Crypto.com, SushiSwap, Gate.io, and others.
To buy Illuvium, you'll need to have an account on one of the crypto exchanges that offer ILV.
Note that you will need to transfer your ILV funds to a crypto wallet if you want to stake it later or just prefer to keep it safe. If you already have your crypto funds on a wallet, you might prefer to purchase ILV directly from your wallet, using a DEX such as SushiSwap (ILV/WETH).
In this guide, we will show you how to buy Illuvium using Binance.
Step 1. Sign up for a cryptocurrency exchange account
You will need to sign up for a Binance account (or an exchange of your choice).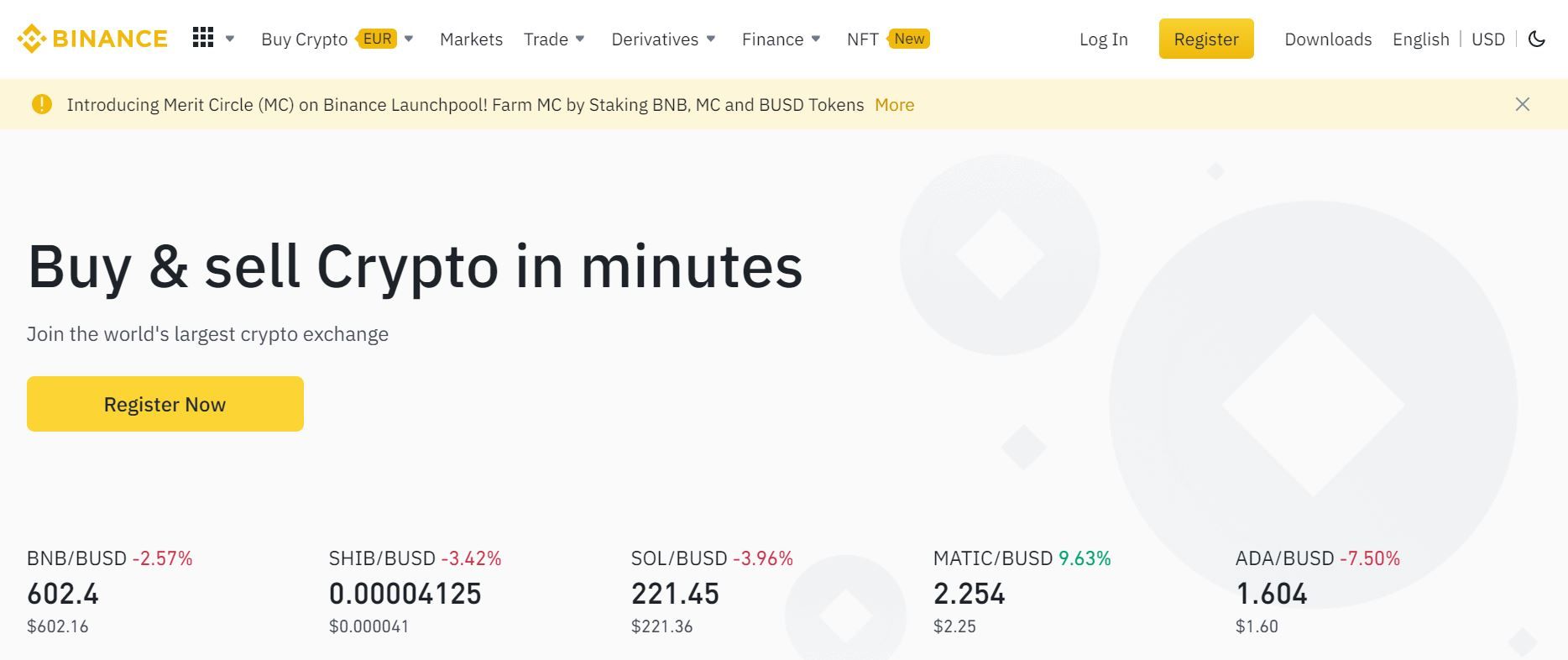 After your Binance account has been confirmed, you will be able to sign in.
Step 2. Get verified
To enable credit and debit card purchases on Binance, you need to complete the identity verification process.
Go to User Account (top right) > Identification. Here you can see the current verification level for your account.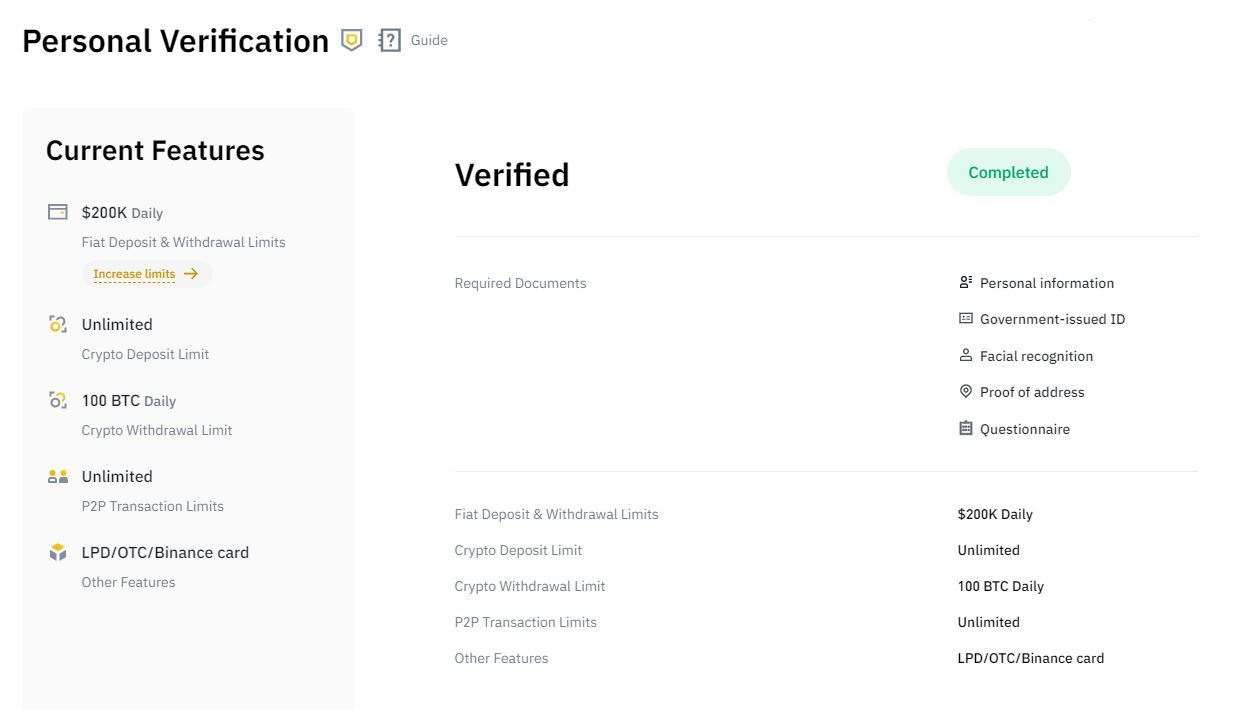 You can see under each option the benefits of getting verified. These may vary from country to country.
Click Start now.
You need to follow all the steps of the identification process. This includes the country of residence — and each country will have a different set of requirements.
In general, the verification process on a cryptocurrency exchange will ask for:
Personal Information (First and Last Name, Date of Birth)
Government ID
Facial Recognition
Proof of Address
It's important to provide the necessary documents and to make sure they all provide consistent information with your ID. You will not be able to change your ID after you first submit it.
After following the steps and providing the necessary information, the Binance team will review your information. Your account will receive a verified status once everything gets verified.
Step 3. Buy Illuvium (ILV) token using credit or debit card
After your Binance account is verified, you can buy ILV using your credit or debit card.
To purchase cryptocurrency on Binance, go to Buy Crypto (top left) > Credit/Debit Card.
At the moment of writing, you cannot purchase Illuvium (ILV) directly, and you will need to buy one of the available cryptocurrencies. The following pairs are available on Binance:
ILV/USDT
ILV/BUSD
ILV/BTC
ILV/BNB
We will buy bitcoin (BTC) and then trade it for ILV, but you can purchase any of the coins paired with ILV.
Search for BTC in the field box and then enter the desired amount.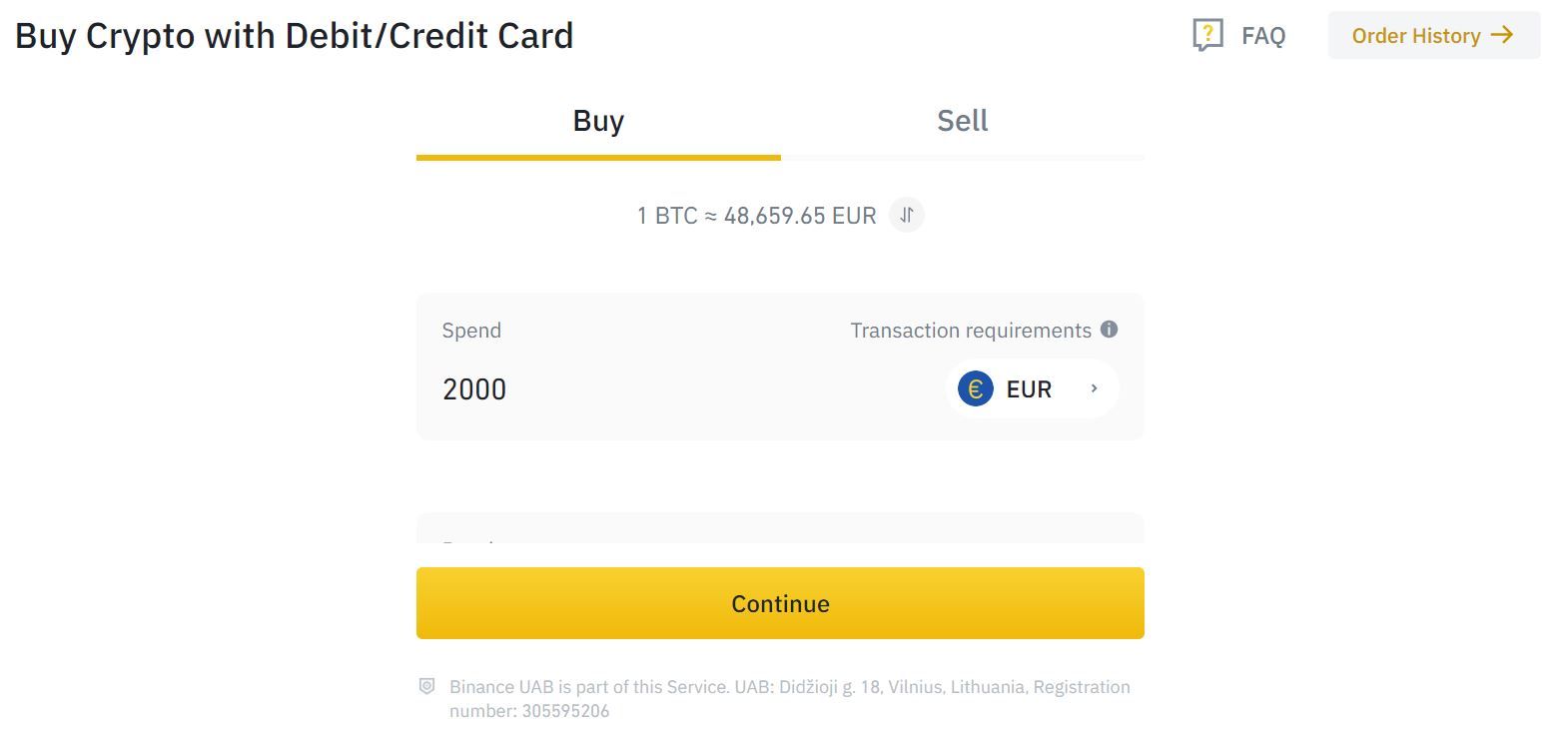 Click Continue and then add your card as a payment method. Continue and purchase the funds.
Step 4. Exchange BTC for Illuvium (ILV)
To complete the process and finally buy ILV, you have to trade the crypto you bought at step 3 into ILV coins or trade it on the markets tab.
Go to Markets and search for ILV token in the search box.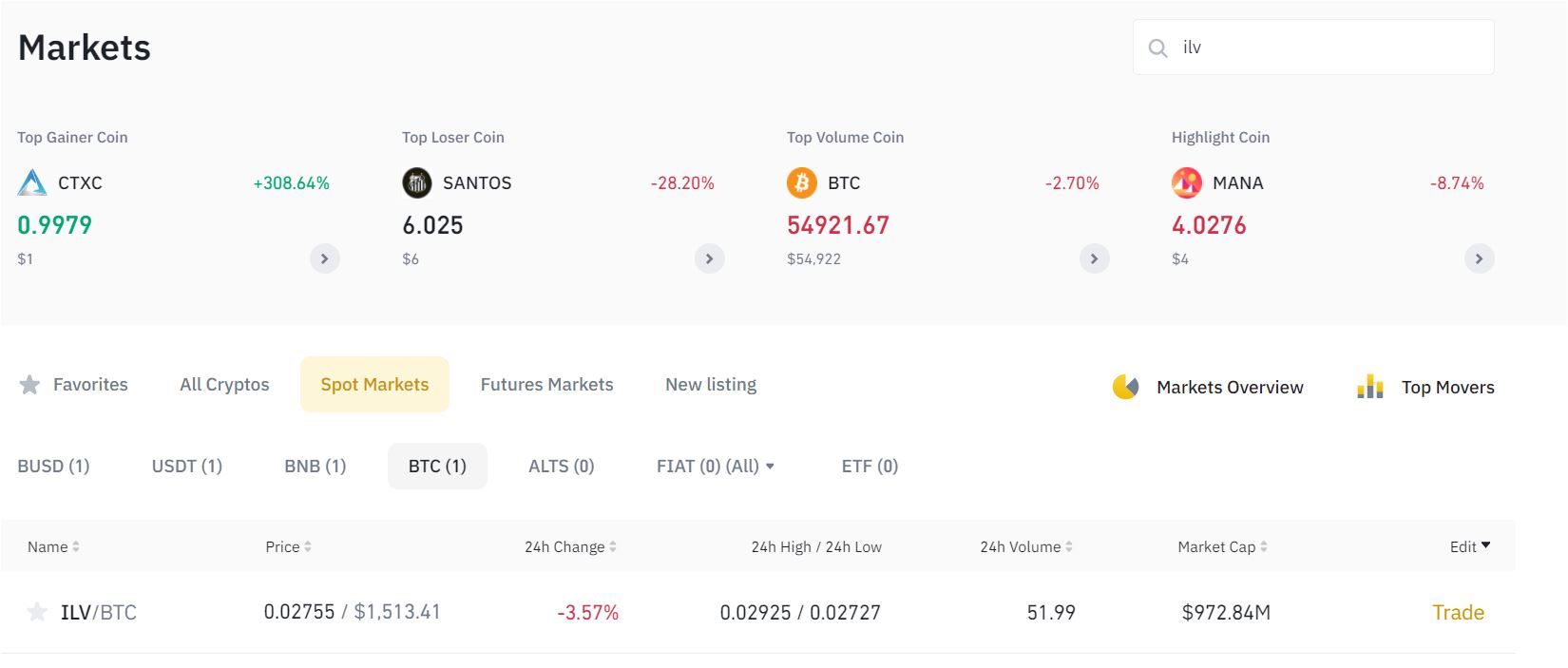 You will see the corresponding spot markets for BUSD, USDT, BNB, and BTC. Click on the pair crypto that you bought on step 3, in our case BTC.
You will then see the page for trading ILV/BTC.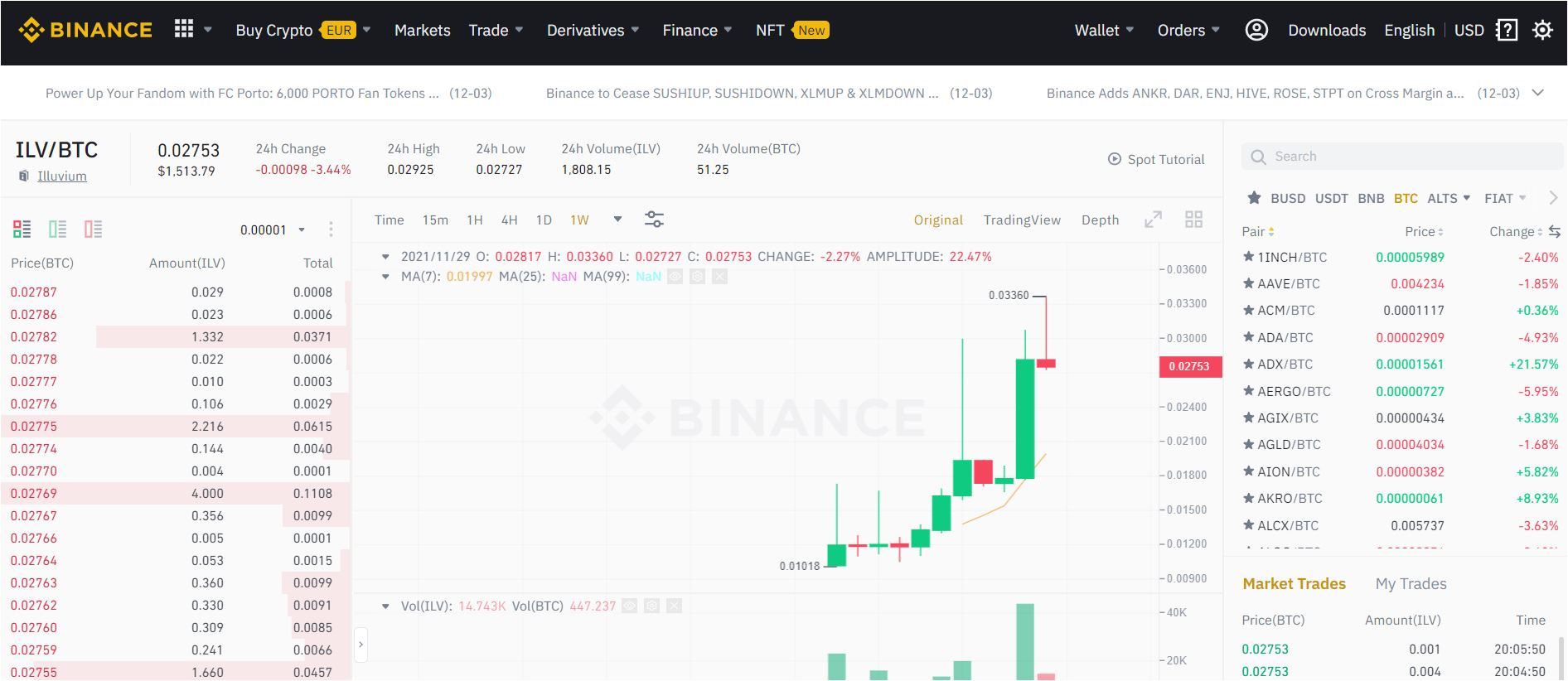 You need to scroll down to set a buy order for ILV/BTC on Binance. It should look like this.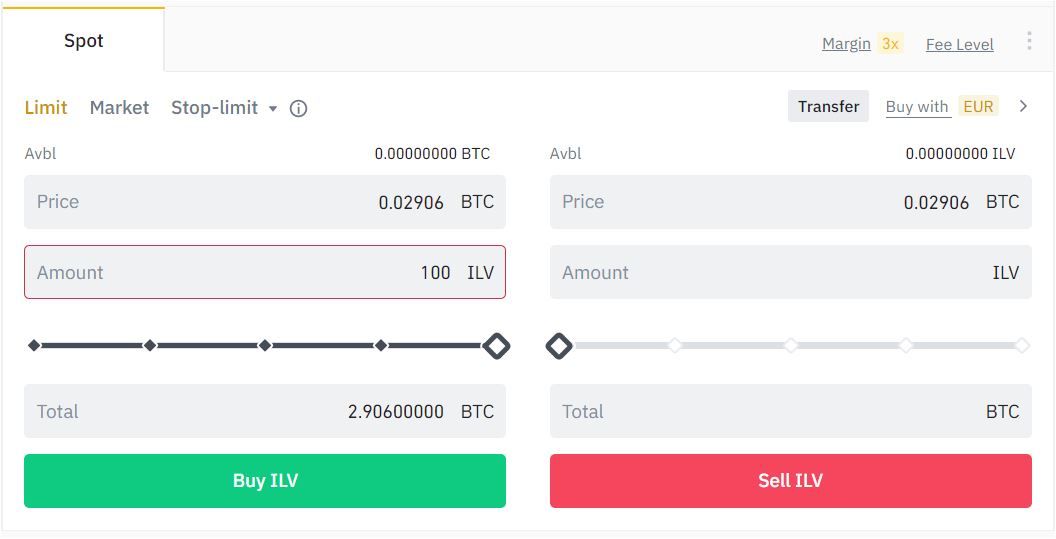 After you set the amount of ILV you want to buy and the price you want to pay for each ILV, click on the Buy ILV button to set the order. When the price is met, the order will get automatically executed.
If you wish to buy the ILV tokens as soon as possible, you can do so by clicking on the Market tab (top left, under Spot). With this, you will only have to enter the amount of ILV you want to buy. The instantly executes the order at the price of the market.
After your order, you will see the ILV tokens in your account after order execution. You will see it instantly if you use the market price. You can go to Wallet (top right) > Fiat and Spot to see your account balance on Binance.
Staking Illuvium (ILV)
You can stake Illuvium (ILV) directly from your wallet. The supported wallets are MetaMask, WalletConnect, Coinbase wallet, Trezor, Fortmatic, Portis, and Torus.
Step 1. Connect wallet to stake Illuvium
Go to staking.illuvium.io and connect your wallet that holds the Illuvium (ILV) tokens.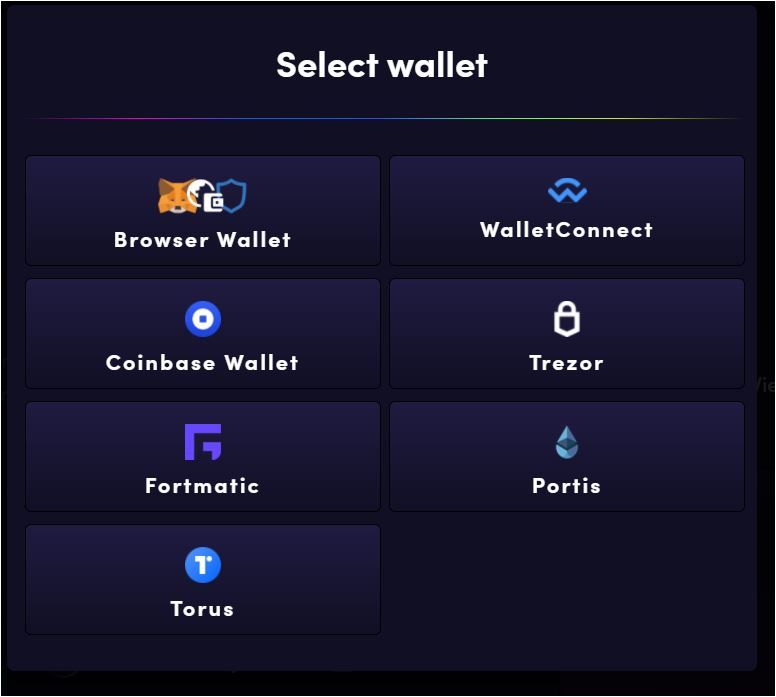 After you connect your wallet, you should see the available options for staking ILV tokens.
Step 2. Core pools
You need to go to Stake > Core pools. There are two pools available for staking ILV tokens.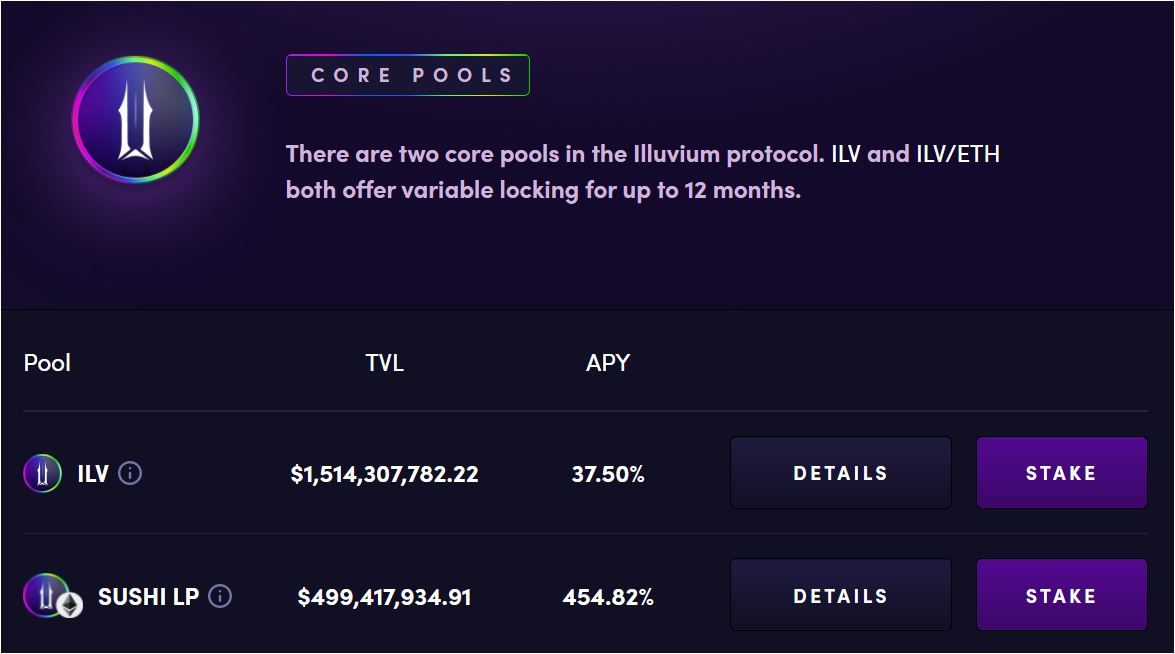 You want to stake ILV tokens, so you will choose the first option. Click on Stake.
You will get to choose the amount of ILV tokens to stake. You can also choose between the Flexible or the Locked mode.
If you choose Flexible, the Annual Percentage Yield (APY) is smaller, but you can unstake the ILV tokens at any time.
If, however, you want a higher return for your staking, you can choose Locked. This will lock your tokens from anywhere between a week to a year, and the APY increases accordingly.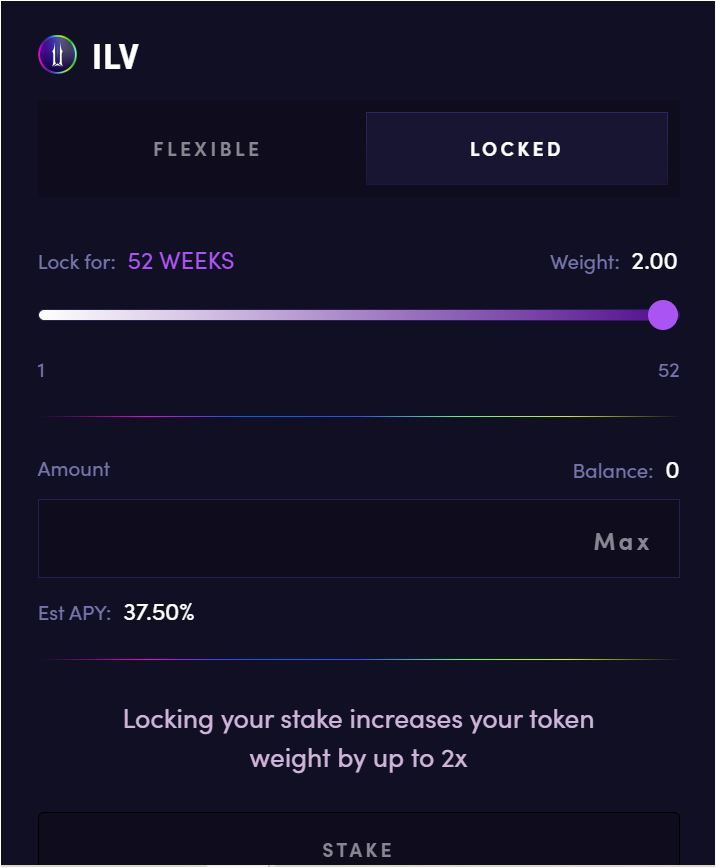 After you select the desired amount of ILV tokens to stake and the preferred mode (Flexible/Locked) and the time for the locked mode, you need to click Stake and then confirm the transaction on the blockchain, from your wallet.
Step 3. Collect staking rewards in ILV or sILV
Rewards can be collected in form of ILV or sILV tokens. Note that ILV rewards are locked for a year, but sILV tokens are in-game tokens only and can be used immediately after they're claimed.

Step 4. Withdraw vested rewards
Users can see their rewards on the Vesting tab. All rewards are subject to a 12-month vesting period before they can be withdrawn.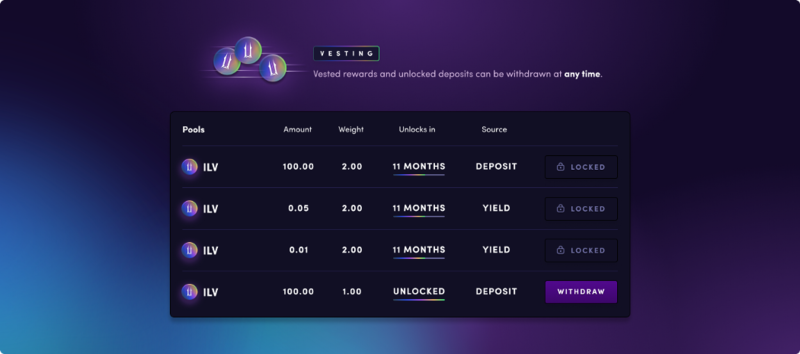 Will Illuvium be the world's first AAA P2E game?
Q4 2021 was Illuvium's original launch date, but co-founder Kieran Warwick announced in Aug. that the release date was delayed to 2022. The team has plans to release a mobile app and a console version for the game.
With the launch of Illuvium's staking platform, the game has already gained a lot of attention, traction, and trading volume on the crypto exchanges. Since its launch, ILV market cap has seen a healthy increase. Although the gameplay mechanics of Illuvium are very similar to those of Axie Infinity and other blockchain games, Illuvium's look, feel, functionality, and design seem superior.
Will Illuvium be the first AAA experience in the NFT gaming industry? We will have to wait until the beta launch in 2022 to find out.
Frequently asked questions
How much does Illuvium cost?
At the time of writing, the price of Illuvium (ILV) is $1,518.
What is Illuvium game?
Illuvium is a play-to-earn RPG game that is based on the Ethereum blockchain, featuring the ILV tokens, which can be exchanged on crypto exchanges.
What blockchain is Illuvium on?
Illuvium is built on the Ethereum blockchain, but uses the Immutable X (IMX) layer 2 solution.
Can you buy Illuvium in the U.S.?
U.S. traders can buy Illuvium on SushiSwap. You will need an Ethereum wallet to connect to the DEX and then swap ETH for Illuvium (ILV).
When can I play Illuvium?
The game is set to launch its beta version in 2022. 
How do I invest in Illuvium?
You can invest in Illuvium by purchasing the ILV tokens, and you can support the game while earning a passive income by staking the ILV tokens on the Illuvium staking platform.
How much does it cost to play Illuvium?
The base version of Illuvium is free to play and can be experienced by all. However, in-game assets need to be purchased using ILV and sILV tokens. Players are rewarded with ILV tokens for playing the game and engaging in competitions.
Disclaimer
In line with the Trust Project guidelines, the educational content on this website is offered in good faith and for general information purposes only. BeInCrypto prioritizes providing high-quality information, taking the time to research and create informative content for readers. While partners may reward the company with commissions for placements in articles, these commissions do not influence the unbiased, honest, and helpful content creation process. Any action taken by the reader based on this information is strictly at their own risk.