The world of finance, cryptocurrencies included, face regulations that vary from country to country. Navigating what is possible or allowed can be complicated. As the popularity of cryptocurrencies improve, innovation is needed to make transactions as smooth and seamless as possible. That's where Avalanche and its native token AVAX come in.
Avalanche and AVAX boasts the quickest execution of smart contracts in the crypto world. Recent partnerships with the Ethereum Network could revolutionize its capabilities, breaking down international barriers in the finance world.
Avalanche has garnered a lot of attention recently. Let's take a look at why this is so, and what it hopes to achieve with its platform.
The history of Avalanche
Launched in September 2020, the project was started in 2018 in the United States. Despite a few bumps along the way, it has recently seen a surge in developer activity. Avalanche was the brainchild of Emin Gün Sirer, a computer scientist and associate professor at Cornell University.
Emin is also the founder of Ava Labs, where he worked with Kevin Sekniqi and Maofan 'Ted' Yin to build the basis for AVAX and the network before its 2020 launch. A precursor to Avalanche was a digital currency called Karma, which preceded even Satoshi Nakamoto's invention of Bitcoin. This never took off.
In May 2018, Emin's ideas around virtual currency started to become a reality. An anonymous group published a paper titled "Snowflake to Avalanche" — and the concept of the Avalanche Network was born. The closest thing to a crypto Whitepaper, sets out the earliest versions of Avalanche.
Shortly after this, in June 2018, Ava Labs was founded by Emin and his co-workers. Over the next two years, they would publish a revised version of the original paper, collaborating with Team Rocket, and perform their first testnet launch in April 2020.
A year later, Ava Labs announced the initial coin offering of AVAX, which raised $42 million in under 24 hours. In September of the same year, Avalanche had its mainnet launch and started to release its tokens. It is expected that by March next year, all AVAX tokens will be released for public sale.
What is Avalanche?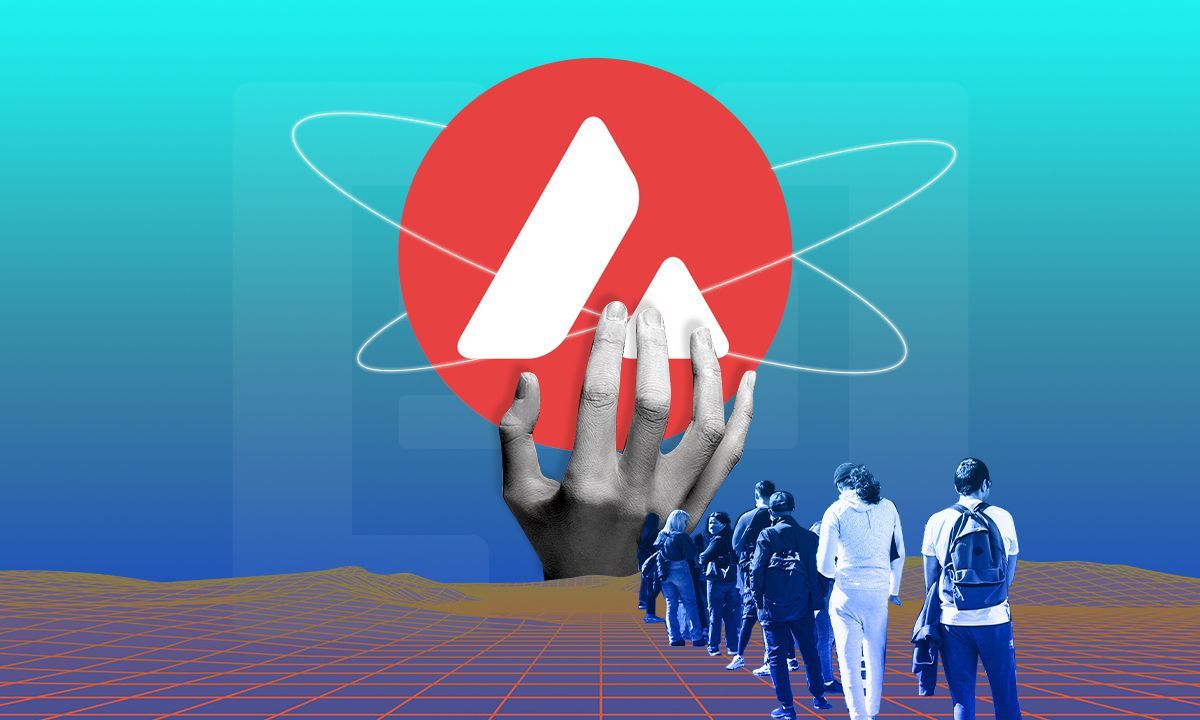 Avalanche sees the piecemeal nature of the crypto market across the world as a big hurdle. Currently, different countries work on different financial systems and regulations. Smooth trading of digital assets can be problematic.
Avalanche aims to solve this. It's aiming to create a unified global financial market, where users of the platform will be able to trade digital currency in a frictionless way.
The project uses the proof-of-stake consensus algorithm. This not only makes it fast, but also consumes less energy than some other exchanges available. Avalanche's own consensus network, AVA, enables this while also allowing the development of dApps by users to enhance the platform further. AVA also allows users to launch their own, admittedly smaller, networks with the right infrastructure.
The Avalanche network plays host to ethereum, bitcoin, and other cryptocurrencies, as well as collectibles. It also enables P2P lending on its platform, something which has only recently come to the crypto space.
How does Avalanche work?
Encompassing multiple blockchains, Avalanche processes around 4,500 transactions per second. The advantage of these multiple blockchains and the proof-of-stake system means that Avalanche is much faster than other exchanges and coins.
The consensus that the Avalanche platform uses combines previous consensus mechanisms, such as the Nakamoto consensus from Bitcoin and Classical consensus. These provide both speed and security for users and holders of the AVAX token that is the primary currency of the platform. This, they argue, is a vast improvement from previous systems.
Features and services

Avalanche offers a wide range of services. This includes peer-to-peer lending, trading, and the creation of sub-networks (which requires AVAX tokens). The platform aims to give a smooth running experience across different financial assets and activities.
Avalanche, as it was intended, also presents many new possibilities for developers and creators of dApps on the blockchain. Another step towards Web 3.0 or, as Avalanche dubs their platform, the Internet of money. The platform will act as a central hub and exchange for the future of financial transactions, both crypto and more traditional.
How are competitors faring?
While it is a relatively new concept to have one platform for a range of different assets, there are already competitors to Avalanche. One of these, despite their recent partnership, is Ethereum. Unlike Avalanche, Ethereum does not offer such flexibility. However, it has become a central crypto to many transactions, including staking.
Secondly, we have Algorand. With a plethora of partners, from universities to major financial services, Algorand is arguably more established than Avalanche. However, where the former falls behind, despite its many achievements, is that it is purely focused on the blockchain.
While claiming to be the future of finance, unlike Avalanche, the pure focus on the blockchain limits the possibilities that Avalanche can bring, utilizing a range of different asset classes.
Finally, there's Cosmos. It is a network built with Web 3.0 in mind. Less focused on finance, the platform boasts 253 apps on its ecosystem.
Far more than either of the above have, but that is bound to change. Selling itself as "The Internet of Blockchains," it may be trying to beat Web 3.0 at its own game. Despite this, it hosts many other apps as well — which might make it cluttered for you.
What is the Pangolin DEX?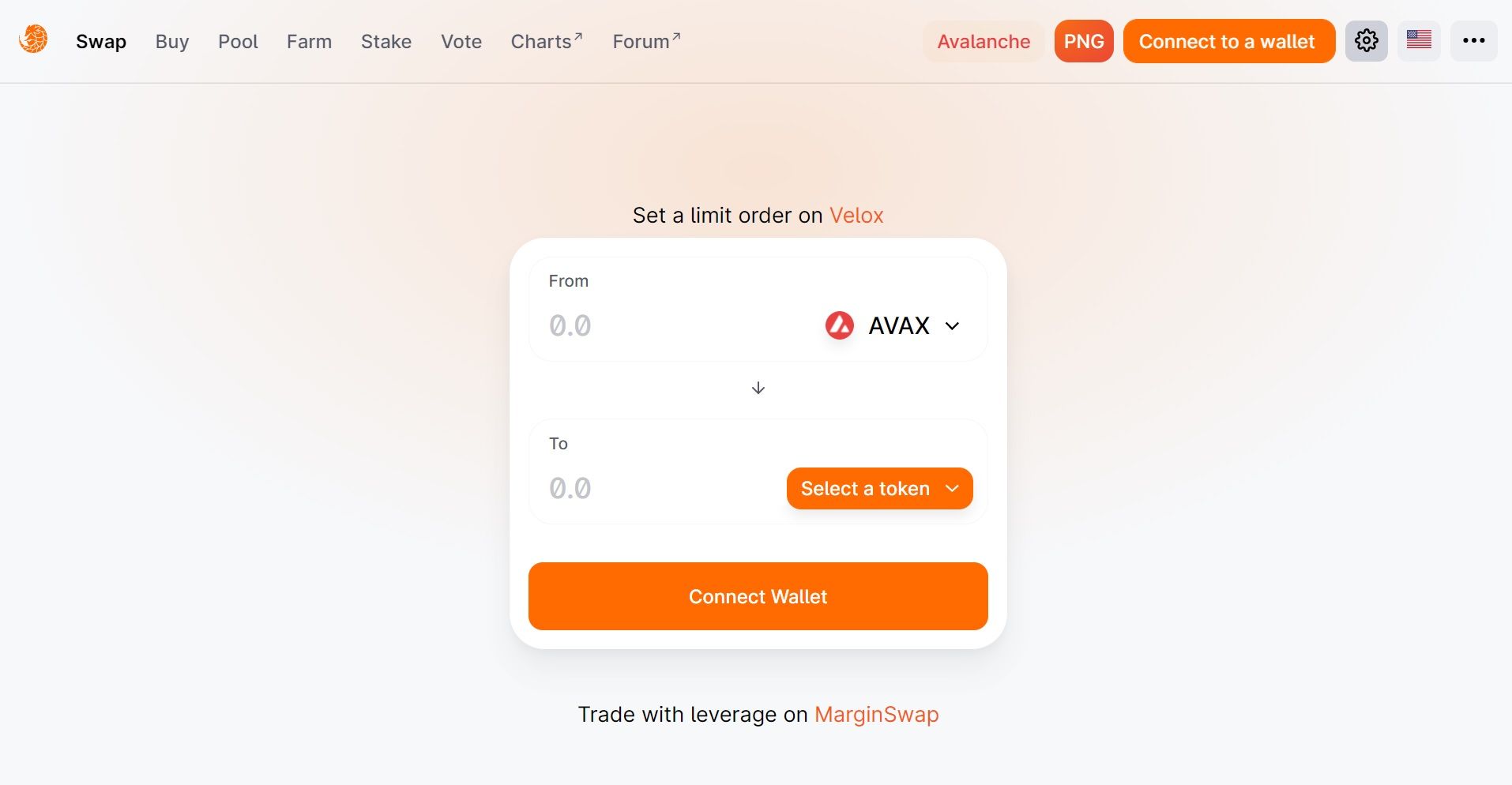 Pangolin DEX is a community-built decentralized exchange with Ethereum and Avalanche in mind. The exchange, which runs on Avalanche, offers the ability to trade crypto, which is hosted on Avalanche and Ethereum. Pangolin promises to be a fast and cheap way to trade these currencies, including its own governance token, PNG.
Avalanche's potential in the future
Avalanche is certain to be a part of the future of blockchain and, no doubt, Web 3.0. As it has just raised $230 million from the sale of its native token, AVAX, it isn't going anywhere any time soon. Backers include Polychain and Three Arrows Capital, so it is clear that there is strong conviction in it.
With the release of its remaining supply of AVAX early next year and the surges it has seen in the past few weeks, Avalanche could overtake competitors in the race to an internet of blockchain and financial ease, as this seems to be their focus.
Tokenomics
While AVAX is new to the crypto world, there is great demand for it. Not all of the supply is in circulation, making it more expensive.
Many investors are holding on to AVAX, in the hope that the success of Avalanche will boost its price. But the value of the token may subsequently decrease as supply is increased early next year. CoinMarketCap currently shows that only 31% of all the 391,000 tokens are in circulation.
Nevertheless, the current price of AVAX crypto puts it at a decent value to buy. This will be so at least until the remainder of the supply is released onto the blockchain in early 2022. At this point, the hope is that the demand will push the price up. But in the world of cryptocurrency, this is far from a certainty.
AVAX price and predictions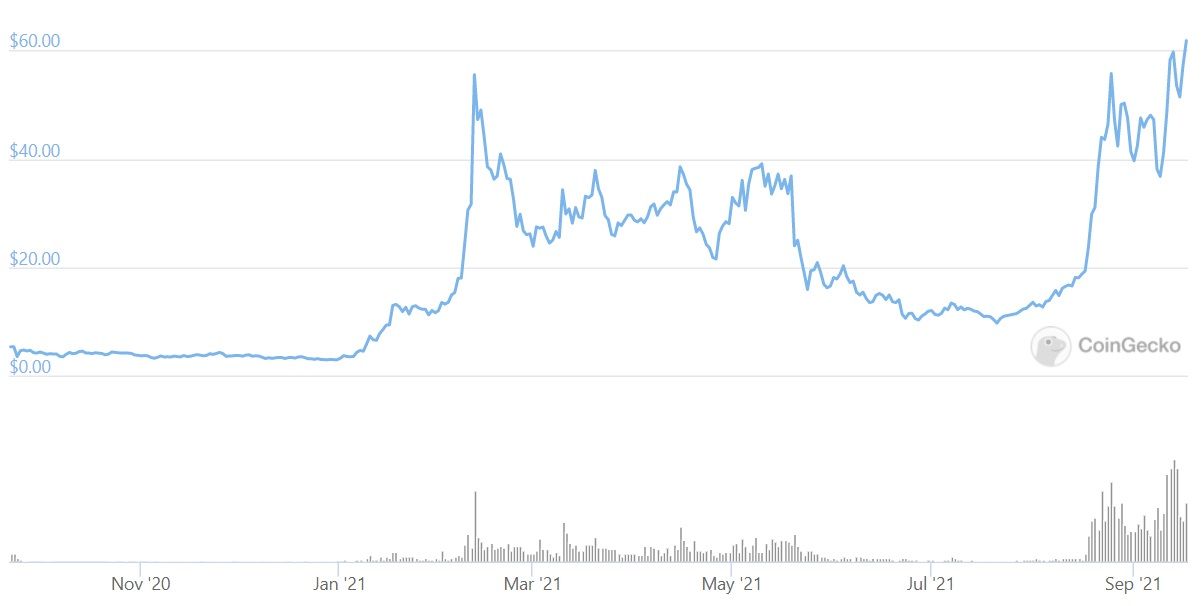 With its growing popularity in recent weeks, the price of AVAX is likely to increase, but by how much?
Current predictions of its future price range anywhere from $80 up to $150, in the next year. With its goal of unifying financial services, the demand for the token could increase. Consequently, an increased user base could boost the price.
Should you buy AVAX?
At this time, while it has been extremely in demand, it could be worth looking into AVAX. As previously stated, the increased use of the platform and potential as a token for crypto investors could boost the price far beyond its current price range. If you plan to HODL this crypto, there might be potential for this to appreciate well in the long term.
AVAX's focus could find mass appeal
The ease of movement and trading between different asset classes is AVAX's massive appeal and selling point. In the Internet of finance, if it achieves what it has set out to do, the financial world may just thank them for it, but that remains to be seen. However, unlike some things in the crypto space, it is not a platform to jump onto just because it has been hyped up in recent weeks.
Avalanche is for those who find the financial world complicated and difficult to navigate. But that doesn't imply that it shouldn't also be used by the wider population. If the future of finance is to cause an Avalanche, then it might be worth it.
Frequently Asked Questions
What does the Avalanche blockchain do?
What is the Avalanche blockchain structure?
Disclaimer
In line with the Trust Project guidelines, the educational content on this website is offered in good faith and for general information purposes only. BeInCrypto prioritizes providing high-quality information, taking the time to research and create informative content for readers. While partners may reward the company with commissions for placements in articles, these commissions do not influence the unbiased, honest, and helpful content creation process. Any action taken by the reader based on this information is strictly at their own risk.