NFTs are all the news these days, but despite their popularity, many people don't know what they are. NFTs or non-fungible tokens are one-of-a-kind digital goods, just like a Mona Lisa painting. They are unique, can be traded, and are stored in the blockchain. If you didn't already know, NFTs could sell for hundreds of thousands of dollars, if not millions. People like Grimes and Logan Paul have made millions selling NFTs. Names like CryptoPunks, Beeple, and the Bored Ape Yacht Club are synonymous with some of the most expensive NFTs available today.
NFTs have changed the way we interact with digital items. Creators are no longer hostage to platforms like YouTube or Facebook and can connect with their audience without any medium or centralized platform. Before you jump on the NFT bandwagon, you should know where to buy NFTs. There's no one correct answer for that, but this article will help you decide which one to join, depending on your specific requirements.
Billions pouring into NFTs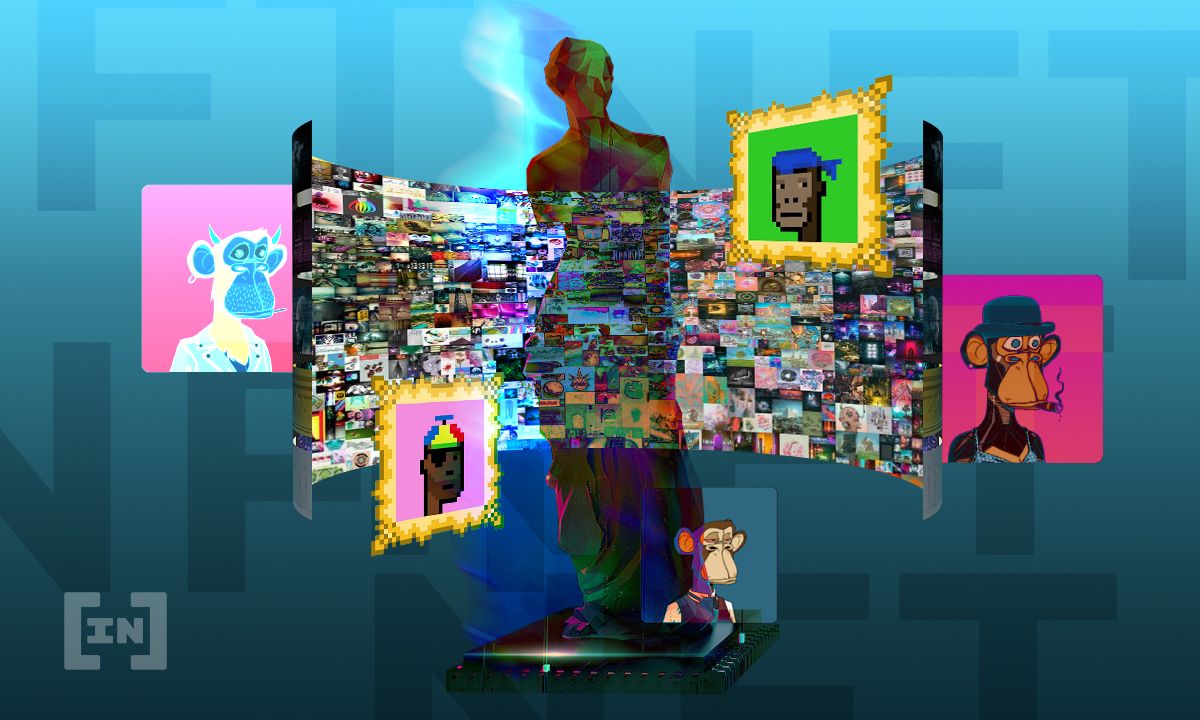 If you have just stepped into the world of NFTs, you may be skeptical about its prospects. Upon taking a closer look at the current market trends, though, you'll quickly realize that NFTs offer huge earning potential. Statistics show that the global NFT market has grown from $41 million in 2018 to $338 million in 2020, an impressive eight-fold increase in just two years. In 2020, there were 82% more NFT transactions than in 2019. In 2021, the total NFT sales volume has surged to over $2.5 billion.
If you're curious about how much NFTs sell for, there's no fixed answer to that. Some sell for a couple of hundreds, while others sell for thousands and even millions of dollars. However, only a few NFTs have exceeded the $1 million price tag so far, with the most expensive one sold for $69 million.
This astronomical growth is likely to continue because of just how popular cryptocurrencies have become. But how are NFTs related to cryptocurrencies, exactly? In simple words, NFTs are stored and authenticated on the blockchain, which means you can't buy or sell NFTs without cryptocurrencies. Therefore, as long as the crypto-verse thrives, so will NFTs.
How to buy NFTs
To buy NFTs, you need cryptocurrencies and to store it, you need a cryptocurrency wallet. You can create a crypto wallet for free by signing up on a cryptocurrency exchange like Coinbase, Binance or OKEx. Once done, the cryptocurrencies you buy will be stored in your wallet.
Keep in mind that you can't buy NFTs with all cryptocurrencies because most of them are built on the Ethereum blockchain, so you can pay only with cryptocurrencies that are on that blockchain. Some marketplaces support purchases using credit cards.
After setting up your wallet, all you need to do is sign up on the right NFT marketplace and connect it to your wallet. Now, you can browse through the marketplace, mint NFTs, and list them for sale. In most NFT marketplaces, there's a fixed price system where you can buy an NFT at the listed price and an auction system where you can bid for an NFT and hope it's the highest one.
Where to buy NFTs?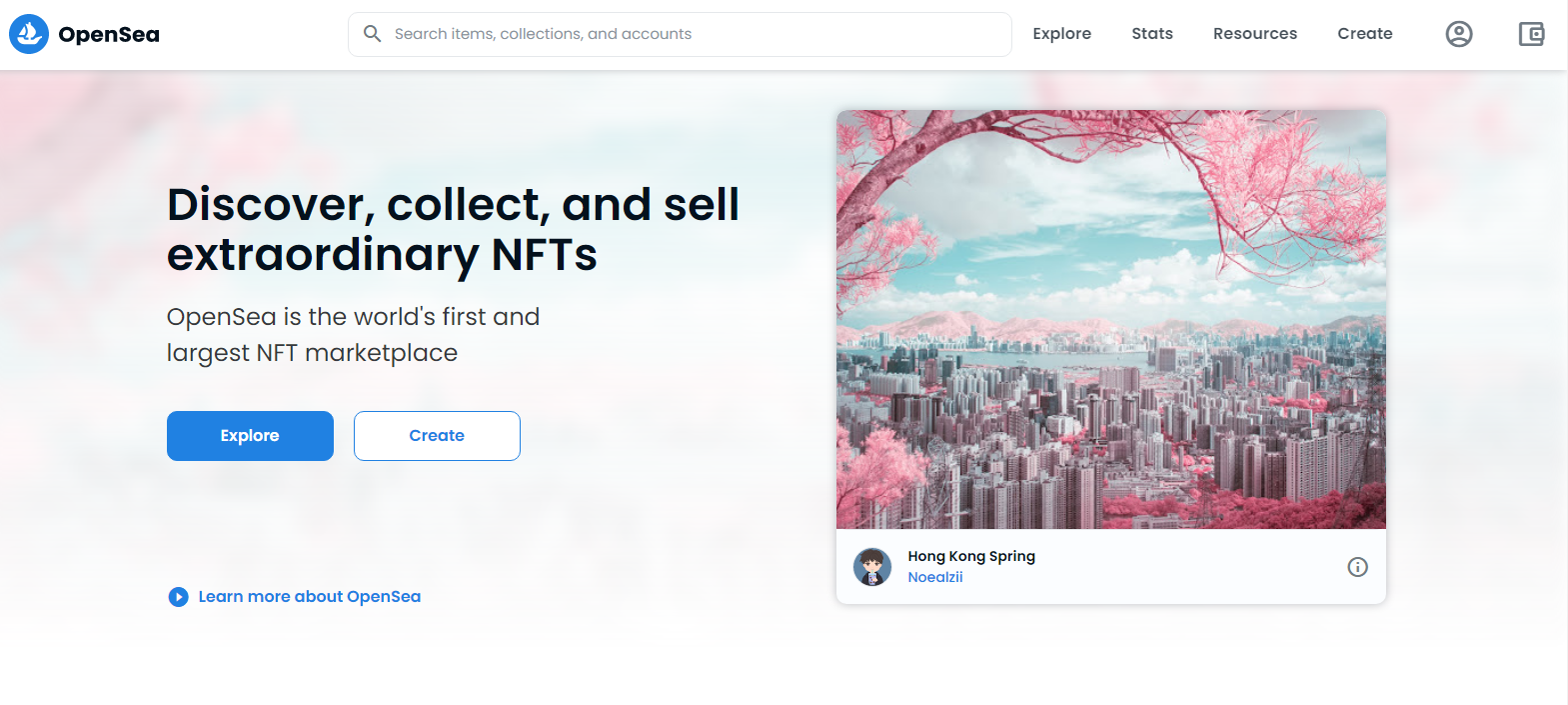 OpenSea is the world's first and largest marketplace where you can buy and sell NFTs. It's compatible with the Ethereum, Polygon, and Klaytn blockchains. You can browse through more than 34 million NFTs on this platform sorted into dozens of categories, ranging from digital art to collectibles, game items, virtual worlds, and domain names.
To sign up on OpenSea, you need an Ethereum wallet like MetaMask, Coinbase Wallet, or Fortmatic, and pay a signup fee to initialize your account. Many NFT platforms take gas fees upfront. A gas fee is the cost of validating transactions on a blockchain network.
OpenSea lets creators mint NFTs without paying any gas fee, since the NFT isn't transferred on the blockchain until the purchase is made. That means you can turn a digital file into an NFT for free and pay the gas fee when the item is sold. OpenSea also takes a 2.5% cut after the NFT has been sold. For fixed price items, the buyer pays the cut and for auctioned items, the seller pays it.
All transactions on OpenSea are atomic, which means that either the whole transaction happens or none of it does. It's not like eBay, where the buyer has to pay for the goods upfront. As a result, there's no trust problem regardless of which party acts first, thanks to the Wyvern Protocol.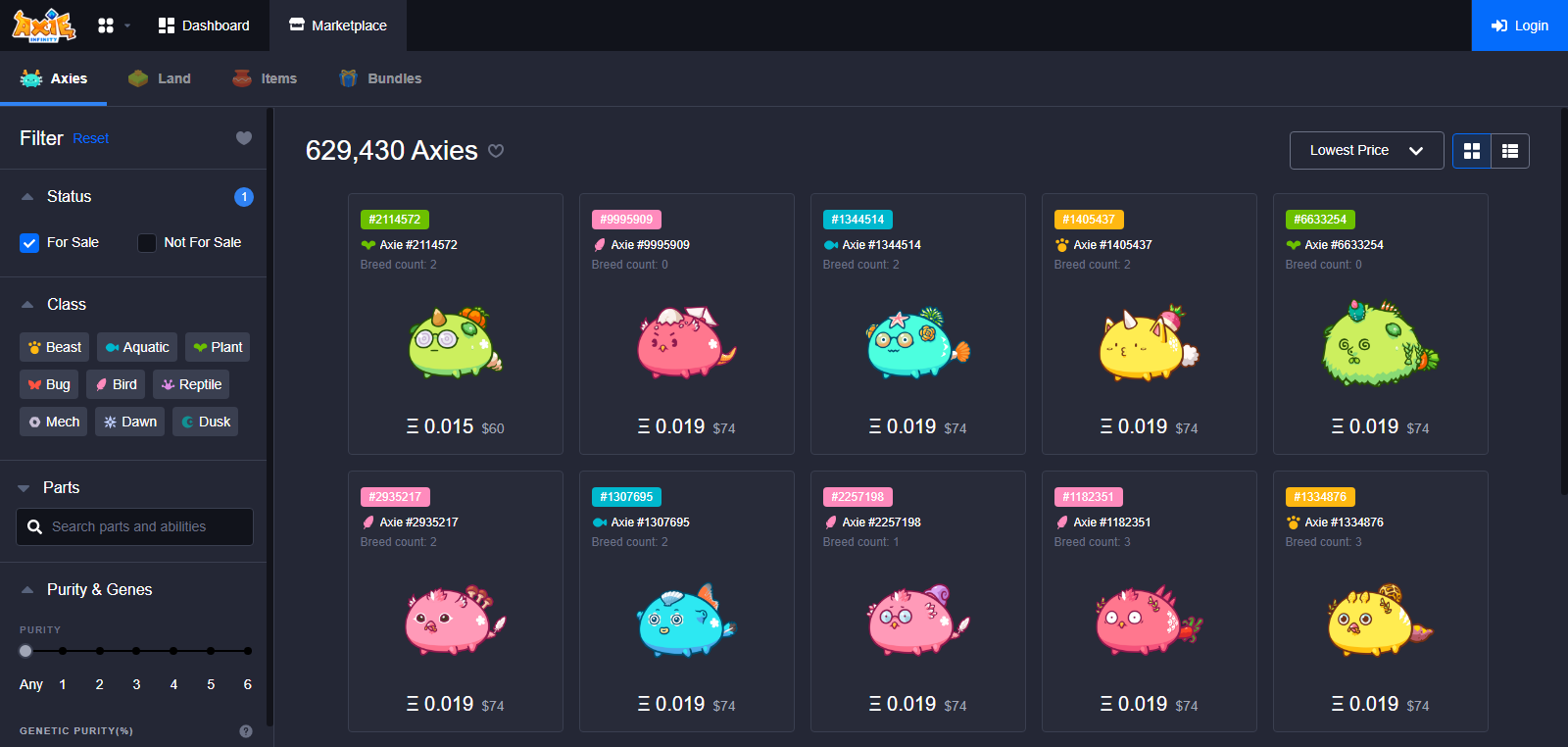 Axie Infinity is a gaming metaverse where users can create and breed pets called Axies and compete with one another in a card game. Each Axie is a unique digital asset with unique traits and can be bought or sold.
Axie Infinity is built on the Ethereum blockchain and requires a MetaMask wallet. New players need to own at least three axies before they can start playing. Not only can you exchange in-game assets as NFTs but can also buy virtual land in the game.
Axie Infinity uses a pay-to-play-to-earn model where you can earn and cash out tokens (AXS or SLP) fortnightly as a reward. For all transactions you make, it takes a 4.25% cut from the buyer and the seller. You'll also have to pay a fixed fee if you want to breed your Axie.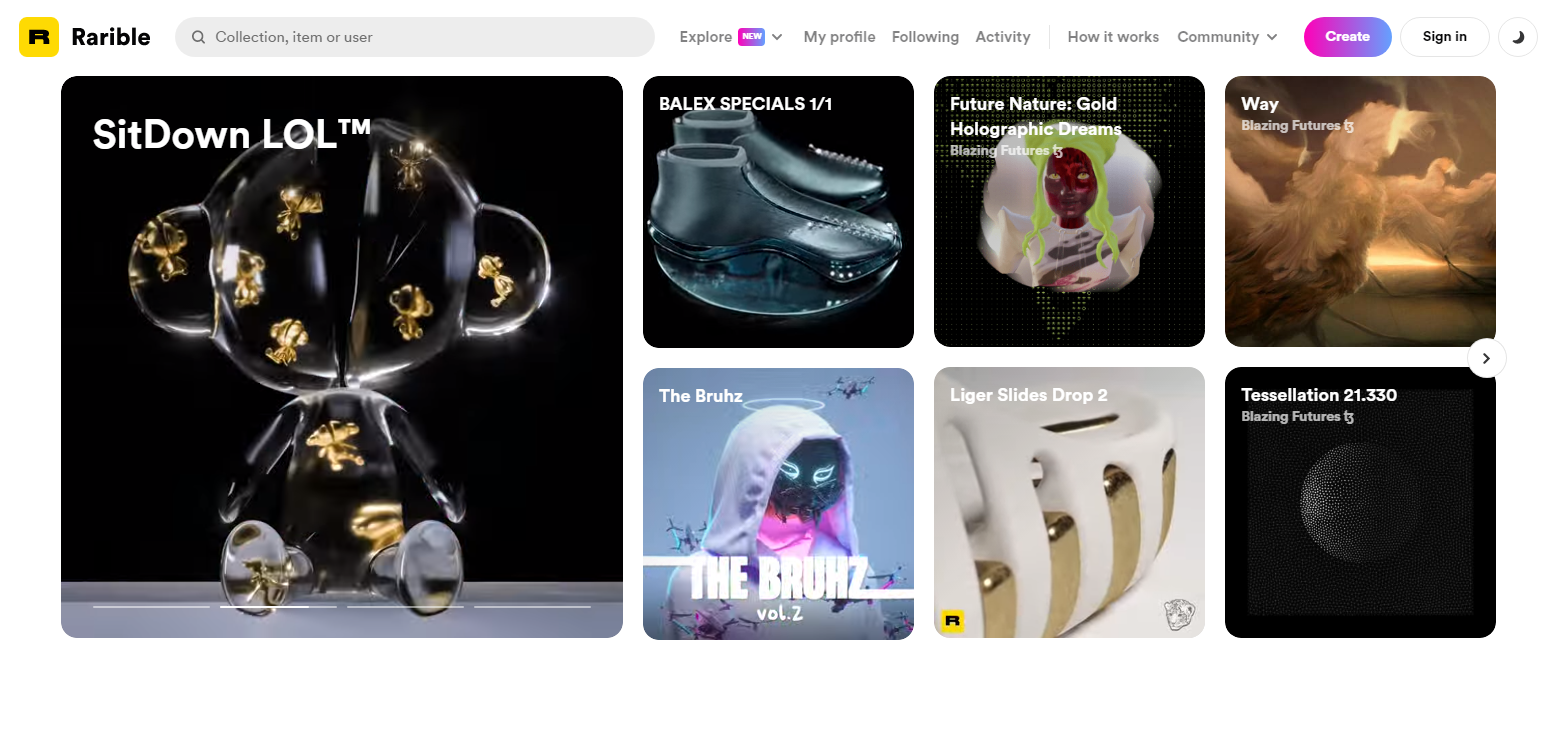 Rarible is another leading NFT marketplace for tokenized digital art. To sign up on the platform, you must have an Ethereum wallet. Rarible hosts a variety of NFT categories, including photography, music, digital art, domains, metaverses, and games. You will find some NFTs put on sale at a fixed price and others that are being auctioned.
Perhaps the best aspect about this platform is that you can earn royalties on the NFTs you resell, which means you can create a stream of passive income and receive a cut every time the NFT gets sold. You can also earn rewards by using Rarible – the rewards are paid out in Rarible's native cryptocurrency called RARI tokens.
Like most other marketplaces, Rarible takes a 5% cut on every sale and splits it equally between the buyer and the seller. That means both parties have to pay 2.5% of the final price. Payment is quite flexible on Rarible because it supports over 20 cryptocurrencies, some of which include ETH, DAI, RARI, and USDC.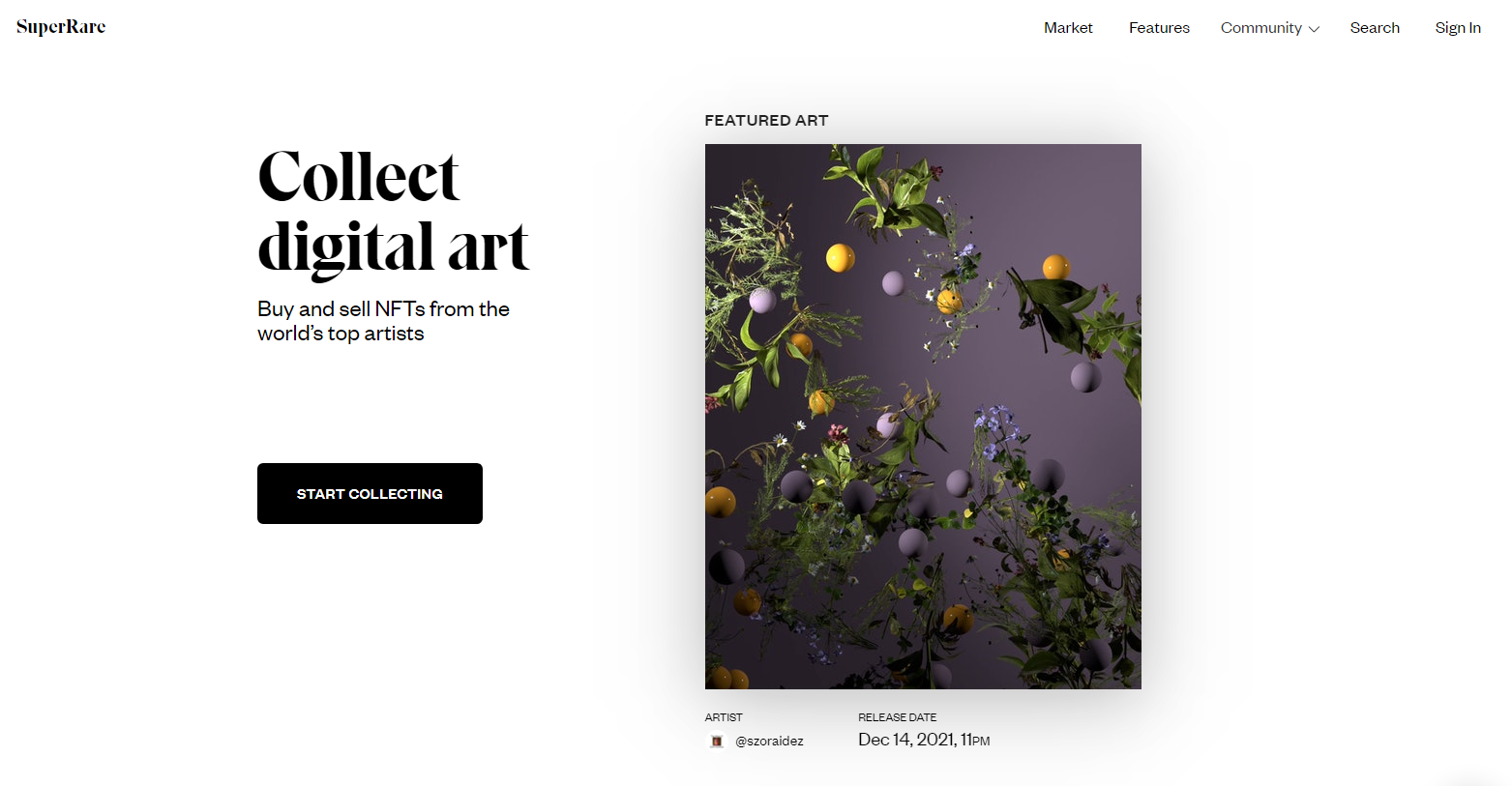 SuperRare is a peer-to-peer digital art market that connects artists and collectors. However, it is still in its early stages and so far, has only brought a handful of artists on board. SuperRare is unique in the sense that it is exclusive to only those artists who meet its criteria.
If you want to join the platform, you can submit your profile for review. SuperRare will evaluate your profile on several metrics. It further maintains its exclusivity by hosting artworks that are 1 of 1 unique or single edition pieces that are truly one-of-a-kind. Other NFT marketplaces let artists mint and sell multiple iterations of the same artwork.
SuperRare only accepts payments in ETH and requires users to have a MetaMask wallet. You'll have to pay whatever the gas fee of the Ethereum network is at the time of buying. It takes a 15% cut from the seller on every sale, but also provides a 10% royalty each time the asset changes hands in the market. It also charges the buyer 3% of the NFT's final price.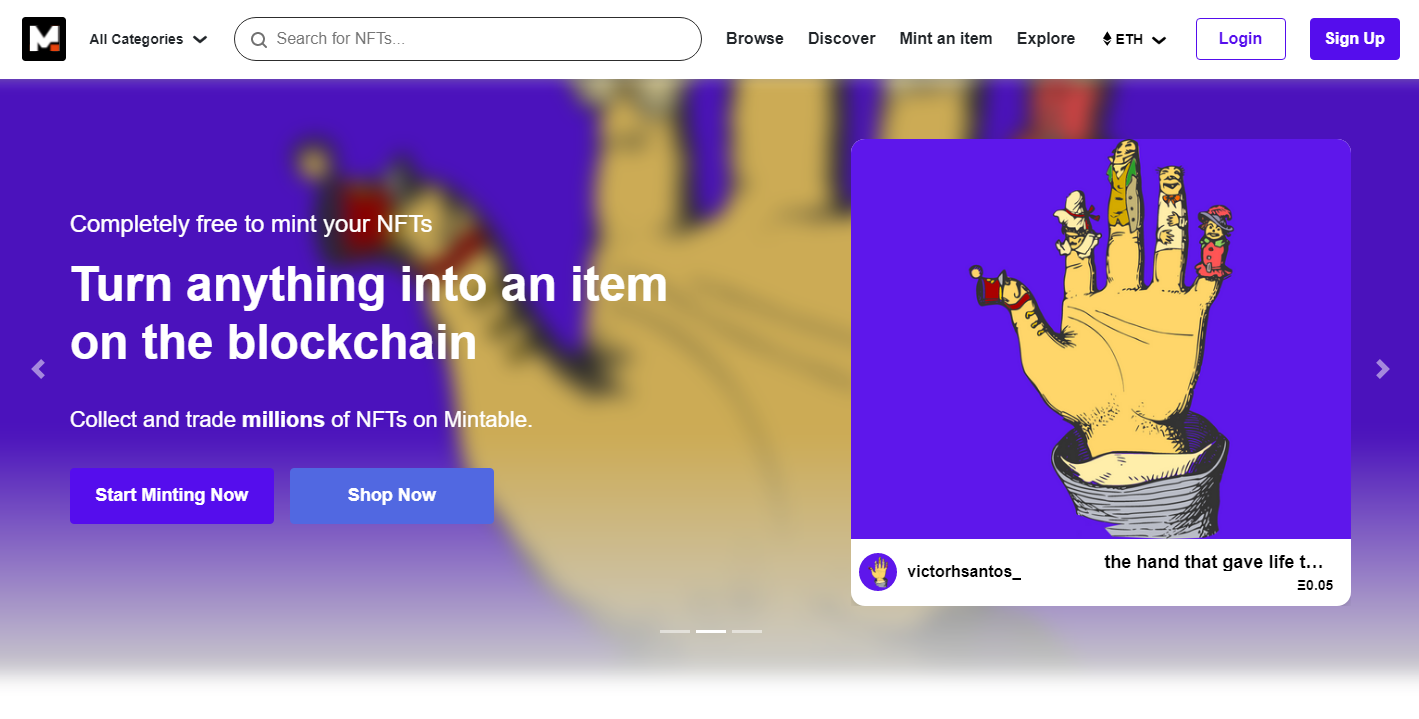 Mintable is a gasless NFT marketplace where you can mint your memes, audio, or video files into NFTs. The platform is built on the Ethereum and Zilliqa blockchains, and you need a MetaMask wallet to sign up on the platform. Every time you buy an NFT, Mintable rewards you with a MINT token.
Like other NFT marketplaces, Mintable takes a cut on every sold item. But this cut isn't a flat fee. Instead, Mintable charges 2.5%, 5%, and 10% for normal, gasless, and printable NFTs, respectively.
On Mintable, all payments are made in ETH, but you can also buy NFTs using a credit card.
Mintable also offers a royalty every time an NFT you previously owned is resold but doesn't have a fixed percentage. Instead, users can toggle on the sliding scale and decide how much or how little royalties they want for all future sales.

Nifty Gateway is an exclusive marketplace for expert artists and is built on the Ethereum blockchain. The NFTs here are called "Nifties." It's a marketplace where the only sellers you'll find are renowned musicians and artists, who have sold nifties worth millions of dollars so far. For example, "CROSSROAD" by Beeple sold for more than $6 million in February 2021.
Nifty Gateway isn't fully decentralized because digital assets are stored on the platform instead of the blockchain. Nifties go up for sale every three weeks. If you want to buy an NFT on Nifty Gateway, you can send in blind offers, participate in raffle draws, or bid in auctions. Purchases can be made through credit cards.
Generally speaking, the resale value on nifties is high and artists get 10% royalty on every resale. The platform isn't transparent about its gas fees, though it does charge a 5% cut on every sale along with a $0.30 transaction processing fee.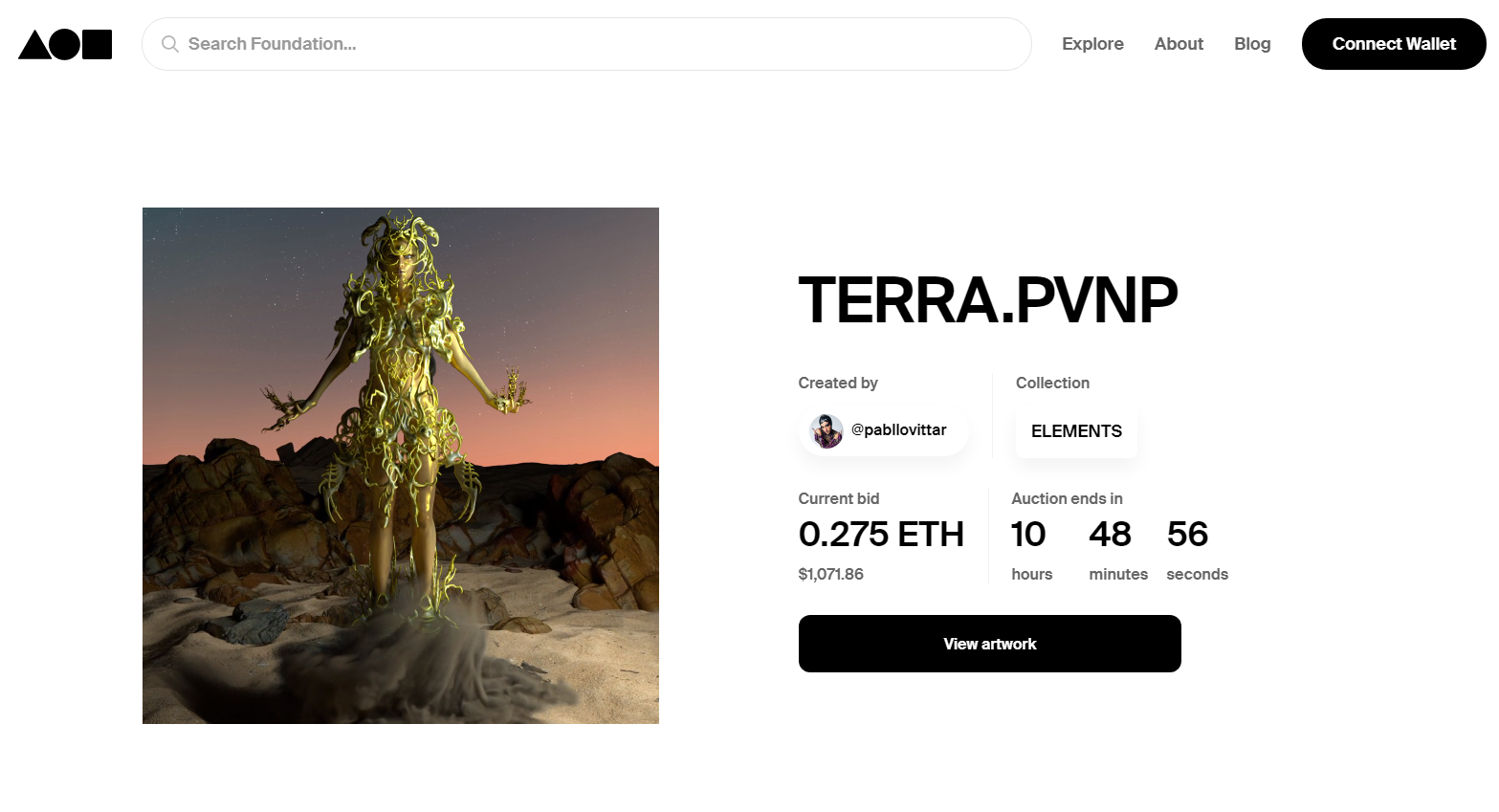 Foundation is another exclusive NFT marketplace only for 'chosen' artists. Unlike Nifty Gateway, though, it lets both unknown and popular artists join the platform. Built on the Ethereum blockchain, the Foundation's vision is to promote art by connecting collectors and creators.
If you want to sell NFTs on Foundation, you will have to fill out an application and show your art portfolio. Foundation will review your profile and send you an invitation if your application is successful. If you're a collector, you just need to have a MetaMask or Wallet Connect wallet.
Foundation doesn't charge a cut on the buyer. It does, however, charge a 15% cut for all sales. The gas fee on the platform isn't fixed and can change depending on how much traffic the network is getting.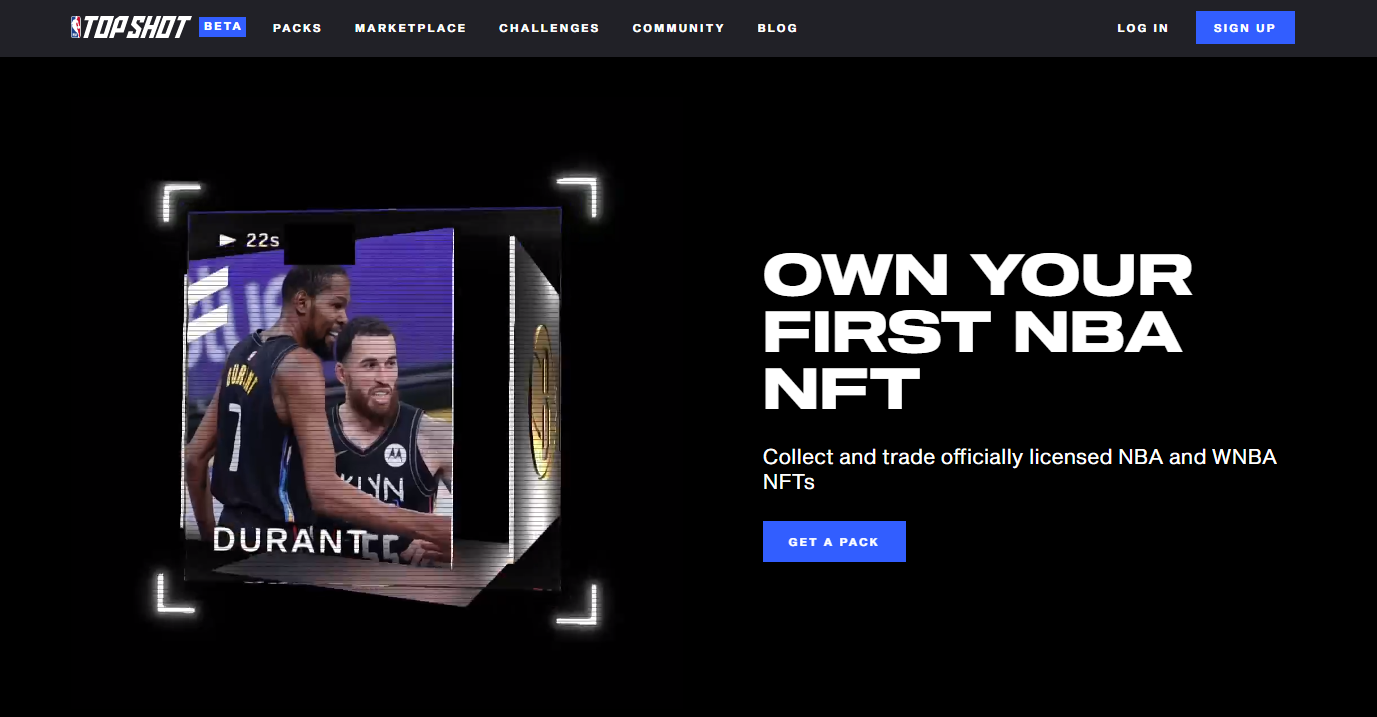 If you're a sports enthusiast, NBA Top Shot is the right NFT marketplace for you. It lets fans trade digital moments from NBA. For example, if you watched a live NBA match and captured Stephen Curry make a 3-pointer, you can mint it on NBA Top Shot and list it for sale. The platform lets users collect NBA "moments."
Listing or delisting items in the marketplace is free for sellers. On every sale, however, NBA Top Shot takes a 5% cut from the seller. You can buy NFTs with your crypto wallet or credit card. If you pay in cryptocurrency, say ETH, the gas fee you'll have to pay for the transaction will be equivalent to the current gas fee on the Ethereum network.
If you want to pay using your credit card, you'll be charged the industry-standard processing fee of about 5.2% of the price plus a $0.3 transaction fee on every transaction. NBA Top Shot is still in its early stages and has limited payment options. It only accepts payments in BTC, ETH, BCH, DAI, and USDC.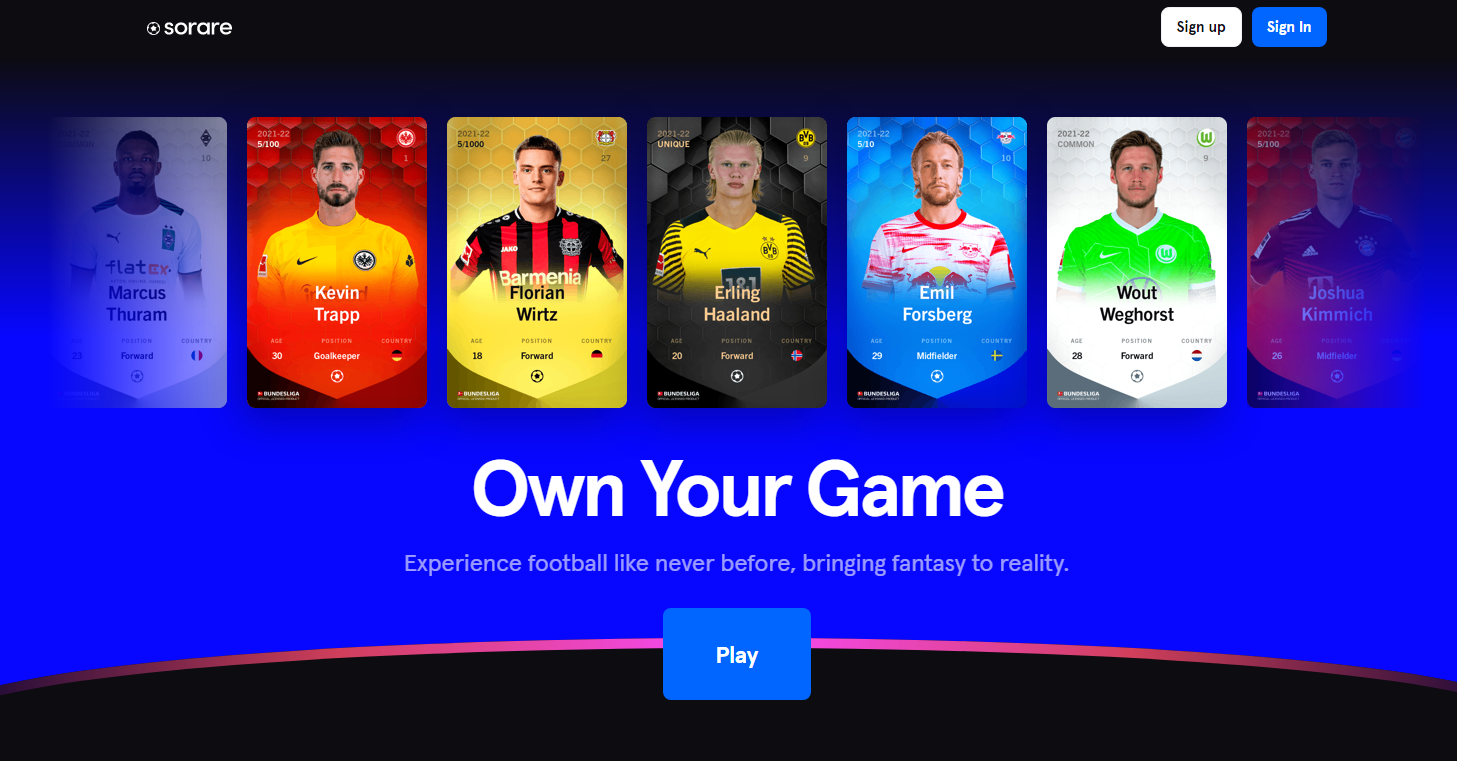 Sorare isn't a conventional NFT marketplace — it's a fantasy football league game where you can manage a virtual team by exchanging digital cards as NFTs on the platform. For example, a rare card of Kylian Mbappé (a famous soccer player) was sold for $65,000 on the platform.
The game is built on the Ethereum network, and you can only buy or sell cards in ETH. Sorare releases new cards daily, which are sold in auctions. Alternatively, you can buy a card from another player for a flat fee. Like most blockchain-based games, Sorare gives you weekly rewards in ETH for playing the game.
Making transactions on Sorare isn't free. The transaction fee, however, depends on which wallet you're using, as different wallets have different service fees. As for the gas fee, Sorare is built on the Ethereum blockchain, so you'll have to pay whatever the gas fee is on the network.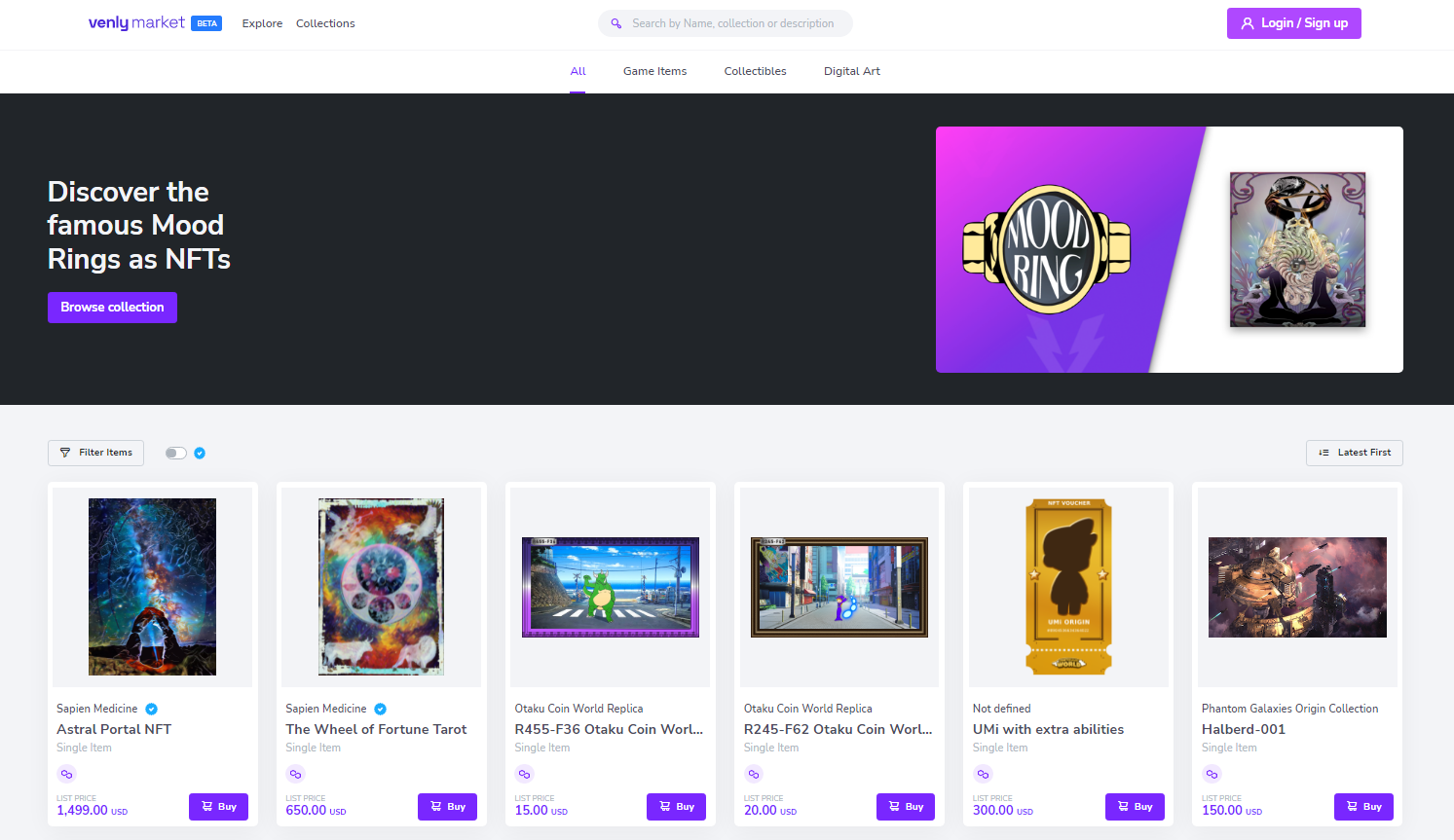 Venly is both a digital wallet provider like MetaMask and a peer-to-peer NFT marketplace. The NFT marketplace is built around video games. Currently, it has over 200,000 gamers who can create, buy, and sell game characters, weapons, and various collectibles.
Venly isn't purely blockchain-based. Although it is partnered with Polygon, Avalanche, and Binance Smart Chain, which means you can pay through cryptocurrencies, it's an agnostic marketplace where you can use PayPal to pay with fiat money. That's quite convenient if you want to avoid a gas fee. If you want to pay through crypto, though, you need a Venly Wallet or MetaMask.
Venly charges 2% on every transaction but, in return, offers a 10% royalty on all resales. There's also a withdrawal fee of 2.9% on a minimum withdrawal of $5. If you want to list your NFTs for sale, you can either list them at a fixed price or for an auction.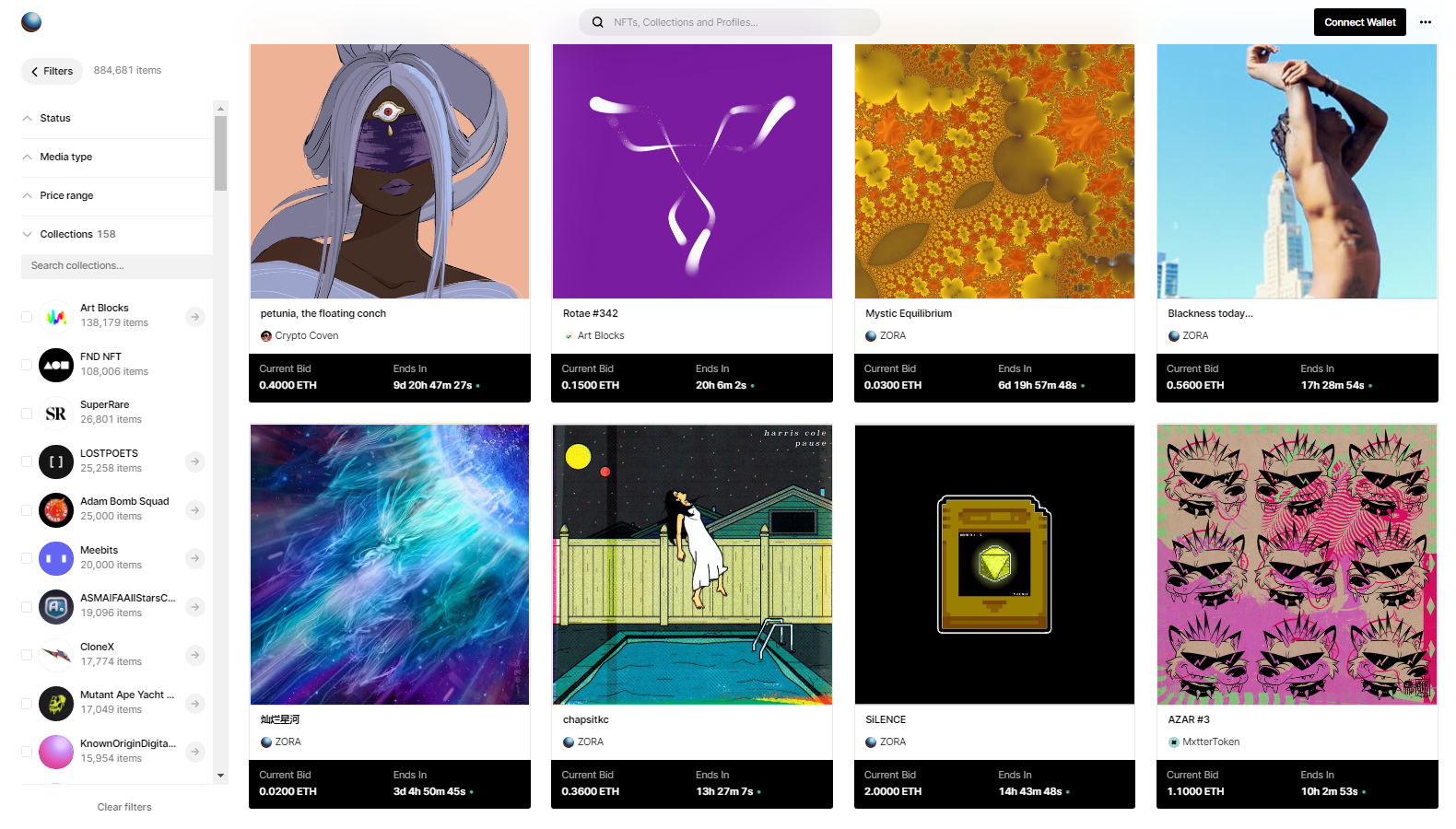 Zora is a decentralized auction house where creators can mint NFTs and list them for sale. It was launched to do away with the limitations of Web 2.0, where the process of sharing content relies entirely on private platforms. In this manner, Zora wants to give creators full autonomy to connect with their audience.
If you want to list an NFT, you can either reserve an auction, which will last 24 hours, or list it at a "Buy it Now" price, bypassing the auction process. After you list your NFT, it'll be placed into an escrow contract, which would secure the transaction for the highest bidder.
Zora doesn't take any cut on sales, nor do you have to pay for minting and listing your NFTs. What you do have to pay for, however, is the gas fee for minting, selling, or bidding. Since Zora is built on the Ethereum blockchain, the gas fee can vary from time to time. You can also set your royalty — it can be a fixed price or a percentage of the resale value. Keep in mind, though, you can't change your royalty figures later on.
What's the right NFT marketplace for you?
Choosing from a plethora of NFT marketplaces can be a challenge, especially when there's no one right answer to where you should sign up. The first step is to identify your use case — what are you interested in, and what exactly are you looking for?
Are you a sports fan who wants to collect live game moments? If so, NBA Top Shot is your obvious go-to marketplace. If you're an expert artist who wants to be a part of an exclusive NFT marketplace, Foundation and SuperRare would do wonders for you. And if you're a gamer who wants to join a gaming metaverse, Axie Infinity, Venly, and Sorare would do the job.
If you don't have a specific use case, any NFT marketplace that is popular, has a low transaction fee, and lets you mint NFTs for free would be good. OpenSea, Rarible, and Mintable are all great choices for the average NFT creator.
NFTs can be hard to keep up with, so why not join BeInCrypto's Discord server to ensure you're on top of everything?
Frequently asked questions
Where can I get NFT?
You can buy an NFT from any NFT marketplace. There are hundreds of NFT marketplaces to choose from. The most popular ones include OpenSea, Rarible, and Mintable, among others. Most of these marketplaces are built on the Ethereum blockchain, so you'll need a digital wallet like MetaMask that's compatible with the blockchain.
Can I buy NFT on Robinhood?
You can't buy NFTs on Robinhood since it doesn't support crypto wallets yet. There have been rumors, however, that Robinhood is working on adopting crypto wallets in the future.
What are the best NFTs to buy?
NFTs fluctuate a lot in value, so there's no one right answer to this question. Currently, the most valuable and sought-after NFTs are by Bored Ape Yacht Club, CryptoPunks, Doodles, and Mutant Ape Yacht Club. You can browse through these collections on any major NFT marketplace.
Disclaimer
All the information contained on our website is published in good faith and for general information purposes only. Any action the reader takes upon the information found on our website is strictly at their own risk.
At Learn, our priority is to provide high quality information. We take our time to identify, research and create educative content that is useful to our readers.
To maintain this standard and to continue creating awesome content, our partners might reward us with a commission for placements in our articles. However, these commissions don't affect our processes for creating unbiased, honest and helpful content.