It's already 2021, historically the first year in this crypto cycle, almost entirely bullish in nature. I have taken a deeper look at the industry and have prepared a list of the top ten aspiring coins for 2021.
Which projects have the best chance of success? Can the parabolic rises of 2020 continue? Where is the best place to invest smartly and reduce the chance of failure while increasing your profit potential? Which crypto projects will rise to the top in 2021? Let's dive in!
The Methodology Behind the Top 10 Ranking
When selecting projects for the top ten aspiring cryptocurrencies for 2021, I used three criteria. While any such rankings are arbitrary, I am giving the reader an opportunity to evaluate the list for themselves by disclosing my methodology.
The three criteria are as follows:
Position in the CoinMarketCap ranking
My set includes established projects from the list of the top 30 cryptocurrencies, according to CoinMarketCap, with a good reputation and a transparent trading history.
The purpose of the analysis was not to search thousands of cryptocurrencies to identify risky gems that could moon 100x, 1000x, or even 10,000x next year.
They could also drop to zero. I prefer to identify some of the most reliable projects with the best risk-reward ratio.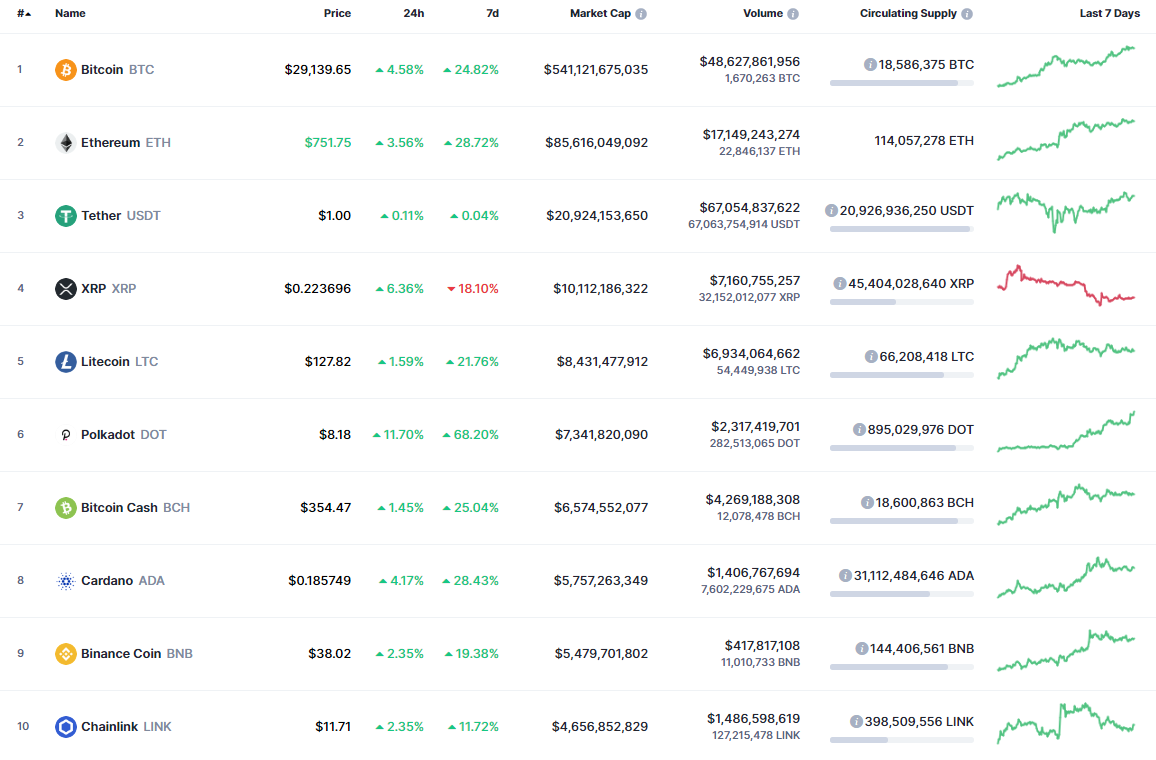 The chart contains historical data on selected cryptocurrencies and compares the return on investment (ROI) that investors could have gained during 2020.
One commentator who refers to this chart frequently is Benjamin Cowen. In the video below, he indicates cryptocurrencies with the highest ROI from March to December 2020. LINK, VET, and ADA were the top three, followed by XLM and ETH.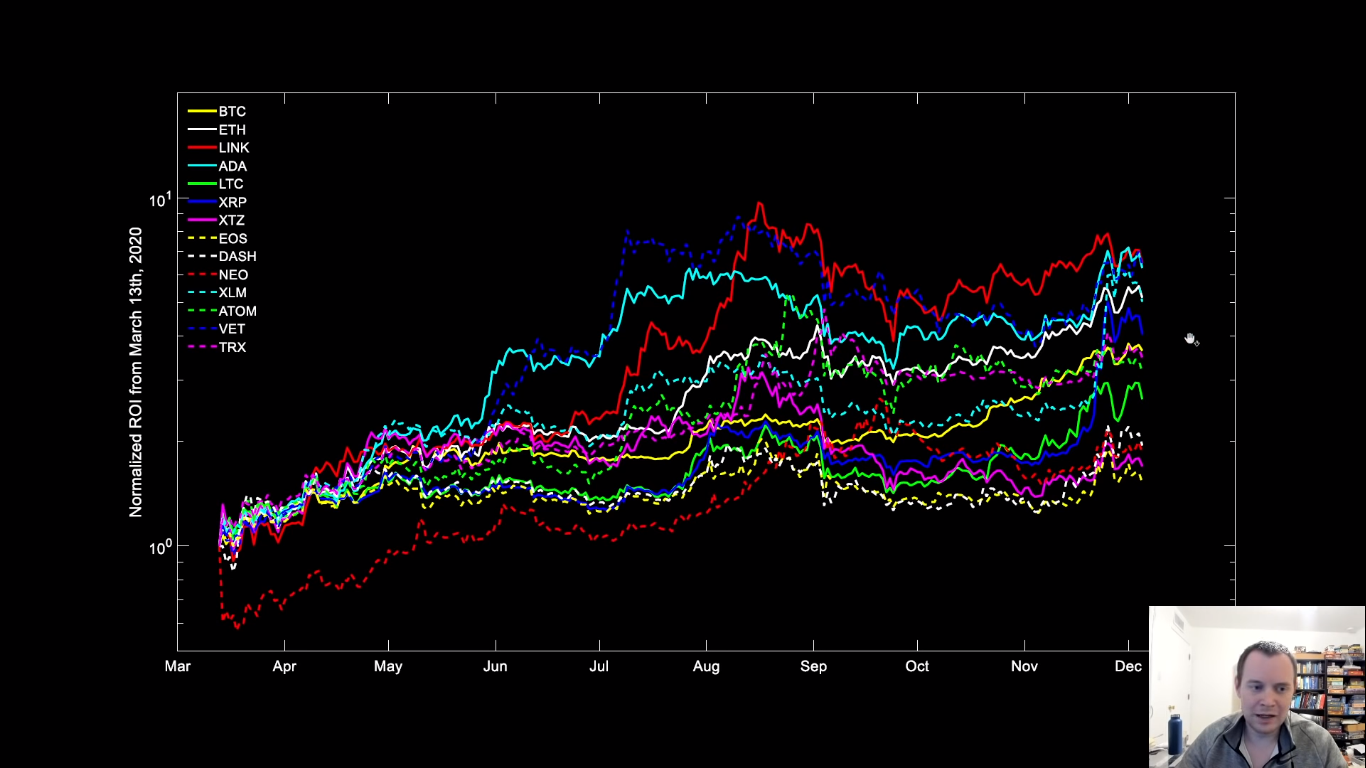 Opinions of crypto market experts
This is the most arbitrary criterion. There are influencers, commentators, and analysts of all kinds in the crypto sphere, but there's certainly no consensus on who is unquestionably an authority.
Thus, we only refer to a few people, such as Cowen, Kevin Svenson, and Lark Davis.
Each coin's description includes a brief outline of its specification and foundations, the latest news that suggests a strong entry in 2021, and a paragraph on long-term price action.
Before jumping in, note that a fantastic place to trade is on Stormgain! Click here to sign up.
10. Bitcoin (BTC)
Price: $26,800
Market Cap: $500 Billion
CoinMarketCap Rank: 1
The top ten aspiring cryptocurrencies for 2021 begin with the orange king of crypto itself: Bitcoin (BTC).
Created in early 2009 by Satoshi Nakamoto, the first cryptocurrency is, in fact, a distributed, decentralized ledger where users send funds directly to each other, peer-to-peer, without an intermediary.
There is no need to convince anyone who has been around the cryptosphere for a while that investing in bitcoin is profitable. Especially recently, when on December 16, BTC broke out from $20,000, 2017's historical all-time high (ATH).
So far, bitcoin is one of the most profitable assets in history, surpassing big names like Amazon, VISA, Microsoft, and JP Morgan in terms of ROI by several orders of magnitude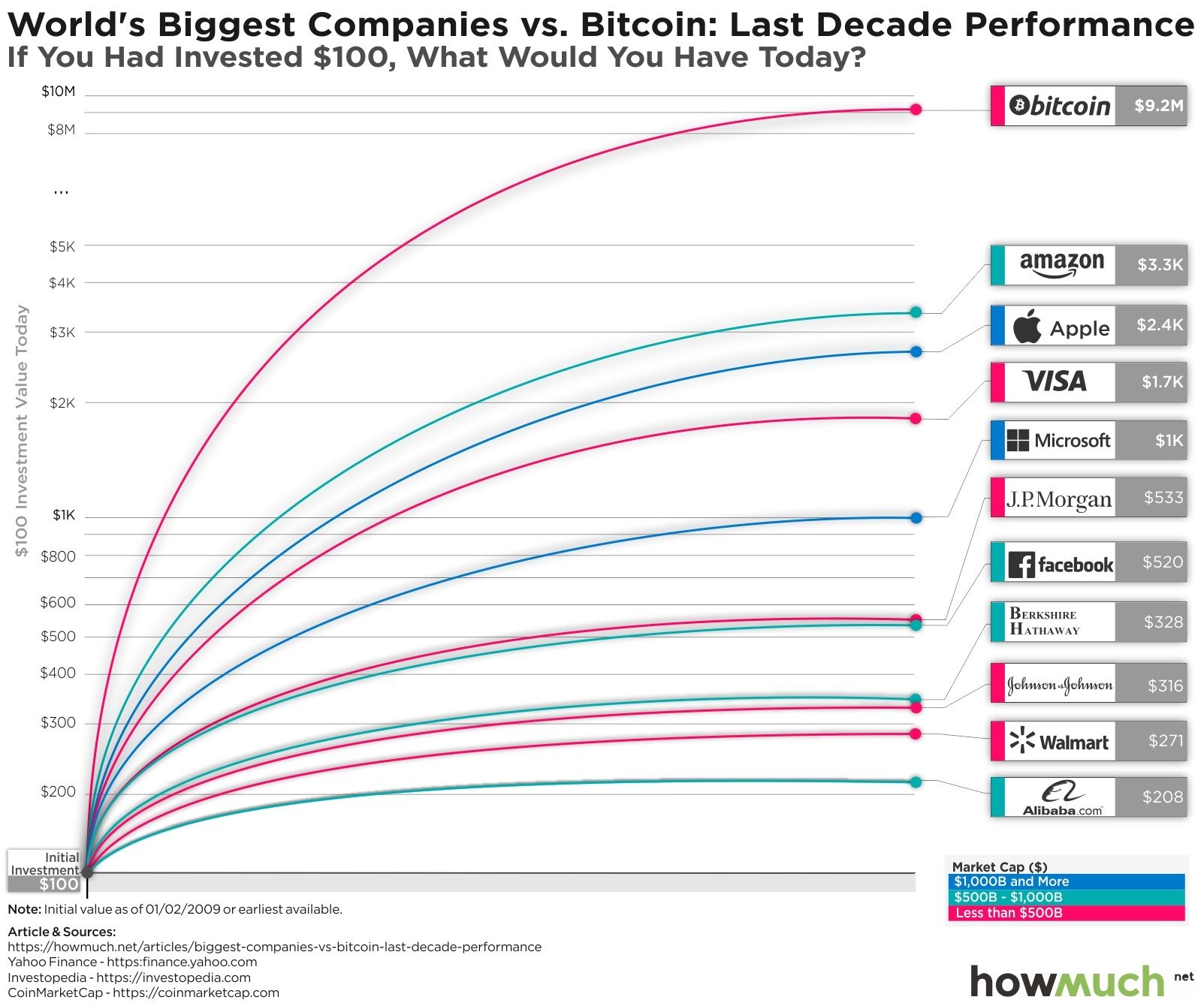 But some people ask, is it still profitable to buy bitcoin at such a high level above $20,000? Does anyone else still buy? This turns out to be an overwhelming yes! And it's not random retail players who missed the discount prices during the March crisis (below $4,000), but serious financial institutions.
In the recent top 5 list of institutional investors, BeInCrypto showed that companies like MicroStrategy, 3iQ, or CoinShares are investing additional capital into BTC.
The Grayscale Fund is a leader in mediating between the purchases of the alpha cryptocurrency and its investors' interests. The secret Bitcoin purchases made for some time by Guggenheim Partners and MassMutual have also recently come to light.
We are witnessing the first Bitcoin cycle in which institutions are initiating the rally. Something that Bitcoin hodlers have been expecting for years, and that could bring unprecedented gains in the crypto market.
Some investor's decisions may result in an avalanche of followers who'll want to FOMO in for themselves. For example, according to JP Morgan's estimates, 1% of the capital in pension funds and insurance companies in Europe, Japan, and the USA would be enough to pump an additional $600 billion into the crypto market.
The involvement of big financial institutions and other macroeconomic factors could lead to an enormous BTC price explosion in 2021 and the fulfillment of optimistic forecasts.
9. Stellar (XLM)
Price: $0.13
Market Cap: $2.9 billion
CoinMarketCap Rank: 15
Stellar (XLM) is a blockchain network for storing and transferring money. It was established in 2014 to increase financial integration in different regions of the world and help companies exchange value.
The network's main task is to provide a platform for low-cost payment services where the transaction fee is fixed at only 0.00001 XLM.
Stellar has succeeded in integrating with several fintech companies. A few years ago, it launched World Wire together with IBM. The platform enables transactions between bridge assets like stablecoins.
What's more, it incorporates the idea of ​​decentralization. The Stellar network allows users to vote in the decision-making process when adding companies to the ecosystem.

XLM is gaining additional global adoption after Grayscale Investments created a dedicated trust.
As BeInCrypto recently explored, the oldest bank in Germany, Bankhaus von der Heydt, announced the creation of a euro stablecoin (EURB) on the Stellar blockchain. It's the first token of this type issued by a banking institution.
XLM's price action since the March crisis is impressive. The cryptocurrency is among the top five coins that have brought investors the highest ROI. From the low of $ 0.026 in March to the high of $0.23 in November, XLM generated almost 800% profit.
Currently, Stellar is undergoing a deeper yet healthy correction that recently reached the 0.5 Fib level of the entire long-term upward movement. The all-time high (ATH) from January 2018 at $0.94 is still quite far away, which gives great potential growth in 2021.
8. Tezos (XTZ)
Price: $2.09
Market Cap: $1.6 Billion
CoinMarketCap: 19
Tezos (XTZ) created its own blockchain network for smart contracts that aims to evolve. One of its tasks is to avoid Ethereum and Bitcoin errors, allowing hard forks. Adaptability, an open structure, and the influence of validators (bakers) on the network are its main advantages.
A recent upgrade to the Tezos network called Delphi planned to cut smart contract gas fee by 75% to attract DeFi developers to the ecosystem. However, Tezos' applications extend much further and implement the latest trends in the crypto market, such as NFTs, video games, and the film industry.
Tezos recently announced a partnership with Logical Pictures, a European film producer, with a $ 121 million project. This is one of the first initiatives towards tokenization of movies and series, thus investing in the movie industry using crypto.
This will likely set a new trend for investing in Hollywood movies and provide a greater ROI, fluidity, and transparency in the film industry.
Since the launch of the Tezos mainnet in 2018, XTZ's value has been growing. The price of the token was steadily increasing until it reached an ATH of $ 4.48 in August this year.
Later, however, there was a deep correction, reaching the 0.786 Fib of the entire upward move from March 2020. Today, XTZ needs to double its price to return to the ATH.
However, both the sensational results from the first half of this year and the structural strength of the upward trend make Tezos an excellent investment option at the beginning of 2021.
7. Binance Coin (BNB)
Price: $38.13
Market Cap: $5.5 Billion
CoinMarketCap Rank: 9
If 2021 is to be the year of cryptocurrencies, trading platforms will be in the spotlight and should see great benefits. Cryptocurrency exchanges could be one of the biggest winners of the coming crypto madness.
Even though more cryptocurrency trading is moving towards decentralized exchanges, their well-managed centralized older sisters still dominate. And the biggest one is Binance.
Launched in China in July 2017, Binance has the unrivaled largest trading volume, offering access to hundreds of crypto assets. It was founded by the charismatic Changpeng Zhao (CZ), who has held the status of a cryptocurrency celebrity for years and is one of the most recognizable characters in the industry.
CZ was included in "The Bloomberg 50," published in December. The list contains 50 people who have shaped the world's financial, political, technological, and scientific landscapes in 2020.
Binance has had a huge impact on the crypto market for years. According to a statement by CZ, in 2020 Binance would generate profits between $800 million and $1 billion.
In 2019, profits reached $570 million. 2020 will likely double this record-breaking figure. Moreover, the exchange is also entering the DeFi market with the recent launch of its Binance Smart Chain. It claims can quickly and cheaply handle transactions of various asset classes.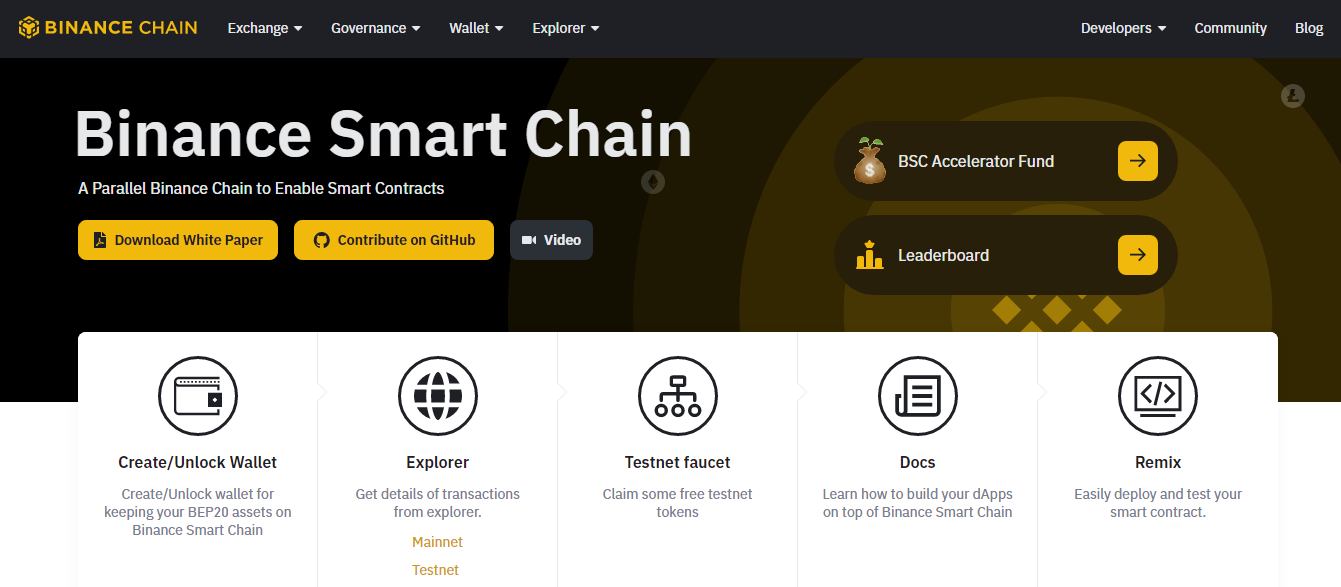 Binance's upward prospects are not without impacting its native token, the Binance Coin (BNB), likely to be an excellent investment choice. BNB went live several days after the opening of the exchange in 2017.
In June 2019, the token reached a historical ATH of $39.57. It hit a low of $6.41 during the March crisis but has since been rising in price and recorded a new ATH of $40.17 on December 29.
An additional advantage of holding BNB is lower or zero commissions for trading on Binance and the possibility of using it to buy other tokens in periodic sale campaigns.
6. Uniswap (UNI)
Price: $3.63
Market Cap: $972 million
Rank in CoinMarketCap Rank: 30
The Binance example shows how finance flows into cryptocurrency exchanges. And if we combine the growing potential of trading platforms with the biggest crypto hits of 2020, which undoubtedly became Decentralized Finance (DeFi), we get decentralized exchanges (DeX).
The leader in this niche is the Uniswap exchange with its UNI token. Although the spectacular boom in the DeFi market collapsed along with the drastic drops in early September, there are many indications that the growth in popularity of this industry will continue in 2021.
According to available data, the number of users in the DeFi space has increased over ten times in the past year: starting from less than 100,000 and ending with over 1 million.
Uniswap is the leader of decentralized exchanges in many respects. The amount of total value locked (TVL) is worth $1.47 billion. Users have already created 600,000 addresses relating to DeFi.
In September, the exchange created and released its own UNI governance token. As in the case of Binance, this move adds new profit potential to Uniswap users and the possibility of a real impact on its future.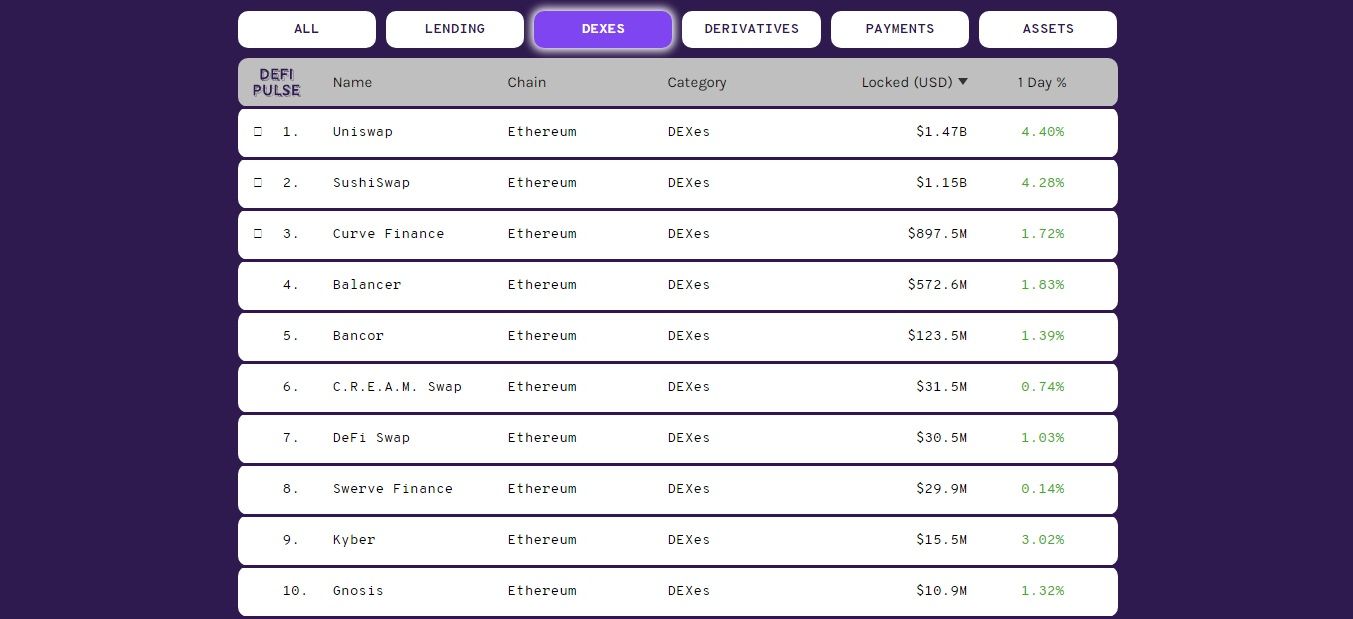 5. Ethereum (ETH)
Price: $730
Market Cap: $83 Billion
CoinMarketCap Rank: 2
There are many indications that 2021 will be a breakthrough year for Ethereum, the second largest crypto project, and its cryptocurrency Ether (ETH).
Unlike Bitcoin, the Ethereum blockchain is a decentralized system that serves as a platform for many other cryptocurrencies and smart contract development.
Ethereum's goal is to build a global network for decentralized applications (dApps) that would enable the writing and running of software that would be immune to fraud, delay, and censorship.
Ethereum's prospects are great, as are the problems its developers have experienced over the years. Only this year, after many months of preparations, we finally saw the long-delayed launch of Ethereum 2.0 that initiates the transition to PoS (Proof-of-Stake) from PoW (Proof-of-Work).
On December 1, network validators began stacking ETH, and the price of the cryptocurrency broke $620.
Ethereum has a huge spectrum of potential applications. Suffice to say that virtually the entire DeFi world is built on the Ethereum blockchain. And this world is opening up to additional investors.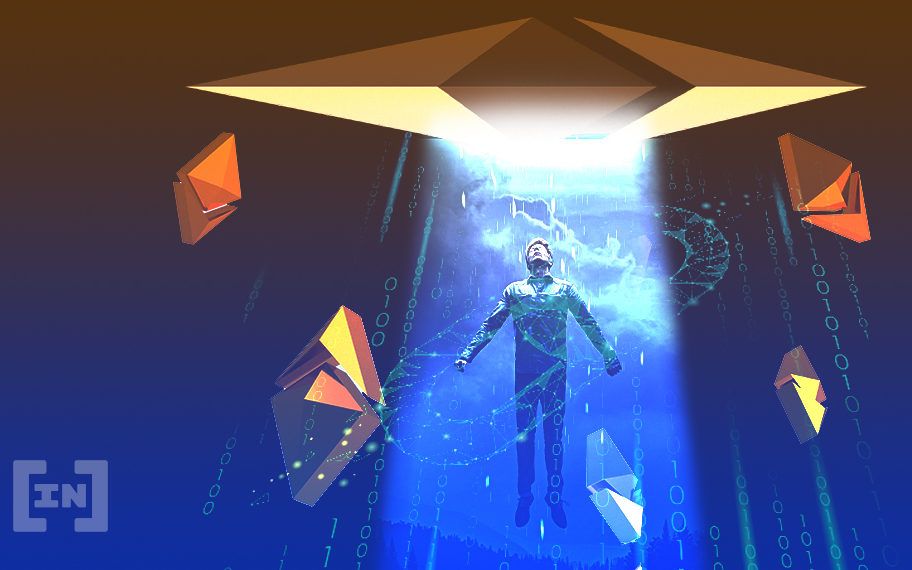 Many institutional entities have already gained exposure to Ethereum through the Grayscale Fund (ETHE). As BeInCrypto recently explained, this was followed by 3iQ from Canada, which is preparing to launch an ETH fund for its customers.
Moreover, the latest report shows that the CME Group, the largest exchange for financial derivative instruments globally, is preparing to launch futures contracts for ETH.
Therefore, it seems that institutional investor interest in 2021 will not be limited only to Bitcoin but also redirected to Ethereum.
This may be because Ether, unlike Bitcoin, is still far from breaking its January 2018 ATH at $1,432. ETH still needs around 100% growth to achieve this, so the profit potential seems to be much greater here.
4. Polkadot (DOT)
Price: $6.59
Market Cap: $5.9 billion
CoinMarketCap Rank: 8
Polkadot (DOT) is an open-source protocol for sharding that enables the transfer of data and tokens between different blockchains. It is characterized by interoperability, which aims to create a fully decentralized and private network to develop applications and services.
Its native DOT token serves three purposes: network governance, operations, and the creation of parachains (parallel chains) through bonding.
A recent listing on most major cryptocurrency exchanges pushed the DOT price to an ATH of $6.84 in early September. Despite the correction, the cryptocurrency price has stabilized and is growing faster, laying the foundation for positive price action in 2021.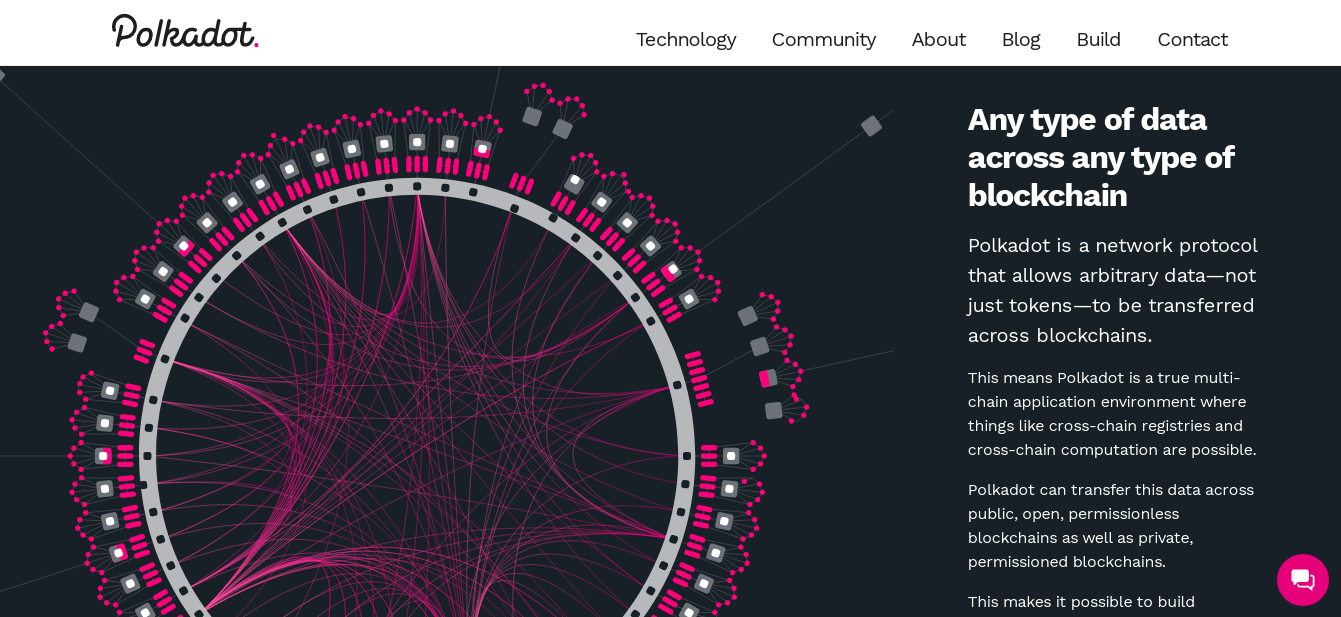 Polkadot is on the right track to permanently join a group of the most important cryptocurrency projects. One of YouTube's crypto-influencers, Lark Davis compares the impact that Polkadot may have on the cryptocurrency market in the current cycle to that of Ethereum in 2017.
In his opinion, this young project's growing ecosystem is already crushing the lists of partners the competition can boast.
Recently, the project's founder Gavin Wood, who is also one of the creators of Ethereum, stated that Polkadot should not be seen as an "Ethereum killer" but rather as a ​​blockchain maximalist killer.
The idea behind Polkadot is not to favor a selected blockchain but to build a "network for the networks" in which bridges and connectivity will be most important aspect. Speaking to Laura Shin on the Unchained Podcast, Wood added:
"If Ethereum ends up being a chain that is sort of bridgeable […], I think that there's a very good chance that Polkadot and Ethereum will happily coexist."
3. Cardano (ADA)
Price: $0.19
Market Cap: $6 Billion
CoinMarketCap Rank: 7
The vision outlined by the Cardano (ADA) creators is breathtaking. The team's goal, led by the eccentric visionary Charles Hoskinson, is to provide a tool for creators, innovators, and visionaries to bring about positive, global change.
They are to rely on the redistribution of power from centralized, unaccountable structures into the hands of individuals who will create a safe, transparent, and just society. A truly impressive prospect!
Cardano has a very elegant but complex development roadmap. It breaks down the entire history of network testing, launching, and adoption into five development eras: the Byron (foundation), Shelley (decentralization), Goguen (smart contracts), Basho (scaling) and Voltaire (governance).
We are currently in the second era, but intensive work is already underway to implement the Goguen era by the end of February 2021.

The native token ADA has a three-year history, beginning with parabolic growth at the end of the 2017 bubble that finished with an ATH of $1.33.
The drastic declines that followed stabilized the ADA price below $0.10, where it had been trading for more than two years. The coin recently managed to regain support at $0.10 and move more confidently towards new annual highs.
The results of the ADA price action in 2020 gives it a solid third place, after LINK and VET, in the high-cap ranking projects, which gave investors the highest ROI.
For example, blockchain enthusiast @CardanoDan recently emphasized in a tweet that ADA could soon outperform LINK in this respect. This is an excellent prognosis for 2021.
Cardano may be the project that will bring exceptional results in the coming year, not only in terms of technology but also in investment.
2. VeChain (VET)
Price: $0.019
Market Cap: $1.2 Billion
CoinMarketCap Rank: 23
Supply chain management is a niche of blockchain technology for VeChain (VET). It aims to use decentralized management and the Internet of Things (IoT) to create an ecosystem overseeing various supply chains.
The idea behind ​​VeChain is to increase the efficiency and transparency of shipping procedures while reducing costs and giving individual users greater control.
VeChain brings true innovation to an industry that has remained fairly stable over the years. Companies that want to increase transparency, control, and efficiency are looking to introduce blockchain technology to their businesses.
For example, recently VeChain announced a partnership with KnowSeaFood – a US company specializing in seafood gastronomy, an industry worth $100 billion.
Farmers will be able to communicate directly with consumers, who can pinpoint the exact origin of the seafood they buy.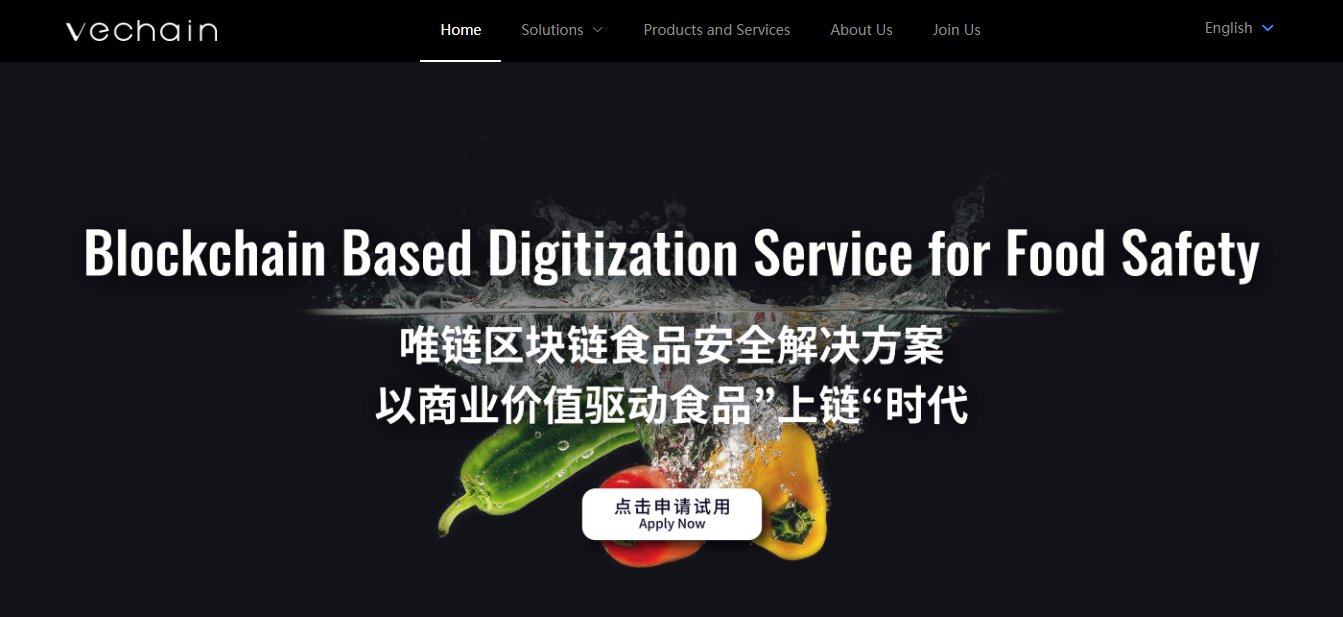 The VET price action from the low in March to the ATH in August at $0.023 is impressive. The cryptocurrency saw a 1,478% profit, followed by an approximate 63% correction. VET is already making up for most of the losses and creating solid support before further upward movement.
Benjamin Cowen points out that an investment in VET from March to December 2020 gave a record-breaking ROI that only gave way to the LINK token.
If such price dynamics are maintained, there's a good chance that in 2021 VET will break its ATH and experience parabolic increases again.
1. Chainlink (LINK)
Price: $11,9
Market Cap: $4.7 Billion
CoinMarketCap Rank: 10
2020 was a breakthrough year for Chainlink (LINK). The cryptocurrency has firmly established itself in the first place in the segment of oracle providers and has hit the top 10 cryptocurrencies.
The robust development of the ecosystem (already over 350 partnerships) and the increasing adoption in various global economy areas are just some of the fundamental reasons making Chainlink an increasingly accelerating enterprise.
The explosion of the LINK price from the resistance at $5 in early July pushed it up to an ATH in the $20 area in just a few weeks. The subsequent correction reached -65% but did not frighten any of LINK Marines, and the project is systematically gaining in value again.
There is a growing number of LINK hodlers, who increased their ranks by 59% between August and December 2020, currently sitting around 285,361.
The co-founder and a major character of the project, Sergey Nazarov, took second place in the recent "DeFi Person of the Year" award. Nazarov is a mysterious influencer in the crypto world.
Only Andre Cronje from Yearn Finance defeated him. This emphasizes that Chainlink is becoming a standard solution in data handling by the oracle.
In the list of cryptocurrencies with the highest ROI from March to December 2020, prepared by Benjamin Cowen, Chainlink came first.
This is also confirmed by Kevin Svenson, who points out that LINK's 2020 price increased from $1.50 to $20, making it one of the most profitable projects in the top 20 cryptocurrencies.
If this trend continues, we can expect LINK to be one of the dominant cryptocurrencies in 2021.
Conclusion: Top 10 cryptocurrencies
The above list of top ten aspiring crypto coins for 2021 was my choice, based on the criteria presented in the introduction. The cryptocurrency space still has many promising projects that have shown just a sample of their huge potential in the past few months.
It's enough to mention here, for example, a few of the largest ones, such as Litecoin, Aave, Kusama, Zilliqa, or Theta. However, they weren't included in my top ten list because the competition is huge, and the list is concise.
Remember, however, that out of over 8,000 cryptocurrencies that are registered on CoinMarketCap, the vast majority will fail and deprive hodlers of capital invested in them.
Therefore, your investment choices in this wild west of crypto should be made carefully, individually, according to your own expectations, preferences, and risk tolerance.
Either way, 2021 will be a unique and interesting experience for the cryptocurrency market.
Disclaimer: Cryptocurrency trading carries a high level of risk and may not be suitable for all investors. The views expressed here are those of the author and do not necessarily represent or reflect the views of BeInCrypto.
Disclaimer
The information provided in independent research represents the author's view and does not constitute investment, trading, or financial advice. BeInCrypto doesn't recommend buying, selling, trading, holding, or investing in any cryptocurrencies