Decentralized Finance (DeFi) has taken the crypto space by storm. Besides the regular finance projects now available at many fingertips, the concept of yield farming and liquidity pools is mainly responsible for the DeFi boom.
One of the major booming DeFi projects, Yearn.finance automates yield earning from stablecoins, eliminating the need for traditional banks. Yearn.finance does this by its functional currency, YFI. Let's dissect the DeFi project.
What is Yearn.finance?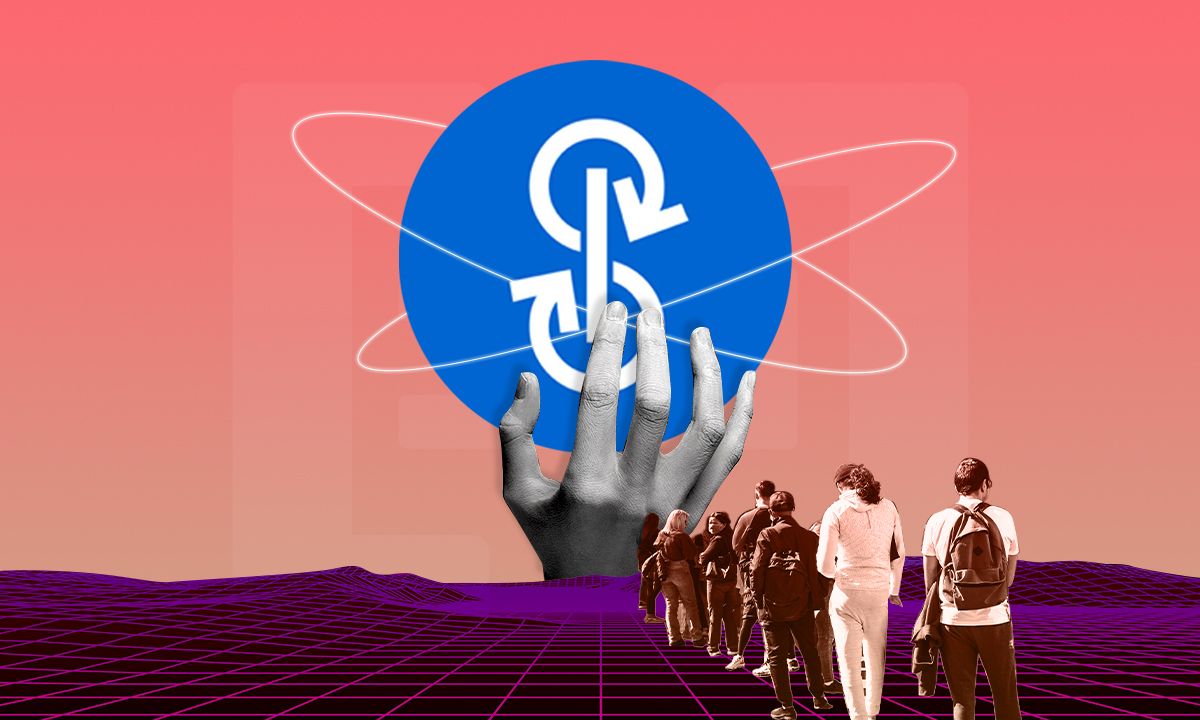 Yearn.finance is a collection of Decentralized Finance (DeFi) products that brings values such as lending aggregation, and yield generation to the blockchain. In other words, it is a leading DeFi product that serves as a doorway to several protocols, allowing users to exploit the best strategies for earning crypto assets via lending and other trading methods.
This group of protocols runs on the Ethereum blockchain and aims to maximize users' earnings while removing the need for a financial mediator like banks or escrow.
To understand what this truly means, imagine if you had access to a savings account that yields 15% a year in USD but without a bank and practically no risk of funds. Assume being a market maker and making percentage profits as the financial banks would want. This is somewhat related to what Yearn.finance brings to the DeFi world.
Overall, Yearn.finance aims to bring the booming DeFi space to the common man. The platform is monitored and controlled by YFI holders by several independent developers.
What's the story behind Yearn.Finance?
Yearn.finance was created in Feb. 2020 by an independent developer named Andre Cronje. He is a South African businessman and software developer.
The whole concept was born when Cronje, at this time, was examining and comparing DeFi protocols that provide the best APY to maximize his crypto earnings. Compound, Aave, Fulcrum, and dYdX were the most popular.
However, it got to the point that Cronje found the whole process monotonous and boring, so he started creating the first version of the Yearn protocol. The idea behind the project was to automate the process of exploiting the optimal performing strategies to maximize annual percentage yields (APYs) for stablecoins.
In an interview, he stated that the project didn't receive any funding, and he didn't reserve any YFI tokens for himself before the launch. Subsequently, Cronje decided to build a team to develop the protocol and raise funds from venture investment.
In Feb. 2020, the protocol released the Earn feature, and it has since experienced massive growth. A few months later, it launched its cryptocurrency, the YFI token. Yearn.finance is currently around the 93rd largest cryptocurrency when measured by market capitalization, with a total market cap of over $690 million.
How does Yearn.finance work?
Yearn.finance is an APY-increasing protocol that moves crypto assets from one decentralized lending protocol to another, allowing users to maximize their returns. The platform transfers users' assets between DeFi products such as Aave, Dydx, and Compound to increase APY.
It works by deploying YFI's contracts on the Ethereum blockchain to provide optimum services for users. This way, YFI monitors the funds on the connected decentralized exchanges to ensure that they remain in the liquidity pools that offer the most profitable yield.
Earn
This feature seeks the best performing strategies for users to maximize their yield by searching for the platform with the best interest rate. These platforms are usually Aave, Compound, Dydx, etc. Currently, Yearn.finance supports stablecoins such as sUSD, Dai, TUSD, USDC, and USDT.
Once you deposit any of these coins into the protocol, the platform automatically converts your assets into tokens, for example, yUSD, yDai, etc. It maintains the exact value of your deposit.
After these assets have been converted, they are moved to any of those yield platforms to ensure a higher interest rate.
Notably, these ytokens are known as 'Yield optimized tokens' on Yearn.finance.
Annual Percentage Yield (APY)
As explained above, this explores all the available lending protocols to Earn users, calculates them, and then analyses the expected interest rate. It does this for a certain amount of money they invest and provides the annual potential interest rate.
The platform uses zapper.fi, which allows users to exchange funds in and out of distinct liquidity pools. In addition, zap enables users to make several deposits with just a single action rather than toggling across multiple platforms, like Balance and Curve.
For example, you can trade USDT for different DeFi assets, such as yCRV. These steps are additional blockchain transactions that cost gas fees and time. However, Zap makes the whole process of investment swift, as well as reducing transaction fees.
What is Yearn.Vault?

One major distinct product of Yearn.finance is Yearn Vaults. Basically, Vaults allows users to earn in their investment by using the protocol self-executing code.
Yearn Vault – yVault is something like a savings account for your crypto investments. It receives your capital, process it through different strategies, then utilize the best yield available.
Yearn Vaults offer more functionalities than just lending, borrowing, and other basic functions the standard protocol offers. It offers users multiple strategies to maximize users returns. These strategies often include providing collateral and liquidity, borrowing multiple assets including stablecoins, receiving trading fees, and farming different tokens while selling them for profit.
Notably, each of these Vaults follows an authorized strategy approved by the Yearn ecosystem.
The concept of the Vault was introduced in Aug. 2020, and it has since then improved to version 3.0, which is the latest version. Similar to the standard Yearn protocol, when you invest money into a Vault, you get the equivalent of your investment in yTokens.
Once you have made the deposit, the Vault divides the investment into Vault holdings and strategy holdings. Vault holdings store inactive funds not used by any strategy, while the strategy holdings stores the active funds.
How do you use Yearn Vaults?
You'll see a list of Vaults with a proven history of the ROIs, then you can select your preferred Vault strategy and deposit USDT or any other coin into it. The profits yields are used to invest in the same asset of each Vault, creating a reliable strategy.
However, for those that want to unlock their funds from the pool, they release their funds based on each of the investor's stakes in the pool. The funds initially go down to the Vault holdings before the complete withdrawal. This comes with zero withdrawal fee.
The one-off fee charged on balance upon withdrawal has been stopped for all the recent Vaults. However, if there are insufficient in the Vault holdings, the system charges a 0.5% withdrawal fee from the strategy holdings.
Who are strategists?
These are people who create essential strategies for yVaults. Anybody can become a strategist. However, to be a validated strategist on Vault, you need to pass through some process that often revolves around mainnet testing, code review, and security review.
For creating a validated strategy, these strategists are incentivized with a fraction of the performance fee. They often get about 10% of the yields from the specific strategy.
Presently, there are more than 20 strategies per Vault, and each aims to improve the diversification to manage investment efficiently during different market scenarios. Furthermore, each strategy has a capital cap, which is useful to avoid over distributing funds to a dead strategy
Labs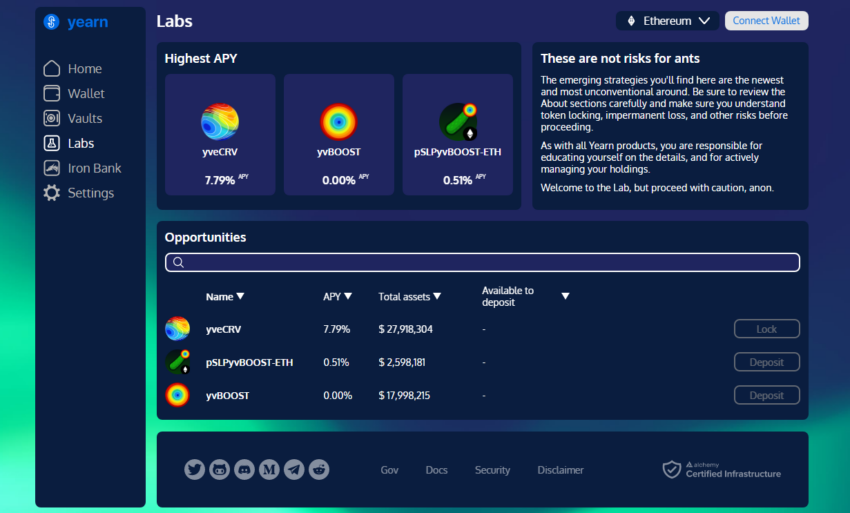 This is another Yearn.finance product, described as a multifaceted DeFi Bank that allows users to earn and carry out essential DeFi functions like borrowing and lending. Furthermore, Yearn Labs enable users to swap their crypto assets with various other diversified assets. The Yearn Labs strategy involves higher risk and higher reward.
Iron Bank
Generally, Iron Bank is a decentralized protocol to many lending platforms. It enables authorized outlets to borrow funds without collateral. Yearn.finance integrates the use of iron bank, allowing yVaults to come up with the most profitable yield farming strategies and cross-asset strategies.
Yearn aims to boost every Yearn strategy via the Iron Bank. Users will be able to invest their stablecoin assets and borrow an equal worth of ETH. Then enter liquidity pools while utilizing leveraged yield farming products.
Earlier this year, the platform announced that the Iron Bank will begin operation as a fully detached project. This means that it will have its own functionalities and other communication channels.
What is the YFI token?
YFI token is the innate currency of the Yearn ecosystem, and it controls the whole system operations. YFI holders can vote on several off-chain proposals and submit rules that govern the ecosystem.
To implement a change, the certain proposal must be greater than 50% of the total vote. It is important to know that while anyone can make a proposal, only YFI holders have the right to vote.
YFI holders benefit from a number of incentives that the ecosystem automatically allocates. These incentives make the YFI token different from other tokens. With lots of benefits to earn passive income, the token currently has a total market capitalization of over $690 million.
History of YFI token
Cronje launched the YFI token in Jun. 2020, just a few months after its main ecosystem launch. The token allocation was based on fair and incentivizing yearn users. Simply put, users who lock their assets in Yearn.finance and its contracts get YFI tokens as rewards.
To ensure a fair system, the YFI token had no pre-mine, no team reward, and no VCs distribution. All the tokens were given to the users of the ecosystem.
Tokenomics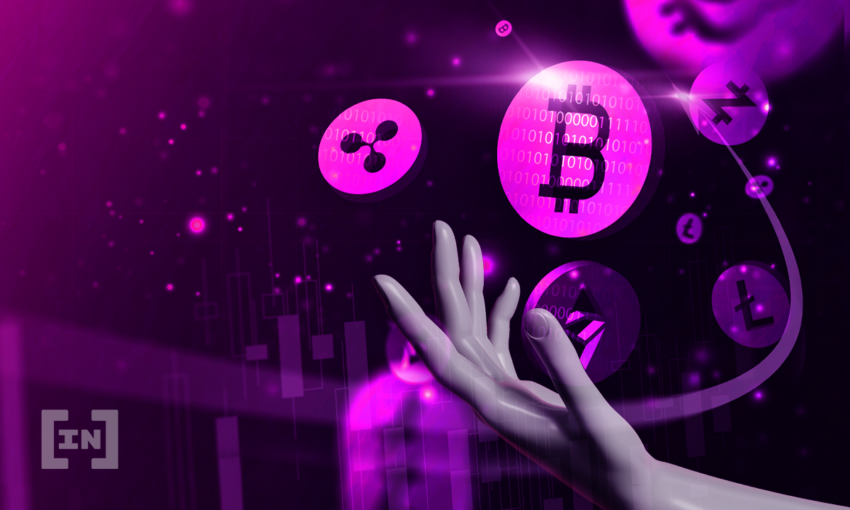 The token distribution started with allocating 10,000 YFI tokens to the liquidity providers of the yCRV pool. The liquidity providers had to lock up their yCRV LP tokens for YFI tokens reward. Subsequently, the protocol added two more Balancer pools, each containing about 10,000 tokens, making a total of 36,999 YFI tokens.
These tokens were staked through a Yearn interface that has been discontinued. Aftwards, stakers were rewarded in YFI for seven days, until the supply maxed out.
Token model
YFI token comes with an in-built minting function. This function was initially supervised by Andre Cronje, but was later handed to a multisig wallet. This happened briefly after the start of token emissions.
Because the intention behind YFI was to completely decentralize control, there were no concrete plans for emissions after the initial 30,000 YFI distribution. YIP-1 approved a weekly distribution of YFI, but the execution of that proposal required a second decision about how to distribute, which did not come to fruition.
Market capitalization
YFI token has become quite popular for exceeding the value of bitcoin — the largest crypto asset. In May 2021, the YFI token reached an all time high of $93,000, significantly exceeding the price of BTC, thereby drawing the attention of many investors.
Notably, the price of YFI token is so high because there are only about 36,000 YFI in supply, but there is a high demand. Making it one of the assets with the lowest circulating supply. Particularly lower than the circulating supply of 19 million BTC.
Currently, YFI has a total market capitalization of about $698 million.
Token as governance
YFI token employs a system of governance called "constrained delegation." This involves a system whereby YFI holders delegate their governance powers to self-governing groups like the Multisig and yTeams, thus enabling them to be creative. This gives token holders control while making governance powers discrete.
How does governance work?
The Yearn ecosystem is controlled by YFI token holders. These token holders shape the future of the system. They influence decisions concerning the project, such as proposing and voting on new feature proposals. YFI governance works by submitting and approving the majority vote and then implementing the proposals.
Once the vote is more than 50%, they are utilized by a nine member multi-signature wallet.
Typically, once six out of the nine wallet signers sign these changes, they implement them. YFI holders vote in the members of the multi-signature wallet, and are liable to change from the prospective governance votes.
Price and price prediction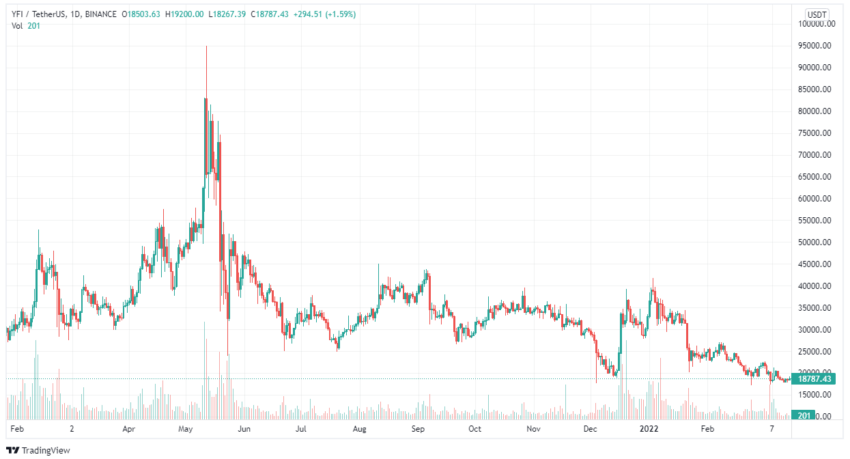 The price of the YFI token has fallen significantly low from its all time high of about $93,000. For a smooth comeback, YFI will have to break out from the underlying resistance at its dip from May 2021 to the end of 2021.
Beyond this, it will need to break a lot of other resistances at $56,600, $65,800, $69,10, 75,610, and 83,000. Currently, YFI is trading at around $19,000
Where can you buy the YFI token?
YFI is available on several crypto exchanges:
*This ad promotes virtual cryptocurrency investing within the EU (by eToro Europe Ltd. and eToro UK Ltd.) & USA (by eToro USA LLC); which is highly volatile, unregulated in most EU countries, no EU protections & not supervised by the EU regulatory framework. Investments are subject to market risk, including the loss of principal.
On Binance, for example, you can trade YFI with other base coin pairs such as BTC or USDT. In the same manner, you can buy these tokens via MetaMask or any other trusted wallet and hold for a possible price increase.
What are the risks of using Yearn Finance?
As flawless as the whole mode of operation might seem, it can't be without risk. The more new strategies are being added to the protocol, the increase in the possibility that a strategy could lead to investment losses.
There are a few risks attached to Yearn.finance, including smart contract, market, and liquidity risks.
Smart contract risk: In a bid to completely evacuate intermediaries and financial middlemen Yearn.finance use smart contracts built on the Ethereum network. Unfortunately, a smart contract bug or hack can disrupt the code and completely collapse the DeFi protocol.
Liquidation risk: Like regular finance, depositing funds in Vaults requires collateral. This makes it vulnerable to liquidation if you don't meet some certain standards. For example, MakerDAO requires a 150% collateral of the deposited funds and once the ratio drops below that, the user faces the threat of complete liquidation.
In May 2021, Yearn.finance suffered an attack that resulted in over $10 million loss. An attacker hacked the Vault and carted away more than $2million.
However, YFI has so far ensured the security and safety of users' funds. The protocol has built a wide range of products to offer users the best DeFi services.
Is Yearn.finance worth it?
Yearn.finance is a big whale in the DeFi space and has proven sustainability since its launch in 2020. It looks to be a project that deserves recognition, considering the protocol's token distribution and various products.
It is worth doing more research on it, and probably worth adding to your portfolio because of the investment options and automated yield farming.
Frequently asked questions
Is Yearn.finance a good investment?
Why is Yearn.finance worth so much?
Can you make money with Yearn.finance?
Who is behind Yearn.finance?
Disclaimer
In line with the Trust Project guidelines, the educational content on this website is offered in good faith and for general information purposes only. BeInCrypto prioritizes providing high-quality information, taking the time to research and create informative content for readers. While partners may reward the company with commissions for placements in articles, these commissions do not influence the unbiased, honest, and helpful content creation process. Any action taken by the reader based on this information is strictly at their own risk.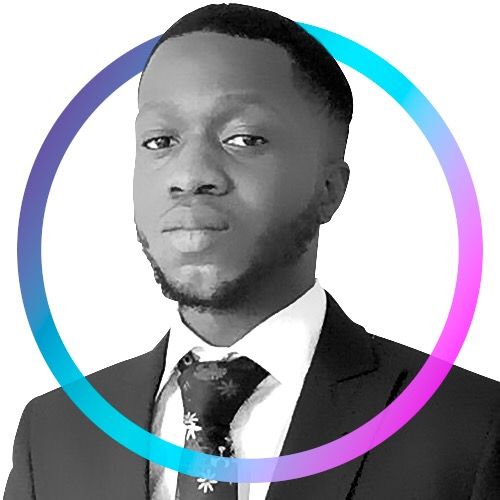 Ayotomiwa is a tech writer and marketer focused on blockchain, crypto, DeFi, the metaverse, and NFTs. Ayotomiwa works with a number of emerging tech startups and crypto exchange...
Ayotomiwa is a tech writer and marketer focused on blockchain, crypto, DeFi, the metaverse, and NFTs. Ayotomiwa works with a number of emerging tech startups and crypto exchange...
READ FULL BIO
Sponsored Sponsored