VeChain holds a special place in the blockchain ecosystem courtesy of its stead as an enterprise-grade layer 1 platform. The project supports smart contracts and focuses on solving global industry data hurdles. As such, VeChain looks desirable as both a project and a crypto.
In 2018, VeChain made a move to its own mainnet, rebranding itself as VeChainThor. Its incentivizing model for the VeChain Foundation comprises two tokens. VET is the native token, and VTHO is the VeThor token, which handles transaction fees within the ecosystem. Here, we shall focus on a price prediction for VeChain (VET).
VeChain (VET) price prediction: knowing your fundamentals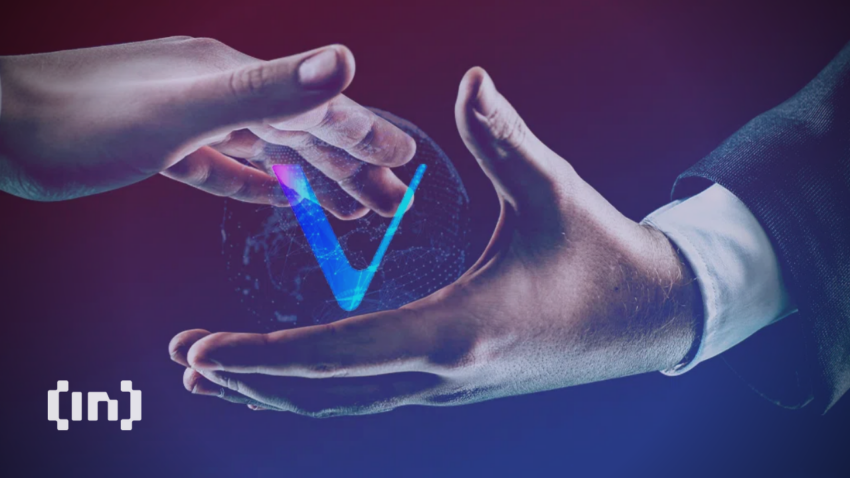 Sunny Lu, the former CTO of Louis Vuitton, is the brain behind VeChain. The chain has been around since 2015, with a transition to the mainnet in 2018.
Blockchain-based use cases
VET price prediction holds only if we are sure the use cases will stay relevant for a while. Here's how VeChain and its native token look in terms of fundamentals:
Useful for developing DApps
A platform that supports secure transactions
Role in supply chain management and counterfeiting mitigation
Helps businesses develop tamper-proof, blockchain-based solutions
Each of these use cases looks tempting, especially to enterprises. Therefore, VeChain's future might be brighter than the current price of VET suggests.
VeChain ecosystem updates
As an ecosystem, VeChain is known for bringing forth multiple ecosystem upgrades. Let us take a look at a few:
Nov. 24, 2022
VeChain Foundation tweeted that it would transfer many industries with its sustainability initiatives over time. This came days after VeChain started helping San Marino become the world's first zero-carbon nation.
The Nov. 24 tweet:
Here is the price action close to Nov. 24: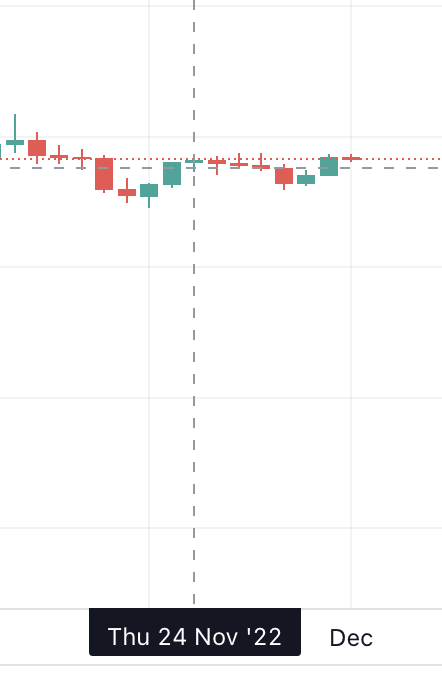 Nov. 17–18 2022
In November, the VeChain ecosystem moved to an upgraded version of its proof-of-authority consensus — termed the PoA 2.0. The transition took place on Nov. 17, adding several security enhancements to the blockchain.
Here is the tweet announcing the transition:
Here is how the VET price moved that day: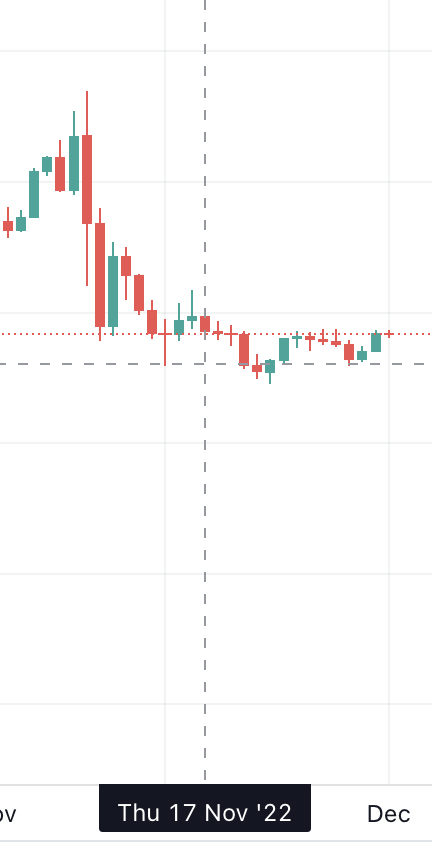 Not the most optimistic daily candle.
Aug. 29, 2022
A strategic partnership between VeChain and TruTrace Technologies demonstrated a focus on supply chain provenance and traceability.
Here is an official confirmation of the same:
Here is the VET price action for that day.

If you look closely, VET prices do not usually move significantly on the day of events.
Now let's see how VeChain (VET) responds to announcements:
While the PoA transition was finalized on Nov. 17, VeChain Foundation announced the event on Nov. 8.
Here is the Twitter thread:
Below is the price action around the announcement date. A new high was made.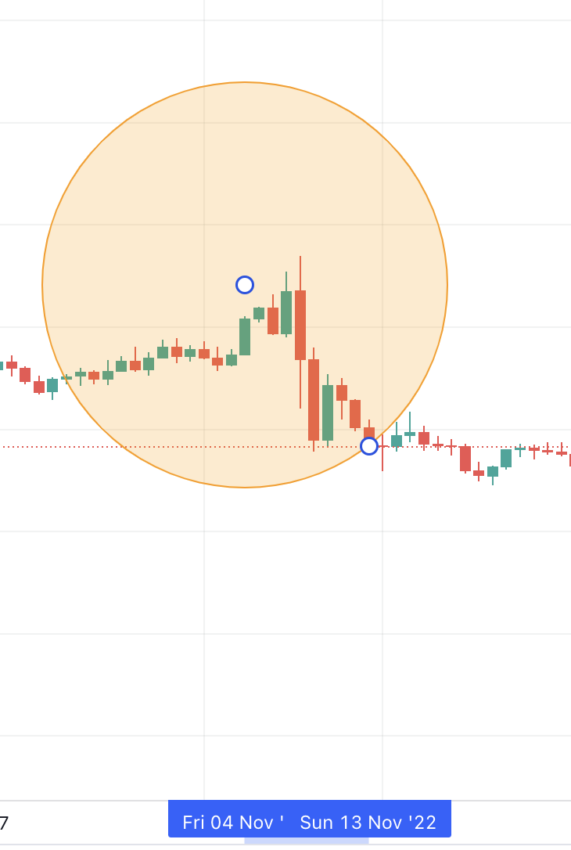 Inference: VeChain follows the typical "buy the news, sell the event" cycle. A lot of trading activity can be seen around an announcement.
However, we shall not be conducting price forecasts around this inference for now.
VeChain price prediction and mainnet activity
VeChain network activity peaked on Sep. 25.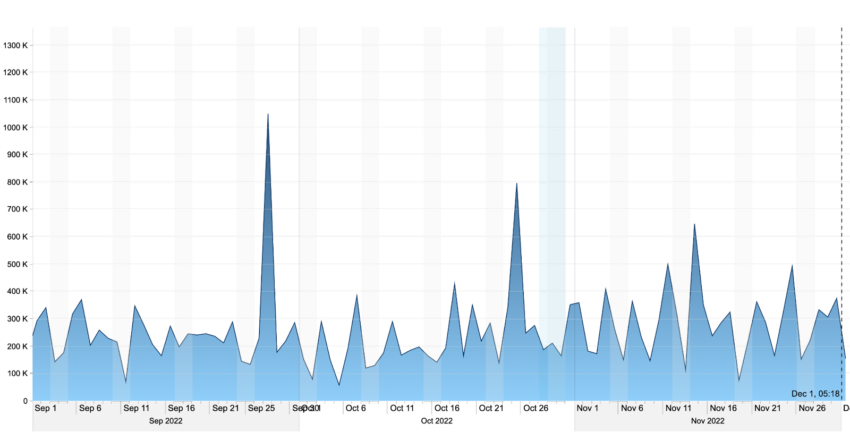 However, the VET price was trading in the range during that time. Even the trading volumes weren't significantly high.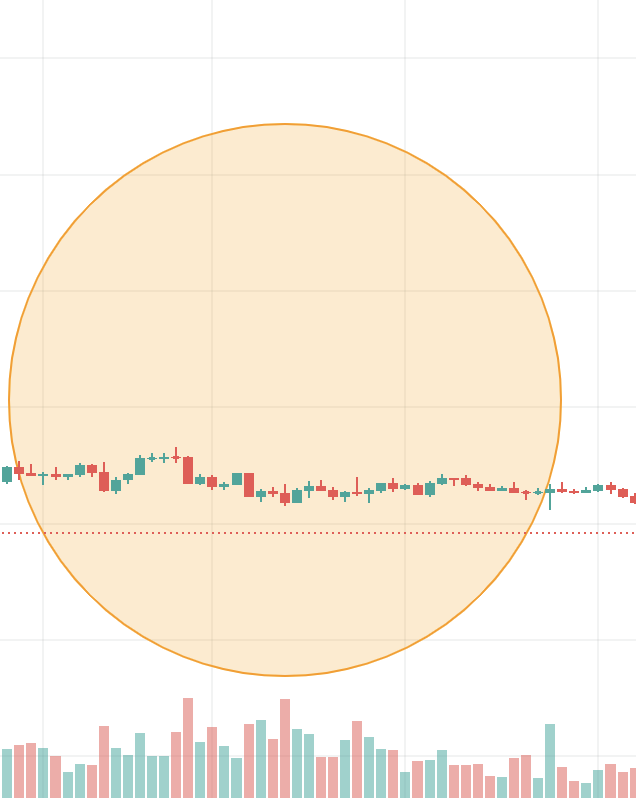 This brings us to the concept of the dual-token economy — something VeChainThor is known for. Let us see how it works.
VeChain's dual-token economy
VeChain brings blockchain technologies to developers. In most cases, smart contract developers will focus on the transaction costs over the token price. This approach makes VeChain one of the more reliable projects to look at during the bear market, where the focus is on building primarily.
The VET token comprises the smart money part of the VeChain ecosystem. VTHO — the second token of the dual-economy infrastructure — pays for the chain's energy output.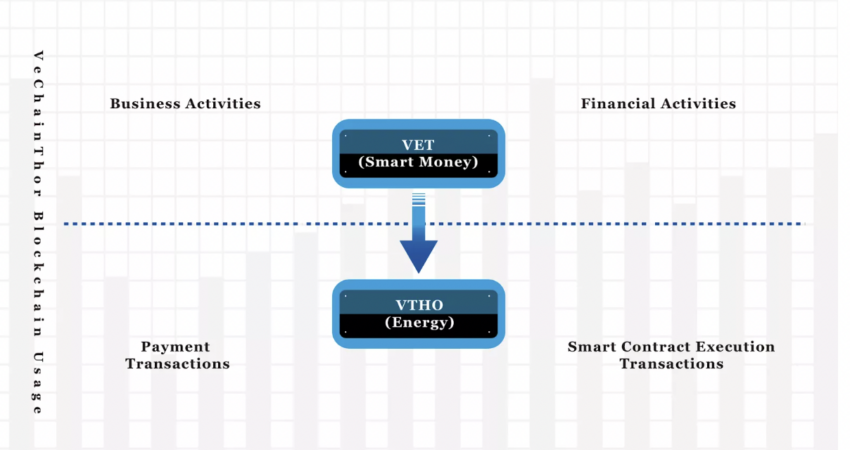 Therefore, even when the network activity is high or low, VTHO takes the impact. VET experiences no direct price volatility. Now imagine if the same token was used for transactions and transfers.
In that case, VET's price volatility would be significantly higher.
Also, consider this: holding VET allows access to the VeChain ecosystem. That VET is staked to generate VTHO — which would be useful for development activities. Hence, VET's popularity is also directly related to the development levels associated with the blockchain.
Inference: if the dual-economy model is persisted, we can expect the VET price prediction model to hold better and truer.
VeChain tokenomics
VET currently ranks 34 in terms of market capitalization. The specific market capitalization is currently at $1.38 billion.
VeChain Foundation initially relied on Ethereum to launch its VEN tokens: 1 billion of them. However, VEN-to-VET swaps have stopped, and only VET exists now. The total supply, for now, stands at close to 86 billion.
At present, 84% of the total supply is in circulation. If you see the supply schedule, all the tokens should come to mint form by the end of this year. Delay in adoption might push it into 2023.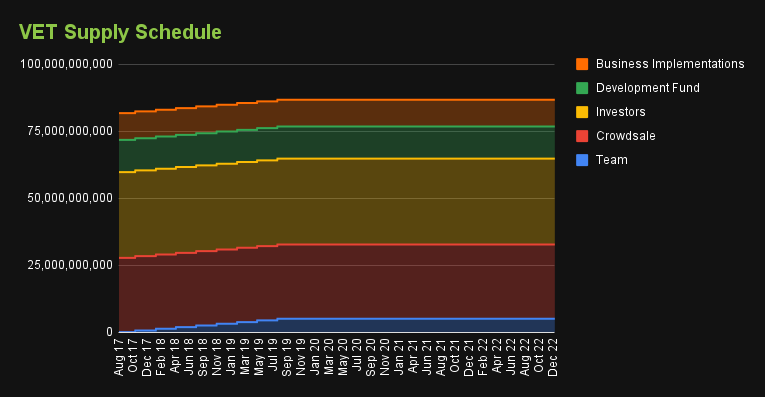 Here is how the token allocation schema for VeChain was thought of, focusing most on Crowdsale and then Operational development.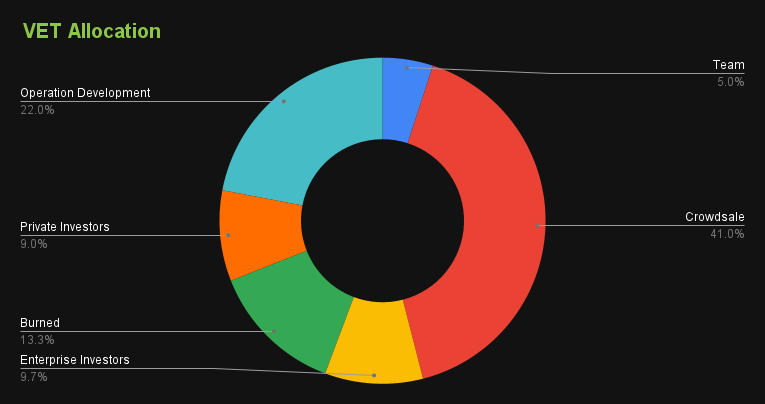 Inference: the token unlock schedule could be good news for investors. Once the total supply is reached, increased demand may result in a price surge.
VeChain markets and trading action
VeChain (VET) is active across several VeChain markets with several trading pairs in play. Leading exchanges like Binance, KuCoin, and Bitfinex have several trading pairs for VET, making the VET market a sought-after place.
Binance's VET/USDT pair is currently seeing the highest trading volume, followed by a decent liquidity score and decent trader confidence.
Here is the Spot VeChain market in play: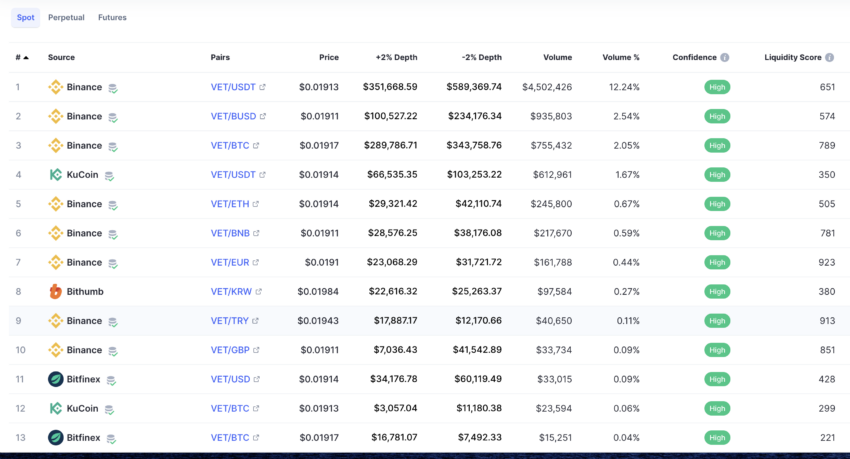 Note that perpetual cryptocurrency market growth is prominent for VET, showing that traders are placing long bets on VeChain. This makes the VET price prediction model all the more important.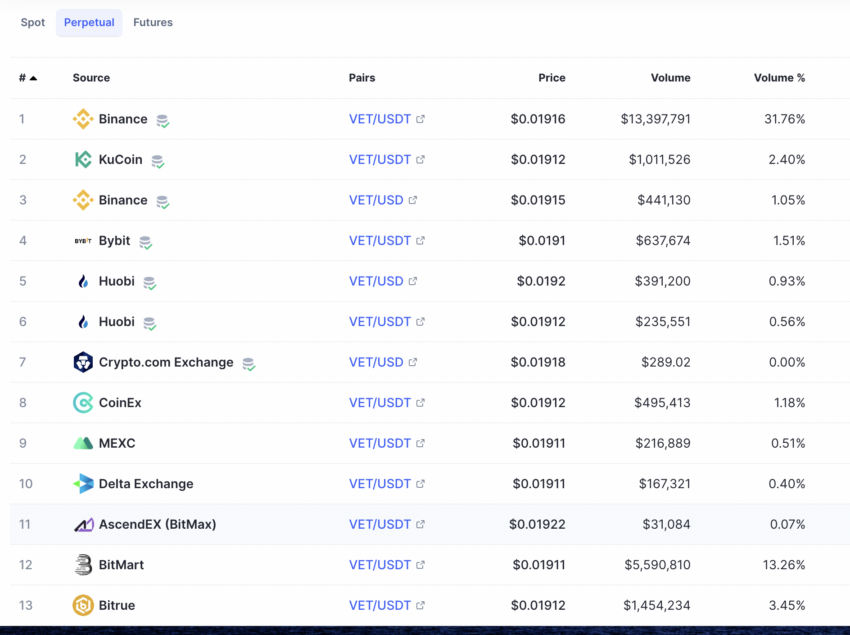 VET/USDT perpetual trading volume has seen a 31.76% growth, day-on-day, at press time.
Check the open interest and funding rates associated with the VeChain market. You'll see that at press time, open interest for perpetual is up 1.25%, with Binance holding the lion's share of the contracts. However, always consider the nature of funding while looking at the open interest. Negative funding at exchanges followed by increasing open interest means short sellers are active. Therefore, bets are on the market going down.

As of now, most exchanges have positive funding rates to look at. However, the upticks are marginal. Hence VET might keep trading in a range for a while.

Inference: checking open interest and the nature of funding can better help create a reliable VET price prediction model.
VeChain financials
VeChain's Q2 financial report for 2022 suggests the following:
Total value of held assets by the VeChain Foundation dropped 44% compared to Q1 2022.
Global partnership with UFC was announced on June 8. 2022, followed by other partnership announcements with Shan, [email protected], and Fibonacci Footwear. The announcements did tap into PR and marketing resources.
The popularity of the VET token surged as "Paid in Token" for most activities increased.
Here is a detailed breakdown of the same.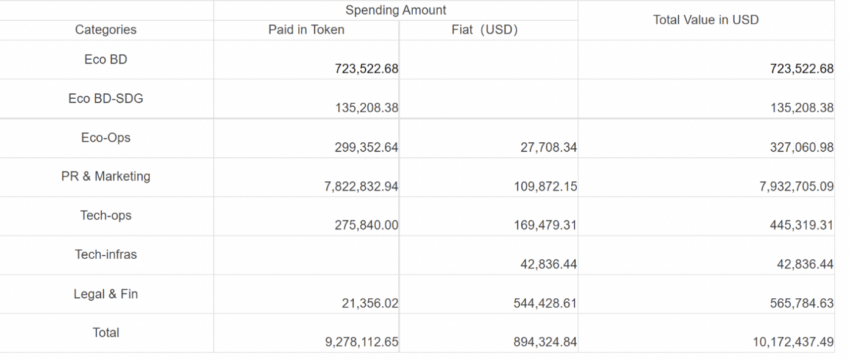 The social presence of VeChain
Crypto prices often move a lot based on social sentiments. Here is the price correlation between social mentions and the price of VET.
As seen, the prices moved every time the social mentions were up. Following Oct. 28, 2022, prices quickly made a new high. Social mentions were up during this time as the VeChain community anticipated the PoA 2.0 announcement.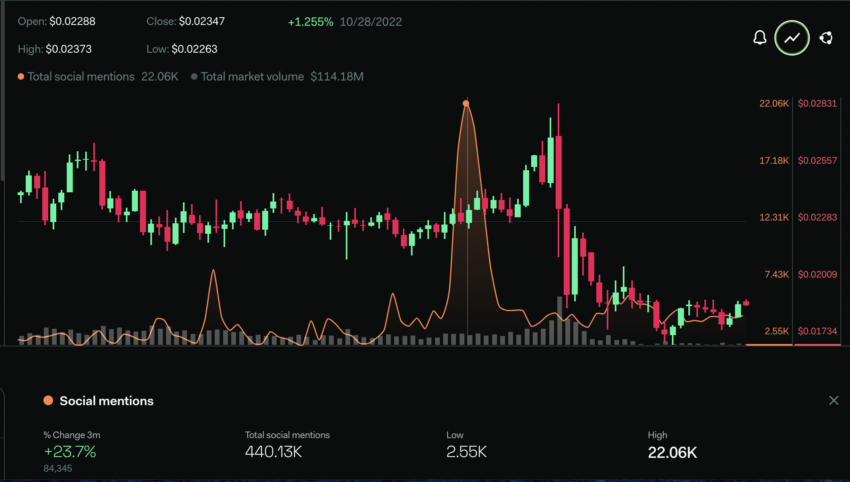 Inference: VeChain prices respond well to social mentions and engagements.
VeChain price prediction using technical analysis
Let's shift our attention to the VET price chart, patterns, and indicators. But first, here is a broader daily-chart view of VET since its inception.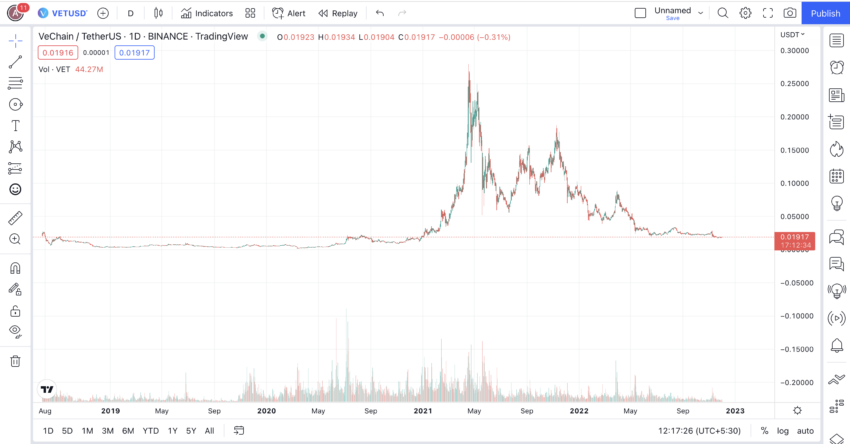 From the chart, we can infer a few things:
VET price peaked once on April 17, 2021, reaching $0.278.
VET made a low of $0.00167 on March 13, 2020.
Max low to max high timeline: 400 days
Daily price chart
On the daily chart, the time taken to go from point A to point B is 400 days.
Now let us take a look at the lows and highs for the next swing.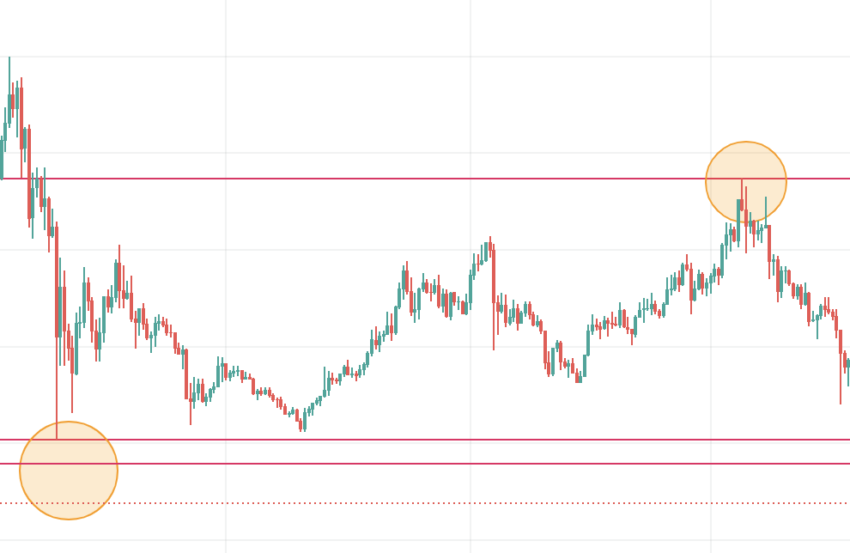 2nd swing low: $0.0518 on May 19, 2021
2nd swing high: $0.186 on Nov. 9, 2021
Time difference: 174 days
3rd swing low: $0.0394 on Feb. 24, 2022
3rd swing high: $0.08919 on March 31, 2022
Time difference: 35 days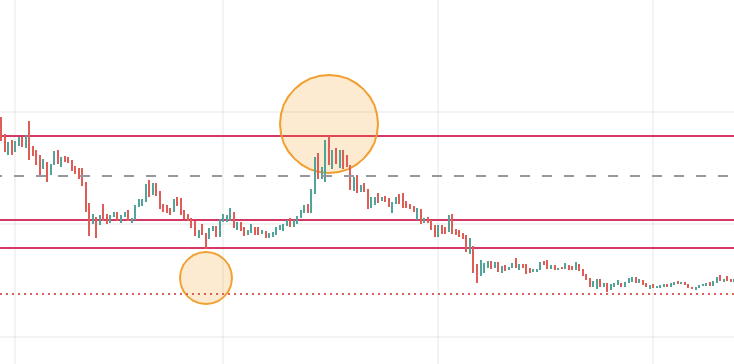 Inference: in a standard bull-to-neutral market, VET prices are taking less time to move from a swing low to a swing high. The trend may resume once the bear market fizzles out.
Here are all the key price levels discussed.

Now let's look at the weekly chart pattern to zoom in further.
Weekly price chart
The weekly chart pattern for VET shows that three lower highs are being formed. This indicates VET is in a possible downtrend.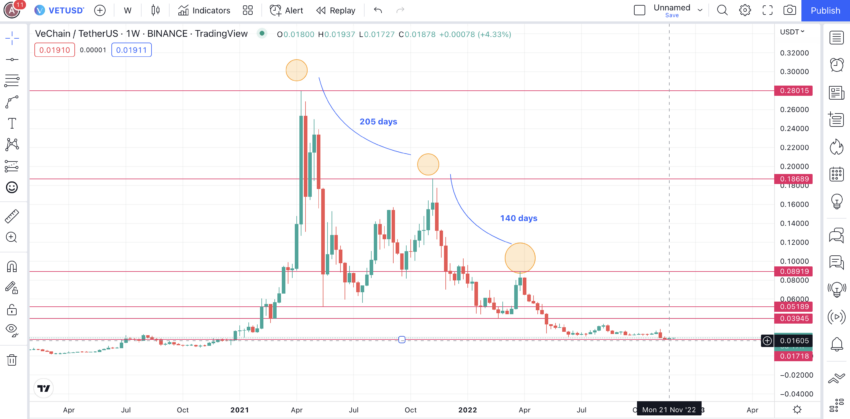 Now let us consider the price trends here:
| | | |
| --- | --- | --- |
| Price at first high | Price at second high | Price at third high |
| $0.278 | $0.186 | $0.089 |
Percentage drop from 1st high to second high: 33%
Percentage drop from 2nd high to third high: 52%
So the next possible swing high could be at a drop of 42.5% (average of 33% and 52%)
The expected level at the next swing high = $0.0511
But when will this level be reached?
Time-based calculations
The time between the first high and the second high: 205 days
The time between the second high and the third high: 140 days
So the expected timeframe between the third and fourth swing is 172 days (average of 205 days and 140 days).
The expected point when the VET will reach $0.0511 = 172 days from the 3rd swing high or March 28, 2022 should have been in September 2022. However, the broader market sell-off stopped VET from reaching the high at this time.
Here is another calculation to help you better locate this key date:
| | | |
| --- | --- | --- |
| Price at the first swing low | Price at the second swing low | Price at the third swing low |
| $0.0518 | $0.03945 (23% drop from previous) | $0.0171 (57% drop from previous) |
Now let's look at the time taken to move to one swing high from the previous swing lows:
| | | |
| --- | --- | --- |
| 1st low to 2nd high | 2nd low to 3rd high | 3rd low to 4th high |
| 175 days | 35 days | To be calculated |
As the 2nd low to 3rd high was during different market conditions, we can expect the timelines to be different. Hence, to be on the safer side, let us take the average of two low-to-high timelines. Therefore, 105 days approx might be taken to go from the 3rd low to the 4th high. This works out as three and a half months from 21 Nov.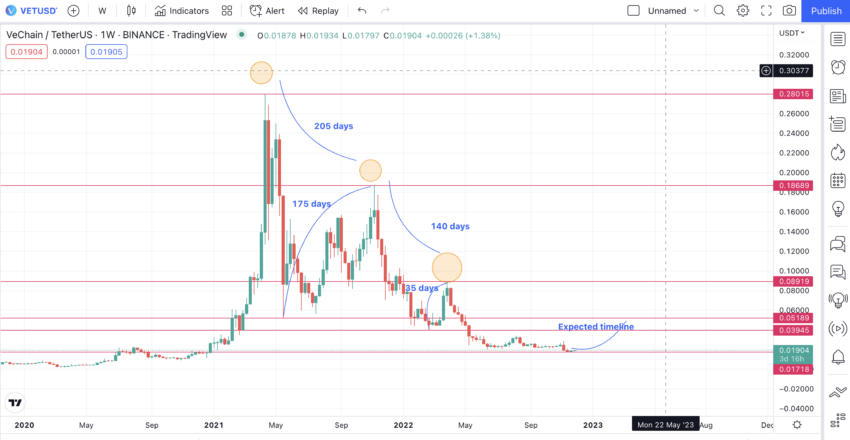 So the level of $0.0511 might show up in March 2023.
Here are the short-term projections.
The reason for such a low maximum price is the descending triangle pattern that VET is forming. It needs to sustain the lower trendline to have any chance of moving up.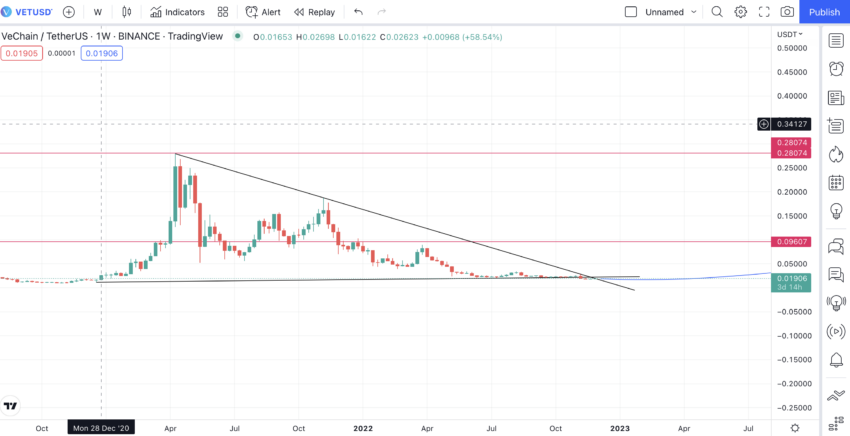 VeChain (VET) price prediction in 2023
If the same market trend continues, we can expect $0.0511 in March 2023 to become the highest point. As for the lows, the fourth swing low could be at a 40% drop (average of 23% and 57% from Table 2) from the previous low of $0.0171.
Hence, the lowest price in 2023 could be $0.0102.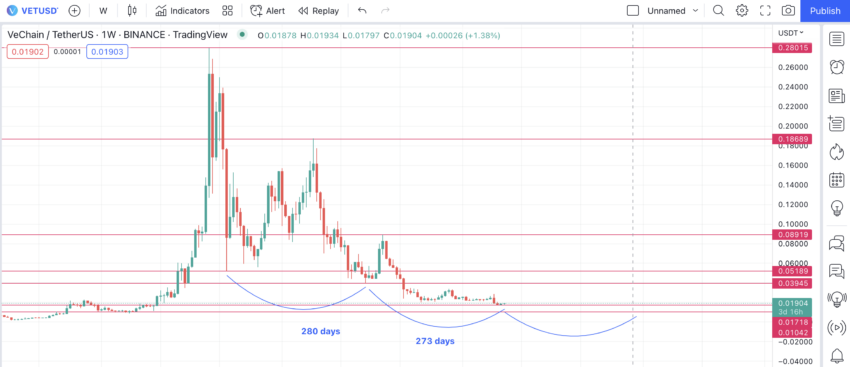 Now, here are the timelines between the lows:
1st low to 2nd low, May 17, 2021, to Feb. 21, 2022 = 280 days
2nd low to 3rd low, Feb. 21, 2022 to Nov. 21, 2022 = 273 days
So 4th low could be at 276 days from 2022 = Aug. 24, 2023
These predictions are expected to hold only if the bear market conditions persist.
VET price prediction using indicators
Moving averages
As of now, VET is trading at $0.01903, under the 50 and 100 weekly moving average lines. Therefore, if the next swing high of $0.0511 is breached, we could expect the next move to be higher.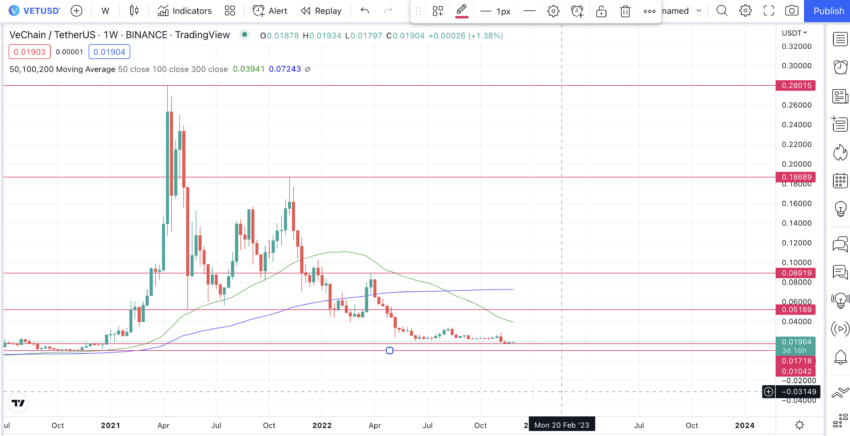 Also, if the green line (50 SMA) breaks above the blue line (100 SMA), only then can we see VET prices move to their immediate bullish target of $0.089.
Price changes
Let's zoom out further to see how high VET can move in the long term.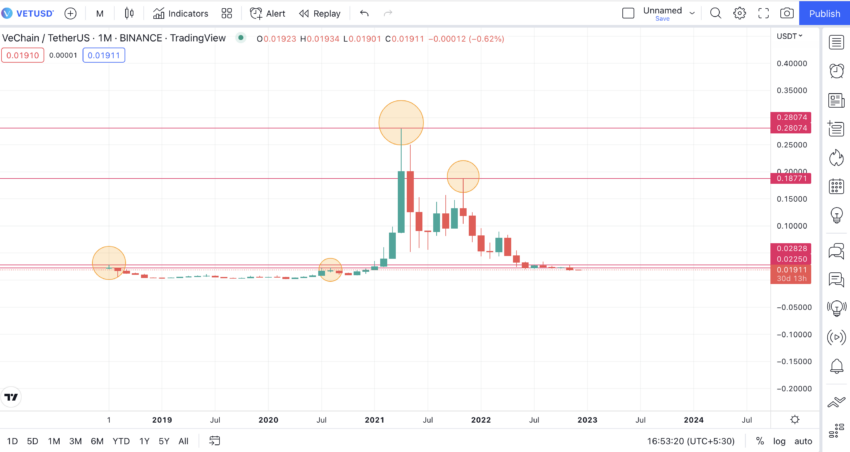 VET started at a price of $0.02754 in July 2018.
Then, it formed a quick bottom but quickly climbed to a high level of $0.2348 by August 2020.
The next cycle started when VET made an all-time high of $0.2782 in April 2021.
Then a quick bottom and a lower high of $0.18722 in November 2021.
There is a pattern here:
A small high in 2018, then a massive high in 2021.
As per this trend, another high could be in 2024–2025, mostly in May, as per the monthly chart.
Now, if we quickly go back to the weekly chart, we can see that the previous weekly high of $0.089 needs to be breached for an uptrend. Expect this to happen in 2024.
The Fibonacci retracement chart tells us about key resistance and support levels. Here the $0.089 level coincides with the 50% Fib level. As per our projections, it is expected to reach by 2024.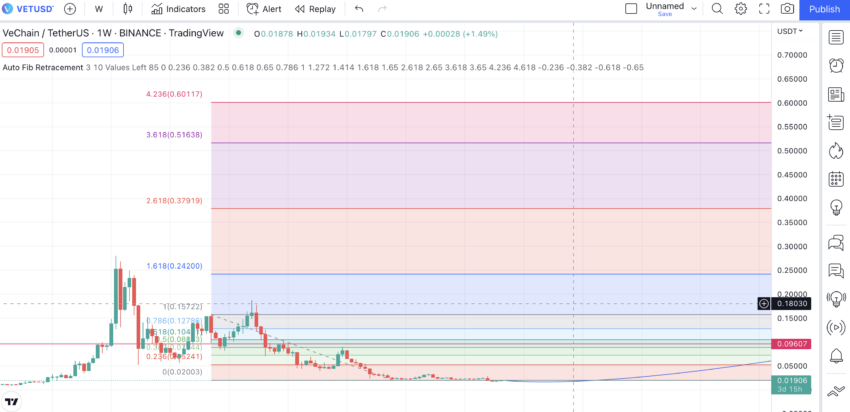 Patterns
If the 2024 projections hold, the VET price chart completes a cup-like pattern. We can expect an up move from here, provided the bear market lets up.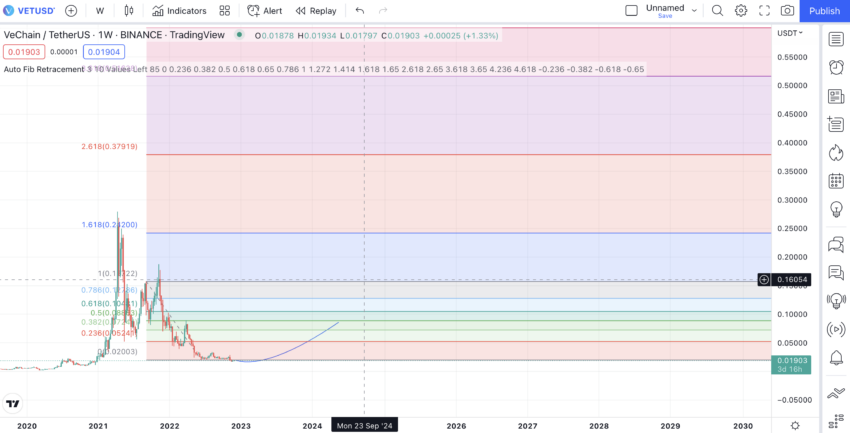 Therefore, over the next few years, preferably by 2026–2027, we can expect VET to breach its all-time high. Every year, the lows could be at the retracement levels, as projected using the Fib retracement indicator.
If you see the extension lines, you will find that the VET price prediction model could go higher than its all-time high.
However, social metrics and engagement should be high for a breach above the all-time high.
VeChain (VET) price prediction in 2025
As per projections, we can see VET close to the 10-cent value or $0.10481. The lows for that year could be between $0.096 and $0.088 — depending on market conditions.
VeChain (VET) price prediction in 2030
By 2030, the average price of VET might even move up to $0.37, at least 50% above its all-time high. However, for that, you need to keep a closer look at the progress of other key layer 1 blockchains, like Cardano. ADA also has a pretty sluggish price movement history, and tracking it along with VET might be a good option.
VeChain (VET) long-term price prediction
By 2035, a more realistic VET price prediction puts the value of the VET token above $0.51. Wider adoption can take the maximum price to even $0.60 during the same time period. However, if we consider a fair market with multiple bull runs, we can even see the maximum price of VET to be at $0.79.
Here is a table with future price references:
| | | |
| --- | --- | --- |
| Year | Maximum price of VET | Minimum price of VET |
| 2023 | $0.0511 | $0.0102 |
| 2024 | $0.089 | $0.0524 |
| 2025 | $0.1048 | $0.096 |
| 2026 | $0.1226 | $0.1050 |
| 2027 | $0.1434 | $0.1330 |
| 2028 | $0.172 | $0.1545 |
| 2029 | $0.2065 | $0.157 |
| 2030 | $0.365 | $0.242 |
| 2031 | $0.427 | $0.30 |
| 2032 | $0.499 | $0.35 |
| 2033 | $0.584 | $0.38 |
| 2034 | $0.6832 | $0.51 |
| 2035 | $0.79 | $0.57 |
How accurate is the VeChain price prediction model?
The short-term VeChain price prediction model seems realistic and attainable, considering we are still in the bear market. We need to assume the VET maintains or amplifies its growth for long-term analysis of average and maximum prices. Plus, no bear cycles are taken into consideration while preparing this VeChain price prediction model.
It will be difficult for VET to achieve $1 anytime soon unless blockchain technologies become standard enterprise commonplaces. For now, 2023 seems like the most critical zone in the VET price prediction model. We should keep looking at the ecosystem growth and technical analysis to make informed decisions.
Frequently asked questions
What will VeChain be worth in 2025?
What is VeChain trying to solve?
What makes VeChain special?
Disclaimer
In line with the Trust Project guidelines, the educational content on this website is offered in good faith and for general information purposes only. BeInCrypto prioritizes providing high-quality information, taking the time to research and create informative content for readers. While partners may reward the company with commissions for placements in articles, these commissions do not influence the unbiased, honest, and helpful content creation process. Any action taken by the reader based on this information is strictly at their own risk.