In both price and in awareness, Bitcoin and the cryptocurrency space in general has experienced a massive surge. Because of this, it seems like everyone is wondering, "Should I buy Bitcoin now?"
If you're one of those people, we've got you covered. This guide will cover buying Bitcoin from a beginner's standpoint, ensuring the process is as easy as possible.
But first, let's get into a few common questions surrounding Bitcoin.
How Can I Buy Bitcoins?
The best way to buy Bitcoin is through a cryptocurrency exchange. We'll get more into that later in this post. Using a cryptocurrency exchange, you can buy Bitcoin at pretty much any price you'd like. There's no minimum or maximum amount, depending on the exchange. $10 is a perfectly reasonable amount to start at.
However, risk-averse investors might not love the volatility. That doesn't mean you shouldn't be buying Bitcoin, if you're against risk, however. Instead, you can simply invest to hold for the long-term, ignoring volatility and waiting for big value appreciations.
Can I Buy $20 Worth of Bitcoin?
You can buy Bitcoin with just $20 if you'd like, as well as any other dollar denomination. If you're low on funds, but can still invest, it makes sense to wonder "should I buy Bitcoin now?" Thanks to the versatility offered by exchanges, that $20 will be easy to invest.
Now that you're aware of some commonly asked questions regarding Bitcoin, let's talk about how to buy it.
Step 1: Sign Up for an Exchange
This is probably the most time consuming part of learning how to buy Bitcoin. Even then, it's still pretty easy to do.
To start, head over to StormGain and sign up using an email and password. On here, you'll also need to input a valid phone number. You can also sign up with your Apple or Google account if you have one. Verify your email and phone number before you log into the website.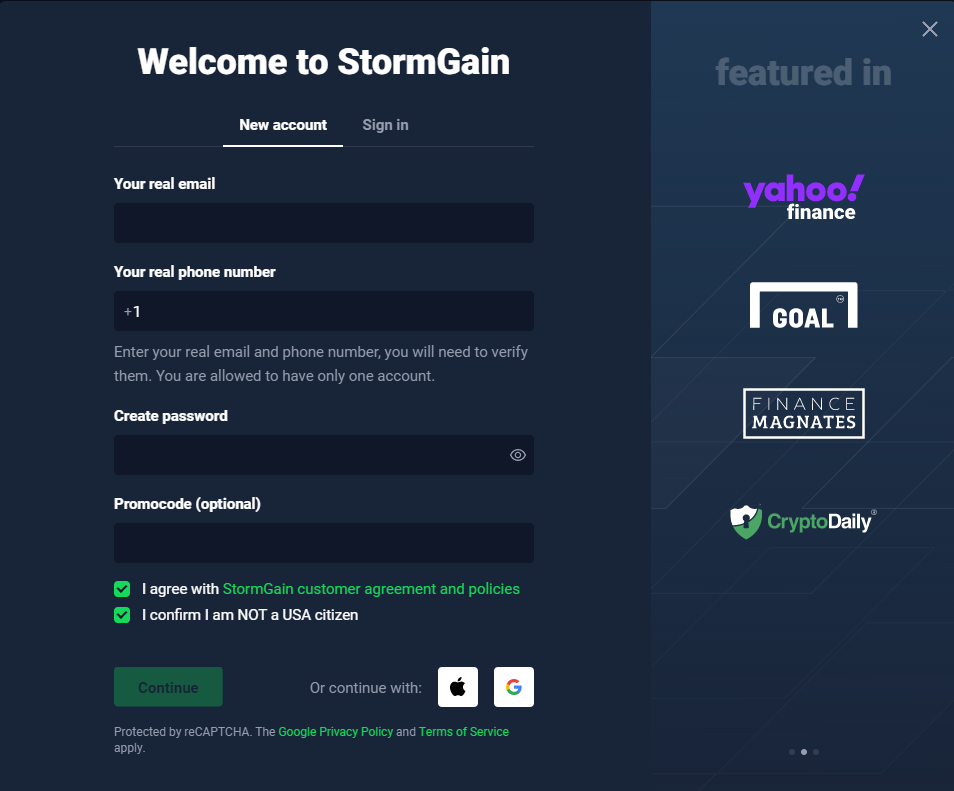 Most cryptocurrency exchanges ask you to verify your identity before signing up. This generally requires you to submit a photo of you holding your ID. Some platforms will allow you to trade without this step, but many ask you to do so before trading in higher values.
Now, before getting into the next steps, here are a few factors to keep in mind when searching for an exchange.
Security
Considering you'll be storing your personal information, as well as an cryptocurrencies, on the exchange, make sure to choose one that's known for good security. Choose a platform with two-factor authentication for extra account security. Do some research and learn about any previous hacks or sketchy situations. Read about their encryption methods, and make sure an exchange utilizes cold storage as well.
Token Listings
While this guide is focusing on buying Bitcoin, chances are high you'll branch out from that over time. Most exchanges list a fair amount of cryptoassets you can expand into over time. If you're only looking to invest in Bitcoin, then this isn't too important for you. However, those who are just starting their crypto journey and have an intent to do more will want to take this into account.
User Interface
Considering this is a beginner's guide, we want to emphasize an exchange with an easily accessible user interface. It shouldn't be hard to sign up, find your wallet, learn how to invest in Bitcoin, and other features. The right exchange will make it incredibly easy to figure out what to do.
Step 2: Enter Payment Method
Now that you're signed up for a cryptocurrency exchange, it's time to enter a payment method. Nearly any exchange you find will support your bank and/or debit card to make payments.
On StormGain, once your email and phone number have been confirmed, click "Deposit" on the top right. A pop-up will appear asking for your method of deposit. Choose to link your bank account or debit/credit card. The former is free, while the latter costs a transaction fee based on your method of choice. Of course, you can deposit any existing Bitcoin you have as well, though you probably don't have any if you're reading this guide.
Step 3: Choose and Buy Bitcoin
Now it's time to purchase your Bitcoin. Your payment methods are linked, so select the amount of money you'd like to deposit into Bitcoin. Once you've selected that amount, hit "Deposit" on the pop-up to see the amount of Bitcoin that cash would turn into.
You'll have to confirm your payment details once again, and then you can complete the purchase.
Of course, if you invest your USD into Tether or another cryptocurrency, you can head to the "Exchange" tab for various options. "Fast Exchange" under "Exchange" is the first option. This will allow you to quickly convert your Bitcoin into another asset, or another asset into Bitcoin for future use.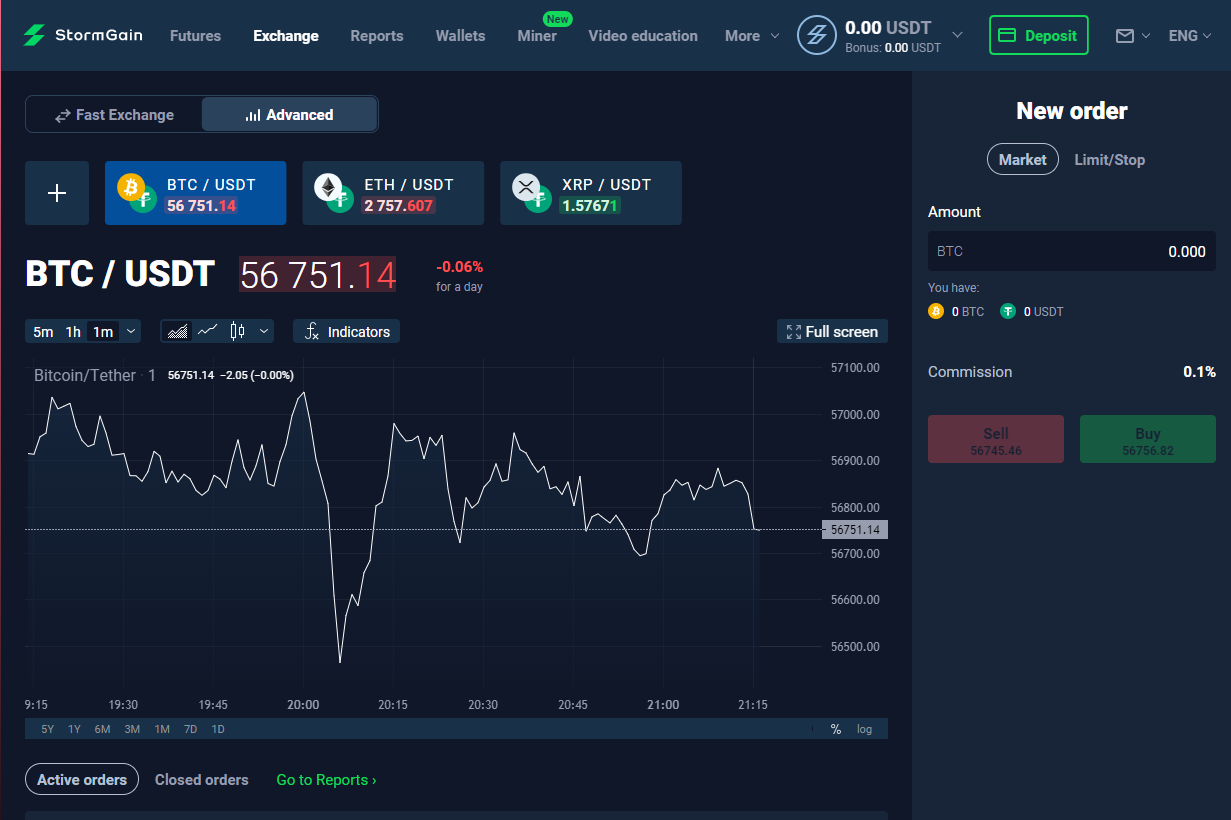 Then there's the "Advanced" tab. This will show Bitcoin's price graph so you can analyze your purchase before making one. You'll also see "Market" and "Limit/Stop" options on the right-hand of the screen.
Market orders have you putting in an amount of Bitcoin you'd like to buy. When you click "Buy," the order will go through instantly at that current price.
If you set a Limit or Stop order, you'll enter a price in which you'd prefer to buy Bitcoin. So, if Bitcoin is at $60,000, but you want to buy at $58,000, you'll set a limit order for $58,000. When the asset hits that price, StormGain will automatically purchase however much of the asset you chose when making the order.
Step 4: Storing Bitcoin in a Wallet
Finally, there's the cryptocurrency wallet. StormGain and other exchanges provide their own wallet for you to store your assets. That said, you generally want to use a wallet that's off an exchange, like a desktop or hardware wallet.
If you'd like to move your Bitcoin off of StormGain, head to your Bitcoin wallet and select "Withdrawal." Next, copy the wallet address of your external wallet and paste it into the StormGain pop-up. Input the amount of Bitcoin you'd like to transfer, click "Withdraw," and finish the two-factor authentication process.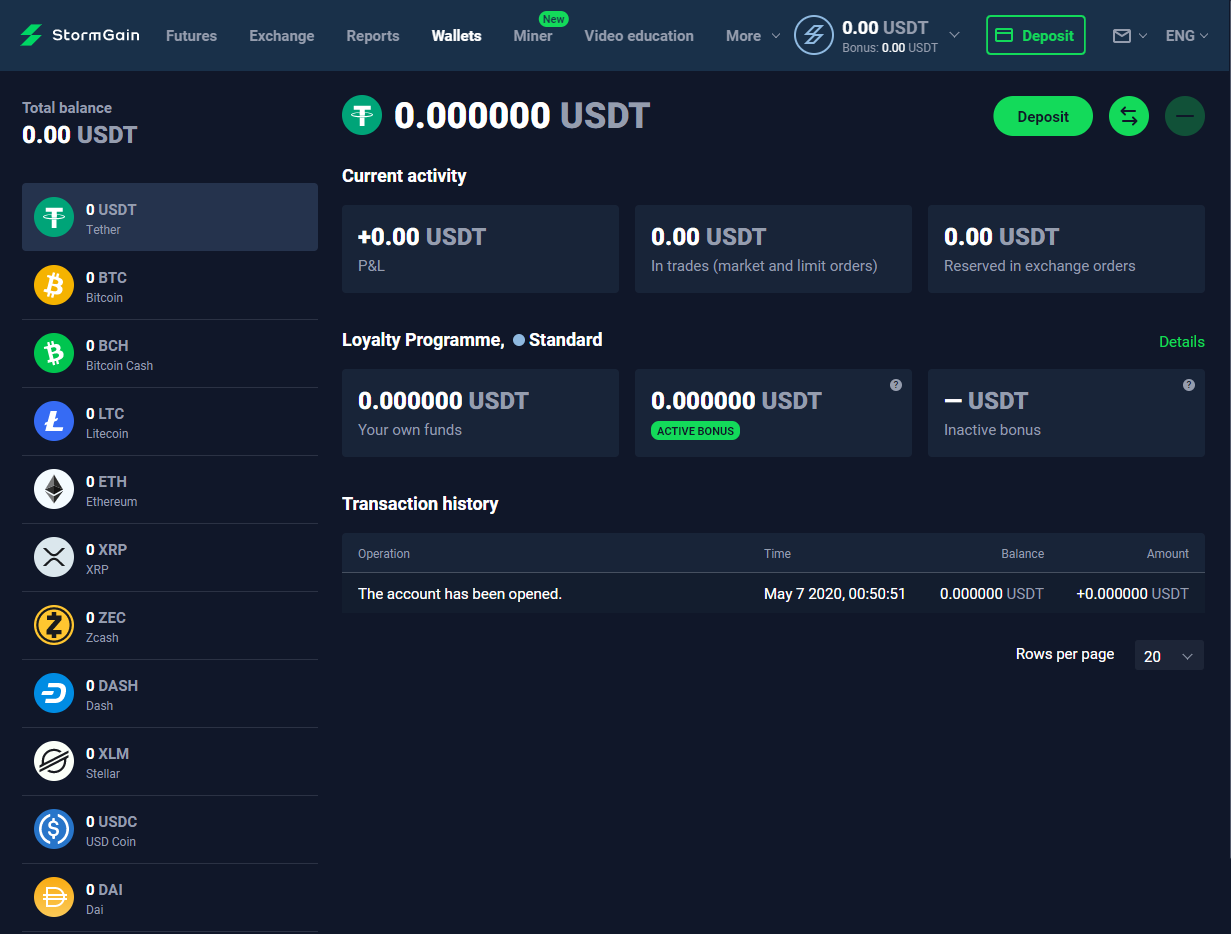 Note that you must withdraw at least 50 USDT worth of Bitcoin, or the process will not go through. Once done, wait for the transaction to confirm on the Bitcoin blockchain, and you're done.
And that's it! You've just learned how to buy Bitcoin. For now, maybe stick with the world's largest cryptocurrency for a bit until you feel more versed in exchanges. From there, you can branch out into other digital assets and invest to your heart's content. Good luck out there!
Is Buying Bitcoin a Good Investment?
Many people believe Bitcoin is a good investment. After all, the asset is predicted to reach highs in the one-hundred-thousands, if not more. In that same vein, Bitcoin is quite volatile. Some risk-taking investors will appreciate that, as they'll find more opportunities to buy low and sell high.
< Previous In Series | How to buy Cryptocurrency & NFTs | Next In Series >
Frequently Asked Questions
How do you store bitcoin?
Is it safe to buy bitcoin?
Do I have to buy an entire bitcoin?
Disclaimer
In line with the Trust Project guidelines, the educational content on this website is offered in good faith and for general information purposes only. BeInCrypto prioritizes providing high-quality information, taking the time to research and create informative content for readers. While partners may reward the company with commissions for placements in articles, these commissions do not influence the unbiased, honest, and helpful content creation process. Any action taken by the reader based on this information is strictly at their own risk.