Gone are the days when popular financial products were relegated to Wall Street and traditional finance. Products like loans, options, or leveraged trading have been available to crypto degens for some time now. And crypto futures trading platforms are no different.
Advanced products like futures create a robust financial market, allow traders to hedge, and give a glimpse of market sentiment around an underlying security or crypto asset. This article covers the basics of crypto futures trading, the best exchanges for trading futures in 2023, and what to look for in a futures exchange.
BeInCrypto Trading Community in Telegram: read reviews on the best crypto platforms, discuss crypto projects, read technical analysis on coins & get answers to all your questions from PRO traders & experts!
What is crypto futures trading?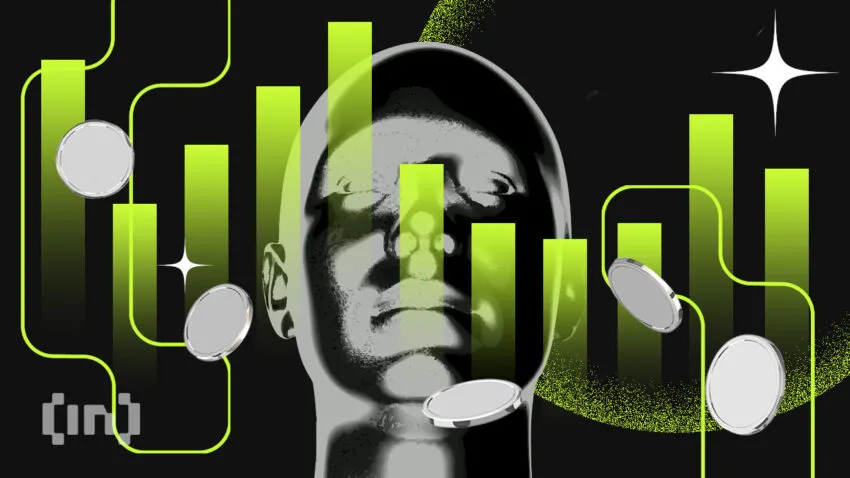 Crypto futures trading is more simple than it sounds. A futures contract (often shortened to just futures) is a financial product that obligates a party to buy or sell an asset at a predetermined price and date in the future.
For example, the current price of cryptocurrency "X" is $1,500. You purchase a futures contract for 100 tokens of cryptocurrency "X" at a price of $1,550 per token. This will cost you $155,000. If the price increases to $1,700 per token in three months, you will have made $15,000 ($170,000 for 100 tokens).
Conversely, you can also take out a futures contract, where you sell instead of buying at a future date. For example, if the trader wants to sell at a future date, they can lock in the price at $155,000 with a futures contract. If the price drops to $1,400 per token ($140,000 for 100 tokens), the trader can still sell at $155,000 ($1,550 per token).
Unlike options contracts, the parties of a futures contract are obligated to buy or sell at the expiration date, regardless of profits or losses. Futures allow traders to speculate on crypto market price movements instead of holding the assets themselves.
9 crypto futures trading platforms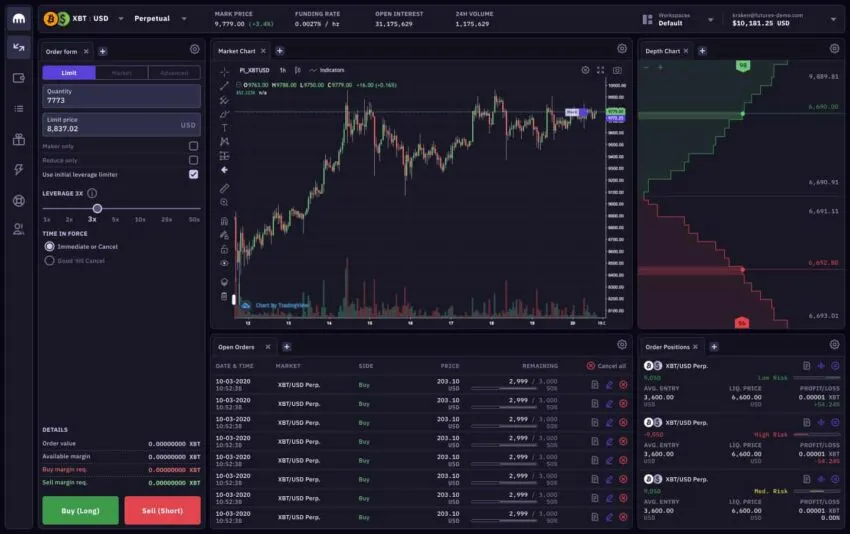 What it is
The U.S.-based cryptocurrency exchange, Kraken, was established in 2011. It was one of the first bitcoin exchanges included on Bloomberg Terminal. Kraken is regulated by FinCEN and thus adheres to all legal and regulatory requirements in each country in which they operate.
Features
The trading chart for Kraken is quite sophisticated, offering a variety of time frames and technical indicators. Additionally, it provides conditional trading with stop/limit orders. Finally, Kraken offers futures trading, a way to amplify profits with 50x leverage, over-the-counter desk, and cryptocurrency indices.
Pros
Advanced trading features
Multi-collateral options (10)
Up to 50x leverage
Cons
Futures not available to U.S. residents
Limited fiat currencies support
UI slightly cluttered
Fees and any other charges
The fee schedule is based on your 30-day rolling volume, which means that the more you trade, the lower your fees on subsequent trades will be.
Maker fee: 0.02% – 0.005%
Taker fee: 0.05% – 0.015%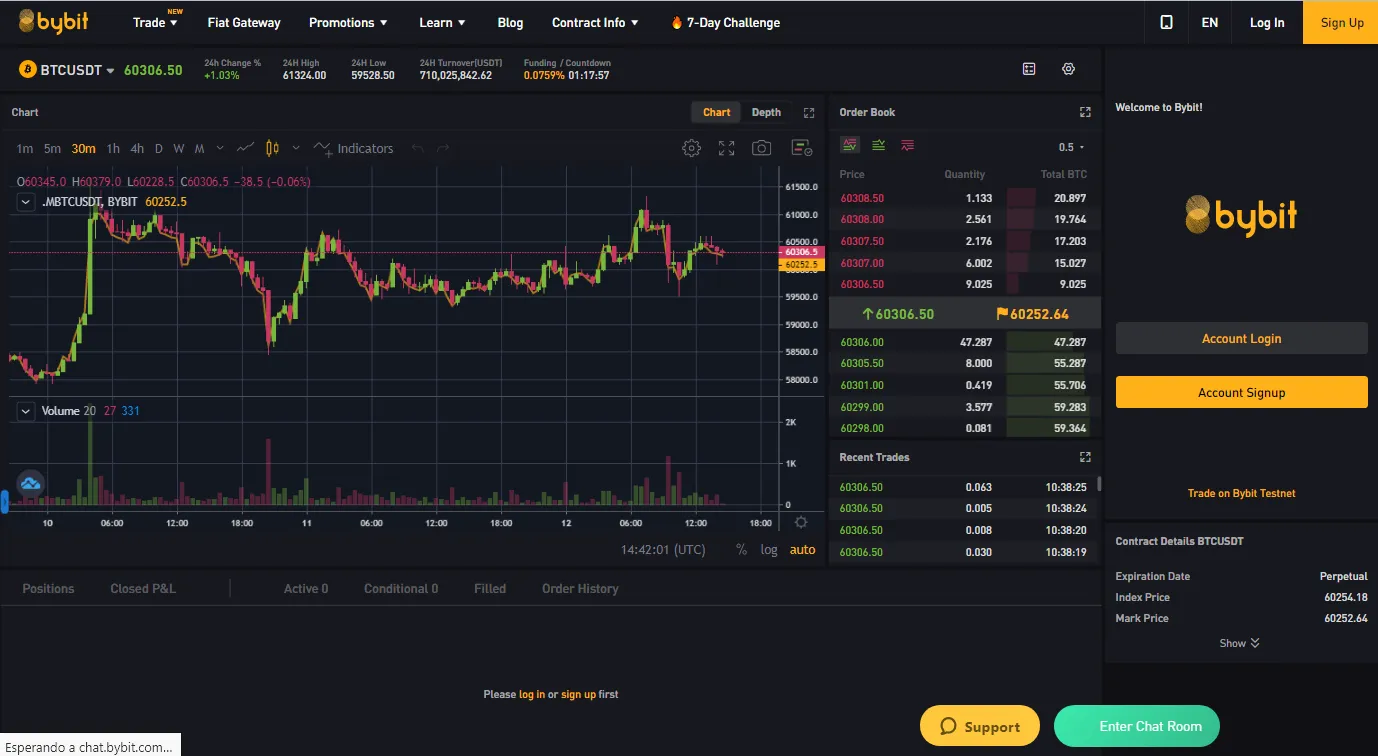 What it is
Bybit is a cryptocurrency exchange based in Dubai. The platform was founded in 2018. Retail and institutional clients around the world can use the company's online spot and derivatives trading services, mining and staking products, and API support. Bybit also provides an NFT marketplace, a token launchpad, and institutional services.
Features
Bybit allows up to 100x leverage on margin and futures trading. Users can get up to 100x leverage on bitcoin and up to 50x to 25x leverage on other currencies. Customers can also purchase short-term loss insurance. Bybit allows you to integrate TradingView so that you can receive real-time alerts when the market meets your customized criteria.
Pros
TradingView integration
Insurance fund
Educational resources
Large selection of contracts
Cons
Limited options for fiat deposit
Complicated for beginners
Fees and any other charges
Taker fee: 0.06% – 0.03%
Maker fee: 0.01% – 0%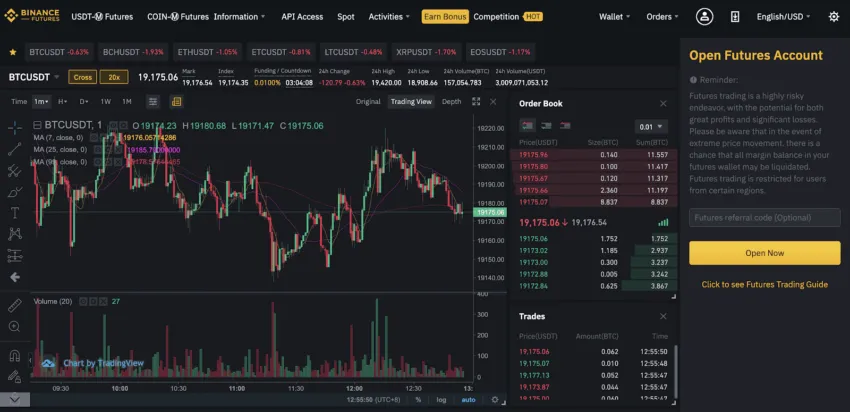 What it is
Binance is a crypto exchange and trading platform based in Tokyo. The platform debuted in 2017 and has since grown to become an industry behemoth. The exchange is sophisticated, with a number of advanced tools for seasoned traders. It is now the world's largest cryptocurrency exchange in terms of trading volume and assets under management.
Features
When it comes to products, Binance does not fall short. Not only does Binance have spot trading, but futures and options trading is also available. You can choose between quarterly or perpetual, settled in USDT, BUSD, or other cryptocurrencies. In addition to bitcoin futures contracts, you can choose from a large variety of crypto futures contracts to trade.
Advanced traders may take advantage of Binance's trading bot, while beginners might be more interested in Binance's copy trading features.
Pros
Advanced trading charts
Variety of contracts
Copy trading
Trading bot
Cons
Not available in the U.S.
Long verification process
Fees and any other charges
Binance futures fees schedule is categorized by regular and VIP users, USDT or BUSD settled contracts, and 30-day trading volume or BNB balance
USDT

Maker: 0.02%-0%
Taker: 0.04%-0.017%

BUSD

Maker: 0.012%-(-)0.01%
Taker: 0.03%-0.023%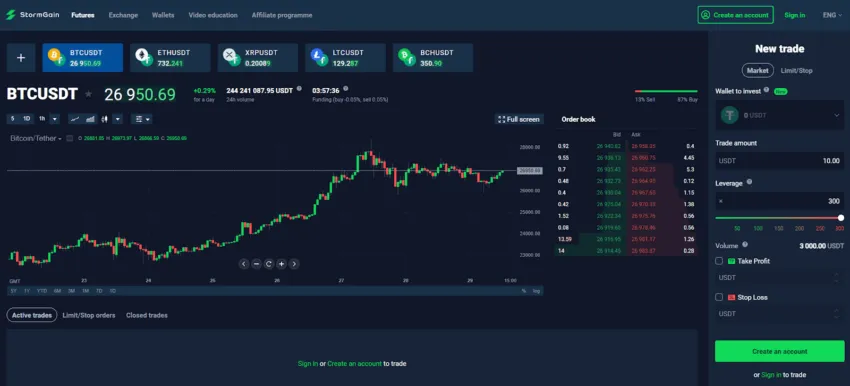 What it is
Stormgain is a centralized cryptocurrency exchange founded in 2017 and based in the U.K. It is a one-stop shop platform and mobile app. While Stormgain is a spot trading platform, users can cut their teeth with a number of derivatives trading products.
Features
With StormGain futures, users can get funds for trading and increase their order volume with the highest leverage on the market, up to 500x. Secondly, there is no need to deposit, you can trade directly from your blockchain wallet. The platform has 61 contracts available, including bitcoin futures contracts.
Pros
Beginner friendly UI
Variety of contracts
Up to 500x leverage
Cons
Limited fiat deposit
Limited order types
Fees and any other charges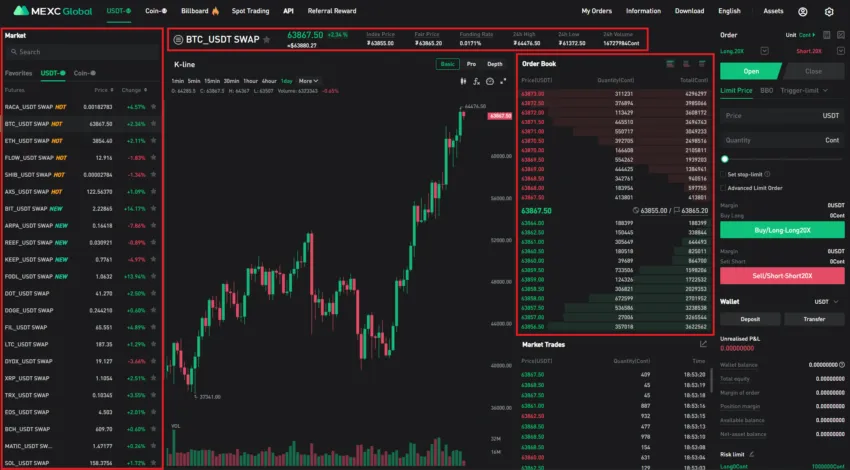 What it is
MEXC, previously known as MXC, was founded in Seychelles in 2018. The business has compliance licenses in five nations, including Canada and Switzerland. Moreover, MEXC enables you to buy, sell, and trade crypto. Many users recognize the global platform for its high performance and state-of-the-art transaction matching technology.
Features
A variety of services are available to users, including portfolio management, leveraged exchange-traded funds (ETFs), perpetual futures, NFT Index, and trading spots. Additionally, futures traders can use USDT or other cryptos as collateral and receive up to 200x leverage on a variety of contracts.
Furthermore, the trading platform allows for multiple order types. If you are new to trading futures, MEXC has a bevy of learning resources and tutorials. Once you finish their tutorials, you can practice what you've learned using the demo trading feature.
Pros
Learning resources
200x leverage
Multiple order types
Cons
Does not support fiat withdrawal
Fees and any other charges
MEXC uses a tiered fee structure based on wallet balance or 30-day trading volume

Maker fee: 0.00%-0.00%
Taker fee: 0.02%-0.014%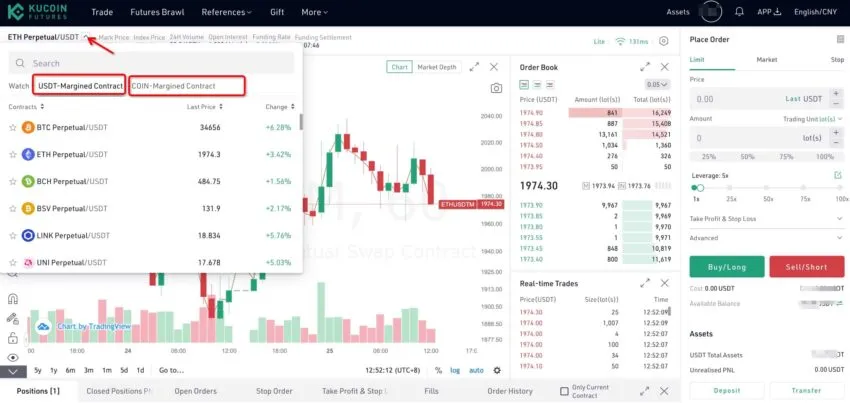 What it is
Kucoin is a global cryptocurrency exchange that launched in 2017. The platform has locations in Hong Kong, Bangkok, Singapore, Dubai, and Seychelles. Today the platform has millions of global users and billions in trading volume.
Features
Kucoin futures offers both pro and lite versions — tailoring a focused experience to both pro and beginner traders. Additionally, you can use up to 100x leverage on a wide variety of contracts. Several of KuCoin futures' trading products are available with cash settlements. Based on the coins used for settlement, these contracts are further divided into USDT-Margined, USDC-Margined, and COIN-Margined contracts.
Pros
Pro and lite version
100x leverage
Cash settled contracts
Cons
Limited fiat support
Not regulated in the U.S.
Fees and any other charges
Kucoin uses a tiered fee structure based on KCS holdings or 30-day spot trading or futures trading volume
Maker fee: 0.02%- (-)0.015%
Taker fee: 0.06%-0.03%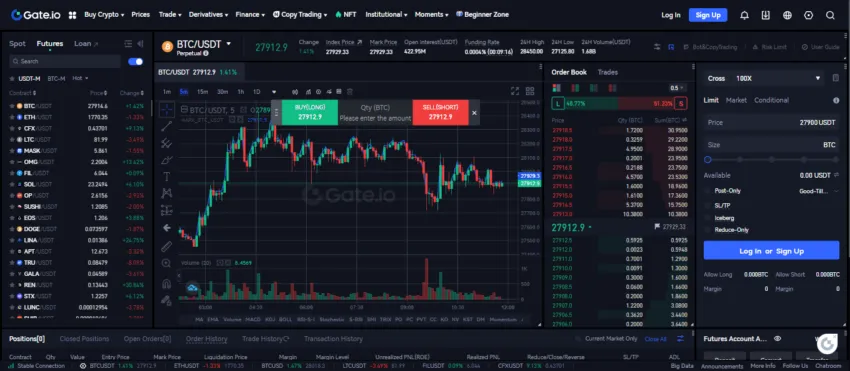 What it is
Gate.io is a cryptocurrency trading platform that has been active since 2013. The platform was originally known as Bter.com before being renamed Gate.io in 2017.
Features
Futures on Gate.io are margined in BTC and USDT. Through the mixed collateral function, you can use margin on BTC or ETH in your spot account and borrow up to 100,000 USDT with no interest for contract trading. Instead of risking real capital, you can also take advantage of the testnet, which is simulated or demo trading.
Pros
Learning resources
Variety of contracts
Advanced interface
Mixed collateral
Cons
Limited cryptocurrencies for mixed collateral
No fiat withdrawals
Delivery futures trading fee rate: 0.015%
Maker: -0.025%
Taker: 0.075%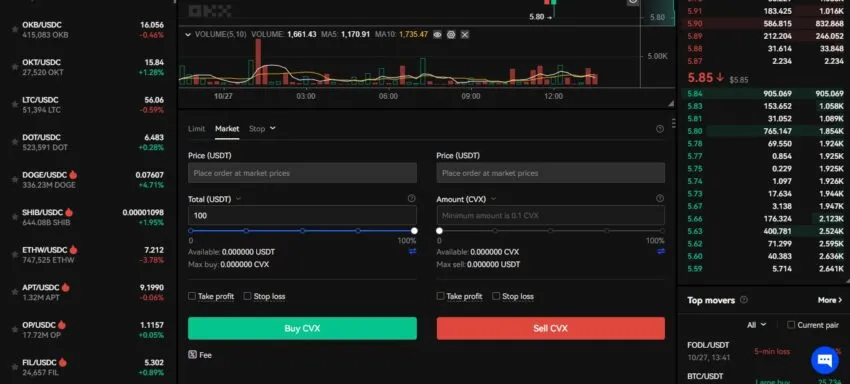 What it is
OKX (formerly OKEx) provides a wide range of services, including a cryptocurrency exchange. The platform is based in Seychelles and is available to users worldwide, except for the United States. OKX offers a user-friendly interface and a suite of advanced features.
Features
OKX Crypto-Margined Futures Contracts are a derivative product that is settled in cryptocurrencies like BTC, LTC, and ETH. And those who qualify can obtain up to 20x leverage. Users can also make use of a trading bot. Finally, futures contracts on OKX are margined in USDT, USDC, and other cryptos.
Pros
Educational resources
Variety of contracts
Globally available
Cons
Not available in the U.S.
Fees and any other charges
OKX uses a tiered fee structure based on assets (USD), OKB holdings, or 30-day trading volume
Maker fee: 0.02%-(-)0.015%
Taker fee: 0.05%-0.02%
9. GMX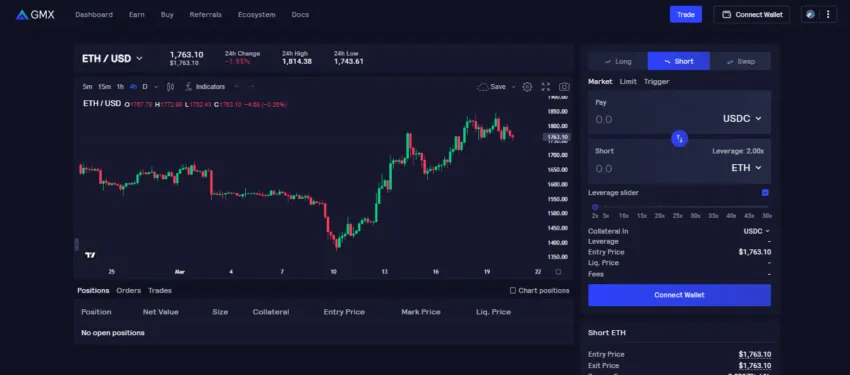 What it is
GMX is a cryptocurrency futures trading platform. The protocol went live on Arbitrum in September 2021, followed by Avalanche in early 2022. Spot trading is available for a number of popular cryptocurrencies and stables, including ETH, WBTC, LINK, UNI, DAI, USDC, USDT, and FRAX.
Features
Unlike decentralized spot exchanges, GMX allows users to perform spot swaps and trade perpetual futures with up to 50x leverage while keeping assets in their crypto wallet. Another distinguishing feature of GMX is the use of price oracles such as Chainlink. The use of Chainlink Oracles enables the protocol to obtain accurate price data for assets in the pool. Furthermore, GMX has low swap fees, trades with no price impact, and limit orders.
Pros
Built on Arbitrum and Avalanche
50x leverage
Permission less
Profit sharing
Cons
Only on desktop
Few trading pairs
Fees and any other charges
Maker fee: 0.01%
Taker fee: 0.01%
Best crypto futures trading platform qualities
If you want to start trading crypto futures, consider the following features and variables when choosing a platform.
User interface
Advanced trading apps with a strategic focus produce trading signals (e.g., distinct market entry and exit points). Trading applications also implement technical indicators and offer complex charting features. The best platforms give users as much information as possible without overwhelming them or overcrowding the UI.
Trading fees and commissions
Commission rates differ from firm to firm, so it is paramount to confirm a fee schedule before deciding to use a crypto futures trading platform. Always remember that if something is free, the user is the product.
Order types
Order types are the "secret sauce" to an expert trading strategy. They tell your crypto exchange how and when to execute your order at the best prices. This is a basic feature of nearly all brokers. If your trading platform doesn't have order types, choose a different trading platform!
Leverage and margin
Futures frequently involve borrowing in order to invest, which calls for a reliable middleman. Due to the leveraged nature of its financial products, the futures market is heavily dependent on the clearinghouse. As a result, clearinghouses impose margin demands large enough to pay the member's debit balance.
By using a margin, you can execute larger or more advanced trades by putting up less money than the total cost of the transaction. Some trading platforms will allow up to 500x leverage. Make sure you know your chosen platform's margin and leverage offerings.
Crypto futures trading platforms compared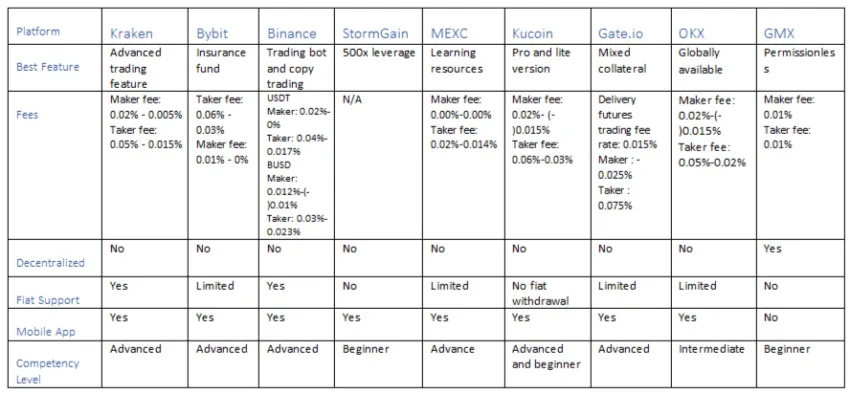 Which is the best platform for you?
Selecting a good crypto futures trading platform is not difficult, but it requires research and understanding of what you seek. Once you learn the basics (e.g., fees, trading tools, etc.), you can consider more advanced features, like liquidity or order execution. Each exchange will have unique features that may or may not suit your personal needs.
Frequently asked questions
How do futures work on crypto?
What is the best platform for crypto futures trading?
Can you trade futures in crypto?
Can I trade futures on Binance?
What is the cheapest crypto futures exchange?
Does Coinbase have futures trading?
Disclaimer
In line with the Trust Project guidelines, the educational content on this website is offered in good faith and for general information purposes only. BeInCrypto prioritizes providing high-quality information, taking the time to research and create informative content for readers. While partners may reward the company with commissions for placements in articles, these commissions do not influence the unbiased, honest, and helpful content creation process. Any action taken by the reader based on this information is strictly at their own risk.