Binance is the largest centralized crypto exchange in the world. It has an extensive lineup of products that extend far beyond crypto trading. And with over 150+ million registered users worldwide, there seems to be little stopping Binance as it continues to grow. But is it the right exchange for you? This detailed Binance review delves into the platform's nitty gritty, exploring everything it has to offer regarding crypto trading and more.
During our discussion, we consider the latest controversies and regulatory concerns around the far-reaching exchange. Should Binance users be worried? Let's take a look.
What can you expect from this Binance review?
Throughout this Binance review, we focus on offerings of the Binance platform, including the trading spread that encompasses spot, derivatives, P2P, and more. We also identify the passive earning options at Binance, followed by the exclusives like the mining pool, asset management tools, NFT access, and more.

Following an examination of the offerings, we dive into the security and regulatory aspects of Binance's operations. Finally, our focus will shift to Binance users as we highlight the user experience, fee structure, quality of customer support, and educational resources.
Who is this review for?
Overall, this 360-degree Binance review should cater to crypto novices, investors, seasoned traders, compliance professionals, tech enthusiasts, and even individuals who get their salary paid in crypto.
So, let us start this exhaustive Binance review by looking at Binance's history and the key numbers.
What is Binance? History, numbers, and more
Binance is ranked 1st according to CoinMarketCap's top exchange list. What shines is the trust score of 9.9 — miles ahead of Coinbase's 8.6 — the exchange placed second.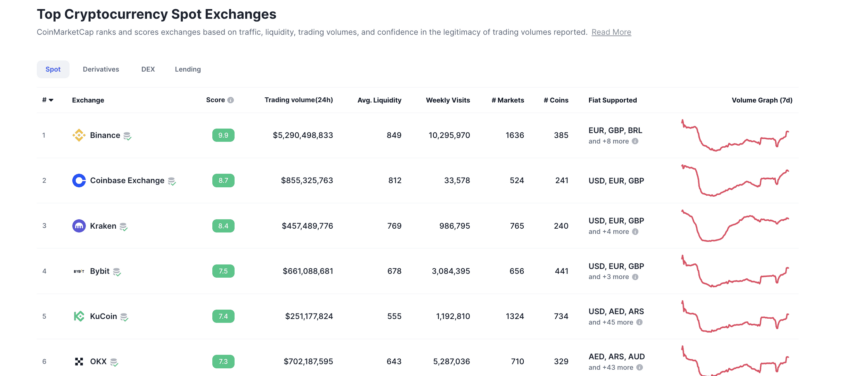 This exchange came to the fore in 2017, with Changpeng Zhao (CZ) at the helm. The existing founding team also comprises He Yi — who is involved with Binance as the Chief Marketing Officer.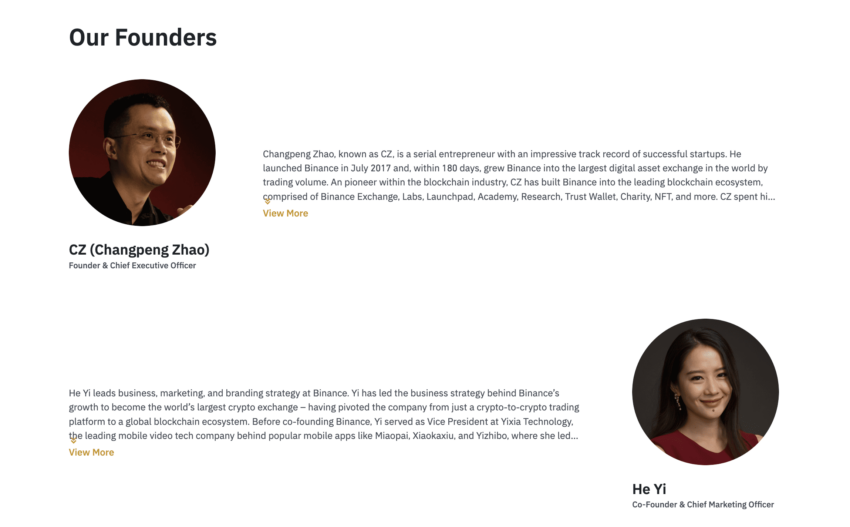 The global advisory board comprises the likes of Bruno Bezard, Ibukun Awosika, Leslie Maasdrop, and many more.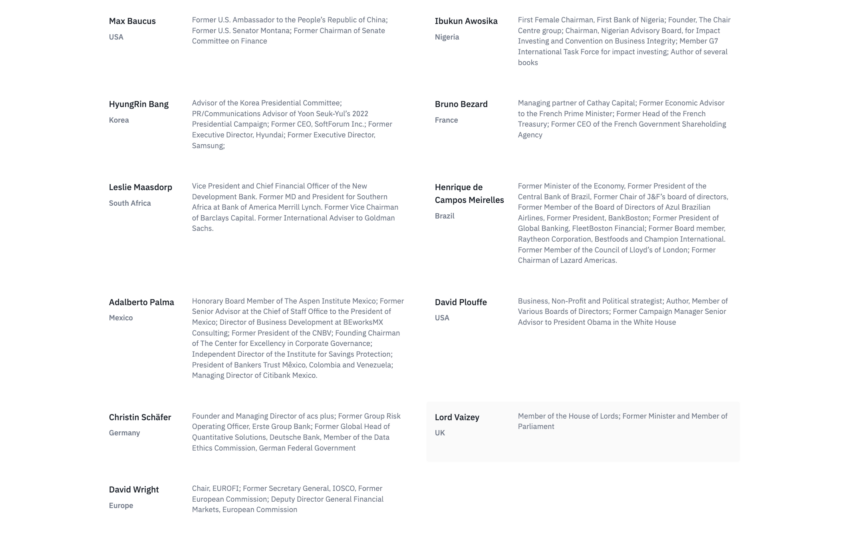 As for the stats and numbers, Binance hosts 385 tokens and over 1600 markets or trading pairs. In 2022, the exchange had even registered an average daily trade volume as high as $65 billion, with over 300 billion spot transactions happening over the course of the year.
Notably, the Binance U.S. arm, Binance U.S., isn't active in all the states and supports close to 150 cryptocurrencies, mainly due to regulatory concerns. According to CoinMarketCap's ranking, Binance U.S. is in the 52nd position, whereas Binance TR (Turkey) is placed in the 33rd place.
Binance, the global firm, also has the best liquidity score among the global exchanges at 868, another reason the exchange claims its number one ranking.
How to sign up
1. To begin, navigate to the Binance website and select "Register."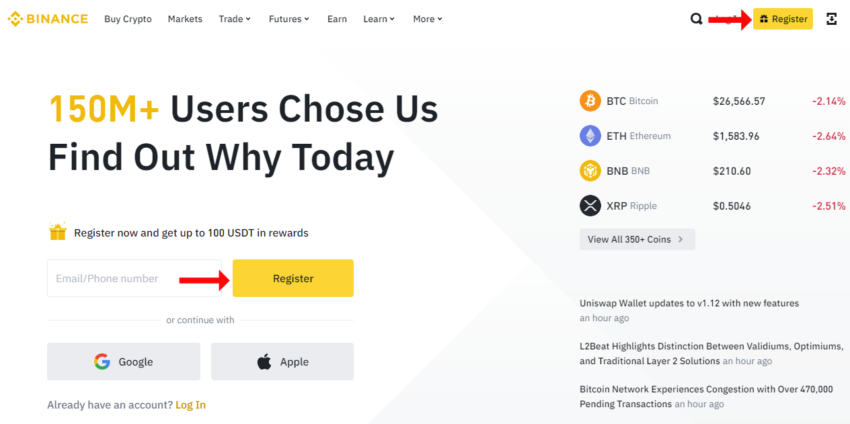 2. Next, you can sign up using email, phone, or a third-party account (e.g., Google or Apple).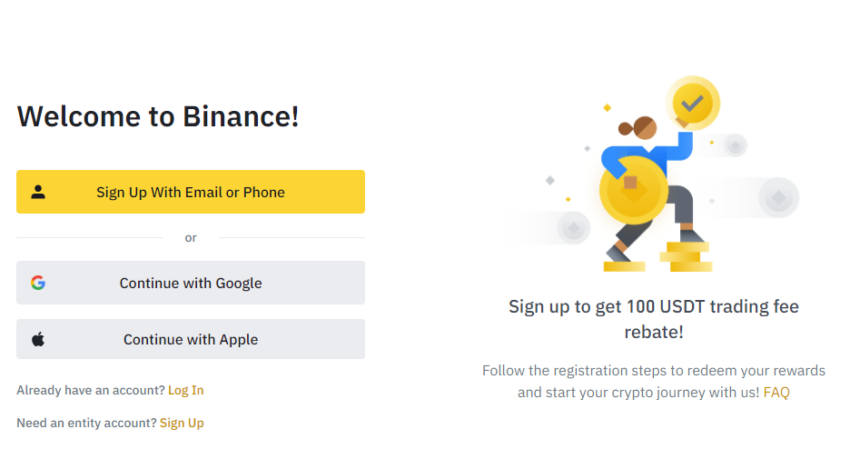 3. After you verify your account with the code sent to your email, you will have officially created a Binance account.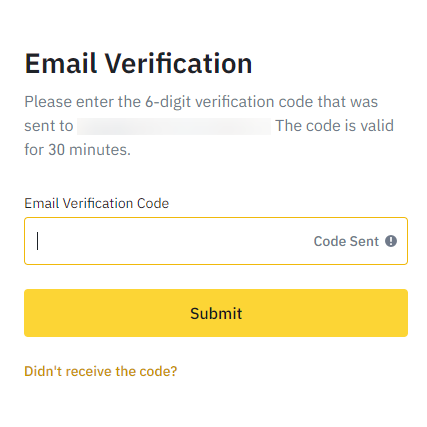 4. After you have completed the previous step, you will need to KYC for more account privileges.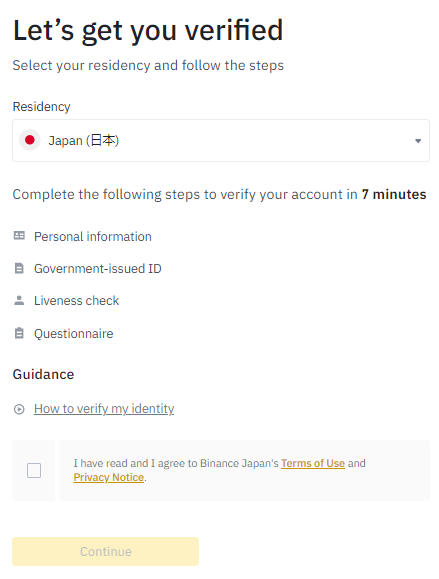 Is Binance regulated? Key pointers and controversies
Binance adheres to the regulatory landscape concerning international KYC procedures. It is also compliant with other regulatory obligations concerning anti-money laundering, terrorism financing, sanctions, and more.
However, Binance also leads in navigating the regulatory waters in specific nations with specific registrations. For instance, in France, the arm of Binance serves as a DASP or the Digital Asset Service Provider by AMF. Similar regulatory licenses exist for other European factions, including Poland, Italy, and Sweden.
Similar regulatory approvals have been acquired for operating in Kazakhstan, several Middle Eastern countries like Dubai, Bahrain, and Abu Dhabi, and Asia-Pacific countries like Indonesia, Japan, and more.
As for the controversies, Binance and Changpeng Zhao were actively involved in the FTX crisis, with Binance's willingness to sell the FTT tokens as one of the many reasons contributing to the meltdown. Binance has also been at the receiving end of the SEC's multiple lawsuits, with its staking plan under question as being aligned towards the world of unregistered securities.
Regardless of these regulatory needs and controversies, Binance remains a market leader across the spot and derivatives market.
Binance review: Key offerings
Binance is big, and so is its set of features and offerings. Therefore, we will take these offerings individually, covering trading, passive earning, institutional tools, crypto loans, the DeFi Space, NFTs, cloud mining services, and the Binance Launchpad.
Trading features
Trading is the essence of a crypto exchange. Here is everything trading-related that you can explore on Binance.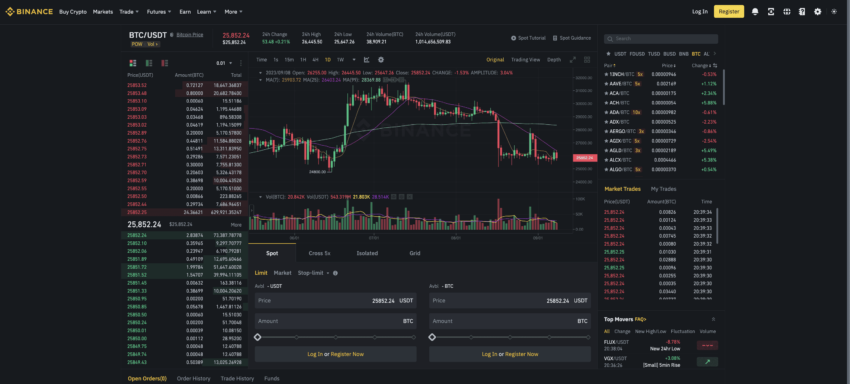 Spot trades and crypto conversions
At Binance, you can partake in spot crypto trades, which form the biggest chunk of the platform's operations. You can also explore the crypto convert feature if you do not have the right spot trading token. Converting one token to another is possible across web3 wallets and even at Limit prices. Plus, the Binance Platform doesn't levy any fees on that.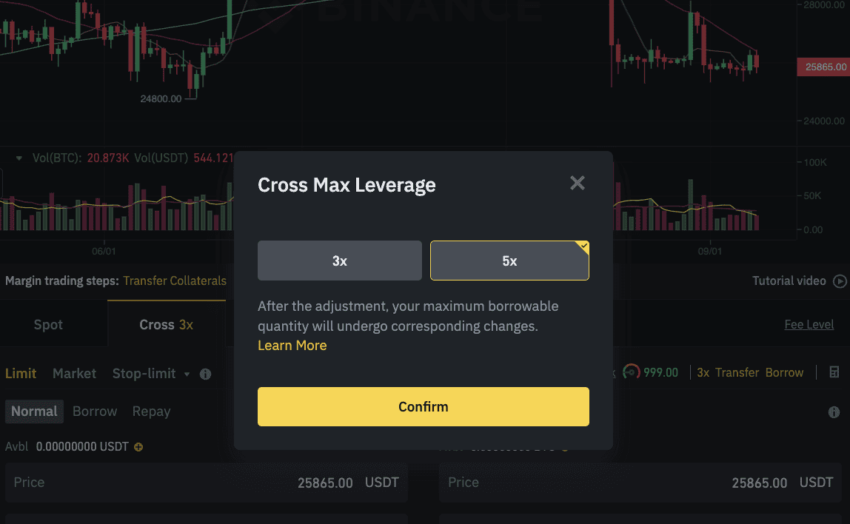 OTC trading
Are you sitting on a charge chunk of USDT, ETH, or any other crypto? You can quickly trade a block or two over the counter by agreeing to the prices and other parameters. This way, you need not navigate the exchange-specific order book and can avoid slippage. However, OTC trade orders must be significant with a minimum threshold of 200K USD or equivalent.
Margin trades
Even for standard spot crypto trades, Binance offers leverage. You must choose cross-margin trading or isolated-margin trading, depending on your preferences. You can procure standard trading margins of 3x to even 10x, depending on the type of trades you want to execute.
Finally, you can even borrow funds based on your collateral or existing holdings to initiate trades for you cross margin and isolated accounts.
Peer-to-peer trades
Unsure about OTC blocks, or do you not fulfill the minimum trade requirements for block-based buy and sell orders? Fret not, as Binance's peer-to-peer trading interface has you covered.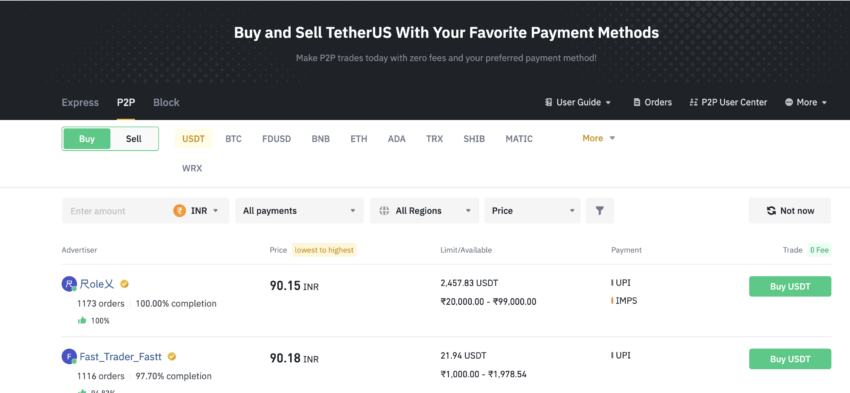 From USDT to BTC to 11 other assets, you can connect with specific buyers and sellers to get the job done. The peer-to-peer segment also has a separate" Block" trading interface for larger trades. And if even P2P is too much work, you can choose the "Express" buy and sell option. Using this, you can quickly buy crypto at a competitive price without having to check every other offering. The same holds even for sell orders.
Bots and APIs
If you plan to automate your trading efforts, you can rely on trading bots. From tracking spot grids to futures trading to DCA opportunities to portfolio rebalancing strategies, there are bots for every occasion and trading preference.
Also, if you are a strategy trader or planning to offer specific trading experiences to users, Binance offers API access. This feature is specifically useful for institutions interested in offering advanced trading services concerning wallets, mining, NFTs, staking, and more.
Derivatives
If you want to trade crypto futures, Binance has a specific section for it. You can get access to mock trading experience, multiple assets, and leverage up to 125x for specific assets. Binance also provides settlements in UDST or COIN (specific crypto you plan to trade). As for the derivatives catalog, you can access perpetual and delivery modes.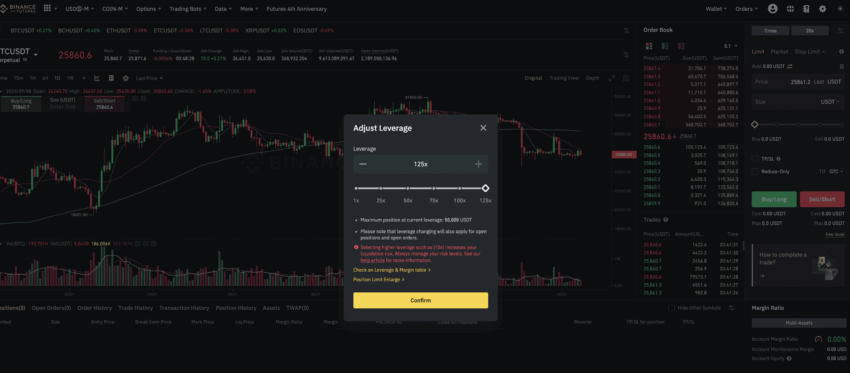 The Binance platform also lets you trade cryptocurrency options, which can be traded before expiry. Do note that these are advanced trading options, and Binance even allows you to mock trade to gain experience.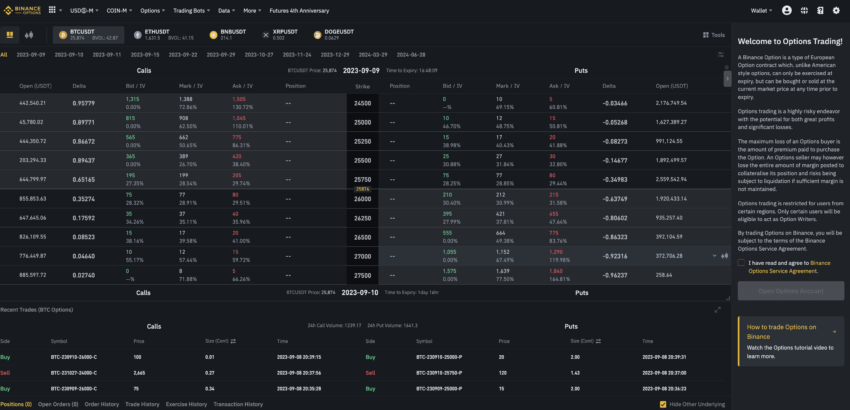 Binance Earn
The world's leading exchange offers users exhaustive passive earning plans. Some of the most popular ones include the "Simple Earn" setup and BNB Vault. You can choose from principal-protected earning plans, high-yield options, and SIP-like auto-invest strategies.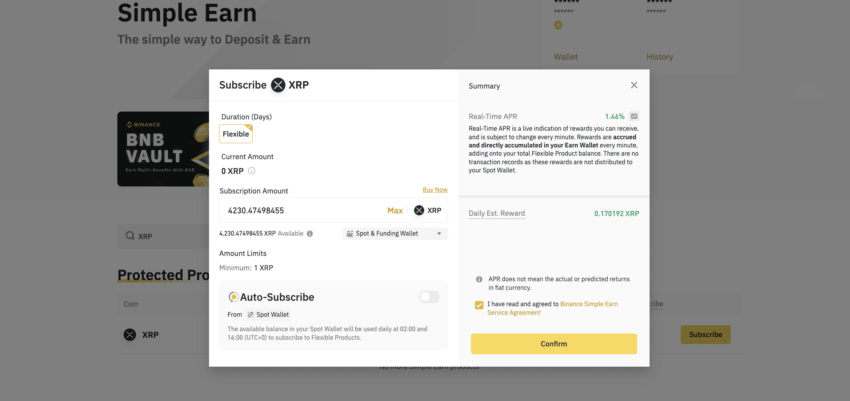 You can even choose from other passive earning plans like Ssaking, with ETH 2.0 staking being an option. Binance also supports crypto farming across pools, allowing users to infuse liquidity and earn rewards in the process.
Then, there is a dual investment option with an option to settle at a pre-defined price and earn higher yields. And finally, there are range-based moves where you can prime your assets to trade within a given range and earn rewards. You can even choose chain-specific trading options, with Cosmos and Polkadot being the available options in addition to the BNB Chain.
Or, you can look for coin or token-specific staking or farming options, with a chance of earning higher APYs and even bonuses.
Institutional perks
While Binance has a truckload of options for retail investors, it also caters to institutional investors and VIPs, allowing them access to a comprehensive digital asset platform. From trading solutions to a wide range of data analysis tools and resources, Binance has everything that institutional setups might need. But there are other options as well.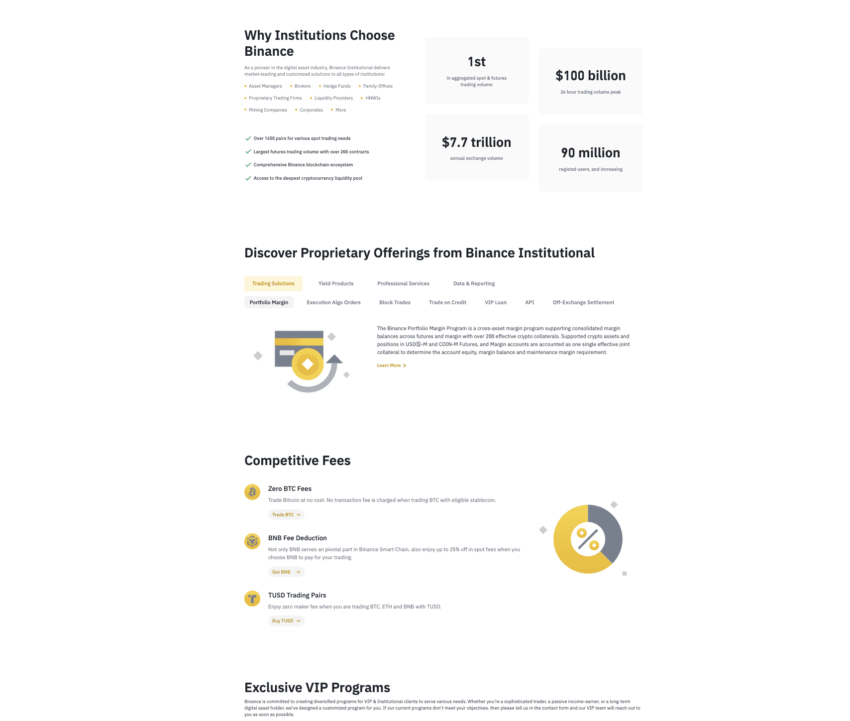 Asset management resources
Binance enables asset managers to cater effectively to users by offering services related to order management, seamless reporting, risk monitoring, and more. From hedge funds to liquidity providers to brokers, anyone and everyone can benefit from the same.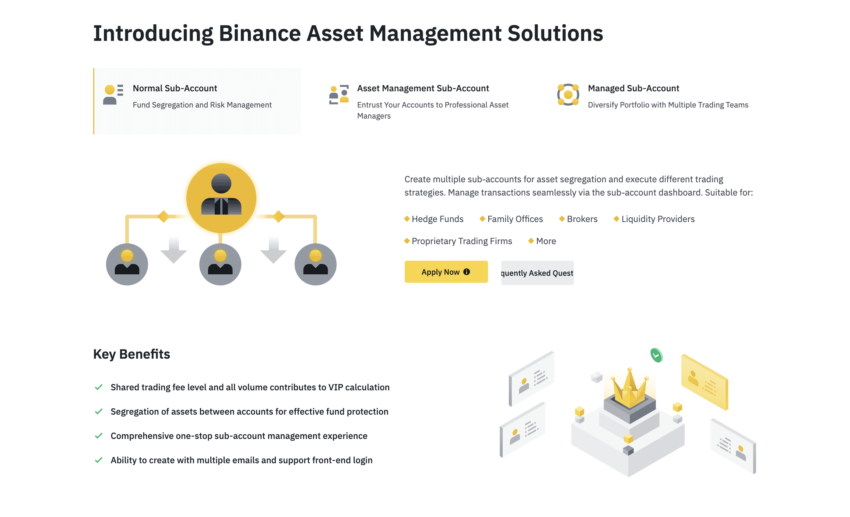 Dashboard and loans
For institutions and VIPs, Binance offers a premium and customizable portal comprising a granular and insightful view of the industry analytics, exclusive offerings like whitelisting margin borrowing, and a dedicated reporting center.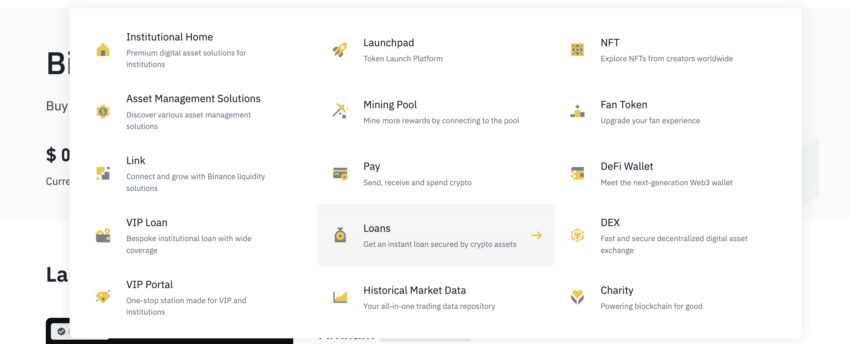 Institutions with crypto holdings can also use the Binance loan service, best known for its huge limit, collateral flexibility, and decent capital utilization. The interest rates for VIP loans are very competitive.
Binance Launchpad
Binance isn't just for traders and investors. It also allows promising web3 startups to launch their tokens, raising funds in the process. Over 70 unique projects have found their place on Binance's Launchpad. Some projects even come with launch pools, offering additional liquidity-specific and staking-related use cases, all on Binance.
Binance and DeFi presence
Binance isn't just a CEX. Instead, its ecosystem, led by the BNB Smart Chain, also houses DEXs and DeFi applications. Therefore, traders can onboard DeFi apps like Linear Finance, Wombat, or even DEXs like SushiSwap to make the most of Binance's decentralized leg.
Binance's mining pool
If you are only interested in PoW cryptos and mining, Binance's cloud mining interface has access to eight algorithms and multiple miners. From inscribing Ordinals to accelerating and tracking PoW transactions, Binance lets you in on every hash rate-specific activity.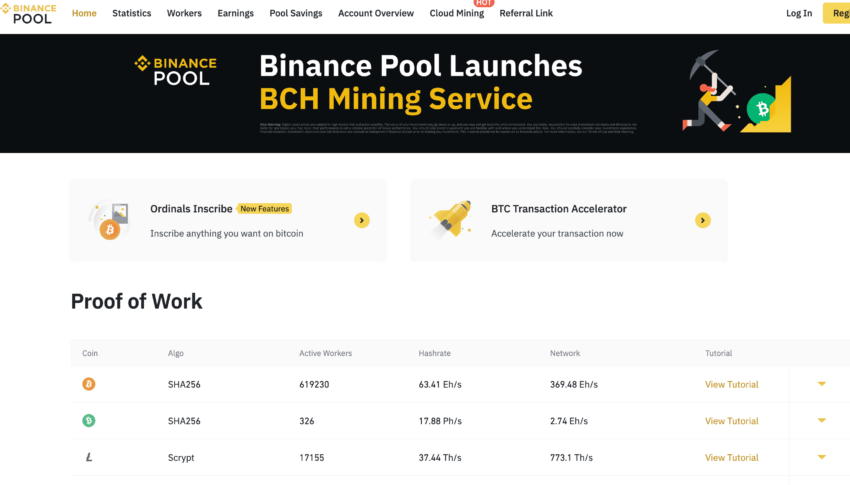 In addition to these features, Binance also allows retail investors to get crypto loans, brings a feature-packed NFT marketplace, and offers market data exploration depending on user needs. Here is the entire catalog that you can explore.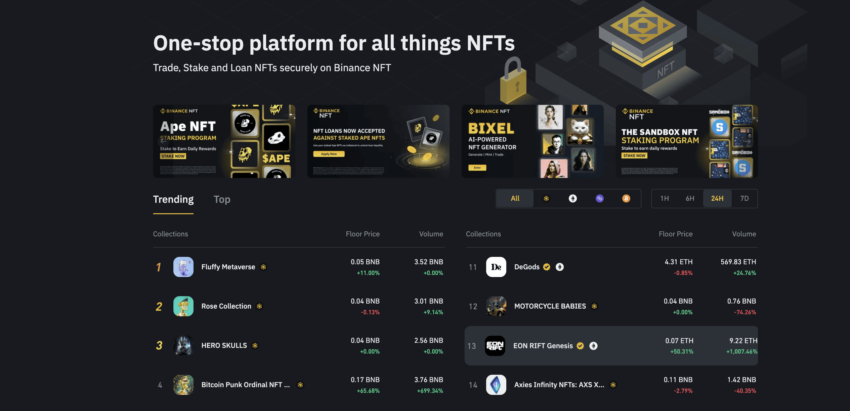 Binance even has a rewarding referral program. Bringing users to the platform using your referral link can help you and the friend get 100 USDT worth of trading fees. Furthermore, Binance lets you purchase gift cards, make crypto-based payments in specific locales, and offers a dedicated interface to research and learn about crypto.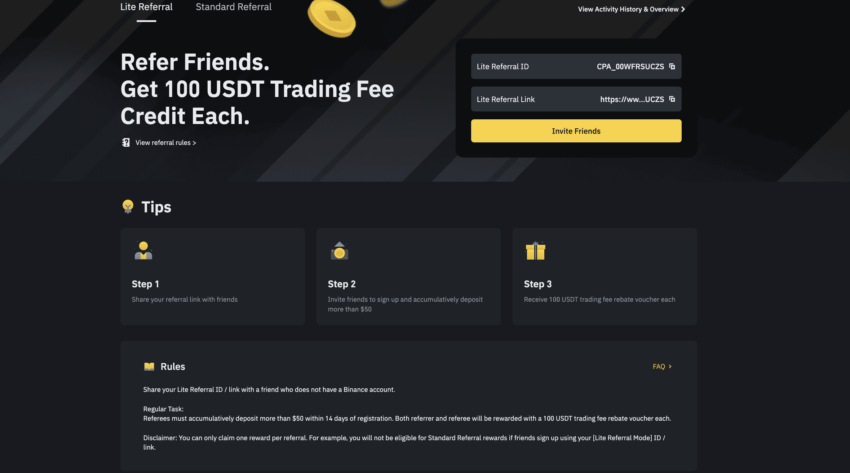 Is Binance trustworthy? All safety features explored
Binance is one of the more trusted exchanges. Per CoinGecko's dashboard, it scores a perfect 10.

Binance is one of the first few exchanges to publish its Merkle Tree-powered proof-of-reserves with a self-auditing and updating mechanism.
"All crypto exchanges should do merkle-tree proof-of-reserves.

Banks run on fractional reserves.

Crypto exchanges should not.

Binance will start to do proof-of-reserves soon. Full transparency."

Changpeng Zhao, co-founder of Binance: Twitter
As you can see, most assets are overcollateralized.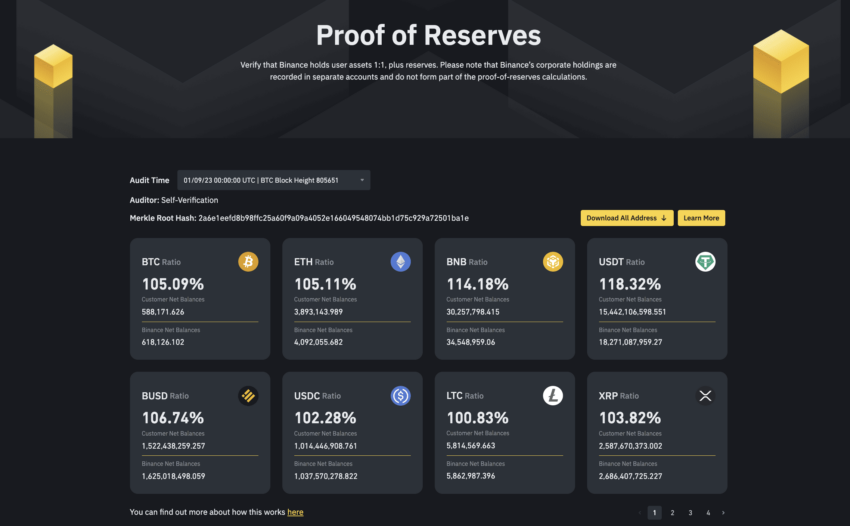 Apart from the reserves-based trustworthiness, Binance also has the following security implementations in place:
Two-factor authentication
Address and device whitelisting
Restricted device access
QR-based authorization
Storage of user funds across a wide range of hot and cold wallets
Withdrawal intimations and passkey support to trade cryptocurrencies via P2P channels
Here is another instance of how Binance makes a difference:
In addition to the following, Binance also boasts advanced encryption standards and regular audits to maintain a credible stance.
Did you know? Binance has a novel security measure termed Binance Verify, where users can paste links, email addresses, Twitter handles, and other IDs to verify whether the correspondence is from Binance's official account.
Binance review: Unpacking the fee structure
As Binance offers a host of products and services, the fees associated with each can vary. Let us delve deeper, starting with the spot trading fees.
The spot trading fees you need to pay depend on the VIP level. For instance, we are operating using the "regular user" level, which attracts a spot trading fee of 0.1% for both maker and taker. As Binance is one of the more liquid cryptocurrency exchanges, the maker and taker fees are the same.
However, if you move up the pecking order as VIP 1, VIP2, all the way up to the VIP 9 level, you can experience spot trading fees of as low as 0.012% as the maker and 0.0240% as the taker. The VIP level depends on your 30-day trade volume.
Additional discounts on the trading fees are possible if you consider paying for the same using BNB, Binance's native token. Binance has a very transparent fee structure, as the platform even declares the borrowing or the margin interest rates beforehand. The same depends on your VIP level and even the type of asset that you are borrowing against.
Fee structure for perps and futures trading
For USDT-M futures, trading fees start at 0.0200% for the maker and 0.0400% for the taker. The levels go as low as 0.012% and 0.030% for BUSD-M futures. COIN-M futures are priced at 0.01% for the maker and 0.05% for the taker. Do note that these are the "regular user" tiers.
For the European-style options, regular users have to pay 0.03%, both as a maker and a taker. In addition to these fee structures, Binance also has tiers for swap farming, NFT trades, and P2P trading.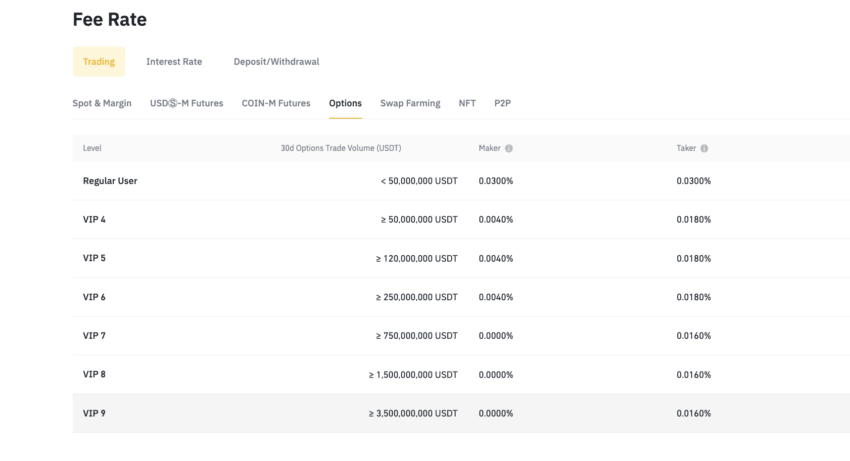 You can find all the details on this page.
Deposits and withdrawals: fiat and crypto options discussed
Binance allows you to make fiat and crypto deposits and withdrawals. For depositing crypto from an external wallet, you simply need to hit "Deposit" — a tab that floats right on top of the page. Once the interface opens up, you can quickly select the crypto asset, the network used to move funds, and the public address of the network-specific account.

This address can be sent to the person who might be paying you. Once deposited, the funds can be viewed in the "Funding" wallet. Binance charges zero transaction fees for crypto deposits.

To deposit fiat, you need to select the currency (almost 30 fiat currencies supported), choose the mode of payment, and hit continue. Do note that payments made using credit and debit cards attract a flat 1.8% fee. However, there are other options besides debit cards, which you must check before proceeding.
Also, instead of depositing fiat, you can directly use the same to buy crypto. For withdrawals, you need to head over to the "Fiat and Spot" section under the "Wallet" tab. Against any asset of choice, you will find the withdraw crypto section. Once there, the process is self-explanatory as you simply need to choose the address where you want to send the funds, the choice of network, and then hit continue.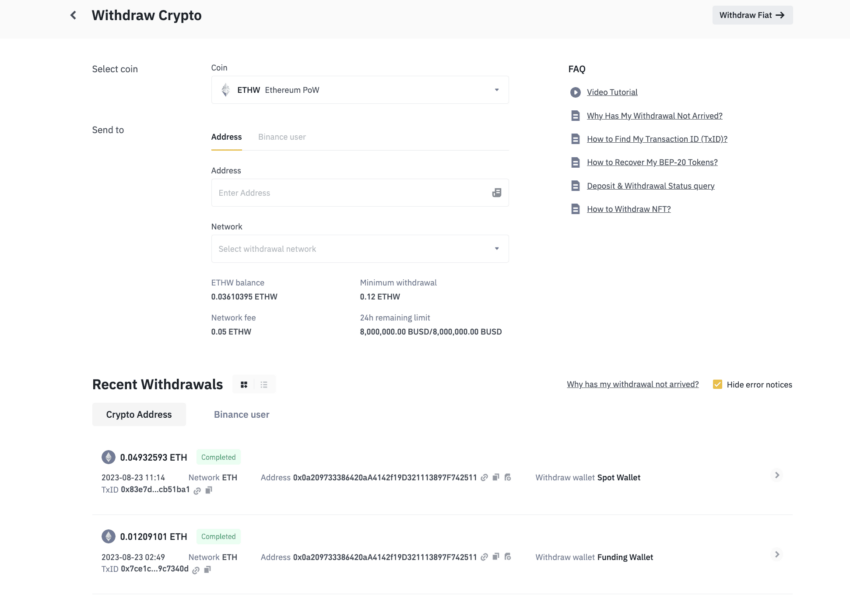 If you have fiat in your Binance account, you can withdraw the same to the bank, paying a 1.8% flat fee. As for the crypto deposit and withdrawal fees, you simply need to account for the network transaction fees. However, the withdrawal fees are the transaction fees, which would depend on the network and the type of crypto.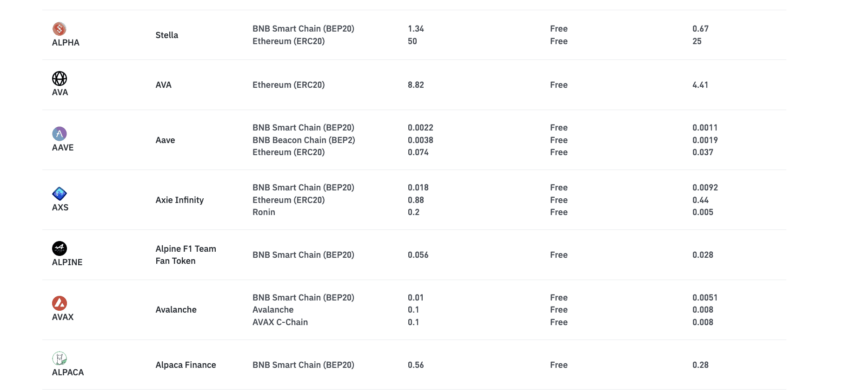 Other details
For fiat deposits and withdrawals, you can choose from a wide range of options. These include the fiat type and the method of deposit and withdrawal. Notably, deposit and withdrawal fees for fiat can go as high as 2% for specific transactions.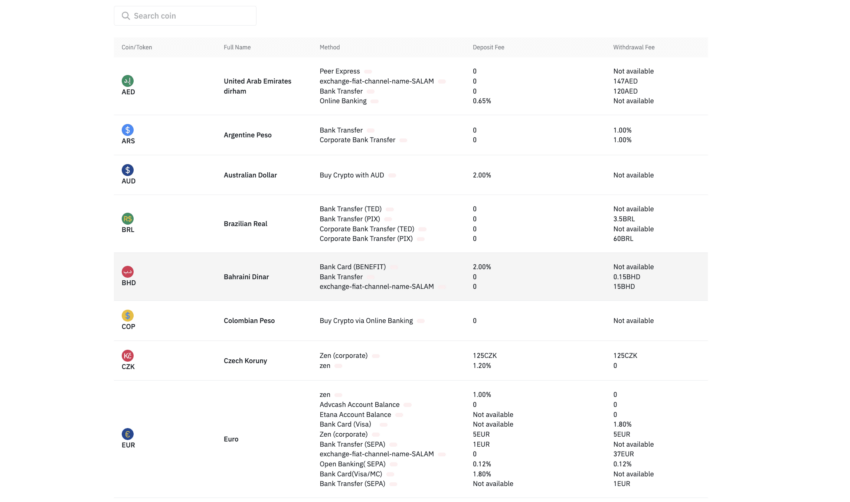 Binance review: Unpacking the user experience
We did peak at Binance's dashboard while discussing the offerings. However, there are a few more aspects that should be highlighted.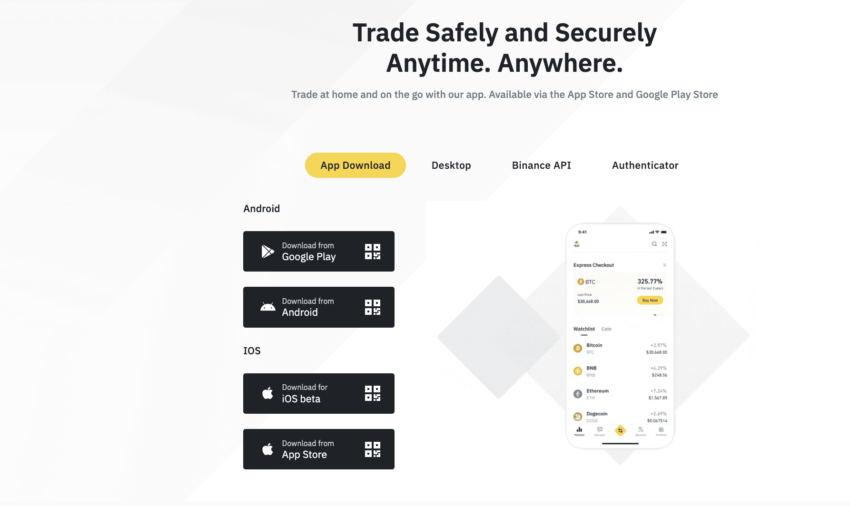 Firstly, Binance has a pretty diverse array of trading platforms. This means apart from the mobile app coverage concerning the Android and iOS ecosystem, you also get desktop applications for macOS, Linux, and even Windows. Or you can keep using the web interface, as has been used for this review.
Binance also offers a dedicated authenticator to help you with two-factor authentication.
As for the account setup process, you simply need to log in using your email and phone. Once the details are verified, you must verify the KYC details and implement security measures like 2FA, passwords, biometric locks, and passkeys to get started.
The trading interface is loaded with spot, derivatives, P2P, and other offerings. Note that the interface itself is segregated as Binance Lite and Binance Pro. As the name suggests, Binance Lite is meant for new traders and offers a more streamlined view of the interface. Binance Pro is for the more experienced folks.
It is better to look for this segregated interface while using the mobile app.
Binance review: The state of customer service
As of September 2023, Binance lacks phone support as part of its customer service spread. However, Binance users can still push forth queries via live chat, self-help, an FAQ section, and email support that relies on tickets.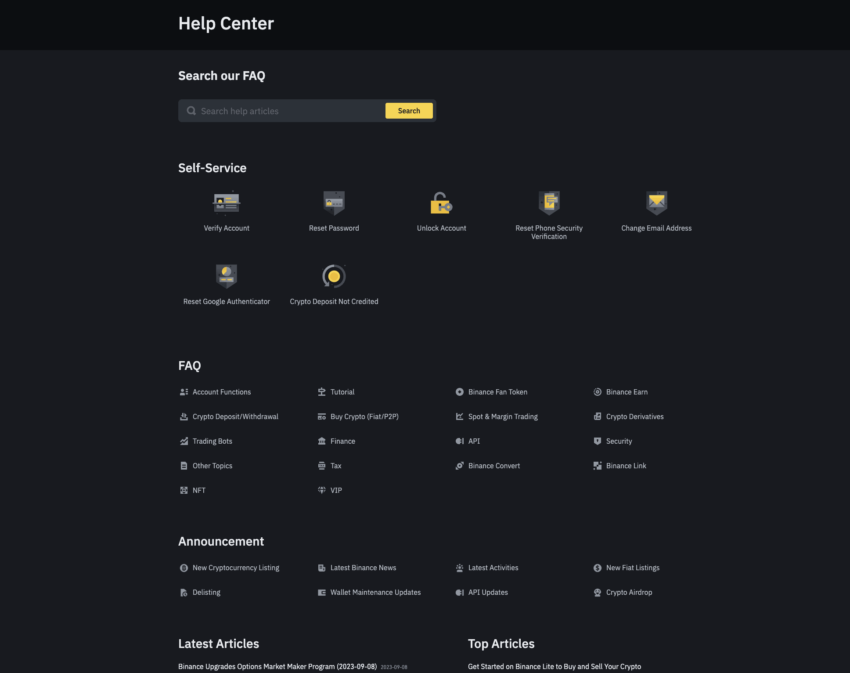 Educational resources for the crypto curious: Binance's Learn Plan
Binance offers an exhaustive choice of articles to help you learn about crypto. All the offerings like articles, videos, glossary, and tutorials are nestled within the Binance Academy.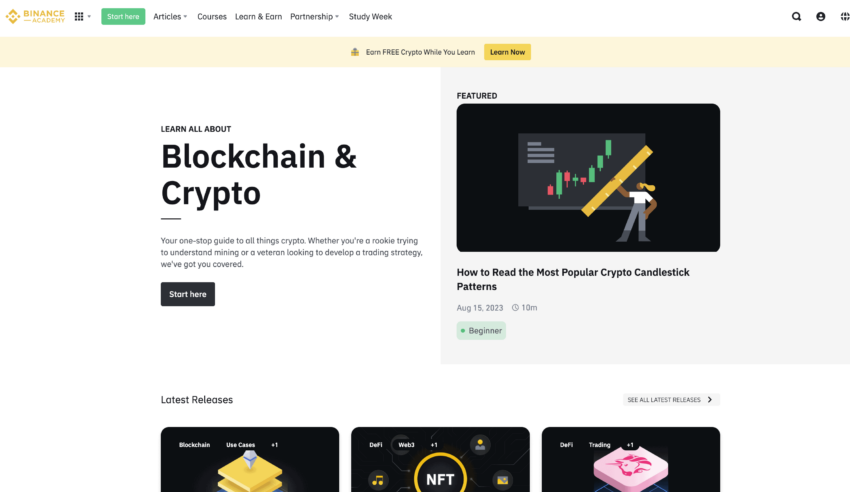 On top of that, the Binance Academy also hosts a Learn and Earn plan, incentivizing new and experienced users by allowing them to earn crypto while answering topic-specific questions.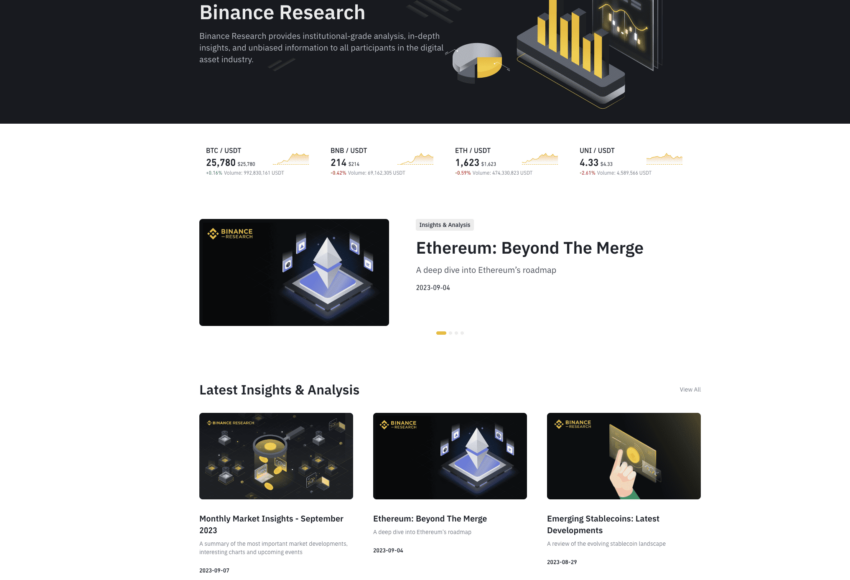 Then, there is the Binance blog that tracks every major event within the ecosystem. Also, Binance boasts a very strong community, with its presence and popularity visible via the global spread, a large number of Twitter followers, user contributions via the Binance Feed, and more.
Here is another development in this regard:
Binance alternatives: Are there better options available?
Our Binance review finds the exchange to be a one-stop crypto-specific solution for both novices and advanced traders. Yet, if you want to try out other CEXs, here are a few alternatives that might make sense:
Note that we have discussed only the Binance-specific characteristics of the mentioned exchanges. Each platform has much more to offer besides being a worthy Binance alternative.
Binance review: Pros and cons
Want a quick overview of our findings? Check these at-a-glance pros and cons to get a feel of the benefits and limitations of this exchange.
Pros
High-liquidity
Supports a wide range of cryptocurrency pairs, 1600+ to be precise
Boasts advanced trading features, including mock trading, inverse perpetual contracts, and more
Competitive trading fees, which can be further reduced with high trading volumes and BNB holdings
Advanced security traits
Fast and efficient P2P trading interface
Cons
Customer service might be less prompt during peak hours
Regional restrictions around fiat deposits and withdrawals
Doesn't offer a widespread crypto selection in the U.S.
Binance offers unmatched ecosystem depth
This detailed Binance review demonstrates how deep the Binance ecosystem actually is. From trading features to premium plans for institutions and even truckloads of educational resources for the crypto community, Binance has it all. It is notably one of the few cryptocurrency exchanges to actually ask users for desired new features and improvements as part of its dedicated feedback page.
Frequently asked questions
What is the disadvantage of Binance?
How do I withdraw money from Binance?
Does Binance have any fees?
Can I store money in Binance?
Can I transfer money from Binance to my bank account?
What can I trade on Binance?
What is the minimum deposit on Binance?
What are the withdrawal times on Binance?
Does Binance have a mobile app?
Does Binance offer a demo account?
Does Binance offer any special offers or bonuses?
Does Binance have good customer support?
Disclaimer
In line with the Trust Project guidelines, the educational content on this website is offered in good faith and for general information purposes only. BeInCrypto prioritizes providing high-quality information, taking the time to research and create informative content for readers. While partners may reward the company with commissions for placements in articles, these commissions do not influence the unbiased, honest, and helpful content creation process. Any action taken by the reader based on this information is strictly at their own risk.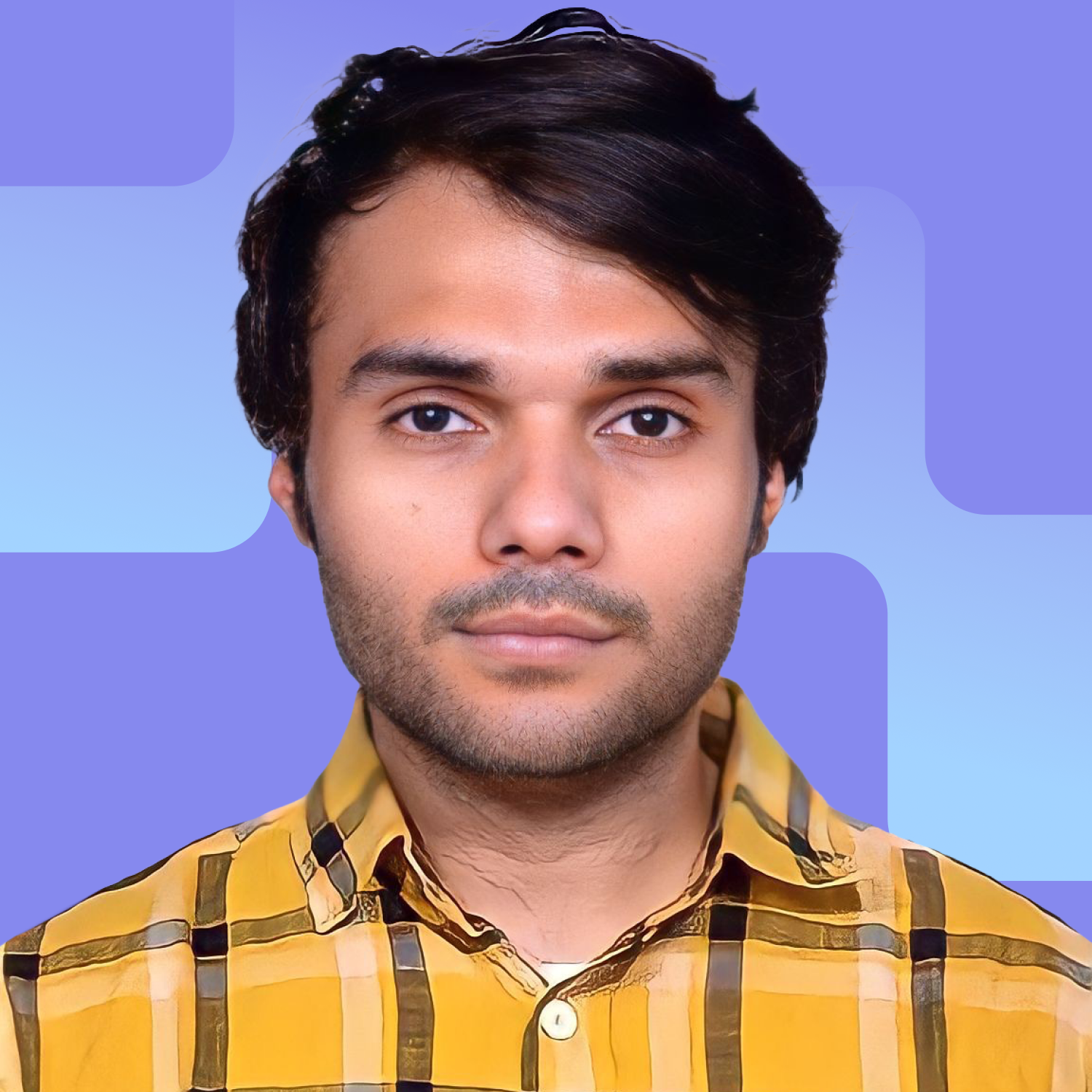 Ananda Banerjee is a technical copy/content writer specializing in web3, crypto, Blockchain, AI, and SaaS — in a career spanning over 12 years. After completing his M.Tech in...
Ananda Banerjee is a technical copy/content writer specializing in web3, crypto, Blockchain, AI, and SaaS — in a career spanning over 12 years. After completing his M.Tech in...
READ FULL BIO
Sponsored Sponsored