There are numerous crypto exchanges today, some are brand new and some old. It can be difficult for a novice investor to choose the right one. One popular exchange that attempts to make it easy for the layman is Kucoin, which is what we detail here. Learn what KuCoin is, the different features, and how to use it.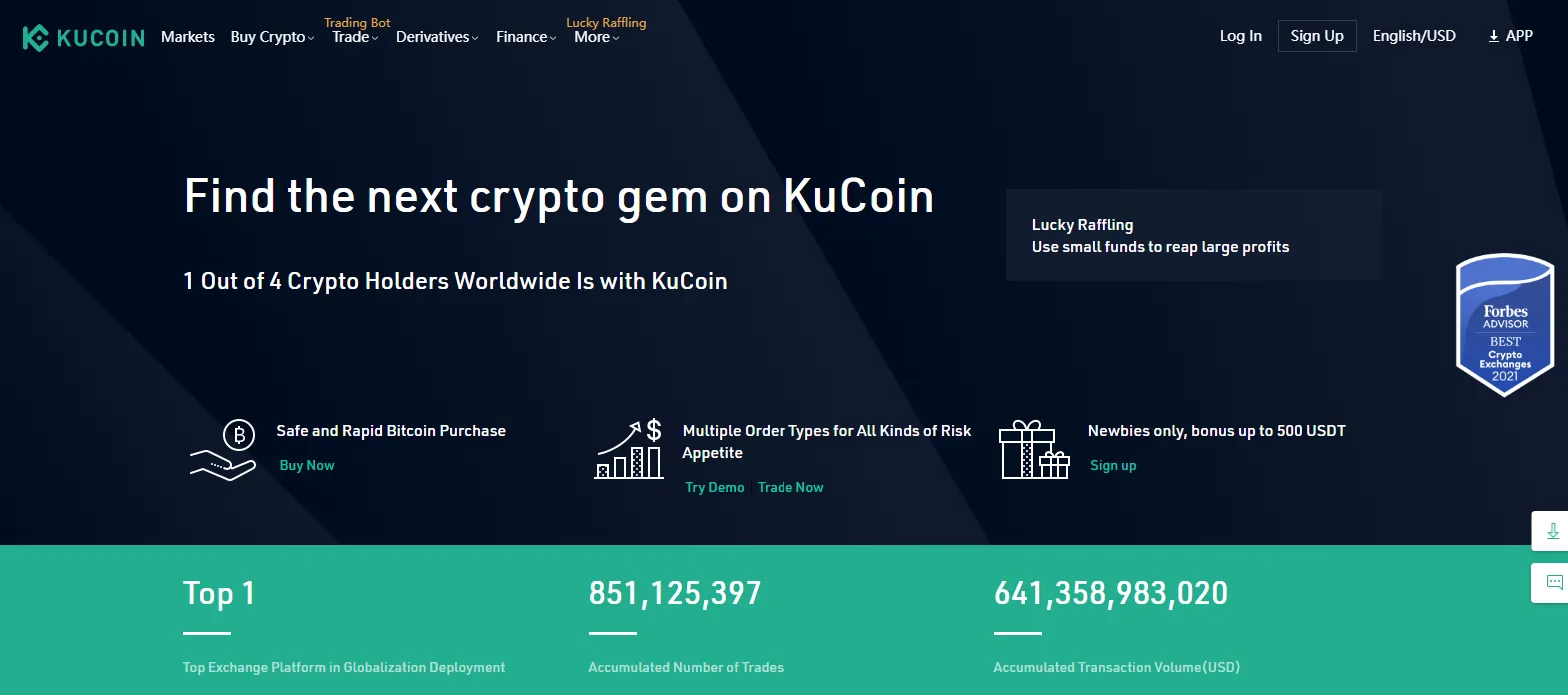 KuCoin is a centralized cryptocurrency exchange, and according to CoinMarketCap, it has approximately 503 tradable cryptocurrencies. The exchange supports fiat currencies like EUR, CZK, NZD, HUF, CAD, etc., through Simplex, Banxa, and OTC. Currently, it has more than eight million users across 207 countries all over the world.
KuCoin has its own cryptocurrency, KuCoin Shares or KCS, which has been now rebranded to KuCoin Token. The platform provides spot trading, margin trade, contract (futures), pool-X, lending, and trading bot services.
Types of accounts on KuCoin
KuCoin offers five types of accounts.
Main account: For the storage, withdrawal, and deposit of funds
Trading account: For spot trades and KCS Pay Fees
Margin accounts: For margin borrowing and margin trading
Futures account: For future trading
Pool X account: For staking and soft staking
KuCoin also offers an over-the-counter trading desk. As per this service, traders can execute larger trades with specific prices. This is done without causing any fluctuation in the price of the crypto.
KuCoin API
KuCoin offers services like quantitative trading strategy, trading strategy, trading fee discount, interest-free loans, sandbox trading competition, and referral bonus to API users.
A goal to make investment easy
KuCoin is the brainchild of Michael Gan and Eric Don. Michael was an extraordinary kid who began coding at the age of eight. He founded his first start-up at the age of 16. Having heard about bitcoin in 2012 from his boss Eric, he tried to sell some on Mt. Gox. That's when he understood that the largest platform at the time was difficult for beginners to use. This made Michael and Eric realize the need for a system that supports every layman, and the result was KuCoin.
What is the Kucoin leveraged token?
Leverage tokens are a new type of derivatives launched by KuCoin. These are tradable assets in the KuCoin spot market. They leverage the profits and aim to provide a multiple of profit of the asset by trading leveraged token shares. These tokens are named using the currency type, multiple of the profit, and long or short direction.
Leveraged tokens don't have an expiry date or due date. Neither do they have a negative value. The risk of liquidation is absent irrespective of the change in the price of the token. It works under the management of the fund manager.
If you are trading in KuCoin leveraged tokens, then you don't have to pay a margin or borrow funds to try margin trading. Users holding at least six KCS receive a 50% bonus, which comes from KuCoin's daily trading fee revenue.
The advantages of KuCoin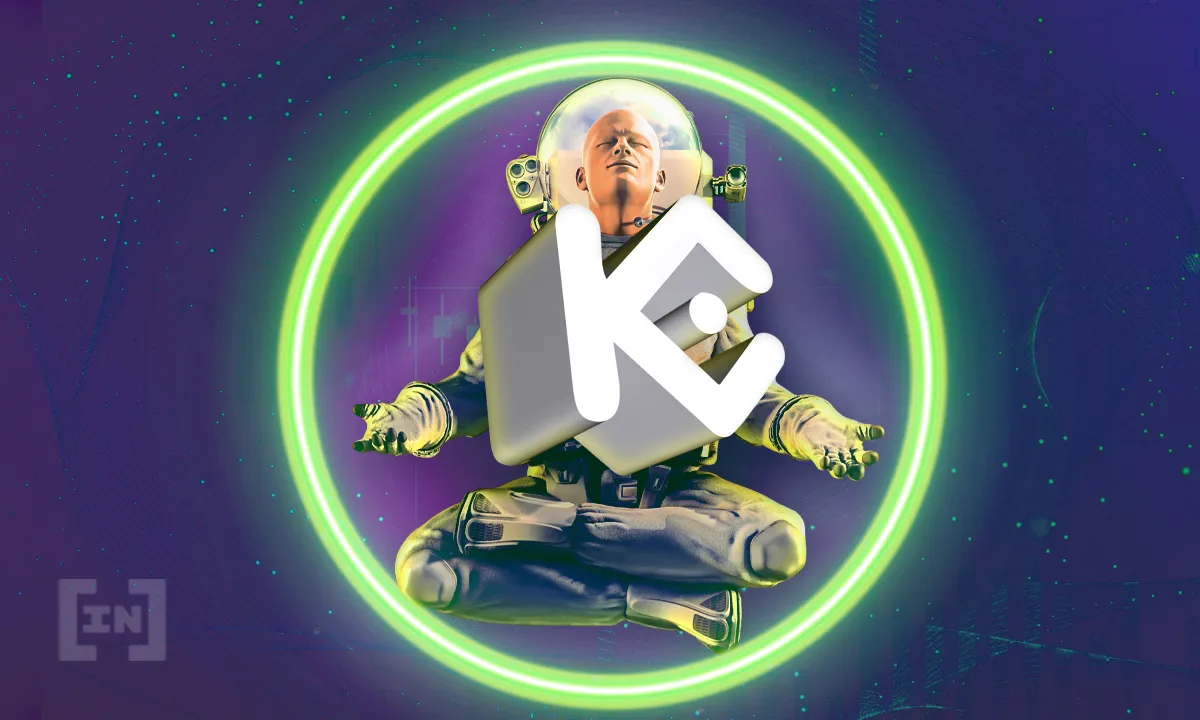 KuCoin is one of the top 10 cryptocurrency exchange platforms by volume, according to CoinMarketCap. This does not come as a surprise, given all the benefits. It is reasonably expected to retain the position for the long run.
1. Offers lower fees
The maker/taker fee on KuCoin starts at 0.1%, and it will be reduced as levels increase. You can also avail of a further 20% discount if you pay with KCS. The withdrawal fee is also set to one of the lowest in the crypto industry.
2. Strong user base
A strong user base means high liquidity. At the time of writing this article, KuCoin has more than eight million customers. This means that there's high liquidity. KuCoin claims that every one in four crypto holders across the world uses its service.
3. A wide range of cryptocurrencies
The platform provides for more than 750 trading pairs and more than 380 currencies. You can also choose which pair you want, like BTC, MXR, DAG, EOS, LTC. You can also get tokens like OMG, KCS, DADI, etc.
4. Availability of trading bots
KuCoin provides trading bots that suit people who are new to trading or just don't have time to set aside for it. The bot will do the trading as per the set parameters. You need not keep tabs on the market or worry about unforeseen market fluctuations. This is the primary feature that attracts users toward KuCoin.
5. Advanced level of charting
The advanced level of charting on KuCoin helps you understand trading strategies better. The app provides analytical charts on everything the trader needs to know.
6. Efficient customer support
The customer support provided by KuCoin is notable. It provides 24×7 live chat services. It is fast and efficient. You can also use the facility to raise a ticket or reach out to support executives via email.
7. Demo trading account
In order to make users comfortable, KuCoin also provides a demo trading account. This demo trading account helps beginners to acquire in-depth knowledge about the trading strategies.
The disadvantages of KuCoin
Every system has its drawbacks. Investors have to be cautious about these while using the platform.
1. Limited payment methods
The payment modes offered by KuCoin are limited. Currently, the platform only supports Google Pay, credit cards, and debit cards.
2. Limited educational resources
Being a relatively novel industry, the crypto industry has a steep learning curve. Unless you provide adequate resources to help users onboard the platform, the platform will remain to a few users. In KuCoin's case, there are limited educational resources. Although there is a blog, it acts more like a promo medium than an informative resource.
3. Not supported in some countries
The KuCoin exchange is not supported in countries like China, Comoros, Seychelles, Syria, Thailand, and the United States.
How to register on KuCoin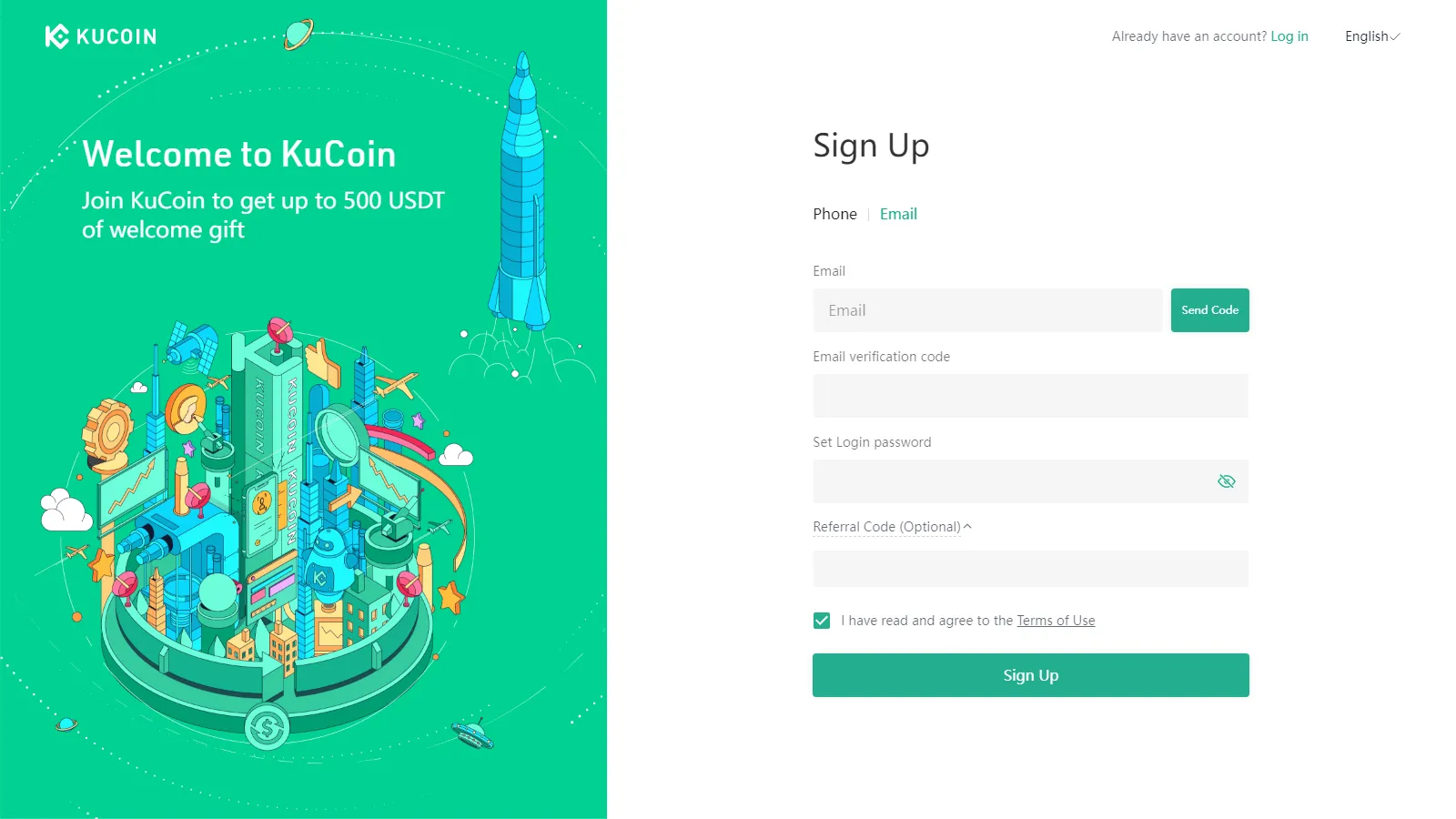 You can register on KuCoin by using your email address or phone number using this link. As soon as you enter your email, a code will be sent. Once you enter that verification code, you have to set a password. Read the terms and conditions, agree to it, and select sign up.
If you use your phone number to sign up, the code will be sent to the phone number. Follow the above process after entering the verification code. You can use an email address only once. In case your country code is not in the dropdown menu, then use your email for registration. If you get verified via KYC, you will have additional benefits.
Once you are done with registering, then go to www.KuCoin.com, enter your email or phone number, and also the password.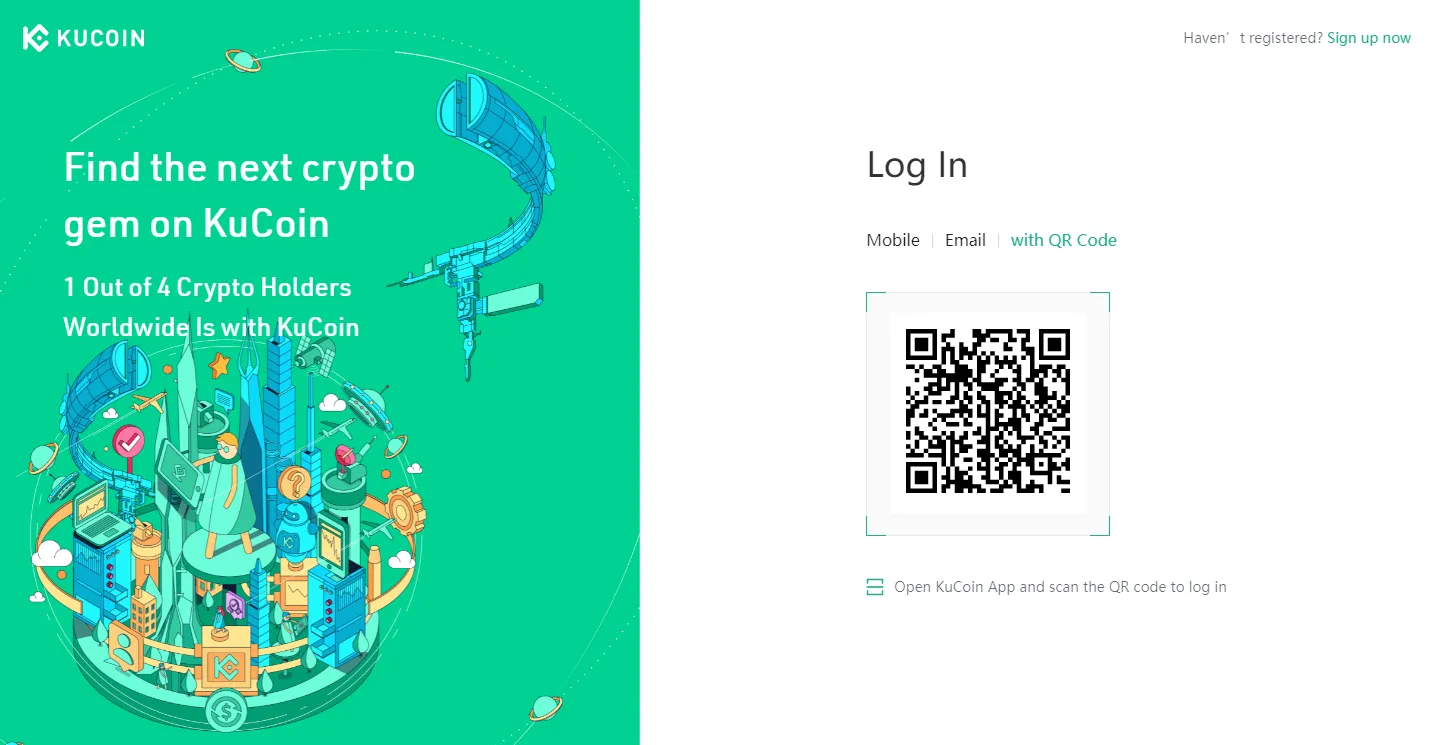 Another way to log in to the platform is by scanning the QR code. To enforce security to your account, enable two-factor authentication.
How to buy crypto on KuCoin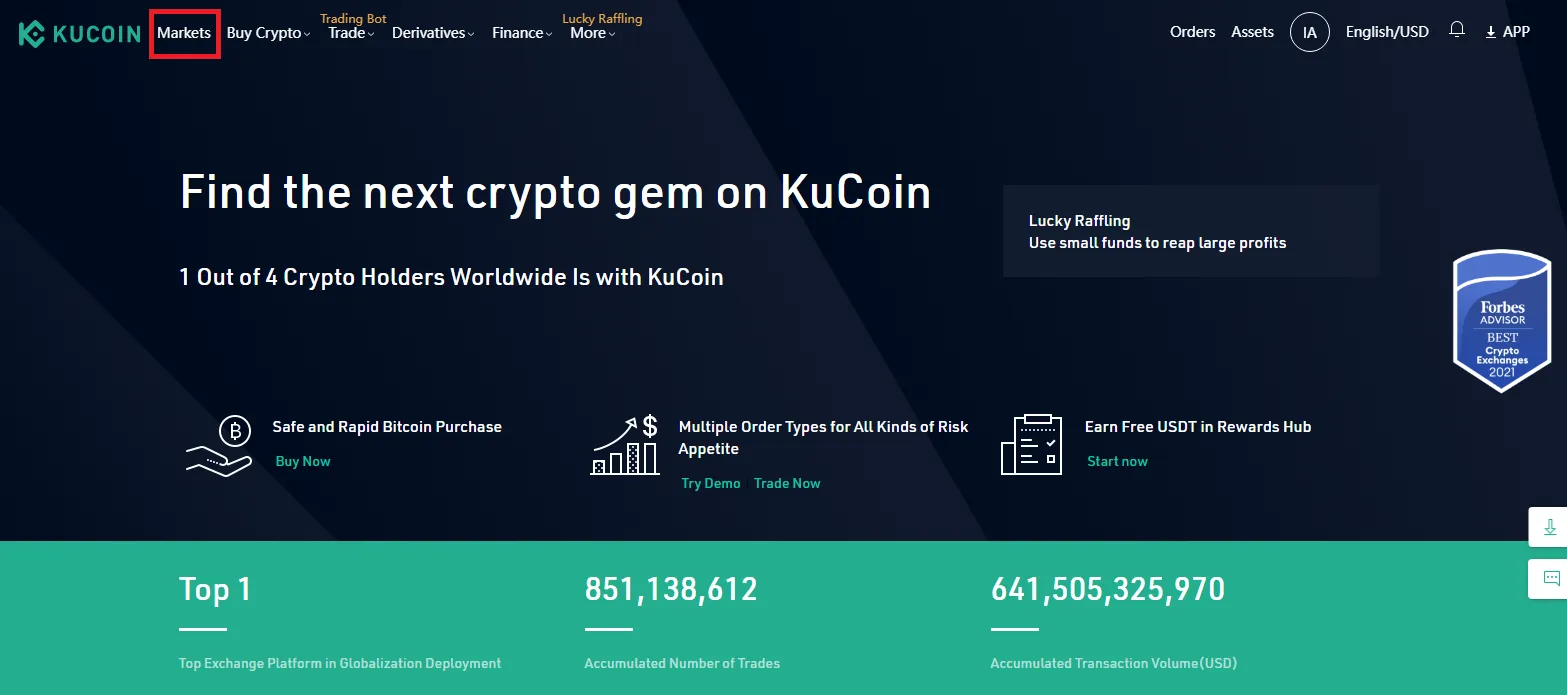 The first step is to fund your account. Then select the 'Market' option at the top of the screen.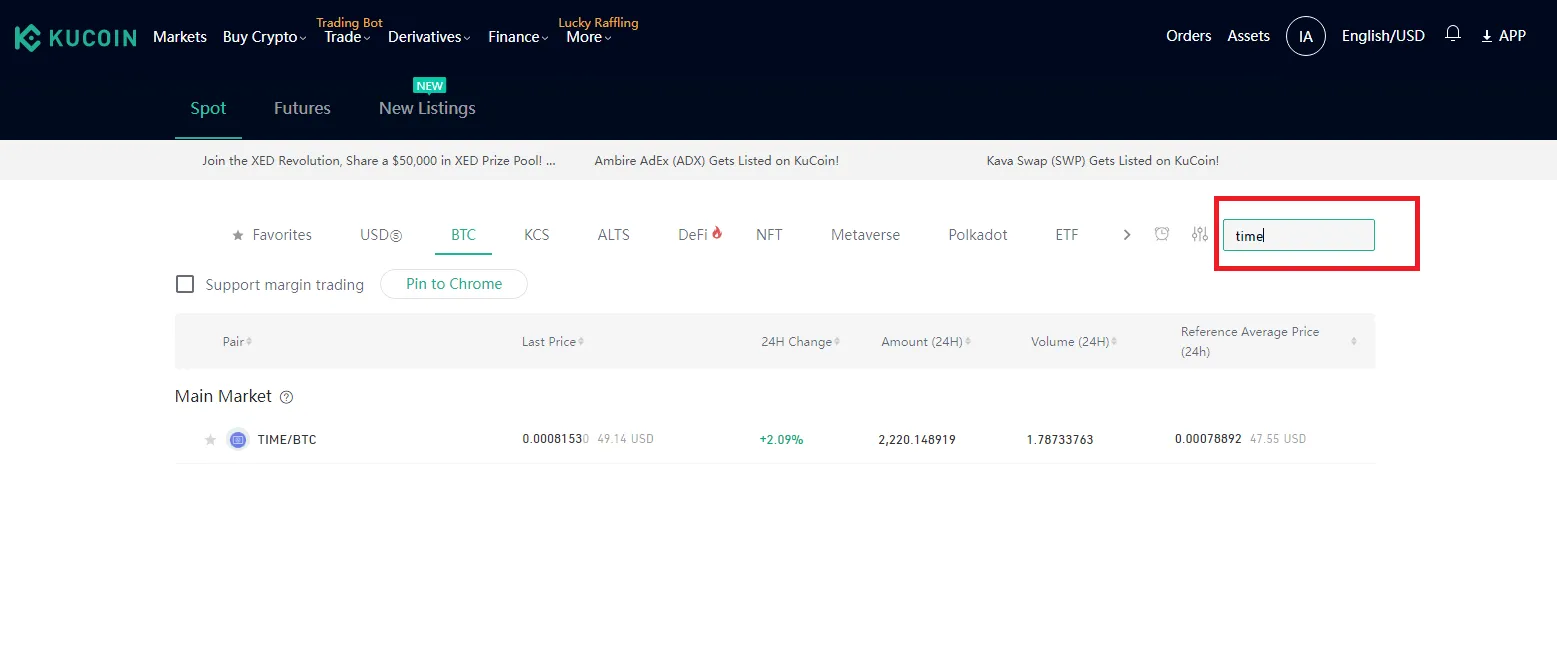 Next, search for the coin you want. KuCoin will list the coins which you can trade.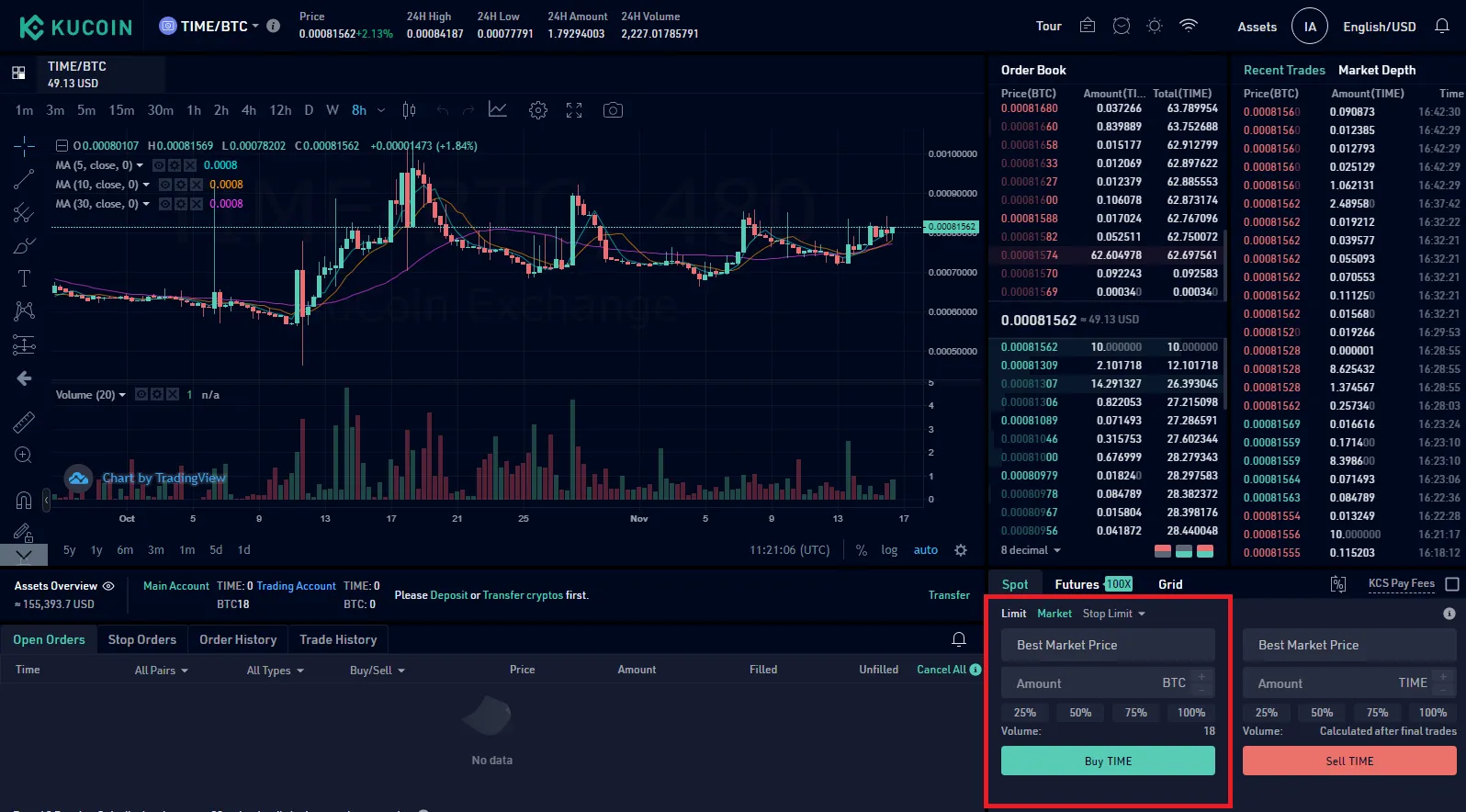 Select the trading pair which matches with the coin which you intend to buy. You will then be taken to the main trading screen. Select Market, if you want to buy the crypto at the market price. Then enter the number of coins you want to buy, and click the "Best Market Price button." Complete the purchase by clicking on the green "Buy" button.
Users can even set a six-digit trading password. You have to input this trading password for withdrawals, transactions, and also for API creation. Remember that this is different from two-factor authentication. To enable this, go to the settings page and choose a trading password on the KuCoin app. You can even buy crypto using credit cards.
Buy crypto using a credit/ debit card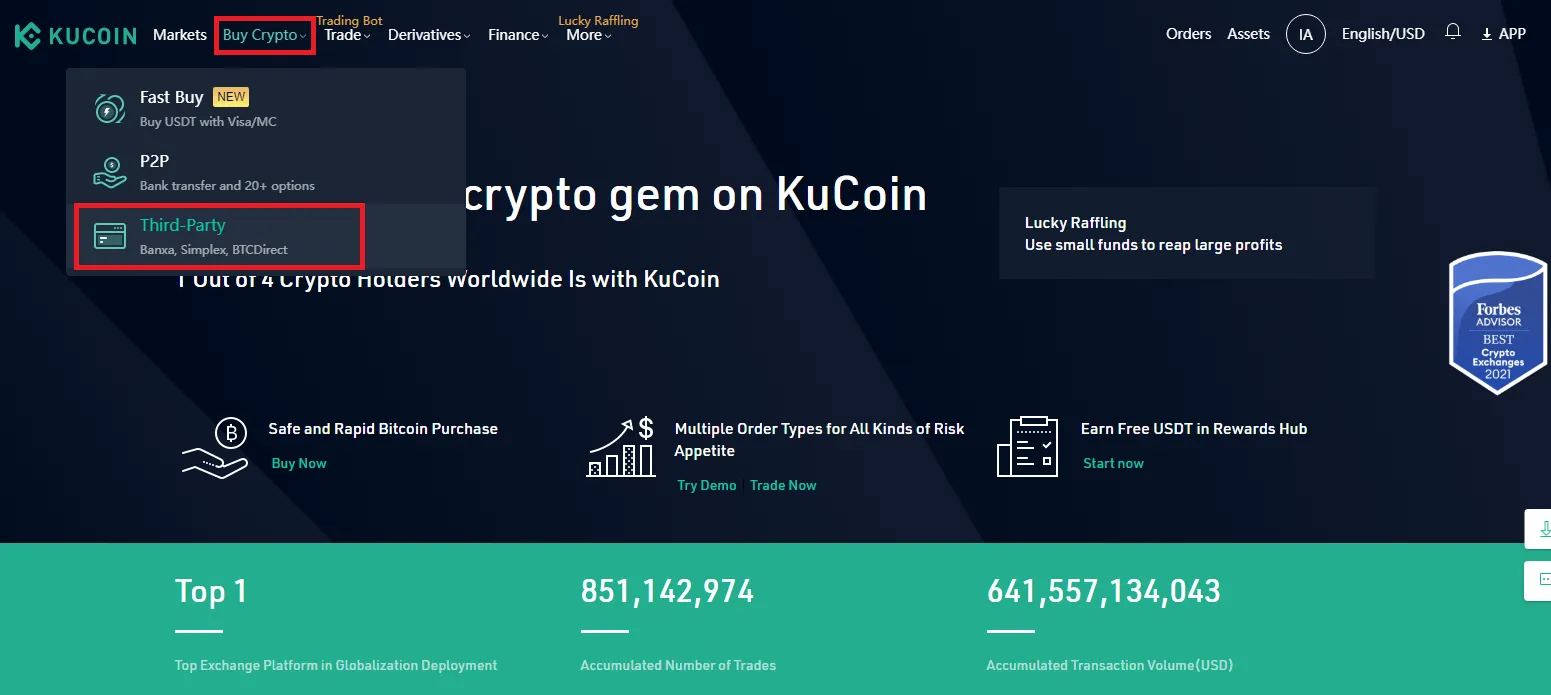 If you want to buy crypto using a credit or debit card, go to the KuCoin home page and click on the "Buy Crypto" option at the top of the page. Select the "Third-party" option.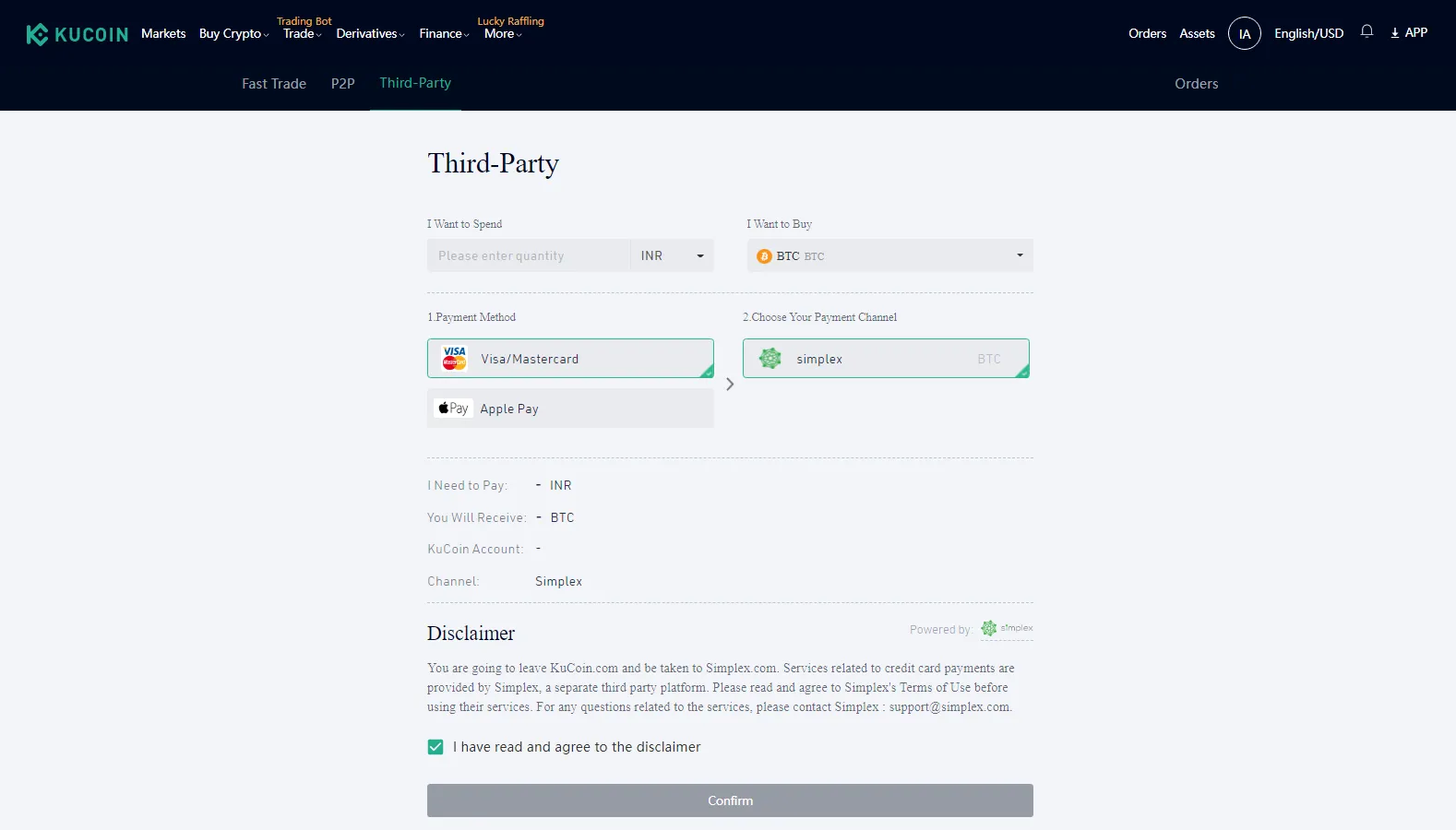 You will be taken to a payment form. Here, you can choose the currency which you want to buy. Then enter the amount you want to spend and select the crypto you want to buy.
Select the payment method from visa card/ MasterCard or Apple Pay. You will get a list of payment channels. Select the payment channel from the list and then read the disclaimer box and agree to it. Then hit the confirm button. Then you will have to enter the card details and then pay.
How to trade on KuCoin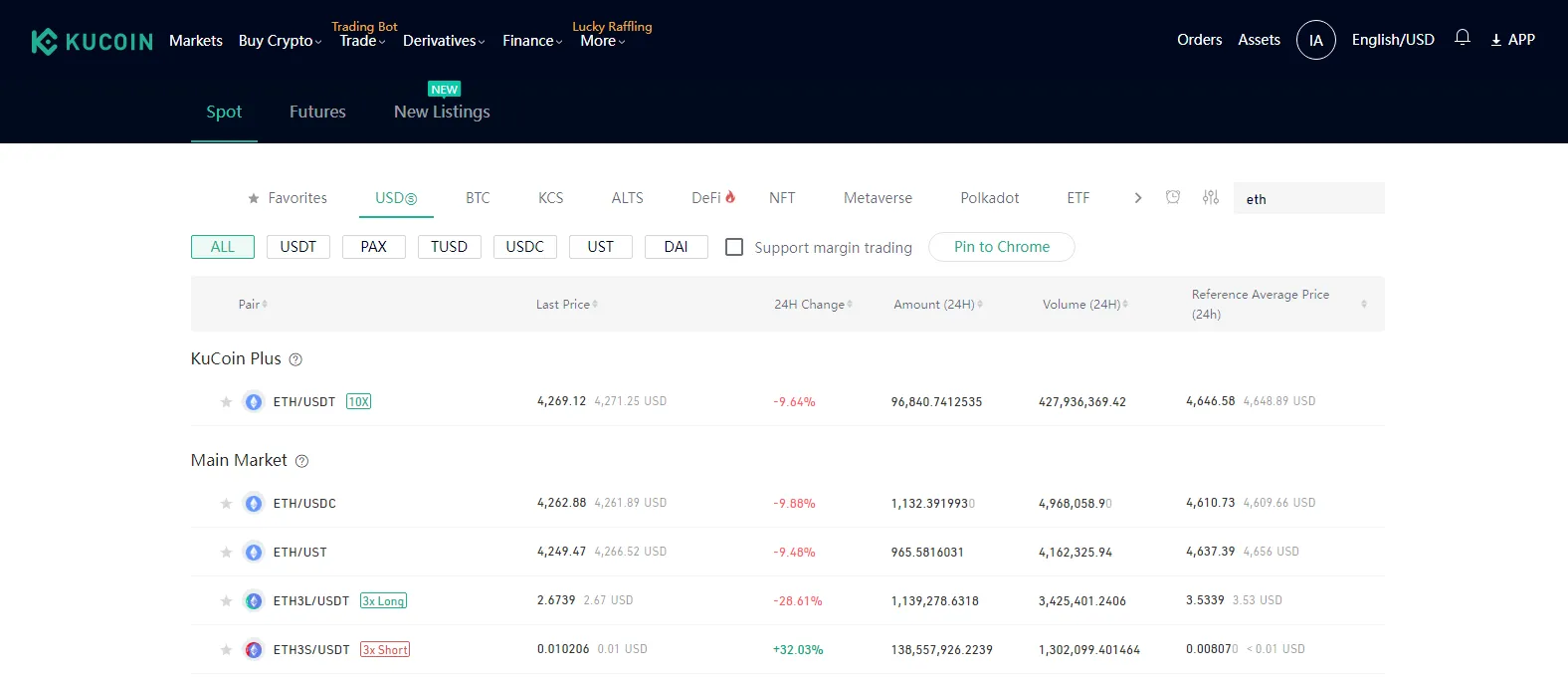 On the top left of the page, you will find the 'Market' button. Click on that, and you will be taken to the market page. Here you can see all the trading pairs. Click on the coin which you want to, and then you can see all the trading pairs with your selected coin.
Nearby some currency pairs, you can see 10X. This means that you can trade this currency pair with 10X leverage.
You can select some currency pairs as favorites, which gives you easy access to that currency pair. You can also search for some specific currency pairs by using the currency option.
The little clock icon on the top right of the page allows you to set price alerts or volatility alerts.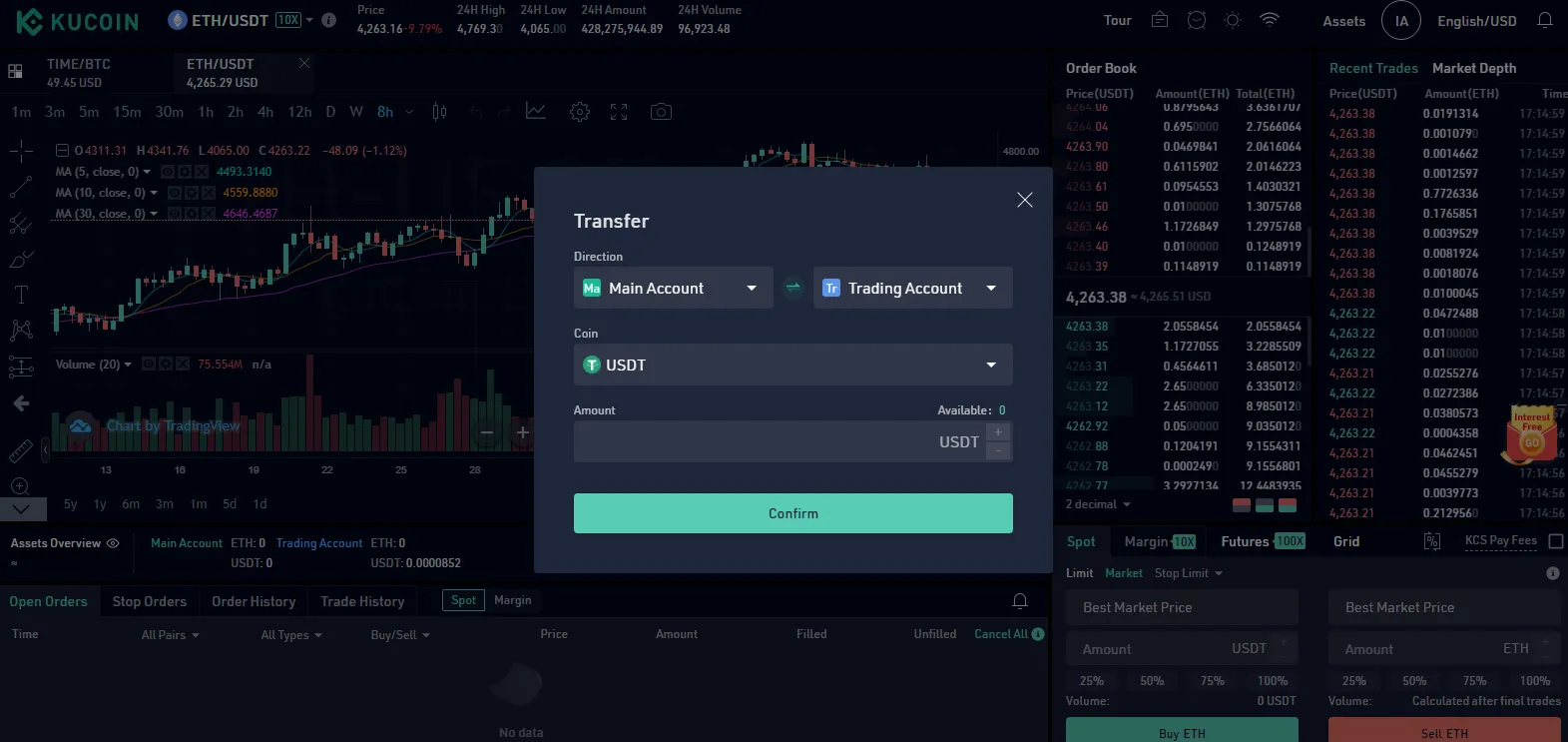 Then transfer the currency to the trading account. For that, just click on the transfer option and select the type of currency which you want to trade and also the amount you want to transfer. Then click confirm.
Before trading, you need to enter your trading password, and then you don't have to re-enter it for the next two hours.
Select the type of your order and details of your order. KuCoin offers four types of orders:
Limit order
Market order
Stop limit order
Stop market order
Use KuCoin trading bot for easy gains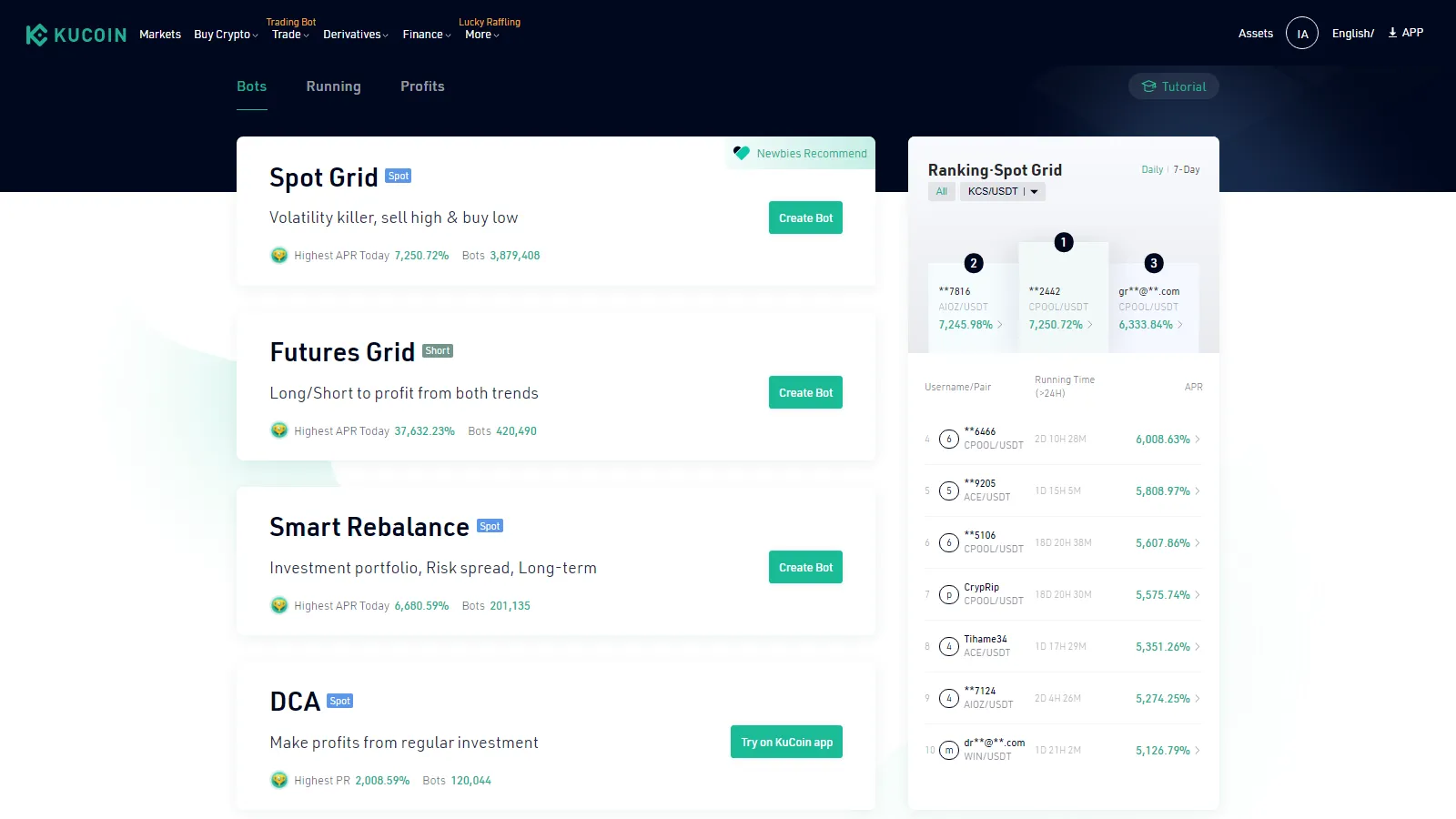 A trading bot is a way to make profits without observing the market. Almost every exchange platform provides this service, but with the help of a third party. KuCoin has a built-in trading bot that is entirely free of charge. The users can directly start to use it if they have the amount to invest in.
KuCoin trading bots work on the basis of four strategies:
Spot grid
Futures grid
Smart rebalancing
Dollar-cost averaging
How to use KuCoin trading bots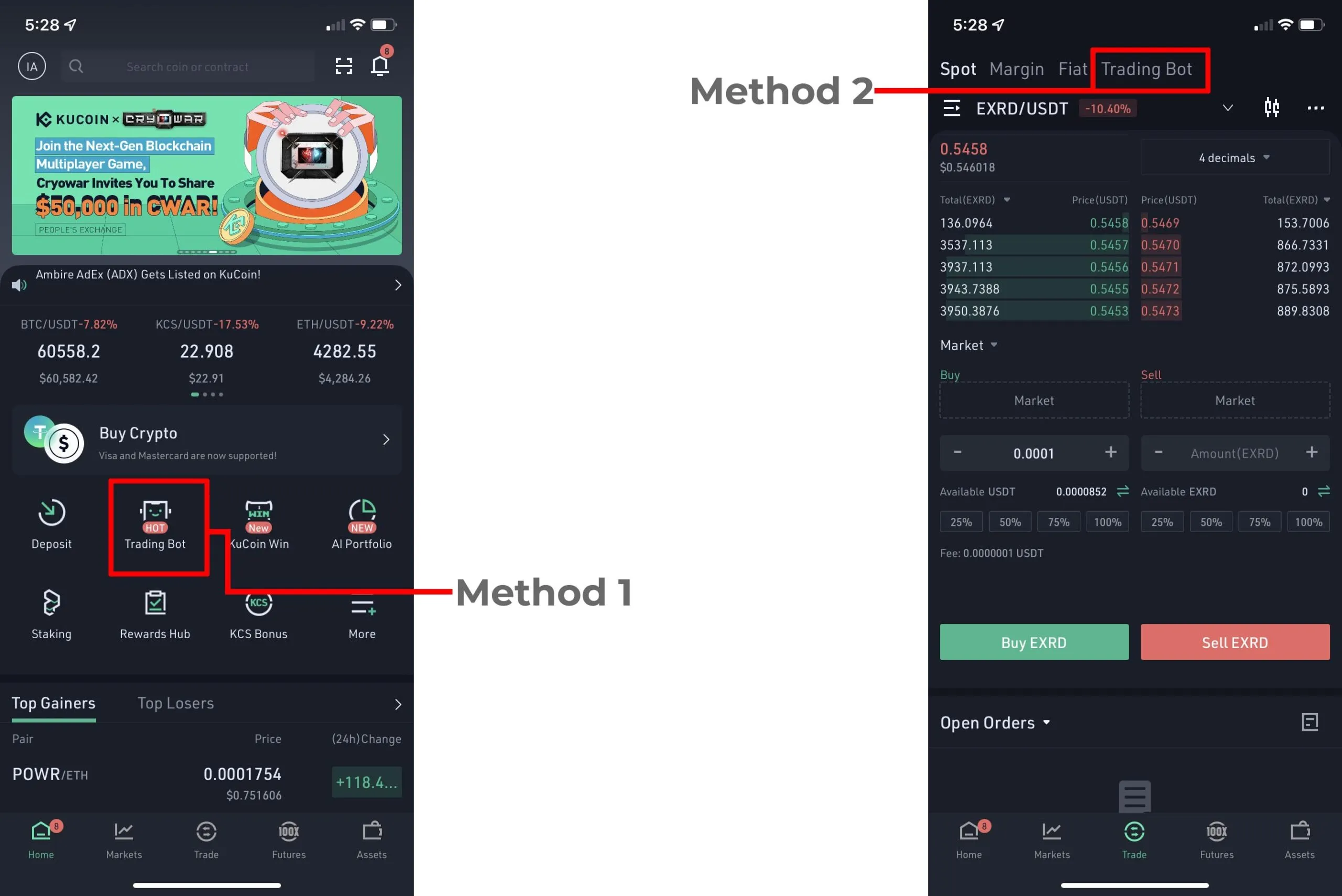 You have different methods to use a trading bot.
Method 1: Log in to the KuCoin app and select a trading bot.
Method 2: Open the KuCoin app, select trade, and then the trading bot.
KuCoin's official documentation on trading bots will help you use this feature.
KuCoin lending for passive income
KuCoin allows you to lend cryptocurrencies to other users with interest rates. This is a peer-to-peer lending process.
The lender has to fill in the details regarding the amount which he is ready to lend and also the daily interest rate (the interest rate is from 0 to 0.2%). The lender can also decide the duration of the term for lending. It can be 7 days, 14 days, or 28 days. The default lending term is 28 days. Both risks and rewards are high in the KuCoin lending service.
KuCoin even provides for an auto-lending option. Here, you can reserve the amount which you don't want to lend. This is kept as a reserve amount. To do this, just enable the automatic lending option. The lender can set the lowest daily interest rate. The system will lend your fund automatically to other users.
Staking on KuCoin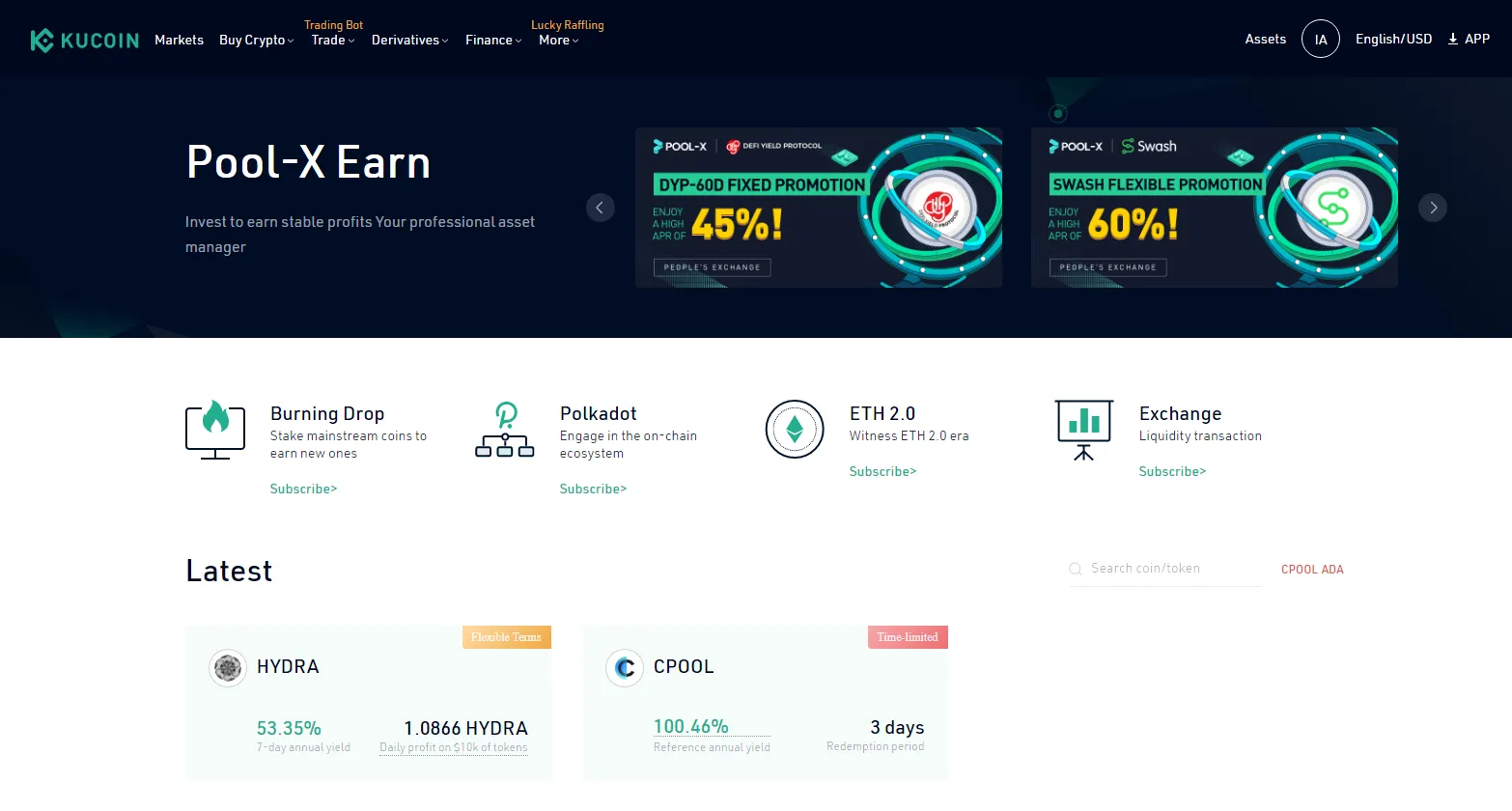 Staking is also an excellent way to make some passive income on Kucoin, which even has a separate platform called Pool X dedicated to that.
Click on the 'Finance' button on the top of the page and then select the earn option below that. It will take you to the Pool X platform.
Scroll down and click on the 'More' option near to the staking head. The website will provide you with a list of all the coins that you can stake. There are two different ways to stake on KuCoin. One is the flexible term and the other is the fixed terms.
Flexible terms mean you will get a lesser yield, but you will be able to withdraw your cryptocurrency at any time from your pool x account. A list of all the cryptocurrencies available for flexible term staking will be provided. Select the currency you want to stake, and they will show you the annual yield for just keeping your currency in the Pool X account.
Click on the transfer button on the right side and then transfer your currency from your main account to your Pool X account. Enter the amount you want to transfer, or click on max if you want to transfer all of it. Click confirm.
The income which you generate here will be a little lower than the income you would generate for it if you stake it for a fixed period.
While staking for a fixed period, you will lose liquidity. You cannot move the currency from Pool X to the main account before the redemption period is over. If you transfer the currency before completion of the redemption period, then you will lose your interest.
KuCoin pool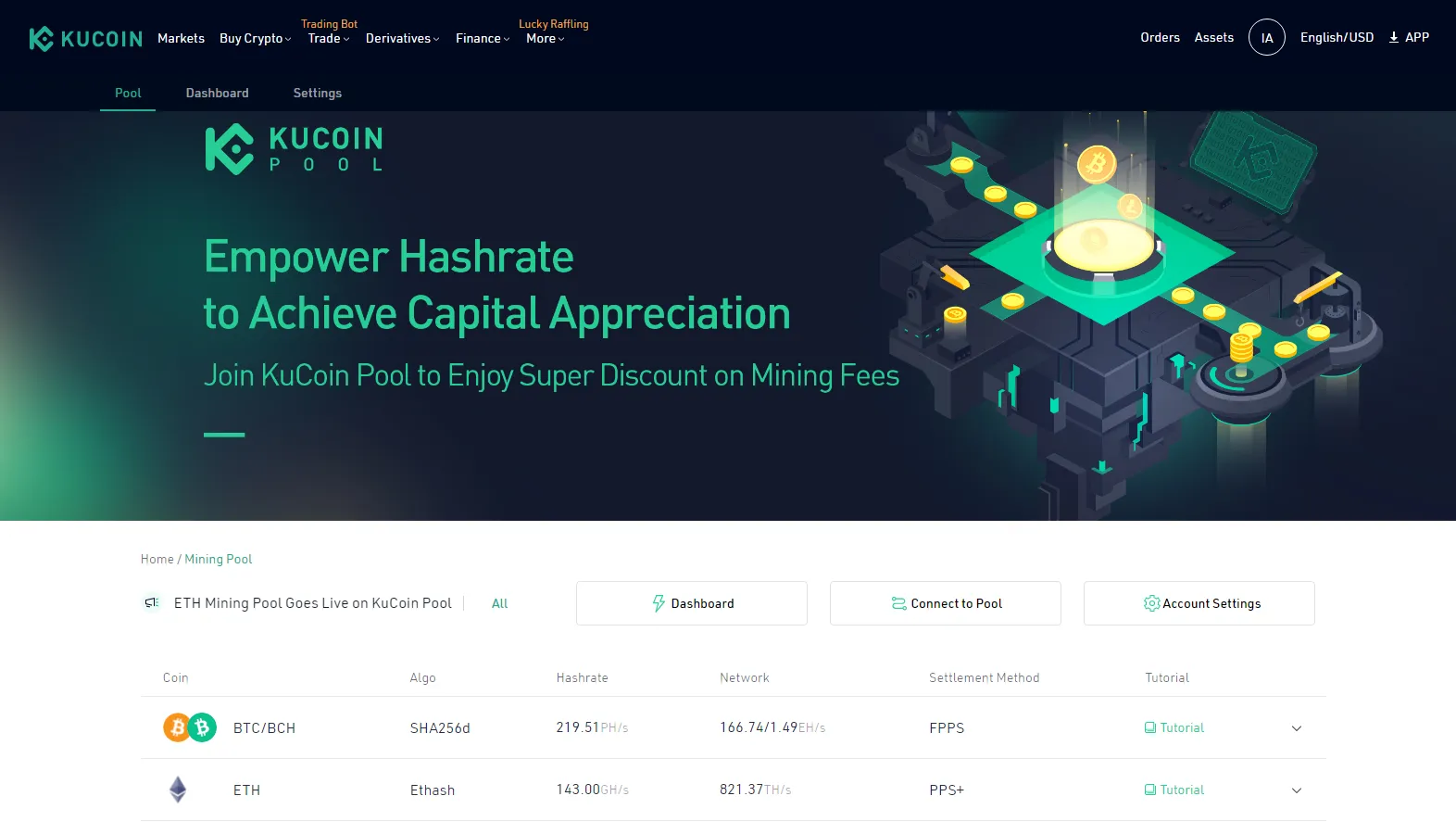 KuCoin pool is a mining pool that supports proof-of-work assets. It provides only a 2% mining fee. The exchange even has an optimized algorithm to ensure high mining efficiency.
After logging in to the KuCoin account, log in to the KuCoin pool. Create a miner account and complete your miner configuration in the general settings. The platform uses a revenue model that includes FPPS based settlement mode for BTC mining and FPPS based settlement mode for BCH mining.
KuCoin has features worth looking at
Although KuCoin is all highlighted with its advantages and what makes it better, any trader needs to know about the drawbacks too before investing. Make sure that you don't miss the risky elements. It is still in its primary stage. Investing in something new comes with risks as well. The unique features of the exchange may make you blind, but be sure to do your research before investing.
Frequently asked questions
Is KuCoin a safe exchange?
Is KuCoin legal in the U.S.?
Where is the KuCoin exchange located?
Is KuCoin a wallet or an exchange?
Can U.S. citizens use KuCoin?
Disclaimer
In line with the Trust Project guidelines, the educational content on this website is offered in good faith and for general information purposes only. BeInCrypto prioritizes providing high-quality information, taking the time to research and create informative content for readers. While partners may reward the company with commissions for placements in articles, these commissions do not influence the unbiased, honest, and helpful content creation process. Any action taken by the reader based on this information is strictly at their own risk.