The
cryptocurrency
market continues to expand as we head into 2022, with the market growing in legitimacy as new use cases take off. To add to this celebration, governments and central banks are seriously looking into blockchain-based technologies, proposing regulation, encouraging innovation, or building
Central Bank Digital Currencies
(CBDCs).
At this fascinating time, with analysts upbeat about the future of
Bitcoin
(BTC) and applications like DeFi and NFTs, people are naturally very keen on entering the market – but this can be a daunting task for a new investor. For example, while NFTs have attracted the attention of the wider public, it isn't particularly easy to dive into.
So, that's why we've collated the top 15 cryptocurrency tools for everyone. There are many on-the-fence investors out there who have trouble entering the market because of the unfamiliarity of cryptocurrency tools. This is also why so many exchanges and
blockchain
startups are working on intuitive features like human-readable addresses.
Fortunately, numerous startups and software companies have released cryptocurrency products and services that make it precisely so that anyone can begin working with cryptocurrencies without worry. Browser wallets are a perfect example of this growing focus on accessibility.
The list we offer is very comprehensive, covering everything from the basics to the most focused of trading activities. It is not exhaustive – there are certainly many more tools for most categories. However, on the whole, it provides a very thorough coverage of all of the top crypto tools; everything that is required to begin seriously investing in cryptocurrencies.
In this guide: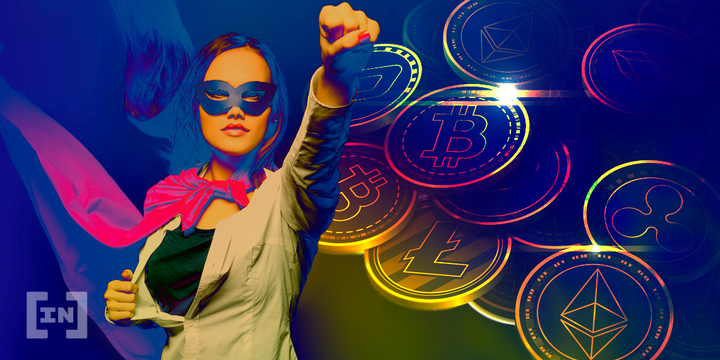 Cryptocurrency Exchanges [Centralized]
Exchanges (for most people, anyway) are where you'll first be buying your cryptocurrencies. Most exchanges have some KYC procedures, so you'll have to offer government identification in addition to a few other details. The process is straightforward. Once your account has been activated, you can begin buying and trading, with the assets being stored on your exchange
wallet
. Never store your assets on an exchange wallet as it is much less safe than storing it in a
hardware wallet
(which we will discuss later). Assuming that you're approaching investing with no prior experience in cryptocurrencies, you'll be making a fiat transaction to purchase the cryptocurrency, which should be fine, as in this day and age fiat fairly widely supported. There are such things as
decentralized exchanges
(DEXs) as well, but we talk about that in the following section. The following are exchanges worth considering. They have high liquidity, a range of assets and provide other features native to the platform.
Binance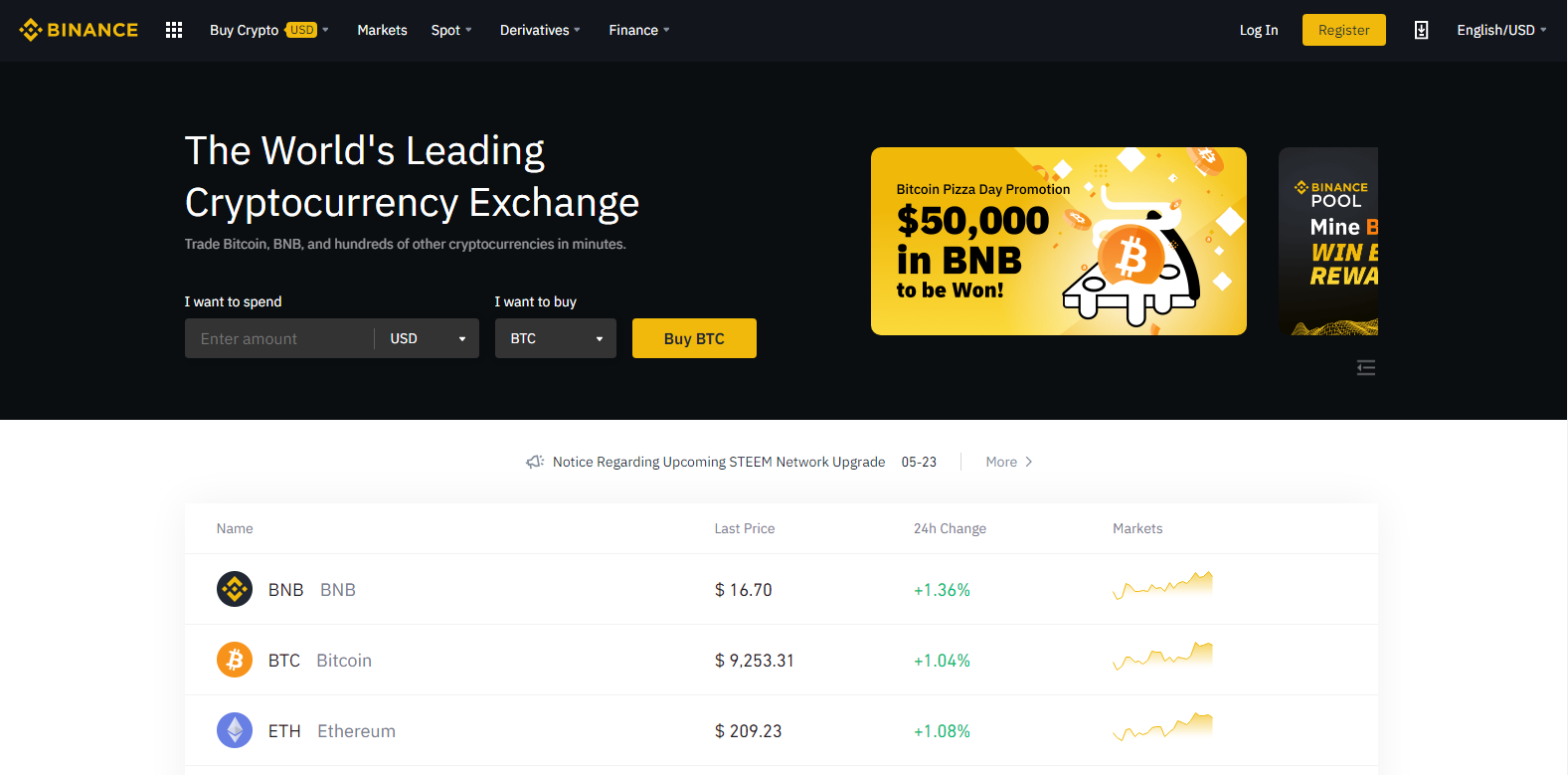 Binance is easily one of the most well known of exchanges, offering services to over 180 countries. The exchange has quickly grown to be one of the most used exchanges on the planet, even if it only just broke into the US market.
Binance has high volume, a large listing of assets, and features such as a DEX, native token and token launching platform. It's not perfect, but then this is true of every other exchange. Feature-wise, it's an easy recommendation for both beginners and for regular investors who are looking for convenience.
It might be the best crypto trading platform for some, but the exchange market is huge, and exchanges like Coinbase might have something to say about that.



Based in Switzerland, SwissBorg is a wealth management platform that operates on mobile devices — both Android and iOS. The app focuses on an intuitive user experience and seamlessness and has been well received by its over 500,000 users. Unlike several exchanges themselves, SwissBorg emphasizes the buying and selling of crypto assets with fiat currencies and supports 16 fiat currencies, including EUR, CHF, and GBP. In total, it
supports over
740 unique crypto and fiat trading pairs, which is a cut above most exchanges. It also
features
a few nifty tools, most notably the Smart Engine, which connects to leading exchanges such as Binance and Kraken. This finds you the best quotes at the lowest rates and as quickly as possible — a matter of milliseconds. Two other noteworthy features: portfolio analytics and hourly asset analysis, which speak for themselves.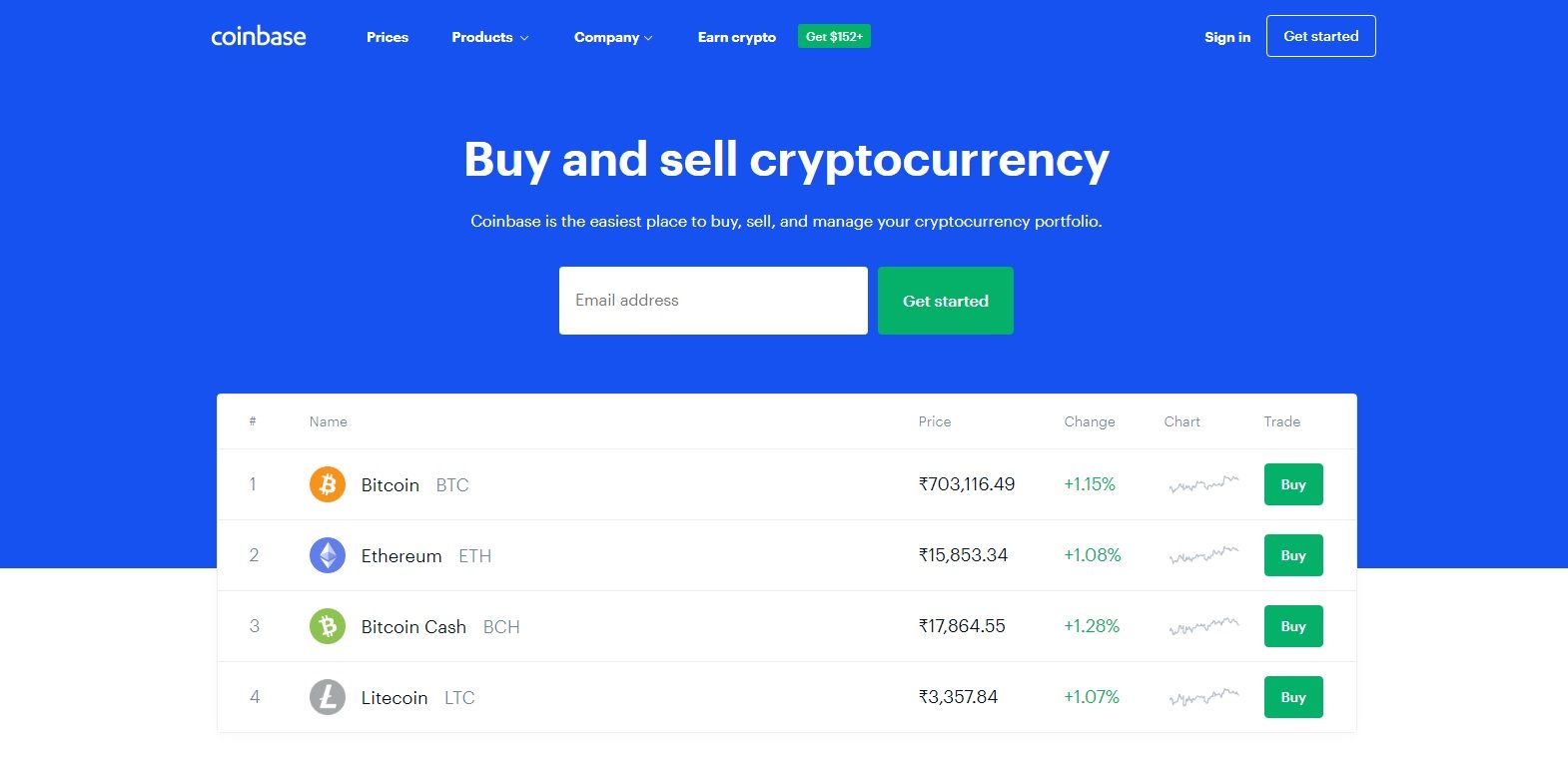 In the Americas,
Coinbase
is one of the most active exchanges, even if it is competing with the likes of Gemini. It has a professional version of the platform, aimed at experienced traders who transact with large volumes. It has a strong selection of assets, even if it isn't as much as some other exchanges. However, do note that the rates on
Coinbase
are quite high as compared to other exchanges. Assets can be bought with debit and credit cards, and bank transfers. Coinbase's compliance with regulation means excessive verification, while others are glad that it is following the law.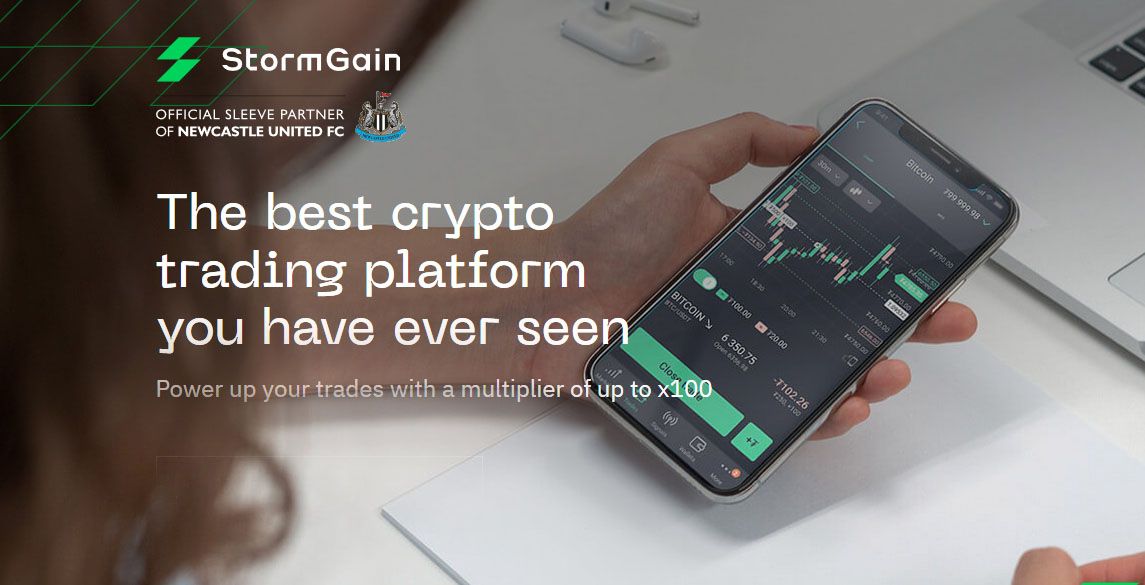 StormGain
is a well-rounded exchange that offers a lot of different tools, with a goal of helping people use the
volatility
of the market to their advantage. It serves over 100 countries and features both amateur and more sophisticated trading options. According to CoinMarketCap, it also provides one of the best interest rates on the market. On the whole, it is quickly making some ground on its path to become one of the best crypto trading platforms.


Decentralized Exchanges
Here's the second type of exchange: completely decentralized exchanges that require no central party to hold wallets and facilitate trades. These are a relatively recent arrival on the market, using the technology itself to ensure that assets can be exchanged and bought near-instantly while avoiding the risks associated with centralized exchanges. What are those risks? Centralized exchanges are slower, less safe (as proven by the many hacks and breaches in recent times), and more expensive as the exchange charges a fee for its services. Decentralized exchanges do away with all of these disadvantages. That said, it is still quite a new development, so it is not quite as refined as investors would like it. For one thing, it can be unintuitive for the newbie investor. It takes a little technical know-how to make the most of decentralized trading. But the option is there if you'd like to try it.
Oasis DEX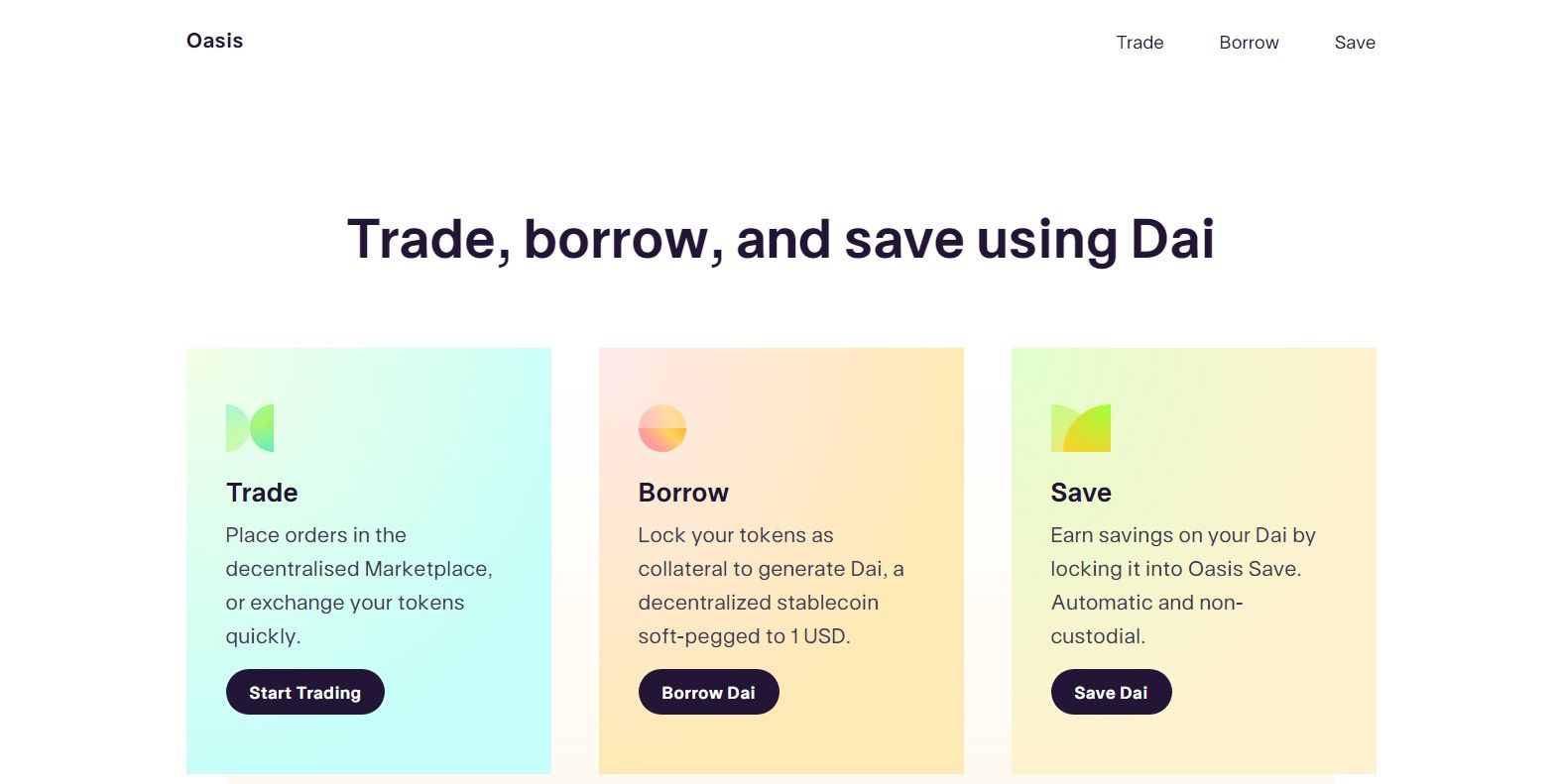 The
Oasis DEX
is a part of the MakerDAO ecosystem, the project that has created the
DAI
stablecoin
and the MKR governance token. The Oasis DEX protocol is a liquidity pool for the ETH/DAI market, whereas Oasis itself is a larger platform that lets users do more, which includes earning more interest on DAI tokens.
Uniswap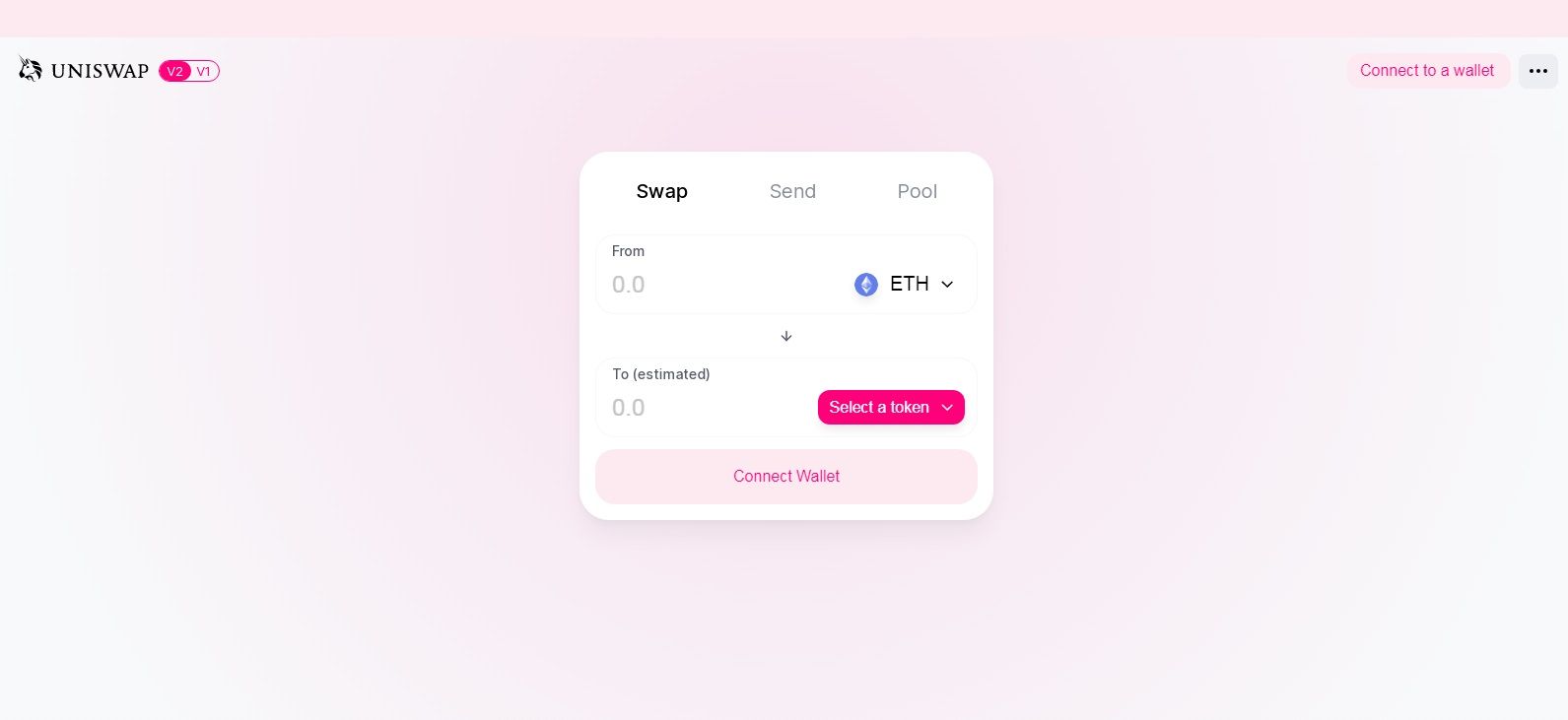 Uniswap is the largest DEX on the market, with over
$30 million
worth of ETH locked in. One particularly noteworthy thing about the platform is that it focuses heavily on making it possible to integrate the protocol with apps, and generally to aid development.
Bancor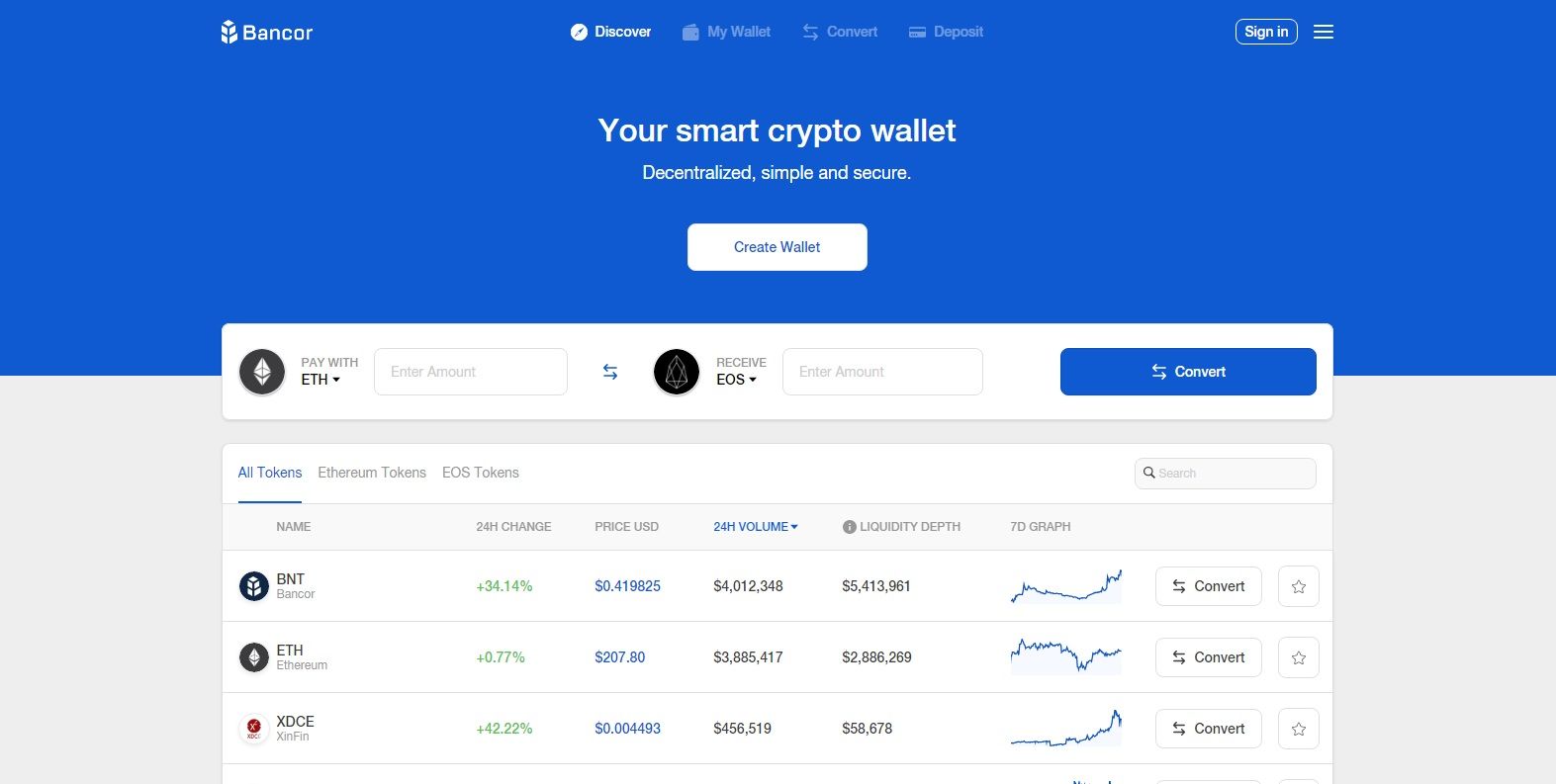 Bancor
is the second-largest DEX on the market, and has its tokens called Smart Tokens, which facilitate its key feature: instantly converting one token to another and exchanging them. Like all DEXs, it uses a particular protocol to achieve instant trades between assets, as opposed to it being done by the exchange on your behalf.
Best Hardware Wallets
Hardware wallets
are a must if you're going to be investing in what you consider to be sizable sums. They're provably the most trustworthy of storage devices, and even the biggest of hedge funds make use of them. The primary reason it's safe is that it's "cold", i.e. it is not connected to the internet. Consider exchange wallets – the funds are actually in the hands of the exchange, which means that they're vulnerable to theft (which has
happened many times
in the past). But your hardware wallet will safely store your funds and requires hardware key presses for transactions to be made. This adds an additional layer of protection, with the overall security of a hardware wallet being unmatched by anything but perhaps a paper wallet.
Ledger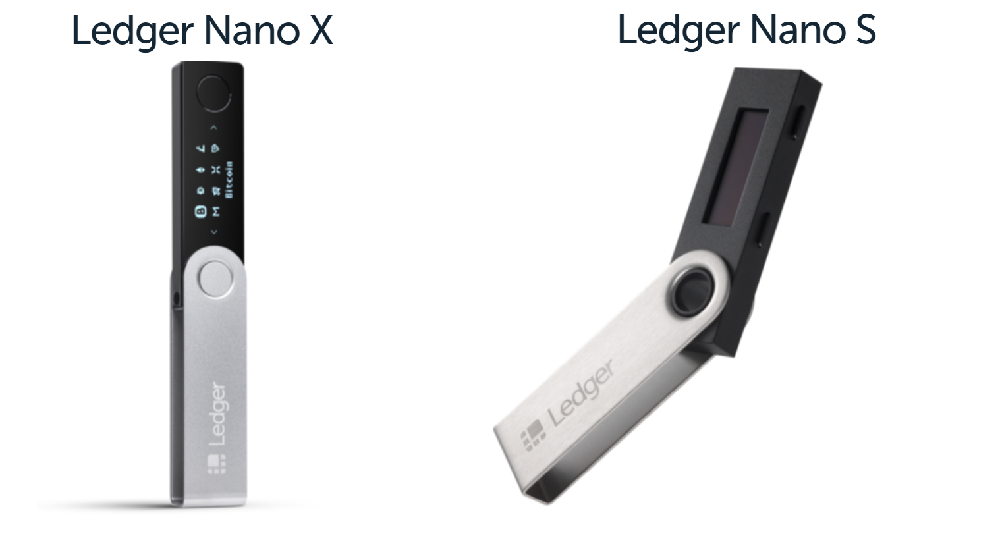 It's a close call, but
Ledger
and its line of products are more popular than Trezor, talked about below. The French company offers sleek, reliable, and secure hardware wallets that have taken the cryptocurrency world by storm. Most in the cryptocurrency community would agree that Leger is a solid choice, intuitive even for a newbie user.
Trezor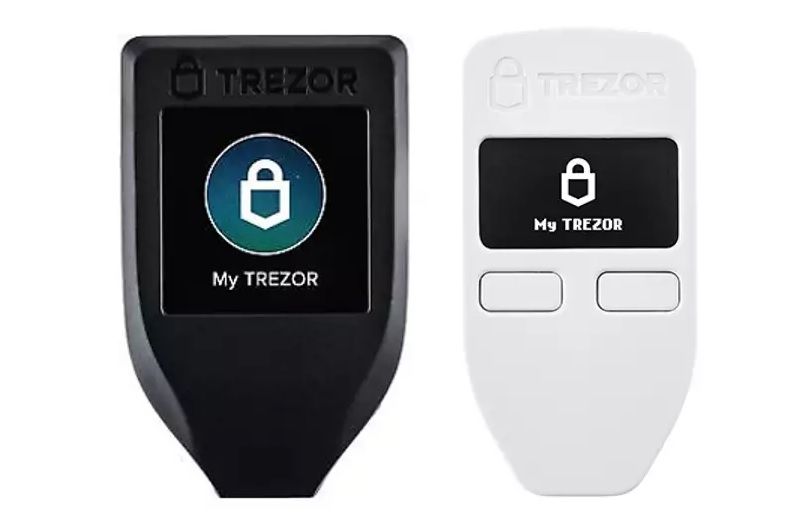 Trezor
is the only other hardware wallet that has any appreciable market share and many swear by its
security
as well. You may hear some
heated discussions
about how Trezor is
not as secure as Ledger
, but that's a mostly academic point. For all intents and purposes, both these wallets are highly secure. As for costs, both of these wallets are almost the same, give or take a few dollars.
Software Wallets
Software wallets are convenient and intuitive, which is why they continue to remain popular. Hardware wallets are a little pricey, but software wallets are free to create and afford a level of accessibility that attracts many newbie investors. Of course, these too – whether mobile or desktop – come with security issues, but it is not as bad as an exchange wallet. Most also offer a wide enough variety of assets that will satisfy even intermediate investors, though serious-thinking investors are better off with a hardware wallet and a bigger exchange. Think of software wallets as a convenient middle ground between exchange wallets and hardware wallets. It's okay to keep some funds in it and conduct some trades, but don't take the risk of storing too much in it.
BRD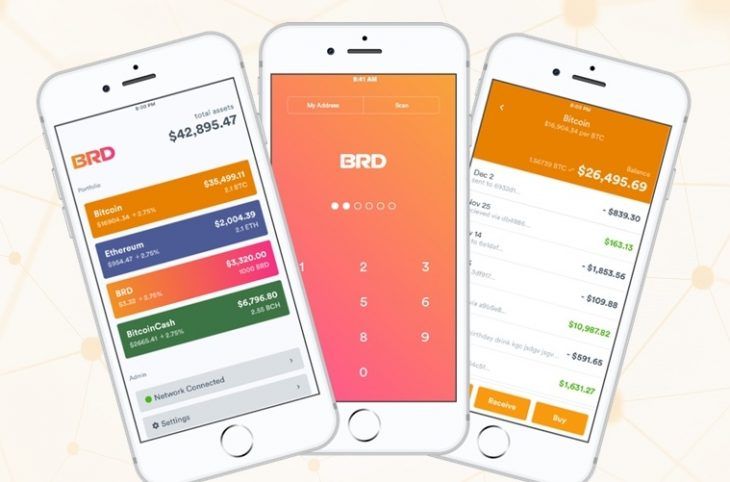 BRD
is a popular software wallet that is simple and secure, and puts getting up and going as the most important feature. Available on both the iOS app store and Google Play, it allows users to buy cryptocurrencies with credit cards and at ATMs. The wallet itself uses a 12-word paper key.


MyCelium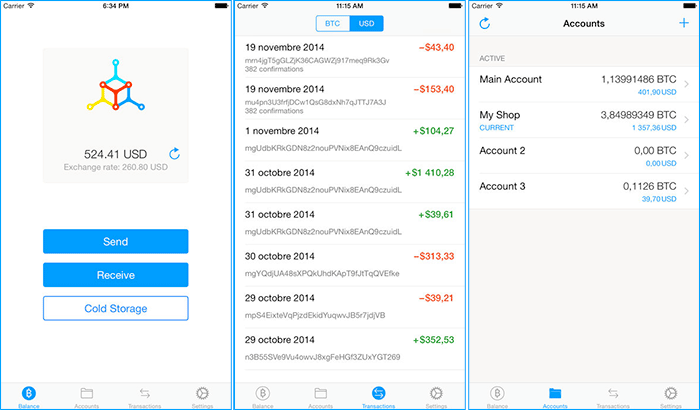 MyCelium
is a software wallet that has been developed by the eponymous company, which began operations in the early days of cryptocurrencies. Compatible with both Ledger and Trezor, MyCelium works on multiple devices. Noteworthy features include single-use addresses and creating a wallet on an offline hardware device like a mining rig.


Charting Tools
Charting plays an important role for those who are really invested in the market. Chances are you've seen the many complicated patterns, drawings, and predictions that daily investors come up with. Even in traditional markets, this can be confusing, but the cryptocurrency markets take it to a whole nother level. If you're just a hodler or don't plan to day trade, then you won't really need the charting tools before. They're used by the technical analysts to plot the price movement of Bitcoin and oftentimes their predictions can be off. However, if this is something you'd like to learn, then the tools listed below will be essential.
TradingView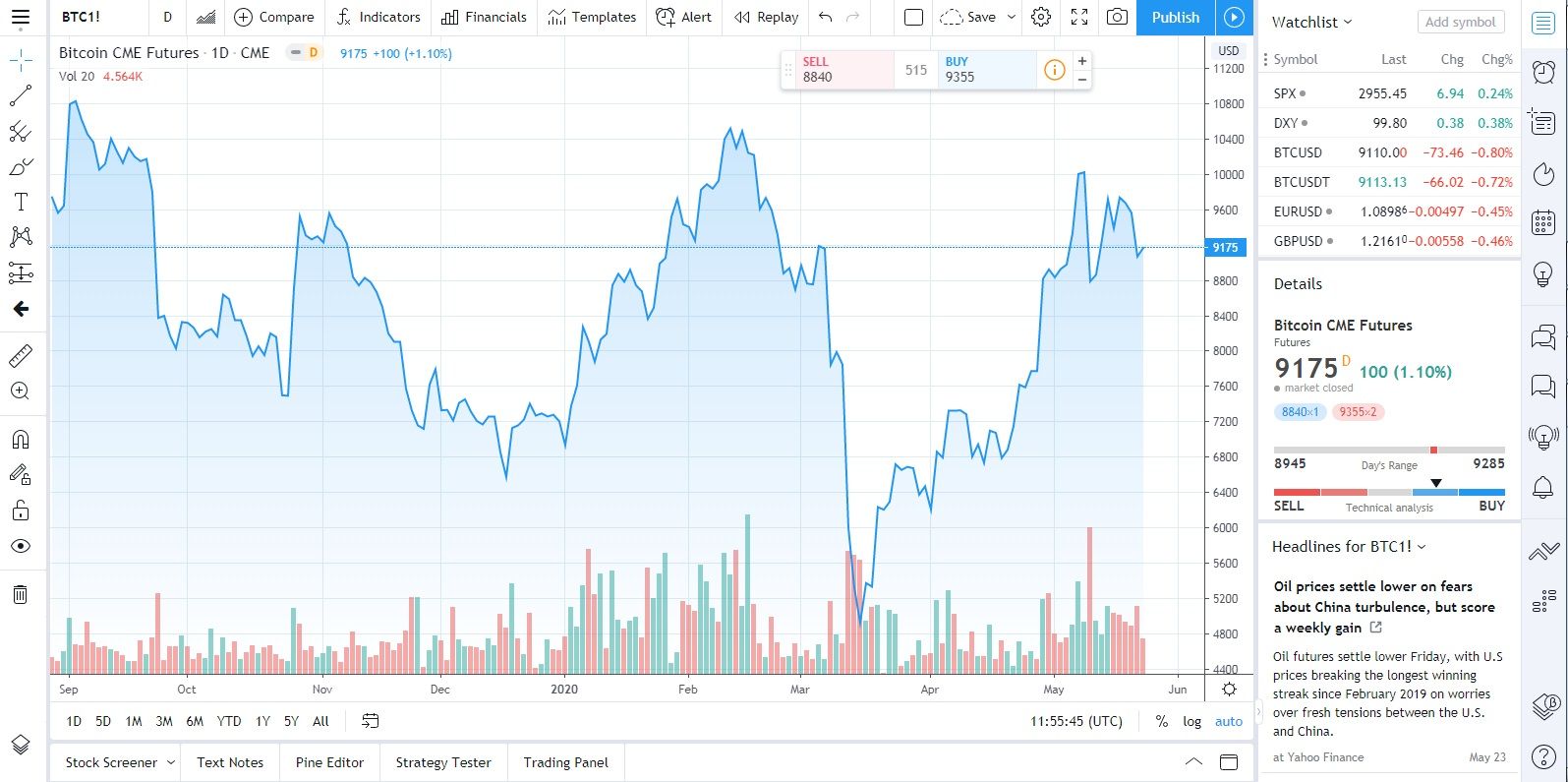 TradingView
is one of the most popular tools for every type of serious trader and provides a bevvy of tools for trading in all markets, not just cryptocurrency assets. The technical indicators and chart pattern analyses are very popular among the community. Crypto charting is mostly done here, so you know it is community verified.


Coinigy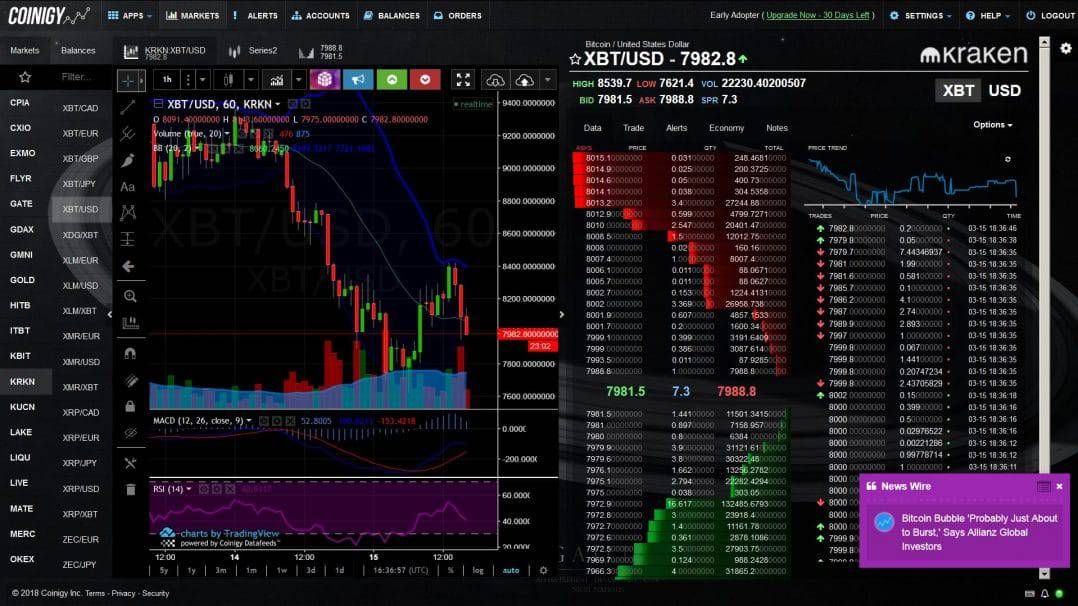 Coinigy
is a trading tool platform aimed squarely at cryptocurrency traders. The premium versions are aimed at professionals and include unlimited API accounts. Linked to over 45 exchanges, the platform offers spot trading, an arbitrage matrix and a varied set of tools for making the most out of cryptocurrency charts.


Tracking Trades [Trackers]
Trade tracking is fairly self-explanatory – they help you keep track of the trades you make. They're most useful in tandem with some of the other tools here, one part of a suite of tools for the regular investors and traders.
CoinTracking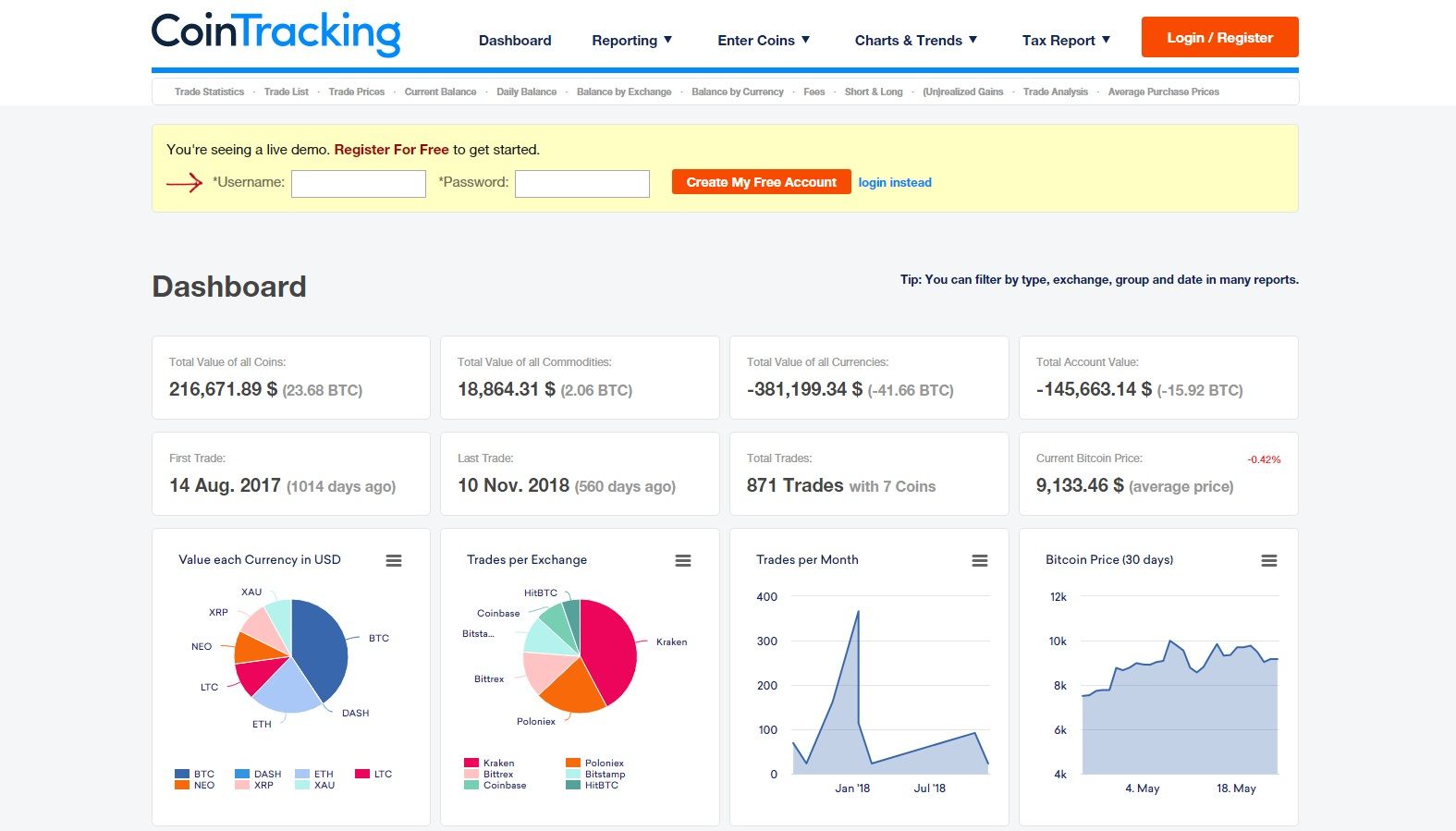 CoinTracking
is one of the most advanced trade tracking platforms, which is why corporate clients use it. The platform provides real-time info of all your data, including tax reports and declaration (with adjustable parameters depending on the country, professional assistance and analyses on market data. Some would say that this is the best crypto tracker, but that, of course, is a little subjective. There's no doubting the breadth of its features, however.


Cryptocompare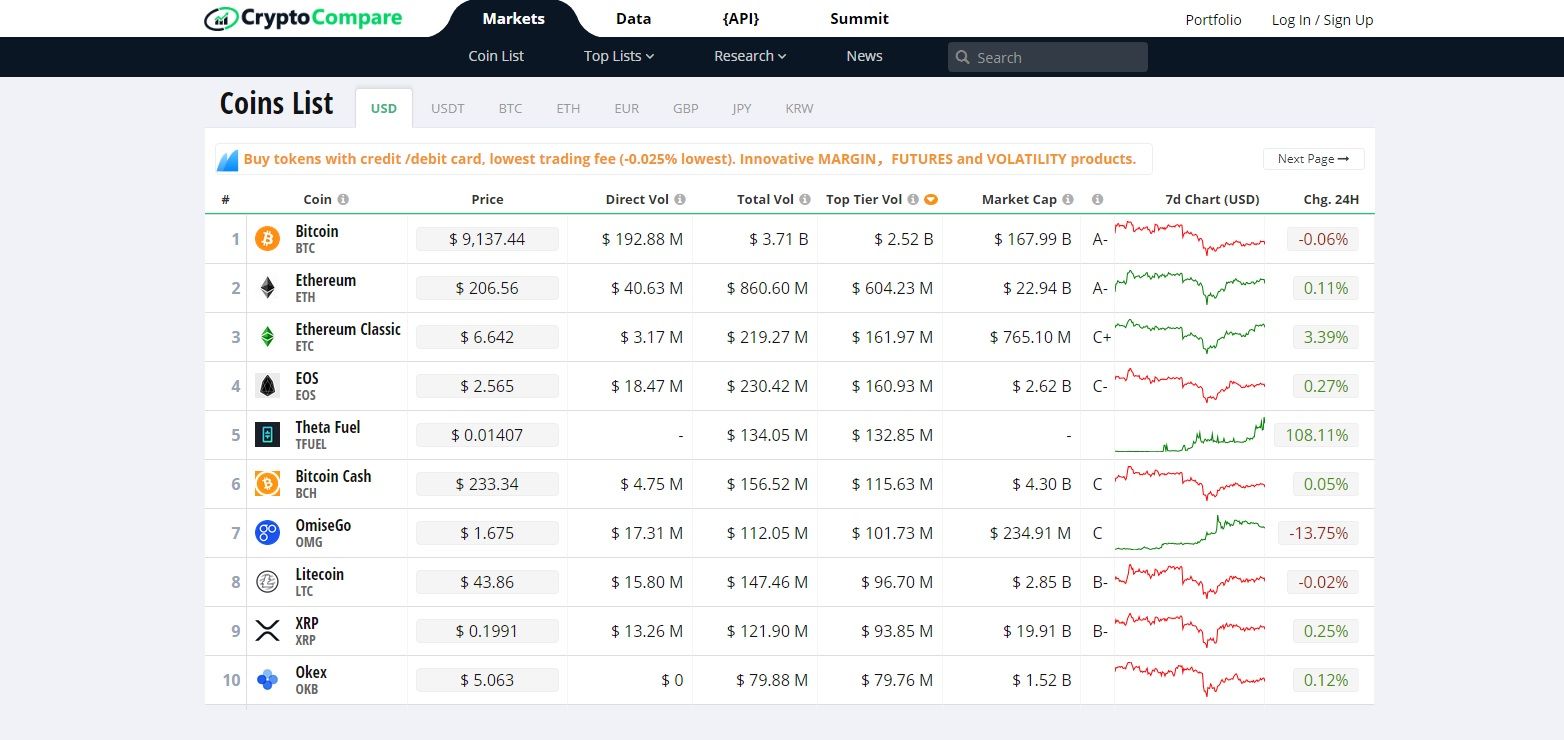 If there's one tool that can compete with CoinTracking for the title of the best crypto tracker, then it might have to be
Cryptocompare
. While not quite all of the more professional features offered by CoinTracking, it works well for a newbie investor. It provides reviews and analyses of the various exchanges. It is
used by some major names
in the market, such as Refinitiv, Investopedia, Etherscan, and Pantera.


Market Data Tools
Market data is critical for any investor, as it gives one both short-term and long-term projections of how the market is going to develop. It gives the investor a sense of the interest in an asset and how it is faring against past benchmarks. For instance, there are market data trackers for individual blockchains, entire niches, and investment vehicles. Decentralized Finance (DeFi), discussed below, is now seen as a cornerstone of the cryptocurrency market and data aggregators offer a clear picture of how it is transforming the asset class. There are many more valuable market data platforms, but the ones offered here are a good starting point for better analyzing deeper trends in the market.
DefiPulse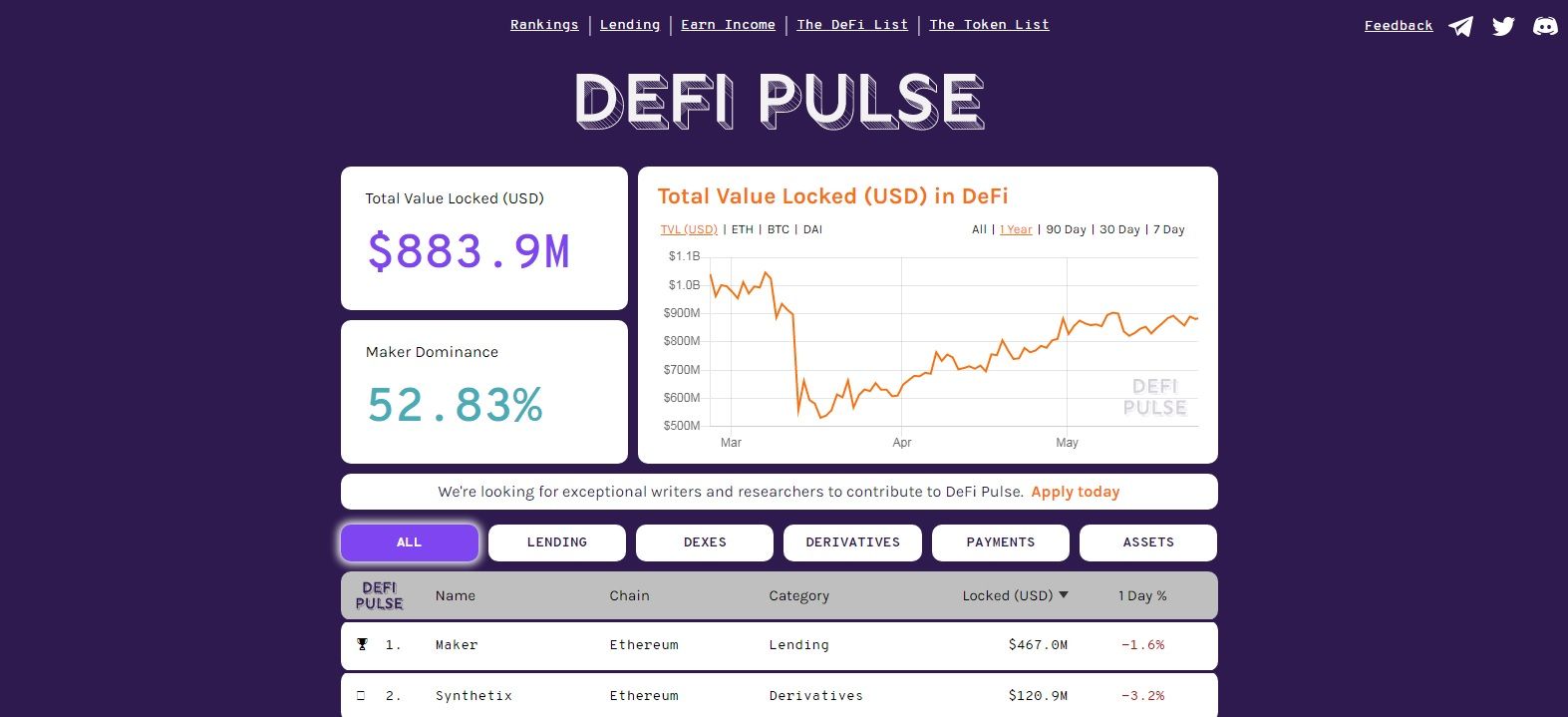 DefiPulse
is essential for every serious investor, as DeFi has become a cornerstone of the market. The niche, which essentially provides all types of financial services (like derivatives) in a decentralized manner, has quickly grown in volume over the past year. DefiPulse tracks the value in major players in the space, including those working with synthetic assets, DEXs, and derivatives.
Skew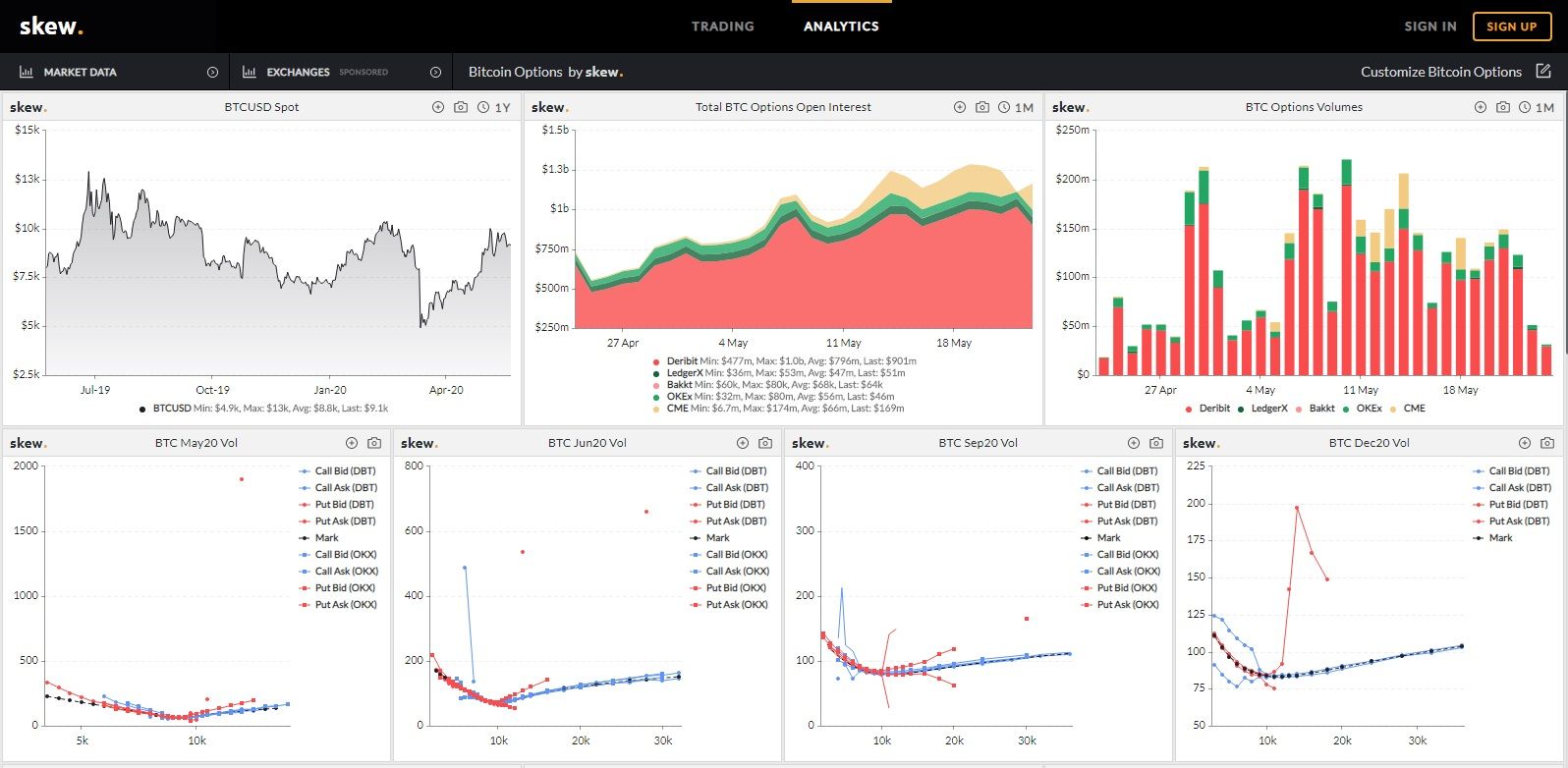 Skew
provides a lot of telling information on the Bitcoin derivatives market, including options interest and open volume, and volatility and flows. It can be quite dense in information, but seasoned investors will want to give this a loo. Derivatives are growing in volume, so a platform like a Skew is an important cryptocurrency analysis tool that should be on the radar of every investor.
Trading Bots/Algorithms
Trading bots are helpful little agents used by more advanced traders to give them the edge in trading. We wouldn't recommend that you try these tools until you're well into the game.
SFOX Trading Algorithms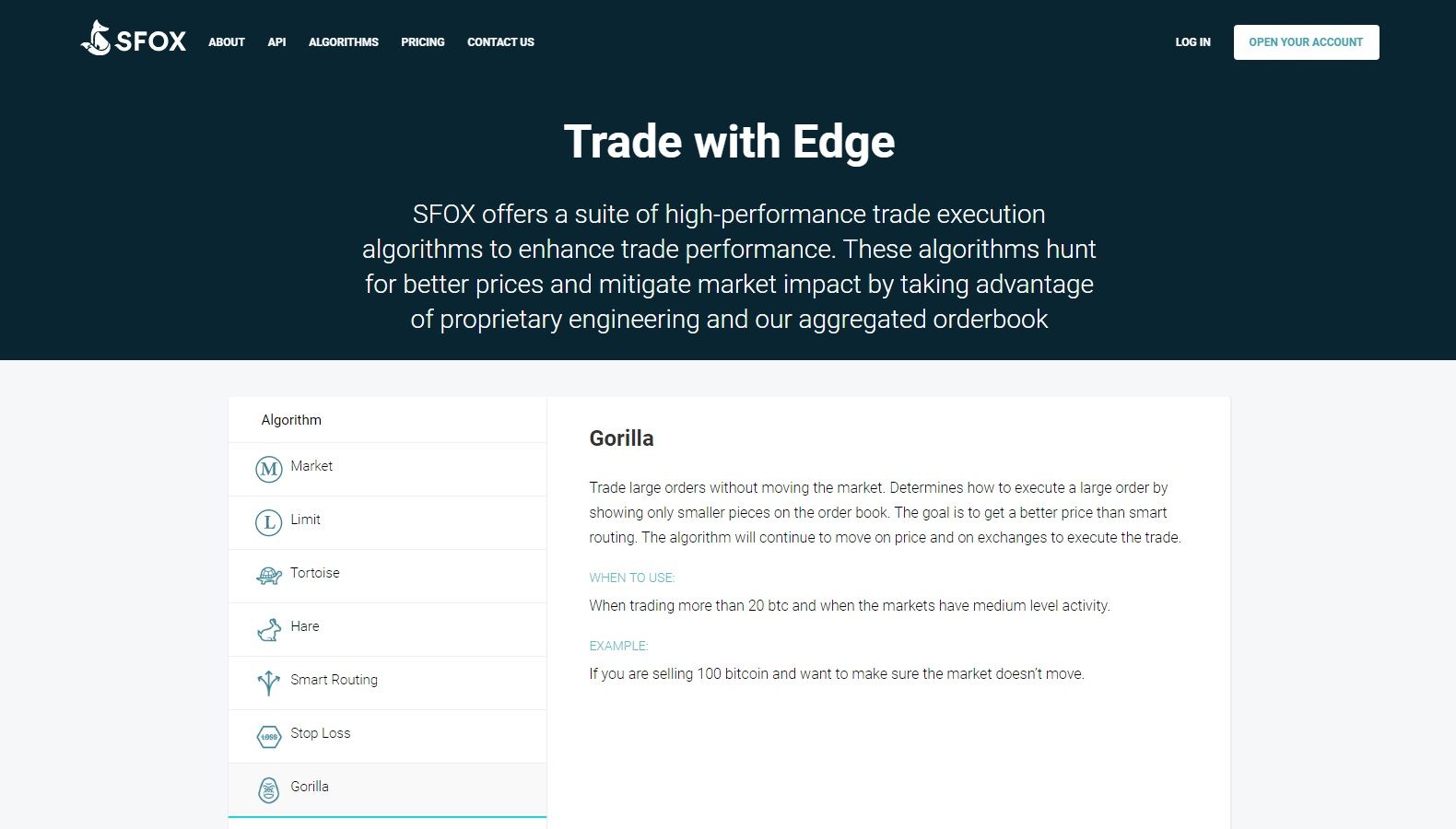 SFOX
is known pretty well in the community, and is also used by the likes of Y Combinator, Tribe Capital, Social Capital, and the Digital Currency Group. The algorithms are based on different use cases, such as if wanting to buy Bitcoin in a very volatile market.
AlgoTrader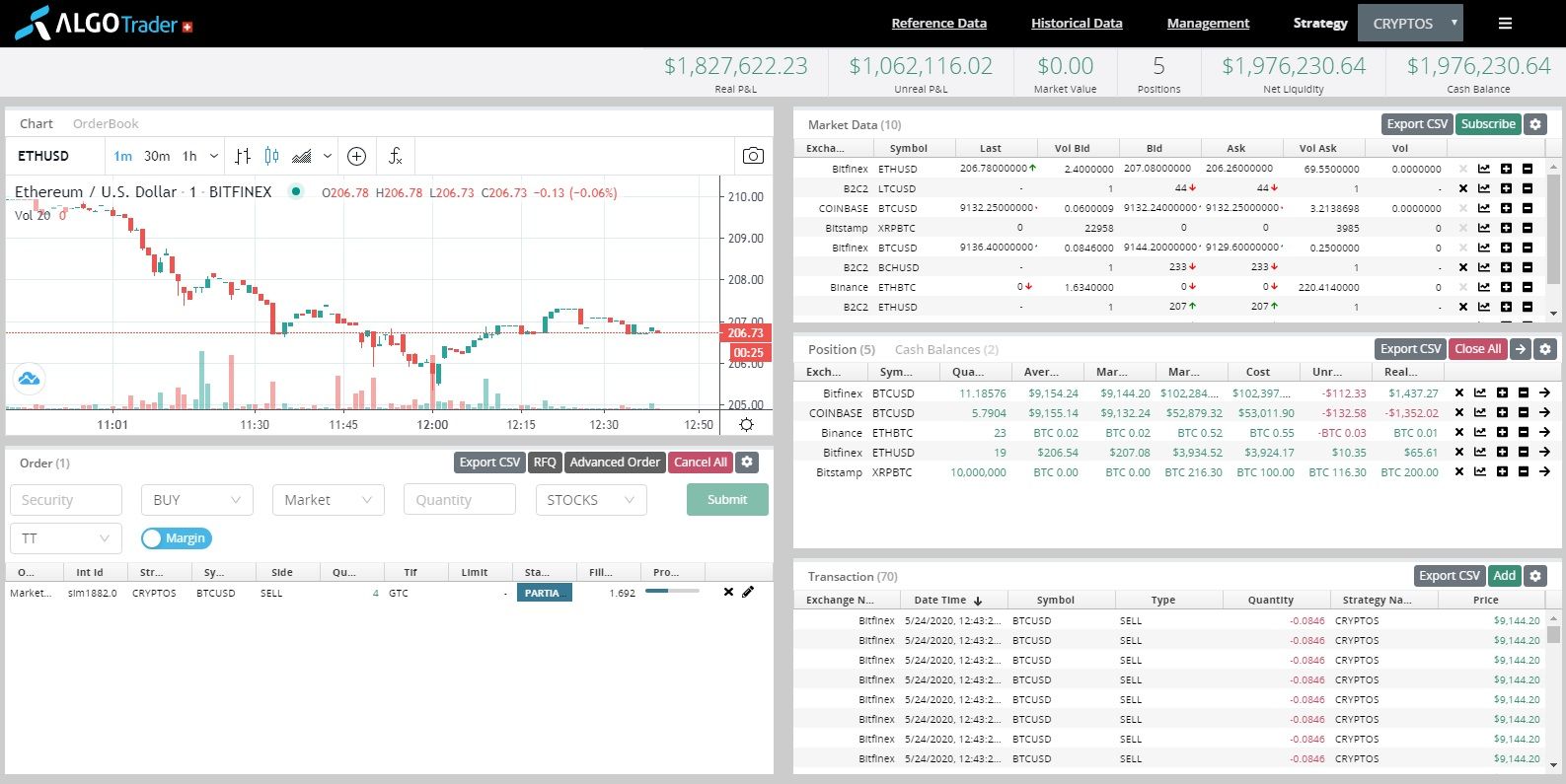 Calling itself the world's first professional algorithmic trading solution,
AlgoTrader
supports hundreds of cryptocurrencies, as well as equity, forex, and derivative markets. It provides a broad range of market adapters, and automated processes and built-in business functions.
Portfolio Trackers
Blockfolio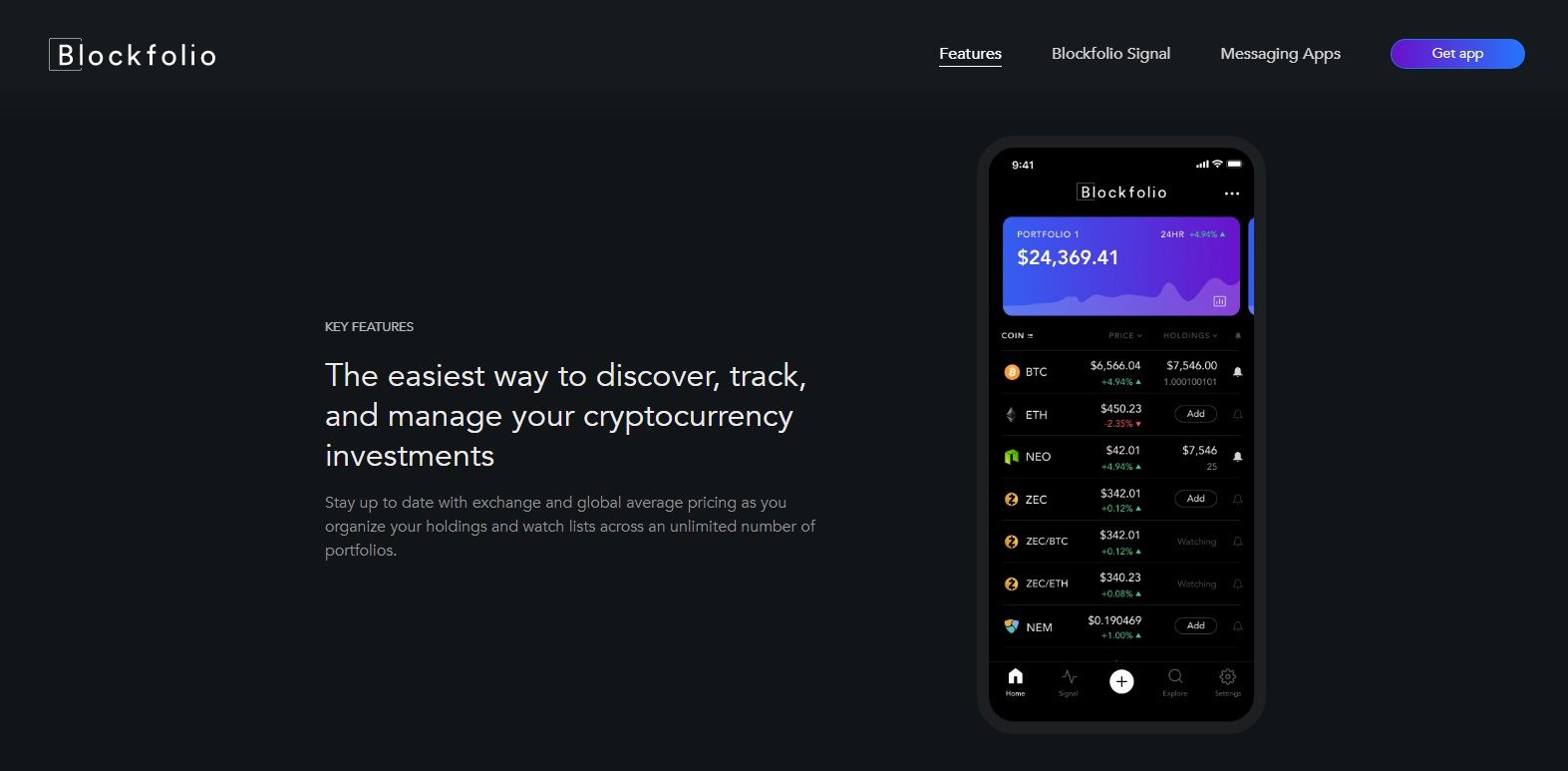 Blockfolio
is probably the most widely used portfolio tracker on the market right now and with good reason. It's highly intuitive, has great UI/UX, and features over 8000 cryptocurrencies. Interestingly, it also has a messaging feature that lets teams connect with their communities directly. Messaging, in general, is a big part of Blockfolio's repertoire, as it allows integration with multiple messaging apps as well.
Zerion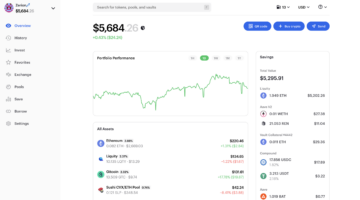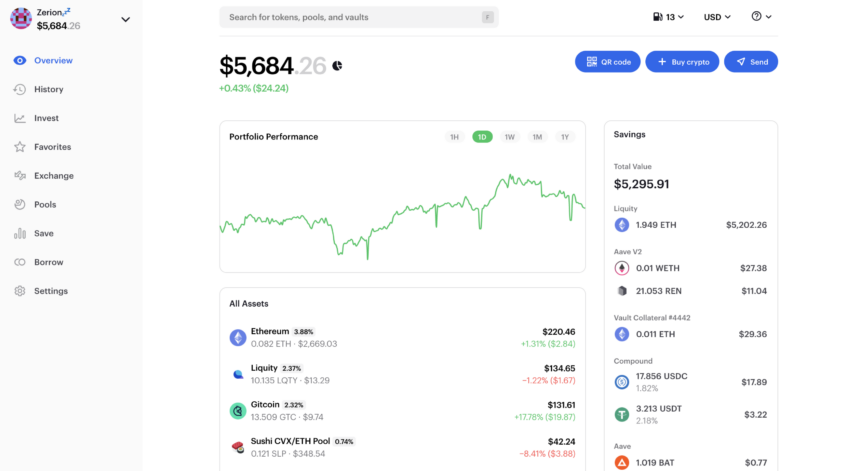 Zerion
lets you manage and grow your entire DeFi portfolio from one location. The platform features such tools and products as DeFi indexes and DeFi blue chips. The interface is sleek and intuitive, and the fact that you can manage everything from your pools to NFTs is a real boon. Zerion also aggregates all major decentralized exchanges and Layer 2 blockchains, with no commission. As of Jun. 2021, it features over 200,000 monthly active users and supports thousands of DeFi protocols. This is an excellent place to handle all of your DeFi needs.
Blox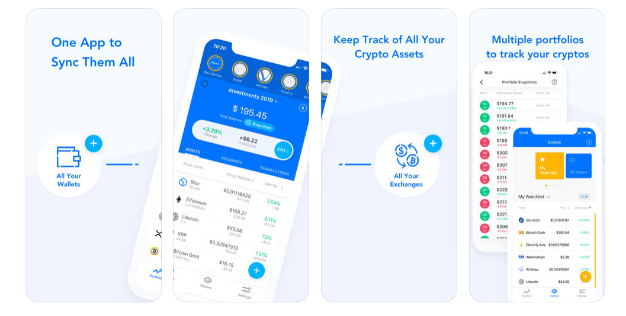 While not as well known as Blockfolio,
Blox
is another portfolio tracking app that has been well received. Used for accounting, tracking, and management, it aims at enterprise players with such features as CPA financial tools and bookkeeping and transaction control. It can also be used by miners. This is a slightly more advanced tool, but the veteran investor can probably gain a lot out of this.
News Aggregators
Cryptopanic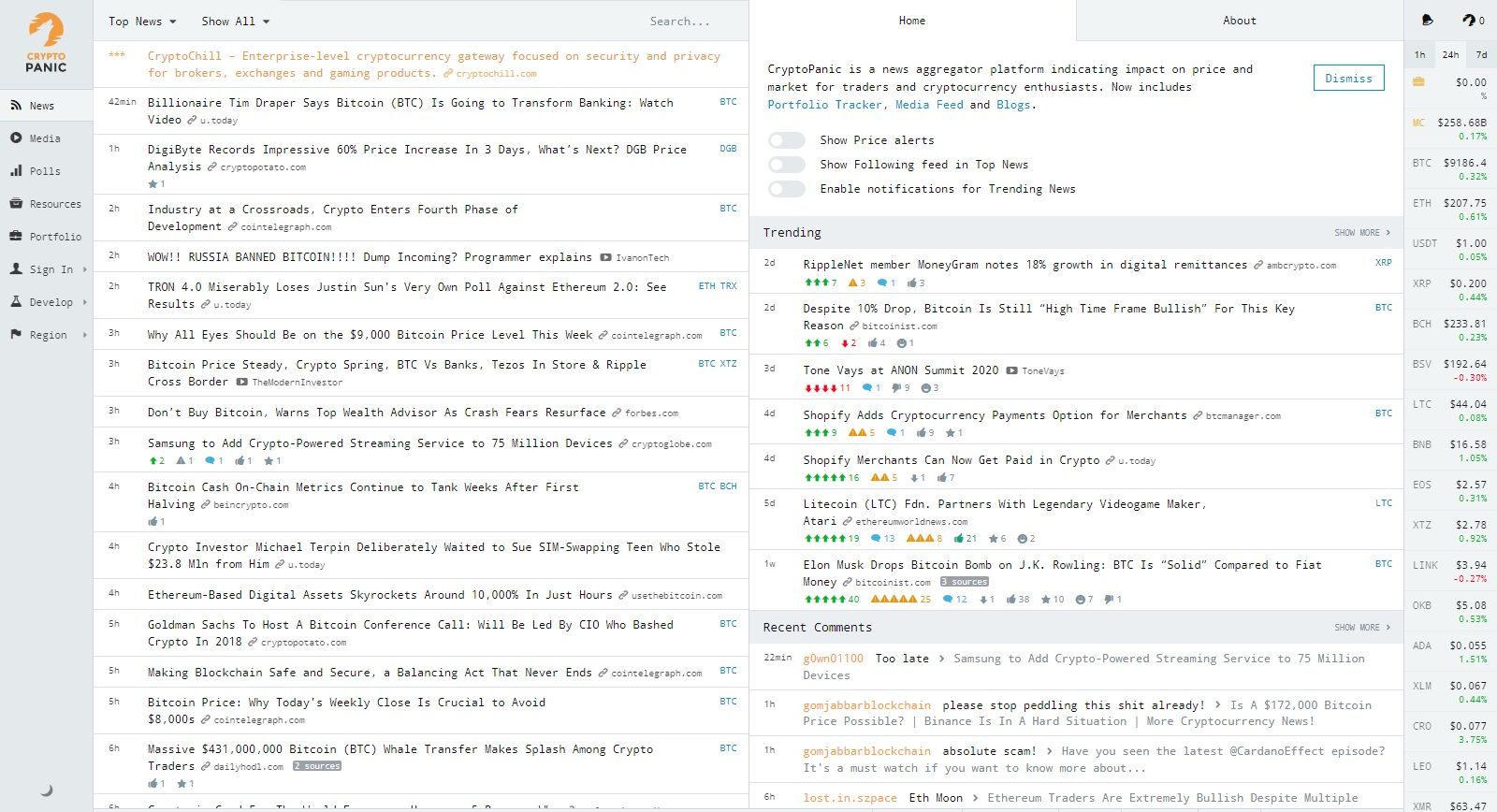 CryptoPanic
is a simple and straightforward news aggregator that also pulls in the latest tweets. For an early day catch up on all the latest that has happened, Cryptopanic is the perfect no-frills solution. News can be sorted by a variety of factors, like the most discussed or the most read. It can be customized and features a portfolio tracker and polls.
FAWS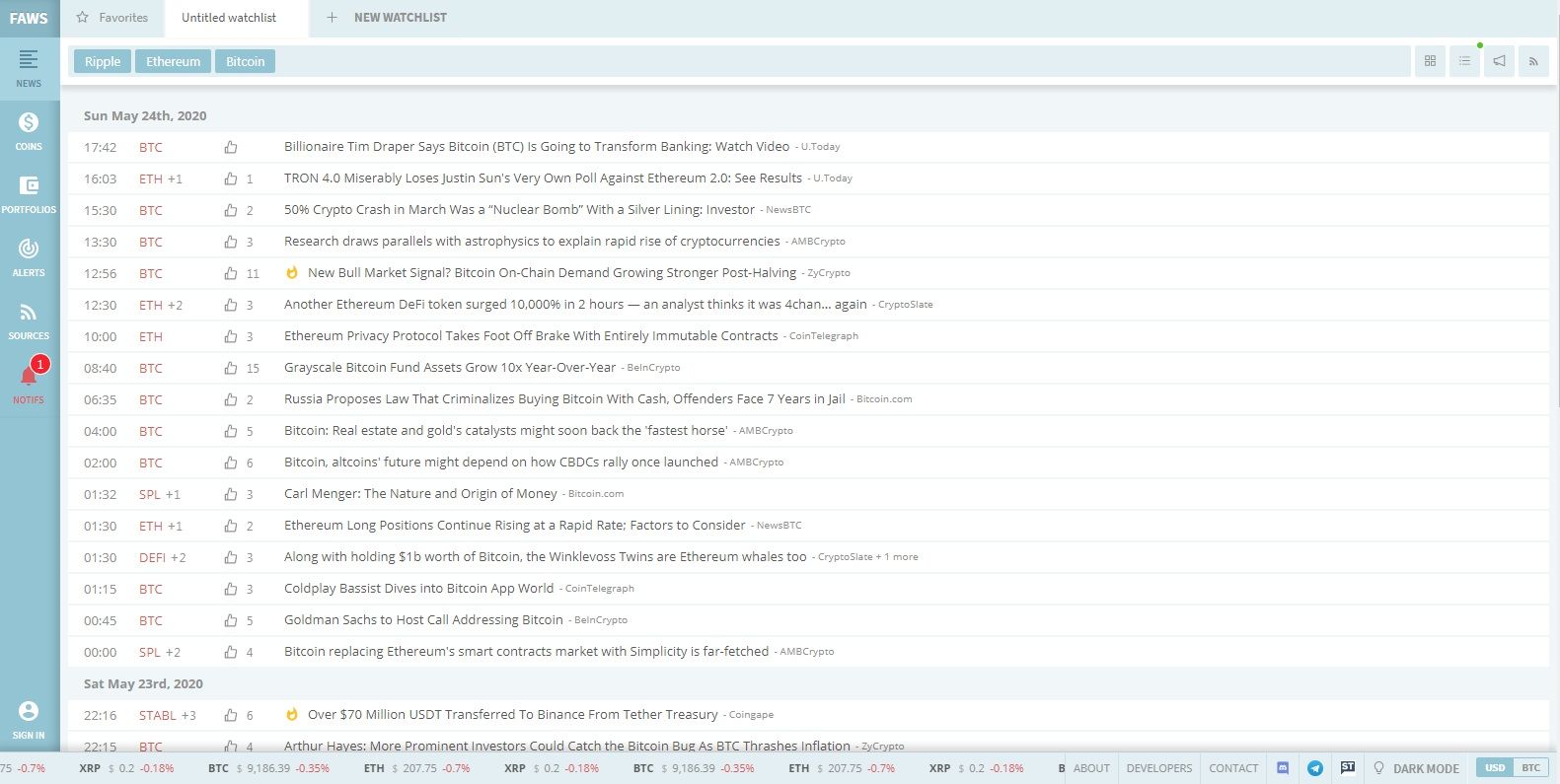 FAWS
offers a slightly more sleep presentation compared to Cryptopanic, but keeps the minimalist aesthetic. It also categorizes stories by tags, like Defi or Bitcoin.
Block Explorers
Block explorers also form an indispensable part of the cryptocurrency analysis tool kit, as they let you see the most fundamental of information – who is moving money where, for example.
Blockchain.com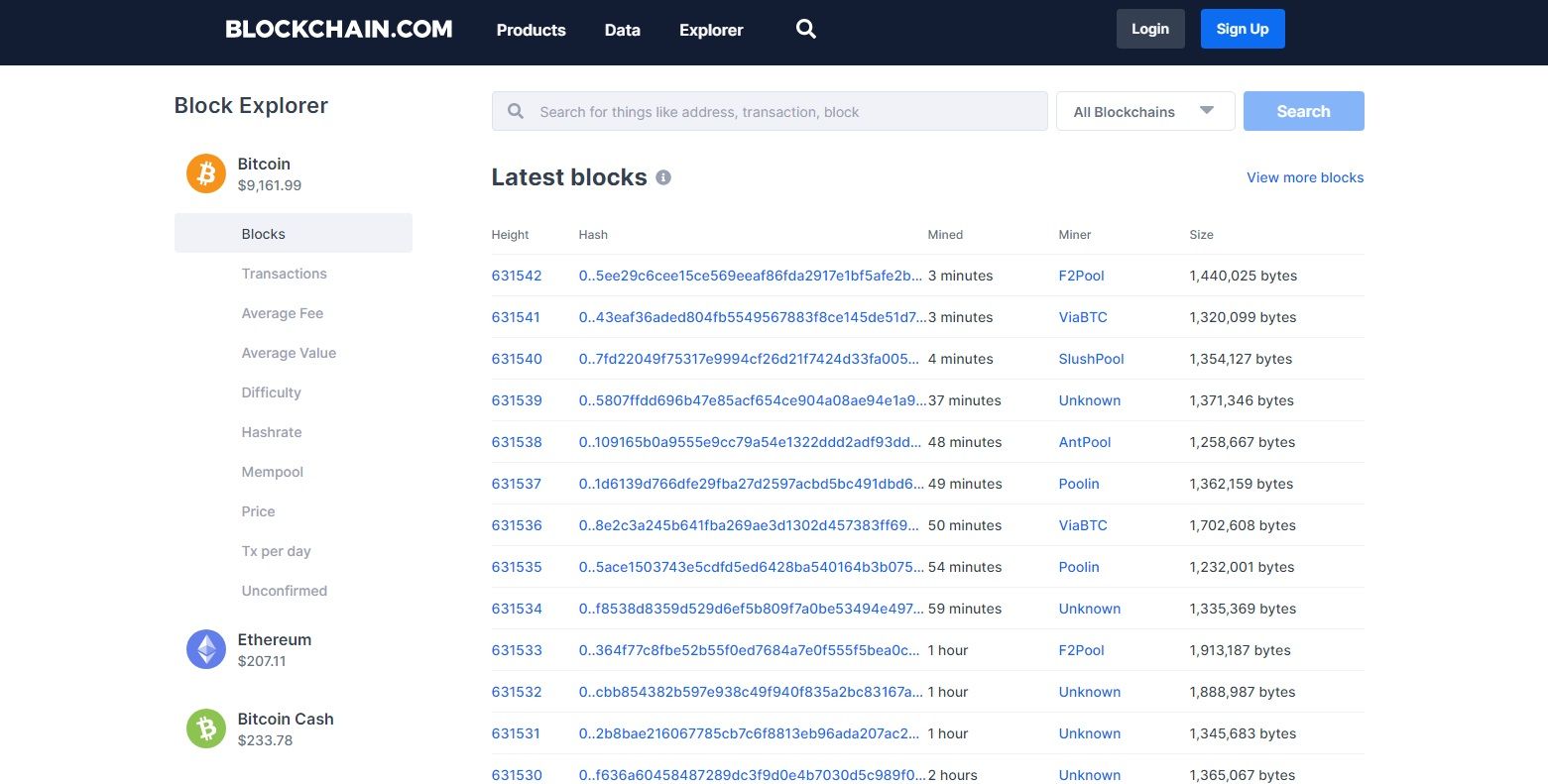 Blockchain.com offers some of the most explored
block explorers
. There are many other options, of course, but this one is a popular choice and provides explorers for Bitcoin,
Ethereum
, and
Bitcoin Cash
(BCH). It also allows registered users to invest and trade in assets.
Blockchair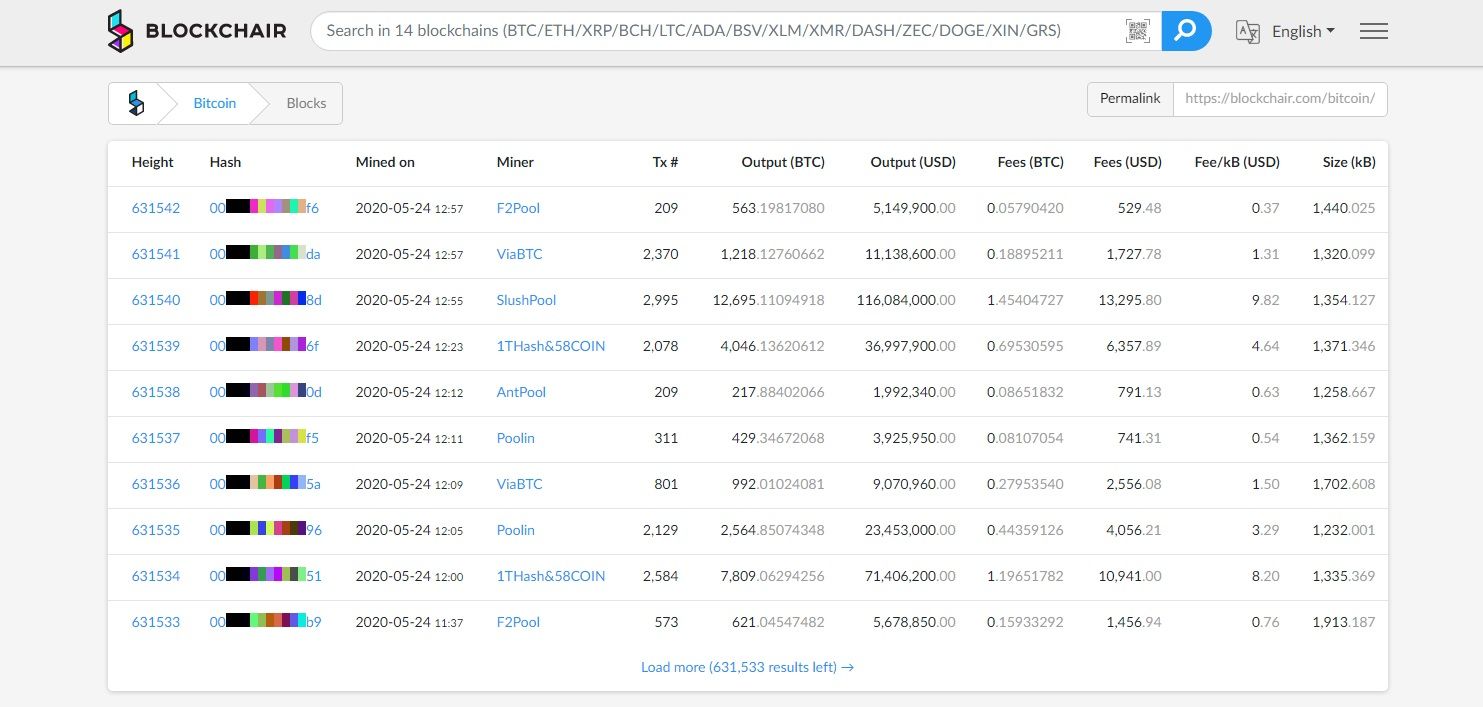 Not many differences in function from Blockchain.com,
Blockchair
, however, provides access to many more cryptocurrencies, including
Litecoin
.
Mining Tools
NiceHash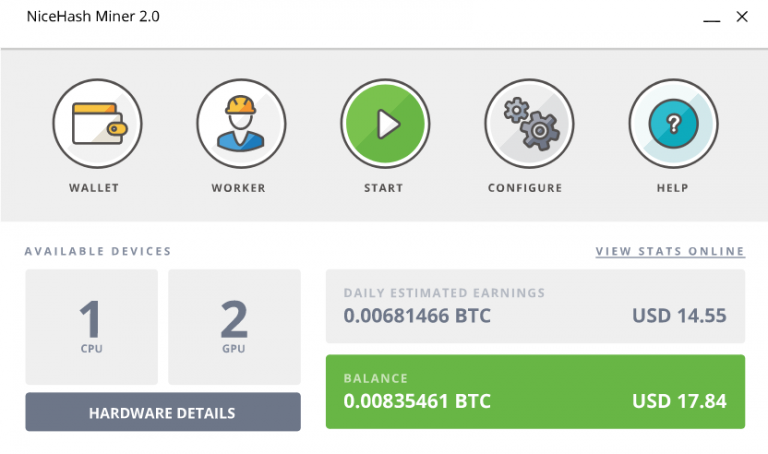 NiceHash
is a
cloud mining
company that lets you mine assets without needing your own hardware. NiceHash is one of the more well known of such companies and is a reliable place to go for this purpose. There is a wide selection of blockchains to choose from.


WhatToMine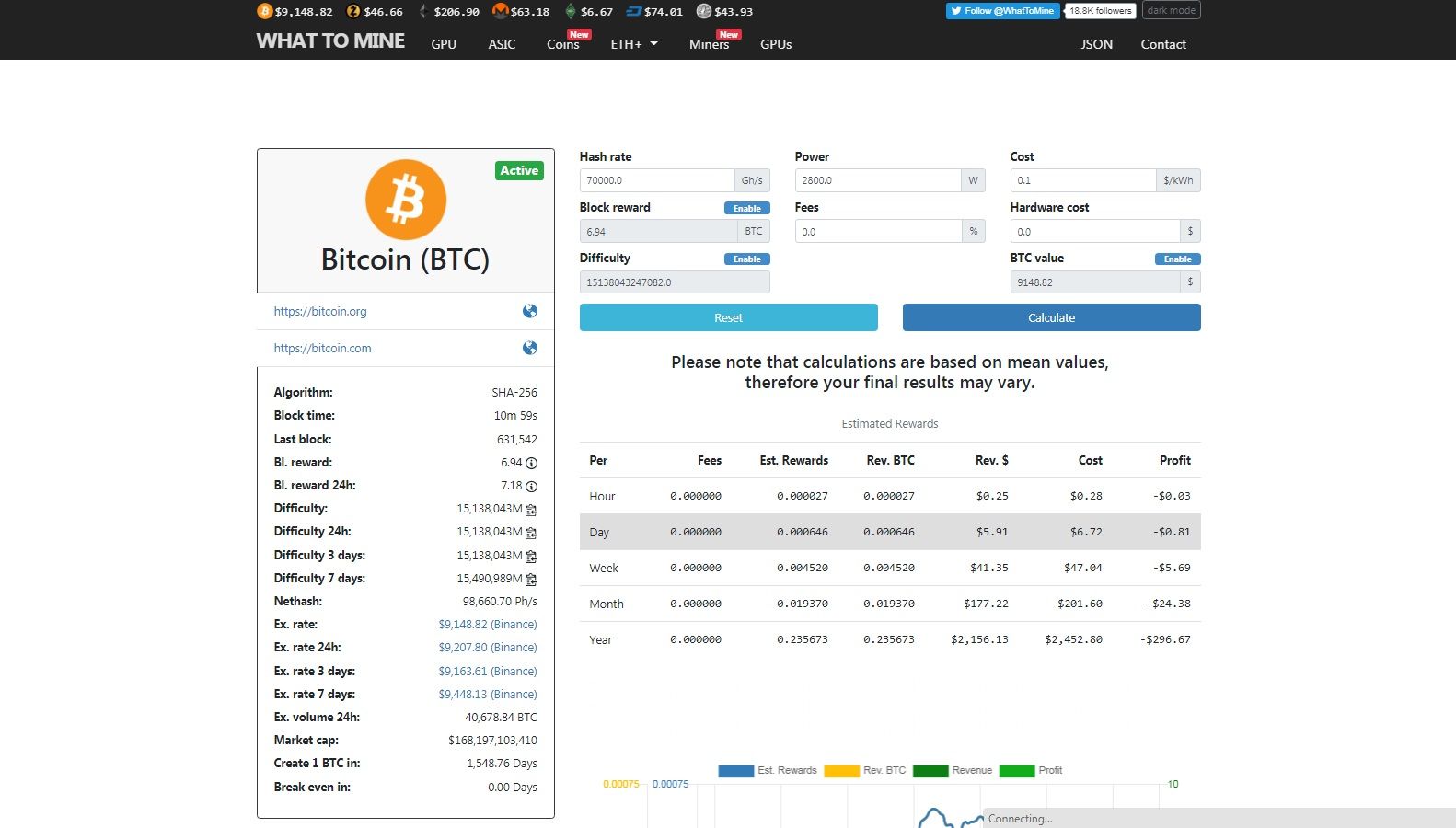 WhatToMine
provides a straightforward but highly useful service: it calculates the mining profitability of different cryptocurrencies adjustable to your hardware and electricity cost. This is something that will only be used by the enthusiast, but it gives you a sense of where to start if you want to mine.
Calendars
Coinmarketcal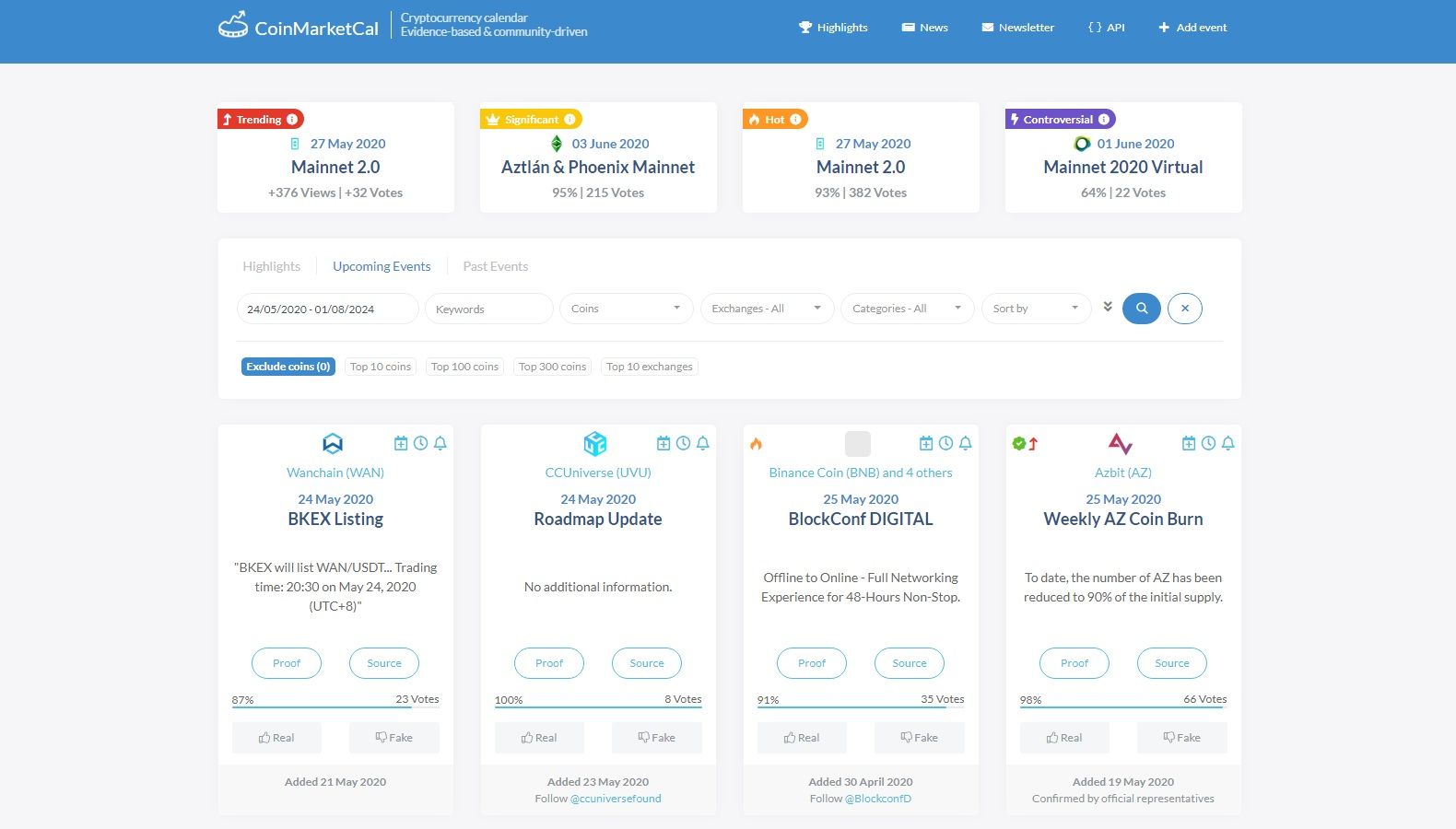 Coinmarketcal
is the coinmarketcap of all of the things that are happening in the cryptocurrency industry. Coin listings, roadmap updates, mainnet releases, website updates – all of these are dated on Coinmarketcal. Given that the market is so influenced by the news, this is an invaluable tool for the trader.
Network Statistics
CryptoMiso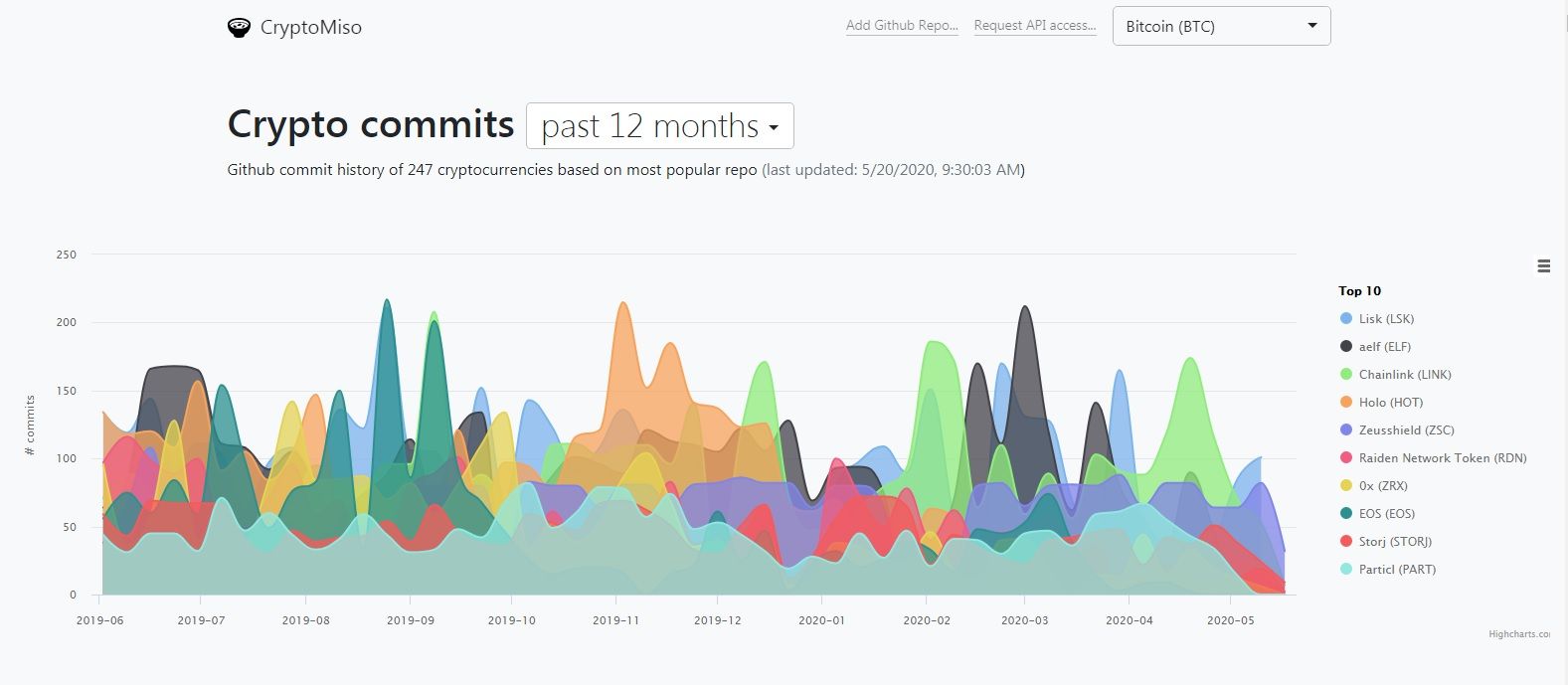 CryptoMiso
ranks cryptocurrency projects based on their development activity. For example, you can check which project has been the most active in the past year. This is important, given that cryptocurrency projects are tech products whose milestones can be charted out to indicate progression.
BitInfoCharts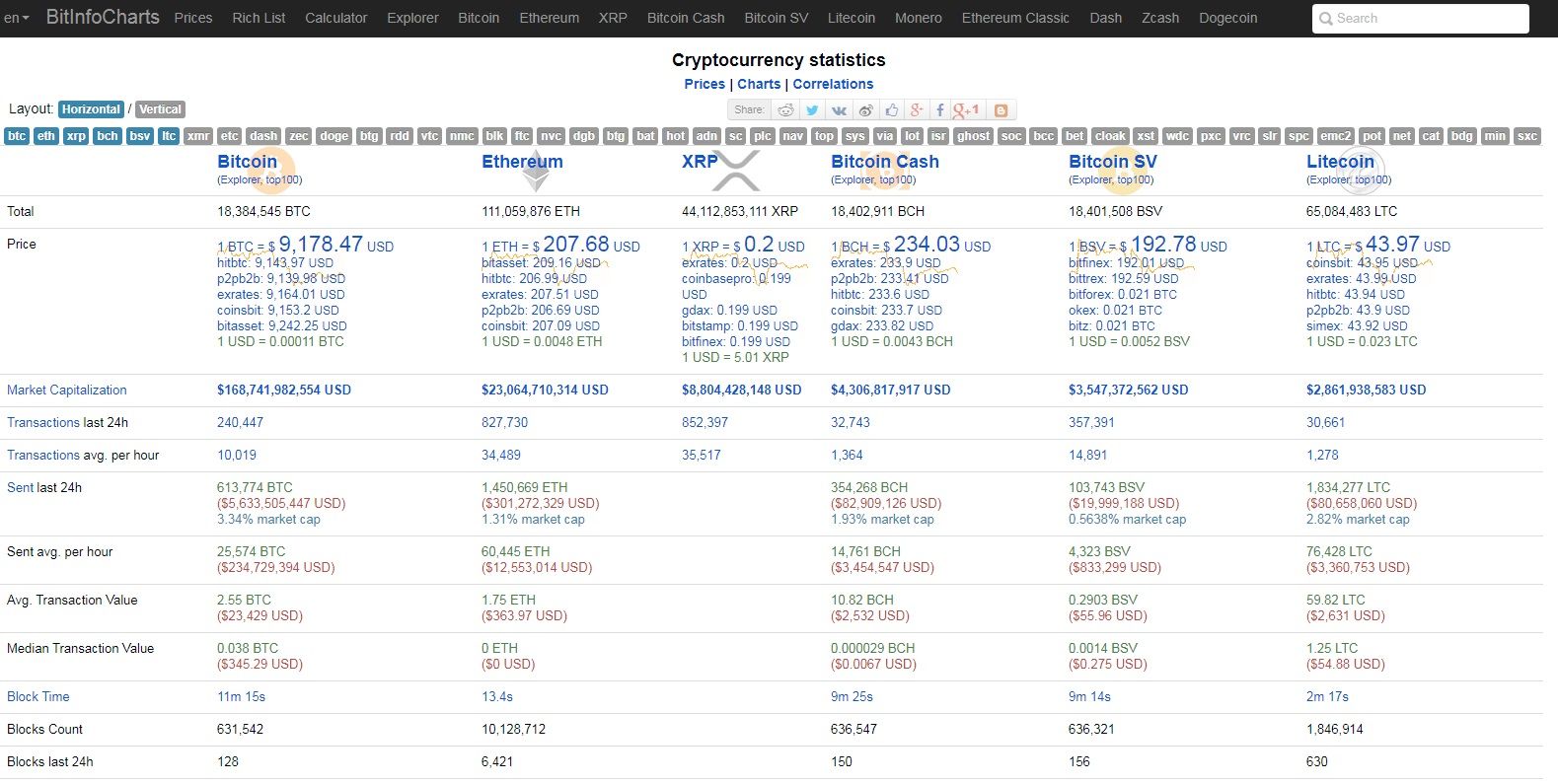 BitInfoCharts
provides a variety of information on various blockchain networks, including the average number of transactions per hour, average transaction value, and tweets per day. It's a useful meta-data provider about the blockchain space.
Transaction Tracker
Whale Alert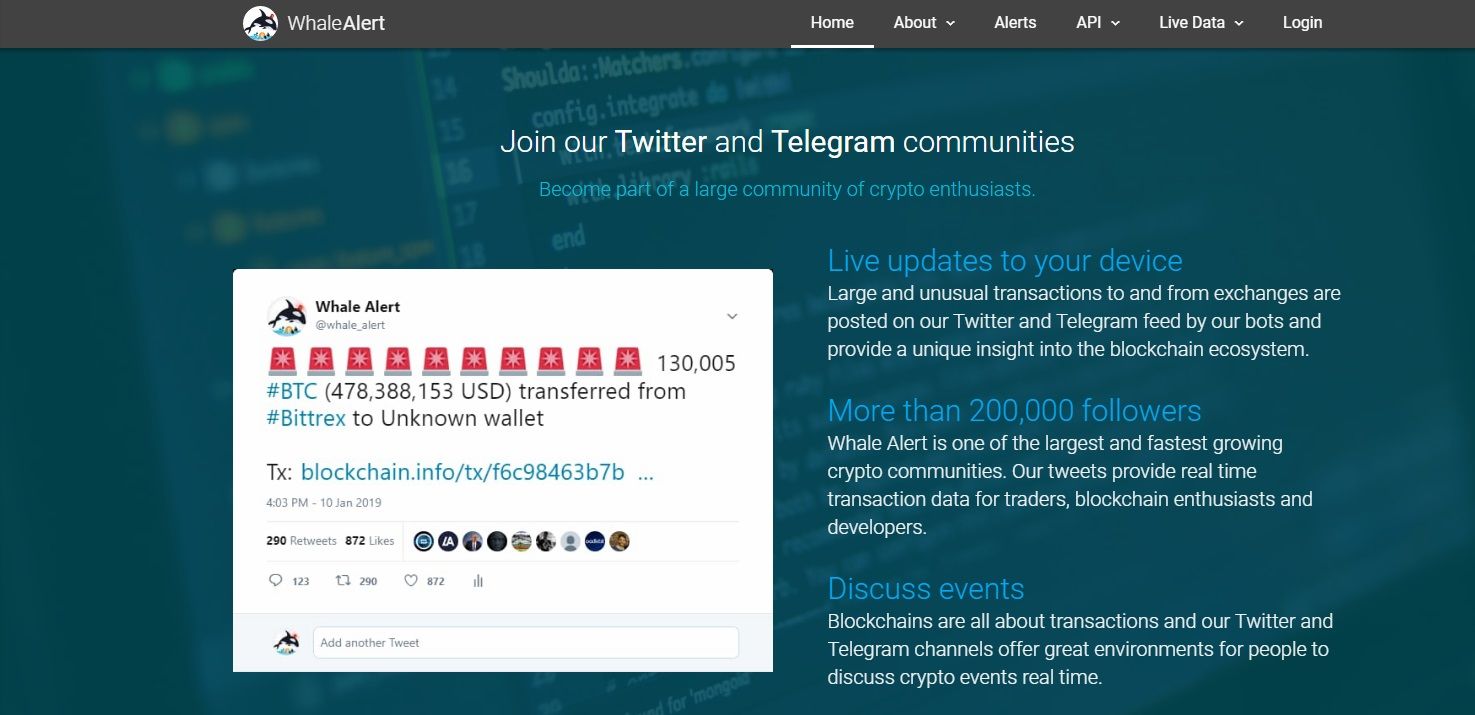 Whale Alert
is a Twitter-based service that announces whenever a large transaction has been made – on many kinds of blockchains. This has proven to be a very useful service, with many high-volume tradings from even project creators being announced – sometimes telling the community where a project may be going.
Miscellaneous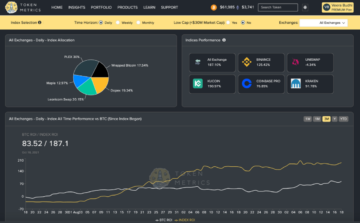 Token Metrics
is a cryptocurrency data, research, and ratings company that offers several products that can help your investing approach. You'll find analyses, news, and trading ideas on the platform, which is easy to navigate. The analytics dashboard goes over 80 data points to form conclusions on the long-term and short-term profitability of crypto assets, and AI models also make this process more accurate. It also offers quant grades to evaluate individual assets. Token Metrics is good for new crypto investors thanks to its beginner-friendly experience. The platform offers four different plans, running from $20 to $749 per month.
Reddit/Twitter/Telegram
While these may not seem like "tools" in the regular sense, the wise trader and investor will know that, in the cryptocurrency world, social media platforms reign supreme. It has demonstrably shown to be a factor in affecting price movement, besides the fact that news often first breaks on one of these platforms. If you're going to be investing more, you'll have to keep yourself updated with all of the news from these platforms.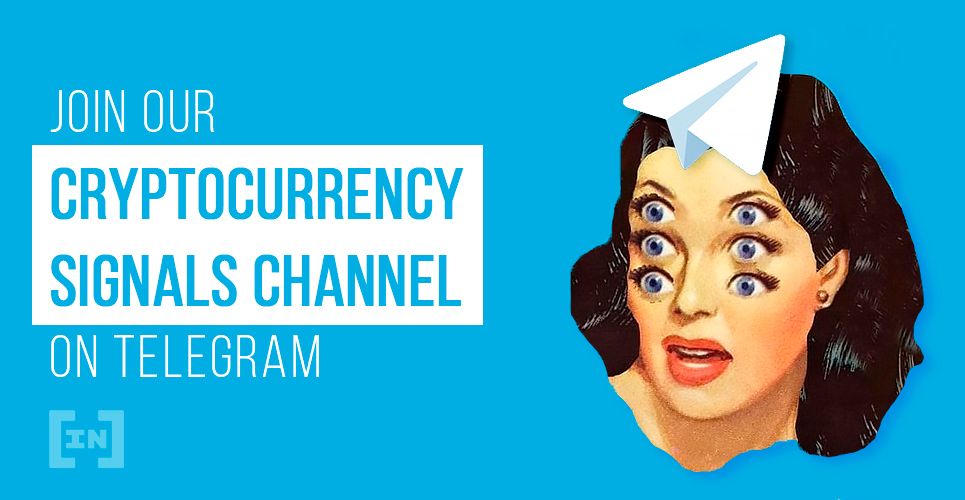 Cryptocurrency tools can make investing much easier
These are by no means an exhaustive list of tools – but they are fantastic for getting you off the ground and running. With cryptocurrencies having a broader appeal with new applications, it's important that the market be as accessible as possible to support new investors. Furthermore, with governments introducing new regulation and taxation, it's necessary that investors — both old and new — stay on top by using tools that streamline processes. From 2022 onwards, you won't want to risk miscalculating your profit and misreporting data on your tax forms. These tools can help you stay on top of your crypto investments.
Disclaimer
All the information contained on our website is published in good faith and for general information purposes only. Any action the reader takes upon the information found on our website is strictly at their own risk.
At Learn, our priority is to provide high quality information. We take our time to identify, research and create educative content that is useful to our readers.
To maintain this standard and to continue creating awesome content, our partners might reward us with a commission for placements in our articles. However, these commissions don't affect our processes for creating unbiased, honest and helpful content.