Ethereum is a growing asset, with users investing in it all of the time. If you're new to the cryptocurrency space, you might find it a bit overwhelming to get involved in investing. This guide is here to help. Read on to learn how to buy Ethereum – even if you're a complete beginner!
1. Sign Up for an Exchange
To start, you'll have to sign up for a cryptocurrency exchange like StormGain, Coinbase, or Binance. Doing so simply requires you to create an account with your email address and a password. Then, you'll want to verify your identity based on the exchange's policies.
We'll use StormGain as the sample platform here.
Start by clicking "Get started" to sign up for an account on StormGain.
2. You'll have to create an account with your email and phone number. Input that information and a password as well. There's also the option to log in with an Apple or Google account to save some time. You'll then have to verify your email and phone number before you can start to deposit.
3. Once all of that is done, you can now learn how to buy Ethereum on StormGain. Note that the platform will ask if you want to practice trading on a demo account, or move to your real one instead.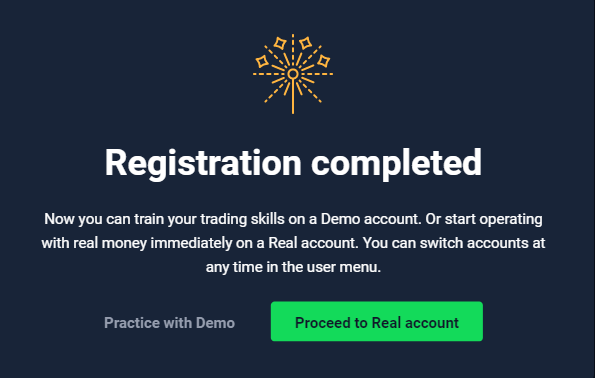 2. Enter a Payment Method
Now that you're signed up for the exchange, you must log-in and enter a payment method. Most exchanges support your debit/credit card or linking a bank account. Whichever way you prefer, enter the information into StormGain by clicking "Deposit" on the top right.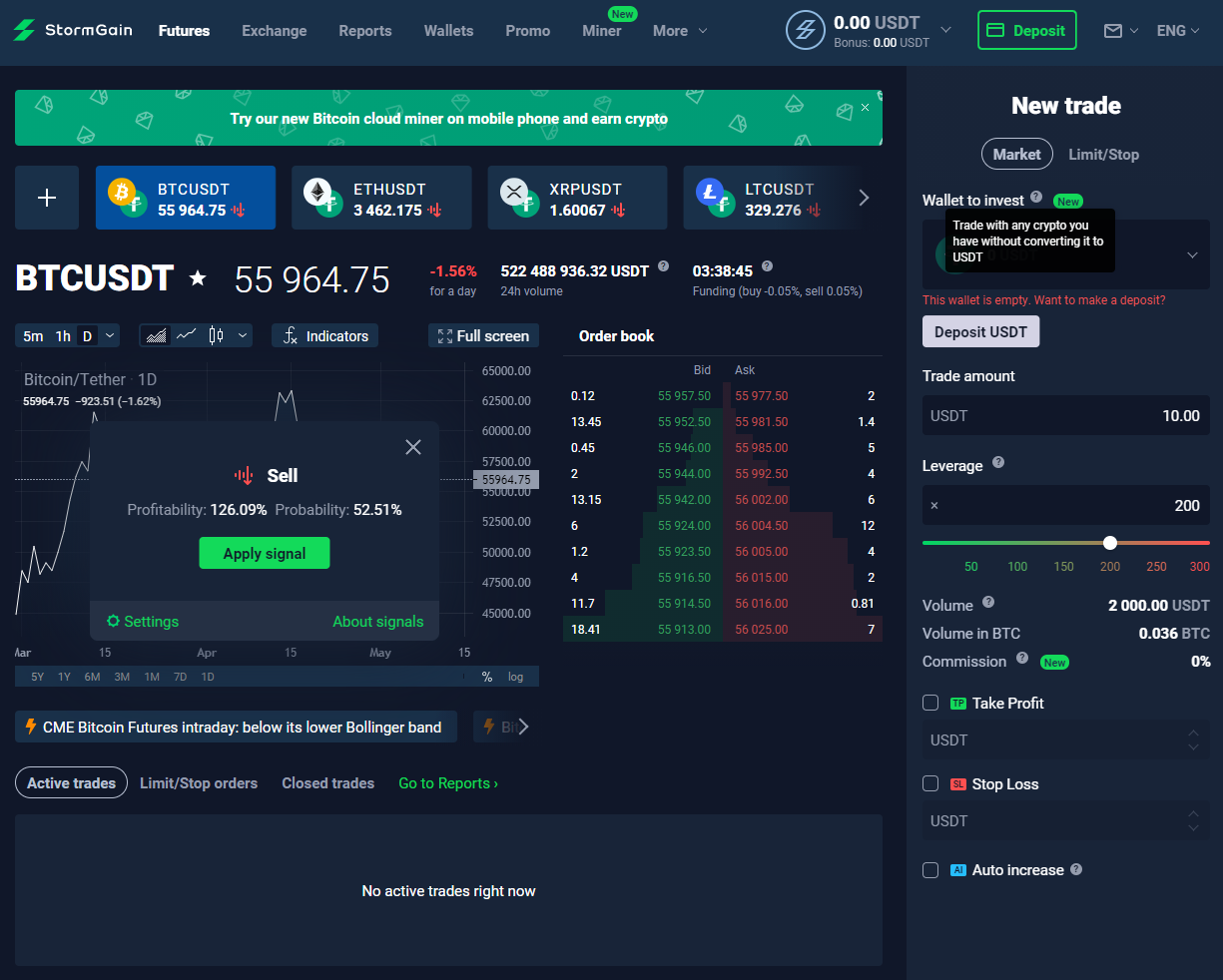 2. You'll be given the option to add a bank account to transfer which doesn't have any fees. Otherwise, there's a Koinal or Simplex option for using a debit/credit card. This costs a 4% or a 3.5% fee, respectively. Don't forget to choose "Ethereum" via the StormGain Wallet tab.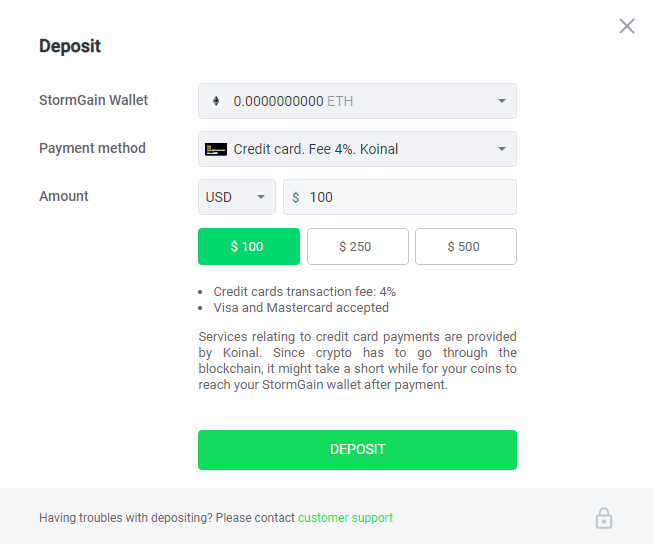 3. Select your currency type and amount. The platform offers you a few recommended intervals, or you can input a custom dollar amount. Upon clicking deposit, you'll have to fill out your card or bank information and you're set!
Now, you've just bought Ethereum.
3. How to Buy Ethereum With Crypto
As you get more involved with cryptocurrencies, you'll want to know how to buy Ethereum with other cryptocurrencies, such as Tether or Bitcoin. To do so, you'll want to deposit cryptocurrencies into your StormGain wallet. Go to "Deposit" on the top right like before.
Select Ethereum on the pop-up page, and then choose Ethereum as a payment method.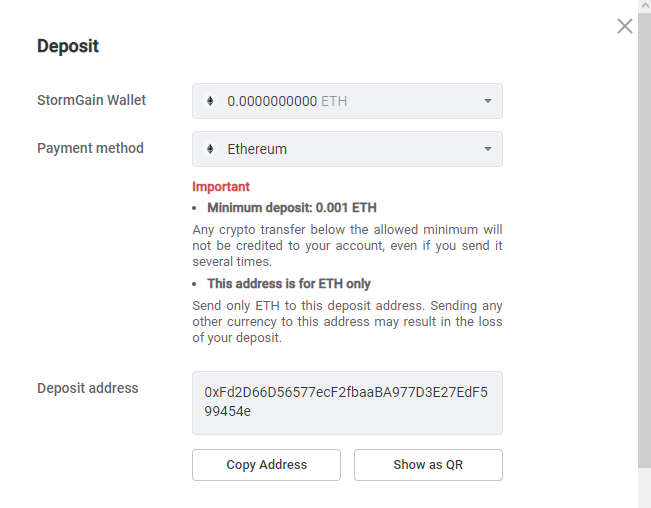 3. From here, select the deposit address shown at the bottom and input it into the wallet you're sending from. Wait for the transaction to complete, and it should show up in your StormGain wallet.
4. Now that the assets are in your wallet, select "Exchange" on the top left of the main page.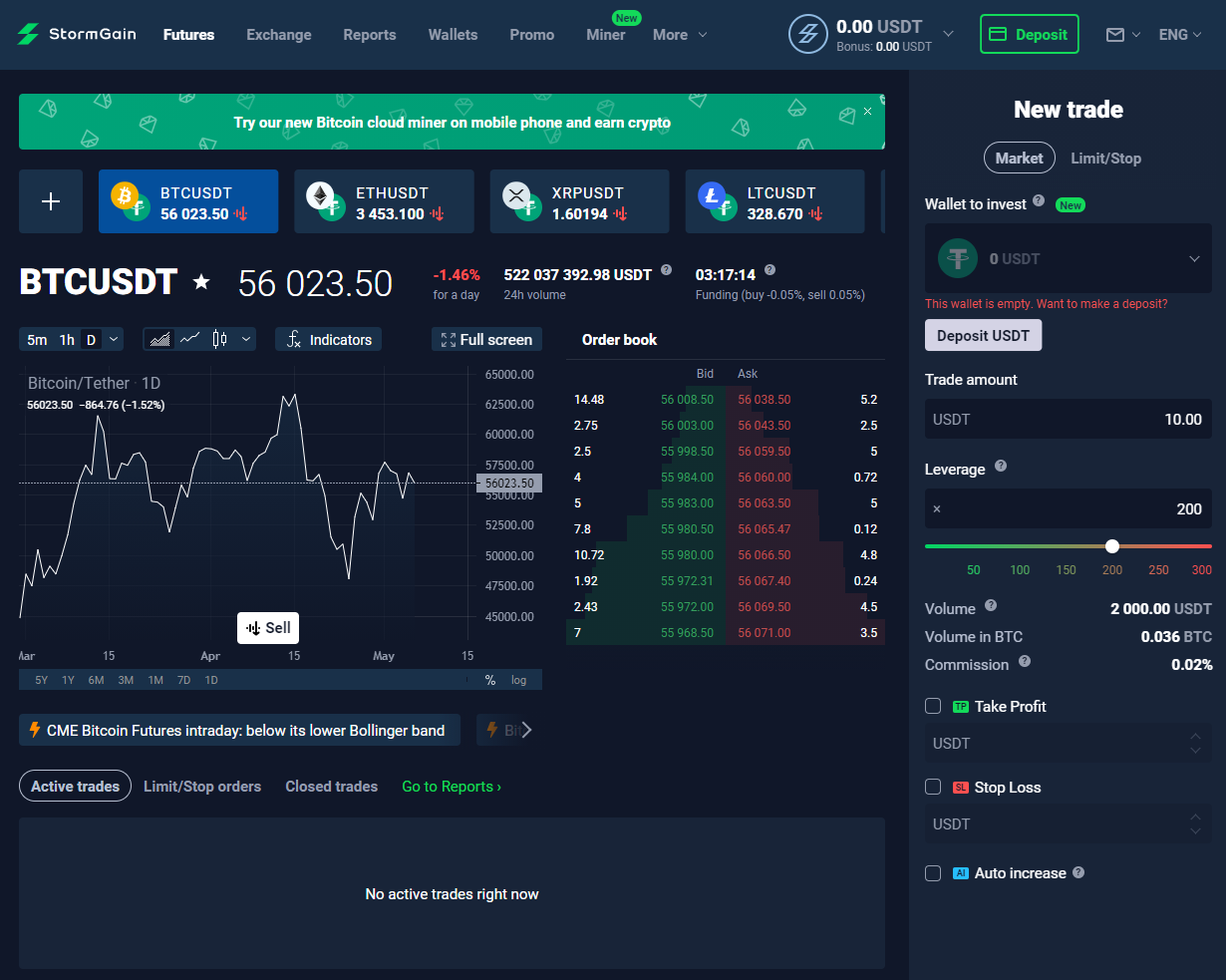 5. There are two options, here: "Fast Exchange" and "Advanced." Let's discuss Fast Exchange first.
6. Fast Exchange allows you to choose a wallet with assets you hold, and convert it to another asset with the click of a button. If you have Bitcoin or another asset in your StormGain wallet, choose it in the "From Wallet" section. Then click "Ethereum" on the "To Wallet" side. This will convert an asset to Ethereum.
7. Now for the "Advanced" tab. Here you can make market or limit/stop orders. A market order has you buying Ethereum at its current price. You can convert any cryptocurrencies to Ethereum here by inputting the amount you'd like to convert.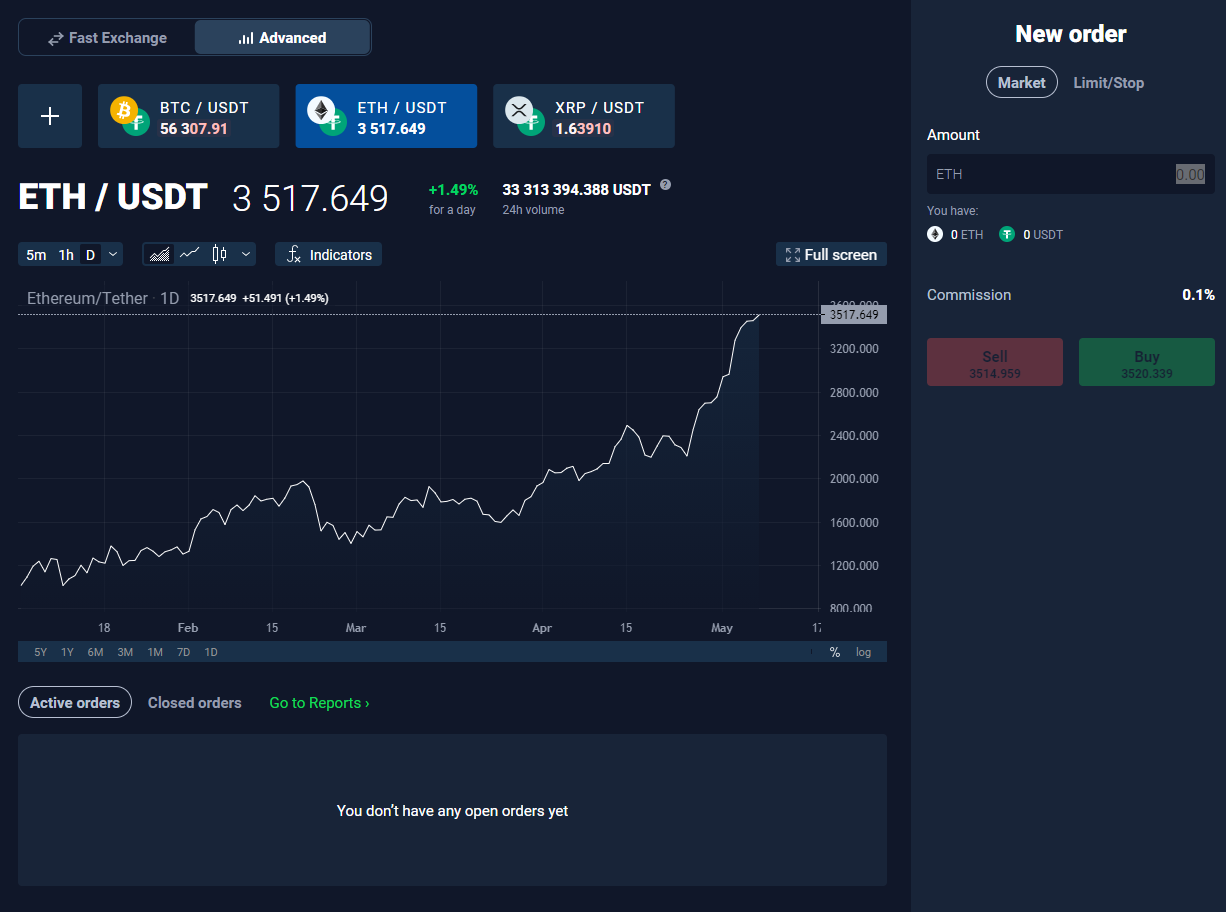 8. A limit/stop order has you setting a price point to automatically sell or buy Ethereum. For example, if Ethereum is at $5,000, but you'd prefer to wait until $4,500 to buy, you can set an order to automatically buy at that price point. The same applies to selling your assets. This is a great way to prevent losses and buy low, especially if you're not paying attention to the market at all times.
How Much Does it Cost to Buy Ethereum?
Traders that know how to buy Ethereum, may wonder how much does it cost to buy Eth? What's interesting is that you can purchase any amount of Ethereum you'd prefer.
It's possible to invest in Ethereum at just $5 to start. That, or you can put in weekly or even daily investments as your budget allows. There's no limit, here. You can start wherever you'd like.
Can Ethereum Reach $10,000?
The short answer is yes, Ethereum can reach $10,000. The applications of such a platform are huge, thanks to its support for decentralized finance. This basically means that any traditional financial application – like loaning or storing money – can take place on a blockchain without the need for an intermediary.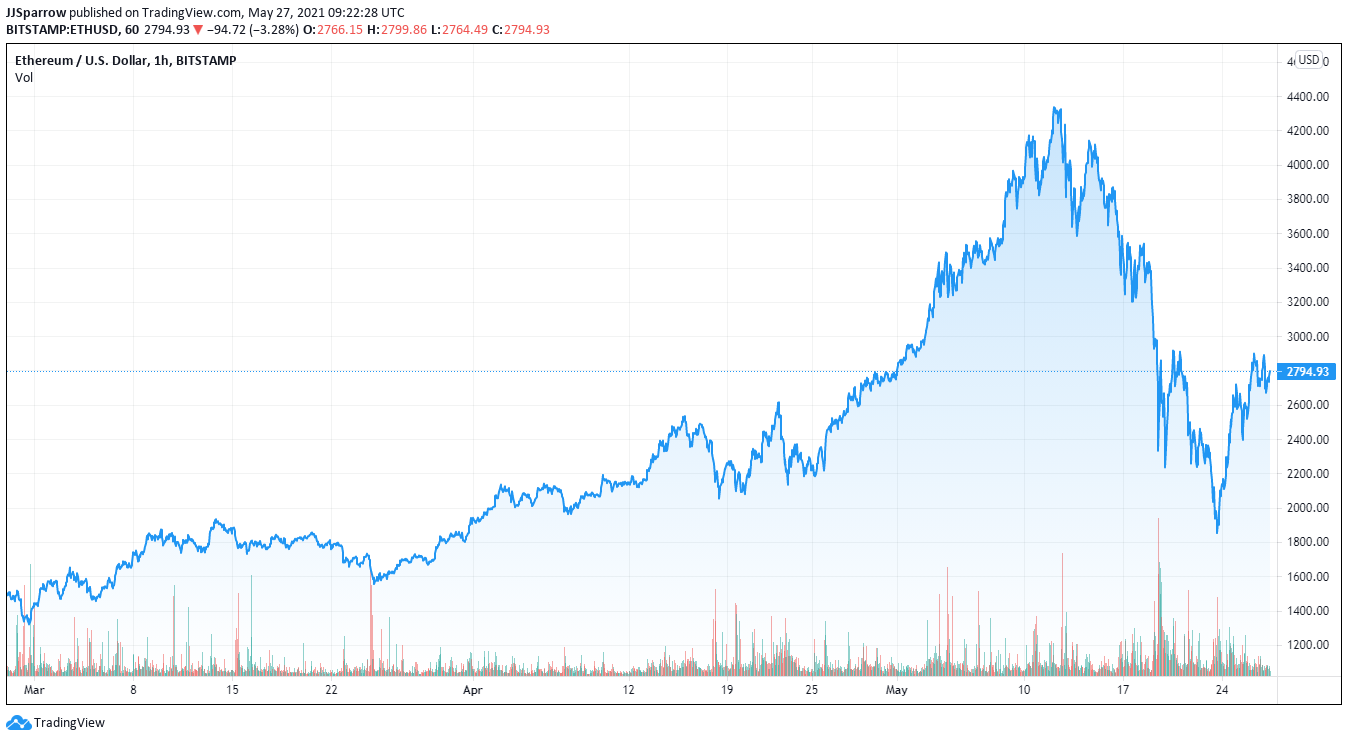 That's significant, as it can save users both time and money. Not only this, but their financial activities can reach all around the world, and settle instantly in some cases. For those that already know how to buy Ethereum, this is a windfall opportunity.
Then we have non-fungible tokens (NFTs). NFTs are unique assets on a blockchain network, represented by a one-of-a-kind token, often used for collectibles. For example, NBA Topshot is an Ethereum-based platform for trading card fans. Instead of simple trading cards, however, users can collect highlights of their favorite NBA moments.
These highlights are each represented by an NFT, and only so many of each exist. A lower-level play might have 100 copies to collect, while a super-rare slam dunk could have 10. That rarity means prices increase, and some users will pay tens of thousands to acquire them.
Such a use case, among the platform's various others, is leading many to believe Ethereum will reach $10,000. The asset has recently broken $3,000 and seems to show no signs of stopping. As more users learn how to invest in Ethereum and get involved in the platform, we're bound to see that value increase even more.
What is the Minimum Amount to Invest in Ethereum?
Most platforms don't have a minimum amount required to buy Ethereum. Instead, since you can buy fractional amounts of the asset, you can really spend any amount you'd like. Some investors put in thousands of dollars, while others simply buy Ethereum at much lower denominations.
How Can I Buy Ethereum Now?
You can by Ethereum now, by simply following these steps and applying them to any cryptocurrency exchange. All that's required is a valid payment method and a place to store it. Congratulations on learning how to buy Ethereum. Good luck trading!
< Previous In Series | How to buy Cryptocurrency & NFTs | Next In Series >
Frequently Asked Questions
Where can you buy Ethereum?
Is Ethereum proof of work?
Can you buy ethereum with other cryptocurrencies?
Disclaimer
In line with the Trust Project guidelines, the educational content on this website is offered in good faith and for general information purposes only. BeInCrypto prioritizes providing high-quality information, taking the time to research and create informative content for readers. While partners may reward the company with commissions for placements in articles, these commissions do not influence the unbiased, honest, and helpful content creation process. Any action taken by the reader based on this information is strictly at their own risk.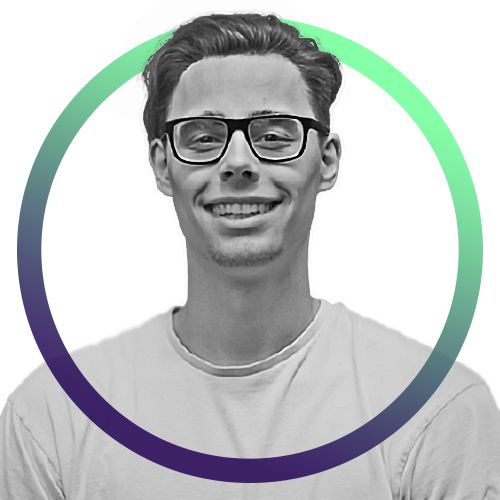 Max is a cryptocurrency journalist with an affinity for games and emerging technology. After leaving school to start a writing career, he wrote his first article on blockchain and...
Max is a cryptocurrency journalist with an affinity for games and emerging technology. After leaving school to start a writing career, he wrote his first article on blockchain and...
READ FULL BIO
Sponsored Sponsored