Staking ethereum is a good method to profit from one of the world's most popular cryptocurrencies. It is also a sound way to support the network and the ecosystem growing around it. However, staking ethereum requires either technical knowledge or — more likely — an informed opinion about the platforms that offer assistance.
Is the switch from a mining model to a staking model something you should be concerned with? Can you still earn a profit from staking ethereum in 2022? In our detailed guide, we will look at the best platforms that cater to ethereum staking.
What is ethereum staking?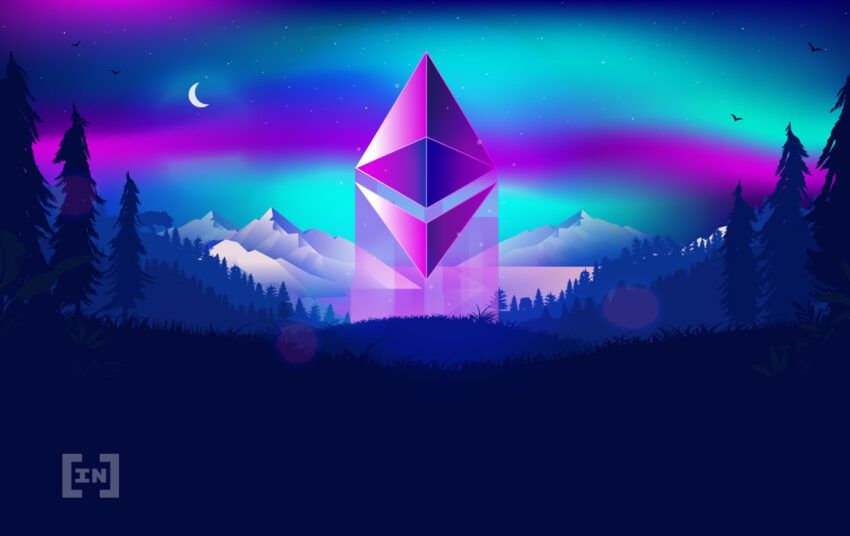 Ethereum is one of the most valuable and popular coins in the crypto market. Although this currency can be bought and sold on many platforms, staking is only worthwhile in certain conditions.
Overburdening the Ethereum (ETH) network has caused transaction costs to soar to prohibitive levels in most cases. Ethereum 2.0 (or ETH2) is a multiphased upgrade. It aims to increase the security and scalability of the network by significantly making infrastructure modifications. This includes switching from a proof-of-work (PoW) to a consensus proof-of-stake (PoS) model.
Ethereum currently handles 15 transactions per second. This is a slow speed in comparison to traditional financial transactions. The Ethereum blockchain will soon be able to process 100,000 transactions per second using PoS. This will significantly expand the range of applications and projects that can be built on it.
ETH 2.0
Ethereum 2.0 — also known as "Eth2" or "Serenity" — is an upgrade to Ethereum's blockchain. This upgrade is intended to improve the speed, efficiency, and scalability of the Ethereum network. The goal is to process more transactions and reduce bottlenecks. Essentially, it's a move to make the blockchain more efficient.
Ethereum investors who decide to secure their assets will help ensure the security and governance of the network. A "validator" or "Ethereum Staker" is someone depositing ETH. They are responsible for processing transactions as well as adding new blocks to the blockchain. This person receives a staking reward for their effort. As a strategy similar to Bitcoin mining or lending to earn passive cryptocurrency, ethereum staking can be used to earn passive income.
Top 7 platforms to stake Ethereum
Rocket Pool is an Ethereum 2.0 stake pool. This protocol lowers both capital and hardware requirements to stake on ETH 2.0. It also adds to the security and decentralization of Ethereum as a network.
The protocol's main purpose is to serve both people who wish to stake and those who would like to run their own nodes. The platform provides infrastructure and liquidity for quick withdrawals and low staking requirements. RPL token is the protocol's monetary and governance token.
David Rugendyke established Rocket Pool in 2016. It became apparent that Ethereum would shift from a PoW to PoS consensus mechanism.
Rocket Pool relies on smart contracts to ensure a trustless, permissionless structure. Furthermore, the network's DAO allows for decentralized governance that is managed by its users. The unique network DAO connects the main ETH1 framework to beacon chains. This allows those with limited financial resources to reap the staking benefits and increase their ROIs.
Block rewards are not guaranteed on ETH1 until a new block is found. Validators on the ETH2 network use a clear schedule. The ETH2 network retains the rewards earned by validators. There is no way to return them to the ETH1 network, so they can use them however they wish. They will continue to reap the rewards until the ETH1 network and ETH2 networks merge, and you can withdraw your funds.
Rewards distribution
To earn rewards with Rocketpool, users can deposit as low as 0.01 ETH. Upon trading ETH, users receive rETH. This token offers rewards over time based on how decentralized node operators perform. The token can be traded, lent, or used as collateral.
Rocket Pool nodes require only 16 ETH per validator, unlike solo stakers who must stake 32 ETH. The 16 ETH is then added to the staking pool. This is known as a mini pool. The Beacon chains recognize them as regular validators when they are together. Rocket Pool's smart contracts for the ETH1 chain handle all the withdrawals, rewards, and delegation. This makes them fully decentralized.
You get an ETH token in exchange for staking it. You will receive 10 rETH if you deposit 10 Ethereum on Rocket Pool. Your exchange value will increase as the Beacon chain balance increases over time due to validator rewards.
rETH is a liquid, yield-bearing ERC-20 token that represents 1 staked ETH. Users can do whatever they like with their rETH as long as ETH assets remain staked to Rocket Pool node operators. This allows you to interact with other DeFi protocols.
What you should know
Rocket Pool is one of the very first decentralized Ethereum staking platforms. Funds are kept safe from the node operators by using audited smart contracts that are open-sourced and audited. Investors can trade amounts of Ethereum for Rocketpool's rETH tokens. The amount of Ether staked in these pools are represented by the rETH token. It can accrue value over time.
Rocket Pool instantly provides users their rETH token upon depositing. This tokenized staking deposit earns rewards over time and does not need to be stored up. Users can trade, sell or keep it at any time to provide liquidity for our users.
RPL is the primary protocol token and will be used for governance of the protocol. It can also be staked on Rocket Pool nodes as insurance. It is available on the likes of Uniswap, CoinEx, or Bvnex.
Lido is an Ethereum-based liquid staking platform that allows users to stake as much Ethereum as they wish. It does not lock funds. It's important to remember that Lido is not an exchange in the classic sense.
In recent years, ETH holders have been reluctant to stake their tokens. Only 8% of eligible tokens are staked so far. Ethereum must still encourage staking in order to complete the transition from PoS to a secure network. This incentive gap created an opportunity for liquid staking providers such as Lido.
Recent estimates have shown that Lido holds over 80% market share for Ethereum liquid staking. Lido's growth was 15,000% in 2021. It's an encouraging sign concerning the public's willingness to stake Ethereum.
Rewards distribution
Lido also operates as a DAO. Deposited ETH is distributed among industry-leading, reputable node operators who are members of the DAO. Users will receive staked ETH (ERC20 token) when they stake via Lidos's pool. This represents their deposited Ethereum, as well the rewards and possible penalties.
The entire process is simple, and users can stake Ethereum with Lido to earn an 3.7% APR. Users who stake with Lido receive stETH tokens in a 1:1 ratio. This corresponds to the amount of their staked Ethereum. Lido users can profit from their stETH balances to earn yields or to lend funds. The balances reflect daily ETH staking rewards.
It is currently not possible to unstake ETH staked on Beacon Chain. However, users have the option to exchange their stETh balance for regular Ethereum.
What you should know
LDO is the governance token of Lido's DAO. It allows its holders to participate in community voting and make other decisions about the protocol's future. Presently, the token is listed on several high-profile exchanges, including Binance and Gemini.
Lido is gaining popularity because of a few reasons. Staking is less risky. It is, however, also less profitable than investing in some of the standard Decentralized Finance (DeFi) products. A user could stake their Ethereum today by either putting up 32 ETH or using a central exchange such as Coinbase or Binance in order to pool their coins.
Through its decentralized staking platform, Lido hopes to address both of these problems. There is no minimum deposit to join a stake pool. Lido requires, however, a 10% stake fee. The earnings contain the deductible fee.
BlockFi is one of the companies hoping to innovate the world of financial services. Flori Marquez and Zac Prince founded BlockFi in 2017. The company aims to bridge the gap between traditional wealth management products and cryptocurrency. If achieved, this will help institutional and individual investors alike. As of 2022, BlockFi manages over $12 billion of assets. BlockFi's headquarters is in New Jersey. It continues to grow outside the U.S. as well as nationally.
Why are BlockFi's financial products popular? The yields of crypto lending accounts are often higher than traditional bank accounts. Staking allows holders of cryptocurrency to let their tokens be used for transactions on the blockchain or digital ledger that they use. The incentive-based nature of crypto has made staking a booming business. Many new coins and blockchains compete for validators. These validaters are promised potentially huge annual returns.
BlockFi announced in 2022 that it would seek approval from the SEC. This would make BlockFi the first crypto company of its kind to do so. At the time of writing, however, this also involves limiting the products offered to U.S. citizens. The cooperation with SEC has, however, further increased trust in the company.
Rewards distribution
BlockFi offers crypto trading services, interest-bearing accounts, and crypto lending. BlockFi's interest account (BIA) can earn users up to 10% APY per month, depending on the cryptocurrency selected, with no minimum balance. The process is simple, requiring only that users create an account with BlockFi.
At the time of writing, BlockFi offers a 3% APR on staking Ethereum. Interest rates can fluctuate depending on the yield an exchange can generate. The advantage of using BlockFi for staking over other exchanges, is that the amount remains liquid and can be traded by the user at any stage. This means that users have greater access to their funds.
What you should know
Fees on BlockFi are up to 1% spread per trade. Presently, BlockFi caters to 13 different currencies, including Ethereum. No minimum balance requirement exists for earning interest. Furthermore, there are no fees for trading cryptocurrencies or stablecoins. BlockFi offers users a central hub to access numerous financial services, including loans, cryptocurrency savings, and even the BlockFi credit cards.
As mentioned earlier, new clients that are U.S. citizens or residents of the United States are not eligible for BlockFi Interest Accounts. Existing clients who are U.S. citizens or have assets in the United States cannot transfer any new assets to their BIAs. BlockFi is looking for a quick way to resolve this issue.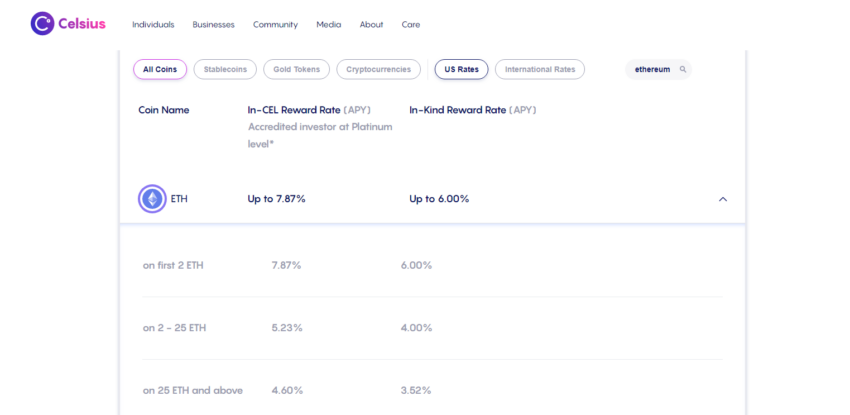 Celsius is another company proposing an alternative to traditional financial institutions. Alex Mashinksky and Daniel Leon founded the company in 2017. Many in the crypto space view it as a direct competitor to companies like BlockFi.
Celsius has seen a global expansion from just 100,000 users in its first year to nearly 1 million users at present. About 90% of these customers use the platform for its yield program. Celsius has seen tremendous growth of assets over the past two years. It now holds over $22 billion in assets.
Rewards distribution
The current APY for Ethereum deposits on Celsius is as high as 7.8% for premium users and up to 6% for all other users. The platform, however, offers even higher yields on other cryptocurrencies like Synthetix.
Celsius supports the most famous cryptocurrencies, including coins like Bitcoin and Ethereum. The platform functions like a bank that borrows money from clients and lends it to customers. Therefore, Celsius rewards staking.
What you should know
The yield on Celsius varies based on status. To reach the highest loyalty level and to receive the best rates, you must deposit Celsius (CEL) tokens. Celsius loyalty levels are dependent on the ratio of your CEL token holdings. Still, currently, the website offers some of the highest yearly yields of any program that allows users to stake Ethereum.
In 2022, it was reported that Celsius was speaking to U.S. regulators. The goal is to ensure that the company comply with regulations. Ultimately, these companies need to ensure the maintenance of transparency and security.
Binance is the biggest digital currency exchange in terms of the trading volume. It is a top choice for investors when it comes to crypto trading platforms. The Binance staking platform for proof-of-stake coins such as Ethereum 2.0 appeared in December 2020.
The exchange also supports DeFi staking. It can accommodate cryptocurrencies such as DAI, Tether, Binance USD (BUSD), BTC, and Binance Coins (BNB). Rewards on some coins, at the moment of writing, can be as high as 300%.
Naturally, staking has the benefits that users can earn more crypto assets and the interest rates can be extremely generous. You may be able to earn as much as 10% or 20% annually in some cases on more established coins. Many users of crypto see this as a good way to invest their money. Utilizing the staking mechanisms on sites like Binance is, usually, a straightforward process.
Rewards distribution
Presently, users can earn up to 5.20% APY on staking Ethereum on Binance.
Binance offers a variety of interest-earning programs. Users can employ the Flexible Savings option to add their crypto and earn interest, with the option that they can redeem funds at any time. Once a user subscribes, they'll receive Flexible Savings assets. The interest calculation begins on the second day. This option will give you an approximate APY of 0.3% to 4.4%.
On the other hand, Locked Staking is when funds are held in cryptocurrency wallets to support the operation of a blockchain network. These funds are, essentially, locked for a set period.
What you should know
Binance doesn't charge fees to lock funds or stake your tokens. The exchange's offered APYs are usually lower than those received when staking tokens directly on blockchains or wallets of projects. The APY for staking Ethereum is, however, one that makes the option worthy of consideration.
Users will not earn any interest if they redeem their staked coins earlier than the lock-up period. It usually takes 1–2 days to redeem the coins, both in the early redemption phase and at the end.
Coinbase is an online platform that allows users to buy, sell, transfer, store, and transfer digital currency. It is also one of the most famous of its kind. Brian Armstrong founded the platform back in 2012. The exchange is one of the leaders of the international crypto financial system. It also offers a variety of crypto services for its millions of customers.
Coinbase does not require a minimum balance for users to be able to stake Ethereum. It aggregates tokens from investors to run nodes.
Rewards distribution
Many view Ethereum staking as a method to reduce their potential losses caused by price volatility by taking out stake rewards. In other words, users still get passive rewards even if their coins lose value.
On Coinbase, users can earn as much as 3.65% on staked Ethereum. Coinbase has no minimum ETH stake requirement. This strategy is particularly useful for crypto investors mindful of the occasional price drops in the value of assets.
Coinbase makes it easy to join a staking pool. These staking pool rewards can be in the form of Ethereum.
What you should know
Coinbase charges a 25% commission for any rewards earned through staking. Currently, Coinbase also prohibits users from staking if their country is not the USA. This can prove to be problematic for some.
Kraken Exchange was established in Jul. 2011, and it has been a top-rated crypto exchange ever since. The platform allows users to trade and buy a variety of cryptocurrencies. It also helps users stake Ethereum.
You will need 32 ETH or more to become a validator on Kraken. However, the platform allows you to join a staking pool for as low as 0.0001ETH.
Rewards distribution
Yearly rewards — when you stake Ethereum — on Kraken vary between 4% to 7%, according to the company's website. Other coins that are available for Kraken's staking program include Cardano, Cosmos, Flow, or Polkadot.
You can start earning ETH yields by buying Ethereum or depositing it into your Kraken account. The option is available from the Earn section at the top of the webpage. From here, you can choose the Stake option and select Ethereum. As mentioned, Kraken users can stake less than 32 Ethereum on its platform and contribute to its network, as well as earn a portion from the staking rewards.
What you should know
Kraken charges a 15% administrative fee to stake Ethereum. This is, however, lower than Coinbase's 25%.
Kraken currently does not allow users to trade staked ETH tokens. The platform plans to create a market for trading staked Ether for unstaked Ether. This service, however, will not be available in the United States and Canada when it is launched.
Will ethereum staking offer lucrative profits in 2022?
Cryptocurrencies and blockchain technology are entering the mainstream like never before. This is partly due to the alternative they offer to the traditional banking system. The trend is set to continue regardless of the May 2022's decrease in prices for most crypto assets.
Ethereum, by most estimates, will continue to be one of the most important actors in the crypto space. Its change to a PoS mechanism and the introduction of sharding technology are bound to improve the network and the ecosystem around it. With all of this in mind, it could very well be profitable to stake Ethereum in 2022.
Frequently asked questions
How much do you get for staking Ethereum?
Staking Ethereum provides yearly yields. You can become an independent node validator or choose a platform that will reward you for staking. The value of these are different from one platform to another. The highest values can be as high as 7.8%. Still, most frequently, the likes of Coinbase or Kraken, offer around 4% to 7% per year.
Is staking Ethereum a good idea?
Staking Ethereum is a great way to earn additional ETH. It protects your assets from price devaluation by earning additional rewards and encourages the ecosystem's desire to move to a more eco-friendly strategy.
Is staking your Ethereum safe?
Staking Ethereum is generally safe, but not risk-free. To make sure that the risks are minimized it is best to opt to stake a platform of considerable renown. Binance and Kraken are some of the exchanges that offer ETH staking. Networks such as BlockFi or Celsius are alternatives as well.
Where should I stake my Ethereum?
When choosing to stake your Ethereum through a company, it is important to consider the rewards, the company's reputation, and the conditions for withdrawing your funds. Exchanges such as Binance or Coinbase are popular options for staking Ethereum.
Can you stake your Ethereum?
Yes, you can either individually stake ETH as a validator node or join a staking pool. To become an independent validator, crypto users must commit at least 32 ETH. However, platforms such as Coinbase and Binance facilitate Ethereum staking and offer yearly yields for the deposits.
How much do you get for staking Ethereum?
Typically, yearly yields for ETH are 4%–7% of the deposited amount.
What is the best platform to stake crypto?
There are numerous platforms that cater to Ethereum staking. BlockFi and Celsius offer high yields and have grown their number of users. However, established exchanges such as Binance, Kraken, or Coinbase are also good alternatives.
How can I stake my Ethereum?
To stake ethereum, you need to serve as an independent validator. You can also join specialized platforms that make the process easier. The latter can be lucrative as staking on Binance, Coinbase, or Lido typically earn yearly yields between 4% and 8%. At certain times, rewards can be even higher.
Is ETH good for staking?
Ethereum is one of the most popular cryptocurrencies in the world. It can easily be staked through a specialized platform such as Binance or Coinbase. Users who deposit their assets to these platforms receive yearly yields.
Can I stake Ethereum on Binance?
Yes, you can stake ethereum on Binance.
Disclaimer
All the information contained on our website is published in good faith and for general information purposes only. Any action the reader takes upon the information found on our website is strictly at their own risk. At Learn, our priority is to provide high quality information. We take our time to identify, research and create educative content that is useful to our readers. To maintain this standard and to continue creating awesome content, our partners might reward us with a commission for placements in our articles. However, these commissions don't affect our processes for creating unbiased, honest and helpful content.