As the crypto industry evolves, there are now multiple ways to obtain digital currencies. You can purchase Bitcoins at centralized exchanges, or get them via crypto faucets. However, if you wish to exchange your coins in a decentralized environment, many tend to choose P2P (Peer-to-Peer) crypto exchanges.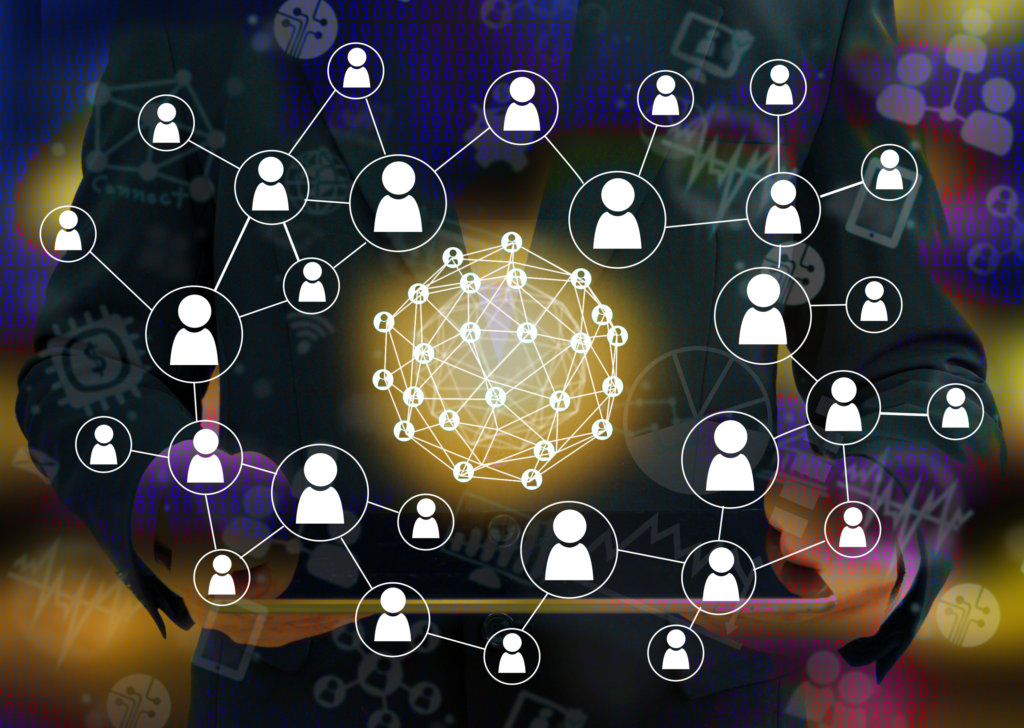 What is a P2P Crypto Exchange?
P2P exchanges are decentralized cryptocurrency exchanges where all operations are maintained by the software. These are platforms that connect users directly with one another, without a third party that would process the trades for them.
Centralized exchanges, such as Binance, Coinbase, Kraken, and alike, are all companies that process the trade on traders' behalf. Usually, they also charge a number of fees for things like deposits, withdrawals, and trades themselves.
On P2P exchanges, traders get connected directly to one another. They perform the trade without a middleman, which is usually cheaper, although it can also be less secure.
There is software in place that brings a certain level of security to the process, of course. Although a certain amount of risk still exists.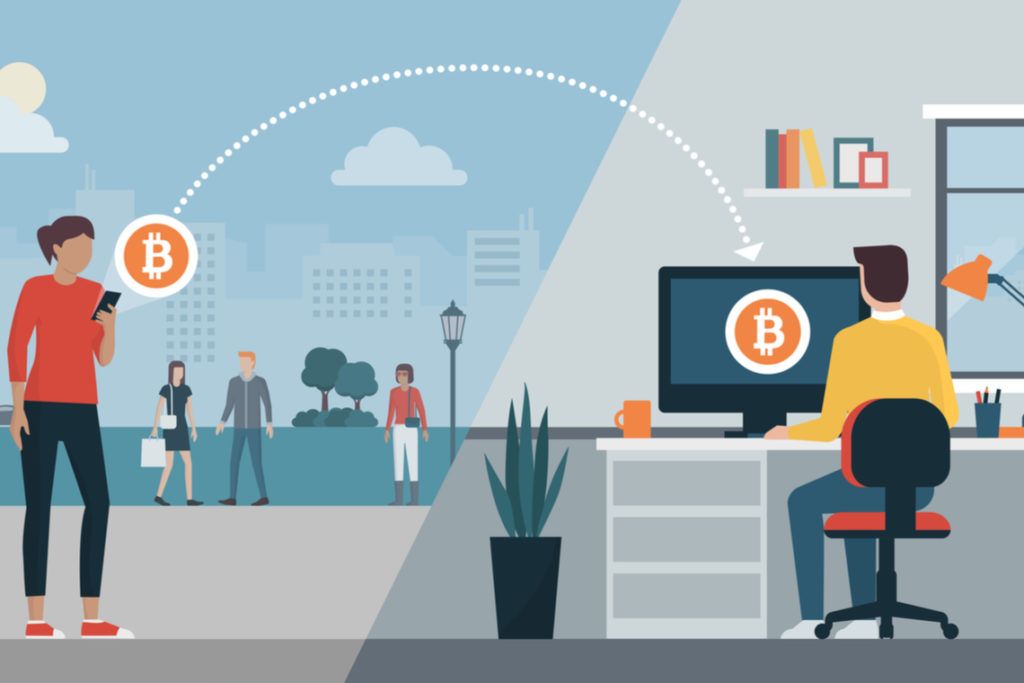 How Does a P2P crypto Exchange Work?
The concept of P2P exchanges is fairly simple to grasp. The user creates their own account, set up an order, and then use the software to connect them to a buyer/seller.
The best way to understand how P2P exchanges do things differently is to compare them to centralized trading platforms.
If someone wishes to sell their BTC on a centralized exchange, they would specify the number of their coins. They also specify the price they want to sell at. These requests are known as orders.
When another trader wishes to purchase BTC, they would examine the exchange's order book and look for a sell order that they find satisfactory. If they don't find any order that they deem good enough, they can create their own buy order, where they would specify their own terms. For example, they can specify how many coins they wish to purchase, as well as the price they are willing to pay for them.
When the exchange detects a buy order and a sell order with matching requirements, it processes the trades and that is that.
The exchange here serves as an intermediary that can speed things up for the users. This is often necessary because BTC transfers tend to take a long time — anywhere from 10 minutes to a few hours. Fiat exchanges can often last for days, which is extremely long, considering how quickly these things can be done via modern technology.
If you would like to know more about exchanges, learn everything you need to know at the BeInCrypto Telegram group.

The exchange can settle trades immediately. Everyone gets what they want, even if the transaction itself has a long time before it will be properly processed.
P2P vs Traditional Exchanges
P2P exchanges do not work this way. Instead of locating and matching orders, they match the individuals who set up these orders. In other words, P2P exchanges do not process trades automatically when they find orders that match. Instead, they connect a buyer and a seller and allow them make a deal without a third party.
They can still use third parties for settling potential disputes, although the exchange itself can operate without the need for human interaction, at least as far as third parties go.
There are two different approaches here: Automated P2P exchange and Escrow-based P2P exchange.
The automated exchange works pretty much the way we described above — two traders are connected if their buy and sell orders are a match, and they are then allowed to make a deal and conduct the exchange.
The Escrow-based approach is slightly different. Here, when the buyer and the seller get connected, and the trade is initiated, the crypto seller's coins get locked in escrow. The coins will only get released after the trade has been finalized and both parties approve of it.
That way, neither party needs to actually trust the other person. If the purchase is not finalized, the coins will simply return to the seller, and they can go their own separate ways, in search of a new deal.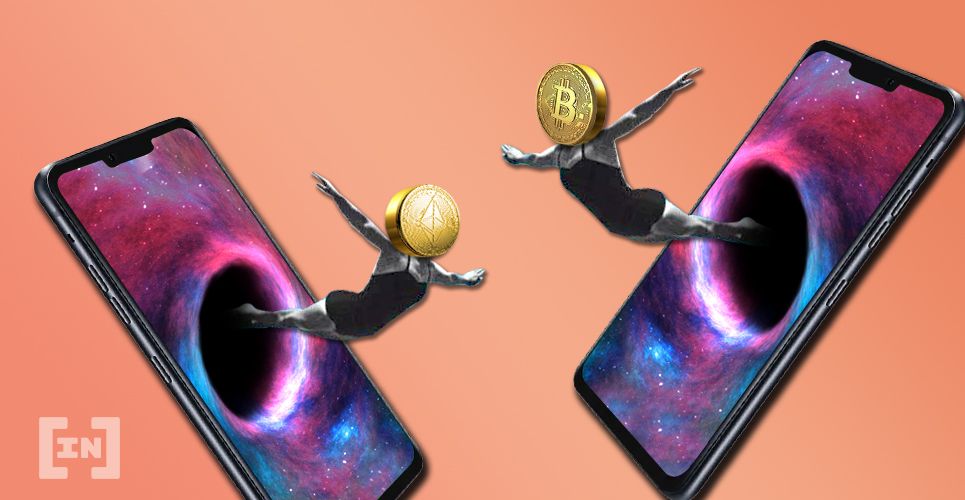 Advantages of P2P Crypto Exchanges
As mentioned, there are both, advantages and downsides to this type of trading. The main advantage is the fact that there is no third party involved for typical trades, so traders themselves are free to make a deal that both parties can agree on, or drop the trade altogether.
This also increases censorship resistance of transactions, meaning that no one can exploit the transactions, freeze withdrawals, and alike. This is something that centralized exchanges are very vulnerable to, as the government might decide to interfere and order the freezing of accounts, especially since centralized exchanges require users to deposit their funds into the exchanges' own wallets.
This also leaves centralized exchanges vulnerable to hacks, which is less of an issue with P2P platforms. In fact, problems like these are what caused users to start turning to P2P trading in the first place.
Another advantage is the fact that, on P2P exchanges, trading is significantly faster. Buyers and sellers can typically come to a deal pretty quickly, and so the whole process doesn't take that long. Not to mention that trading is much cheaper, as you don't have to pay an intermediary's fee.
Quite often, you also get to find better prices than the current market price, although this tends to depend on the seller, and how much they want for their coins.
Lastly, there is also an increased amount of transparency, as both buyer and seller can see each other's details within the platform.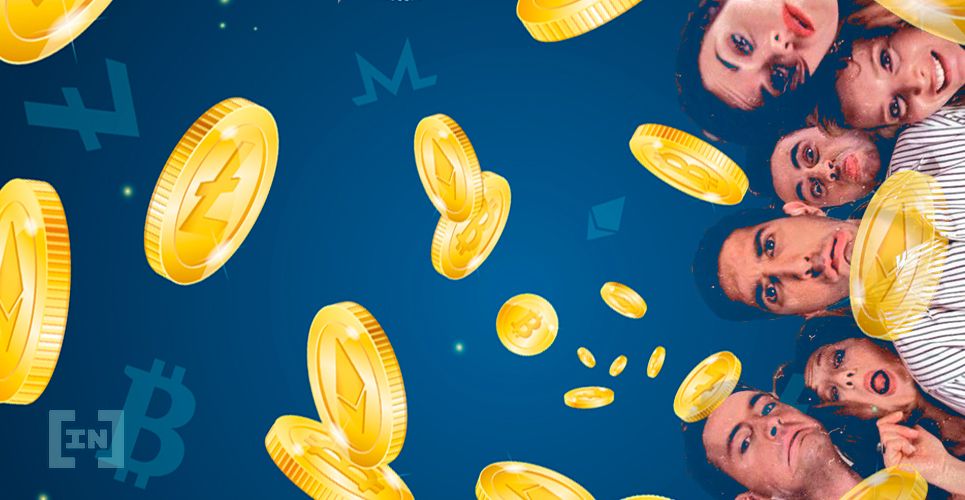 Disadvantages of P2P Crypto Exchanges
Of course, peer-to-peer bitcoin exchanges also have their downsides, such as their biggest flaw right now — the fact that they are still relatively new, even when compared to centralized exchanges. The oldest exchanges of this type have only been around for three or four years, with most of that time being spent on development.
This causes other problems, such as the exchanges only targeting small audiences of experienced crypto enthusiasts. These are the people who have been in the crypto industry for years now, and they know what they are doing. Meanwhile, the exchanges are not so beginner-friendly, and newcomers usually find them to be less intuitive.
And, of course, due to the smaller number of traders, the exchanges usually also have low trading volumes, which leads to a longer time before the order is matched.
Lastly, you are unlikely to find professional traders on these exchanges, as they require platforms with large liquidity in order to take advantage of new opportunities. To them, speed is of the essence, and so platforms, (where trades tend to last a long time), are not that appealing.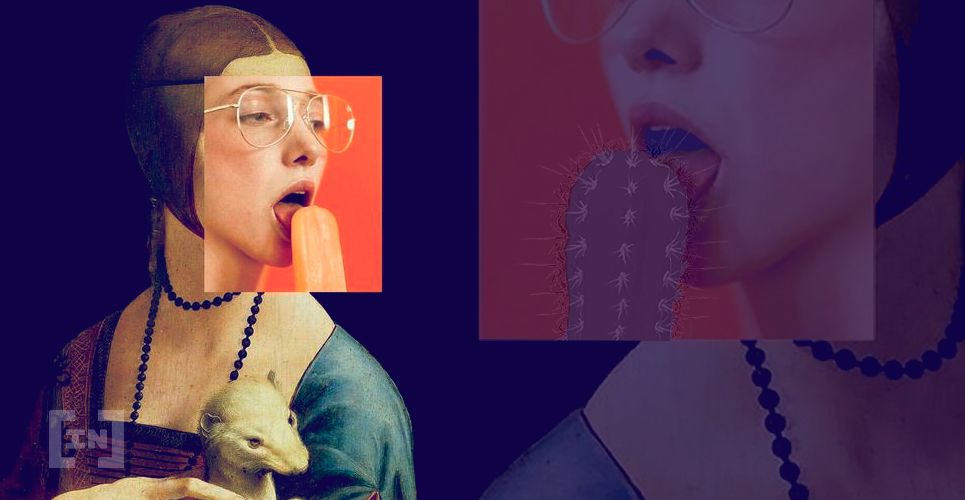 The Top P2P Crypto Exchanges
Now that we know what P2P exchanges are, how they work, and what their strengths and weaknesses are, let's take a look at the top 3 peer-to-peer exchanges that you can use for buying crypto.
LocalBitcoins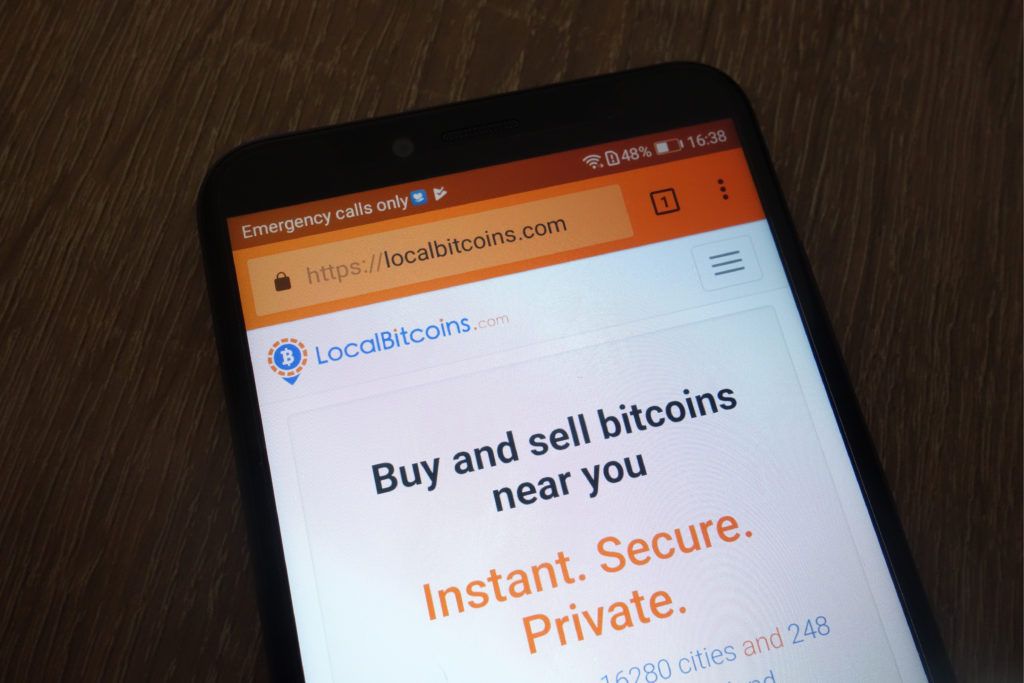 As the name suggests, LocalBitcoins is an exchange for Bitcoin. Buyers and sellers get connected, and they can then discuss the terms of the trade. This exchange uses an escrow approach, as explained before. Simply put, the platform will briefly house the coins that are being sold, until the buyer and the seller work out the rest of the deal.
One of the great things about LocalBitcoins is that this is a global exchange, which provides its users with plenty of options. Anyone can use it, and it is one of the most popular, if not THE leading P2P platform. The platform doesn't really impose any limits when it comes to buying or selling, and users can trade any amount at any price, as long as the other person agrees to it.
While LocalBitcoins is available globally, the liquidity will, in fact, depend on how many buyers/sellers can be found in the user's area. There are also some exceptions, where the exchange is not available, such as Germany and the US state of New York. LocalBitcoins is also preferred as it doesn't require that much information. Users do not need to be verified in order to use it, which is ideal for those who want greater privacy and anonymity.
Pros of LocalBitcoins:
LocalBitcoins is available in almost any part of the world
It offers a way to buy crypto without revealing your identity
You can pay for crypto via numerous payment methods
There are no limits to how much you can buy/sell or at what price
A very old and reputable platform
Not a scam
Cons of LocalBitcoins:
While the exchange is reputable, users might not be
Scammers will often try to trick users
While it offers multiple payment methods, reversible payment methods are not advised
Some sellers do require ID verification if they trade in large amounts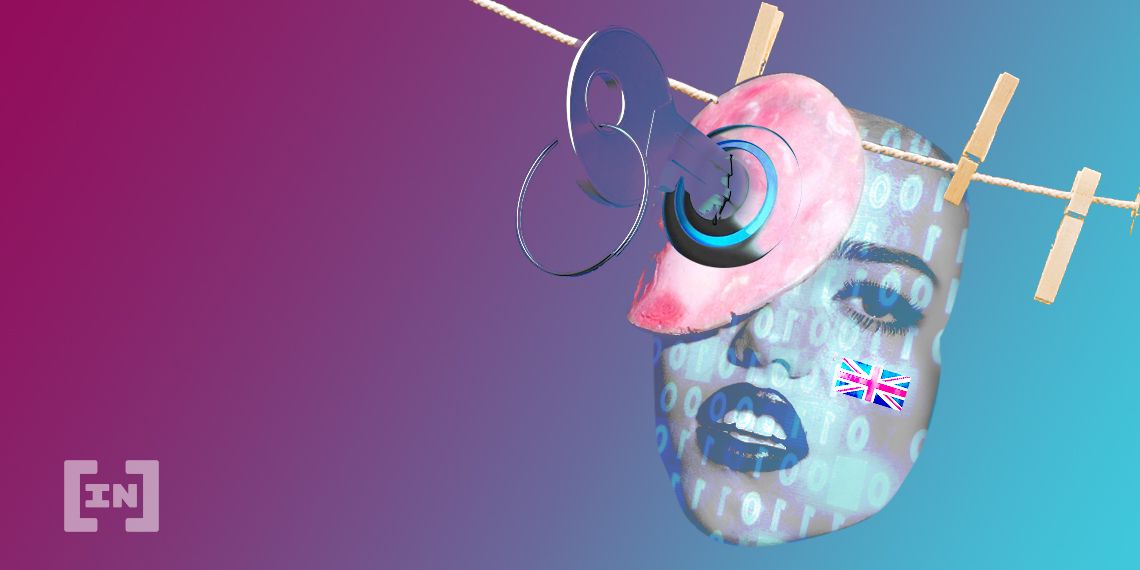 Binance P2P
Next up, we have Binance P2P exchange, which was launched by the world's leading crypto exchange, Binance. Binance itself is a centralized exchange that also decided to add a decentralized platform, which was launched only last year. Its P2P version is available globally, and it allows users from anywhere in the world to register and start making trades. As usual, the exchange allows buyers or sellers to set up their order, and wait for someone to buy or sell coins to them directly.
Binance P2P stands out for several reasons, such as being held by a reputable firm, as well as due to the fact that it supports multiple altcoins. However, the exchange also requires users to register, which eliminates anonymity. Binance also provides an 'appeal' button, which traders can click on at any point during an exchange if the terms suddenly change and the parties cannot come to an agreement on their own.
As mentioned, the exchange offers several coins, including BTC, USDT, BNB, ETH, and BUSD. However, it also comes with limitations regarding how much users can sell at once, with a minimum of 0.01 BTC and a maximum of 5 BTC. The exchange also limits how big or small a price can be, with the price range being allowed to be anywhere from 80% to 120% of the current market value.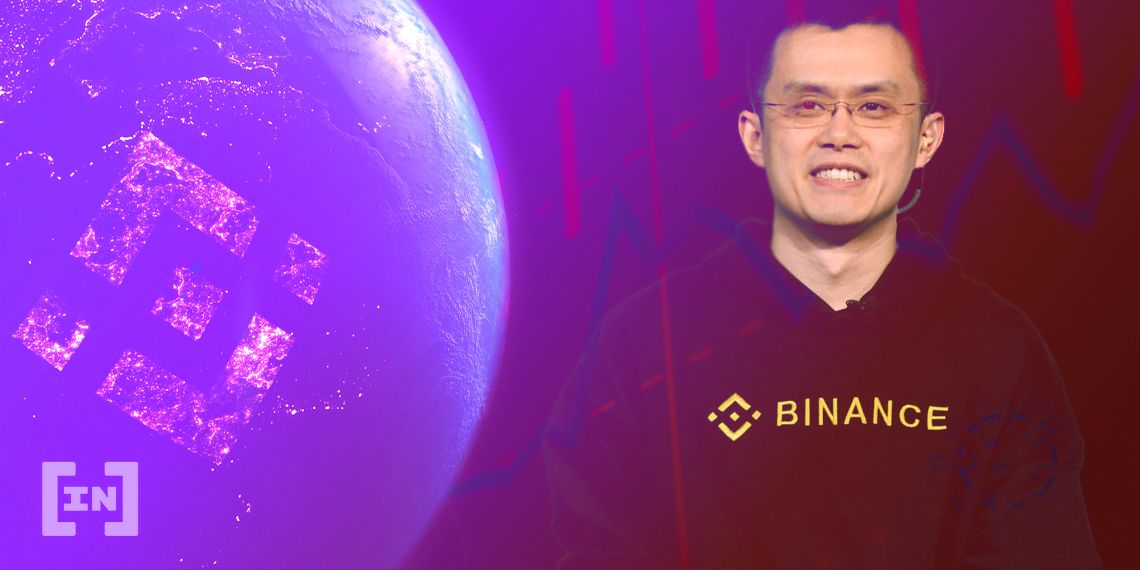 Pros of Binance P2P:
An exchange held by a reputable company
There is an appeal button to involve the exchange if traders cannot reach a deal
Support for multiple cryptocurrencies
Available globally
No fees
Cons of Binance P2P:
Users need to be verified before using the exchange
There are limits to the amount that can be sold and the price
Paxful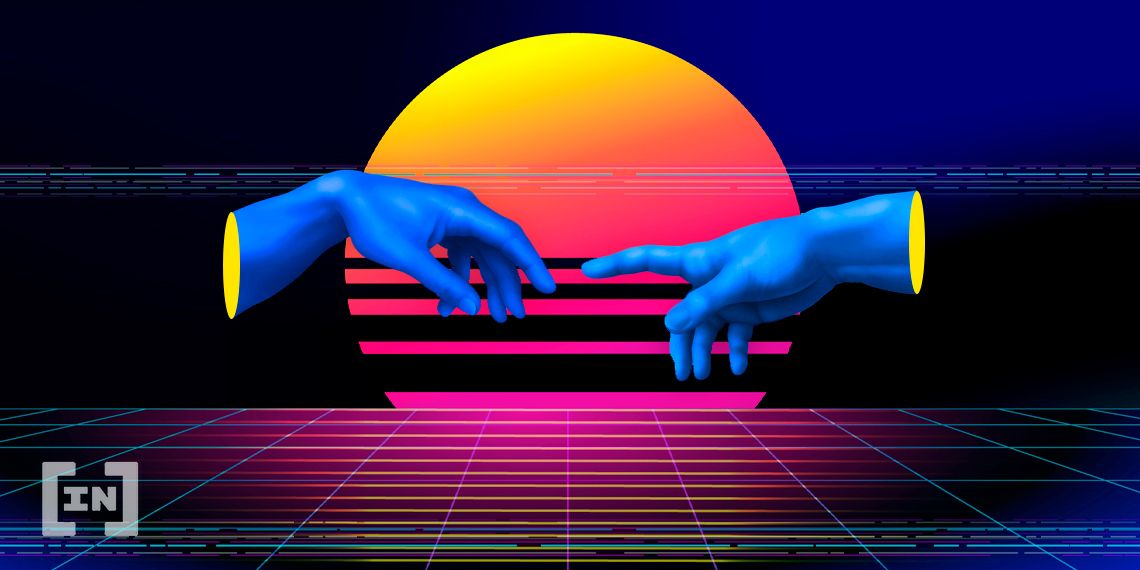 Lastly, we have Paxful — a P2P platform similar to LocalBitcoins in many aspects. For example, Paxful offers multiple payment methods, as well as a number of buying options. The exchange only offers Bitcoin, but you can purchase it via pretty much any payment method there is.
The usual issues with P2P exchanges — like avoiding scammers and finding a good exchange rate — are present here as well. But, after a while, traders will quickly learn how to recognize bad or scammy deals and avoid them.
Paxful really offers its services in two types. Users can either use a form on the platform's website or use a virtual kiosk link. This is something of an affiliate program that Paxful has to offer. Such links can be used by any person or a website owner, and it helps spread the word about the platform. Meanwhile, users generate 2% revenue from any amount of crypto that they purchase.
Another similarity between Paxful and LocalBitcoins is the escrow service, which is available for Bitcoin transactions on this platform, as well. There is also a possibility of dispute, should the traders find themselves at an impasse. However, this is not something that happens very often, and most of the time, trades will end up being quick and smooth.
If you wish to buy BTC, you can do it without having to pay any additional fees on Paxful. However, you will have to pay a 1% fee if you are selling. Also, there are additional fees that traders pay for the miners, which are present as part of any transaction. The mentioned 1% fee does not cover this. That 1% is charged by the company itself.
Paxful Verification Levels
It is also worth noting that Paxful has different verification levels, each of which comes with a different limit:
At level 1, users can be verified via email and phone, and the limit sits at $1,500.
Those who go for level 2 will also have to complete level 1, plus go through ID verification. However, their limit will then skyrocket to $10,000.
Level 3 has all the requirements of the previous two levels, but it also includes address verification. Unfortunately, this one doesn't seem to bring an increase in limit, which still sits at $10,000.
Those who go for level 4 will have to provide all the info mentioned so far, plus enhanced due diligence. Their reward is having no limits.
As for who can use Paxful, the exchange is mostly available globally, except in selected countries that include:
Burundi, Cuba, Central African Republic Sanctions, Sudan, Iran, Iraq, Crimea region, Libya, Lebanon, Somalia, North Korea, Sudan and Darfur, South Sudan-related Sanctions, Yemen and Syria.
Pros of Paxful:
Paxful is a reputable P2P exchange available in most regions of the world
It has a responsive and capable support forum
It offers support for almost any payment method there is
Users are generally very satisfied with the exchange
Cons of Paxful:
Exchange rates can be high
Scams are a possibility
Users need to provide more and more data to push limits
There is a 1% fee for the firm, plus miners' fees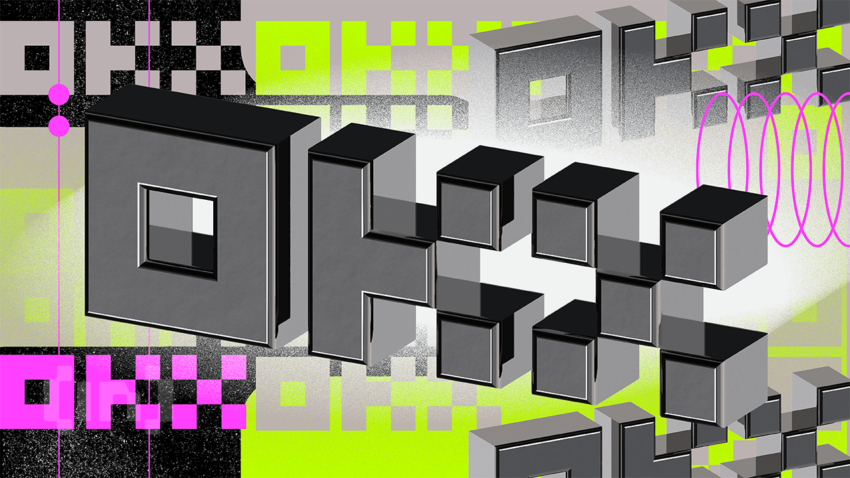 Another P2P crypto exchange to consider is OKX. It is known for its centralized spot trading platform that accepts fiat currency deposits, it also has a P2P option for those who prefer decentralized trading. One feature of this P2P exchange is its aggregator pricing algorithm, which searches various decentralized exchanges for the best prices for traders.
Moreover you can create your own marketplace and trade crypto with others in your local currency. Users create create their own marketplaces by posting advertisements to trade with one another. This allows users to have more control over the prices at which they buy and sell. This is great for users in unbanked locales.
This P2P exchange accepts over 900 payment methods in 40 different currencies and is free to use. The platform acts as a facilitator and risk manager in peer-to-peer transactions. When a user enters into a transaction, the funds are held in escrow until the buyer's payment is confirmed. This assists the exchange in risk management and ensuring a safe experience for users.
Pros of OKX
Offers a variety of educational resources and a broad range of offerings, including hundreds of trading pairs and high staking APYs
Allows users to open an account using a wide range of fiat currencies.
Buy/sell dashboard is user-friendly
Exceptional tech support
Cons of OKX
Platform is not accessible to residents in certain countries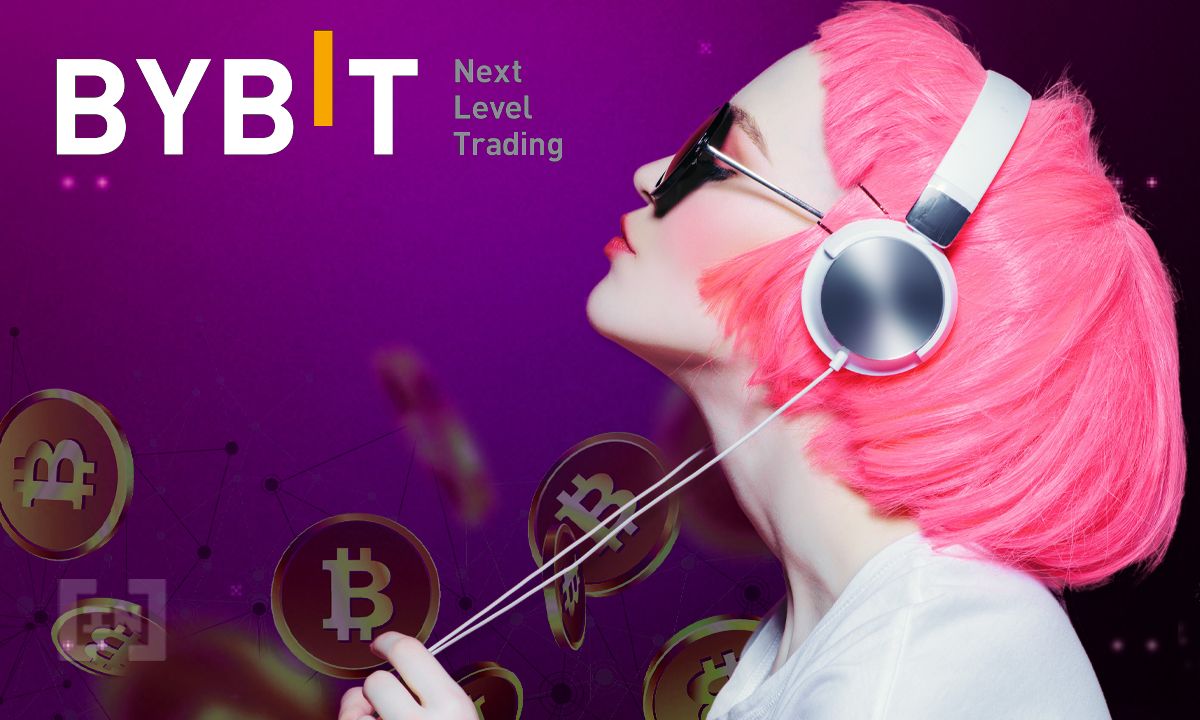 Another simple and secure peer-to-peer trading platform is Bybit. It enables the purchase and sale of two users' holdings at an ideal, agreed-upon price. However, it is important to note that the buy and sell offers on the P2P page are not provided by Bybit.
This P2P exchange currently supports over 40 fiat currencies, including EUR, USD, and JPY, as well as four cryptocurrencies (USDT, BTC, ETH and USDC). This platform accepts over 350 payment methods, including debit cards, credit cards, and in-person cash payments.
In addition, there are two types of fees: taker and maker fees. Both taker and maker fees are waived for P2P trades,; Bybit offers zero transaction fees for both buyer and seller. 
When a buy order is submitted, the specified amount of coin is reserved on the P2P platform. This means that if the seller does not release the coin within 10 minutes of receiving payment, our customer support has the authority to release the coin to the buyer from the reserved funds after verification.
Pros of ByBit
Support for multiple cryptocurrencies
No buyer or seller fees
Assets are held in escrow
Cons of Bybit
Depending on the payment method chosen, traders may be required to pay transaction fees to the payment provider.
P2P Exchanges are intuitive
While P2P exchanges are sometimes not that intuitive, and there is a risk of scams, they are still favored by many crypto traders around the world. Buy and selling crypto here usually comes as a much faster process, as long as traders can quickly come to an agreement.
Security is improved in some ways, especially when it comes to the exchanges that use the escrow approach. Other than that, they are also cheaper, and not often targeted by hackers. However, they do have their downsides, as mentioned, so deciding whether or not they are good for a trader really depends on the trader's own situation and needs.
< Previous In Series | Exchanges | Next In Series >
Frequently Asked Questions
What are the different types of P2P exchanges?
What is a crypto exchange?
How does a P2P exchange work?
Disclaimer
In line with the Trust Project guidelines, the educational content on this website is offered in good faith and for general information purposes only. BeInCrypto prioritizes providing high-quality information, taking the time to research and create informative content for readers. While partners may reward the company with commissions for placements in articles, these commissions do not influence the unbiased, honest, and helpful content creation process. Any action taken by the reader based on this information is strictly at their own risk.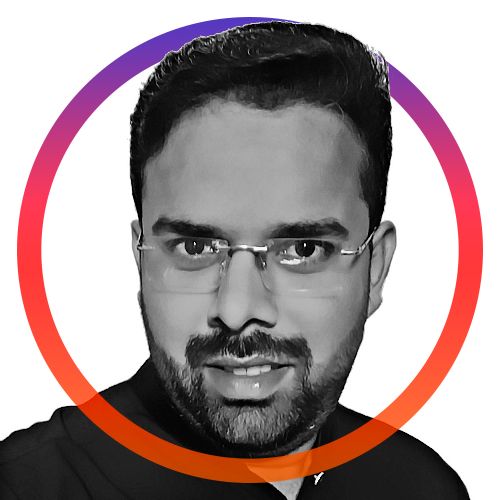 Ali is a journalist with experience in web journalism and marketing. Ali holds a Master's Degree in Finance and enjoys writing about cryptocurrencies and fintech. His work has...
Ali is a journalist with experience in web journalism and marketing. Ali holds a Master's Degree in Finance and enjoys writing about cryptocurrencies and fintech. His work has...
READ FULL BIO
Sponsored Sponsored