The hardware wallet war has intensified in 2023, with Ledger's announcement of a new optional seed phrase-backup feature attracting significant criticism in the crypto community. And while several hardware alternatives have been quick to crown themselves the go-to cold storage option, the Ledger vs. Trezor showdown is perhaps the most competitive.
This guide compares Ledger and Trezor in significant detail and across several parameters. We take an unbiased look at the offerings presented by each cold storage manufacturer, helping you decide the best offline storage option for your personal and professional requirements.
BeInCrypto Trading Community in Telegram: read reviews on the best crypto cold & hot wallets with high level of security, get the hottest news on crypto, read technical analysis on coins & get answers to all your questions from PRO traders & experts!
Ledger wallets: an overview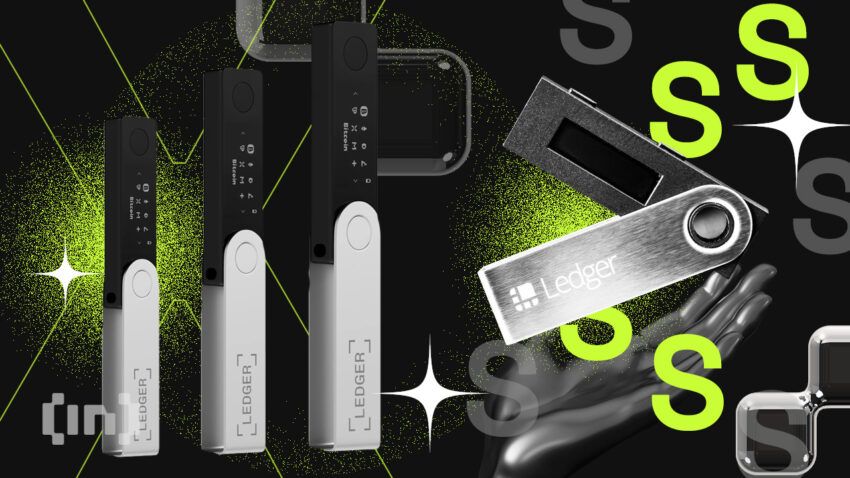 Ledger is one of the leading manufacturers of hardware wallets based out of Paris. Launched in 2014, Ledger's current set of offerings includes the Ledger Nano S and the Ledger Nano X.
Why get a Ledger wallet?
While there are quite a few reasons to choose Ledger, here are our personal favorites:
An extensive list of supported cryptos, 1800+ and counting.
The level of hardware security is incredibly high, thanks to the proprietary BOLOS tech and the ST33 chip.
The Ledger Live UI is highly interactive.
It comes with built-in Bluetooth support, taking wireless wizardry to the next level.
Supports a wide range of payment or transaction methods, including wire transfers, crypto transfers, and debit/credit card payments.
Looking for reasons to avoid? The controversy of May 2023 surrounding the "Recover" feature might cause you to look for Ledger alternatives. If not, the smaller screen and the previous instances of data breaches might serve as warning signs.
Which Ledger wallet to get?
The Ledger Nano S makes sense if you are a crypto enthusiast looking for a secure yet affordable option. But the Nano X is the best choice if you have a diverse crypto portfolio and prefer nifty connectivity specs.
Trezor wallets: an overview
Trezor, the hardware wallet manufacturer, comes from the house of SatoshiLabs. Born and bred in the Czech Republic, Trezor graced the crypto scene in 2013.
Why get a Trezor wallet?
If, like Ledger, you are looking for reasons to pick a Trezor wallet, we have a few:
The software is open-source, allowing developers to build and improve on it.
The firmware updates are regular and useful
You can opt for a touchscreen variant, per your needs.
And if you are looking for reasons to avoid, the lack of Bluetooth compatibility and no app support can act as potential deal breakers. Also, you can only transact or purchase crypto into Trezor wallets using debit and credit cards.
Which Trezor wallet to get?
As a crypto newbie, you might consider the Trezor One. It is affordable and easy to understand. But if you seek utility and more advanced traits, the Trezor Model T, with enhanced coin support and touchscreen functionality, is the superior option.
Ledger vs. Trezor: comparing the behemoths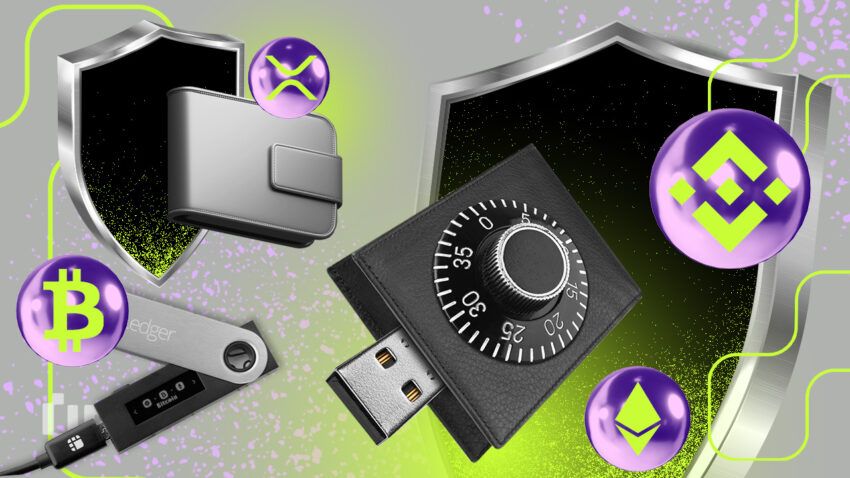 Now that we have peeked at the better traits of both Ledger and Trezor, it is time to take this hardware wallet comparison to the next level, handpicking parameters and comparing the manufacturers accordingly.
Ledger vs. Trezor: Security
Hardware wallets are meant to be secure. With Ledger wallets, the ST33 (secure element) chip takes care of the security concerns. Primarily a hardware implementation, the secure element chip is powered by BOLOS — the Blockchain Open Ledger Operating System — Ledger's proprietary software, to offer a holistic security experience.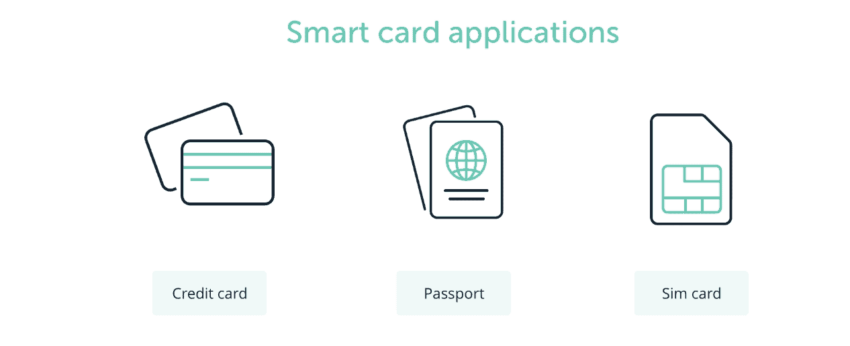 Apart from the hardware-software crypto security offerings, Ledger wallets also bring in passphrase support — a 24-word private key recovery option. And even though the multi-signature setup doesn't come out of the box, Ledger can work with the likes of Specter and Electrum — allowing you to set multiple wallet access signatures.
Trezor's approach toward crypto security is different. Instead of a chip and hardware, Trezor wallets rely on the Shamir backup — a way of breaking the recovery phrase into multiple shares. However, only the high-end Model T offers this feature.

Consider this as a treasure hunt maze where the key access is never centralized.
Even Trezor can work with software wallet options like Electrum to help you set up a multi-sig system. And as the software is open-source, the code gets audited by third parties — something that aligns with the ethos of decentralization.
Verdict
While Ledger's double chip SE is powerful and secure, it isn't open source, like its Ledger Live UI-based offering. Trezor, on the other hand, focuses more on the organic technique to help you recover the seed phrase without a cloud-based, centralized approach. Also, both Ledger and Trezor allow two-factor authentication and passphrase setups.
If you prefer hardware-based security standards, Ledger looks promising. But if you seek additional traits like the Shamir Backup for a more decentralized take on wallet security, we would side with Trezor.
Did you know? Ledger claims that its Secure Elements chip can thwart side-channel "Shazam" attacks — a form of attack where the attacker measures the power consumption at the source and tries matching the same to crack the PIN. 
Trezor leads with:
Shamir backup
Open-source support
Passphrase and PIN support
External, multi-sig setup
Ledger vs. Trezor: crypto coverage
Per the latest data, Ledger wallets can support over 5,500+ digital assets. These include direct key hosting and the ability to work with third-party wallets. Also, with Ledger, both Nano X and Nano S boast similar crypto coverage.
Trezor, on the other hand, spans 5,000+ crypto assets, with the Model T supporting more than the Trezor One. This feature comes in handy if you want to pick a device strictly based on its crypto support. Also, Trezor doesn't support popular coins like XRP, CELO, and more, making it a less promising option for more aggressive or adventurous holders.
Both manufacturers support NFT management, ERC-20 token storage, and more when used with extensions like MetaMask. Also, Ledger supports direct crypto staking, via Ledger Live, for the likes of ATOM, DOT, and more — allowing you to make the most of your crypto holdings.
Verdict
If you strictly want to pick a hardware wallet based on the number of cryptos it can host, we recommend going with Ledger.
The winner is Ledger with:
Additional support for cryptocurrency storage
Support for direct staking via Ledger Live
Access to NFT marketplaces via Ledger Live
Direct access to crypto swaps
Usability
Certain wallet elements — from setting up the password to working with a mobile-based UI — can make or break the user experience. It is imperative to discuss how Ledger and Trezor hardware wallet models compare in the usability category.
Firstly, Ledger offers direct access to DApps, making it a better option for more experienced crypto folks. Its Ledger Live interface has every resource to interact with the wallet itself. Plus, you can use Ledger Live as your portfolio management tool. Setting up the PIN is a part of wallet initialization, and there are two physical buttons on the Ledger device itself, which are clicky and not the most innovative physical enhancements to work with.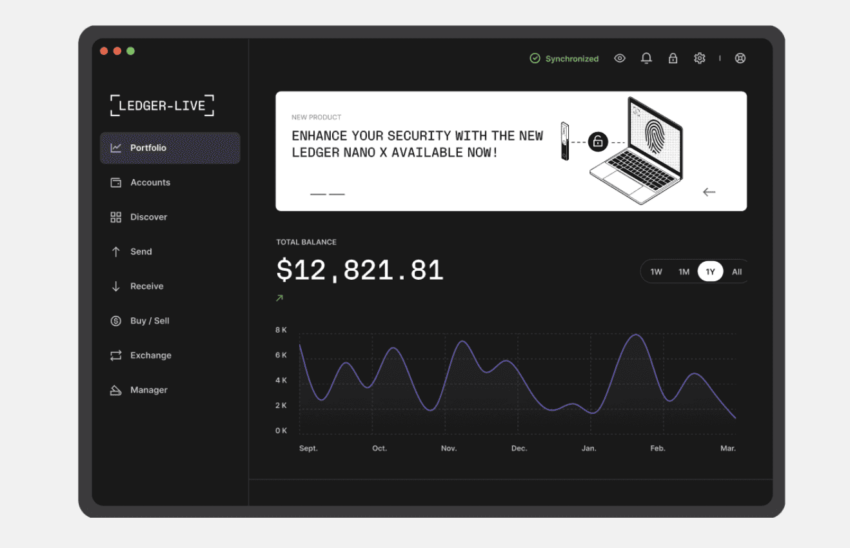 Trezor works with the browser-based Trezor.io interface (Trezor Suite). It is easy to navigate but less loaded compared to Ledger Live. Setting up the PIN follows a scrambling of numbers approach, whereas the physical buttons on Trezor offline storage options feel easier on the hand, compared to Ledger.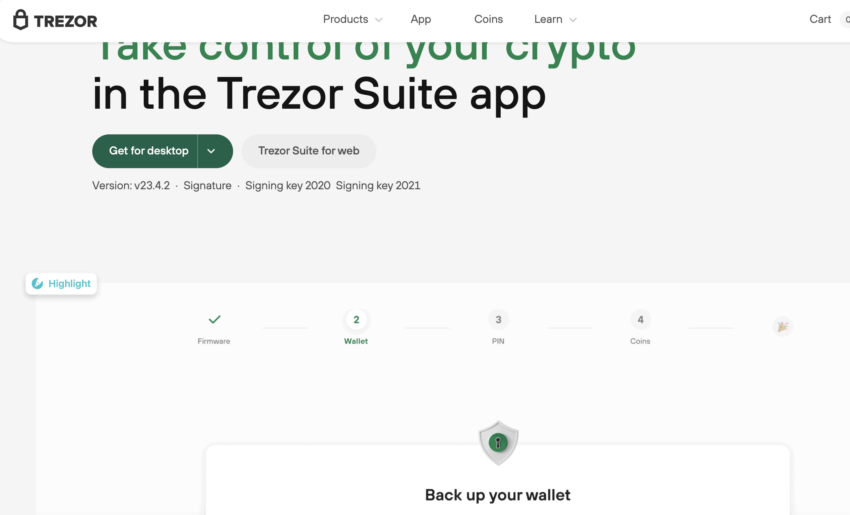 Verdict
Trezor seems like a better bet if you are a crypto curious who doesn't want to navigate the complexities of Ledger Live.
Trezor leads with:
Better button placement
A secure way to set PINs
Minimal web-based UI in Trezor.io
Detailed wallet setup walkthrough
Ledger vs. Trezor: Model diversity
Both Ledger and Trezor offer wallet choices that can make your life easier. Ledger currently offers the Nano S+ and the Nano X as the wallet types with OLED displays and resolutions set at 128 x 32 pixels and 128 x 64 pixels, respectively. As mentioned, the Nano X has attracted criticism because of the optional "Recover" feature associated with its latest firmware update.
In addition to Nano X and Nano S+, Ledger also allows you to choose the Stax — an E-Ink touch wallet with a screen resolution of 240 x 240 pixels. However, this feels like a more sizable device for highly experienced crypto holders. Do note that every Ledger wallet supports the same number of crypto assets.

With Trezor, you can choose between the Model T and the Trezor One based on your requirements. While the Model T features an LCD touchscreen with a resolution of 240 x 240 pixels, the more affordable One features a bright OLED display with a resolution of 128 x 64 pixels. If you want additional crypto storage security, the Trezor Model T with SD card and wallet support is the better bet.
Verdict
Despite offering just two wallet options to choose from, Trezor seems to be packing more resource-specific diversity in regard to its offerings.
Trezor leads with:
A better set of experience-specific options
Touchscreen support on the Model T
SD card support on select models
Built-in wallet support associated with Model T
Ledger vs. Trezor: Compatibility
Before you consider investing in a hardware wallet, take a moment to establish the compatibility spread. Ledger wallets easily work with third-party interfaces like MetaMask and MyEtherWallet. Every Ledger device can also work with Windows, macOS, or even Linux setups. Plus, Ledger wallets offer iOS and Android support courtesy of the widely compatible Ledger Live application.
Trezor wallets also support third-party wallets and extensions. Plus, you can plug Trezor wallets onto Windows, macOS, and Linux-powered systems. However, Android-based compatibility is only possible with OTG support, as there is no dedicated app to work with.
Verdict
Ledger wallets are ideal for users who prefer mobile apps to manage their wallet holdings. Even though some might consider this enhancement a tad centralized, Ledger makes a good case where ease of usage is concerned.
Ledger wins this round, courtesy of:
App access across Android and iOS ecosystems
Multi-platform Ledger Live compatibility
Ledger vs. Trezor: Backup and recover
Seed phrase backup and recovery can be the trickiest hardware wallet traits. Ledger approaches the same courtesy of a 24-word wallet setup recovery phrase, also termed the seed phrase. There is an optional passphrase functionality in play where a 25th word allows you to recover the standard 24-word seed phrase.
However, Ledger's firmware upgrade of May 2023 — corresponding to the Nano X — brings in a cloud-based seed phrase recovery option. Despite being optional, something as centralized as a cloud-based backup raised red flags for many.
Trezor, on the other hand, brings in the Shamir Backup, a shared seed phrase recovery feature, which involves splitting the phrase into multiple parts. To recover the wallet, you will need to provide a few shares (a pre-defined number) as part of the recovery process.
Verdict
Trezor's shared recovery feature seems way more transparent and agrees better with the crypto community compared to something like a cloud backup.
Trezor leads with:
The concept of the shared recovery phrase
No announcement regarding a hosted cloud-backup functionality
Ledger vs. Trezor: Working chip
Every hardware wallet needs a chip to work. Ledger uses the Secure Element double chip to keep user data safe. The chip is tamper-resistant and can withstand fault attacks, software attacks, and side-channel attacks — according to Ledger. If you are looking for specifics, do note that chipsets reading ST31H320 and ST33J2M0 are secure element variants, whereas the standard non-secure microcontrollers read something like the STM32F042 and STM32WB55.
Every Ledger wallet combines the secure element chip and a standard microcontroller chip to create a secure working environment.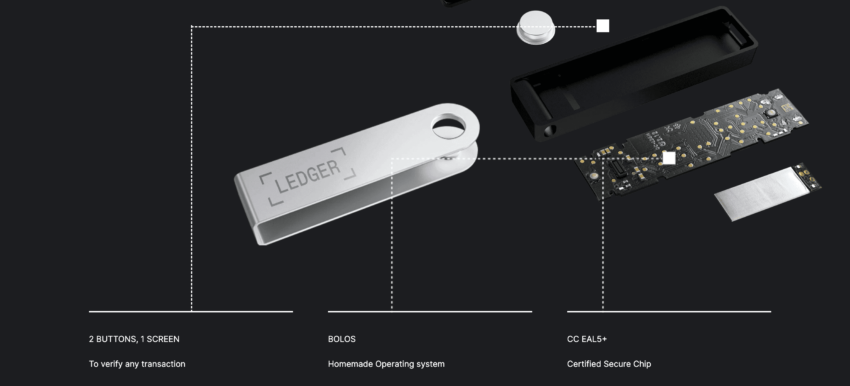 Trezor wallets, regardless of the type, feature non-secure chipsets — STM32F205 for the Trezor One and STM32F405 for the Model T.
Verdict
Only Ledger wallet chipsets offer hardware-level security to the users.
Ledger takes the lead with:
Built-in proprietary Secure Element chip, which is EAL5+ certified
The perfect combination of secure and non-secure microcontrollers to offer a holistic security experience.
Ledger vs. Trezor: Battery support
Not many modern-day hardware wallets offer battery support. Yet, it can be a resourceful trait if you are always on the move and prefer keeping a close eye on your holdings. Ledger's Nano X comes equipped with battery backup, courtesy of the 100mAh rechargeable battery module. The Nano S Plus is charged by plugging it into the computer.
Trezor wallets do not offer battery backup and can only be powered on through USB Type-C connections.
Verdict
If you prefer checking crypto holdings without having to plug the wallet into the PC every time, Ledger comes across as a better bet.
Note: Reddit posts have mentioned that the battery charging functionality associated with the Nano X halted due to high temperature.
The winner is Ledger with:
A 100mAh battery on the Nano X.
Quick charging and the ability of the battery backup to last for over three days on a single charge.
Ledger vs. Trezor: Price
Moving to the prices, the Ledger Nano X will set you back between $119 and $149, whereas the Nano S Plus costs somewhere close to the $80 mark. Also, if you want to purchase the most powerful Ledger Stax, you need to shell out close to $279 — making it the most expensive option on the list.
If you plan to pick a Trezor wallet, note that a standard Trezor One should cost around $55, whereas the Model T could set you back anywhere between $170 to $260 — depending on the deal you get.
Verdict
Ledger offers a more diversified catalog of products — suiting your budget-specific preferences in the best possible way.
Also, Ledger wins the segment, courtesy of:
A wide range of cost and usability focussed choices.
Despite battery backup and display-specific abilities, the Nano X from Ledger is still competitively priced.
Ledger vs. Trezor: Privacy
Privacy policies put in place by hardware wallet manufacturers can often make or break their fate. Ledger, as a firm, offers a pretty descriptive discourse regarding personal data collection. Do note that Ledger currently collects data through websites, its Ledger Live application, and other third-party interactions via the Ledger Live app.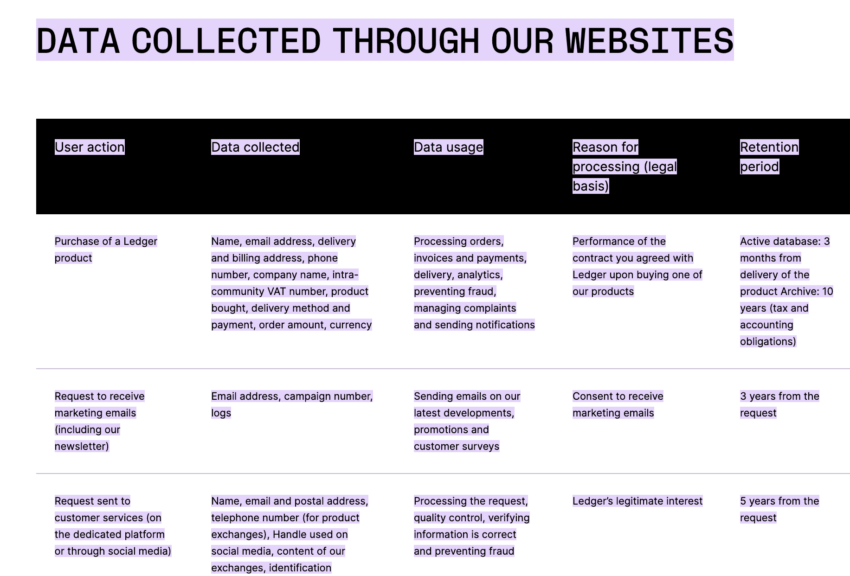 Do note that the captured data's retention period can be as high as five years in some cases. However, Ledger maintains a non-data-storing stance but mentions that the information is relayed to partners.

However, Ledger has been previously criticized for its data collection approach.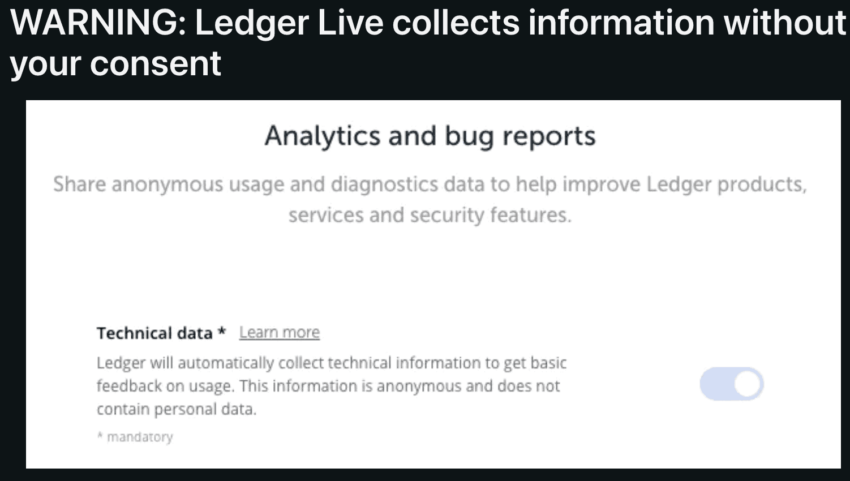 Yet, the thread was met with some resistance as a comment from Murzika, the then CEO, mentioned that the data collection approach was non-invasive, adhered to the anonymity standards, and was fully transparent.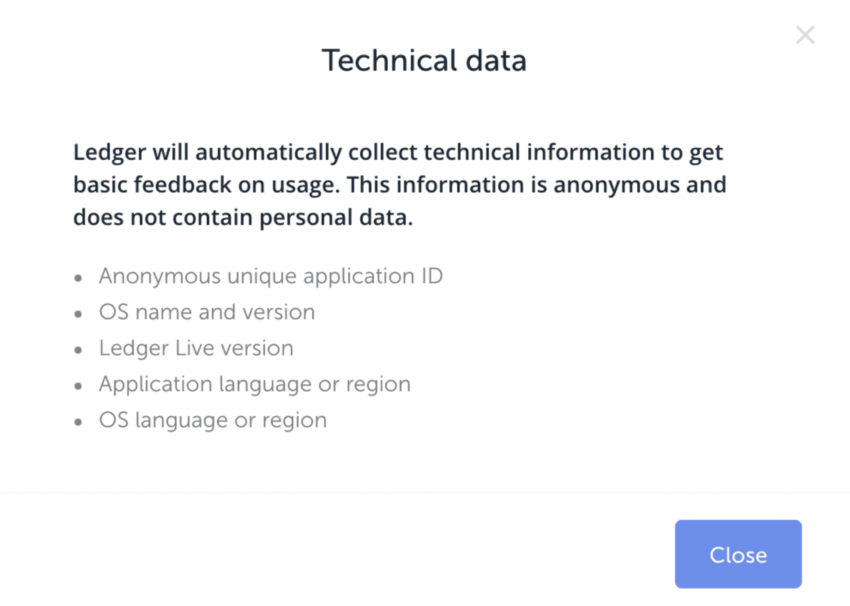 Trezor, on the other hand, follows a more toned-down data collection approach. The privacy policy clearly states that the company deletes customer data within three months of product purchase. And the hardware giant is even deliberating a faster approach to data deletion.

Verdict
If privacy is a key concern, Trezor keeps things simple yet compelling with a straightforward declaration. However, Ledger has been criticized for its centralized privacy policies.
Trezor leads with:
A more transparent privacy policy.
Fewer instances where the privacy policy and data collection strategies were criticized
Ledger vs. Trezor: Open-source
There is one element of Ledger that tends to be missed. The entire hardware wallet infrastructure isn't as closed-source as many think. Instead, Ledger's firmware is relatively open-source, along with the supporting apps.
This way, the code can be reviewed by developers. However, the Secure Elements chip and the proprietary BOLOS software are closed source — an aspect that has previously raised transparency concerns.
Trezor, however, follows a 100 percent open-source approach allowing the code and the hardware to be reviewed by almost anyone on the internet. And do note that with Trezor being open-source, it is possible to build full-fledged devices atop the Trezor platform. That could further enhance the quality of third-party integrations.
But then, the former Ledger CEO is critical of this open-source nature, mentioning this might be the ground zero for rogue firmware as only a handful of open-source evangelists actually run, compile, and verify the codebase.
Verdict
Trezor leads the open-source battle as interested parties with technical know-how can build functional hardware wallets by themselves.
Here is the entire Dev kit with steady handholding in case you want to build your own Trezor wallet from scratch.
Trezor leads with:
A complete open-source approach to building and using hardware wallets.
No proprietary solution, which makes the entire code auditable.
Ledger vs. Trezor: Social sentiments
As of May 2023, Ledger clearly loses this segment as the hardware wallet behemoth faced a lot of flak regarding its new "recover" feature. A Reddit statement made by Eric Larcheveque (Murzika) opened a whole new can of worms regarding the strange pitfall of this "recover" upgrade.

"Using Recover gives you an easy recovery option and mitigates backup loss, but your assets could get frozen by the government (in theory, I'm not a lawyer, and I didn't see any legal opinion on the subject)."

Eric Larchevêque, co-founder of Ledger: Reddit
As far as social media following is concerned, Ledger has close to 585K followers. Also, after the recent turn of events, the company has decided to make a larger part of the proprietary OS open-source.
Also, Ledger CEO has even apologized for miscommunicating the product/service launch — an event that took people by surprise. A public apology will likely help pacify the negative sentiments in the near term.
"This experience has been humbling. We want to do right by the customers and community. Everybody makes mistakes, and how quickly can we fix them? We come to the community with answers to your questions."

Pascal Gauthier, CEO and Chairman of Ledger: Twitter
Trezor, with almost 191K followers, is taking advantage of Ledger's PR crisis, pushing the transparency narrative via its Twitter handle.
Verdict
Trezor seems like a safer hardware wallet option in 2023. Ledger is also bearing the brunt of misleading advertisement claims and has attracted further negative sentiments in the process.
Trezor leads with:
A growing social media
No negative news surrounding its social presence
Ledger vs. Trezor: Physicality
Let's move to the design elements associated with Ledger and Trezor.
Both Ledger's Nano X and Nano S Plus are enclosed in a plastic casing with a brushed steel chassis. However, the Nano X features two on-the-face buttons, which aren't the most aesthetic addition we've seen on a hardware wallet. Ledger wallets are mostly inconspicuous, courtesy of USB-type appearances.
Trezor, on the other hand, features a plastic chassis, even for the more premium Model T. Regardless of which model you pick, Trezor variants do not look as premium as Ledger.
Verdict
Trezor relies way too much on plastic, whereas Ledger focuses on the sleekness of form and metal casing. But then, the Model T from Trezor strikes the perfect balance between touchscreen support and the quality of the buttons.
This section ends in a tie as while Ledger wallets look good, the Model T from Trezor offers a more intuitive UI. Also, the Model T comes with a bigger screen but ditches the button for simple usage.
Ledger vs. Trezor: User interface
The user interface of your crypto wallet is arguably the most ignored aspect. In the case of Ledger wallets, Ledger Live takes center stage, followed by a sizable repository of learning tools and explainers as part of the Ledger Academy.
Trezor, on the other hand, brings in the Trezor Suite — a dedicated repository of built-in exchange support, transaction monitoring support, and a decent collection of educational resources.
Verdict
Both Ledger and Trezor have pretty simplistic UIs, onboarding users to crypto at a clip. However, if we were to nitpick, Ledger inches ahead, courtesy of its app-based support and a more loaded academy.
Ledger is the winner with:
Additional educational resources
A better spread of tools involving dApp interactions, NFT marketplaces, exchanges, and more
Ledger vs. Trezor: Wireless connectivity
Firstly, not many individuals prefer wireless connectivity on hardware wallets. Yet, if it is a deal breaker, Ledger's Nano X is one of the better options around, boasting Bluetooth support. Per the ledger, data associated with Bluetooth transmission is also encrypted.
None of the models sold by Trezor offer Bluetooth or any other form of wireless connectivity.
Verdict
Only Ledger, and that too the Nano X, offers Bluetooth support.
This round belongs to Ledger due to the following:
The ability to manage wallet holdings without physical PC connections.
Encrypted Bluetooth data transmission.
Ledger vs. Trezor: Security concerns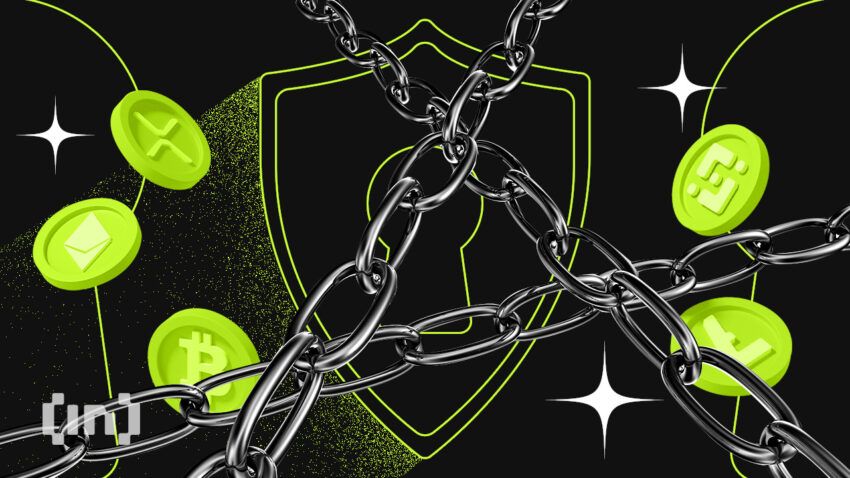 Security breaches and hacks experienced by wallet manufacturers in the past can serve as a robustness indicator for the future. In the case of Ledger, the biggest one to date has to be the 2020's data breach, where almost 270K customers had their personal details compromised. Despite the breach, Ledger maintained a stance that the wallet security and state of crypto assets stored inside the offline storage solutions weren't compromised.
Also, Ledger devices, or any other hardware wallets that connect to the PC, can be at the receiving end of a Man-in-the-Middle attack. An infected PC can trick a Ledger holder into signing an illegitimate transaction. However, no such instances have been encountered till now.
Trezor has also been at the receiving end of hacks and exploits. In 2019, a seed extraction attack was reported and tested by Ledger researchers. The Passphrase concept was brought to life in response to this attack.
In 2020, Kraken Security Labs pinpointed another vulnerability where an attacker was able to extract the seed phrase in under 15 minutes. Trezor responded to the attack and mentioned that mass implementation of similar threats wasn't feasible and the inclusion of passphrases could handle most of these possibilities.
Verdict
Despite Ledger being in the crosshairs of the crypto community, Trezor hacks and exploits have actually been more common.
Ledger wins this round due to the following:
Fewer instances of security breaches
The inclusion of the Secure Element does offer an additional layer of security.
Ledger vs. Trezor: features compared
Now that we have compared these two powerful hardware wallet manufacturers, here is a quick comparison table for your reference:
| | | |
| --- | --- | --- |
| Feature | Ledger | Trezor |
| Security | Secure Element chip. | Fully open-source. |
| Crypto support | Supports over 5,500 cryptocurrencies via the Live app. | Supports over 5,000 cryptocurrencies via Trezor suite. |
| Direct staking and lending | Cryptos can be staked or lent through Ledger Live. | Cryptos can be staked through third-party platforms. |
| Usability | The setup is straightforward. | Trezor Suite is clear and intuitive. |
| Model diversity | Ledger Nano S Plus, Ledger Nano X, and Ledger Stax. | Offers Trezor One (basic model) and Trezor Model T. |
| Compatibility | Compatible with a variety of third-party apps. | No iOS support. Android support is possible via OTG. |
| Backup & recovery | Uses a 24-word recovery phrase. Offers recovery check feature. | Uses 12, 18, or 24-word recovery phrases. Passphrase feature for added security layer. |
| Chipset | Secure Element (ST33J2M0 for Ledger Nano X, ST31H320 for Ledger Nano S) and non-secure chip (STM32WB55 for Nano X, STM32F042 for Nano S). | ARM Cortex-M3 processor. No separate secure chip. |
| Battery life | Ledger Nano X has a built-in battery. | No battery on any Trezor model. |
| Privacy | The privacy policy is standard. Some data bits can be stored for 5+ years. | A standard policy with a 3-month limit for data holding. |
| Open source | Ledger's hardware is not fully open source, but the software is. | Both the hardware and software of Trezor are open source. |
| Design | Sleek and compact design. | Compact design. Trezor One is made of plastic, and Trezor Model T has a premium feel. |
| User interface | Difficult navigation due to its small screen and 2-button operation. | Trezor Model T provides a better on-device experience with its touchscreen. |
| Wireless Connectivity | Ledger Nano X supports Bluetooth for wireless connection. | Lacks wireless connectivity. |
Ledger vs. Trezor: the verdict is out!
This Ledger vs. Trezor showdown compared the market-leading hardware wallets across 16 parameters. And based on individual segments, Trezor comes out as the winner — beating Ledger in nine of the categories. And while the verdict does come with personal preferences, it is advisable to read through every comparison metric in detail and decide for yourself.
Frequently asked questions
Should I use Trezor or Ledger?
What is the disadvantage of a Ledger wallet?
Can I switch from Trezor to Ledger?
Is Trezor the best cold wallet?
What happens if I lose my Trezor?
Disclaimer
In line with the Trust Project guidelines, the educational content on this website is offered in good faith and for general information purposes only. BeInCrypto prioritizes providing high-quality information, taking the time to research and create informative content for readers. While partners may reward the company with commissions for placements in articles, these commissions do not influence the unbiased, honest, and helpful content creation process. Any action taken by the reader based on this information is strictly at their own risk.