NFT projects require specialized NFT marketing services. Using an agency to promote your NFT project will save you time and money. If you want to maximize returns, check our list detailing the best NFT marketing agencies in 2023.
BeInCrypto Trading Community in Telegram: read reviews on the best NFTs projects & marketplace, get the hottest news on crypto, read technical analysis on coins & get answers to all your questions from PRO traders & experts!
What to look for in an NFT marketing agency?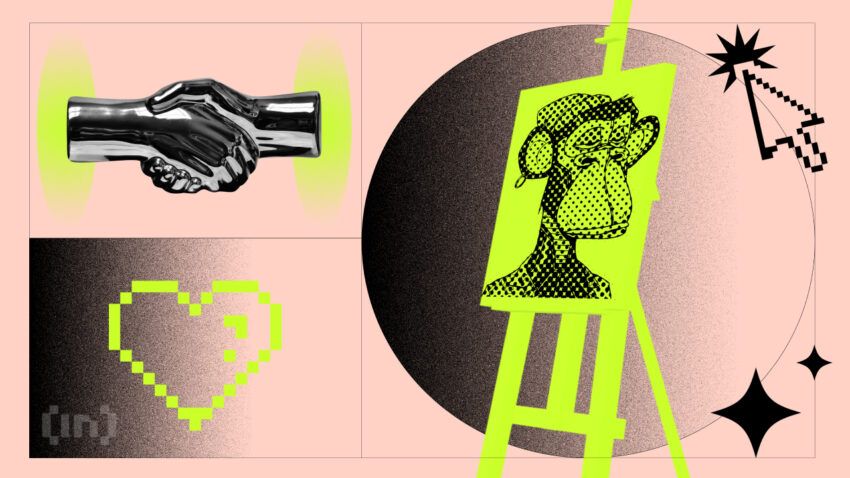 Before selecting an NFT marketing agency, you must establish criteria for choosing the best marketing agency. Undoubtedly, some companies will excel at specific marketing strategies more than others. So learn what to look for in advance.
Services offered
All NFT marketing agencies should have a list of the services they offer. Although services alone do not guarantee the best agency, it does provide clarity on what to expect. In essence, you know what you are paying for. Furthermore, an NFT marketing agency that offers more advertising products is better than one that offers less. Some services to look out for are:
Social media management
Paid media
Email marketing
Community building and management
Lead generation
Search engine optimization (SEO)
Influencer marketing
Public relations
You may not need all of the services an agency offers. Some projects may need a press release, while others need more specific, end-to-end support services. For example, you may need SEO services to take advantage of social media opportunities or help you navigate search engine ad policies.
Learn how BeInCrypto's marketing services can help supercharge your NFT project — contact us today!
Past clients
While some tout that past performance is not an indicator of future results, this is not the case when choosing a marketing agency. It is better to choose a digital marketing agency with a proven success track record than one without.
Before choosing an agency, look for client testimonials. Truly satisfied customers will swear by the agencies they've worked with. Likewise, forthright companies will gladly put any customer reviews where the world can see them.
Industry connections
Industry connections are among the seldom discussed qualities of a good NFT marketing agency. Having all of the latest tools and analytics is great, but industry connections separate the best from the rest when it comes to NFT advertising.
A good agency will not only have connections to media outlets and industry vets, but they will also have connections to influencers. For the right price, your NFT project can benefit from an influencer's celebrity or coverage from major media outlets.
Cost and ROI
The most obvious way to determine the best NFT marketing agency is the return on your investment (ROI). You want the most bang for your buck. This is especially the case as promoting NFTs during a bear market has its struggles — diminished returns are common.
You should compare prices between competitors and see how successful each agency is at promoting projects. Ask for a quote, negotiate, and ask what results a company can guarantee.
10 best marketing agencies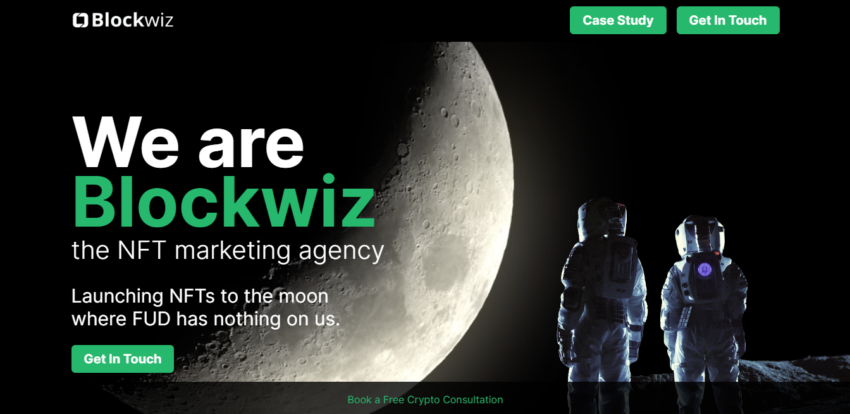 Dev Sharma launched Blockwiz in 2019 in Toronto, Canada. Having held high-ranking positions at major cryptocurrency organizations such as OKX and Paxful, Sharma established the now leading NFT marketing agency. The company is widely recognized as one of the largest providers of crypto marketing solutions worldwide.
Comprising a dedicated team of 70 professionals, including growth marketers, creative writers, designers, and strategists, Blockwiz aims to facilitate rapid growth for renowned crypto brands across the globe.
With a clientele of over 160 web3 firms, Blockwiz has gained the trust of industry leaders like Kucoin, Bybit, OKX, Delta, Vauld, CoinDCX, as well as various promising web3 projects spanning NFTs, the metaverse, DeFi, and gaming.
Services
Influencer marketing
Crypto consulting
Community management
PR & sponsored articles
Social media marketing
SEO
Content marketing
Pay-per-click (PPC) marketing
Web3 PR services
Web3 content writing Services
Web3 design UI & UX
Past and present clients
AdaSwap
BitsCrunch
Seatlab
Wappier
Kucoin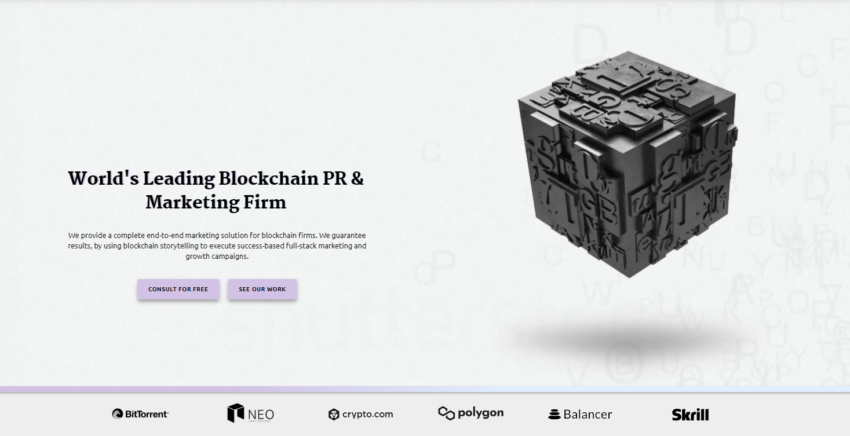 Specializing in end-to-end marketing services for pioneering blockchain and crypto startups, Market Across is a leading PR firm renowned for delivering exceptional results in every area of web3 marketing. The firm leverages solid relationships with leading media outlets to deliver full-stack marketing solutions for some of the top brands in crypto.
With 1.7 billion unique impressions per month and more than 150 clients on the roster, the PR firm's data-driven approach to storytelling delivers impactful results for companies breaking boundaries in web3.
Services
Brand reputation
PR management
Social promotions
Influencer promotions and outreach
Specialist SEO services
Community growth
Past and present clients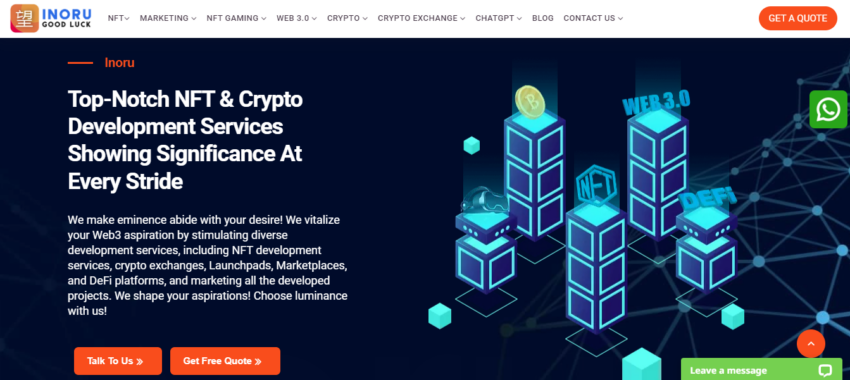 Catering to various sectors such as NFT trading marketplaces, IDOs, crowdfunding platforms, gaming, real estate, metaverse, and more, Inoru is a full-service NFT marketing agency. In addition to project token development, Inoru also offers support for decentralized platforms through seamless integration of web3 technologies.
Specifically, they empower clients by offering a wide range of blockchain network options, including Ethereum, Binance Smart Chain, Solana, and Cardano. The organization is based in Asia, with offices in Singapore and India.
Services
Discord marketing
Hosting marketing campaigns
NFT listings on top websites
Telegram marketing
Social media engagement
White-label NFT marketplace
Smart contract development
Past and present clients
Minty
Quickswap
AnySwap
Waifu tokens
Live NFT
Evai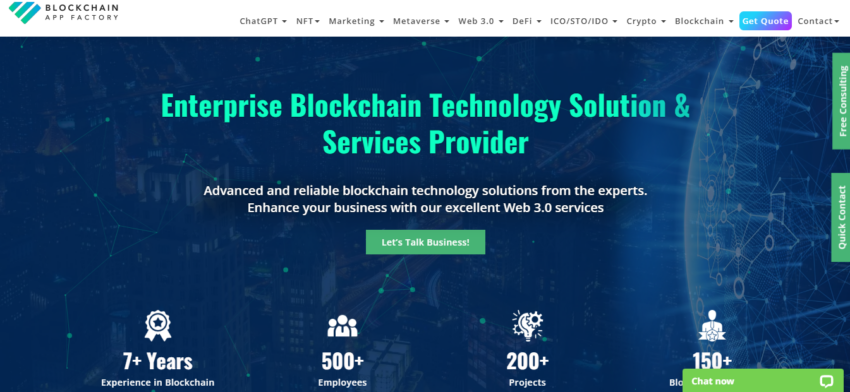 In brief, Blockchain App Factory is a company that provides a comprehensive range of blockchain solutions tailored to the business needs of clients. Founded in 2010 by Kamesh Elangovan and Ramkumar Subramaniam, the company is headquartered in Chennai, Tamil Nadu, India.
Blockchain App Factory not only assists in transforming their customers' blockchain and cryptocurrency aspirations into reality but also specializes in DeFi, NFT, fundraising, exchange platforms, and marketing services, ensuring significant progress in these areas.
Moreover, their dedication expands to developing NFT marketplaces and exchanges, non-fungible token creation, and other NFT-related services.
Services
NFT, marketplace, and launchpad development
DAO services
IDO launchpad
Discord marketing
Web3 consulting
Wallet development
Influencer, social media, and content marketing
Media press release
Past and present clients
Globant
Polygon
Radioshack
Econet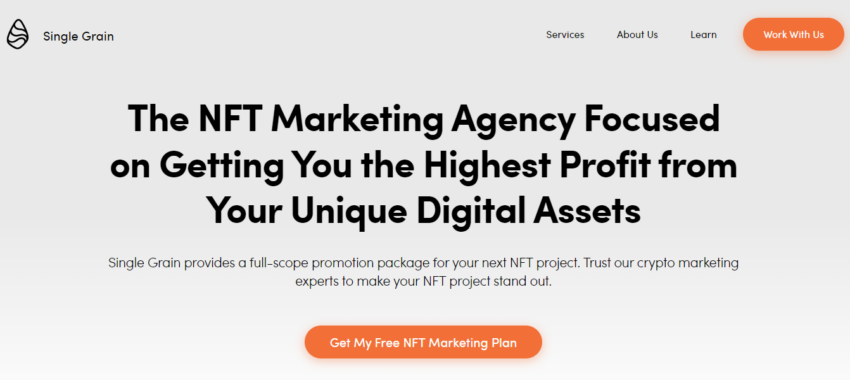 Eric Siu is the founder of Single Grain. Prior to his involvement with Single Grain, he accelerated the growth of an online education company that was teetering on the brink of bankruptcy. Eric acquired Single Grain for just $2.00 in 2014.
At present, Single Grain collaborates with leading industry players across diverse sectors, empowering them to generate leads, boost sales and engagements, and establish genuine connections with their clients.
Leveraging state-of-the-art technology, Single Grain emerged as one of the premier digital marketing agencies specializing in full-scope promotion packages for NFTs. Since 2014, Single Grain has supported teams and businesses on a global scale.
Services
Demand generation
Market research
SEO & content marketing
Paid Ads
Conversion rate optimization (CRO)
Community management
Influencer marketing
Discord and Telegram community building
Press releases/Public relations
Social media marketing and Management
Past and present clients
Amazon
Uber
Peet's Coffee
Nextiva
Intuit
NASDAQ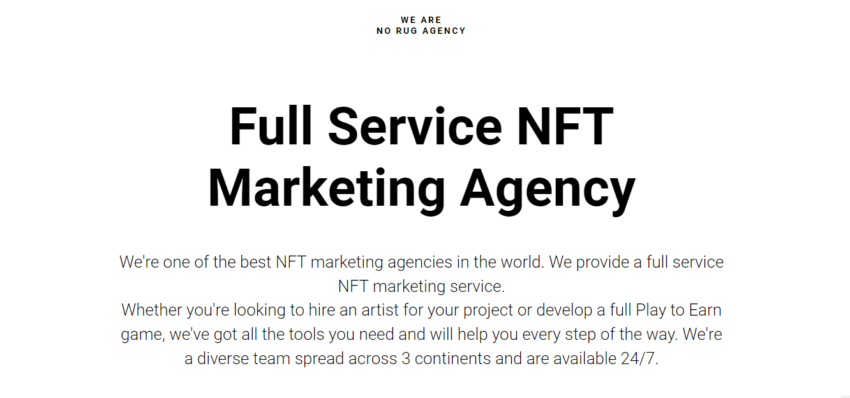 A relatively new NFT marketing agency, No Rug Agency has made waves since its inception. Olumide Gbenro founded the company in 2022 in San Diego, California. Renowned as a sought-after NFT advisor, Gbenro possesses remarkable industry connections.
With access to an impressive network of world-class artists, web3 developers, and top influencers, Gbenro himself is a valuable asset in the NFT space. As such, No Rug Agency is able to provide unparalleled insights and guidance to clients seeking NFT expertise.
In addition to a high-profile founder, No Rug Agency employs a team of experts with expertise ranging from legal compliance, animation, and digital marketing, to community management.
Services
Influencer marketing
Discord growth
Community building
Community partnerships
Legal compliance
Influencer partnerships
Past and present clients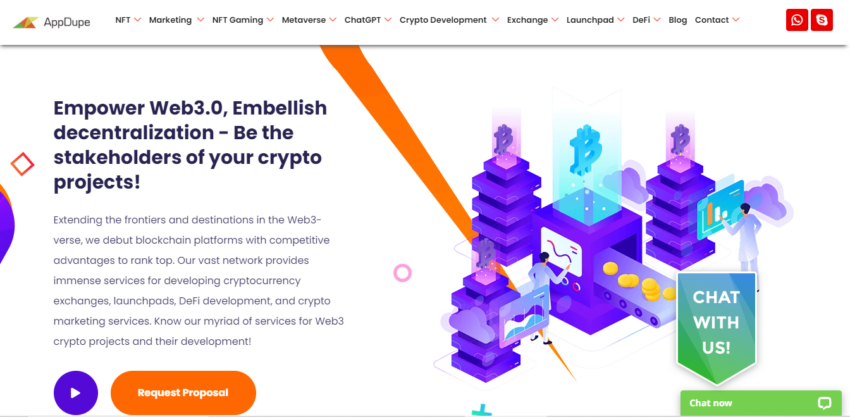 Founded in 2007, AppDupe was initially founded as a website development company. Ten years after its inception, AppDupe began offering blockchain services in 2017. The company has a team of over 500 employees and expertise in multiple tech fields. AppDupe's expertise is in white-label services for NFTs and exchanges, but it also offers other web3-related services.
The company is also active in a number of other fields, including media and entertainment, fintech, and sports. AppDupe aids in the vertical growth of startups by offering cost-efficient solutions and consultation services.
According to its website, the company has developed over 1,000 apps, more than twenty white-label NFT marketplace solutions, and serviced over 800 customers.
Services
Blockchain development services
Launchpad
PR
White-label services for NFTs, exchanges, and crypto development
Influencer marketing
DeFi, Exchange, and NFT cloning services
Past and present clients
Polygon
EOS
XT.com
Microbuddies
Falcon Cabs
Ninya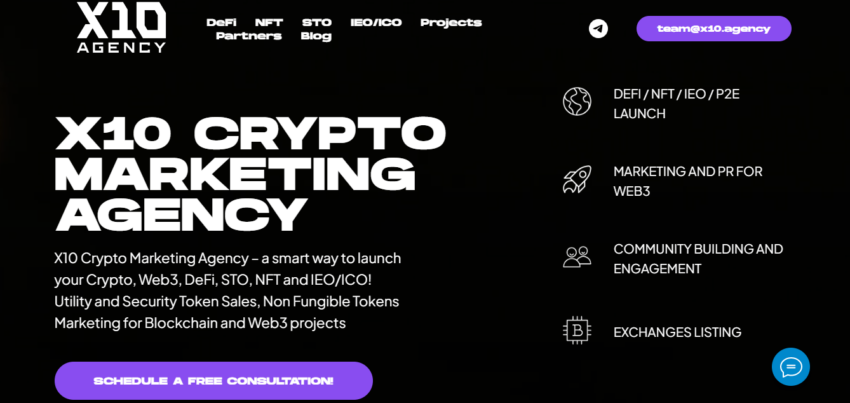 The comprehensive crypto marketing and PR agency, X10 Agency, excels in delivering turnkey solutions for successful promotion in the web3, crypto, DeFi, NFT, ICO/IEO, and STO sectors.
Founded by Sergey Baloyan, the agency's extensive scope of work encompasses utility and security tokens, non-fungible tokens, crypto exchanges and wallets, DeFi platforms, blockchain projects, and fintech ventures. As a dedicated launchpad, X10 Agency enables eeb3 projects to initiate their journey, connect with their target audience, and achieve long-term objectives.
Finally, X10 Agency forges strategic media partnerships with prominent platforms such as Cointelegraph, Hackernoon, Coindesk, and Bitcoin.com, offering clients valuable exposure and opportunities for growth.
Services
Full NFT setup (preparation, audit, and legal compliance)
Growth hacking
Community and social media management
Market making
PR
Influencer marketing
Paid traffic
Partnerships and collaborations
Past and present clients
LUX metaverse
Killabears
Mercuryo
Legendao
Bored.ai
Hacken.ai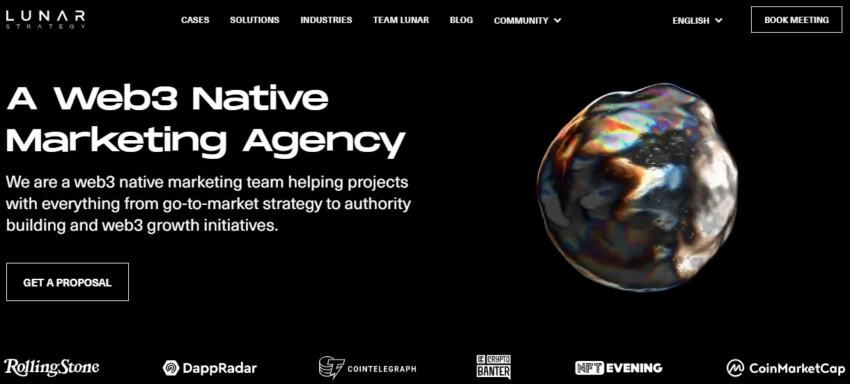 Based in Lisbon, Portugal, Lunar Strategy is a leading NFT marketing agency that has established itself as a trusted partner for over 150+ web3 projects since 2019. Furthermore, the agency's core focus is curating bespoke web3 and crypto activations to foster authentic communities and drive growth for companies ready to make their mark in the industry.
The company implements tailored marketing strategies that incorporate a blend of web3 influencers, web3 social media management, web3 PR, and web3 community management, all aiming to propel decentralized projects' growth to new heights.
With a track record of collaborating with 100+ web3 clients, launching over 1,000 campaigns, and employing a team of 15+ experienced professionals, Lunar Strategy offers experienced hands for your project.
Services
Influencer marketing
Paid ads
PR
Community management
Social media management
Past and present clients
PixelPix
Kounotori
Superhow.ART
Dark Frontiers
JPEGVault
Oasis Foundation
Olympus Game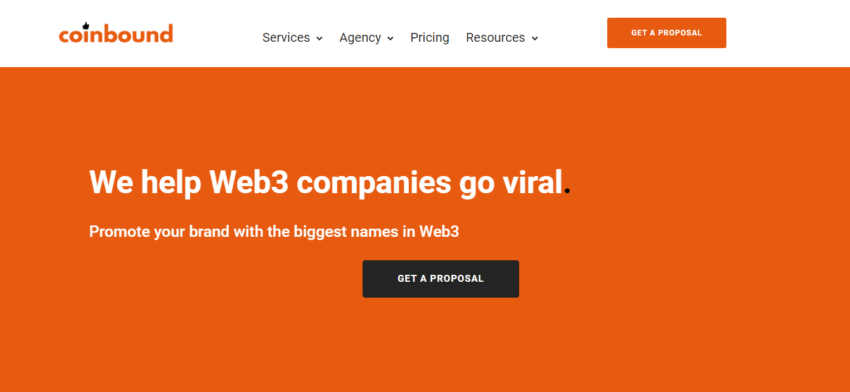 Having gained extensive experience in facilitating the growth of blockchain-focused companies, Ty Smith established Coinbound in 2018. With a notable presence in prominent publications such as Cheddar, CoinTelegraph, Forbes, and BeinCrypto, Smith's insights have garnered recognition and attention.
Given that, Coinbound has achieved substantial coverage across reputable platforms, including Decrypt, TechCrunch, NewsBTC, AMBCrypto, Blockworks, Yahoo Finance, and CoinMarketCap.
Boasting an extensive network of connections within the crypto industry, Coinbound's PR team excels in securing organic coverage for their clients from leading publishers, influencers, and media outlets.
Additionally, the company manages one of the largest networks of cryptocurrency, web3, blockchain, and NFT influencers worldwide, leveraging platforms such as Twitter, YouTube, TikTok, and Instagram to maximize reach and impact.
Services
Influencer marketing
PR
Paid media
Community management
SEO
SEO
Social media management
Past and present clients
ImmutableX
GALA Games
Lido
Shapeshift
Generative Dungeon
Gods Unchained
Harness the power of NFT marketing agencies
NFTs have emerged as a groundbreaking medium in today's digital landscape. For those looking to launch an NFT project, leveraging the expertise and services of an NFT marketing agency is crucial. These specialized agencies have proven to be instrumental in promoting and propelling the success of both digital art and utility-based projects in the ever-evolving web3 arena.
By collaborating with the best NFT marketing agencies, artists can unlock a plethora of opportunities, expand their reach, and connect with a broader audience. However, artists must collaborate with the right agency to truly harness the power of NFT marketing. By leveraging agency expertise, networks, and strategies, artists and founders can elevate projects to new heights, expand their influence, and achieve the recognition and success they deserve.
Contact us to learn more about how BeInCrypto can help supercharge your NFT project.
Frequently asked questions
What is an NFT marketing agency?
How much does NFT marketing services cost?
How do I get into NFT marketing?
How much does an NFT marketing agency charge?
How do I choose a NFT marketing agency?
Disclaimer
In line with the Trust Project guidelines, the educational content on this website is offered in good faith and for general information purposes only. BeInCrypto prioritizes providing high-quality information, taking the time to research and create informative content for readers. While partners may reward the company with commissions for placements in articles, these commissions do not influence the unbiased, honest, and helpful content creation process. Any action taken by the reader based on this information is strictly at their own risk.