---
What do you want to learn?
---
---
If NFTs are important to you or your business, you most certainly will need learn how to advertise NFTs. In this article, we will discuss various strategies and methods for effectively advertising NFTs to reach potential buyers and create a successful sales campaign.
Anything in the digital space can be an NFT; art, images, videos, songs, music albums, or even a tweet. Ever since NFTs gained worldwide popularity in 2021, we have seen tokens sold for a whopping amount of money. For instance, one of the most expensive NFTs ever sold was "The Merge" for an incredible $91.8 million in Dec. 2021. This kind of information makes you want to enter the NFT world, doesn't it?
The craziest thing about NFTs is that this industry is still beginning its journey. In fact, the crypto universe is still far away from seeing the most significant NFT projects, even compared to "The Merge."
Want to discuss NFT with like-minded people? Join BeInCrypto Trading Community on Telegram: discuss NFT & crypto projects with the members, ask for technical analysis on coins and get answers to all your questions from PRO traders & experts! Join now
What are NFTs?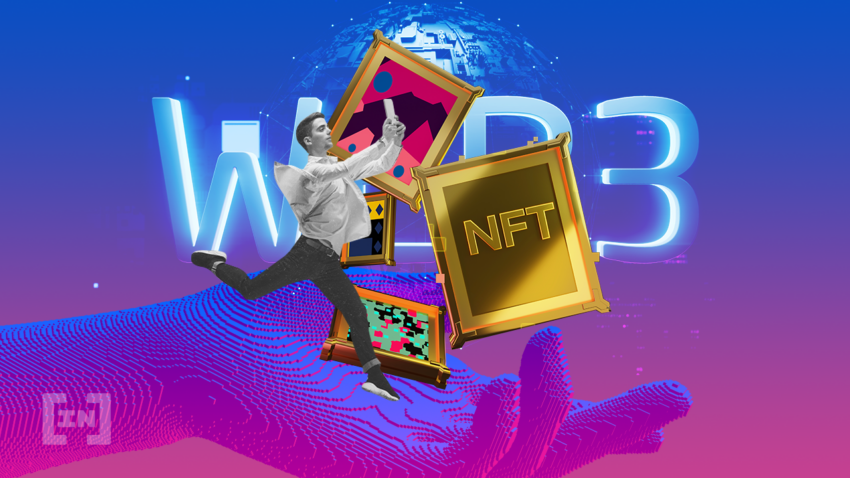 NFT stands for a non-fungible token, a type of financial security made of digital data kept in a distributed ledger known as a blockchain. An NFT's ownership is documented in the blockchain and is transferrable by the owner, enabling the buying, selling, and trading of NFTs.
Plan your NFT projects carefully
Many designers and artists are looking at how to create and sell NFTs as a potential new source of income. NFTs may protect ownership of digital goods, provide access to new communities, and even be used to record the ownership of things in the actual world, so they are more than just a new method to sell art.
Whether it is buying, selling, or NFT advertising, it should be treated like any other business in which you need to plan carefully to be successful. Business planning includes a detailed analysis of your market, pricing, and offers.
For example, different NFT projects require a different approach to the market. An image NFT and a song NFT would probably have a different audience and different marketing approaches.
Talk to collectors of similar work about their purchases and the market. During the research, you may find the knowledge that makes or breaks your endeavor.
In addition to researching your target collection, look at past successful launches in the NFT universe and analyze carefully what they did effectively. Research shouldn't bother NFT long-term investors.
The best places to advertise your NFT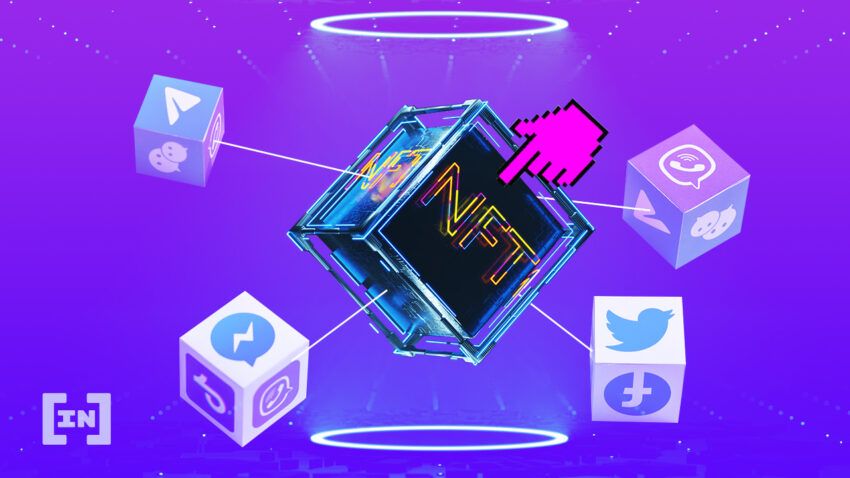 Before we move on to the topic of advertising your NFTs on crypto social media, we want to repeat once again: a successful NFT project needs a business plan. If you do not want to go deep into this jungle, then there are special platforms for NFT sales.
For instance, the OKX NFT Marketplace. Here you can create, manage, and trade your NFTs from one place in one click across chains and platforms.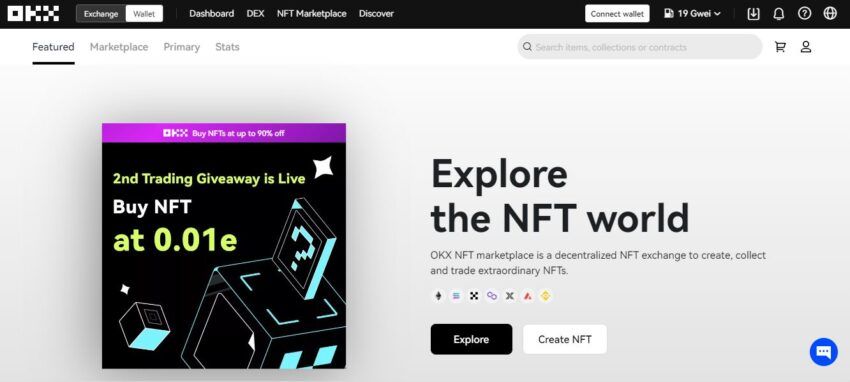 Why OKX NFT Marketplace, you ask? Well, to put it simply,
You get a wide range of different NFT types to choose from including arts, sports, music, domain names, virtual worlds, trading cards, collectibles, and Utility, just to name a few.
The marketplace hosts many famous brands including the likes of Bored Ape Yacht Club and CryptoPunks.
You can create OKX Wallet and buy/sell your NFTs on any NFT marketplace.
Would you like to try your hand at business planning? To assist you, we've created a comprehensive list of the five best social networks to advertise the asset class. Our objective is to help you make an informed decision about which platform best suits your needs.
Here are the top 5 platforms on which NFTs could be advertised.
1. Twitter
Twitter is the most popular channel to advertise your NFTs by far. In fact, it is safe to say that the NFT universe lives and dies on Twitter nowadays. It is extremely difficult to find a successful NFT project launched in 2021 or so which was not visible on Twitter, at least in some way.
You can promote your NFTs on Twitter in two ways — by tweeting (posting) and via Twitter Spaces.
Tweeting can include announcements, informational tweets, hype tweets, giveaways, contests, and paid Twitter posts. The first two are used when you want to place some important information about your NFT project.
Hype tweets are popular in the crypto world for advertising NFTs. For instance, something like "Soon we will hit the moon" will probably go well on Twitter. NFT giveaways and contests are common promotional techniques for project launching. Most prizes include NFTs from the project or a popular project.
As the name suggests, paid Twitter posts are, in fact, paid Twitter ads. Twitter Ads' pricing are adjustable, which makes them an affordable way to advertise your NFTs.
However, it is recommended to try the other techniques first and attempt to get results for free. It can even happen that you are more efficient with the free methods than with the paid ones!
You can define Twitter Spaces as live rooms where hosts and co-hosts can invite guests to debate any topic. Anyone may join a room to listen and speak. NFT Twitter Spaces operates 24/7 worldwide. Twitter Spaces is a great opportunity to learn about NFT life, meet other participants, and promote your ideas and projects.
2. Instagram
You can use Instagram to advertise your NFT collection, as it serves as a platform for marketing digital art and images. Instagram is used by some of the most well-known musicians to generate anticipation for their impending releases and to draw greater attention.
Instagram is also easier to use than other social media platforms. It's as simple as searching for relevant hashtags and posting photographs with them.
Be careful to include relevant captions and a variety of keywords with each image you post if you want to get the most out of your Instagram posts. Furthermore, you may want to consider boosting them with an Instagram marketing expert.
Including Instagram in your NFT advertising and marketing plan might be a wise move, especially if you already have engaged followers on the platform. Keep in mind that it's harder to gain followers organically on Instagram today than in previous years.
There is also a feature called Instagram Reels, as well as Highlights, and Stories, which you can use to give your followers a sort of preview of what's to come. If you want to get more attention on Instagram, you could try thinking of original ideas for Instagram Reels. Especially, since this is one of the newest features released by the platforms, and Instagram's algorithm likes it.
3. Discord servers
Yet another extremely popular advertising platform for NFT projects is Discord. In fact, almost all widely popular NFT projects have their own Discord community. However, since creating your own crypto community can take a lot of time on Discord, you can join different groups and use them to promote your NFT.
Many public Discord servers are available to join, including ones dedicated specifically to promoting new NFT collections, as well as others that support established projects. Discord users are more inclined to invest in forthcoming NFTs; thus, you'll have a better chance of reaching them.
Besides joining public servers, it is suggested to try to get into some "invitation-only" ones. Before you can get an invitation, you'll need to join a few public servers and become friends with a few individuals. Some of the most popular communities include OpenSea and NFT Hideout.
4. Telegram groups
Used on computers and mobile devices, Telegram is a highly well-liked messaging service. As one of the most popular applications in the world, it has more than 100 million daily active users. This makes Telegram a prime territory for advertising NFTs.
It also has a use rate that is 25% higher than that of other messaging and social networking apps. Even though Twitter and Instagram and a level above Telegram when it comes to marketing purposes, they have not reached the potential of Telegram in direct contact with the potential buyer.
One of the best and more popular group on Telegram that you could to be part of, is BeInCrypto community. There you can find various investors keeping contact with them, get advice and help to increase your knowledge on the web3.
NFT Telegram marketing includes a wide range of operations that boost the digital platform's openness. This software can build several channels. Channels are a key to quick success. First, users in these channels can communicate and debate information about the NFT platform's business area. Channels are a fantastic approach to developing business traction.
5. Influencers
Last but definitely not the least, an advertising method to promote your NFT is by collaborating with influencers. Do you have a budget to spend on advertising? Reach out to influencers rather than spending this money on expensive Instagram and Twitter ads. Keep in mind that influencers in the NFT market often charge varied prices, mostly based on their reach, reputation, and the style of advertising you pick.
Influencers can be found on various social media channels such as Facebook, Instagram, YouTube, TikTok, etc. The first factor you should consider is their audience. For NFT projects, you will probably have to find notable crypto influencers who know what NFTs are.
Reach out to them and see if you can make an acceptable deal regarding your NFT projects. Based on market analysis, influencers are significant assets for NFT marketing, since the right ones will help you reach your target audience efficiently. Even on a small budget, collaborating with the right influencer will increase your reach and follower count overnight.
Finally, it is of the highest importance to track your impressions/page views or any metrics that are important for advertising your NFT business, before and after you reach a deal with the influencer. If you notice that the numbers are not increasing, you should probably change the influencer or change the advertising strategy.
What if you make a boom, and what if you fail?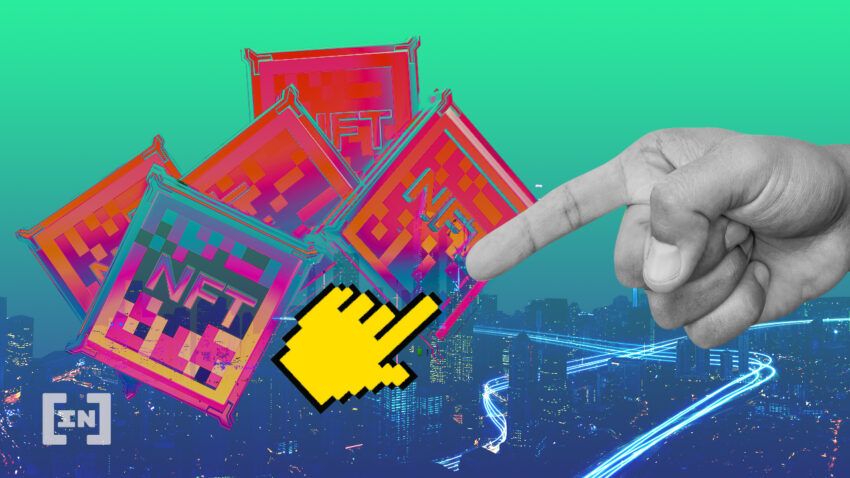 You have to be prepared for both of these situations. Ask yourself, "What is my next move if I make a big success quickly?" You have to be mentally prepared for this.
The same goes if you fail. Try not to take it personally, and keep in mind that most NFT projects do not live long enough to be successful.
Please read our article on how to create and sell NFTs for free. We explained in detail how to sell your NFTs on various platforms such as Rarible and OpenSea.
< Previous In Series | NFT | Next In Series >
The easiest way to earn on NFT is to go to the special marketplace like OKX NFT Marketplace. Here you can create, manage and trade your NFTs from one place in one click across chains and platforms.
Branding and commitment are essential
Since NFT projects are gaining more and more popularity, branding your project has become crucial. You have to make sure that connections with your followers are tight and that your promises are fulfilled.
A lot has changed since NFTs entered the crypto universe, and nowadays, you have to plan accordingly and be prepared for different outcomes and different audiences. Even though the possibilities in the NFT world are way higher today than a year ago, your commitment has to be on the next level as well.
Frequently asked questions
Where is the best place to promote your NFT?
How do I make my NFT sellable?
How much can you sell an NFT for?
Can I post my NFT on Instagram?
Disclaimer
In line with the Trust Project guidelines, the educational content on this website is offered in good faith and for general information purposes only. BeInCrypto prioritizes providing high-quality information, taking the time to research and create informative content for readers. While partners may reward the company with commissions for placements in articles, these commissions do not influence the unbiased, honest, and helpful content creation process. Any action taken by the reader based on this information is strictly at their own risk.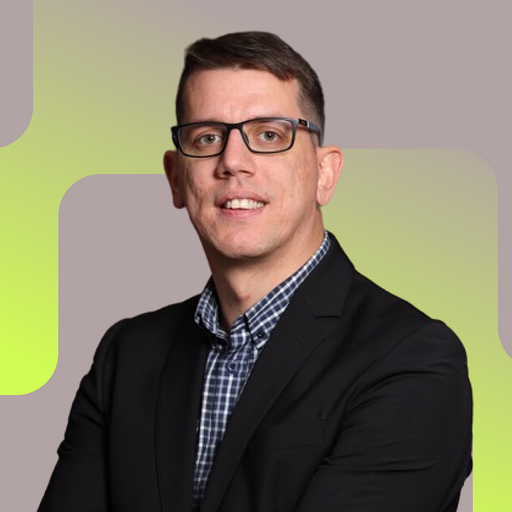 I am Petar, and my job with BeInCrypto is the position of Commercial Creative Lead and Editor. I truly believe in the future of web3 and DeFi technologies . Do not hesitate to...
I am Petar, and my job with BeInCrypto is the position of Commercial Creative Lead and Editor. I truly believe in the future of web3 and DeFi technologies . Do not hesitate to...
READ FULL BIO
Sponsored Sponsored
Let's talk!
If you are interested in discussing opportunities, please contact us via email at
[email protected]