Whether you're a seasoned investor or a novice dipping your toes into the crypto universe, you need a reliable, secure, and cost-effective method to transition from your traditional fiat currency to digital tokens — a process facilitated by what are known as 'fiat onramps.'
This comprehensive guide unveils the nine best fiat onramps in 2023. From understanding the basics of onramps to discovering the key features of top platforms, we cover everything you need to know.
What is a fiat onramp?
An on-ramp is a service, often an exchange, that lets you trade your traditional money (fiat) for digital currency, like bitcoin. The price depends on the market rate when you make the trade.
There are three main ways to get cryptocurrencies. First, you can 'mine' them by using your computer to help a blockchain network and receive payment in coins. Second, you can sell things and get paid in cryptocurrency. Lastly, you can use an on-ramp to buy crypto with cash. This could be on a website or at a physical crypto ATM.
On-ramps are important because they let you access the whole cryptocurrency system. Then there are off-ramps, which do the opposite. Off-ramps let you trade cryptocurrency back into regular money. This is helpful because, in many places, traditional money is still the main way to buy things or pay bills.
Why are fiat onramps important for crypto investors?
Fiat on-ramps are crucial for crypto investors for several reasons. As on-ramps convert traditional money, like U.S. dollars, into digital currencies, they open the gate to the crypto world. This smooth transition allows individuals to move from a traditional, controlled money system to a decentralized, blockchain-based one.
For those planning to invest in cryptocurrencies, on-ramps offer many benefits. They serve as a safe and dependable platform to buy and sell a broad selection of digital currencies. The best on-ramps typically feature user-friendly interfaces, low fees for transactions, and round-the-clock customer support. Some of these platforms even offer more complex instruments, such as options trading. In short, fiat on-ramps are vital for anyone looking to step into the crypto world and participate in the decentralized economy.
What are the best fiat onramps?
Fees
Third party used for fiat deposits
Payment methods
Card
Bank transfers

Although Changelly is a well-known fiat on-ramp platform, it's actually a crypto exchange. This means that it allows cryptocurrency trading on the platform after a successful fiat-to-crypto onramp.
It's important to know that Changelly requires you to use a third-party app like MoonPay for fiat transactions, which may have limited payment options. This will depend on your geographic location.
Also, Changelly has a high minimum trade amount for each cryptocurrency pair (up to $50). Do research your chosen crypto to learn its trading conditions as well as the available cryptocurrencies before choosing this payment gateway.
Pros
Wide range of cryptocurrencies
Low crypto-to-crypto exchange fees
Integrates with various wallets
Easy to use
Cons
Not regulated in the U.S.
High fiat-to-crypto rates
Limited payment options
High minimum trade amounts
Payment methods
Credit and debit cards
Bank transfers
Third-party and e-wallet
P2P
ATMs
Binance offers a variety of fiat to crypto gateways that make it a top choice for investors.
Firstly, you can use credit and debit cards, making it easy to buy bitcoin for a minimum amount of around $15, depending on the currency you use. Link your VISA/Mastercard to your Binance account and select the fiat to crypto option.
Secondly, Binance allows you to deposit local currencies, like the Russian ruble, Australian dollar, and Brazilian reais, via bank transfers. The crypto exchange also offers e-wallet options, such as Advcash, lets you deposit local currencies, which you can then use to buy cryptocurrencies on Binance.
Binance also provides P2P Trading, where you can buy bitcoin directly from other Binance users using your local currency. Alternatively, Bitcoin ATMs allow for buying and selling cryptocurrencies using your credit and debit cards.
The process of buying cryptocurrencies on Binance is user-friendly and straightforward. After creating an account and completing the KYC process, you can use any of these options to buy cryptocurrency.
Pros
Competitive trading fees and asset prices
Wide selection of cryptocurrencies
Great tools for analyzing market trends
The platform executes trades quickly
Cons
It might have too many features that can confuse new traders
Several verification levels are required to access all features
Bybit
Best for leverage trading
Payment methods
Credit and debit cards
Bank transfers
Third-party
P2P
Using Bybit as a fiat onramp is a good option for crypto investors for several reasons. As of September 2021, Bybit does not charge any deposit fees for trading crypto,.
This platform stands out for its transparent fee structure. For withdrawals, Bybit does charge a fee that varies based on the specific cryptocurrency being withdrawn.
It's important to note that these withdrawal fees aren't included in the displayed withdrawal amount. To get the final withdrawal sum, traders must account for these fees. But, to make things easier, Bybit has an 'All' button which, when clicked, automatically adjusts the final amount by including the applicable fees.
Pros
Low minimum deposit needed
No deposit fees
Demo account available
Clear trading terms
Cons
Self-regulated, lacks external oversight
Only cryptocurrency transactions, no other methods
Limited selection of cryptocurrencies
Payment methods
Credit and debit cards
Digital
wallet
purchases
ACH online banking
Kraken positions itself as a robust fiat onramp platform, providing a seamless crypto trading experience. Known for low transaction fees and a multitude of both digital and fiat funding options, it streamlines the process of investing in cryptocurrencies, whether you're setting up a spot trade, custom order, or a recurring buy.
Kraken accommodates fiat currency funding in U.S. Dollars (USD), Euros (EUR), and Canadian Dollars (CAD) with minimal fees. For U.S. clients (except in NY, WA & TX), there is the option to fund Kraken accounts with USD via Bank Transfer (ACH) free of charge. Additionally, deposits via CAD and EUR SEPA are also feeless.
Crypto investors who already possess supported digital assets can conveniently deposit those into their Kraken account with instant credit post-verification. In less than 10 minutes, you're ready to trade.
Kraken also offers an instant buy option using your phone's digital wallet, a bank transfer, or a qualified credit or debit card. This means you don't have to wait to kickstart your crypto trading.
For corporate-level clients, there's an expanded set of funding options, including USD international wire transfers.
Pros
Complete features for crypto investors, including margin trading and staking
Great customer service
Low fiat onramp fees
Wide range of educational material
Cons
Moonpay
Best for instant transfers
Fees
1 – 4.5% + dynamic blockchain fee
Payment methods
Card
Bank transfers
P2P

MoonPay stands out in the crypto exchange market, offering top-notch on- and off-ramp services. Unlike many exchanges that don't support direct fiat to crypto exchanges or offer limited functionality, MoonPay provides a seamless, user-friendly experience for both new and existing cryptocurrency traders.
Awarded the title of 'Best Cryptocurrency Purchasing Site' at the 2021 Fintech Breakthrough Awards, MoonPay offers smooth buying and selling functions. It caters to users across over 100 countries, enabling the secure exchange of over 80 cryptocurrencies and 30 fiat currencies.
MoonPay isn't just about being the best onramp; it aims to be the payment gateway of choice for the next billion cryptocurrency users. Its API integrates with trusted wallets like Bitcoin.com and ZenGo, further expanding its reach and convenience.
Pros
Convenient purchases
Available in many locations
Large crypto selection
Cons
High fees
Limited trading
Payment methods
Credit and debit cards
Bank transfers
Payment services

Availability
E.U., Canada, U.S., U.K
Coinbase stands out as a compelling fiat onramp platform to buy crypto, largely due to its user-friendly interfaces and quick deposit and withdrawal feature. Users can conveniently use U.S. dollars to purchase cryptocurrencies on the Coinbase platform. More experienced traders can take advantage of Coinbase Advanced, offering advanced charting functions, crypto-to-crypto transactions, and the ability to place market, limit, and stop orders.
A standout feature is the ability to instantly withdraw crypto after purchasing it with fiat currency. Unlike many other crypto exchanges that require users to wait several days for the payment transaction to clear, Coinbase provides immediate access to your purchased crypto. This proves particularly advantageous for users interested in using their cryptocurrency to engage with decentralized apps and other external services.
Pros
Offers more than 200 cryptocurrencies
Low minimum for fiat deposits
Quick crypto withdrawals
Cons
Higher fees than other cryptocurrency exchanges
Payment methods
Credit and debit cards
Apple Pay

BitPay offers a compelling suite of features making it an excellent choice for a fiat onramp app for buying crypto.
It provides an easy and secure way to accept blockchain payments. Customers simply send cryptocurrencies from their devices directly to a payment address. Once received, BitPay converts the cryptocurrencies into your preferred currency and adds the full amount of the payment to your BitPay account settlement.
BitPay supports settlement in eight currencies and direct bank deposit in 38 countries, with BTC, bitcoin cash, and various other cryptocurrencies supported in over 170 countries. This global reach makes BitPay a suitable choice for users in numerous locations.
Pros
Simple to use
Provides a debit card for spending, eliminating the need to constantly transfer money to a bank account
Secure and hassle-free
Cons
The interface can be confusing for new users
The customer support system could be improved
Fees
3.6% processing fee + blockchain fee
Service fee 3.4%
Payment methods
Credit and debit cards

Switchere is a great choice as a fiat onramp app due to several key factors. It has wide payment acceptance, accommodating transactions from credit and debit cards, including Visa, Mastercard, and Maestro. This ensures flexibility for users and a smooth transaction process. Also, Switchere is dedicated to maintaining regulatory compliance and security. This is demonstrated by their adoption of the 3-D secure protocol, an additional security layer for online card transactions, which enhances the safety of transactions.
The platform is designed to be user-friendly, with a quick and straightforward registration process, which allows users to start buying, selling, or exchanging crypto swiftly. Additionally, it has an automatic ID verification process that takes up to 15 minutes and other document verifications within one business day. Overall, Switchere's blend of payment flexibility, regulatory compliance, robust security, and user-friendliness make it a compelling option for a fiat onramp app.
Pros
Easy to use
Offers altcoins
Provides educational content
Cons
Expensive fees
Doesn't offer many cryptocurrencies
No security information
UTORG
Best for instant card onramp
Payment methods
Credit and debit cards

UTORG stands out as a leading fiat onramp service for several compelling reasons. It accepts both MasterCard and Visa, which include credit, debit, prepaid, and virtual cards, enhancing the service's accessibility and flexibility for users.
Notably, the speed of service is impressive. For returning customers, buying BTC is almost instant. Even for new users, the verification procedure is designed to be efficient and swift, taking under five minutes. One of the significant advantages of using UTORG is its fee structure. The platform does not charge any fee for buying BTC, making it a cost-effective option for users. However, users should be aware that the service has included a spread in the price, and their bank might charge a fee, especially if the purchase currency differs from the card's currency.
UTORG also prioritizes legal compliance and security. The KYC procedure is a one-time process, making subsequent purchases hassle-free.
Pros
Zero service fee and no blockchain fee (operates on a spread)
Multiple fiat currencies
Global coverage
User-friendly checkout process
Quick and easy identity verification
Full refund guarantee
Cons
Transaction limits are lower than other platforms
Potential bank fees
Identity verification requirement
How does a fiat onramp work?
A fiat onramp works as follows:
You go to an exchange platform or a crypto ATM, and
You use your regular money to buy cryptocurrency. The amount of cryptocurrency you receive depends on the current market rates.
Imagine a fiat on-ramp like a gateway onto a highway. Once you're on, you have access to the entire world of cryptocurrency. You can buy, sell, trade, and more.
Then, when you want to convert your cryptocurrency back into regular money, you use a "fiat off-ramp." This might be when you sell your cryptocurrency on an exchange platform or use it to buy goods or services. Off-ramps let you return your cryptocurrency to the real world, where most transactions still happen with regular money.
This might be the case for a while yet: a 2022 report by Morning Consult outlines the main drivers for crypto adoption, with many viewing crypto as the future of investing and a way to generate income, as opposed to a primary payment method.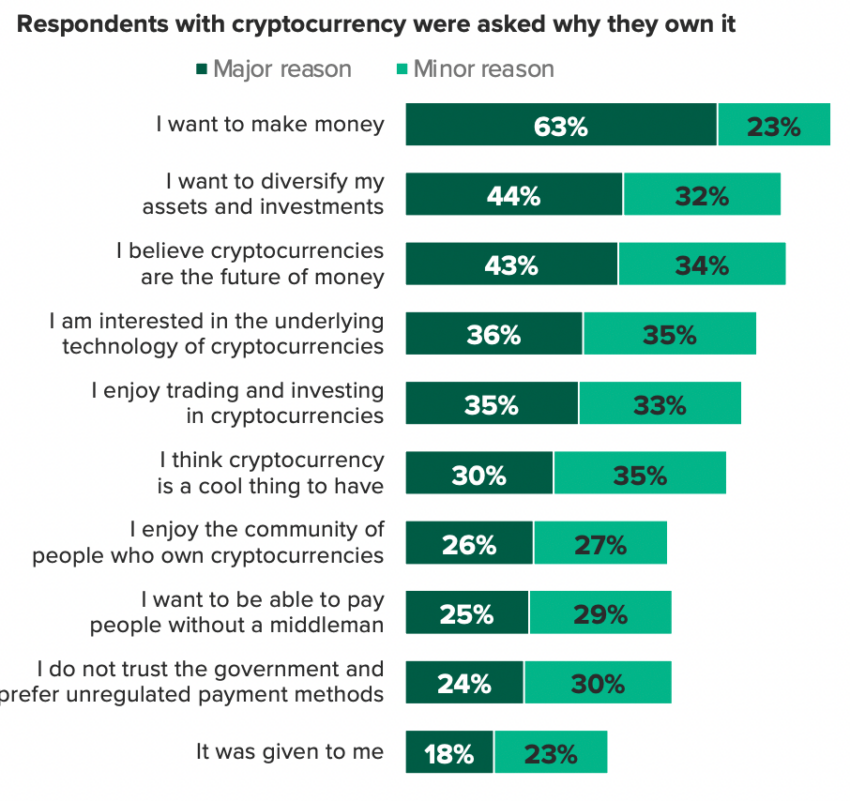 What are the fees associated with fiat onramps?
Fees associated with fiat onramps can vary based on the platform used. They might include transaction fees, platform service fees, and network fees.
The transaction fees are charges for buying or selling cryptocurrencies. Some platforms charge a percentage of the transaction value, while others have a fixed fee per trade. The deposit and withdrawal fees may vary for each payment method used and platform. Also, if your bank's currency differs from the one accepted by the platform, your bank might charge you a conversion fee.
Remember that for each blockchain transaction, there are network fees and charges for processing transactions. Some platforms, like UTORG, cover this fee for you. Some platforms may also charge service fees for using their platform. It's crucial to check the fee structure of the specific platform you plan to use, as these costs can significantly impact the cost of buying and selling cryptocurrencies.
Choosing your ideal fiat onramp in 2023
Fiat onramps have emerged as essential tools for seamlessly bridging traditional finance with digital assets. While the choice of an onramp largely depends on your specific needs and comfort level, remember that the core goal is a seamless, secure, and efficient transition between your fiat currency and the world of cryptocurrencies.
We can't choose only one platform as the best; if, for example, you're interested in futures trading, your preferred platform will likely be different than that of a newbie investor. The most important thing is to stay informed, choose wisely, and embrace the crypto world's possibilities.
Frequently asked questions
What are on and off-ramps in crypto?
What are examples of crypto on-ramps?
Disclaimer
In line with the Trust Project guidelines, the educational content on this website is offered in good faith and for general information purposes only. BeInCrypto prioritizes providing high-quality information, taking the time to research and create informative content for readers. While partners may reward the company with commissions for placements in articles, these commissions do not influence the unbiased, honest, and helpful content creation process. Any action taken by the reader based on this information is strictly at their own risk.
Iulia Vasile is a seasoned professional in the cryptocurrency and blockchain industry, working full-time in the field since 2017. With a background in computer engineering, she...
Iulia Vasile is a seasoned professional in the cryptocurrency and blockchain industry, working full-time in the field since 2017. With a background in computer engineering, she...
READ FULL BIO
Sponsored Sponsored