The emergence of cryptocurrencies has created a thriving crypto asset market. Both professional as well as novice traders are looking to benefit from the market's volatility. But where to start? What does "trading" really mean? And how do you make sure you are trading carefully, safely, and securely? Learn how to trade cryptocurrency in this how-to guide for new crypto traders.
What is cryptocurrency trading?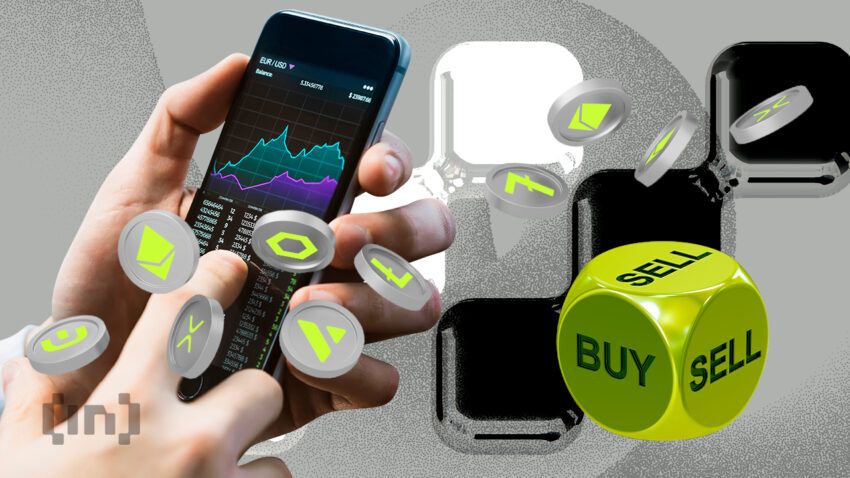 Cryptocurrency trading is the process of buying and selling digital assets on a crypto exchange or brokerage platform with the aim of making a profit.
You can trade the crypto you own or enter into futures, options, or contracts for differences (CFDs) agreements. The latter is essentially trading on margin. These financial derivatives allow a crypto trader to speculate on the price movements of a cryptocurrency without owning it.
If you believe a cryptocurrency's value will increase, you can go long (buy). Conversely, you can go short (sell) if you believe the coin's value will drop. That means you could make money if the price goes in either direction, as long as your prediction is accurate.
This article will discuss how to trade crypto that you own rather than derivatives since it is easier to do so. This doesn't mean, however, that financial derivatives aren't necessarily suitable for beginners.
How to trade cryptocurrency: before your first trade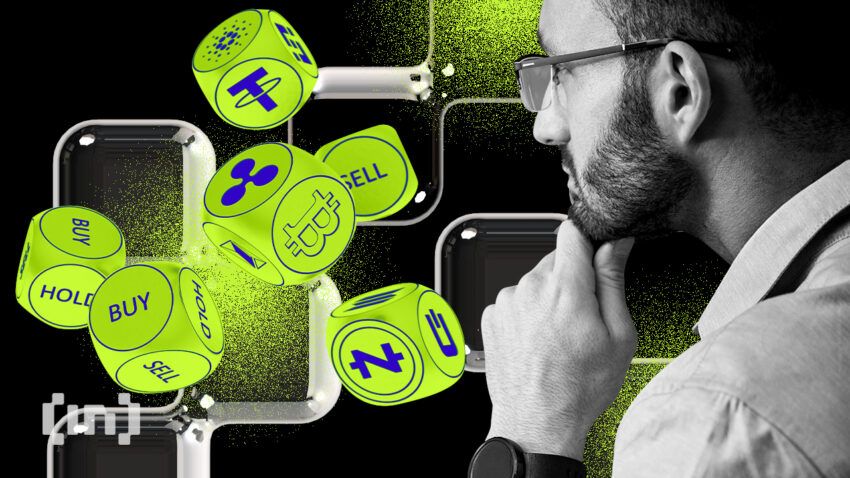 Crypto trading isn't as intimidating as it might sound. You can quickly get started by following the steps below:
Find a crypto exchange
Once you've found a trading strategy that works for you, start looking for an exchange to trade on. Consider factors like ease-of-use, on and off-ramp options, fees, reputation, state of financial health, and the team when picking a crypto exchange. Many of the best crypto exchanges offer built-in tutorials and allow users to create demo accounts to practice trading without risking real cash.
Create an exchange account
Register an account on the crypto exchange of your choice and verify your identity. Verification may involve providing ID details, taking a selfie, and submitting proof of address. The exchange may take minutes, hours, or days to approve your identity verification. The waiting period will vary from platform to platform.
Add funds to your account
After identity verification, deposit fiat to your account or connect your bank account (if that's an option) to purchase the cryptocurrency you want to trade. Alternatively, you can transfer crypto to the exchange if you already own some.
Because of its price stability, you may want to buy a stablecoin like USDT or USDC. Therefore, in a BTC/USDT pair, you would use USDT to purchase BTC. So, before making a purchase, you should check the available trading pairs on the exchange to identify the pair that contains the digital currency of your choice.
Research beginner-friendly trading strategies
Before starting trading, you need to learn as much as possible about this topic. Investment and trading strategies should be at the top of your research list. Also, look for tips to help you reduce trading risk.
Depending on the type of trader you want to be, you can look for investment strategies that fit your category of choice. For instance, passive strategies include buy-and-hold or dollar-cost averaging (DCA). Buy and hold simply means purchasing crypto and holding it over a certain period of time with the hope of selling it for a profit in the future. Conversely, DCA is a strategy where a trader regularly buys equal amounts of crypto, or for a fixed dollar sum, over a specific duration, regardless of the price.
Arbitrage and scalping are strategies that beginners can apply in active trading. Scalping entails purchasing a cryptocurrency, monitoring it throughout the day, and then selling it when the price rises above the initial buying price. On the contrary, arbitrage trading takes advantage of small price differences across exchanges. For example, you could buy bitcoin on an exchange with a lower price and immediately try to resell it on a platform showing a higher bitcoin price.
Furthermore, research the pros and cons of manual and automated trading to decide which type of trading will suit you best. Automatic trading uses a bot that buys and sells crypto on your behalf to possibly earn a profit. In manual trading, you execute trades yourself.
Choose crypto to trade
Conduct market analysis to identify the best coins to trade. You can do this by analyzing price movements, what other people are trading, potential risks, and the most popular trading pairs. Moreover, examine the projects and the teams behind the coins that are on your radar.
You can choose established and large-cap coins like BTC and ETH or higher-risk medium or small-cap altcoins. The decision depends on your risk appetite. While medium-cap altcoins are riskier than large market-cap coins, they may offer higher returns since they experience bigger price swings.
Start trading
Start trading the cryptocurrency of your choice using your preferred trading strategy. You can do this manually or use a beginner-friendly trading bot. You may want to start with a small amount to get a feel for how it works before going all in. Alternatively, if the exchange offers this feature, you can practice trading using a demo account.
Securely store your crypto
Consider moving a portion of your trading profits out of the exchange wallet and into a non-custodial wallet. This could be an option if you don't want to return all your gains to a trade and risk losing them. It's also suitable for traders that want to store their crypto in the medium or long term.
Non-custodial wallets provide better security than exchange wallets (accounts) since you have complete control over your money. Nevertheless, crypto meant for active trading can remain on the exchange wallet.
How to trade cryptocurrency: buying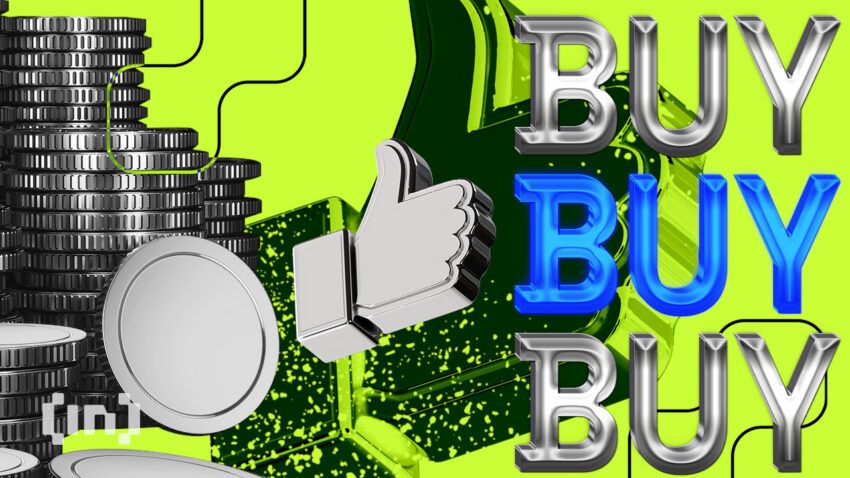 The step-by-step process below on how to trade cryptocurrency uses Kraken as an example. The crypto exchange charges low spot trading fees and supports a wide range of payment methods, such as debit cards, Apple or Google Pay, and bank transfers. Although Kraken is a suitable platform for all types of crypto trading, it doesn't serve some countries or U.S. customers from certain states.
How to buy crypto
Create an account on Kraken
Verify your account.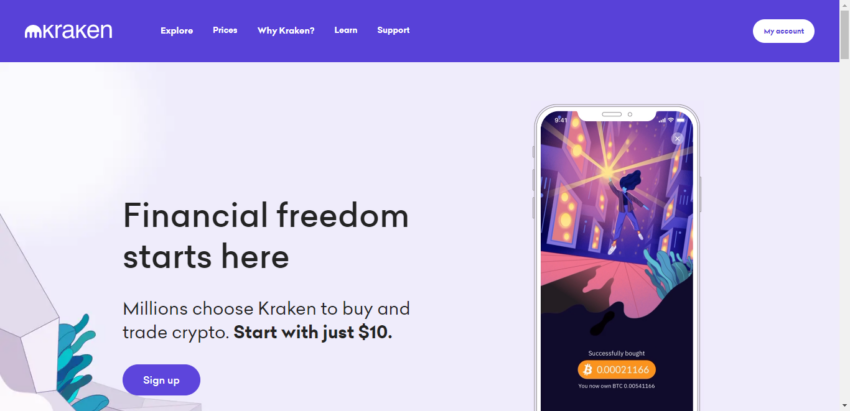 Starting at the top left corner of the page, you will see: "new order," "orders," "positions," and "trades."
On the "new order" tab, you will notice "simple" and "sdvanced," followed by all of the options you will need to create a customized order.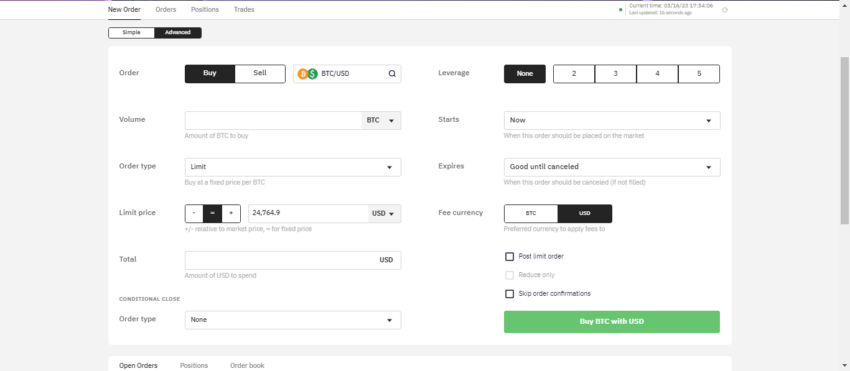 Click the "trade" tab and select "new order." You can choose a "simple" or "advanced" order, but we will choose advanced for our purposes.
Click on the asset and choose a trading pair. Look for the coin you want to buy on the left-hand side of the trading page and select "buy."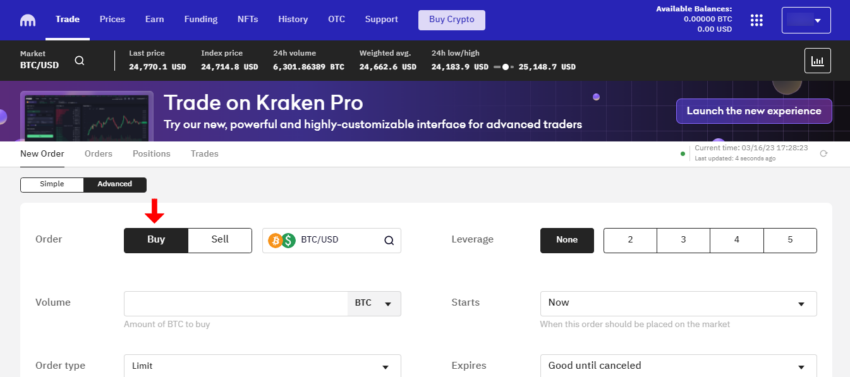 Scroll down to create an order. This can be a market or limit order. A limit order tells the exchange to buy a cryptocurrency at the specified price. Traders have more control when it comes to limit orders because they can set the maximum price they're willing to pay.
On the other hand, a market order instructs the exchange to buy a cryptocurrency at the best possible price currently available on the market. A market order is instant, while a limit order most of the time is not.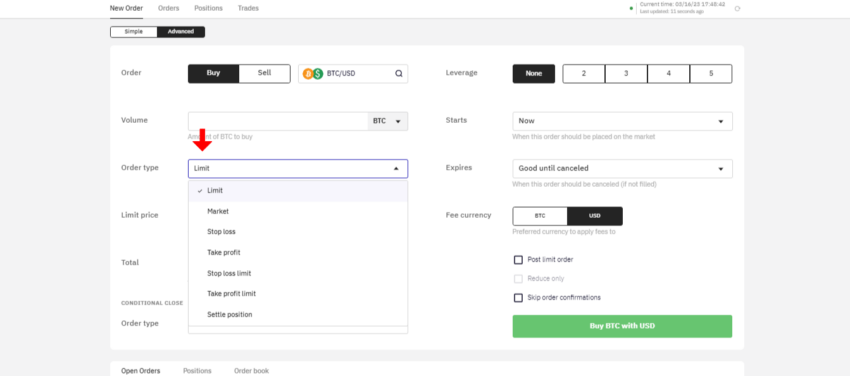 Click the order type of your choice and enter the amounts.
Check the "order type" box (conditional close) to set a "stop loss limit." This option will help traders limit their losses. Conversely, you can check the "take profit" box to maximize your profits.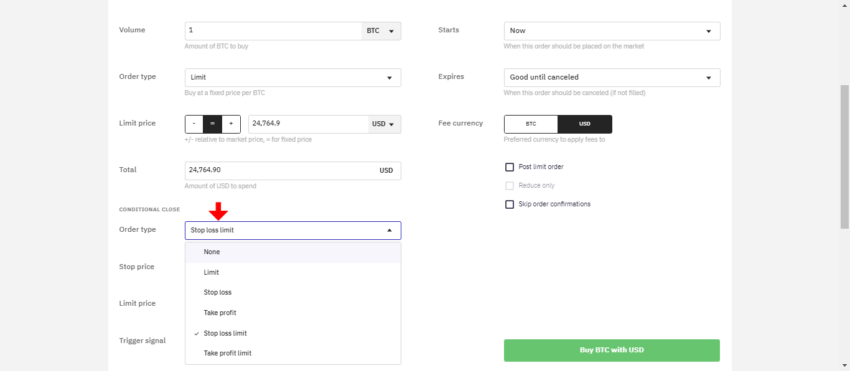 If you're happy with the order, click "buy" and wait for your crypto to appear in your exchange wallet.
How to trade cryptocurrency: selling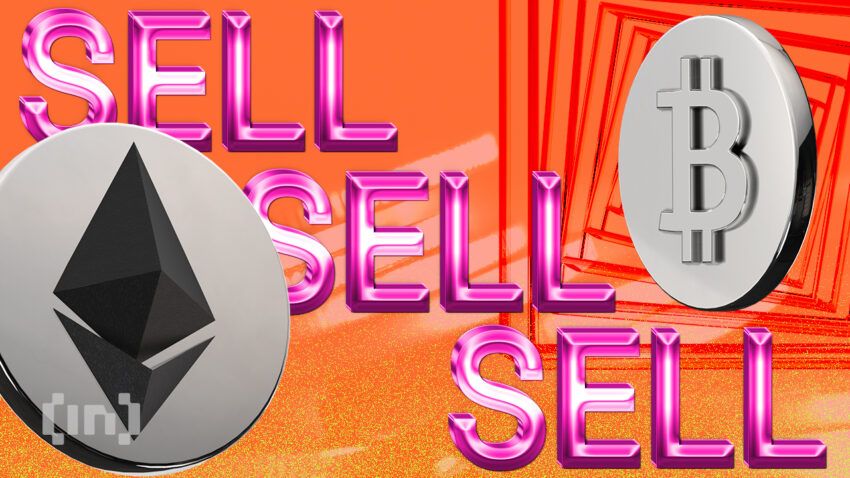 Once you have bought an asset, you need to sell it higher than you bought it to make a profit. Consider using the scalping trading strategy to monitor and identify a selling opportunity.
Here's a guide on how to sell crypto, again using Kraken as an example:
Log into your Kraken account.
Go to "trade" and choose "advanced" in the "new order" category.
Select "sell" and choose a cryptocurrency.
Pick a trading pair.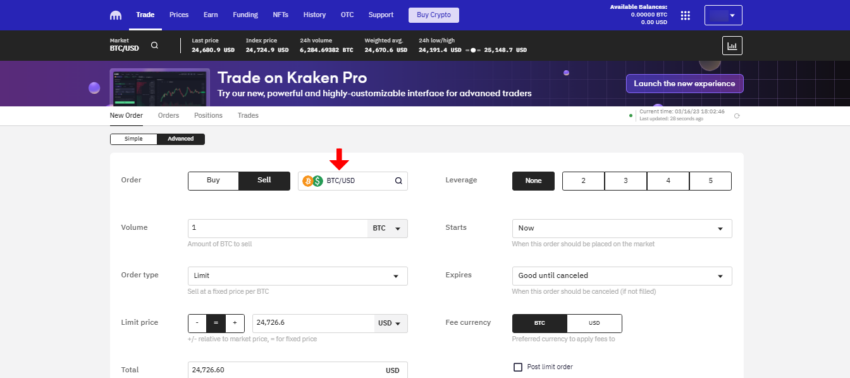 Scroll down and create a limit or market order.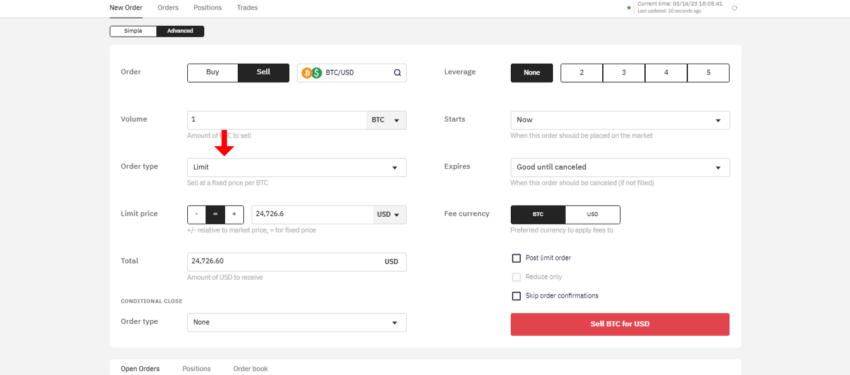 Type in the order details.
Check the "take profit" or "stop loss" box.
Click the "sell" button.
How to reduce crypto trading risk
Conduct demo trading
Conducting demo trading before you make an actual trade is always a good idea. This option has zero risk and helps beginners to practice trading without using real money. However, you'll be trading under live, real-time market situations. This gives you a chance to see how limit and market orders work. You'll also learn what happens when you set up a stop trigger price. Traders can practice spot trading on OKX by going to the "Demo trading" page.
Upon mastering spot trading, you can move to CFDs. eToro is an excellent place to practice CFD trading. Here's how to do it:
Go to eToro.
Click "join now." Your practice account will get $100,000 of free virtual money (not real).
74% of retail investor accounts lose money when trading CFDs with this provider. You should consider whether you can afford to take the high risk of losing your money.
eToro USA LLC does not offer CFDs, real Crypto assets available.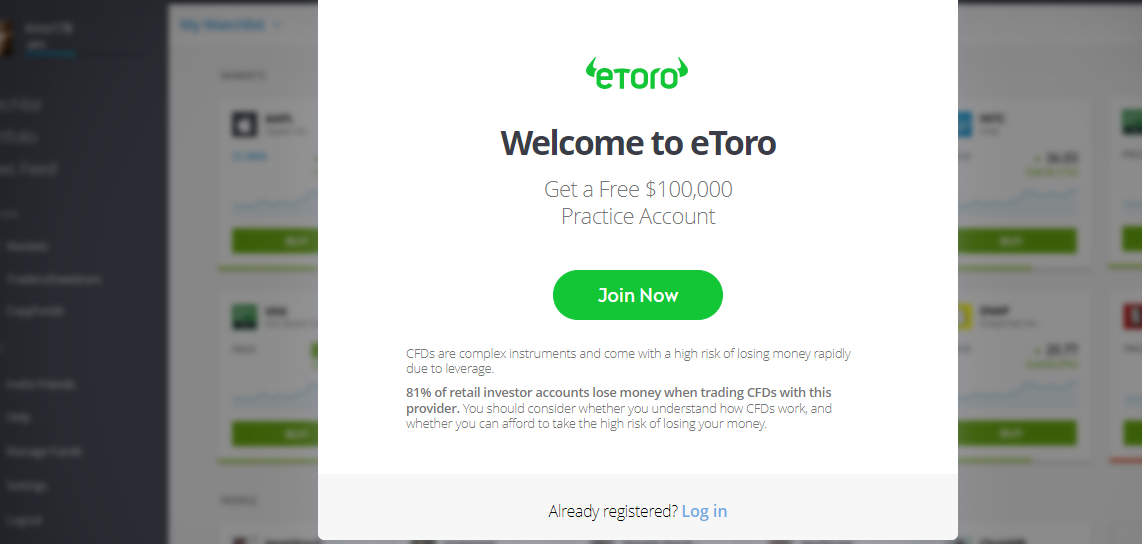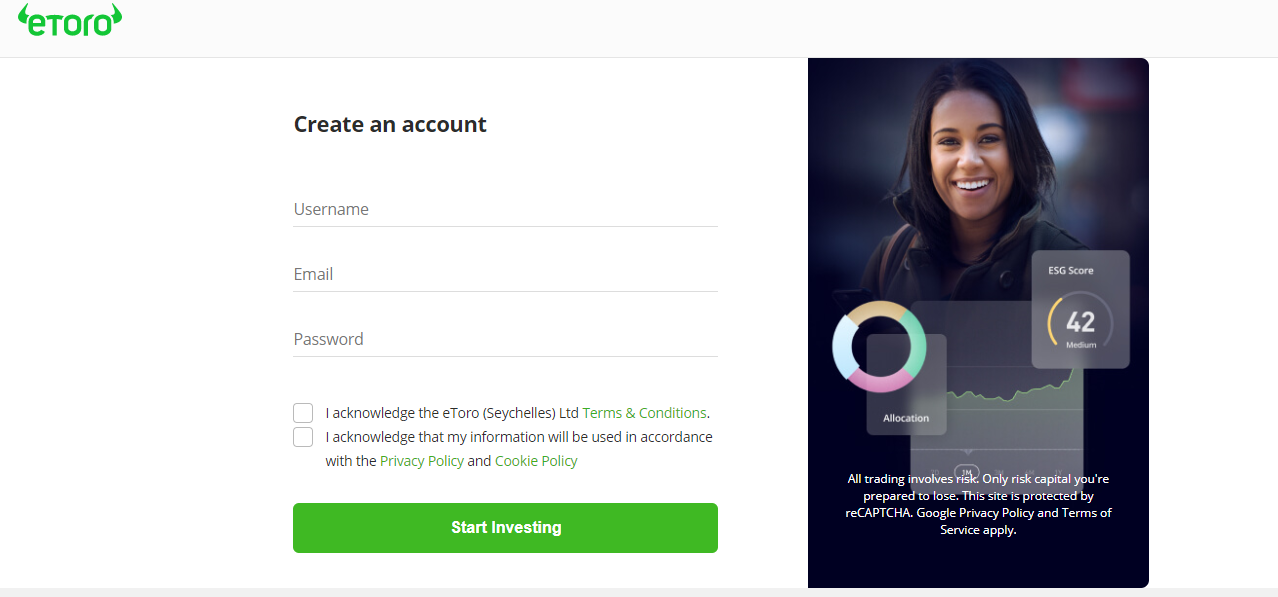 Click "start investing."
Enter the account activation code sent to your email.
Click "switch to virtual" on the bottom left-hand side of the platform.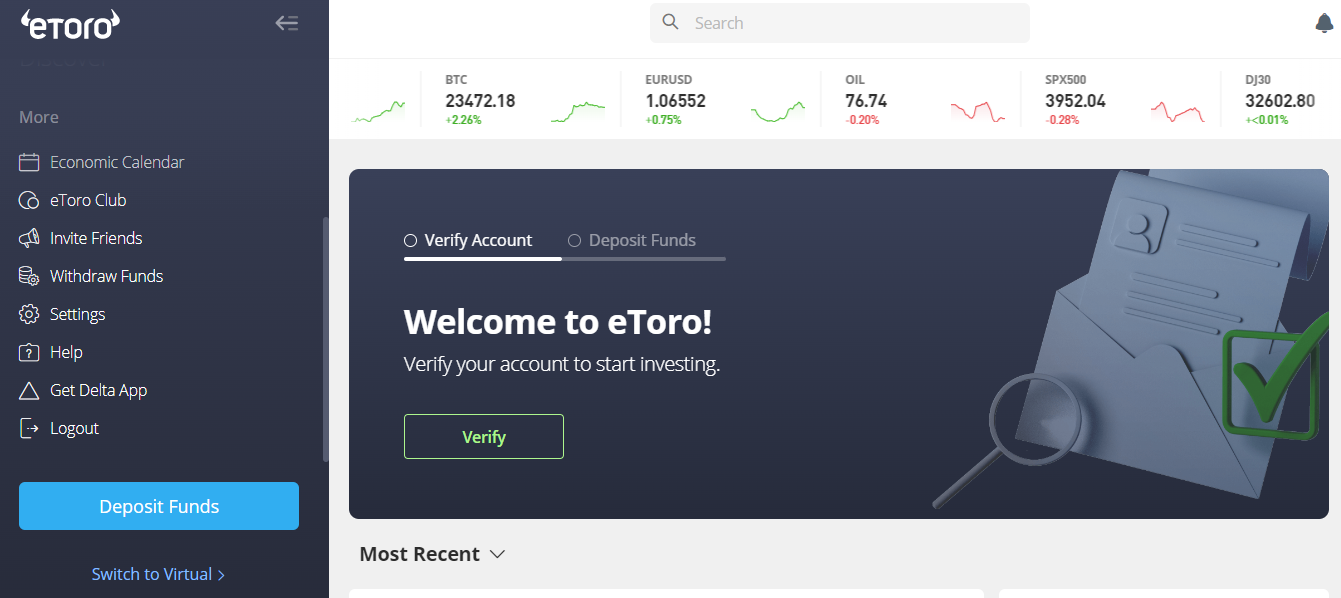 Go to the "discover" page.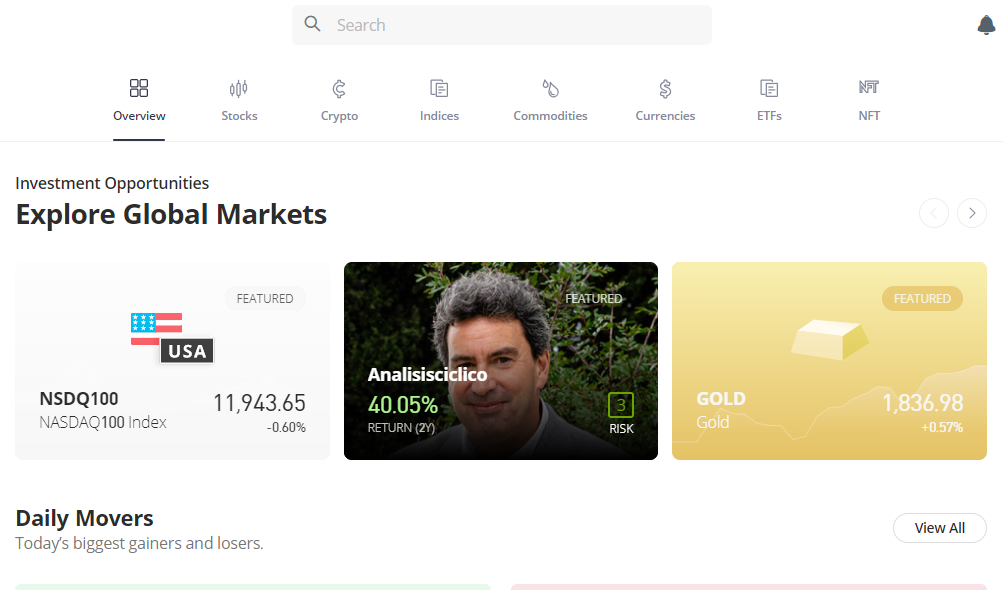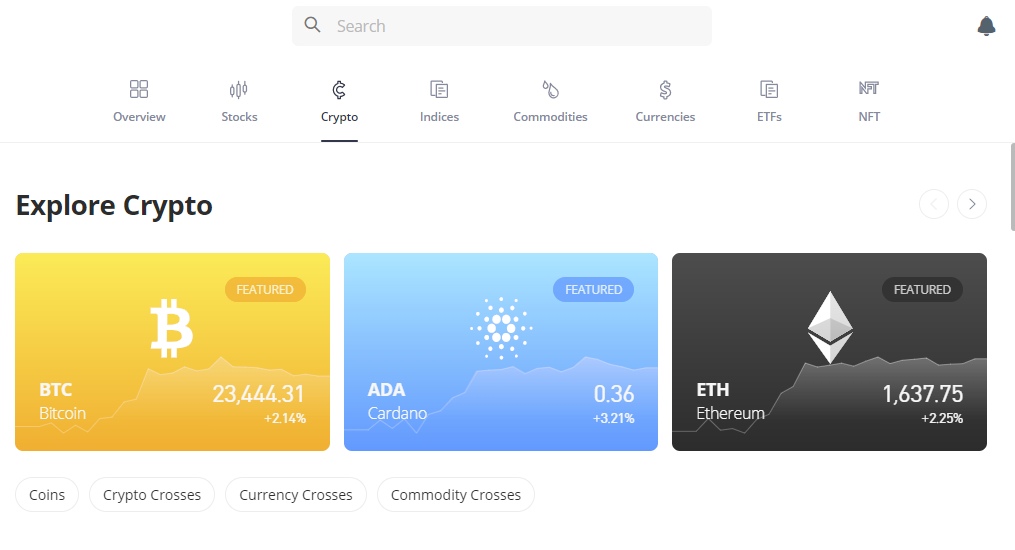 Pick the asset of your choice.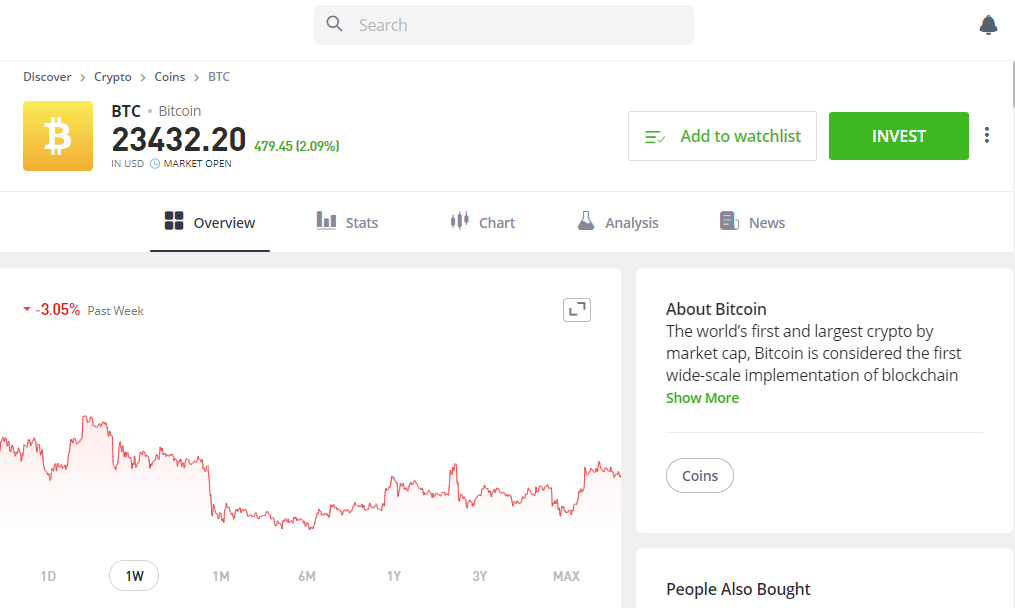 Click "invest."
Go to the drop-down menu on the right and select "order."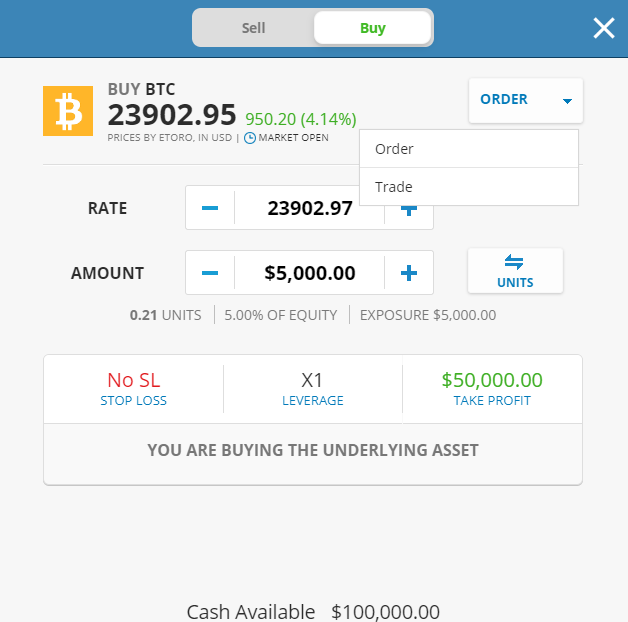 Practice creating buy and sell orders and adding stop-losses.
Compare various results to see what works best.
74% of retail investor accounts lose money when trading CFDs with this provider. You should consider whether you can afford to take the high risk of losing your money.
eToro USA LLC does not offer CFDs, real Crypto assets available.
Understand the crypto market
Take your time to research the crypto market by looking at performance data, projects, and news. This will help you get some insight into the best coins in the market. Also, it will give you an idea about current prices so that you can create data-informed orders.
Don't put all your money in one trade
After you've performed demo trading and you're feeling somewhat confident in your skills, conduct an actual trade with a small amount of money. This will minimize your risk of losing all your money, especially given that you're a beginner and your skills are untested. If you make a loss, go back to demo trading. Also, do more research to find out what you're doing wrong.
Set up trigger prices
A stop-trigger price can minimize your losses or maximize your profits. So, you could secure your position by setting it up every time you create an order. It also means you don't have to monitor your trade every hour.
Trading crypto doesn't have to be complex, but research is essential
Learning how to trade cryptocurrency is relatively straightforward. Just follow the steps above. But you also need motivation, commitment, and a good understanding of the crypto market, trading, and strategies.
While spot trading is the most basic form of active trading, it's not exactly easy. Nonetheless, you can sharpen your skills and build confidence with demo trading. Still, you shouldn't worry if you can't grasp spot trading. This is because you can always move to passive crypto trading instead, which is much easier and less demanding.
Frequently asked questions
Which cryptocurrency is the best one for beginners?
What is the best way to learn cryptocurrency trading?
Is cryptocurrency trading hard to learn?
How much money should I invest as a beginner?
Disclaimer
In line with the Trust Project guidelines, the educational content on this website is offered in good faith and for general information purposes only. BeInCrypto prioritizes providing high-quality information, taking the time to research and create informative content for readers. While partners may reward the company with commissions for placements in articles, these commissions do not influence the unbiased, honest, and helpful content creation process. Any action taken by the reader based on this information is strictly at their own risk.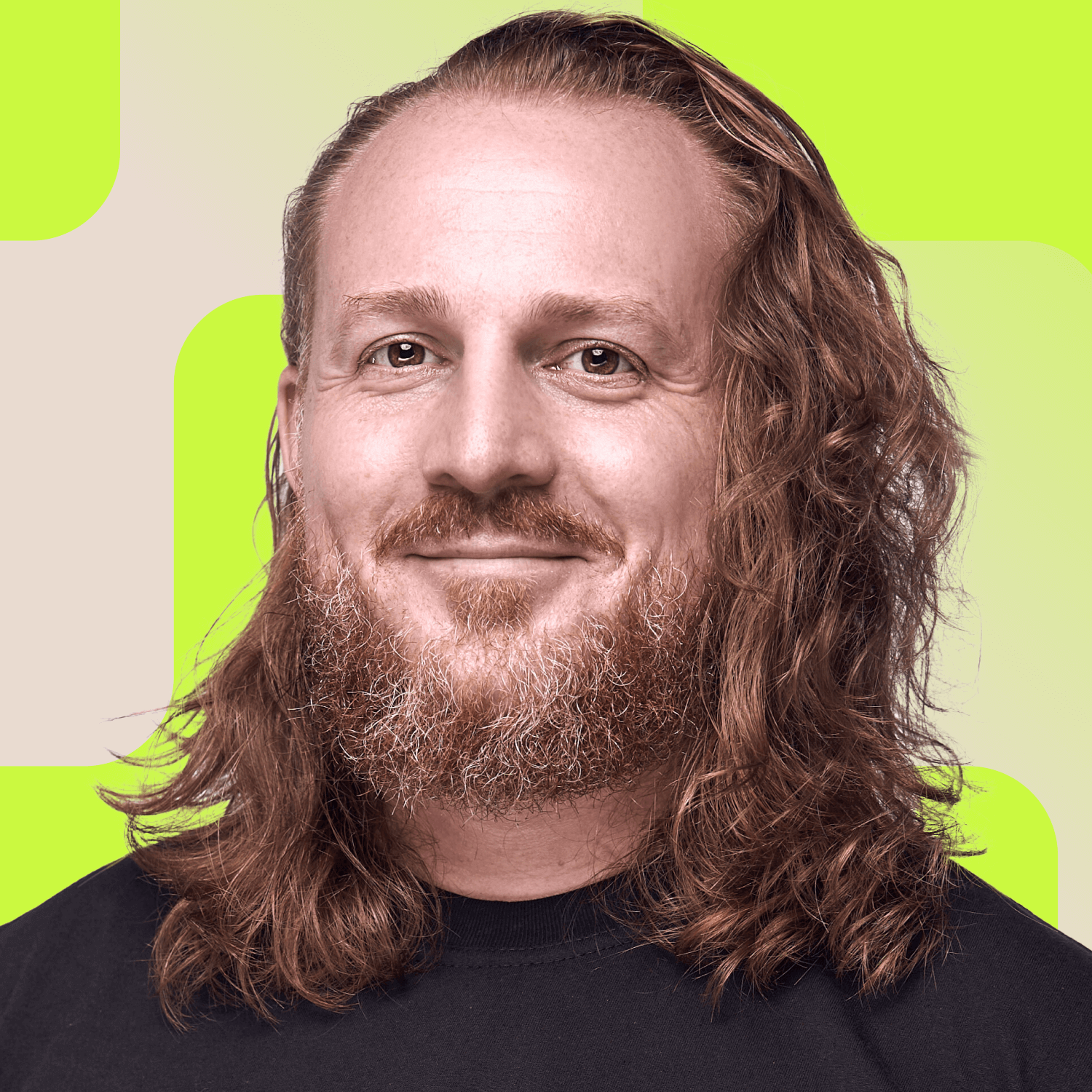 Alex Lielacher is the founder & CEO of Rise Up Media, a content marketing agency that works with bitcoin businesses that are changing the world. He first came across bitcoin...
Alex Lielacher is the founder & CEO of Rise Up Media, a content marketing agency that works with bitcoin businesses that are changing the world. He first came across bitcoin...
READ FULL BIO
Sponsored Sponsored