Crypto swap sites have become the backbone of the digital currency revolution. Whether you're looking to create an account on a platform offering a fixed rate or a floating rate, these sites offer an array of services that cater to your needs. Stay tuned as we unravel the best platforms to instantly swap crypto for the lowest fees.
BeInCrypto Trading Community in Telegram: read reviews on the best crypto exchanges, get the hottest news on coins' listings, read technical analysis on coins & get answers to all your questions from PRO traders & experts!
What is crypto swapping?
Crypto swapping lets you trade one type of crypto for another without having to first convert it to a fiat currency like dollars or euros first. This offers a couple of key advantages. It's often quicker, and it can save you money on fees, which are typically associated with traditional crypto-to-fiat or bitcoin exchanges.
Holding a certain crypto or token can provide various benefits within that blockchain's ecosystem. Crypto swapping makes it easy for people to engage with multiple blockchain projects and ecosystems.
In some instances, swapping is essential. This is because transaction fees on certain blockchains must be paid in the native coin of that blockchain.
According to the popular Bitcoin blockchain explorer Blockchain.com, crypto transactions are increasing over time, meaning that digital assets are spreading as a means of payment and storing value.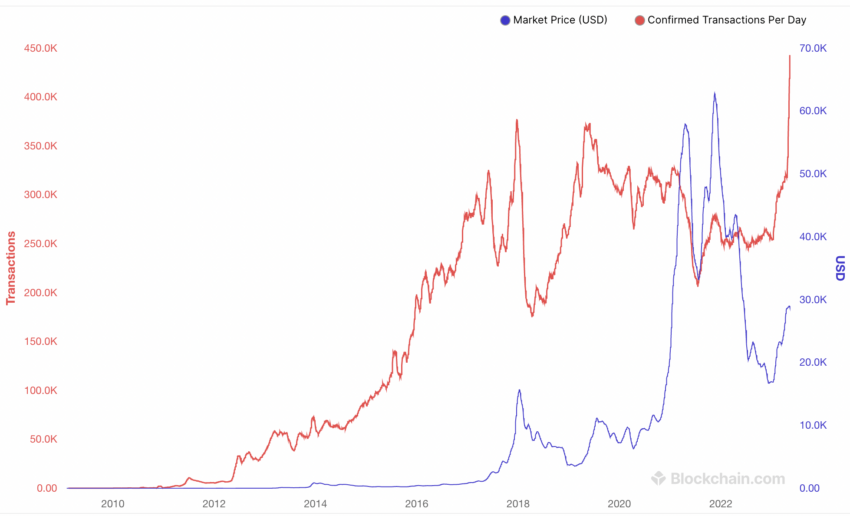 Although the terms "swap" and "trade" might seem similar, they have distinct meanings. Trading usually involves selling one crypto for a fiat currency and then using that fiat currency to buy a different cryptocurrency. This process often incurs fees at each step.
In contrast, a crypto swap allows you to directly exchange one cryptocurrency for another, of equivalent value, without the need for the fiat currency stage. This transaction is typically instant. Crypto exchanges provide various "trading pairs," which are combinations of assets that can be swapped on their platform. Here are some of the best crypto swap sites you can use today.
Top 11 sites to swap cryptocurrency
Changelly
Best for privacy (No KYC)
Availability
E.U. & 150+ countries
Supported assets
BTC & 500+
Changelly is one of the top crypto swap sites. It stands out among crypto exchanges offering over 500 different types of cryptocurrencies for swapping. This number surpasses most other crypto exchanges and brokerages, providing an appealing platform for those interested in acquiring smaller, potentially high-growth currencies.
Despite its wide range of crypto, Changelly only accepts three traditional fiat currencies: the U.S. Dollar (USD), the British Pound (GBP), and the Euro (EUR).
One key advantage of Changelly is its competitively low crypto-to-crypto exchange fees. Before making a transaction, you can preview it to compare the rate and fees against other exchanges, ensuring you get the best value for your money.
Changelly also partners with multiple wallet providers such as Ledger, Trezor, Trust Wallet, and Exodus. Wallets enable you to manage your crypto keys. As many crypto users prefer not to use custodial exchanges due to a lack of control over their keys, Changelly serves as a viable alternative. It allows you to securely swap one cryptocurrency for another directly from your wallet, maintaining control of your keys throughout the process.
Unlike many larger, regulated U.S. exchanges, Changelly only requires your email address for usage, preserving your anonymity. However, if you choose to pay with a traditional currency, you'll need to provide more information for third-party payment services.
Changelly is also user-friendly. Once you've connected your wallet to your Changelly account, which is the most complex part of the process, using the platform is simple. You can easily select the cryptocurrency pair you want to swap, check the exchange rate, and send the necessary cryptocurrency to the provided address, either through their web platform or mobile app.
Pros
Wide range of cryptocurrencies
Low crypto-to-crypto exchange fees
Integration with crypto wallets (Ledger, Trezor, Trust Wallet, and Exodus)
No KYC is required
Easy to use
Cons
Not regulated in the U.S.
High fiat-to-crypto rates
Limited payment options, it only accepts three traditional fiat currencies (USD, GBP, EUR).
High minimum trade amounts.
Binance Converter
Best for daily crypto conversions
Availability
E.U. & 100+ countries
Supported assets
BTC, ETH, USDT & 350+
Binance Convert provides a user-friendly and efficient platform for swapping crypto, making it a great choice for both novice and experienced traders. Some of the main features that this crypto swap site offers are fast and efficient trading and a wide range of cryptos.
Binance Convert simplifies the process of trading cryptocurrencies. You don't need to understand pricing charts or deal with order entry windows, which can be daunting for beginners. Instead, you just select the digital assets you want to trade and complete the swap in a single step.
Binance Convert also supports most of the coins listed on the Binance exchange, offering a wide range of options for users interested in different cryptocurrencies.
Binance Convert offers a quick method for swapping one cryptocurrency for another, saving you time and effort compared to traditional trading methods.
Before you complete a transaction, Binance Convert provides a preview of the conversion rate and the amount of cryptocurrency you'll receive. This feature ensures that you're fully informed about the transaction details before you commit to the swap.
Pros
Strong reputation for reliability and security.
Binance supports a large number of cryptocurrencies and trading pairs.
The platform offers various features to enhance user experience and trading efficiency.
Binance offers ways to earn passive income through staking and other methods.
Supports a variety of payment methods for convenience.
Binance is known for its responsive and helpful customer support.
Cons
Due to its wide range of features and trading options, Binance might be overwhelming for those completely new to crypto trading.
While Binance offers great online customer support, it does not currently provide phone support, which some users may find inconvenient.
Bybit Converter
Best for experienced investors
Availability
E.U. & 150+ countries
Supported assets
BTC & 320+ digital assets
Bybit's converter feature offers several advantages for those looking to swap cryptocurrencies, making it a competitive choice in the digital asset trading space.
Bybit has designed its converter feature to enhance the trading experience and convenience for users. This allows traders to convert their coins directly on Bybit for any of the cryptocurrencies supported on their Derivatives Account, Inverse Derivatives Account, or Funding Account.
The exchange does not charge any fees for asset conversion. This means traders can avoid paying miner fees for two-way transfers, potentially saving a significant amount of money.
Conversion is currently available through Funding, Derivatives, and Inverse Derivatives Accounts. Traders simply need to transfer their funds to one of these accounts to proceed with the conversion.
Your bonus balance cannot be converted to other coins and will not be forfeited when you submit a coin conversion request.
The converter feature uses the best quote price from several market makers based on the current index price. This ensures that users get the most competitive rates at any given time.
Bybit provides clear information about the minimum and maximum transaction limits for each coin, allowing traders to plan their swaps effectively.
Pros
Professional grade trading and matching engine
Low fees
Advanced trading features
Highly functional web and mobile trading platform
High security
Attractive referral program and nonuses
Cons
Limited selection of crypto assets
No fiat withdrawals
Not beginner-friendly
Nexo Swap
Best for instant swap
Supported assets
BTC & 60+
Nexo is a distinctive crypto exchange platform offering a unique suite of features that set it apart from the competition. Established in 2018, Nexo has survived both bull and bear markets, continuously innovating its offerings to build a global user base of over 5 million users spanning more than 200 countries. Nexo is more than just one of the top crypto swap sites, as it offers a diverse range of services, including borrowing options, a crypto rewards card, and other niche features.
One of Nexo's standout offerings is its borrowing feature, which allows users to take loans against their crypto assets. The borrowed amount can be paid in stablecoins or cash, with interest rates ranging from 0% up to 13.9%. Another exciting feature is the Nexo Card, which offers users up to 2% cashback and allows them to access the value of their crypto assets without having to sell them. In addition, users can trade a wide variety of cryptocurrencies through Nexo Exchange, which supports over 500 trading pairs. For advanced traders, Nexo Pro provides deep liquidity and sophisticated trading features.
However, it's important to note that some of Nexo's products and services may not be available in certain jurisdictions, including the U.S., Canada, Australia, and others, due to local laws and regulations. Despite these limitations, Nexo remains a valuable platform to instantly swap cryptocurrency, with top-notch security, fee-free trades, and the ability to borrow against more than 60 cryptocurrencies. It's not just a crypto exchange, it's a comprehensive platform for managing and maximizing your digital assets.
Pros
No-fee trades. The platform is financed by spreads.
Easy access to crypto Value through Nexo Borrow.
Free withdrawals.
Cons
High NEXO token buy-in requirements. To qualify for the highest loyalty levels, users need to purchase a significant amount of NEXO tokens.
NEXO token price can decline significantly over time
Limited availability of key products for some users in major markets such as the US
Minimum withdrawal limits (e.g., 0.001 BTC, 0.01 ETH)
Supported assets
BTC & 500+
BingX is a crypto exchange that is particularly suitable for both experienced traders and novices, especially those interested in copy trading. Its extensive copy-trading features allow users to follow the strategies of expert traders, enhancing their own trading capabilities and potentially increasing their profit margins.
The platform is user-friendly and offers an array of support features to assist new traders. The BingX Beginner's Guide provides a comprehensive tutorial covering the basics of using the platform and trading cryptocurrencies. In case of additional queries, users can access the Help Center to find answers to a wide range of questions. One of the standout features of BingX is BingX Verify, a security measure designed to help users avoid scams. This tool allows users to check whether a domain name, Telegram ID, or email address belongs to a legitimate BingX representative, thereby enhancing the security of the platform.
BingX offers a variety of trading features to cater to the diverse needs of its users. It supports spot trading, which allows users to buy or sell digital assets in real-time directly from their browsers. Users can also use the Convert feature to easily trade Bitcoin (BTC), Ethereum (ETH), and USDC for Tether (USDT). For those interested in derivatives trading, BingX offers both standard and perpetual futures trading.
One of the innovative features of BingX is Grid Trading, an automatic trading bot that operates 24/7 to capture profits.
Regulated in Australia and North America, BingX offers a secure platform for cryptocurrency trading, making it a favorable option for traders worldwide.
Pros
Wide variety of cryptocurrencies
Multiple trading options, including crypto conversion
Passive income opportunities
Competitive fees
User-friendly app
Regulatory compliance (registered in the US, Canada, Australia, and the EU)
Cons
No leverage for spot trading
High withdrawal fees
Limited customer support options (no call center)
Supported assets
BTC & 45+
Ledger Swap offers a secure and convenient way for users to swap crypto using third-party swap providers, such as Changelly. When a swap is initiated via Ledger Live, the user can view and accept the quote and then confirm the transaction. This is where Ledger's unique security comes into play, ensuring the transaction remains safeguarded against interference.
Ledger employs a Secure Element in their Nano device that generates a signed transaction encompassing both the outgoing and incoming parts of the swap. This transaction includes a unique transaction ID that is sent to the swap provider, and from that point on, only that specific transaction can be executed. This makes it impossible for hackers to tamper with the transaction.
Once the swap provider receives the transaction, they send back their own confirmation along with the corresponding crypto. The Secure Element then verifies the signature of this incoming transaction to ensure it has indeed been fulfilled by the provider. The ID of the incoming transaction is also checked to confirm it matches the one the user agreed to, ensuring that only the precise transaction can be executed.
Swapping via Ledger Live also provides unparalleled transparency. Users can see complete and accurate transaction details on the Trusted Display of their device, something no other crypto wallet currently offers. This guarantees that only the exact swap approved by the user will be executed.
Pros
It supports native staking and manages Non-Fungible Tokens (NFTs), expanding your crypto possibilities.
The availability of a mobile application with a Bluetooth connection offers flexibility and ease of use.
A comprehensive library for crypto education is available, aiding both beginners and experts in enhancing their crypto knowledge.
Cons
The software used by Ledger Swap is not fully open source, which might limit the level of customization and transparency some users seek.
Availability
E.U. & 100+ countries
Supported assets
BTC & 500+ digital assets
SimpleSwap is another easy and efficient way to trade or buy new crypto assets. This online platform offers a straightforward trading solution, enabling users to exchange over 500 different types of coins across various cryptocurrency exchanges. The best part is that you don't even need to register or sign up; just visit the website or open the app, enter your transaction details, and you're good to go. This enables instant trading across all supported exchanges.
One of the appealing aspects of SimpleSwap is its pricing flexibility. It offers both floating and fixed rates for trading crypto assets, accommodating different trading preferences. In addition to that, the platform runs an affiliate and a loyalty program, providing further incentives for users to contribute to its growth.
The platform also features a secure crypto wallet service based on Advanced Encryption Standard (AES) encryption. This wallet, which is available as a browser plugin, is integrated seamlessly with SimpleSwap, making your trading experience even more convenient.
The platform doesn't boast a long list of features, but its instant transactions can have your funds deposited within moments. And if you run into any issues, SimpleSwap's 24/7 live chat feature can swiftly come to your aid. Furthermore, you can set up price alert notifications and access your order history through the mobile app, all without the need to sign up.
Pros
SimpleSwap offers a diverse range of over 500 coins through some of the world's largest exchanges.
The platform is among the most user-friendly options available in the cryptocurrency market.
SimpleSwap incentivizes user engagement with loyalty and affiliate programs that can yield profitable exchange rates.
Cons
The platform lacks advanced trading tools like automated trading bots and copy trading.
Know Your Customer (KYC) protocols may become mandatory when resolving transaction disputes, which could potentially complicate the process for some users.
Supported assets
BTC & 400+
ChangeNOW is a versatile and innovative platform that is both user-friendly and secure. Partnering with recognized names in the crypto industry such as Binance, Atomic Wallet, Ledger, and Trezor, ChangeNOW offers an expansive selection of nearly 400 cryptocurrencies, totalling 70,000 trading pairs.
What sets ChangeNOW apart from other platforms is its unique features designed to ensure convenience and security. For instance, unlike many other platforms, ChangeNOW does not impose any restrictions on the volume of cryptocurrency that can be bought or sold. This lack of upper trading limits makes it particularly appealing for cryptocurrency investors who wish to conduct larger currency swaps. Additionally, users can access the service without having to disclose personal information like their name, phone number, or email address, offering an additional layer of privacy.
ChangeNOW also regularly adds popular new assets that participate in DeFi ecosystems.
The platform works by scouring the market for the best exchange rates at the time of trade and offering these rates to its users. This takes the hassle out of the trading process and ensures users get the best rates without hidden fees or complicated interfaces.
Furthermore, ChangeNOW is a non-custodial service, meaning it doesn't hold onto users' digital assets in deposits or balances. This ensures that you maintain full control over your assets at all times. Also, ChangeNOW supports nearly 60 fiat currencies, which adds a level of flexibility when it comes to trading.
Pros
It's an easy-to-use, non-custodial service, which means you maintain full control over your assets.
The platform operates with transparency, ensuring there are no hidden fees.
It supports a wide range of assets, including NFTs, providing a diverse portfolio for trading.
Fiat currencies are accepted for buying crypto, adding to the platform's versatility.
ChangeNOW provides a broad range of products in the ecosystem
The platform offers a beneficial affiliate program
Cons
Not every fiat currency is available
SwapSpace
Best for choosing exchange rates
Supported assets
BTC & 600+
SwapSpace is an instant cryptocurrency exchange aggregator that provides an efficient and effective platform for crypto trading. Instead of manually searching different exchanges to find the most profitable rate, SwapSpace simplifies the process by showing users the best trading rates for supported currency pairs from numerous exchanges worldwide. This not only saves time but also allows users to capitalize on time-sensitive market swings. SwapSpace partners with various exchanges, offering prices for more than 600 different cryptos and tokens, providing a comprehensive view of the crypto marketplace.
One of the main perks of SwapSpace is its user-friendly interface. The platform doesn't require a cumbersome registration or account creation process. You can swap crypto instantly without sharing any personal data, making it an excellent choice for those who value privacy. Additionally, the platform offers 24/7 customer support and an easy-to-navigate website interface suitable for both amateur and experienced traders.
It's important to remember that while SwapSpace doesn't require registration, some exchanges might ask you to complete KYC or AML formalities before trading.
SwapSpace also stands out due to its reliability and convenience. It has partnerships with many leading and trustworthy digital currency exchanges, ensuring security, accuracy, and data safety. As a one-stop destination for the best rates, users no longer need to trawl through different exchanges.
Pros
SwapSpace provides the best exchange rates for numerous crypto pairs all in one place
There's no need for an account or registration process to exchange crypto
SwapSpace does not charge any additional fees for transactions
Cons
Transactions speed might slow down in cases of high trading volumes or blockchain congestion
SwapSpace only supports the exchange of crypto, limiting users who might want to transact with other assets.
To use SwapSpace, users need to have a digital wallet for storing crypto
StealthEX
Best for speedy transactions
Supported assets
BTC & 700+
StealthEX is another instant cryptocurrency exchange that allows users to convert cryptocurrency while preserving their anonymity. The focus here is on the ease of trading – you only need your own wallet to exchange cryptocurrencies on the platform.
StealthEX takes the complexity out of the process. You simply select the cryptocurrency you want to swap and the one you wish to receive. The platform's advanced algorithm then connects with its partners to find the best rates, liquidity, and prices for your selected trading pair. Once you confirm the order, the swap is executed directly with the exchange. Notably, you don't need to transfer your money to the platform, and while the swap may take 5 to 30 minutes, depending on the cryptocurrency and the state of the blockchain network. The exchanged coins are sent directly to your wallet once the transaction is complete.
StealthEX is a non-regulated cryptocurrency exchange, allowing limitless swaps of over 700 currencies without the need for signing up or undergoing KYC procedures.
The platform is suitable for all types of traders – whether a novice, experienced, or business, and supports a broad range of assets and tokens, including popular ones like Bitcoin and Ethereum, as well as DeFi tokens and hype coins.
StealthEX offers 24/7 customer support, with a direct chat feature on its website, ensuring any queries or issues are dealt with promptly.
Pros
StealthEX supports a wider variety of crypto assets compared to other exchanges
There are no trading limits
StealthEX allows trades to be executed through a hardware wallet, enhancing security.
It prioritizes user privacy by not collecting personal information and funds (No KYC)
StealthEX does not charge additional fees, making transactions more cost-effective.
The user interface is simple and easy to use.
Cons
StealthEX does not offer loyalty bonuses or fee discounts
The platform lacks additional features for advanced traders
Users can only use a credit or debit card to execute trades for their purchases,
Supported assets
BTC & 300+
Godex.io is an exceptional platform for those looking to convert cryptocurrency quickly, efficiently, and anonymously.
With over 300 altcoins available at fixed rates, it outshines other major exchanges. Transaction execution times typically range between 5 to 30 minutes.
Furthermore, the fixed rate offered by Godex.io serves as a shield against market volatility, guaranteeing the price you see before initiating a trade, thereby reducing underlying risk when swapping to new coins.
Another significant advantage of Godex.io lies in its connection with other prominent cryptocurrency exchanges. Utilizing a price algorithm, Godex.io scans other platforms for new coins, offering some of the most competitive prices on the market and a vast pool of altcoins. Swapping cryptocurrency on Godex.io is a straightforward process: simply choose the coin you currently own, select the new coin you want to swap to, input the amount you want to trade, and see the best prices offered by the algorithm.
After confirming your wallet address and depositing your original coin, your exchange goes through, and you receive your new coins. As a bonus, there are practically no limits to the size of your trade. The only limiting factor could be the blockchain itself, a hurdle unlikely to impact the average trader. However, it's important to note that Godex.io doesn't support fiat deposits.
Pros
No limits on deposits, trading, or withdrawal
No account registration
A large variety of altcoins
Cons
Non-regulated platform
No fiat option
Does not support any advanced order types
What is the best crypto swap site for you?
Determining the best crypto swap site for you largely depends on your specific needs and circumstances. If you value simplicity, anonymity, and speed, then a crypto swap site might be your best choice. Some allow you to swap crypto without requiring any identity verification (KYC) process. This makes them a great choice for users who want to maintain their privacy.
Furthermore, swap sites often provide global accessibility. This makes them a viable choice for individuals residing in countries not supported by traditional crypto exchanges.
However, if you're looking for more than just a simple swap service, a crypto exchange for beginners could be more suited to your needs. Crypto exchanges offer a multitude of features, including advanced trading interfaces, investment opportunities, loans against your crypto holdings, and even crypto-linked VISA cards. Moreover, they are often the first platforms to offer access to new assets and trends in the crypto world, such as NFT marketplaces.
Frequently asked questions
Can I swap any crypto for another?
Where can I swap coins for free?
Can you swap crypto for free?
What is the best crypto swap exchange?
What is the cheapest way to swap crypto?
Disclaimer
In line with the Trust Project guidelines, the educational content on this website is offered in good faith and for general information purposes only. BeInCrypto prioritizes providing high-quality information, taking the time to research and create informative content for readers. While partners may reward the company with commissions for placements in articles, these commissions do not influence the unbiased, honest, and helpful content creation process. Any action taken by the reader based on this information is strictly at their own risk.