More "options" for trading crypto options become available every year. As such, researching all of the best features that make an options trading platform worthwhile can take hours. This is time you could have spent trading! In crypto, it's always our advice to DYOR. But we can help point you in the right direction. Read on to discover the nine best crypto options trading platforms on the market today.
BeInCrypto Trading Community in Telegram: read reviews on the best crypto platforms, discuss crypto projects, read technical analysis on coins & get answers to all your questions from PRO traders & experts!
What is crypto options trading?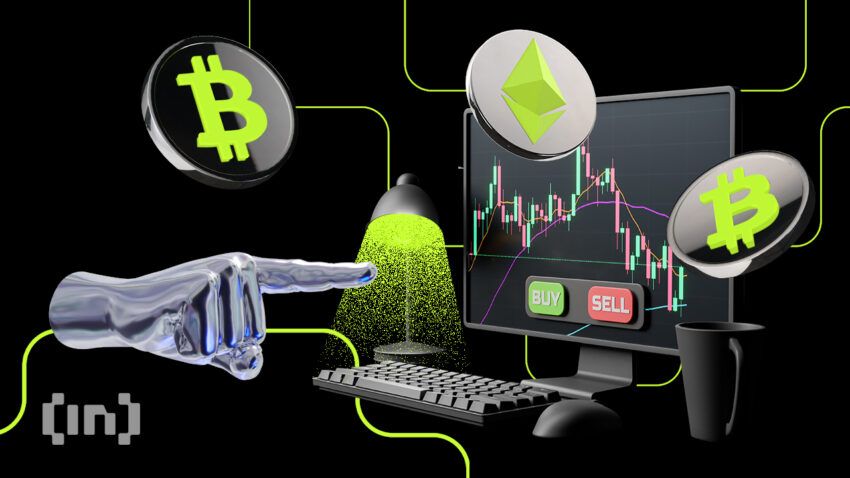 Before we dive into the top crypto exchanges for options trading, here's a quick rundown of options contracts. Trading crypto options is very similar to trading traditional options. Crypto options give an investor the right, but not the obligation, to buy or sell crypto at a predetermined price and date.
There are two main types of options contracts. A call option gives an investor the opportunity to buy stocks or digital assets at a predetermined price in the future. Likewise, a put option allows an investor to sell a stock or digital asset at a predetermined price in the future.
We call the price of an option the premium. The predetermined price that an investor can buy or sell at is the strike price. The predetermined date that the investor must exercise the option contract by is the expiration date. An options writer is someone that sells options.
Writers sell call or put options, covered or uncovered. When a writer sells an option but does not have the underlying asset, this is referred to as uncovered. Conversely, when the writer does hold the asset, the option is covered. An underlying asset is the security or digital asset that must be delivered when a trader exercises the option. In our case, the underlying asset is crypto.
Best qualities of a crypto options trading platform
Choosing crypto exchanges for options trading doesn't have to be complicated. If you want to know a platform's best qualities, start with these basic criteria.
Fees and commissions
What are the commissions and fees? Over the years, transaction costs for options have steadily fallen. Many options trading platforms now offer zero-commission trades. This allows you to save money and lowers the barrier to entry for new traders. However, commission-free trading comes at a cost.
Generally speaking, if you're not paying for the product, you are the product. A commission-free platform might be the best choice for some, but not all, traders.
Liquidity
Depending on the context, liquidity can be understood in a variety of ways. On the one hand, liquidity is the ability to convert an asset into cash. In our case, liquidity is trade volume or the number of buyers and sellers. Liquidity determines price stability. A high number of buyers and sellers will result in a relatively stable bid-ask spread.
A market or platform with low liquidity will result in volatility. Volatility is the measure of how drastically a market or asset's price changes. Low liquidity amounts to higher transaction costs.
Execution quality
In essence, execution quality is the best bid and speed at which your orders are executed. For example, one of the reasons why trading platforms can offer commission-free trading is because of order routing. In brief, some liquidity providers pay trading platforms to route your orders to them. This can cause a degraded order quality, which may result in a missed trade.
Altogether, traders save more money on trades with good execution quality in the long run. Execution quality is easy to overlook, even for advanced traders, so don't worry if you don't notice it right off the bat.
Trading tools
Trading tools are the little "je ne sais quoi" that separates a good crypto options trading platform from a great one. This will determine the ultimate user experience. These tools aren't for beginners, but in the hands of the right trader can be proverbial "money printers." Platforms such as TradingView offer excellent trading tools, including indicators, analytics, technical tools, automated screeners, and more.
9 best crypto options trading platforms
Now for the fun part, what are the top crypto options trading platforms? Only you can determine what the best options trading platform for you is. However, there are a few that stand above the rest.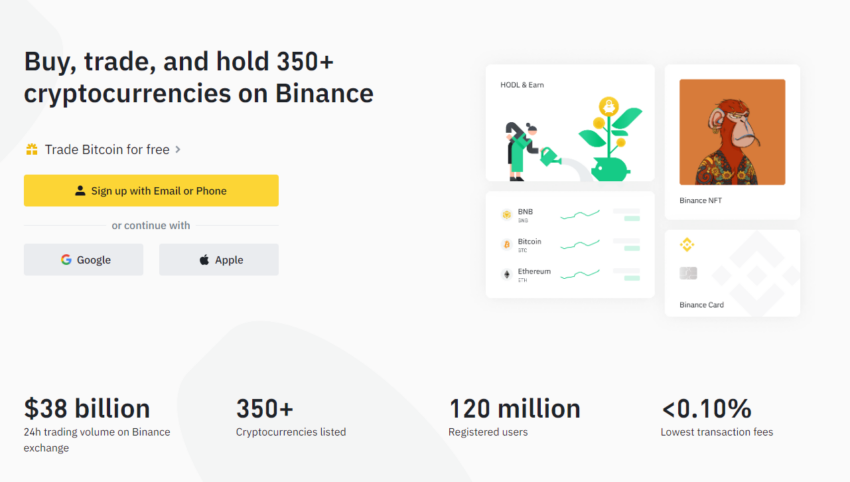 What is it?
Binance is the world's largest cryptocurrency exchange in terms of trading volume, daily visits, and assets under management. Changpeng Zhao, commonly known as CZ, is the founder and owner of Binance. The world-renowned exchange is commonly known as a one-stop shop for all your cryptocurrency needs and offers a huge range of altcoins for trading.
Features
In addition to options, they also offer futures, perpetual, and spot trading. Binance has a long list of coins and tokens available for traders. They are typically very quick to list popular coins. Furthermore, the world-renowned exchange also lets users stake their crypto.
Binance has its own blockchain (BNB chain) and token (BNB). BNB chain has a budding ecosystem of DApps built on its blockchain. In addition, traders holding BNB can take advantage of trade discounts. The exchange supports a variety of trade orders: limit, market, stop-limit, and one-cancels-the-other (OCO) orders. Lastly, Binance has a robust NFT marketplace that is sure to please any trader.
Pros
Offers a helpful guide to options trading on Binance
Simple trading interface
Low trading fees
Beginner friendly
Cons
European-style only
No stop limit
Limited contracts (BTC, ETH, BNB)
Fees or any other charges

What is it?
Founded in 2018, Bybit is a cryptocurrency exchange with headquarters in Dubai, United Arab Emirates. Some of Bybit's distinguishing features are its uptime and security. To date, Bybit has never been hacked.
Features
Options on Bybit are settled in the European style. Moreover, contracts available on the trading platform are ETH, BTC, and SOL. Bybit does not offer options alone; you can also trade futures, perpetuals, and spot trade. In addition, it allows up to 100x leverage for the brave and bold.
One of Bybit's key features is its insurance fund. Simply put, Bybit's insurance fund is a reserve that the system can draw from to safeguard traders in select circumstances. The crypto exchange also has advanced trading tools to support seasoned traders.
Pros
Advanced trading tools
Up to 100x leverage
Allows paper trading
Multiple order types
Cons
Not available in the US
Limited contracts (ETH, BTC, SOL)
Fees or any other charges
Trading Fee

Maker fee (0.03%)
Taker fee (0.03%)

Delivery Fee: 0.015%
Liquidation Fee: 0.2%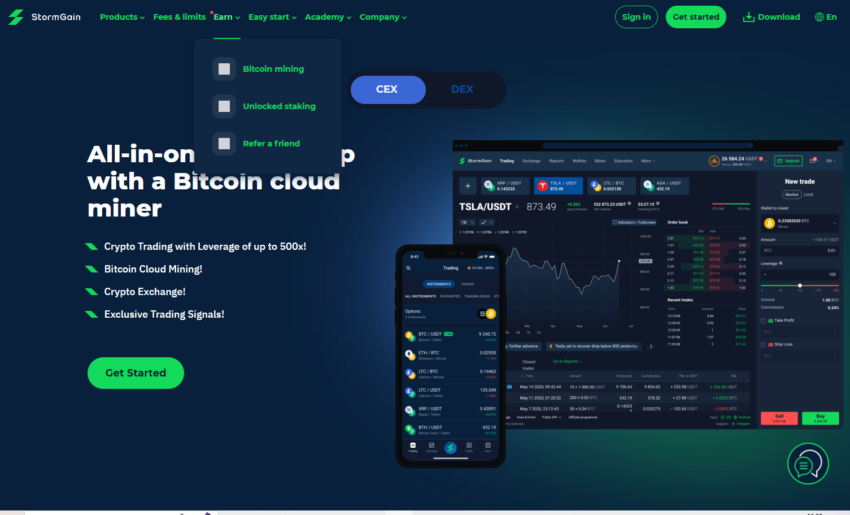 What is it?
StormGain is a cryptocurrency trading platform based in the United Kingdom. It's a convenient solution for users looking to profit from the crypto market's growth or decline and long-term investments in crypto assets.
Features
Though it is an options trading platform, StormGain is also a full-service broker. If crypto options trading isn't your forté, you can explore some of the platform's other features. Cloud mining is a popular activity on the StormGain platform.
Like many other crypto exchanges, you can also stake select assets. StormGain also has perpetuals and allows up to 500x leverage on futures. However, only contracts for ETH and BTC are available when it comes to options trading.
Pros
Simple user interface
No swap costs
Cons
Limited contracts (ETH and BTC)
Limited support for fiat deposits
Fees or any other charges
10% commission is only taken from successful trades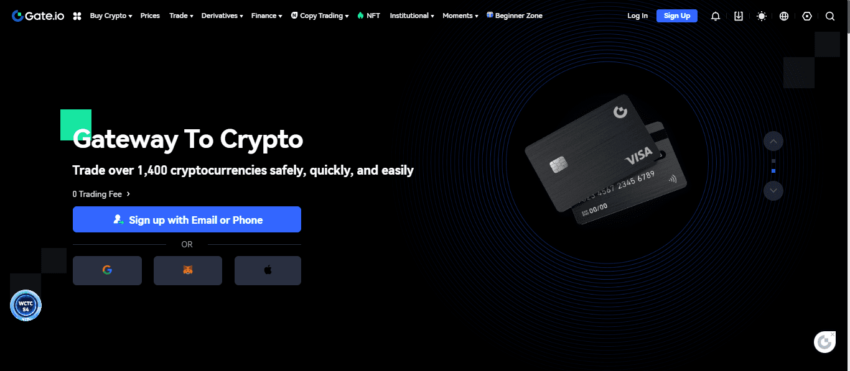 What is it?
GateIO is one of the oldest cryptocurrency exchanges. Hailing from China, it has been around since 2013 (making the exchange practically an OAP in crypto years!)
Features
This global exchange has a suite of products. Users can enjoy everything from European-style vanilla options on BTC and ETH to perpetuals and even spot trading. The crypto trading exchange also allows copy trading and bots.
Furthermore, users are not limited to trading on GateIO. You can delve into the world of borrowing and lending as well. The exchange supports crypto loans and liquidity mining, too. Speaking of mining, users can also use the platform for cloud mining. To top it all off, GateIO offers a Gate Visa card, which you can use worldwide.
Pros
Has simulation trading
Simple interface
Cons
Cluttered display
Limited contracts (BTC and ETH)
The options trading fee schedule is not transparent
Fees or any other charges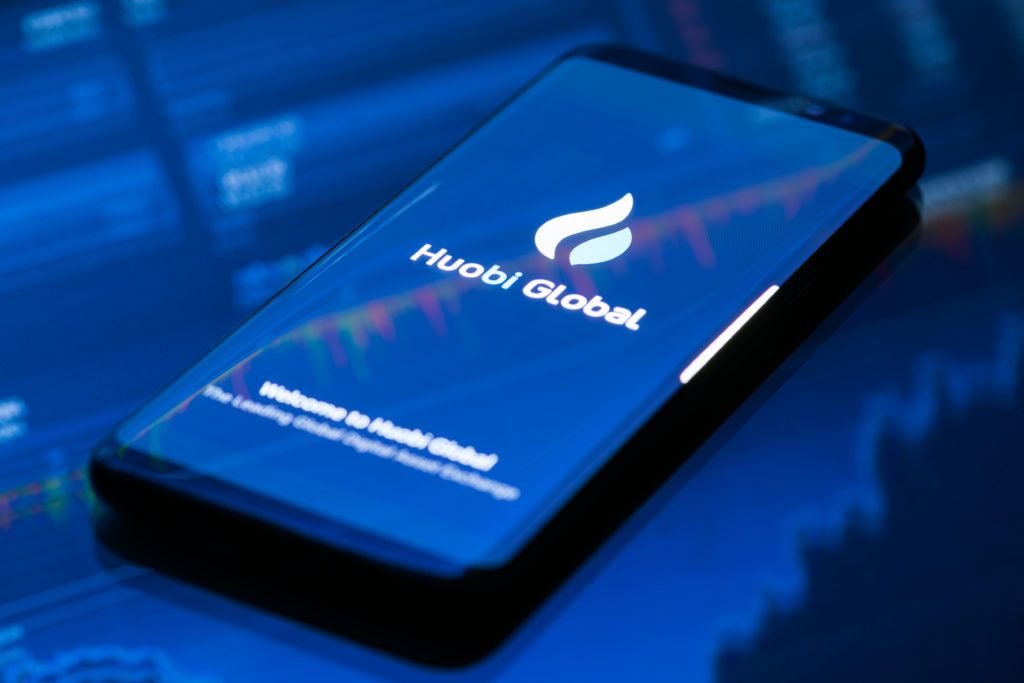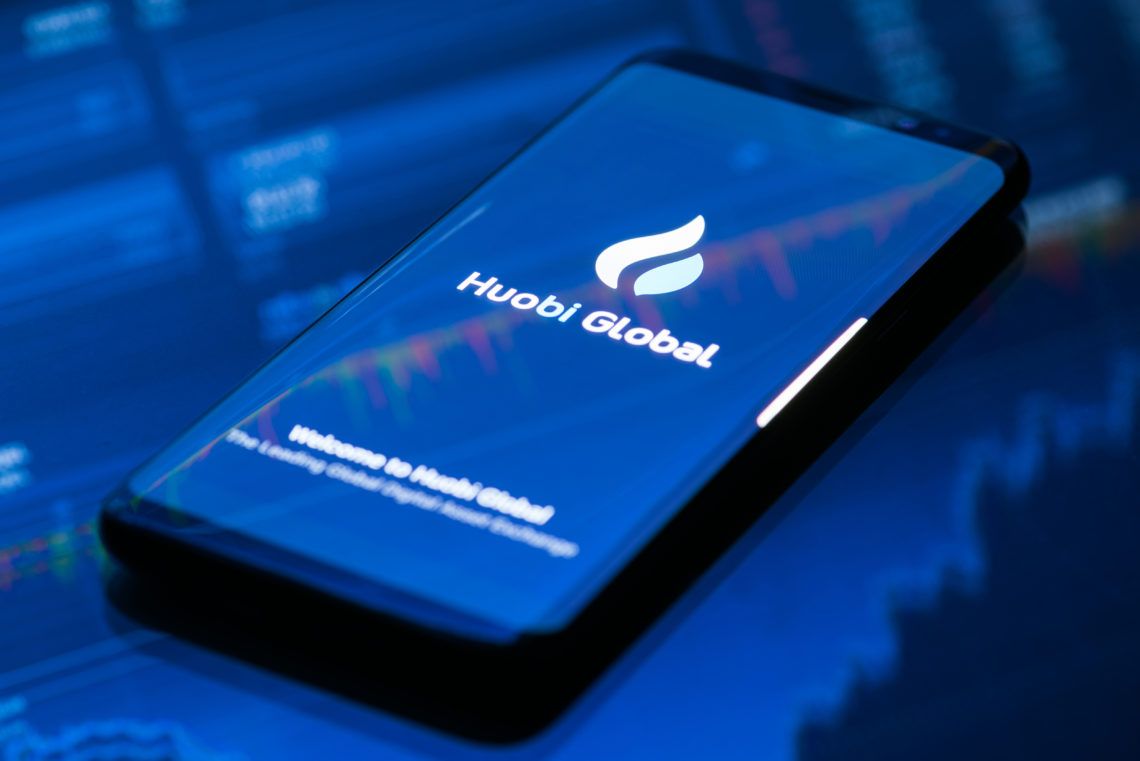 What is it?
The Seychelles-based cryptocurrency exchange Huobi was established in China in 2013. It has a strong presence in Asia but has also expanded to the West, partly in response to the ICO and crypto transaction ban in China.
Features
Unlike most of our choices, Huobi has both European and American-style options. Users can also enjoy spot trading, futures, and margin trading. To top things off, you can even use a trading bot.
Huobi also supports OTC and crypto loans. Users can engage in staking, voting, and Huobi Earn. Huobi Earn allows you to earn passive income on your crypto. The company also has a cloud wallet and a global crypto wallet, which acts as a gateway to web3.
Pros
European and American-style options
Multiple expiries
Simple interface
Cons
Limited support for fiat deposits
Not available in the U.S.
Fees or any other charges
Only buyers of in-the-money options are required to pay delivery transaction fees, which are limited to 12.5% of the delivery profits
Each transaction fee shall not exceed 12.5% of the premium charged
BTC options (per contract)

Maker fee: 0.002
Taker fee: 0.005
Delivery fee: 0.002

ETH options

Maker fee: 0.0005
Taker fee: 0.00125
Delivery fee: 0.005

VIP clients enjoy preferential fees and rebates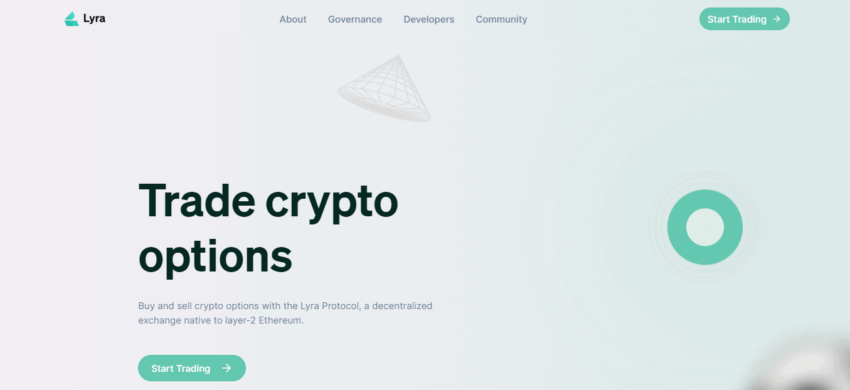 What is it?
Lyra is an automated market maker for crypto options (AMM). Using a pool of liquidity enables traders to buy and sell cryptocurrency options. Nick Forster and Michael Spain founded Lyra in 2021. It is built on Ethereum layer-2's Arbitrum and Optimism. Unlike most of our contenders, Lyra is a decentralized application (DApp).
Features
Unfortunately, Lyra only supports ETH and wrapped bitcoin (WBTC) contracts. Lyra has liquidity provider staking in addition to options trading. This is what drives the platform. The trades generate fees for the LP stakers.
The platform also has its own native token (LYRA), which has a max supply of 1 billion. Lyra token holders can enjoy rebates on their trades. It has a simple user interface for beginners but may feel slightly elementary for the more advanced trader.
Pros
Simple user interface
Allows you to buy or sell options
Pricing comparable to centralized exchanges
Deep liquidity
Cons
Limited contracts (ETH and WBTC)
Smart contract risks
Fees or any other charges
Flat fee based on the option price (differs by liquidity providers)
Flat fee for exchanging costs (differs by liquidity providers)
Dynamic fee based on the pool's vega risk
Dynamic fee based on the difference between the expiry's base and its GWAV, as well as the traded strike's skew ratio and vega.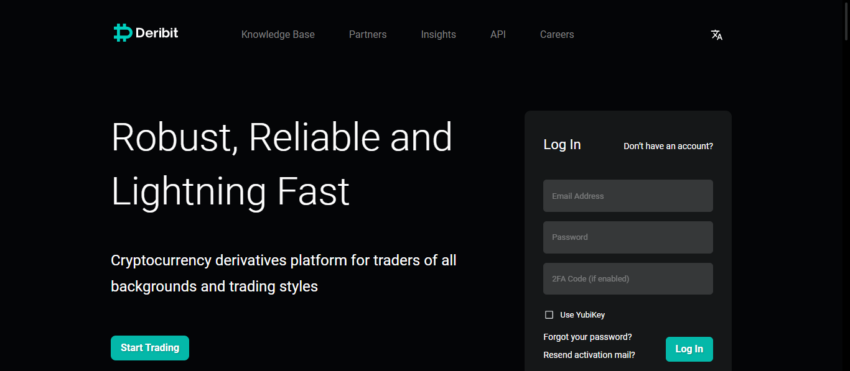 What is it?
A specialized trading platform, Deribit is an exchange with a specific focus on crypto derivatives. John and Marius Jansen and Sebastian Smyczýnski founded Deribit in the Netherlands. It is among the first platforms that created bitcoin options. It has since grown to be one of the biggest bitcoin options exchanges.
Features
Deribit is feature rich for traders. The platform enables traders to execute trades on both crypto options, perpetuals, and futures for BTC, ETH, and SOL. The exchange has become one of the most popular crypto options trading platforms thanks to its tailored experience for traders.
The platform is renowned for its advanced trading interface. Because it is specially created for crypto derivatives, Deribit has deep liquidity. Settlements are made off the exchange, which allows quick delivery. This is a workaround to combat the slow nature of a blockchain. Lastly, Deribit also offers block trades — or private peer-to-peer transactions.
Pros
Deep liquidity
Advanced trading experience
Fast transaction execution
Multiple order types (e.g., limit orders, market orders)
Cons
Limited contracts (BTC, ETH, SOL)
It doesn't accept fiat deposits (only BTC)
Not available in the U.S.
Fees or any other charges
Trading fees

Maker fee: 0.03% or 0.003 BTC per options contract (BTC and ETH), 0 maker fees on SOL
Taker fee: 0.03% or 0.003 BTC per options contract (BTC, ETH, SOL)

Delivery fees

0.015% (never higher than 12.5% of the option's value), daily options are exempt from delivery fee

Liquidation fees

There is an additional fee for liquidations. A percentage of the size of the underlying contract raises fees. The liquidation fee is automatically added to the insurance fund.
BTC and USDC: 0.19% of the underlying asset or 0.0019 BTC per options contract
0.16% of the underlying asset, or 0.0016 BTC per contract, is added to the insurance fund
0.19% of the underlying asset or 0.0019 ETH or SOL per options contract
0.16% of the underlying asset or 0.0016 ETH or SOL per contract is added to the insurance fund.

What is it?
Star Xu founded OKX, formerly known as OKEx, a global cryptocurrency and derivatives exchange based in Seychelles. The OK Group, which also owns the crypto exchange OKCoin, also owns OKX. Investors based in the U.S. are not currently permitted to access it.
Features
OKX offers European-style options contracts with multiple due date options. They settle their contracts for options in BTC, ETH, SOL, and other cryptocurrencies. The trading interface is tailor-made for advanced traders. There are also futures, perpetuals, and spot and margin trading.
You may also take advantage of the Earn products on the platform, which includes staking to earn yield. If you need a loan, OKX offers multiple loan plans. OKX is also dedicated to web3, offering products for developers on its native blockchain OKB, such as a Hackathon.
Pros
Advanced user interface
Integration with trading view
Supports multiple languages
Cons
Doesn't natively support fiat deposits
Limited contracts (BTC and ETH)
Fees or any other charges
The fee structure of OKX's options trading platform is tiered. Fees vary by:

VIP users: assets (USD) ≥ 100,000 | 30-day trading volume ≥ 5,000,000
Regular users: OKB holdings, assets < 100,000 | trading volume < 5,000,000

Regular users

Maker fees: 0.02%-0.015%
Taker fees: 0.03%

VIP users

Maker fees: 0.01%- (-)0.01%
Taker fees: 0.02%-0.013%.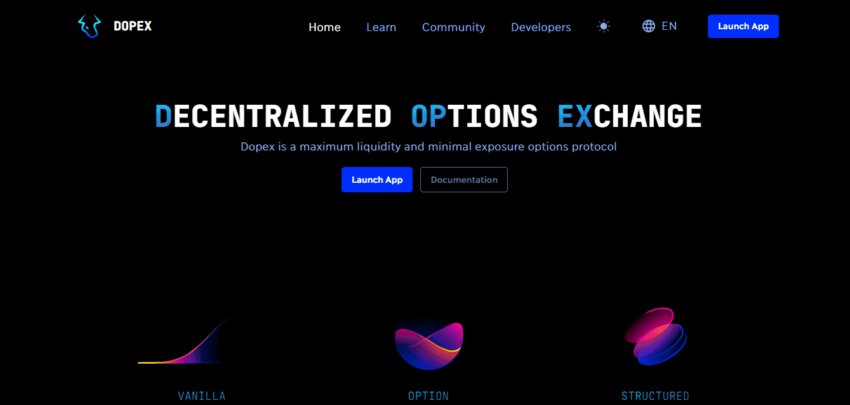 What is it?
Dopex is a decentralized protocol designed for high liquidity and low-risk exposure. It aims to maximize option liquidity while limiting losses by using rebates and delegated controlled incentives for providers of option liquidity. The decentralized application is designed to meet option writers' and buyers' needs.
Features
Option pools, also known as farms on Dopex, are essentially liquidity pools in which users provide liquidity for option buyers in the form of a base and a quote asset. This allows you to generate passive income by charging option buyers fees in exchange for the use of your liquidity.
Dopex also has its own protocol native token, DPX. Users can also earn rDPX. The latter is minted and distributed as compensation for option writers' losses. dpxETH is created when users bond assets.
The options platform is live on Ethereum, Polygon, and Arbitrum. This allows the DApp to offer traders low fees with speedy transaction execution. Some of the flagship products of Dopex are single staking options vaults (SSOV) and Atlantic options. SSOVs allow users to earn yield for writing options, while Atlantic options have several uses, like liquidation protection.
Pros
Decentralized application
Allows writing and buying options
Good model for hedging risk from losses
Cons
Fee schedule is not transparent
Permissioned automated market maker (AMM)
Fees or any other charges
Premium and service fee (converted to DPX and distributed to veDPX holders)
5% fee on the sale of rDPX
Crypto options trading platforms compared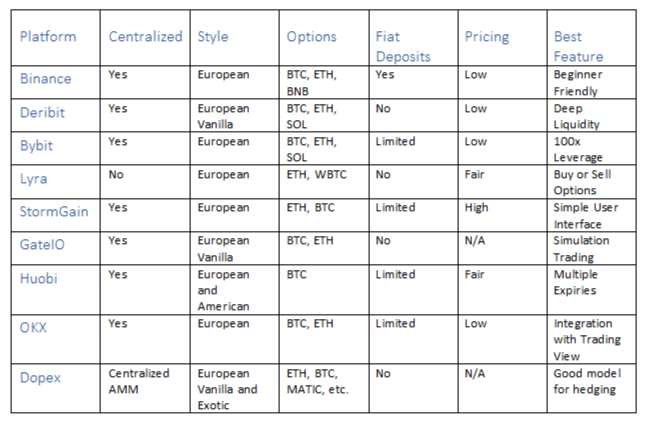 Choose the best crypto options trading platform for your personal needs
Crypto options trading platforms are not a panacea. They are the merging of two complex asset classes. Therefore, it is rare that one exchange can offer everything that another cannot. Furthermore, at the moment, crypto options have very limited offerings, typically relegated to BTC, ETH, and European-style contracts.
That being said, some platforms do stand out above others. If you really want the best platform, figure out how you like to trade and take a look at some of the top crypto trading platforms. The 'best' crypto options trading platform really is dependent on your skill level and individual requirements. As long as the outcome is income, you won't be disappointed.
Frequently asked questions
Which platform is best for crypto options trading?
There are a number of solid platfroms offering crypto options trading. These include Bybit, Stromgain, Binance, and OKX. Deribit is among the oldest bitcoin options trading platforms. It has distinguished itself among the rest through its trading features. This includes its deep liquidity, transaction execution, and trading interface.
Is there options trading for crypto?
You can trade options for cryptocurrency. The majority of crypto options contracts are European-style. Most crypto options  offered by exchanges are in BTC and ETH.
Does Coinbase offer options trading?
Coinbase does not yet offer options trading to the public. Although they do have advanced trading features. These are exclusive to Coinbase Pro accounts. Platforms which do offer options trading include Bybit, Stromgain, Binance, and OKX. Deribit is among the oldest bitcoin options trading platforms.
How do you trade F&O in crypto?
Trading futures and options is possible for crypto users. Many exchanges that offer derivatives have futures, and some even have options. Simply sign-up for an exchange. Many exchanges have guides to walk you through trading on their platforms or trading in general.
Can you trade options on Binance?
Binance allows options trading. Binance options are European-style. They have contracts for BTC, ETH, and their native token BNB. Spot trading, perpetual, futures, and options trading are all also available on the platform.
Disclaimer
All the information contained on our website is published in good faith and for general information purposes only. Any action the reader takes upon the information found on our website is strictly at their own risk.
At Learn, our priority is to provide high quality information. We take our time to identify, research and create educative content that is useful to our readers.
To maintain this standard and to continue creating awesome content, our partners might reward us with a commission for placements in our articles. However, these commissions don't affect our processes for creating unbiased, honest and helpful content.