Non-KYC crypto exchanges offer users the ability to buy, sell, and trade cryptos without undergoing identity verification processes. This unique feature has made them particularly appealing to individuals who prioritize their privacy and seek to maintain anonymity in their crypto transactions.
Here's our top selection of crypto exchanges without KYC that will help preserve your anonymity when trading cryptocurrency.
What is KYC?
KYC stands for Know Your Customer. It is a process performed by financial services that handle fiat payments from their customers.
Crypto businesses, known as VASPs (Virtual Asset Service Providers), have to verify the identities of their clients during the onboarding process or occasional transactions. This is done as part of the due diligence process and to ensure compliance with regulations, particularly anti-money laundering (AML) regulations.
During onboarding, clients must provide certain minimum information, including their full name, residential address, and date of birth. The platform then compares this information to the government-issued documents submitted by the client. Depending on the jurisdiction, the platform may also request additional personal data such as place of birth, nationality, tax code, wallet addresses, and transaction hashes.
Many crypto services rely on specialized third-party solutions to conduct the KYC process. While KYC is a great tool to help money laundering, it also affects everyday users who wish to preserve their anonymity.
This Chainalysis crime report demonstrates the scale of the problem of criminality in crypto — the other side of the coin when it comes to KYC.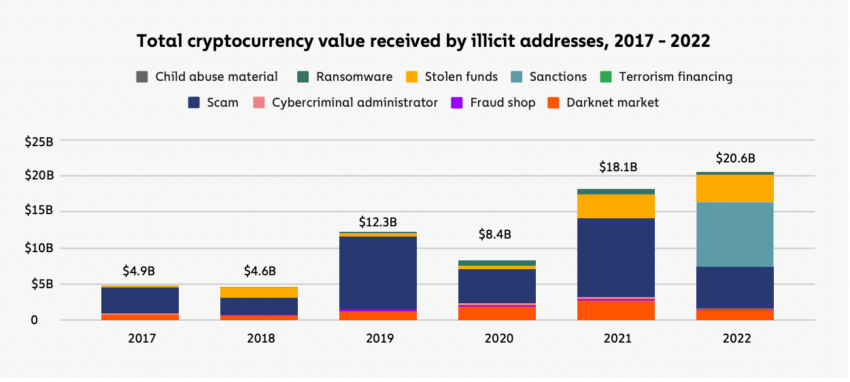 This report acts overall as a resource to support the creation of future regulations. It also notes the importance of users being aware of ill-intended actors: ".. Sanctions against decentralized services act more as a tool to disincentivize the service's use rather than cut off usage completely".
Can't bypass the KYC verification? If privacy is your main concern, you can also use a crypto mixer to regain privacy for your crypto funds.
What are the best no-KYC crypto exchanges?
Why use a non-KYC crypto exchange?
A non-KYC crypto exchange allows users to maintain privacy and eliminates the risk of having their personal financial information fall into the wrong hands. Also, most of these exchanges offer financial services to users worldwide. By not requiring KYC verification, these exchanges eliminate barriers for individuals who may not have access to the necessary identification documents or those who prefer to keep their financial activities private.
This inclusivity opens up opportunities for users worldwide. It includes those in countries with restrictive regulations or limited access to traditional financial services.
However, it's important to note that while non-KYC exchanges provide certain advantages, users should also consider the potential risks involved. These exchanges may have lower security standards and increased vulnerability to illicit activities. Therefore, it is crucial for individuals to exercise caution, conduct thorough research, and implement additional security measures to safeguard their funds and personal information.
Is there a way to buy crypto without KYC?
As demonstrated in this listicle, there are ways to buy cryptocurrencies without undergoing Know Your Customer (KYC) verification. These no-KYC crypto exchanges typically operate on a peer-to-peer basis, connecting buyers and sellers directly without the need for intermediaries or centralized authorities.
Non-KYC exchanges provide a solution for individuals who prioritize privacy and want to trade cryptocurrencies without disclosing personal information. By using non-KYC exchanges, users can maintain their anonymity and keep their personal data secure.
In addition to non-KYC exchanges, there are also peer-to-peer trading platforms. These P2P platforms allow users to interact directly with other individuals to buy or sell cryptocurrencies without KYC verification. These platforms facilitate secure transactions between parties and often offer various payment options to accommodate different preferences. It's important to note that while non-KYC options provide privacy advantages, users should still exercise caution.
What's the best no-KYC crypto exchange for you?
From the platforms we have listed, Bisq stands out as a decentralized exchange and offers increased privacy. ChangeNOW is a versatile platform with a wide range of cryptocurrencies. Gate.io is known for its extensive selection of cryptos.
Additionally, dYdX offers a decentralized trading experience for professional traders who want to unlock features such as margin trading. For beginners and altcoin traders, the MEXC crypto exchange provides a comprehensive trading platform with advanced features and a large selection of cryptocurrencies at competitive fees. But ultimately, the best exchange for you depends on your specific requirements and preferences. Always review the terms and policies of any exchange before you register to ensure it aligns with your needs.
Frequently asked questions
Iulia Vasile is a seasoned professional in the cryptocurrency and blockchain industry, working full-time in the field since 2017. With a background in computer engineering, she...
Iulia Vasile is a seasoned professional in the cryptocurrency and blockchain industry, working full-time in the field since 2017. With a background in computer engineering, she...
READ FULL BIO
Sponsored Sponsored