The crypto trading space is rife with technical analysis tools and indicators. And knowing about them does give your trading results a boost. But there is another way to make crypto trading rewarding for you — using the right trading automated trading bots. 3Commas comes across as one such trading platform, best known for the widest possible collection of trading bots. And how all of that adds up as a holistic trading experience is what we will explore in this 3Commas review.
Notably, a crypto trading bot is meant to automate your trading strategy. And it works by finding the most profitable trades, entries, and exits for you, depending on how you prime and use it. 3Commas is a platform that's loaded with these innovative trading tools, and by the end of this piece, you should be able to decide if it's worth onboarding.
3Commas at a glance: Our overall rating
3Commas is a powerful trading tool in the hands of the right user. While it most likely will not make an unprofitable trader profitable, it certainly has the potential to make an expert trader's life a whole lot easier. When it comes to trading bot platforms, 3Commas is top tier.
Criteria
User
experience
Customer
support
Compared to
competitors
Fees
Features
BeInCrypto
score
Score
4/5
4/5
4/5
4/5
5/5
4.2
What to expect from this 3Commas review?
Trading bots are lifesavers. Even top exchanges like Binance have dedicated bots to help automate trades, place quick buy and sell orders, and do much more. But what if a trading platform offered a smorgasbord of these bots, one suitable for every occasion? This is exactly the 3Commas offering.
Here is how an exchange bot works:
In this 3Commas review, we explore the platform's features, the user experience following the account setup, the overall usability of the platform, the plans and their pricing, implemented security measures, and customer support.
Who is this review for?
We expect this review to be of significant value to crypto trading novices looking to get a headstart in the world of charts and trading tools. The 3Commas review should even be useful to advanced traders with multiple accounts who aren't averse to a bit of healthy automation.

The review itself aims to unpack everything 3Commas has to offer. The idea is to ensure that new and advanced traders can implement strategies from the 3Commas interface to make profitable trades.
What is 3Commas?
3Commas is a crypto-focused trade platform that comes loaded with diverse trading tools, user-friendly interfaces, and strategies. It is a haven for traders who are looking to automate their spot trading, derivatives trading, HODL-based trading, and other strategies. And it takes the concept of algorithmic trading to a whole new level.
Here is a bit about the efficiency of a bot.
"On April 13th, the bot detected a 102.9% increase in Upbit $ARB volume.

Later that day, $ARB commenced a 40% move to the upside."

Miles Deutscher, crypto analyst: Twitter
Simply put, 3Commas has a crypto trading bot for every season, ensuring that traders can ride the bullish, bearish, or even sideways market with the same precision.

A look into the offerings:
History, team, and growth
3Commas is the brainchild of Yuriy Sorokin, Mikhail Goryunov, and Egor Razumovskii. The idea was to make trading accessible and automated, eliminating the need for constant position monitoring. All of it started in 2017, and after six years, the firm is still growing strong, with over 220,000+ registered users.
The platform hinges on simplicity while bringing users the most sophisticated trading tools. And it manages to do that while adhering to the latest security standards.
Did you know? The 3Commas leadership team also comprises Andres Susi, who serves as the Chief Business Development Officer and a member of the 3Commas board.
Additionally, 3Commas, in September 2022, raised funds worth $37 million from Alameda Research. Despite the FTX contagion, Sorokin tweeted that the firm was unaffected.
How to sign up
1. To sign up, navigate to the 3Commas website and select "Try It Free" or "Start 7 day trial."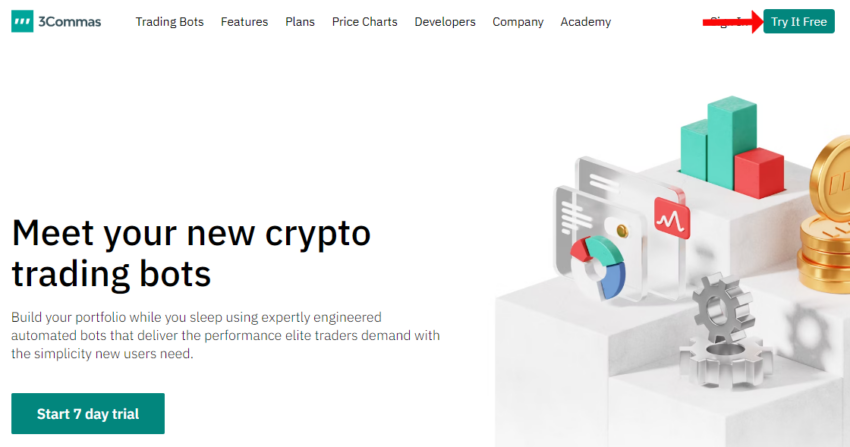 2. You can sign up using an email, Google, Apple, or Facebook account. If you use email you will receive a login confirmation.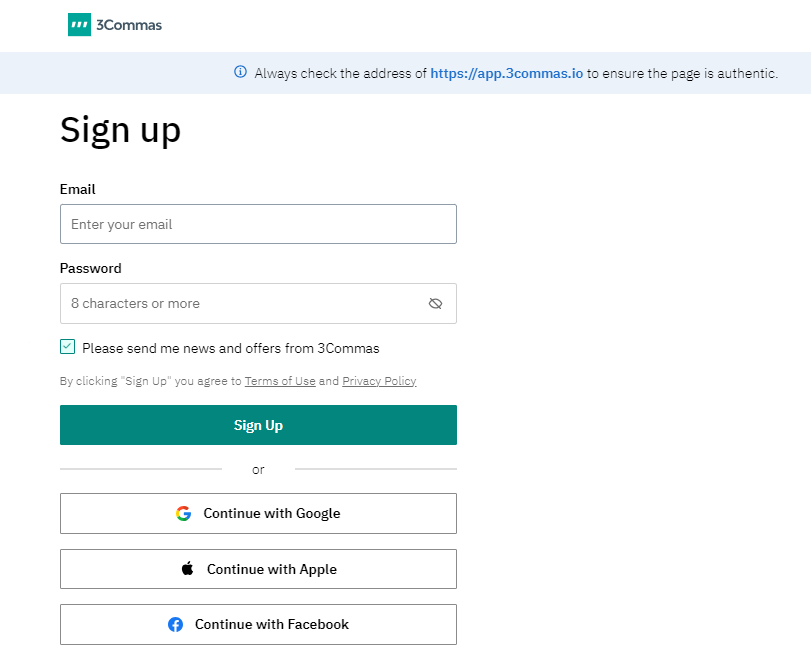 3. Verify your email by entering the code sent to your email.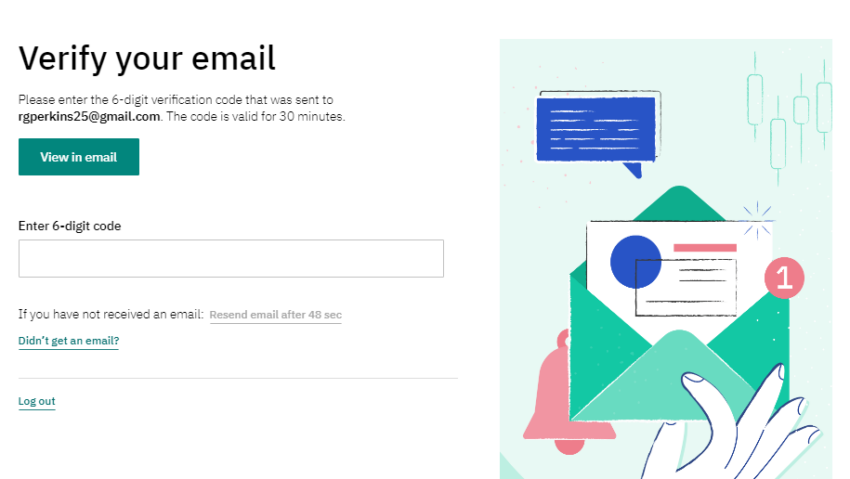 Congratulations! You have successfully created your 3Commas account and subsequently started your 7 day trial.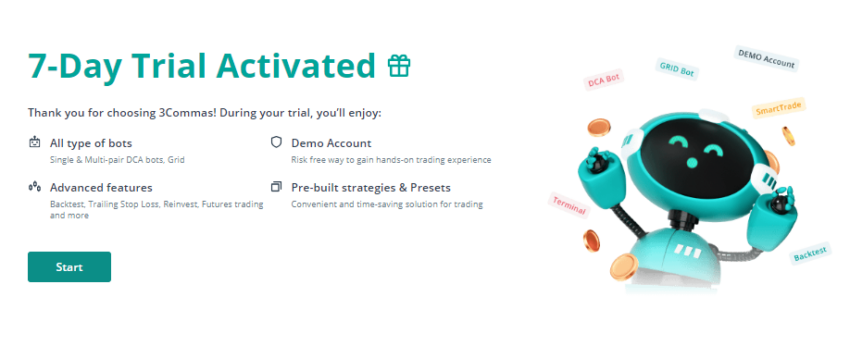 3Commas review: Spread, usability, and more
Users who initiate most of their trades on CEXs should certainly get familiar with 3Commas. This platform allows you to pair the bots across 16 exchanges, including top platforms like Binance and OKX. Plus, you can even connect your wallets to the interface, which will help you track your non-exchange holdings.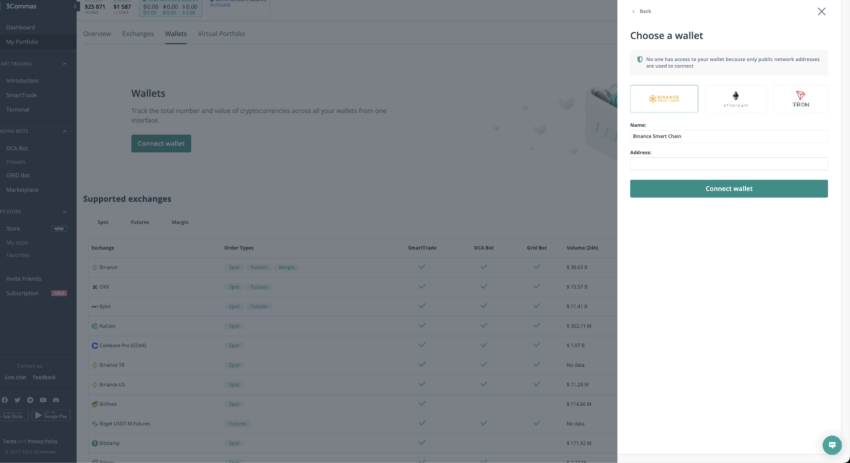 As for usability, the crypto trading bots help you with trade automation, but the platform also lets you track crypto portfolios. There is also support for debit and credit cards for specific exchange users:
3Commas review and the offerings
The thing with automated trading bots is that you need to use them properly. This is the case, too, for those offered by 3Commas. But to use them right, we must first examine what the platform offers.
SmartTrade
This semi-automated crypto trading tool ensures that you can use the 3Commas terminal to set up smart trades using advanced settings.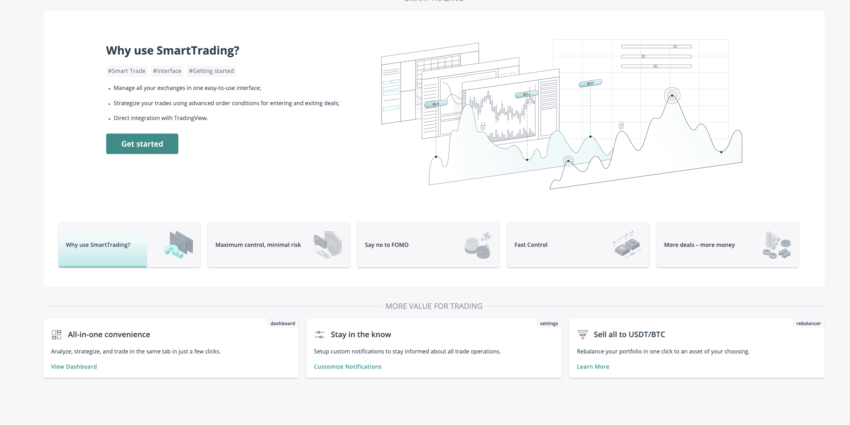 It differs from bots by working as only a semi-automated tool where you need to enter the trade, and the tool can then take care of your stop loss, exits, take profit traits, trailing stop losses, and other requirements.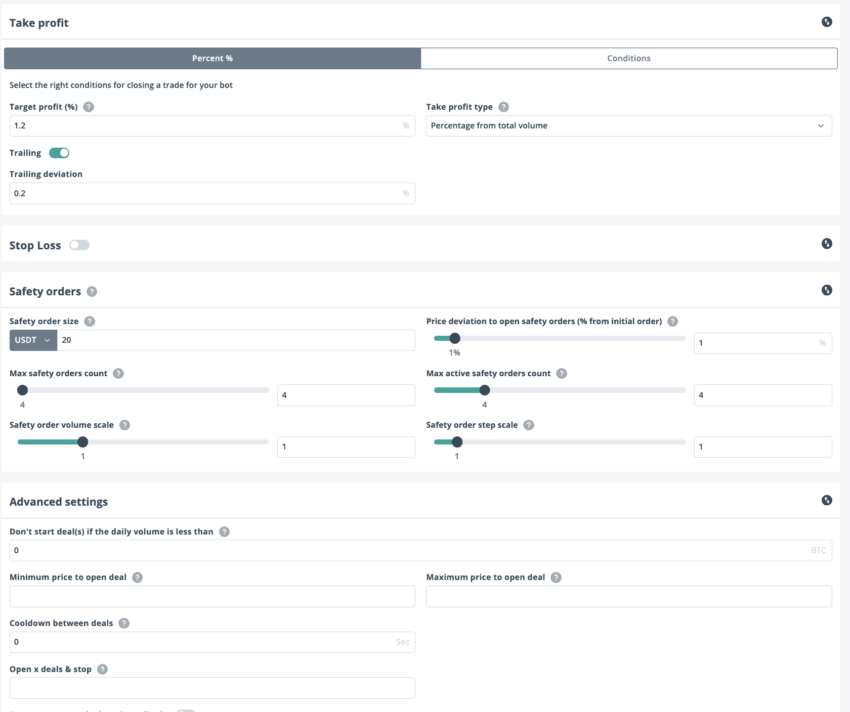 If setting up a bot sounds overwhelming, you might want to use this feature first.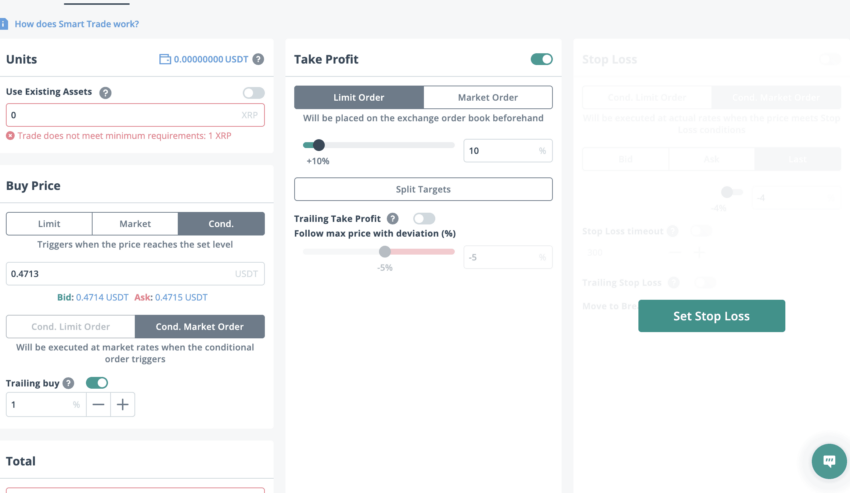 And yes, you can even initiate buy or sell moves using this crypto trading tool. Also, 3Commas offers accessible documentation to support the use of this feature, ensuring that you use it correctly.
This feature actually lets you place smart trades. You can set custom notifications and rebalance your portfolio directly by selling other assets for USDT or BTC.
Dynamic Terminal
Once you choose an exchange connected to 3Commas, you can use the Dynamic Trading Terminal or the DTT feature to place exchange-specific trades directly. This way, you wouldn't need to visit the exchange to place trades.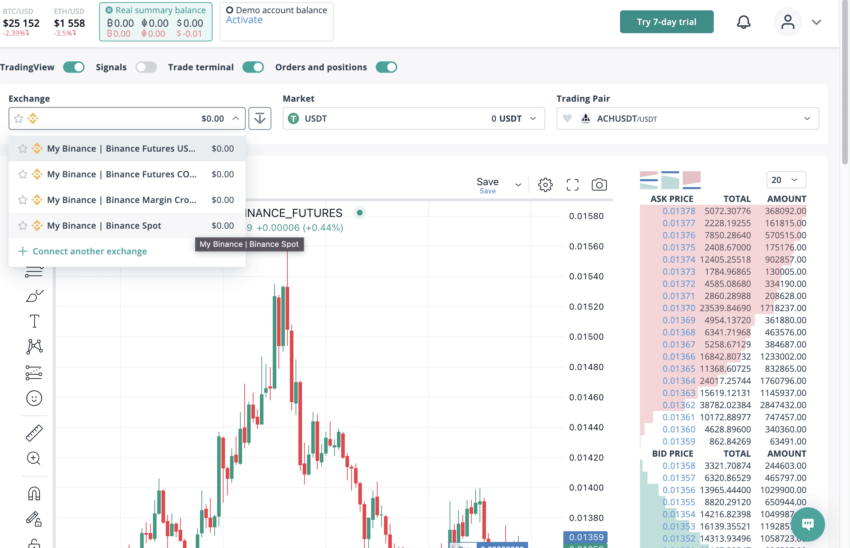 This feature aims to streamline the trading process, ensuring you can easily juggle multiple exchange accounts, track assets, and never miss out on a trading opportunity.
DCA (Dollar Cost Averaging) bots
Now, we shift our attention to trading bots — the 3Commas USP. The first offering in the crypto trading bot segment is the DCA bots. These DCA or Dollar Cost Averaging bots automatically invest a fixed sum in a given cryptocurrency periodically.
Even the DCA bots allow you to choose between trading strategies. At 3Commas, you can either choose the "Classic Trading" DCA strategy to simply buy or sell crypto. Or, you can check out the "Super Power" mode to dollar cost average with USDT futures. And if you are a short-seller, DCA bots also let you ride the downtrend.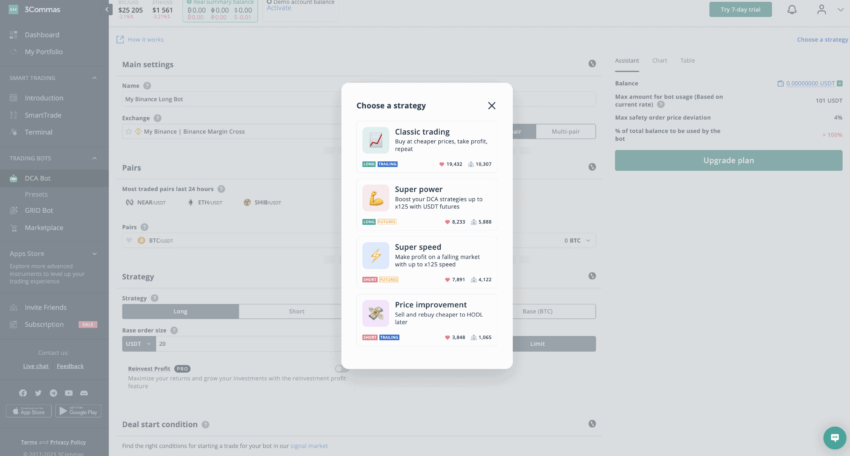 Finally, if you have limited funds, you can opt for the" Price Improvement" DCA bot strategy that keeps selling and rebuying crypto cheaper as a HODLing move.
If you unlock the Pro-plan, you can even prime to DCA bots to reinvest profits. Also, you can even command the bot to initiate "Take Profit" trades — which follow the price surges without selling, and even set stop losses to minimize massive drawdowns.
Gordon Bots or Bot Presets
Setting up DCA bots can be overwhelming for new traders, who aren't always sure about navigating the interface. This is why 3Commas has the Gordon Bots in place, which are standard DCA bots but with prior setups handled. You simply need to add these bots to your trades by giving minor tweaks to the price levels.

However, the Gordon bots are only accessible via the mobile app interface.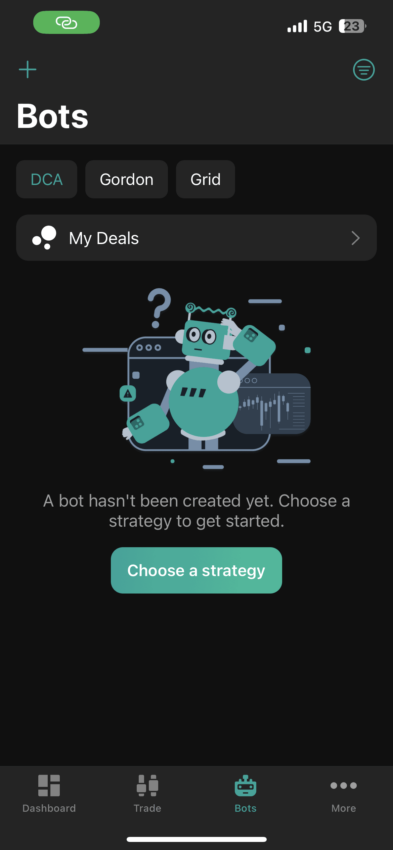 In the web interface, the concept of Gordon Bots is synonymous with Bot Presets. If you are active via the web interface, you must access the "Presets" section to choose from a wide range of already set bots. You can choose any profitable bot, look at the profit summary, and "start" the bot.
Choosing a DCA bot from the presets is a prudent option now as 3Commas, as of Sept. 4, 2023, has discontinued its HODL bots, Options bots, and even the Smart bots. Presets can help you tweak the settings to mimic the potential of these bots. Do note that with bot presets, you can fine-tune your trading strategies for day trades, swing trades, and even scalping.
Grid bots
These 3Commas bots ensure that grid trading turns into an automated errand, with all eyes on profits. The bot automatically creates a price range and breaks down the analysis into multiple levels. Once done, buy and sell moves are initiated at different points across the levels.
For instance, the bot sells a specific amount whenever the price rises and buys when the price drops. Grid bots ensure that you can make the most of the market volatility without having to keep monitoring the price moves.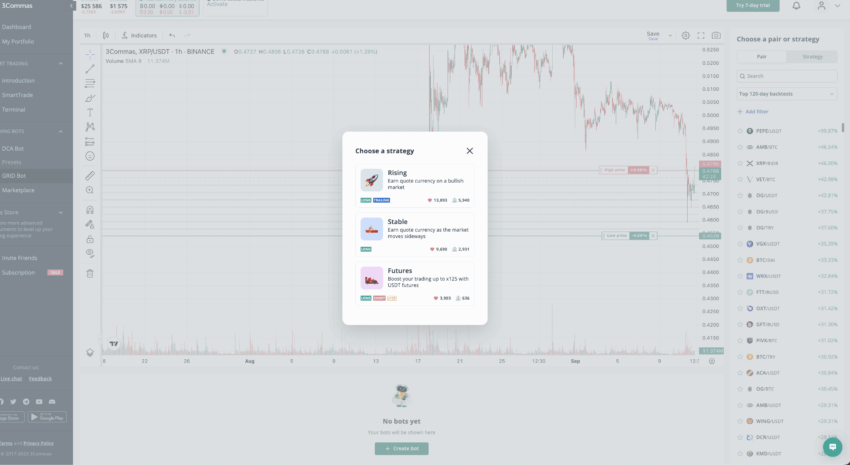 As for the built-in strategies, the Grid bots can help you ride the rising market during an uptrend, make stable returns during a sideways movement, or help trade USDT futures.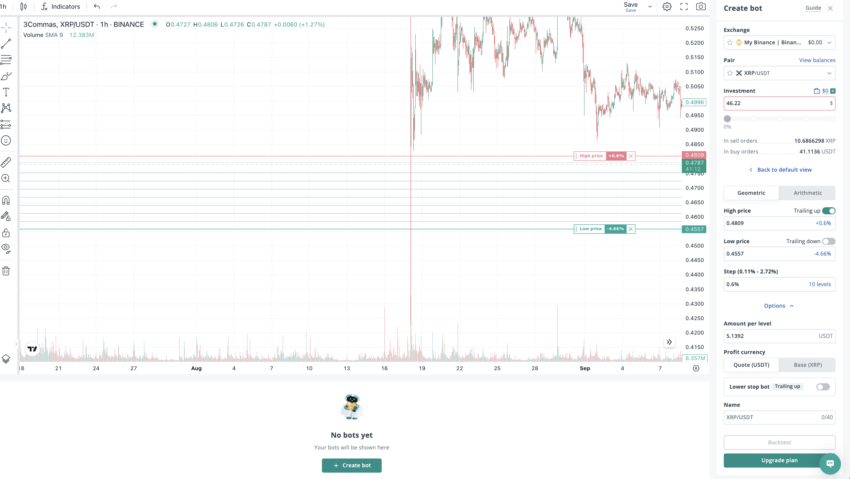 3Commas Marketplace
If you liked the bot presets, the marketplace might just be a better option. Unlike bot presets that just enlist the bots, the 3Commas Marketplace allows you to check for exchange-specific bot presets and make moves accordingly. We know that crypto exchanges have different liquidity levels for the same crypto pairs.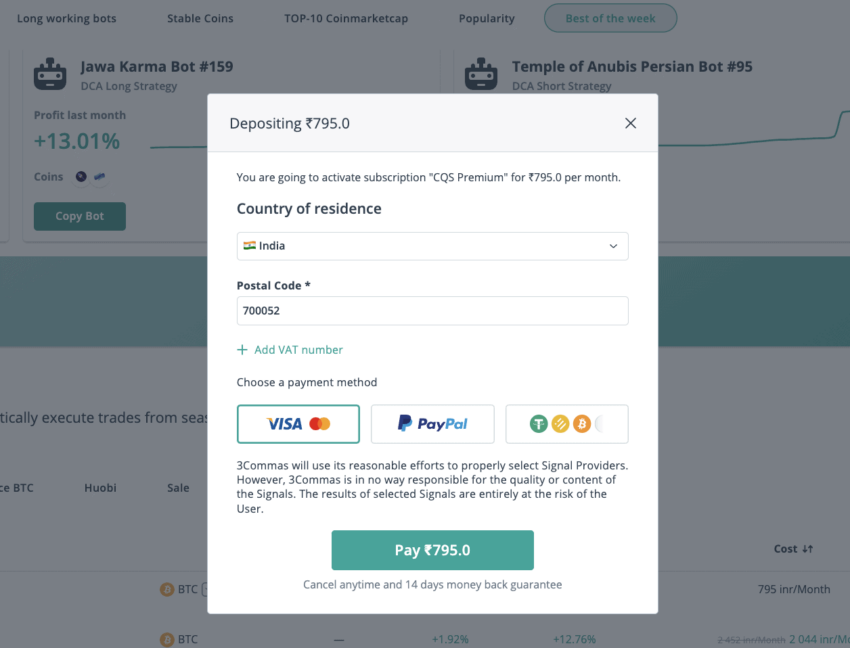 This is the reason that exchange-specific crypto bots come in handy. You can choose from Binance, OKX, or other exchange-specific bots. Or, you can go for bots that are the most popular, meant for long trades, aligned with stablecoins, and more.
Signal-to-bot conversion
If you scroll down further inside the marketplace, you see trading signals from top traders. At 3Commas, these trading signals can be converted to bots by paying a premium. Once you pay the fee, signals from top traders are analyzed and made into working trading bots.
Tracker
If you are accessing 3Commas from the desktop, you get access to the "My Portfolio" section, where you can see all your linked exchanges, wallets, and holdings. Another exciting feature is the "Virtual Portfolio," where you can list all your favorite tokens and create a virtual portfolio of these wishlist-like holdings.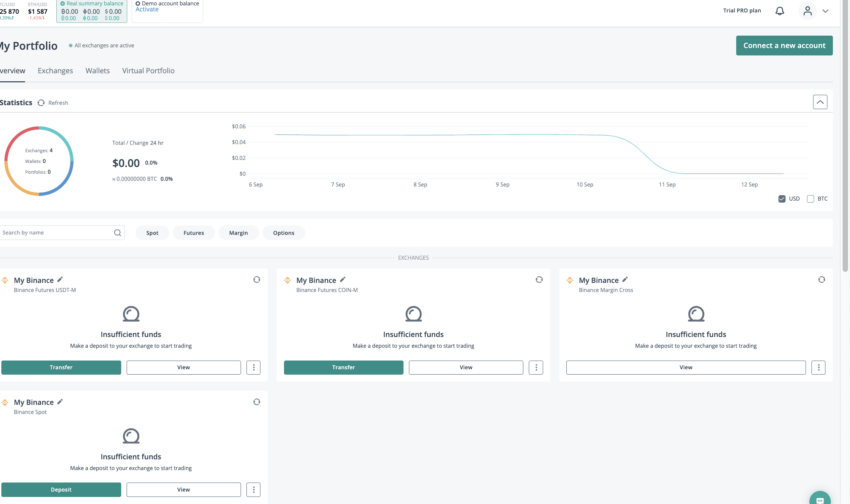 Paper trading
Even with the best-in-class resources, you might not want to integrate the bots immediately. Instead, if you are on anything higher than the "Free" plan, you can get access to paper trading. This trading feature lets you work with virtual funds, letting you check how the bots work, what kind of profits you can amass, and how you can play around with these trading tools.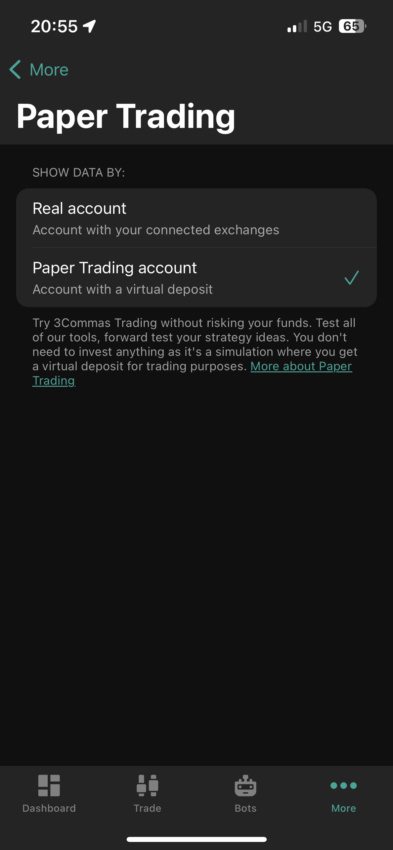 Here's what the paper trading interface looks like: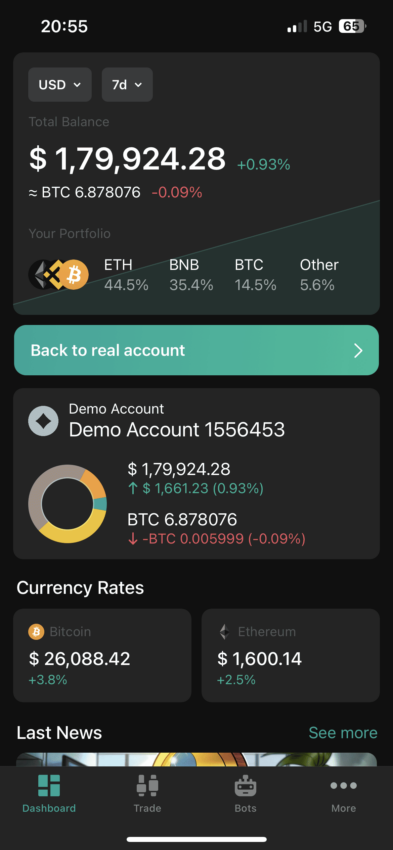 Is 3Commas good for beginners?
Crypto trading bots are supposed to make life easier for traders. And 3Commas doesn't shy away from this requirement. For instance, setting up the 3Commas platform is as easy as it gets. You can quickly set up an account using the web interface, which also offers multilingual support.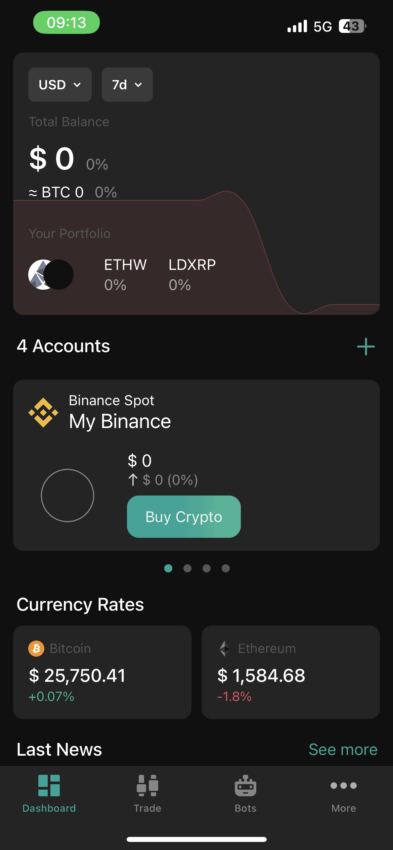 Once inside, you get a direct view of the dashboard with your exchange positions listed. You even get a view of the available bot presets and the exchanges you can connect the bots with for automating the trades further.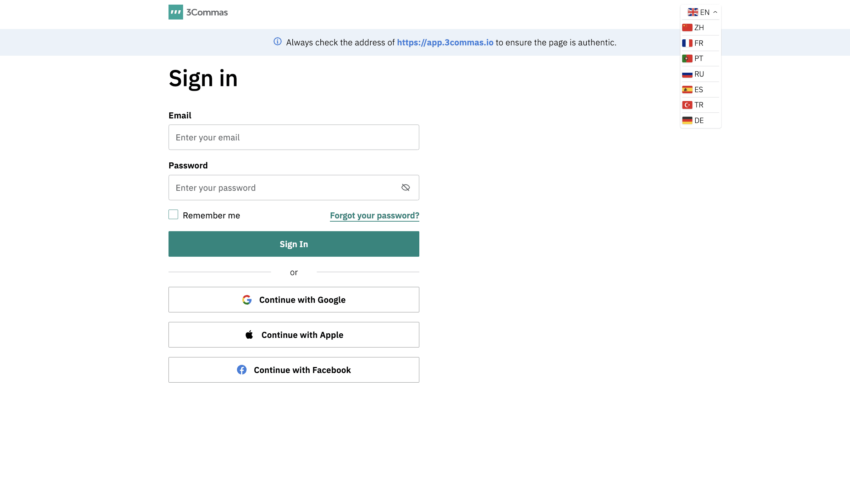 Setting up an account doesn't require any added documentation, and you simply need to use your email credentials to do the same. Also, if you prefer the app format, 3Commas lets you install the same on the Android (Play Store) and the iOS (App Store) ecosystem seamlessly enough.
Within the app, the interface is beginner-friendly. The welcome screen itself lets you "Buy Crypto" to ensure direct trading via 3Commas is possible. If you scroll down, there is a "Trade" option as part of the app. If you do not wish to set up bots right away, this feature lets you place customizable buy or sell orders.
At 3Commas, you can set up "Base Step" orders, similar to what you would on an exchange.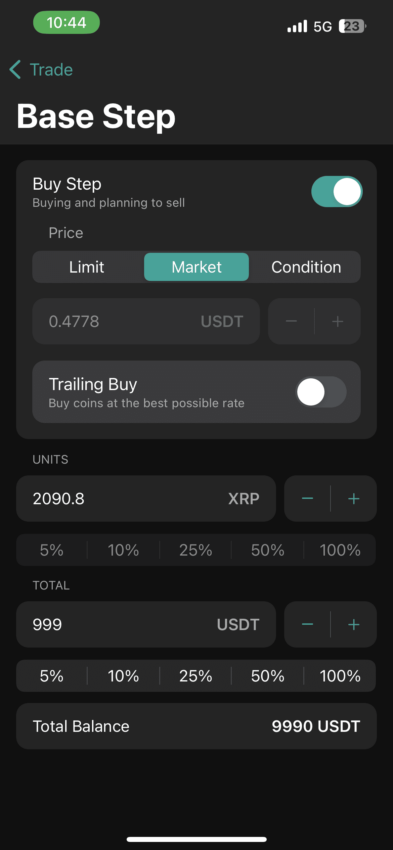 The "Bots" section lets you quickly choose between DCA bots, Grid bots, the Gordon bots, or rather, Bot presets. And finally, you can head over to the "More" section on the app to check the status of your plan, type of accounts, settings, and other options. Overall, the entire 3Commas interface — web or app — is easy to navigate.
3Commas fee structure
If you want to try out 3Commas, there are four pricing tiers to consider. Firstly, there is the "Free" plan that offers unlimited access to the dynamic terminal, trading signals that can be converted to bots, TradingView integrations, support for crypto conversions, and other features.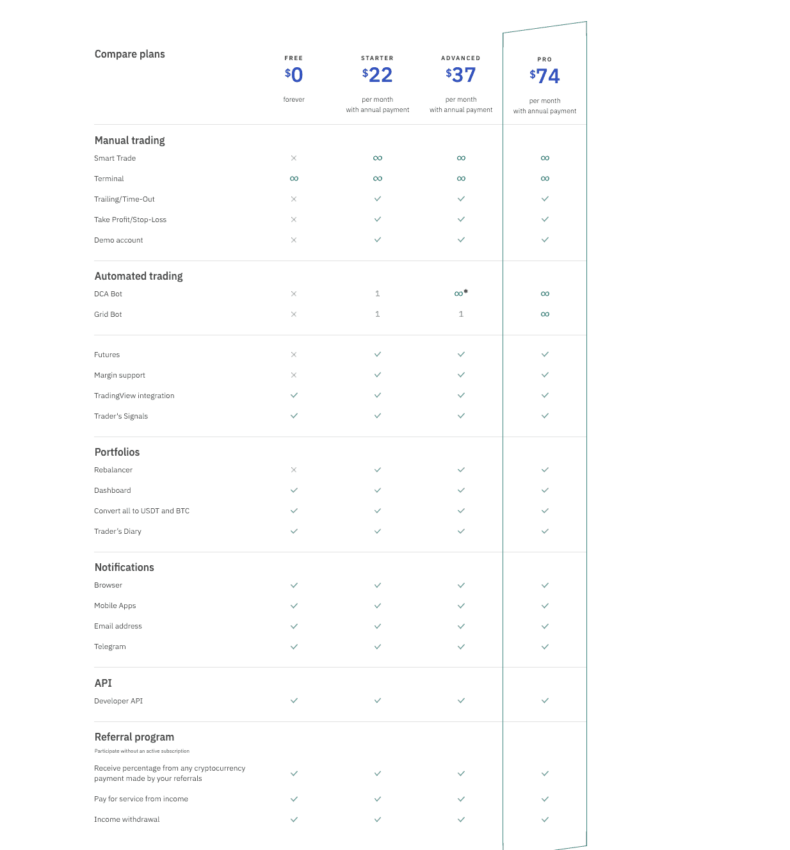 The next tier is the $22/month plan as part of the Starter offering. Compared to the free plan, the Starter pack lets you access take profit orders, demo account or the paper trading functionality, stop-loss placements, and access to one DCA and one Grid bot. You can even handle margin trades and futures with this plan.
Next in line is the "Advanced" tier, priced at $37/month. Besides offering everything from the Starter plan, this tier allows access to unlimited DCA bots. And finally, if you want unlimited DCA and Grid bots, you can access the "Pro" plan, priced at $74/month.
Here is how you can easily pay for the plans:
Do note that all these monthly plans are billed yearly. For standalone plans with monthly payment options, the charges for starter, advanced, and pro plans are $29, $49, and $99, respectively.
However, 3Commas has a rewarding referral and bonus program to help you grab package-specific discounts. Once you head over to the "Invite Friends" section and access the referral page, you can generate a link, share it with friends, and get a 10% discount on the monthly plan if anyone joins.
If your friend purchases a paid plan, you receive a bonus. You can redeem the bonus as USDT once the value crosses $50.
3Commas review: Safety and security
Many secure elements make 3Commas one of the more trusted online trading platforms. Here are the traits you should know about:
Works as a non-custodial platform even when you connect your exchange APIs to let the bots trade on your behalf.
Secure exchange-specific connection modes are available, with fast connect being a quick and safe way to link APIs.
Utmost attention to the security of customer data with immunizing moves against DDoS attacks.
Built-in firewall support
An isolated sign center that can handle exchange-specific connections more securely.
IP whitelisting to ensure you are handling your account from a known IP address. An email-specific OTP is sent.
Biometric security as part of the two-factor authentication setup while managing the application.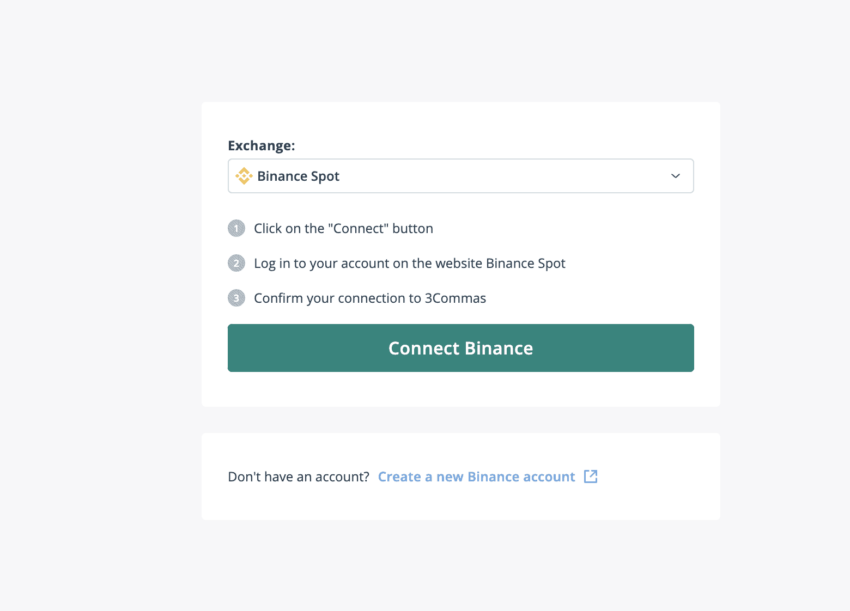 These features work in unison to ensure user security and data protection.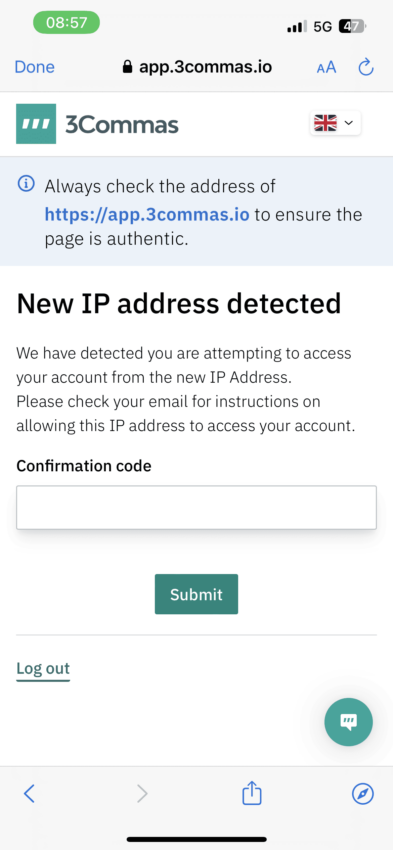 Does 3Commas have good customer support?
The customer support spread of 3Commas is arguably the most extensive one for any trading platform. Here are the elements that stand out:
A ChatGPT-based bot that offers live chat support, quelling concerns in real-time.
Email support for getting answers to detailed queries. You can connect with the team at

[email protected]

. The response time is somewhere around 12 to 48 hours.
A wide range of social handles, including Facebook, Twitter, Instagram, and Telegram, allow you to connect with like-minded individuals and get queries resolved.
A dedicated YouTube channel will help you understand everything about using these crypto trading bots, setting them up, and getting everything up and running quickly.
Ultra-responsive community support via Discord and Reddit, with prompt individuals to always lend assistance.
A detailed blog and FAQ section that summarizes almost every kind of query a user can have. The videos, however, can still be accessed via the 3Commas Academy page.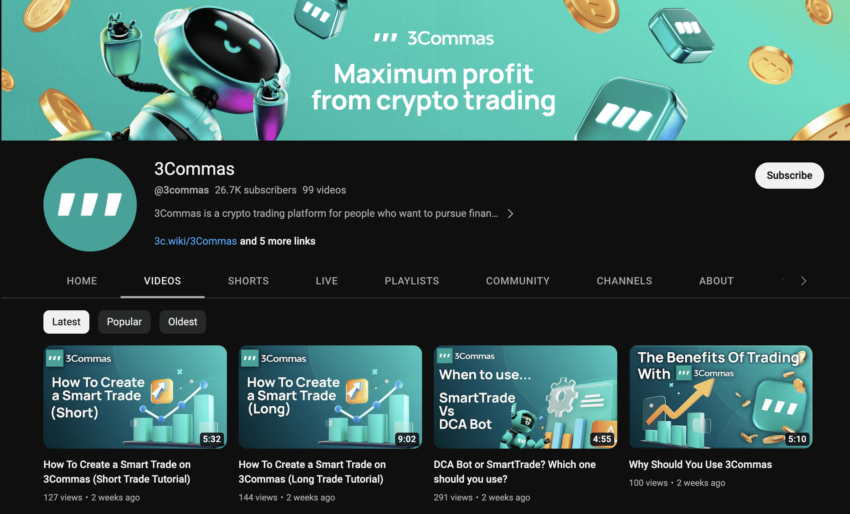 The home page houses several user reviews, allowing new traders to check the best features and make informed calls.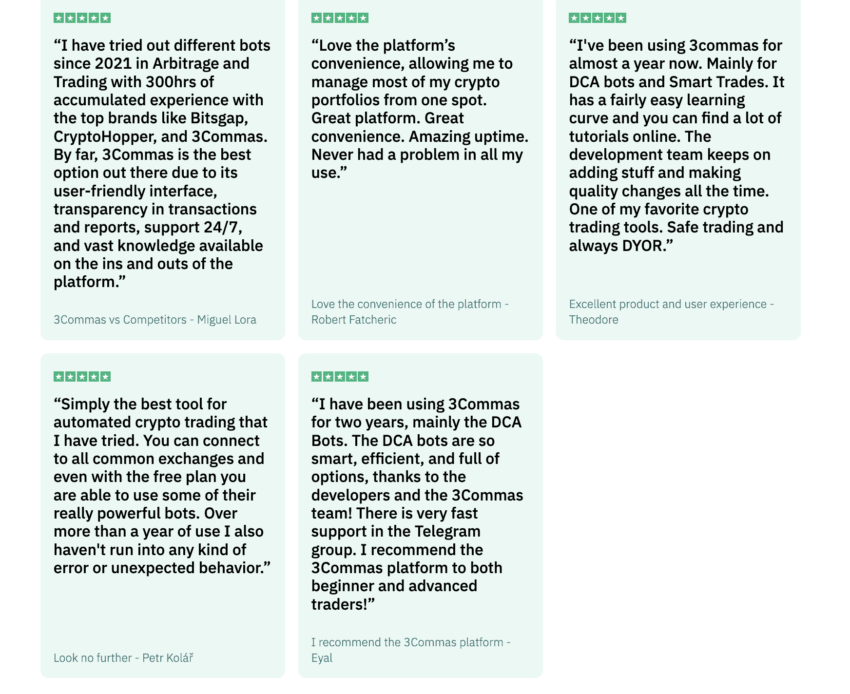 While 3Commas seems to have covered most bases related to customer support, telephone support and multilingual coverage for issue resolution would be welcome additions to further boost user experience.
X (previously Twitter) handle has everything you need:
3Commas review: Pros and cons
While our 3Commas review captures every element of importance, here is a quick list of pros and cons to give you a broader view of the platform's offerings:
Pros
Multiple exchange support
Top-notch security measures
Mobile support
Allows you to copy trades associated with top bots
An extensive collection of learning resources
Offers paper trading support, giving an early lay of the land
Supports signal-to-bot conversions
The smart trade terminal features a built-in rebalancer.
Cons
The "Free Plan" doesn't allow you to experience the potential of trading bots.
A steeper learning curve
The performance depends on the performance and uptime of the associated exchange.
3Commas alternatives
Still unsure about 3Commas? Well, we have a few alternatives for you to consider.
CryptoHopper
A cloud-based setup that doesn't put any load on your system. Still offers a marketplace-like experience in addition to other features like a trading strategy designer, a customizable dashboard, and backtesting support like 3Commas.
TradeSanta
Interested in a more user-friendly interface? TradeSanta can be a pretty good option. Also, the free plan offered by this trading platform is way more capable.
Gunbot
This tool works like a downloadable software solution, a functionality that offers traders more control over the trading environment. It has a one-time payment plan and access to license updates for a lifetime.
Invest responsibly
While trading can have many benefits, trading is also inherently risky. Those who are interested should keep in mind that research suggests that 70% – 90% of traders lose money. Therefore you should always remember to mitigate risk whenever possible and trade responsibly.
Furthermore, this review does not attest to the performance of the 3Commas platform, nor is it a formal endorsement. Readers should keep in mind to do their own due diligence and research regarding any investment decisions.
Is 3Commas worth a try?
Trading bots aren't infallible. But if credibility is what you are seeking the most, 3Commas has everything you need to get started. While this 3Commas review captures everything this bot aggregator has to offer, features like the traders' diary (log) and the ability to backtest strategies ensure that everything out here is tested, tried, and tuned per user expectations. And even without the popular HODL bots, 3Commas offers every other crucial trading feature that can help automate time-intensive trading strategies.
Frequently asked questions
What is better than 3Commas?
Can a crypto trading bot really generate money?
Does 3Commas charge fees?
Can I use 3Commas for free?
What are the benefits of 3Commas?
What is a limit order on 3Commas?
What can I trade on 3Commas?
In which regions 3Commas is available?
Does 3Commas have a mobile app?
Does 3Commas offer a demo account?
Does 3Commas offer any special offers or bonuses?
Disclaimer
In line with the Trust Project guidelines, the educational content on this website is offered in good faith and for general information purposes only. BeInCrypto prioritizes providing high-quality information, taking the time to research and create informative content for readers. While partners may reward the company with commissions for placements in articles, these commissions do not influence the unbiased, honest, and helpful content creation process. Any action taken by the reader based on this information is strictly at their own risk.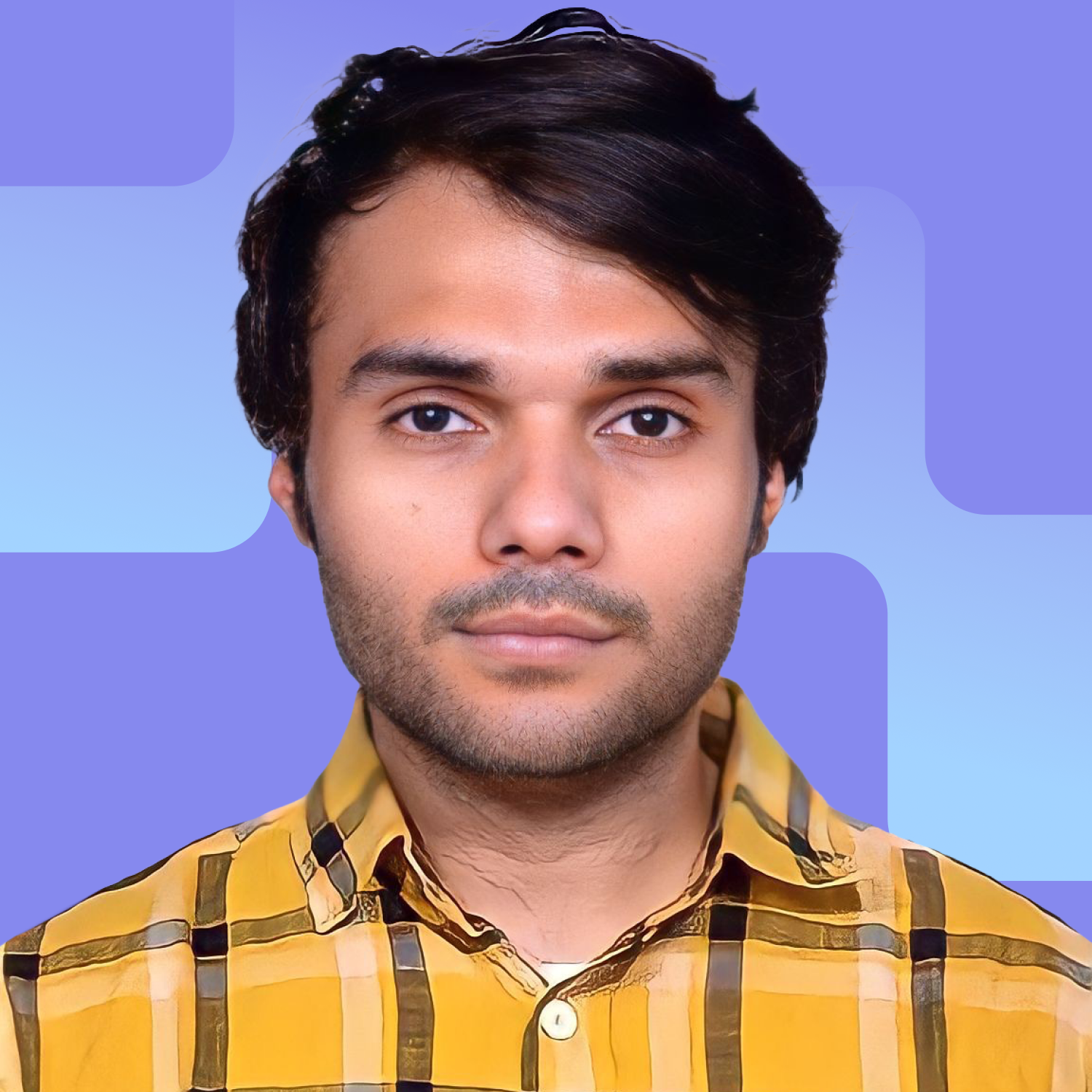 Ananda Banerjee is a technical copy/content writer specializing in web3, crypto, Blockchain, AI, and SaaS — in a career spanning over 12 years. After completing his M.Tech in...
Ananda Banerjee is a technical copy/content writer specializing in web3, crypto, Blockchain, AI, and SaaS — in a career spanning over 12 years. After completing his M.Tech in...
READ FULL BIO
Sponsored Sponsored