In the dynamic world of cryptocurrency trading, staying ahead of the curve is crucial. Amid the fluctuating market conditions and the 24/7 nature of the crypto market, traders are increasingly turning to artificial intelligence (AI) powered trading bots to optimize strategies and maximize profits.
Choosing the right AI trading bot can be a game-changer, helping to automate crypto trading, manage portfolios, set stop losses, and more. In this article, we'll explore the top nine AI crypto trading bots that can help you make the most of your trading activities.
What are AI crypto trading bots?
AI crypto trading bots are computer programs that use artificial intelligence and advanced algorithms to buy and sell cryptocurrencies automatically. They learn from new data, can adjust trading strategies, and detect patterns that may not be obvious to humans. These bots make trading easier and more efficient for people by analyzing large amounts of data and adapting to market changes.
By supplying market data, such as price and volume, the bot can analyze real-time and historical market data to discern trends and patterns that inform its trading decisions.
What are the best AI trading Bts?
StormGain
Best for leveraged trading
Availability
Worldwide except FATF
Supported assets
BTC, ETH & 30+
StormGain is well-known for providing reliable and timely trade signals, which they offer for free. These signals serve as helpful suggestions for improving trading outcomes and supporting users' investment strategies.
The trade signals, created using AI, are generated by StormGain experts who employ various analytical methods. They produce high-quality signals through chart-based technical analysis, technical performance indicators, and market movement news. Both novice and seasoned traders on StormGain receive these signals, which are updated every few hours. This helps them gain a better understanding of risk management and know when to set stop-loss orders or raise profit levels. As per StormGain reviews, their trade signal specialists have achieved a 70% accuracy rate in their predictions.
Pros
Easy-to-use interface designed for beginners.
All-in-one mobile and desktop web platform.
Instant withdrawal processing.
Provides deposit bonuses on multiple levels.
Works well as a crypto cloud mining tool.
Significantly lower trading fees compared to other platforms.
Cons
Limited research and tools for expert traders and pro investors.
The platform is unregulated in most countries.
No automated bots are available.
Shrimpy
Best for social trading or copy trading
Supported assets
BTC, ETH, USDT & 1,000+
Free plan
Yes (for 1 automation)
Shrimpy is one of the AI crypto trading bots that offers automatic portfolio adjustments. It helps to keep the investments balanced by buying and selling assets based on your desired risk level. The platform aims to make trading easy for both beginners and experienced crypto investors.
One feature it offers is the ability to copy successful traders and their strategies through social trading and copy trading. This service is free and helps new traders learn from experienced ones. Experienced users also benefit by receiving a $4 reward per month for each copied portfolio strategy.
Shrimpy has a free plan, which allows you to create one automated trade. But if you want to create up to five automation, you can get the standard subscription. There's also the Plus subscription which allows for up to 10 automation and 25 exchanges.
The platform encourages collaborative investing with features like index automation, which is worth the cost for many professionals. One of its core features is rebalancing, which helps maintain stability for long-term growth. While other platforms use this feature in the stock market, Shrimpy was the first to bring it to the cryptocurrency sector.
Experienced traders know that having multiple portfolios can reduce risks and increase wealth in the long run. Shrimpy offers this functionality through an indexing tool, which helps users create custom crypto indexes with automated rebalancing and various parameters. Adjusting index weighting is essential for market performance and can be done using this tool with equal weights or market capitalization.
Creating custom trading portfolios and strategies without any guidance can hurt their performance. That's why the platform allows users to tweak their portfolios and create the best possible allocation. Its backtesting tool helps test strategies using historical market data. This allows users to see how their strategy might have performed under past market conditions.
Pros
Free tool and crypto bots.
Enhanced security and various trading tools.
Social trading tools are available for copying profitable strategies.
Portfolio automation rebalancing.
Educational guides on digital currencies.
Simple and easy to use.
Supports multiple crypto exchanges for managing your crypto.
Demo account for portfolio management and testing.
Supports dollar-cost averaging and threshold rebalancing.
Cons
Does not provide crypto signals.
Limited validity for the referral program.
No trading terminal.
No trading bot scripting is offered.
No mobile app.
CryptoHopper
Best for beginner and advanced traders
Supported assets
BTC & 1,000+
Free plan
Yes (20 open positions)
CryptoHopper offers different types of bots that can perform various tasks, such as trade bots, market-making bots, exchange arbitrage bots, and market arbitrage bots. They provide a seven day free trial for their Explorer package, with monthly costs ranging from $9.99 to $99.99. Other pricing tiers include Pioneer, Adventure, and Hero.
Each price plan offers different bot types, interval check periods, and maximum concurrent trades the bot can handle. For example, Hero subscribers can access Market-Making and Triangular Arbitrage bots, while Adventure and Hero subscribers can access the Exchange Arbitrage bot.
Cryptohopper has a Social Trading Platform that lets users buy bot templates, discuss trading strategies, and subscribe to trading signals. They also provide professional tools, such as Dollar Cost Averaging, Short Selling, and Triggers, which don't require coding skills.
Through their Affiliate Program, users can earn a commission every month as long as their customers stay active. CryptoHopper works closely with exchanges and authorities to ensure account security, and they offer top-notch security measures to protect user data.
Pros
Offers expert-level tools for both beginners and professionals.
Helps users create trading strategies based on preferences, experience, and risk appetite.
No commissions on trades, only fixed monthly membership fees.
Mobile app is available for convenient remote use.
Cons
Requires some technical knowledge.
Customer support may not be the best; users may need to rely on website resources.
Some advanced features and technical analyses are not available for free users.
TradeSanta
Best for both long and short trading
Supported assets
BTC & 5,700+
Free plan
Yes (for 1 bot)
TradeSanta is a user-friendly, cloud-based trading software that makes automated crypto trading strategies accessible to everyone.
To use TradeSanta, you need to connect your cryptocurrency exchange account to the platform, create a trading strategy by selecting the exchanges and pairs you want to trade, set up technical indicators and rules, and choose when trades should be executed.
Once a strategy is set, you can run it automatically or manually, depending on your preferences. The platform also offers tools to track and analyze trade performance and sends alerts and notifications to keep you informed about your trades.
TradeSanta offers popular strategies like Grid and DCA (dollar cost averaging) to cater to different market conditions and user preferences. Extra Orders can help you make money when the market doesn't favor your strategy. Long and Short Strategies allow you to take advantage of both price increases and decreases.
Technical Indicators such as RSI, MACD, and Bollinger signals help you find the best entry points, and Stop Loss features to minimize your risk during extreme market fluctuations. TradeSanta currently supports multiple exchanges, including Binance, Bittrex, Bitfinex, Huobi, and Upbit.
Pros
Supports over 5,700 crypto pairs.
Offers hundreds of trading strategies.
Handles large trading volumes.
Affordable monthly fees.
Cons
Lacks support for some major high liquidity exchanges.
Dependence on third-party exchanges.
Limited exchanges supported.
Limited customization for backtest trading.
Availability
Singapore & 100+
Supported assets
BTC, ETH, USDT & 175+
Free plan
Yes (for one bot)
CryptoHero is a trading bot that offers a variety of features, making it an attractive choice for many traders. The AI-optimized robots analyze the market and identify the best opportunities, allowing you to set both entry and exit conditions. You can also use various indicators to stay updated on market trends.
If you're unsure about a trading strategy, CryptoHero allows you to perform backtesting using historical market data. This helps you see how your strategy would have performed under different market conditions, giving you more confidence in your decisions.
The bot caters to both short-term and long-term traders, with the ability to quickly analyze the market for short-term traders and patiently wait for the best opportunities for long-term investors.
One of the major appeals of CryptoHero is its affordability. There's a free version available, which is quite rare in the market. For those seeking more advanced features, the premium version costs only $13.99 per month or $139.99 annually.
With the premium version, you'll get access to 15 bots, 3 API connections, and other services available with the basic subscription.
Pros
CryptoHero offers both a free basic subscription and a premium subscription for $13.99 a month.
The tool is capable of managing multiple accounts simultaneously and integrates with leading crypto exchanges.
CryptoHero is accessible on various devices, including iOS, Android, and PCs.
Quickly backtest strategies to assess their potential success.
24/7 live support. CryptoHero provides a dedicated support team available around the clock to assist users.
Cons
CryptoHero's web and mobile subscriptions are paid differently, which can be confusing for users.
The bot discovery page may appear simplistic compared to other trading bots in the market.
The numerous bot offerings might make it challenging for users to decide which one to choose when signing up.
HaasOnline
Best for leverage trading
Supported assets
BTC & 800+
Free plan
Yes (for up to 15 orders)
HaasOnline is one of the oldest cryptocurrency trading bots in the market, showcasing its reliability and experience in the industry. Its longevity is a testament to the continuous improvements and adjustments made over time to adapt to the evolving crypto market.
A selling point of Haasbot is its ability to operate 24/7, providing traders with constant market monitoring and trading opportunities. This feature enables users to capitalize on short-lived opportunities and avoid missing out on profitable trades while they sleep or attend to other tasks.
Haasbot's use of technical indicators enhances its appeal to traders. These features provide valuable insights into market trends and help users make informed decisions while minimizing losses and maximizing profits.
HaasOnline supports a broad range of crypto exchanges, enabling users to trade on multiple platforms and access a diverse range of trading opportunities. Its compatibility with popular exchanges ensures that users can take advantage of the best deals available in the market.
The pricing options for Haasbot cater to different levels of experience and budget, from beginner to advanced packages. Users can choose the package that suits their needs and can access a full core features list with support for all exchanges.
Pros
Highly profitable integrations API, great customizable dashboards, and advanced scripting experience for advanced users, making it a profitable business for crypto traders.
Provides great security, profits, and a trade server cloud with additional features to maximize profit potential.
Secure servers and powerful backtesting engines help ensure a reliable and data-driven trading experience.
HaasOnline supports buying and selling on many popular exchanges and offers AI-driven trading robots for advanced trading strategies.
Cons
No trial options are available, making it difficult for beginners to start trading and get acquainted with the platform.
The advanced nature of crypto trading bots may be challenging to set up for those without prior trading strategy knowledge.
AI stock trading tools may not be fully accessible for beginner traders, limiting their potential use of the platform.
Crypto trading bots on HaasOnline can be a bit expensive, potentially deterring some users from utilizing the platform.
Supported assets
BTC & 80+
Free plan
yes (for 2 live rules)
Coinrule is an excellent AI trading bot for cryptocurrency due to several reasons, including its user-friendly interface, strategy customization, and automated trading capabilities. Coinrule allows users to create, test, and implement their own trading rules and strategies or use pre-existing strategies with proven backtest results.
The platform enables traders to backtest various rules against historical price data and implement them in live markets, ensuring confidence in their strategies.
The platform charges a flat subscription fee and even offers a free account, allowing users to test the bot before fully committing. Coinrule supports trading across 81 cryptocurrencies and ten exchanges, providing users with ample opportunities to diversify their portfolios.
With over 150 pre-set strategies available based on popular indicators and guiding themes, Coinrule simplifies strategy building, making it accessible to a wide range of users. The bot operates 24/7, ensuring users can capitalize on global trading opportunities around the clock.
While Coinrule may have some limitations in terms of technical indicators and customer support, it is a fantastic choice for users looking for a simple and efficient trading bot to help them capitalize on the lucrative world of cryptocurrency trading.
Pros
Coinrule's intuitive design makes it easy for beginners and experienced traders to navigate and create customized strategies.
Coinrule charges a flat monthly rate rather than per-trade fees, making it more cost-effective for active traders.
Users can access a free account to paper trade.
Cons
Coinrule currently supports trading only on centralized exchanges, which may not suit traders interested in decentralized platforms.
Coinrule does not connect with the Gemini exchange, potentially limiting trading options for some users.
Coinrule can only be accessed through a browser, making it less convenient for those who prefer using a mobile app for trading.
Bitsgap
Best for arbitrage across multiple crypto exchanges
Supported assets
BTC & 1,000+
Bitsgap is a robust AI crypto trading bot that offers portfolio management, algorithmic orders, and a demo mode.
Its standout feature is the capacity to integrate all your exchanges under one umbrella, streamlining the execution of strategies and the deployment of advanced bots across multiple platforms. This enables traders to juxtapose rates from different digital currency markets, switch between exchanges, track investments, and experiment with strategies via a demo account.
Bitsgap has formed alliances with 30 distinct exchanges, including big players such as Binance, Kraken, and Bitfinex. Beyond these integrations, it provides access to a staggering 10,000+ cryptocurrency trading pairs, supplemented by a suite of technical indicators to fortify your trading strategies. Its user-friendly interface simplifies automated trading, catering to both novice and seasoned traders.
A distinguishing feature of the Bitsgap AI crypto trading bot is its proportional investment distribution mechanism. This approach ensures that your investments are allocated evenly within your chosen range, enabling you to reap small, consistent profits with each market movement. As the price hits the intended range, orders are executed, and new ones are placed.
Pros
Allows users to test their strategies using historical data (Backtesting)
Bitsgap provides signals that assist in managing the bots effectively.
Bitsgap offers multiple types of bots, including Grid bot and DCA Bot, catering to different trading strategies.
Users have the option to modify the range of their grid bots to fit their trading plan.
Bitsgap uses 2048-bit encryption to ensure the safety of user data.
Bitsgap provides a paper trading account for practice and strategy testing without risking real money.
Bitsgap has a team of experienced professionals behind it, offering a solid foundation of support.
Cons
The platform operates on a subscription model, which could be expensive for some users. There is no free account.
Bitsgap does not have a mobile application, limiting access for users who prefer trading on the go.
Supported assets
BTC, ETH, USDT & 300+
Free plan
Yes (if you hold KRL token)
Kryll is another one of the AI crypto trading bots that offer automation and simplicity. It's an AI-powered platform that is designed to help even beginners in the crypto trading world. One of the standout features of Kryll is its crypto builder — it's a user-friendly tool that lets you create trading bots using a simple drag-and-drop system.
The beauty of this tool is that you don't need any coding knowledge to use it, making it accessible to virtually anyone.
In addition to the crypto builder, Kryll has a unique offering called the Marketplace. Here, experienced traders share their successful trading strategies. This feature can be incredibly helpful for those who are new to crypto trading or those who are simply looking for new strategies to implement.
Kryll also stands out for its Trading Terminal feature, which allows you to set up stop-losses and multiple take profits. This function adds a layer of risk management to your trading. And if you want to customize your own trading algorithm, you can do that too with the Strategy Editor, which, like the crypto builder, uses a drag-and-drop interface for ease of use.
Pros
Simple, straightforward, and easy to use.
Supports major exchanges.
Availability of mobile apps for Android and iOS.
Offers a free trial.
Uses robust trading strategies.
Offers unlimited free backtesting.
Integration with TradingView.
Efficient strategy editor for customizing trading algorithms.
Cons
Supports fewer exchanges compared to other platforms.
Complicated pricing structure.
Requires all cryptocurrency traders to utilize Kryll's KRL token.
The Kryll market's instability can't consistently guarantee success.
Charges users for each usage.
AI crypto trading bots vs. conventional trading bots
Conventional trading bots rely on rules set by human traders, which may not cover all market subtleties. In contrast, an AI trading bot can learn from new information and modify its trading strategies accordingly.
Another difference lies in the algorithmic complexity employed by AI trading bots. Regular trading bots typically use basic algorithms based on technical indicators or price fluctuations. On the other hand, AI trading bots utilize more intricate algorithms like neural networks that can detect patterns and connections not obvious to human traders.
For instance, this chart from TradingView can be used to apply different indicators and create trading rules for the AI crypto trading bots according to your trading strategy.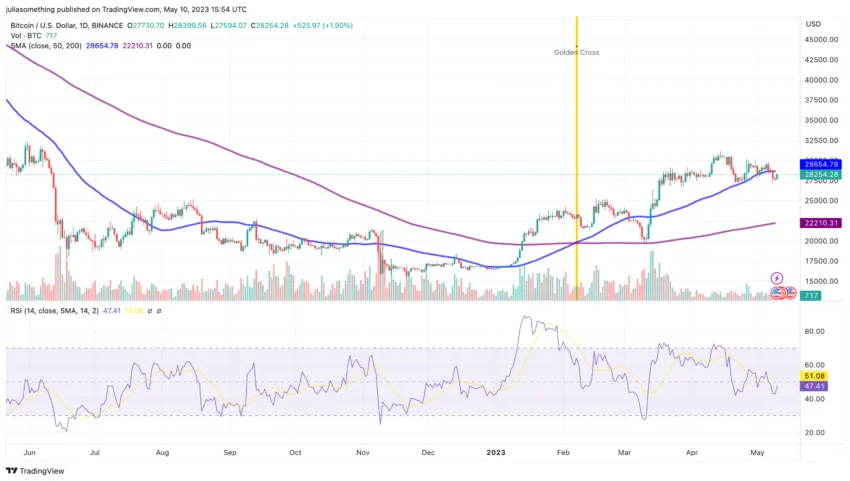 These automated trading bots employing artificial intelligence are gaining popularity among retail traders. The bot can also train on its own trading history, optimize predictions and strategies, and tailor these to individual users' preferences.
As the famous trader Mark Douglas wrote:
"When you really believe that trading is simply a probability game, concepts like right or wrong or win or lose no longer have the same significance."

Mark Douglas: "The Disciplined Trader: Developing Winning Attitudes"
Looking for a super intuitive trading bot that lets beginners to utilize the same positions as seasoned traders? Check out 3Commas, a bot with smart trading terminals that allow traders to set trades in advance — and integrates with 16 exchanges!
How to choose the best AI crypto trading bot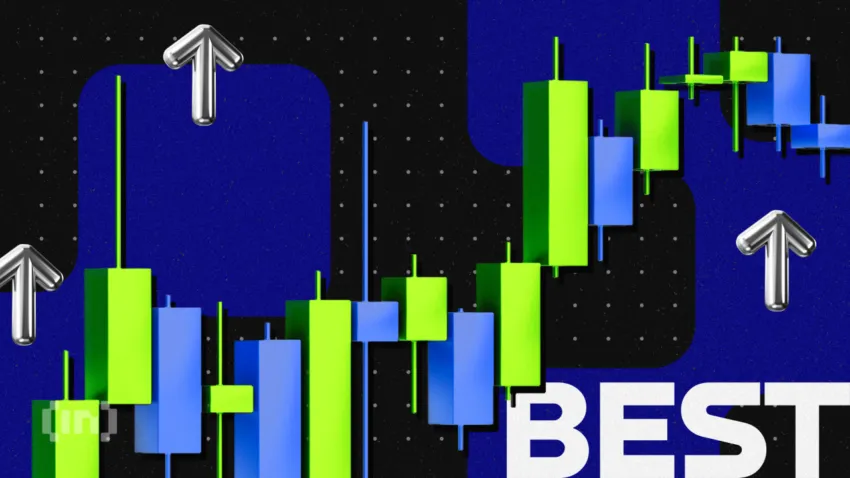 Choosing an AI crypto trading bot can be a complex task. Here are some factors you should consider to make an informed decision:
Consider your trading strategy
Research the bot's capabilities
Read reviews and feedback
Consider your trading strategy
Choosing the right AI crypto trading bot involves careful consideration of your trading strategy. Here're some of the trading strategies that might influence your decision when choosing an AI crypto trading bot:
Mean Reversion. If this is your strategy, you'll want a bot that can accurately track and analyze the average price of cryptocurrencies over a given period. The bot should be able to detect significant deviations and make buy/sell decisions based on these price changes.
Momentum Trading. For momentum trading, your bot should be capable of identifying short-term price trends and executing trades at the optimal time to maximize profits. It should be able to determine when the price of a cryptocurrency is likely to rise and fall, allowing it to buy low and sell high.
Arbitrage. If you're looking to employ an arbitrage strategy, your bot should be able to monitor prices across multiple exchanges simultaneously. It should be able to execute trades quickly when it identifies a price discrepancy between these exchanges, allowing you to profit from the difference.
Naïve Bayes. This is a trading strategy that uses machine learning. You'll want to choose a bot capable of analyzing past price trends and using this data to predict future price movements.
Natural Language Processing (NLP). If your strategy involves analyzing news and social media sentiment, you'll want a bot that incorporates NLP. This bot should be able to sift through various types of content, identify relevant keywords, and make trading decisions based on the sentiment these keywords convey.
No one bot is perfect. Depending on your strategy, you might need to use different bots. Also, always backtest your bot with historical data before letting it trade with real money to ensure that it performs as expected.
Research the bot's capabilities
Choosing the best bot ultimately depends on your personal needs. That's why you have to investigate what each bot can do. Does it support the kind of trading strategy you intend to use? Can it trade on the exchanges where you have accounts? Does it have backtesting capabilities? Can it react to news or social sentiment if that is part of your strategy?
Also, check the user interface of the bot. Is it easy to use and navigate? You will want a bot with a straightforward, user-friendly interface if you're a beginner. Also, consider the level of customer support provided. Active support can be invaluable, especially if you're new to crypto trading bots.
It's also worth noting that AI crypto trading bots come with different pricing structures. Some have a flat monthly fee, others charge a percentage of profits, and some offer free services but with limited capabilities. Make sure to understand the costs associated with the bot and ensure it fits your budget.
Read reviews and feedback
Look at review websites and social media to see what others are saying about the AI crypto trading bot. Are the reviews generally positive, or are there common complaints? Remember, no bot is perfect, but persistent negative reviews about the same issues can be a red flag.
Of course, security is paramount when dealing with financial transactions. Make sure the bot has robust security measures in place. It should not have full custody of your funds and should implement API keys for trading, which can limit what functions the bot can perform.
Always do your research and perhaps start with a bot that offers a free trial or demo version, so you can test its capabilities without committing your funds.
Ready to start trading using an AI crypto trading bot?
With the power of artificial intelligence, these bots can analyze vast amounts of data in real time, making them an indispensable tool in today's fast-paced crypto market.
Moreover, these bots can assist with portfolio management, helping you balance and diversify your investments across different cryptocurrencies. Whether you're an experienced trader or a beginner, an AI trading bot can help you navigate the volatile crypto market and potentially enhance your trading performance.
Frequently asked questions
What is a crypto trading bot?
What is the role of AI in crypto trading bots?
How do I choose the best AI crypto trading bot for me?
What are the risks associated with AI crypto trading bots?
Is bot trading profitable?
Disclaimer
In line with the Trust Project guidelines, the educational content on this website is offered in good faith and for general information purposes only. BeInCrypto prioritizes providing high-quality information, taking the time to research and create informative content for readers. While partners may reward the company with commissions for placements in articles, these commissions do not influence the unbiased, honest, and helpful content creation process. Any action taken by the reader based on this information is strictly at their own risk.