Operating a web3 business is difficult enough without having to worry about marketing. Instead of placing all of the burdens in-house, why not delegate some of the responsibility to web3 marketing agencies? By hiring a web3 marketing agency, you can save time and money that goes back into growing your project.
What are web3 marketing agencies?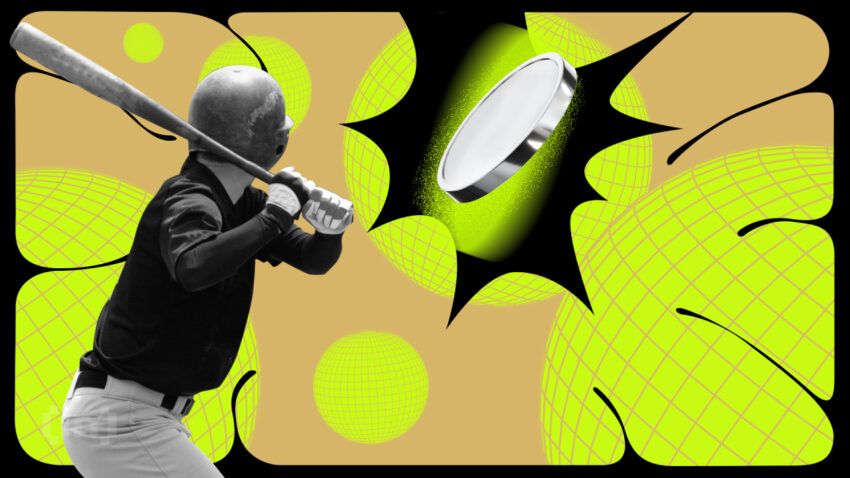 A web3 marketing agency is a type of marketing firm that focuses on promoting goods and services for web3 and blockchain-based companies. Some of the pain points for marketing crypto-related businesses include a lack of understanding, limited advertising options, reputation challenges, and regulatory uncertainty.
This can make it challenging to create marketing campaigns that effectively communicate the value proposition of a product or service. A web3 marketing agency can provide several remedies to a business operating in the web3 or blockchain industry. Here are some reasons why you might need a web3 marketing agency for your business:
Specialized expertise
Targeted audience
Regulatory compliance
Reputation management
What are the best web3 marketing agencies?

A one-stop shop for content marketing, the expert team at Market Across offers end-to-end marketing services for pioneering blockchain and crypto startups.
From PR to brand reputation, social promotions, influencer outreach, SEO, and community growth, Market Across utilizes a wide tool arsenal to create bespoke full-stack marketing solutions for clients. The company has a solid track record of leveraging relationships with leading media outlets to tell brand stories organically and holistically.
The PR firm has worked with a number of the biggest names in crypto, including Binance, Polygon, eToro, Solana, Decentraland, DappRadar, and KuCoin.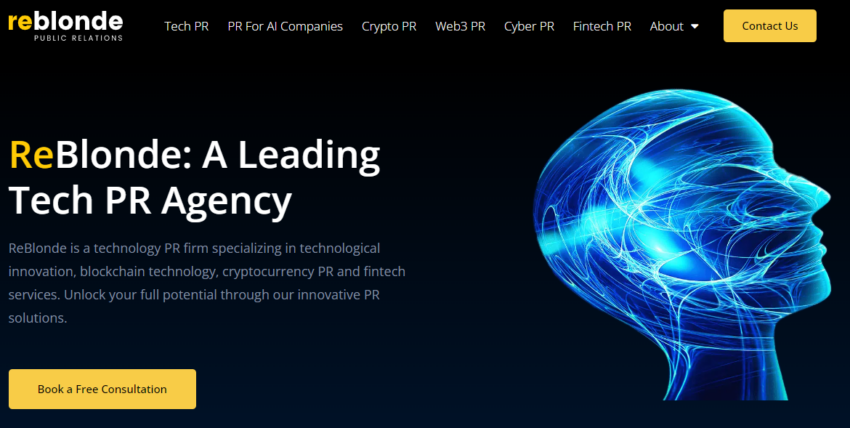 The next company, ReBlonde, is a technology public relations and marketing firm based in Israel that specializes in technological innovation, blockchain technology, public relations, and fintech services. The company gives crypto businesses maximum exposure to reporters, investors, and the blockchain community.
Bloomberg, CNN, TIME, and Wall Street Journal are just a few places where their clients get published. Some of the industries that ReBlonde services include crypto, web3, AI, and fintech.
All of ReBlonde's clients made significant progress in Q1 2023. Coho AI brought in $8.5 million to aid B2B SaaS companies in increasing revenue. Meanwhile, Sending Labs raised $12.5 million for its web3 communication stack.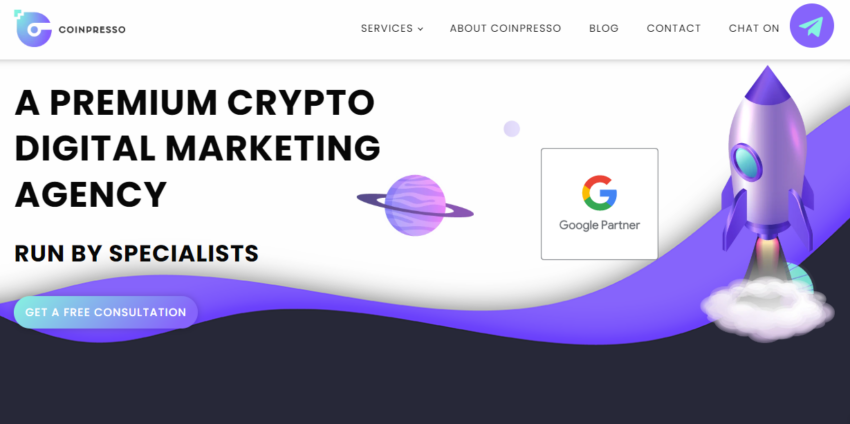 A specialized digital marketing agency, Coinpresso focuses on promoting crypto-related businesses. The agency is highly regarded in the industry as one of the top marketing firms. Their expert team combines web3 and digital marketing knowledge to create innovative marketing strategies.
The company's marketing concept is centered around an increased click-through rate approach, which leverages its prior experience in search engine optimization and marketing. Their results on search engine optimization and content production are considered stellar.
The company has achieved the status of a Google Partner. This is a recognition of an ability to maximize campaign success for clients, drive client growth by maintaining campaigns, and demonstrate expertise in Google Ads through their certifications.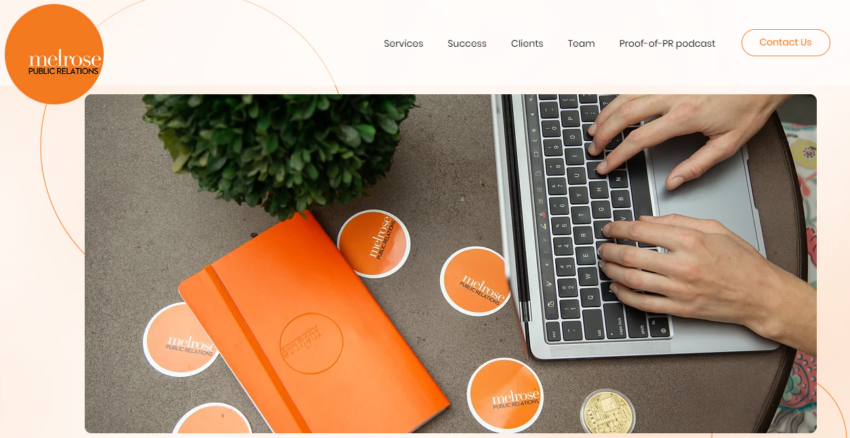 Another PR firm on the list is Melrose. It was founded in 2012 and is a crypto-focused public relations firm dedicated to assisting web3 projects and businesses. The services you can expect from Melrose are strategy (e.g., messaging and positioning), press relations, thought leadership, and content.
Melrose PR has a proven track record of success in getting its clients' stories told in the media and helping them build their brand and reputation in the industry. The firm has helped many of its clients get coverage in major media outlets such as Yahoo Finance, Business Insider, Forbes, and Bloomberg.
Melrose PR represents several innovative and unique projects at the forefront of the blockchain technology sector. Some notable clients include BitGo, Mina Protocol, and Blockdaemon.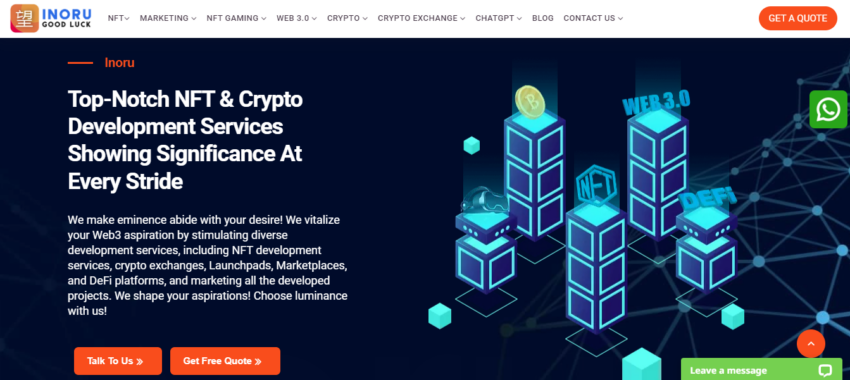 Specializing in helping advertise decentralized platforms such as NFT trading marketplaces, ICO marketing, crowdfunding platforms, gaming, and metaverse projects, Inoru is the next in our lineup.
In addition to project token development, INORU offers white-label NFT marketplaces and various web3 crowdfunding solutions. INORU's methodology for developing decentralized platforms ensures that the base and structure are strong enough to meet client requirements.
The comprehensive service suite ranges from strong market analysis to post-launch support, ensuring that decentralized platforms are delivered as desired.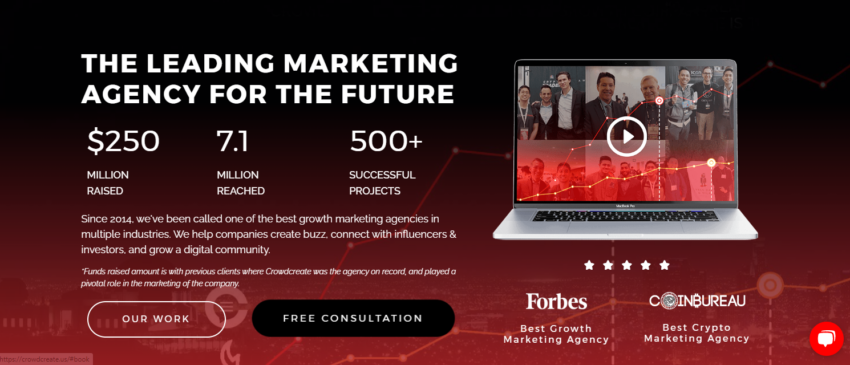 A growth marketing agency known for connecting projects with top influencers and investors, Crowdcreate offers NFT marketing and development solutions, VIP networking opportunities, and community management for blockchain brands.
While the agency also provides specialist support to other non-web3 verticles, it has operated successfully in the blockchain market since 2018. In that time, Crowdcreate has picked up a number of market-leading clients within the play-to-earn web3 gaming and metaverse space, including The Sandbox and Star Atlas.
The company runs one of the largest networks of crypto founders, creators, and influencers. It is, therefore, particularly well-positioned to support brands looking to build digital communities and widen stakeholder exposure.
How to choose the best web3 marketing agency?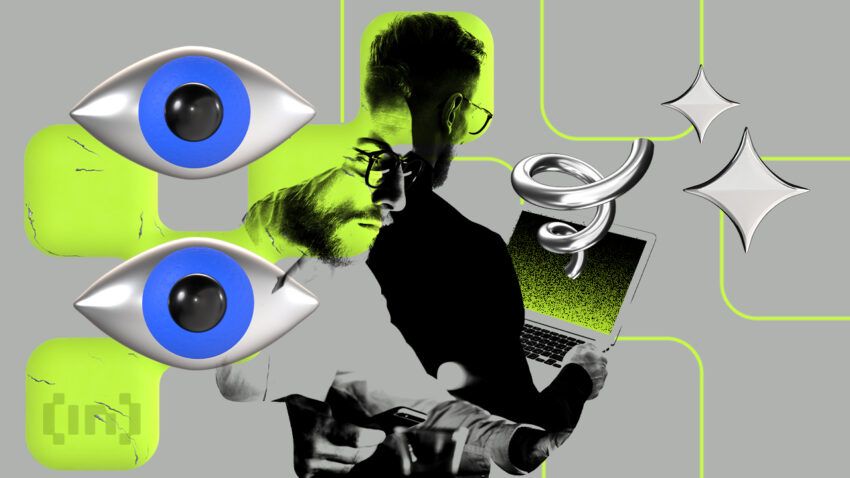 Choosing the best web3 marketing agency can be daunting, especially with so many available options. To make an informed decision, you need to evaluate various criteria.
Experience and expertise
The two most critical factors to consider when choosing a web3 marketing agency are expertise and experience. You want to work with an agency that has a track record of success in web3 marketing.
Look for an agency that has been in business for several years and has worked with a wide range of clients, including those in your industry. Having experience can also coincide with having connections. As a result, your project will benefit from the industry reputation of your marketing company.
Services offered
Web3 marketing encompasses a broad range of products, including branding, website design and development, content creation, social media management, search engine optimization (SEO), and paid advertising.
When evaluating an agency, it is important to understand the services they offer and ensure they align with your business needs. Another key point to remember is that a company may offer many services but excel in a few.
For example, a company may excel in link-building, while another affiliate marketing. Keep this in mind when choosing.
Reputation and reviews
A good reputation and positive reviews are strong indicators of an agency's credibility and expertise. Look for an agency with a proven track record of success and positive reviews from past clients. You can check online reviews and ratings, as well as ask for references from the agency.
Cost and ROI
Cost and return on investment (ROI) are critical factors to consider when choosing a web3 marketing agency. You want to work with an agency that offers competitive pricing and can deliver a positive ROI for your business. Understanding the agency's pricing structure and how they measure ROI is important.
Communication and transparency
Effective communication and transparency are essential for a successful client-agency relationship. Look for an agency that values open communication, provides regular updates on project progress, and is transparent about its processes and fees.
Web3 marketing agency services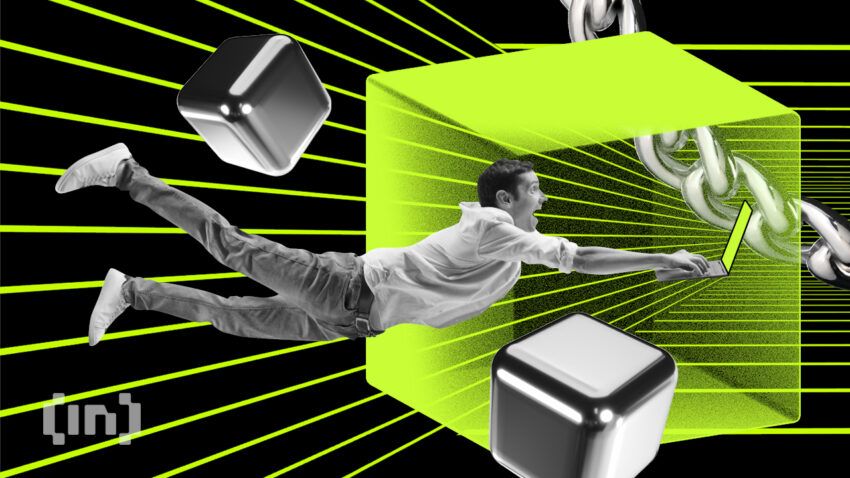 What type of marketing services do web3 agencies provide? Here's the low down on the type of services to expect and what each service really means.
Community building
In marketing, community building involves creating a network of loyal customers that are passionate about your brand and can serve as advocates for your products or services. This is achieved through various tactics such as hosting events, creating online forums, and providing exclusive access to content or promotions.
Influencer marketing
Influencers have a large following on social media platforms such as Instagram, YouTube, and TikTok and can significantly impact their followers' purchasing decisions. Influencer marketing is a type of marketing that leverages the influence and reach of social media influencers to promote products or services.
Brands often collaborate with influencers to create sponsored content, such as product reviews, sponsored posts, or brand mentions.
PR outreach
PR outreach is the process of reaching out to journalists, bloggers, and other media outlets to secure coverage for your brand or product. This involves creating a compelling pitch that highlights the unique aspects of your brand or product and providing journalists with the information and resources they need to create a story.
PR outreach can help build brand awareness and credibility and can also generate valuable backlinks to your website.
Content marketing
Content marketing is a strategy that involves creating and sharing valuable, relevant, and consistent content to attract and retain a clearly defined audience. It aims to drive profitable customer action by providing useful information that educates or entertains the target audience. This can include blog posts, videos, infographics, e-books, and more.
Social media marketing
Social media marketing is the process of using social media platforms to promote products or services. This can involve creating and sharing content on social media channels, running paid advertising campaigns, and engaging with customers through comments and direct messages.
Social media marketing can help build brand awareness, increase website traffic, and drive sales by reaching a large audience of potential customers.
SEO
SEO is the process of optimizing a website or online content to rank higher in search engine results pages (SERPs) for relevant keywords or phrases. This involves a variety of techniques, such as keyword research, on-page optimization, backlink building, and technical optimization.
SEO aims to increase visibility in search results, drive organic traffic to the website, and ultimately, improve conversions and revenue.
Website development
Website development is creating and designing a website from scratch or updating an existing one. It involves a range of tasks, such as website planning, designing, coding, and testing, to create a functional, user-friendly, and visually appealing website.
Website development may also involve integrating third-party tools and platforms such as e-commerce and social media.
Email marketing
Email marketing is the practice of sending marketing messages or promotions via email to a list of subscribers. It is a highly effective and cost-efficient way to connect with customers, build brand loyalty, and drive sales. Email marketing campaigns can be used for a variety of purposes, including product launches, soft-selling, promotions, newsletters, and customer engagement.
Brand strategy
Brand strategy is the process of developing a long-term plan for building and managing a brand. It involves identifying the brand's unique value proposition, defining the target audience, and creating a consistent brand identity across all marketing channels.
A well-defined brand strategy can help a business differentiate itself from competitors, build trust and loyalty with customers, and, ultimately, drive growth and revenue.
Growth hacking
Growth hacking is a marketing strategy that focuses on rapid experimentation and iteration to achieve growth in a short period of time. It involves a combination of creativity, data analysis, and marketing tactics to identify and exploit opportunities for growth.
Growth hacking can include tactics such as viral marketing, referral marketing, A/B testing, and conversion rate optimization. Growth hacking aims to rapidly scale a business while minimizing costs and resources.
Audience targeting
Audience targeting is the process of identifying and selecting a specific group of individuals or demographics that are most likely to be interested in your products or services. This can be achieved through various methods such as market research, data analysis, and segmentation.
By targeting a specific audience, businesses can create more relevant and effective marketing campaigns, improve engagement rates, and drive more conversions and revenue.
Campaign management
Campaign management refers to the process of planning, executing, and optimizing marketing campaigns across various channels such as social media, email, search engines, and more. This involves a range of tasks, such as setting campaign goals, creating content, managing budgets, and measuring performance.
Effective campaign management requires a combination of creativity, analytical skills, and project management expertise to ensure that campaigns are delivered on time, on budget, and with maximum impact.
ROI and analytics
Return on investment (ROI) and analytics is the process of measuring the performance of marketing campaigns to determine their effectiveness. This involves tracking key metrics such as website traffic, conversion rates, and revenue. Use this data analysis to identify opportunities for optimization and improvement.
Beat the competition with web3 marketing agencies
Choosing the right web3 marketing agency is a critical decision for any business operating in the web3 ecosystem. By considering the factors outlined in this article, you can make an informed decision that will set your business up for success. Whether you are a startup or an established business, working with a top web3 marketing agency can help you stay ahead of the competition.
To learn more about BeInCrypto's web3 marketing services and how we can help elevate and support your crypto project contact us and download our media kit here.
Frequently asked questions
What is a web3 marketing agency?
A web3 marketing agency is a type of marketing firm that focuses on promoting goods and services for web3 and blockchain-based companies. They offer services for startups and businesses in need of capital. Marketing agencies employ many tactics to secure funding for their clients, such as public relations, campaign management, or community development.
How will marketing work in web3?
Marketing in web3 will work similar to traditional marketing. However, many people expect marketing will gravitate to the metaverse, virtual reality, or augmented reality. For example, users may go into a metaverse game and see an advertisement for popular brands.
Who are web3 experts?
Web3 experts may come from a variety of backgrounds, including software development, blockchain technology, digital marketing, and more. They may have experience working on a range of web3 projects such as decentralized finance (DeFi), non-fungible tokens (NFTs), and decentralized applications (DApps). Web3 experts are professionals who have specialized knowledge and experience in the development, implementation, and marketing of decentralized technologies and applications.
What services do web3 marketing agencies offer?
Web3 marketing agencies offer a variety of services to help businesses promote their products and services in the decentralized web3 ecosystem. These services include community building, influencer marketing, PR outreach, content marketing, social media marketing, SEO, website development, email marketing, brand strategy, growth hacking, audience targeting, campaign management, and ROI and analytics.
By utilizing these services, businesses can improve their visibility, connect with their target audience, and drive growth and revenue in the web3 ecosystem.
How do I choose the best web3 marketing agency for my project?
To choose the best web3 marketing agency you need to remember a few points. You should first determine your marketing goals, consider the agency's experience and expertise, evaluate the services offered, check the agency's reputation and reviews, consider the cost and potential ROI, and evaluate communication and transparency. By considering these factors, you can choose an agency that is well-suited to your specific marketing needs and set your business up for success in the decentralized web3 ecosystem.
What is the cost of hiring a web3 marketing agency?
The cost of web3 marketing agencies can vary widely depending on several factors, such as the agency's size, location, level of experience, and the specific services that are required. Some agencies may charge a flat fee for their services, while others may charge an hourly rate or a percentage of ad spend. Generally, you have to consult a marketing agency for specifics on pricing.
Disclaimer
In line with the Trust Project guidelines, the educational content on this website is offered in good faith and for general information purposes only. BeInCrypto prioritizes providing high-quality information, taking the time to research and create informative content for readers. While partners may reward the company with commissions for placements in articles, these commissions do not influence the unbiased, honest, and helpful content creation process. Any action taken by the reader based on this information is strictly at their own risk.