Non-fungible tokens (NFTs) have transformed the potential of traditional trading cards. Utilizing blockchain technology, NFT trading card platforms enable collectors and enthusiasts to buy, sell, and trade digital trading cards, bridging the gap between physical trading cards and the digital realm. So, which are the top NFT trading card platforms in 2023? This guide looks at the leading platforms and details how to buy these cards.
Popular wallets for NFT
Up to 20% interest rate
Wirex
Non-custodial cross-chain wallet

Create Wirex wallet
On Wirex's official Website
Limited time offer
$15 referral bonus
OKX Wallet
Free non-custodial Web3 wallet
Learn more
On OKX's Secure Website
Limited time offer
Up to $10,000 bonus
Wallet Connect
ZenGo Wallet
No seed phrase vulnerability
Download ZenGo
Available for Android & iOS
Limited time offer
$10 referral bonus
What are NFT digital trading cards?
Non-fungible tokens (NFTs) are unique digital assets that are bought and sold, and each NFT is special and unique, much like trading cards. Some NFTs are more valuable because they're rare or have a special history. Just as trading cards are valued differently based on rarity or historical significance, some NFTs hold greater value due to their uniqueness or unique history.
Most non-crypto people think all NFTs are the same and that they're all worthless. They think of the cartoon PFPs and the art as the same thing without any distinction. Because they don't know any better, for now. That is the information asymmetry, and that is your alpha.

DCinvestor: Twitter
All NFTs are registered on a blockchain, which ensures users that all NFTs are real and can't be faked. It's like a digital certificate of authenticity. Because of this, people can easily check who owned an NFT before and for how long, making them valuable to collectors and people who want to invest.
Unlike physical trading cards, NFT trading cards are unique digital tokens that represent collectible cards on the blockchain. Each one possesses individual rarity, characteristics, and ownership proof. With NFT trading cards, everything about who owns them and their trades is recorded on a public list that's safe and can't be changed or faked.
Popular NFT trading cards
NBA Top Shot is one of the most popular collections trading today, and it represents specific moments from NBA history sold as NFTs on the blockchain.
Other popular NFT collections include CryptoKitties, CryptoPunks, and BAYC. Some of these tokens are part of NFT games, and others, such as the BAYC collection, offer real-life benefits. While some use them as investments and must carefully research NFT trading strategies before buying these cards, others may purchase them for the associated holder benefits or purely as speculative assets.
While NFTs, in general, have suffered during the bear market, many users are choosing to continue to purchase NFT trading cards. According to NFT Price Floor data, Trump Digital Trading Cards volume increased nearly 300% in March. The trade volume increased in response to reports of an expected indictment of the former president.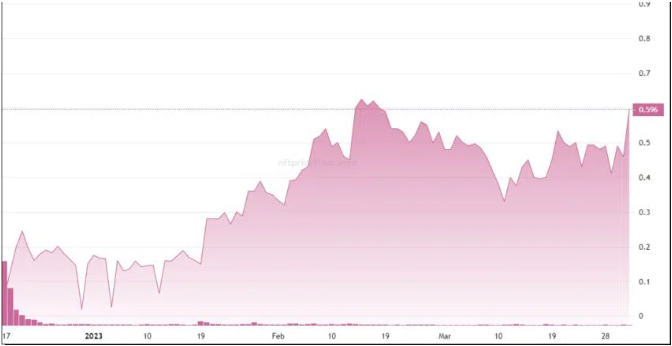 Trump NFT digital trading cards floor price: nftpricefloor.com
If you want to buy NFT trading cards, you can use any of the following tried and tested NFT trading card platforms.
Top 3 trading card platforms
The OKX NFT marketplace stands out as a premier destination for buying NFT trading cards. It's a multichain open NFT marketplace supporting over 11 blockchain networks, including popular ones like Ethereum, Solana, and Binance Smart Chain. The platform aggregates collections from top marketplaces such as Opensea. It allows you to buy, sell and trade your NFT collections.
Pros
Zero-fee trading
Mint your own NFTs
Secondary sale royalties
AI art creation
Cons
Binance is one of the top NFT trading cards platforms. The popular exchange established its NFT marketplace in 2021 and has been adding more features and collections ever since. 
Binance offers a wide variety of digital trading cards, created by mainstream artists, celebrities, and organizations. Some of these NFTs even provide unique benefits like playing in games or exclusive access to events.
Binance's NFT marketplace not only hosts an array of trading cards but also provides special offerings like Mystery Boxes.
Pros
Diverse cash out options
Seamless token conversion within the Binance ecosystem
Support for multiple chains
Cons
Coinbase NFT is another one of the top NFT trading cards platforms and it's committed to build a valuable platform for trading NFTs. The team behind the marketplace is focusing on high-impact areas for users, providing a more efficient and targeted approach. Unlike other platforms that are shifting away from creator royalties, Coinbase NFT could stand to benefit from this market change and has even become a preferred platform for some creators. 
Coinbase NFT platform aims to find long-term opportunities to help customers discover and create NFTs, engage in social connections, and find communities, signaling a robust plan for the future of their NFT marketplace.
Pros
Reputable crypto platforms
Introductory fee-free period
Easy-to-use user interface
Cons
Limited functionality
Only supports three blockchains
Limited payment options
Can't mint NFTs
How to buy NFT sports cards
If you're looking to purchase NFT cards, gaming NFTs, or any digital trading cards, you can do so in a few easy steps using any of the NFT marketplaces mentioned above. The exact steps might vary a little depending on the platform you're using. However, these five general steps should guide you through the process of buying NFT sports cards.
Step 1. Set up a digital wallet
Choose a digital wallet like ZenGo, where you'll store your cryptocurrency and other digital assets, such as any non-fungible and fungible token.
Step 2. Buy cryptocurrency
Choose a cryptocurrency exchange to buy the type of crypto you need. Most digital trading cards and collections trading happen on the Ethereum blockchain. If that's the case for your chosen digital asset, you will need some ether in your wallet.
Step 3. Choose a marketplace or game
Find a place where NFT trading cards are sold. We've already covered some of the top NFT trading card platforms. If you want to collect NFTs from a specific platform or collection that's not featured on these NFT marketplaces, use ZenGo wallet to connect to those DeFi apps. New NFT collections are often only available on decentralized platforms, such as OpenSea, and a wallet like ZenGo is necessary to finalize your purchase.
Step 4. Select an NFT trading card
Browse the NFT trading card platforms to find the card NFT you want. You can often filter by collection or creator to find exactly what you want. Some NFTs have a fixed price, while others might be up for auction.
Step 5. Complete the purchase
Once you've found the NFT sports card you want, follow the instructions to buy it. You may need to transfer it to your game account or wallet if it's designed for use in a particular game.
Looking for an extensive step-by-step guide to walk your through the process? Our complete guide to NFT trading cards demonstrates how to buy NFT sports cards on leading crypto platform OKX.
How to stay safe when buying and selling NFT trading cards
As you may already know, you should practice secure operational security in all facets of your life, especially when buying and selling NFT trading cards. There are many threats to stay aware of when NFT trading. Some of these may include:
In some cases, like NFT sniping, malicious behavior is usually mitigated through the auctioning mechanism of choice by the seller. In other words, you can't do much about it. However, there are a few things you can do to protect yourself otherwise.
Before you engage in any transactions, first and foremost, it is best to create a brand new wallet where funds are siloed. As always, under no circumstances should you share your private keys, seed phrases, or passwords. Good wallet security practices should precede all crypto activities.
Secondly, if you see a project you like, make sure that the project's creators are visible. While it is not necessarily a guarantee that the NFT trading cards are not a scam, it does give you the option of legal recourse should any fraudulent activities occur.
Thirdly, check the smart contracts (e.g., NFT contracts, auction contracts, etc.). This applies to those that can read code. Although, if the project is legitimate, they will more than likely have a smart contract audit report.
When buying and selling NFT trading cards, it's important to remember that even if a project is not a scam, it could have faulty tokenomics or smart contracts. Choosing a good NFT trading card platform that vets its hosted projects could save you a lot of trouble.
Choosing the right NFT trading card platforms
When choosing the right NFT trading card platform, it's important to consider multiple features. Factors such as platform fees, auction type, and royalty payments should play a huge role in your decision-making process. However, no platform is a panacea. Ultimately, the best NFT trading card platform is better characterized as the best platform for you. Therefore, always remember to do your own research (DYOR), stay safe, and HODL.
Frequently asked questions
Can you sell trading cards as NFT?
Disclaimer
In line with the Trust Project guidelines, the educational content on this website is offered in good faith and for general information purposes only. BeInCrypto prioritizes providing high-quality information, taking the time to research and create informative content for readers. While partners may reward the company with commissions for placements in articles, these commissions do not influence the unbiased, honest, and helpful content creation process. Any action taken by the reader based on this information is strictly at their own risk.
Iulia Vasile is a seasoned professional in the cryptocurrency and blockchain industry, working full-time in the field since 2017. With a background in computer engineering, she...
Iulia Vasile is a seasoned professional in the cryptocurrency and blockchain industry, working full-time in the field since 2017. With a background in computer engineering, she...
READ FULL BIO
Sponsored Sponsored