NFTs have been all the rage in the last year. But these art pieces can remain a little abstruse for many people. With an increasing number of marketplaces appearing and the whole process becoming simpler, there's never been a better time to consider how to buy NFTs.
That's why we've provided this guide on how to buy NFTs. We tell you everything from what they are to where you can buy them.
What is an NFT?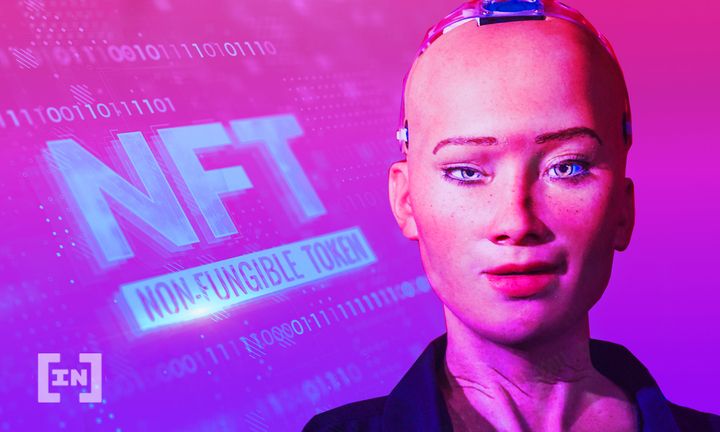 Non-fungible tokens (NFTs) are unique digital assets registered on a blockchain. It records ownership of assets such as artworks or collectibles. There are many types of NFTs, and some of the most famous ones represent ownership of digital art, music, and trading cards.
Most of the NFTs available today are stored on the Ethereum blockchain.
The whole idea of an NFT is that they are unique, and can only have one owner at any given moment in time. Fungible tokens, on the other hand, are not unique. If you sell one bitcoin today, and tomorrow you buy another one, you will have the same value of one bitcoin in your cryptocurrency wallet. Bitcoin is a fungible token.
Non-fungible tokens (NFTs) differ from other cryptocurrencies; they are not currency. Investors are looking to buy NFTs because they see digital artworks and music as profitable investments. But in fact, you can tokenize any real-world asset and turn it into an NFT.
NBA Top Shot is a famous example of an NFT that tokenized the greatest video highlights from the history of the NBA. You can create NFTs of almost anything. Investors have been most excited about digital art, sports collectibles, in-game digital items that allow users to create and manage digital worlds.
How to buy NFTs
Most NFTs today are bought with ether (ETH), the native currency of Ethereum. It can be easily converted to U.S. Dollars on exchanges such as Coinbase and Binance.
If you want to know how to buy NFTs, you need a digital wallet. After you have a compatible crypto wallet, you will need to fund it with ether (ETH). Afterwards, you will need to connect to your desired NFT marketplace from where you want to buy NFTs.
If you don't have a non-custodial Ethereum wallet yet, you can create one using MetaMask or WalletConnect. Basically, this is what we will be using in our guides.
After creating a wallet — make sure to safely store the seed phase — the next step is to deposit funds to it. You can send ETH to your wallet from any cryptocurrency exchange you want, including Binance or Coinbase.
Next, you need to pick a marketplace of your choice. NFT marketplaces are how you buy NFTs. The following are some of the most famous NFT marketplaces:
Let's get you through the most popular NFT marketplaces and see how you can create an account, connect your wallet to the marketplace and buy an NFT on the marketplace.
How to buy NFTs on OpenSea
OpenSea is the first and the largest NFT marketplace available today. According to DappRadar, as of December 2021, OpenSea has over 240,000 active wallets on the platform. Altogether, it has a transaction volume of over $2 billion, and over 1 million transactions performed on the platform in the last 30 days.
Step 1. Connect your wallet to OpenSea
Assuming your cryptocurrency wallet is already funded with ETH or other cryptocurrencies you might need for purchasing NFTs, go to OpenSea > Account (top right icon).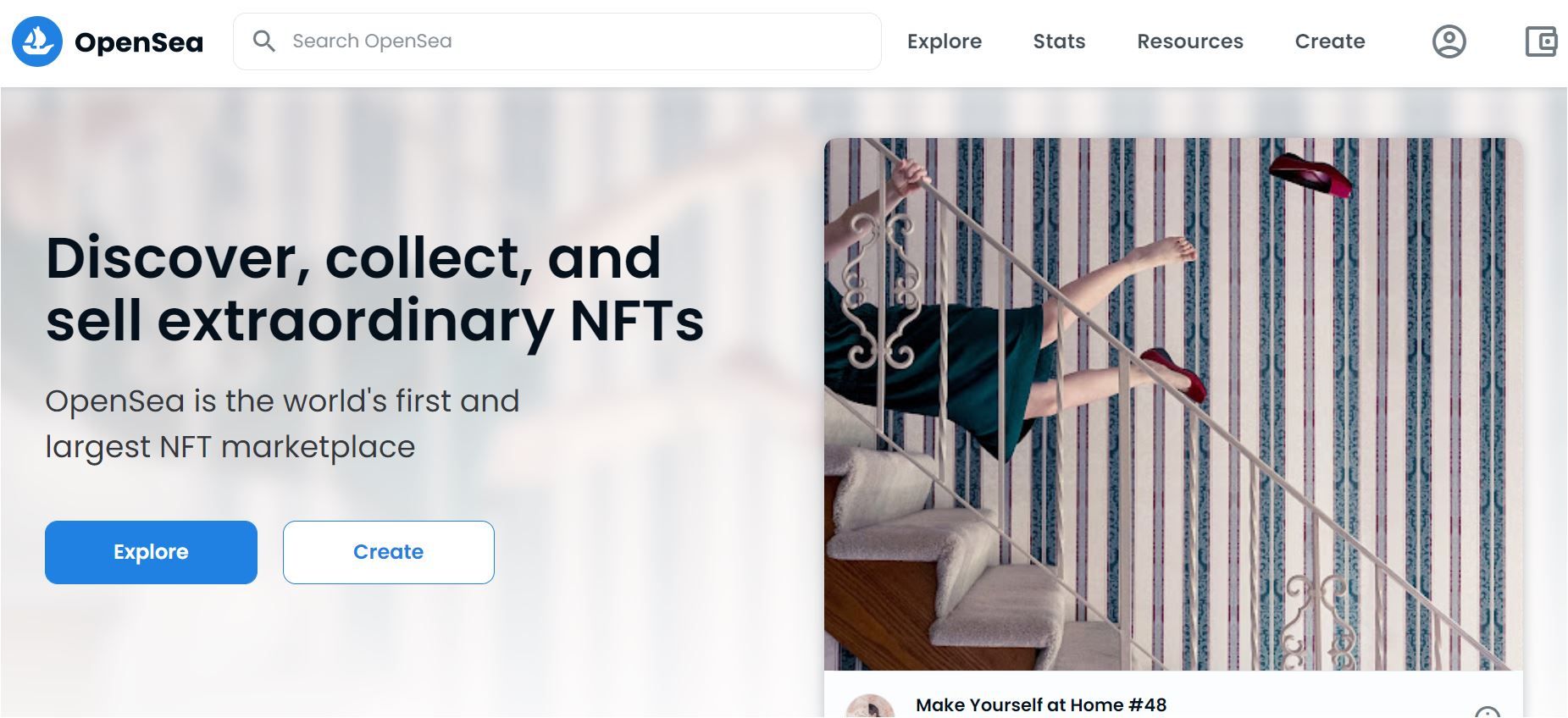 You will be able to connect to the OpenSea marketplace using one of the supported crypto wallets. In this case, there are more than plenty of options, such as MetaMask, WalletConnect, Coinbase Wallet, and others.
Select your wallet from the list and proceed to connect it. In your case, we will use the MetaMask wallet. Simply click on the MetaMask extension and sign in.
Step 2. Explore NFT collections
Next, you can start exploring the NFT collections available on the OpenSea marketplace. You'll find them under the Explore tab on the top menu.
The NFT collections are under several categories, such as Trending, Top, Art, Music, Virtual Worlds, Trading Cards, Collectibles, Sports, and Utility.
If you already know what you are looking for, you can use the search box on the top. On the page of each collection, you'll find all the available NFTs for sale.
Let's take, for instance, one random NFT from The SANDBOX collection that belongs to a virtual metaverse. As for any NFT, you will see the type of listing (timed auction or fixed price), the minimum price, and all the other details about the NFT.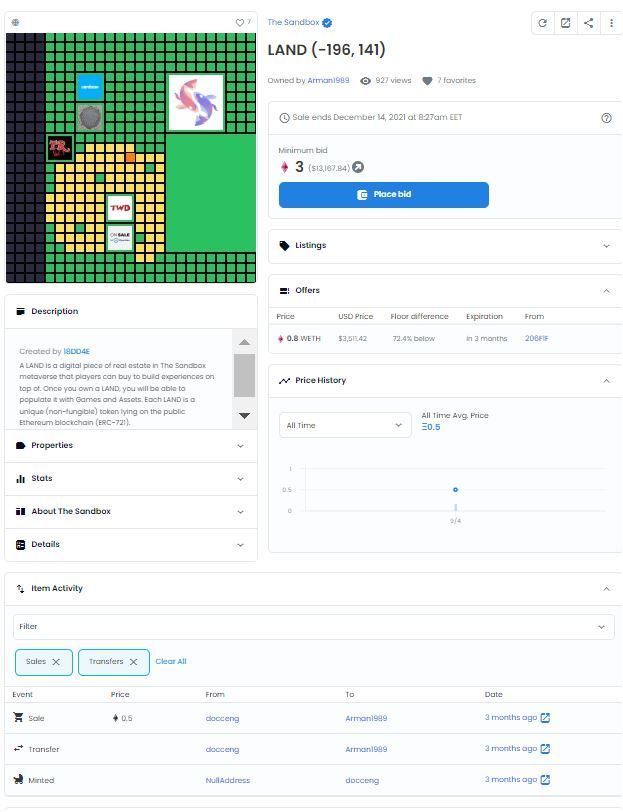 Other NFTs that are listed with a fixed price, will have the option Buy now available, instead of Place bid. For those, you can still make an offer to the seller.
Step 3. Buy the NFT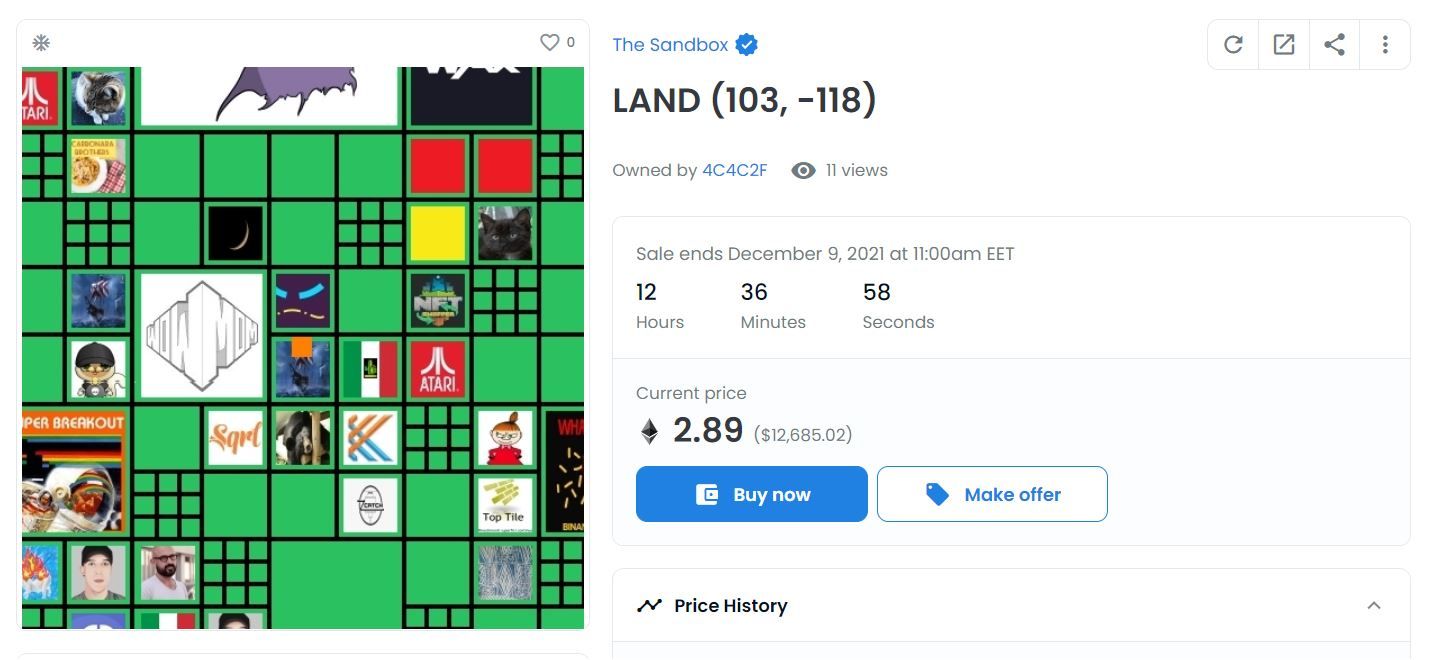 If you want to buy the NFT, click on the Place a bid or Buy now (depending on the type of listing) and make sure you have the required amount (plus something extra for the gas fee) in your crypto wallet.
On OpenSea, most NFT prices are listed in ETH, WETH, USDC, and DAI. However, the platform supports up to 150 cryptocurrencies. Wrapped ETH can be obtained directly from your connected wallet, by exchanging the ETH to WETH.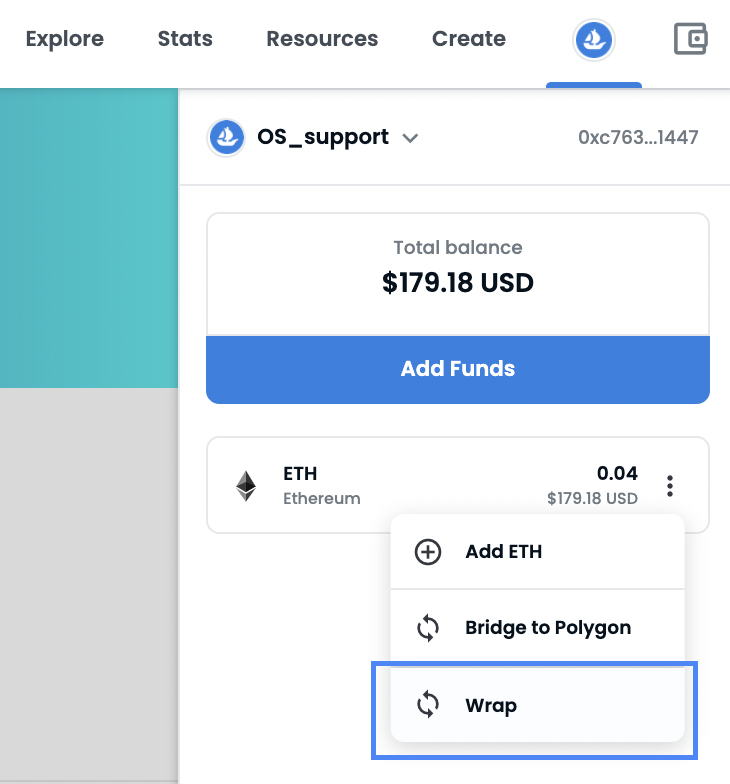 After you're all settled and have the necessary funds, you can complete the purchase. You'll have to confirm the transaction cost from your MetaMask wallet.
Once the transaction is confirmed, you will see the NFT under Account (top right icon) > My collections can be seen once the transaction is confirmed
If your NFT is an in-game digital asset, you will also see it in that game when you register with the same wallet.
How to buy NFTs on Rarible
Step 1. Connect your wallet to Rarible
Go to Rarible > Sign in (top right icon).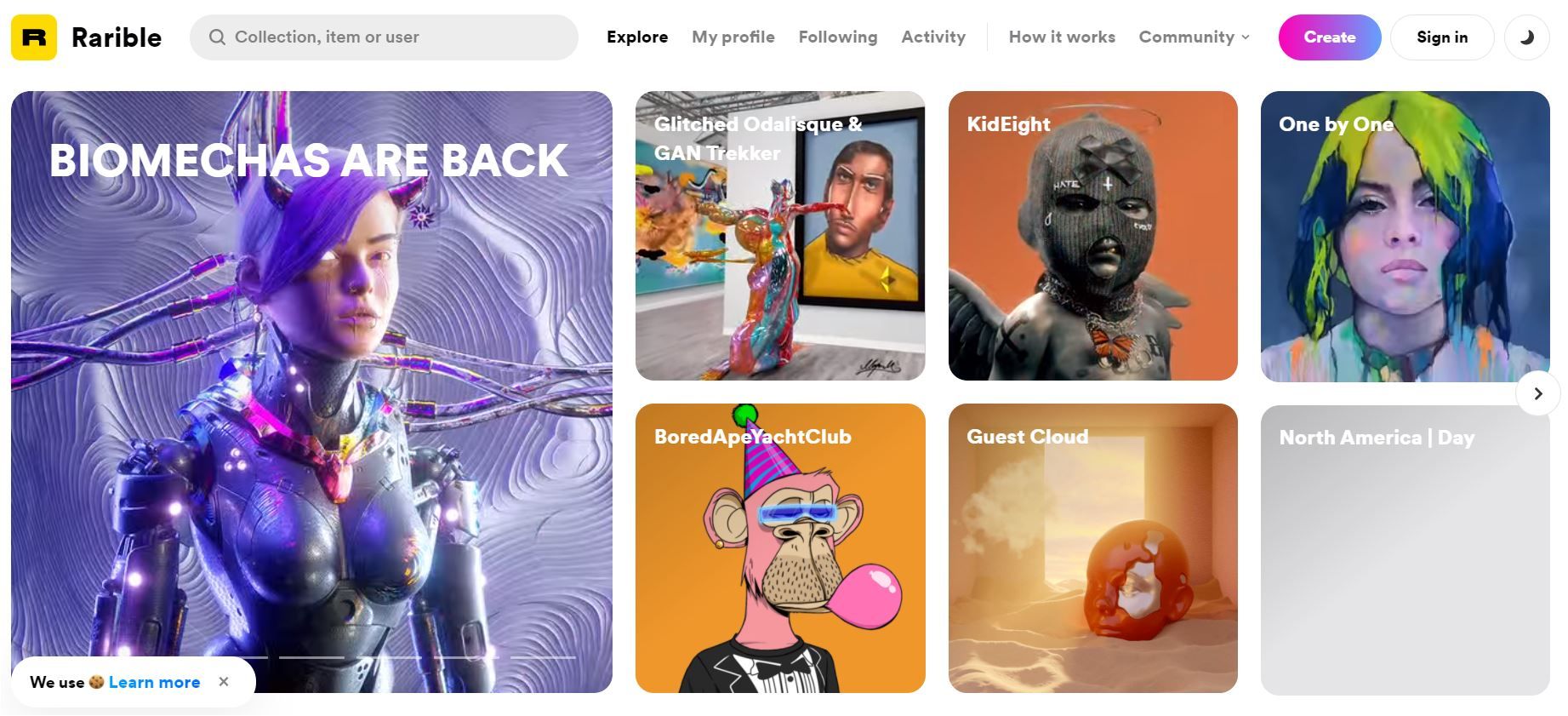 You will have to sign in with your wallet. Rarible supports many crypto wallets, including Mobile Wallet (Wallet Connect), Portis, Coinbase Wallet, Fortmatic, and MyEtherWallet.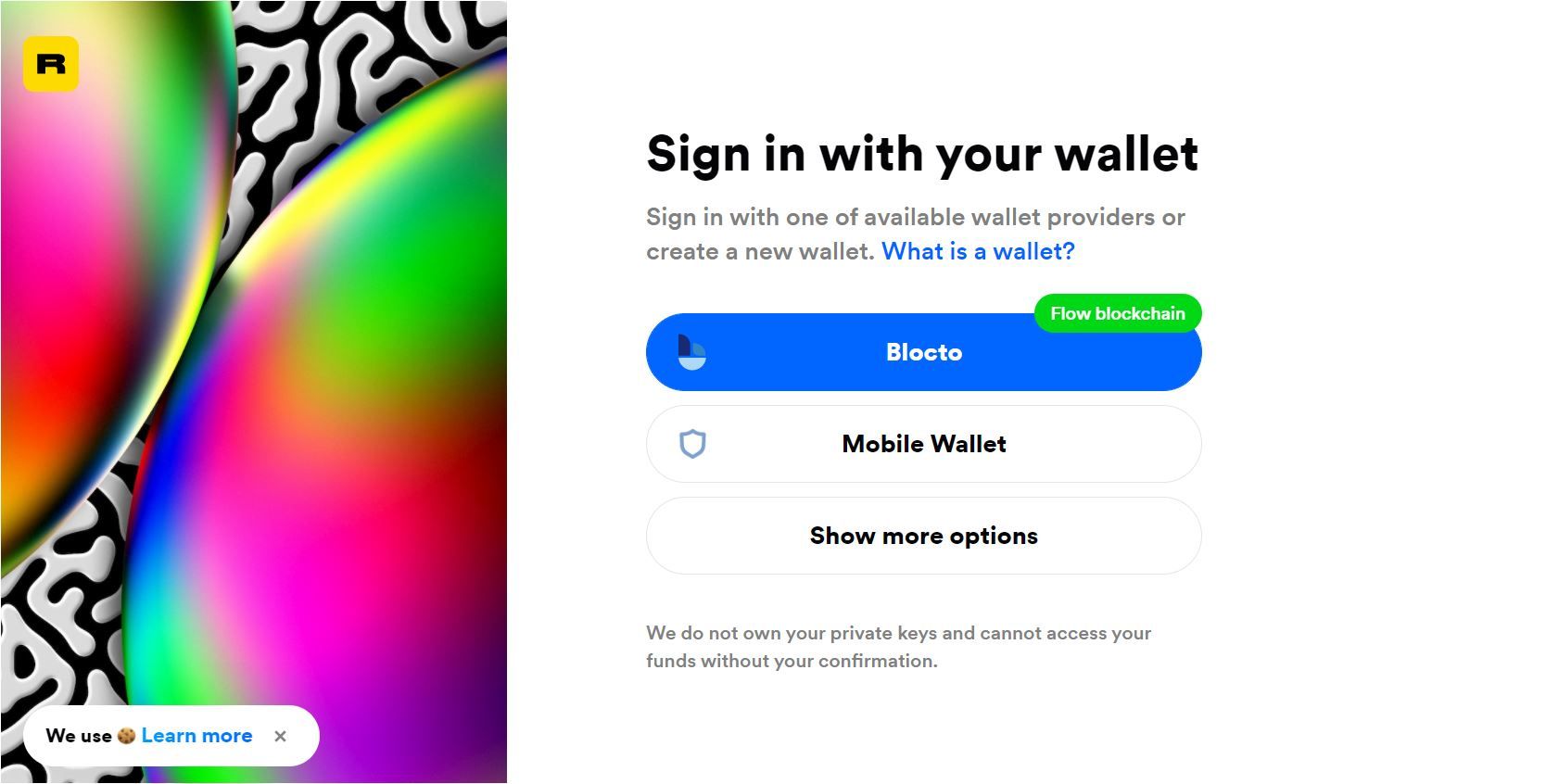 We will use WalletConnect to connect to Trust Wallet. You will need to scan the QR code shown on Rarible with your WalletConnect scanner within the Trust Wallet app. After you confirm the connection, Rarible will ask you to agree to the Terms and Conditions, and you will be able to proceed to browse the NFT collections on Rarible.
Step 2. Explore NFT collections
You can start exploring the NFT collections by clicking on the Explore tab on the top menu or using the search box, if you know the collections you want to look for.
On Rarible, NFT collections are categories such as Art, Photography, Games, Metaverses, Music, Domains, DeFi, Memes, Punks, and NSFW.
This is how a collection page looks like.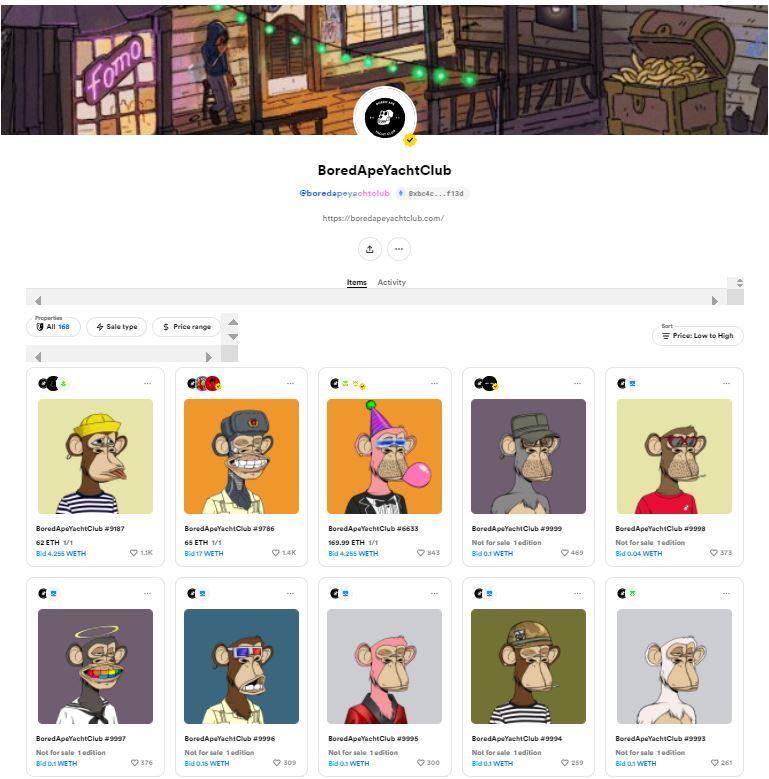 Step 3. Buy an NFT on Rarible
After picking an NFT, go to its page to see all the details, such as special attributes and its entire history.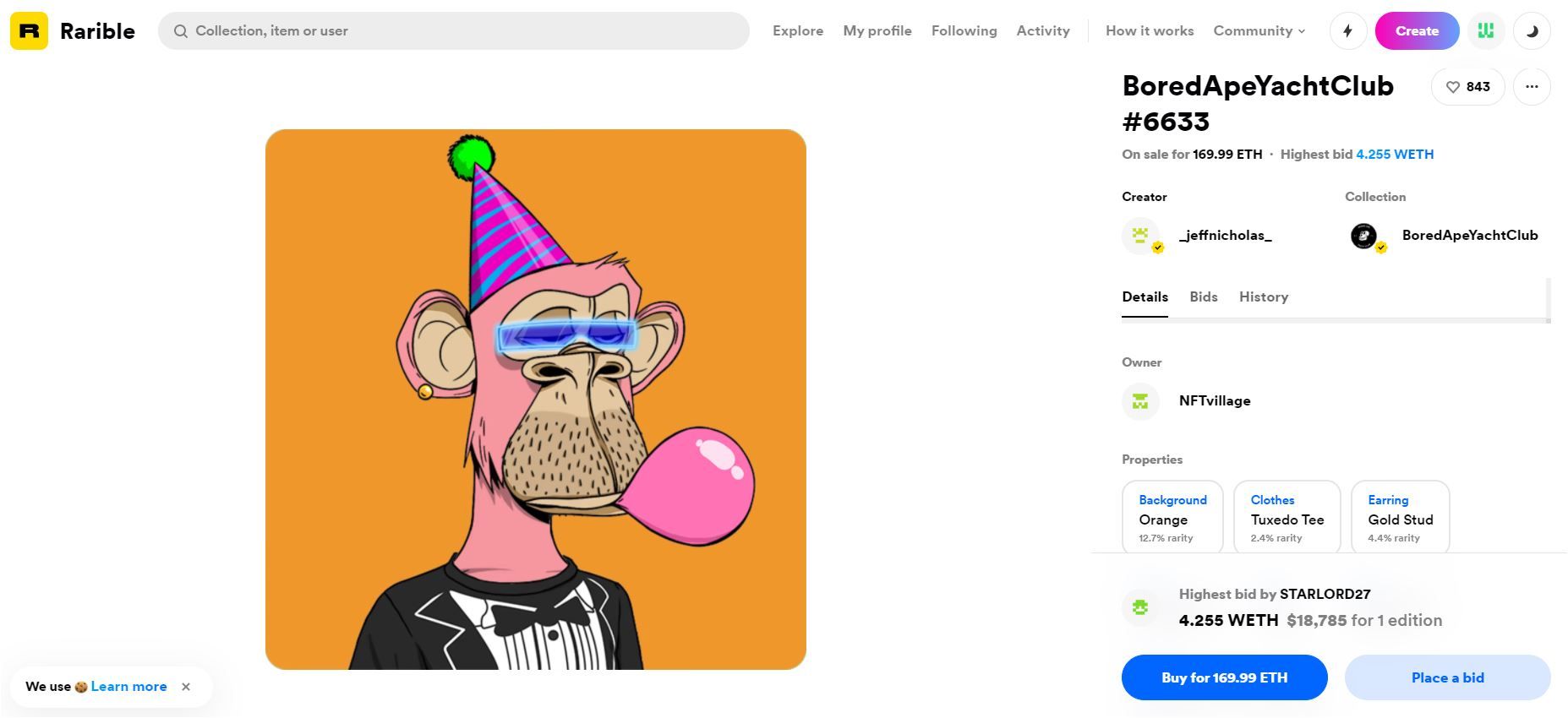 You can click on Buy on and pay the requested amount, and purchase it immediately, or you can Place a bid for the NFT.
NFTs on Rarible can be listed under Timed Auction, Fixed price, Open for offers, and Not for Sale.
If you wish to buy the NFT on the spot, you can choose if you want to pay with crypto or fiat.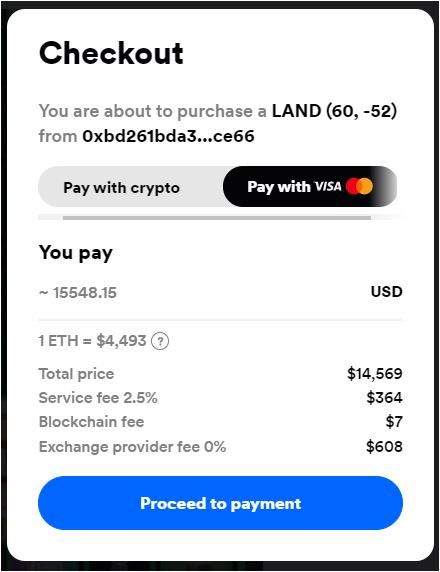 After you decide on your NFT and on the payment method, confirm your transaction in your crypto wallet, or simply follow the steps for Visa payment. Once the transaction has been confirmed, you will be able to see your NFT on your profile page within Rarible, under Owned.
How to buy NFTs on SuperRare
SuperRare is an NFT marketplace that allows art collectors to trade unique digital artworks. It launched in 2018 and has registered over $90 million in international sales.
Step 1. Connect your wallet to SuperRare
Go to SuperRare and click on Sign in to connect your crypto wallet.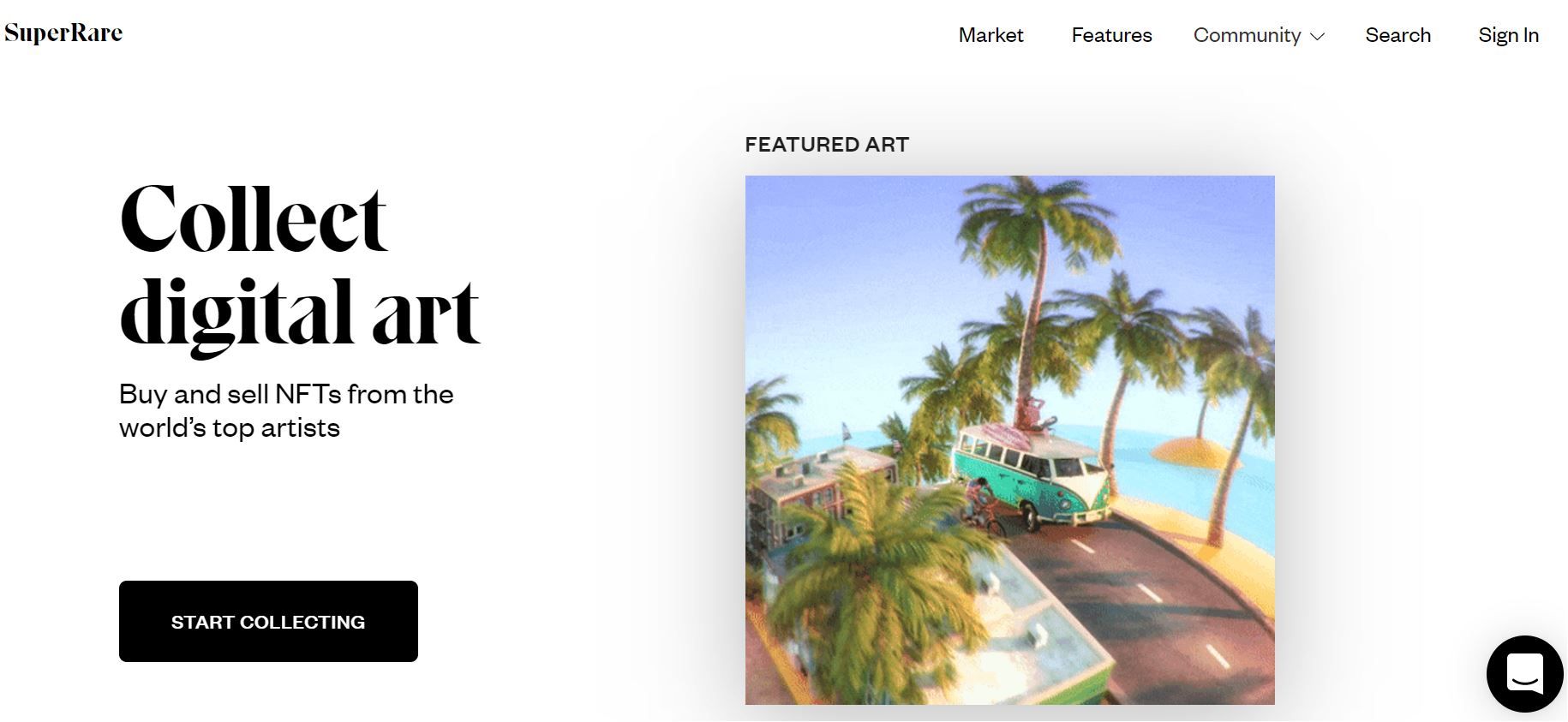 You can select one of the supported wallets (MetaMask, Fortmatic, or WalletConnect).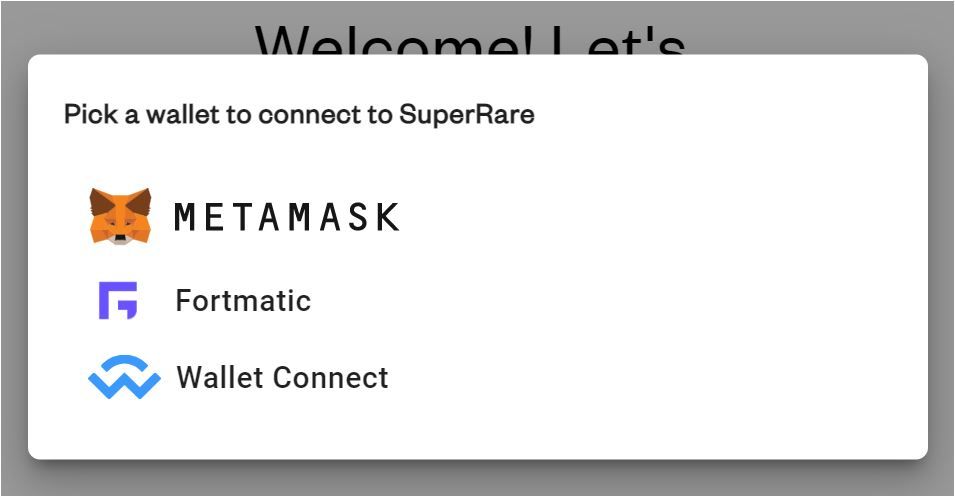 We will use WalletConnect to sign in. Once you provide necessary information, your wallet will ask to authorize the connection.
Step 2. Explore NFT collections
Now you can explore the SuperRare NFT marketplace, found under the Market tab from the top menu.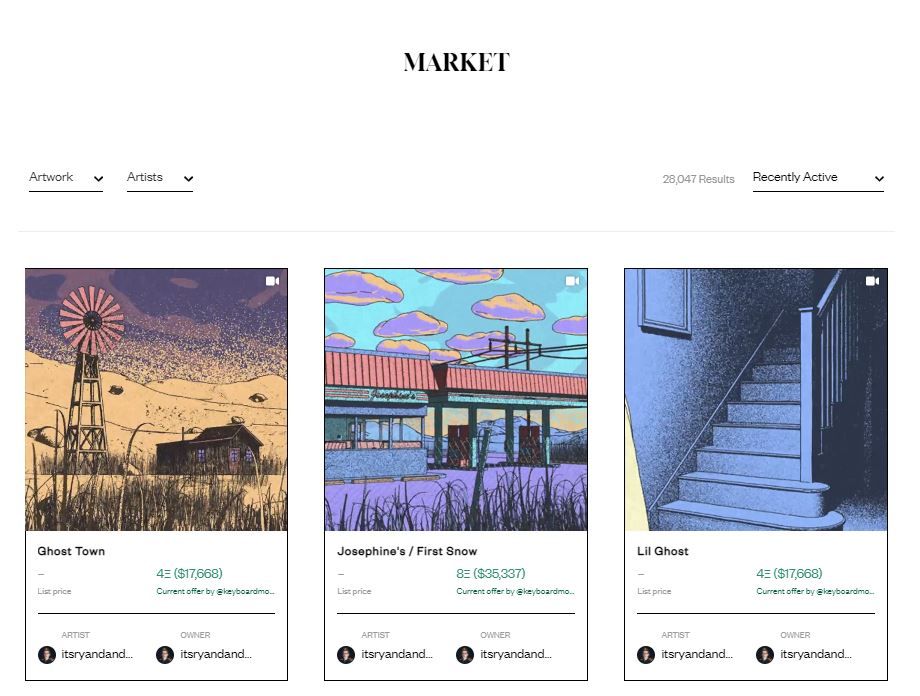 Digital artworks can be filtered by price, auction status, type, date minted, and other details.
Step 3. Buy an NFT on SuperRare
After selecting an NFT of your choice, click on it to see the NFT's page and all the details, such as the artist who created it, the current owner, details about the artwork, and the selling price.
Some NFTs are listed as a timed auction, which is clearly marked when you are scrolling through them.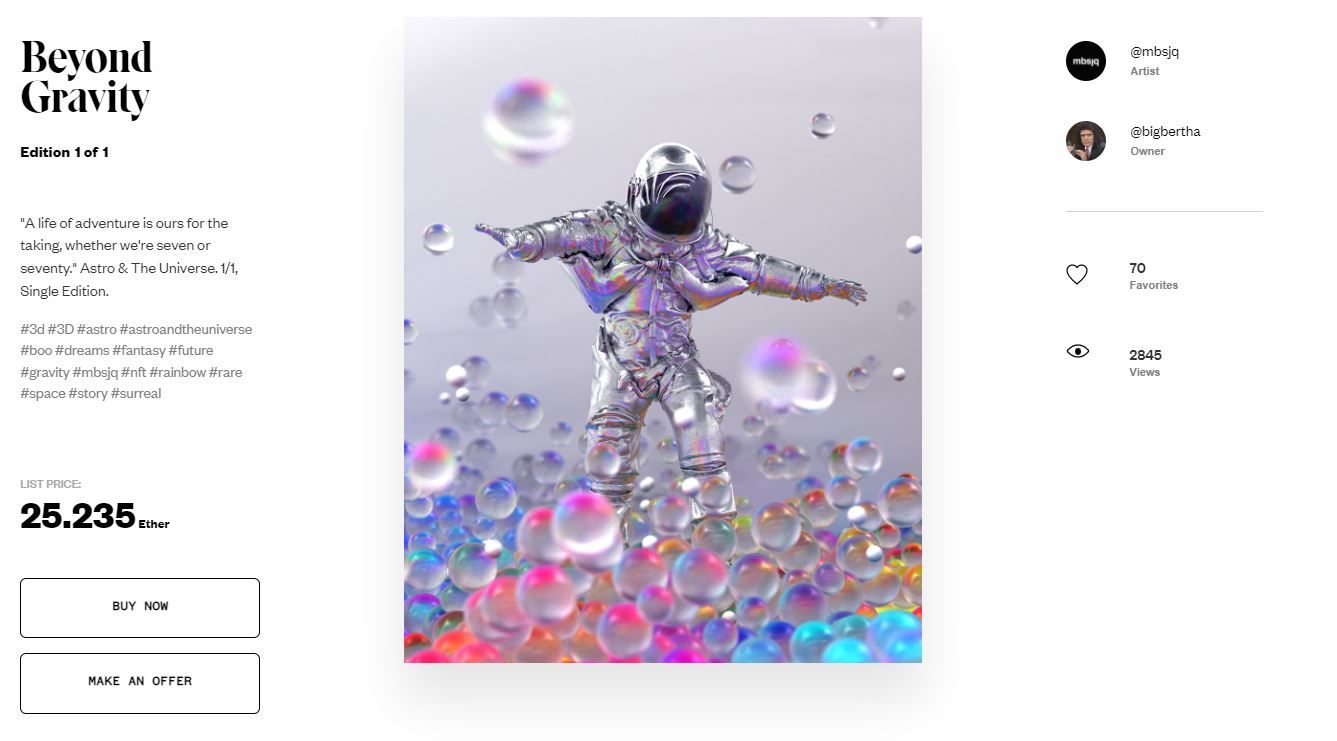 You can click on Buy now, and receive the NFT immediately after purchase confirmation. You can also Make an Offer to the seller.
After you click Confirm, you will have to confirm the transaction in your wallet as well. As a result, once the transaction confirms on the blockchain, you will see the NFT under Account (top right icon) > Collections.
Anyone can trade and collect NFTs
Now that you know how to buy NFTs on some of the most popular NFT marketplaces, you are free to start exploring the vast world of digital art, and all the collections available.
Today, most NFTs take the form of digital art and collectibles. However, NFTs have the potential to represent any real-world asset in the future. This will make ownership transparent and unalterable. For instance, non-fungible tokens can be very valuable for real property titles, as well as business ownership.
It's also important to keep in mind that NFTs are a relatively new trend, so be cautious before you invest. The price volatility of crypto assets is extreme. You should consider reviewing NFTs using some of the popular NFT tools before making any investments.
Before you buy NFTs, you should also be wary of NFT MEV bots. These bots often snipe, or buy up NFTs before anyone else has the opportunity. NFTs can be hard to keep up with, so why not join BeInCrypto's Discord server to ensure you're on top of everything?
Frequently asked questions
What are NFT marketplaces?
What is an ERC-721 token?
What is the difference between an ERC-721 and ERC-1155 token?
Disclaimer
In line with the Trust Project guidelines, the educational content on this website is offered in good faith and for general information purposes only. BeInCrypto prioritizes providing high-quality information, taking the time to research and create informative content for readers. While partners may reward the company with commissions for placements in articles, these commissions do not influence the unbiased, honest, and helpful content creation process. Any action taken by the reader based on this information is strictly at their own risk.