The NFT marketplace has become so rich with expensive collections that it is becoming difficult to keep track. CryptoPunks, Axies, Solana's SolPunks, Degenerate Apes, and Bored Ape Yacht Club are just some of the multi-million dollar NFT fortunes.
For this guide, we will delve deeper into the last one — the Bored Ape Yacht Club. What makes it tick as a soaring NFT asset? Perhaps, based on its features and price, we can reach some conclusions for future NFT collections. Then, it would be easier to buy an NFT that may appreciate by 1000X and beyond!
Recap of the NFT market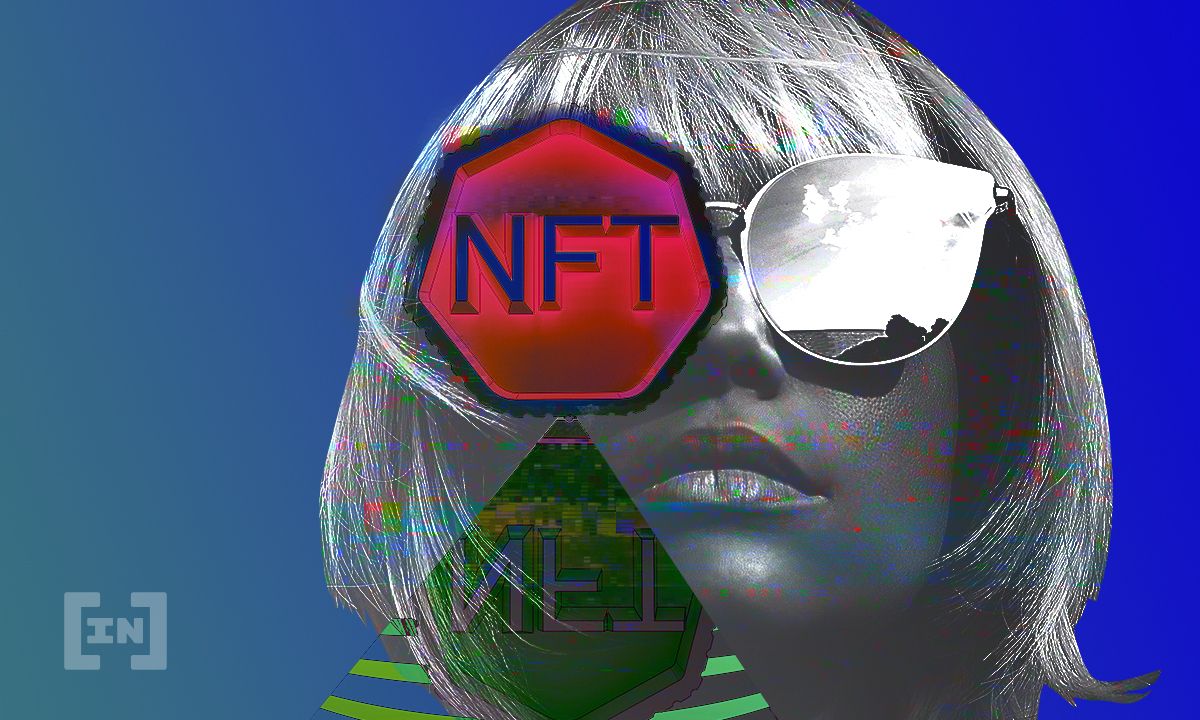 Although Anil Dash and Kevin McCoy developed the first NFT Quantum all the way back in 2014, only from the beginning of 2021 have we seen a thriving marketplace form. Monthly NFT sales fluctuated from $50 million to $322 million between February and July. In April, total NFT sales decreased by 24%, from March's $239 million to $193 million.
During that period, artist Beeple made a record that still holds up — EVERYDAYS: THE FIRST 5000 DAYS sold for $69 million. In May, the NFT market went down by nearly 90%, with weekly sales at barely $20 million. However, of all types of NFTs, collectibles proved to be most resilient, accounting for $156 million in sales.
During this period, NFTs found some stability. They're broadly divisible from the most profitable to less profitable as follows:
Collectibles
Metaverse NFTs/virtual goods
Sports collectibles
Crypto-art
At the end of August, CryptoPunks breached $1 billion in total sales, inspired by London's punk scene. Second place went to Dapper Labs, in charge of NBA Top Shot NFTs, accounting for about $700 million this year. Older NFT collections thrived too — Cryptokitties sold $8.4 million in August and $54.6 million in total.
Overall, from the end of July to mid-September, NFT sales skyrocketed by 1,144%, from $211.7 million to $2.6 billion.

When we put NFT collections together, the top 10 have accumulated an impressive $3.6 billion in all-time sales. The all-time volume has reached $7 billion.

Bored Ape Yacht Club has risen to prominence rapidly since it launched on April 30th. Let's examine why that happened and whether they're worth a buy.
What is Bored Ape Yacht Club (BAYC)?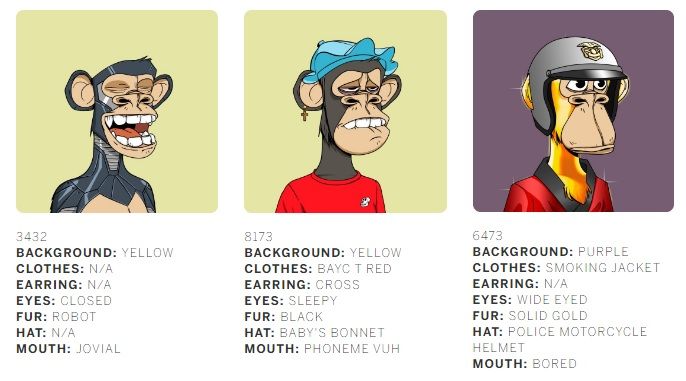 Bored Ape Yacht Club is a 10,000-strong NFT collection of ape avatars. As you can imagine, within that range, the artistic freedom to create every kind of styled ape under the sun shines through.
Some are working slackers, some are cyborgs, some wear rainbow fur, while others shoot laser beams out of their eyes. It is safe to say there are more BAYC types than there are human personality types. Predictably, this drove their sales through the roof in record time.
A few days after Bored Ape Yacht Club launched at the end of April, all 10,000 apes were sold out, for $24.3 million in total, about $200 per ape.
Headquartered in Alexandria, Virginia (yes, the same Alexandria featured in the Walking Dead's fifth season), Yuga Labs created bored apes by drawing inspiration from the famous Planet Of The Apes movie trilogy. Specifically, the meme "Apes together strong" uttered by Caesar in the first movie, the Rise of the Planet of the Apes (2011).

The Yuga Labs team consists of four pseudonymous core members, hiding behind their cartoon ape creations:
Gargamel: Starcraft Obsessed. Eats Smurfs.
Gordon Goner: Reformed Leverage Addict.
Emperor Tomato Ketchup: Spent All Their Money On First Presses And Pet-Nat.
No Sass: Here For The Apes. Not For The Sass.
Hosted on the Ethereum blockchain, each Bored Ape Yacht Club NFT is built on the ERC-721 token standard as opposed to the ERC-20 standard that accounts for 900 altcoins. Therefore, the currency in which Bored Apes Yacht Club trades is Ethereum's ETH. Here, you can find how to buy ETH in three simple steps.
The Bored Ape Yacht Club comes with perks
Outside of using these as digital avatars, the NFTs also serve another purpose. Each BAYC NFT holder gains lifetime membership to a secret apes-only club. One of the more famous Bored Ape owners is the NFT star Stephen Curry, who paid $180,000 for a tweed-wearing Bored Ape NFT.
So far, it seems that membership perks are exceedingly profitable. For instance, the Yuga Labs team launched a second ape series in a creative manner. Instead of a new series, they released 10,000 Mutant Ape serum vials. Each lifetime member got one free.
The serum consists of three tiers — M1, M2, and Mega Mutant. When injected into a regular Bored Ape, the serum generates a Mutant Ape Yacht Club NFT.
Moreover, another 10,000 were then released to the public, all selling out for about $10,000 each, or for about 3 ETH. As of press time, the Mutant Ape strain has reached nearly $260 million in total sales, according to OpenSea.

As far as Yuga Labs' roadmap goes, it bears noting its BAYC Bathroom milestone. Those with at least one ape in their crypto wallet will gain access to a canvas. Then every fifteen minutes, ape-holders can paint a single pixel on the bathroom wall, thus creating a collaborative artwork.
One pending roadmap goal is the Mysterious Note. When it becomes legible, ape-holders will have to solve a puzzle. The first to solve it will win 5 ETH (about $17.2k) and one Bored Ape.
As you can tell, Yuga Labs has an ambitious goal in mind to create an entire ecosystem derived from apes, with Bored Ape Kennel Club being the first one.
What is Bored Ape Kennel Club?

Diverging from Bored and Mutant Apes, an offshoot comes in the form of Bored Ape Kennel Club (BAKC), also numbering 10,000. This was an exclusive, one-time-only offering that ended on June 25th. During that one week, club members were eligible to receive one Club Dog NFT for each Bored Ape that they held. The features of each dog stem from a set of 170 possible traits, with various tiers of rarity.
Initially free, buyers only had to pay the gas fees to obtain the hounds. The twist is that after they enter the secondary market, the BAKC collection will have a 2.5% royalty fee attached to each sale. Then, those proceeds go to no-kill animal shelters. Among them is The Giving Block and the Wright-Way Rescue.
However, the 2.5% royalty fee had been set to expire after six weeks. Predictably, at the end of that period, there was a boom in sale, as shown on the trading volume below.

What makes Bored Apes Yacht Club different?
By now, you may be wondering how is it possible to create so many NFTs with only four people? If we count Bored Apes, Mutant Apes x2, and Kennel club, that amounts to 40,000 different artworks. If the mutant serum didn't clue you in already, it turns out, it's all about employing the power of programmable graphics.
Meaning, if you set a number of traits, their possible combo algorithmically increases sky-high, as randomly generated. From the set below, it is easy to see that each Bored Apes Yacht Club NFT holds seven traits.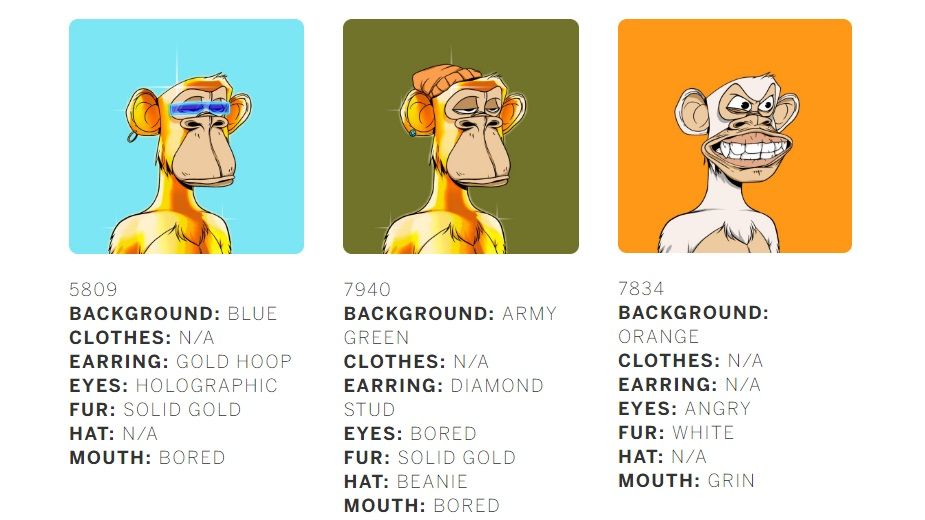 Accordingly, when they were generated, Bored Apes each gained their unique look based on:
Background color
Clothes style
Earring
Eyes
Fur
Hat
Mouth
Of course, because rarity is the name of the game in the world of speculative art, the combo that results in the rarest traits tends to gain the highest bids. For example, only 108 Bored Apes have cyborg eyes. Rarer still, only 49 have bored dagger mouth, out of 10,000.
If each seven traits hold a rarity count within these ranges, then those NFTs are high in demand. Thankfully, you can check the rarity count combo with rarity.tools. At present, the rarest ranked is BAYC #7495, at a rarity score of 364.42.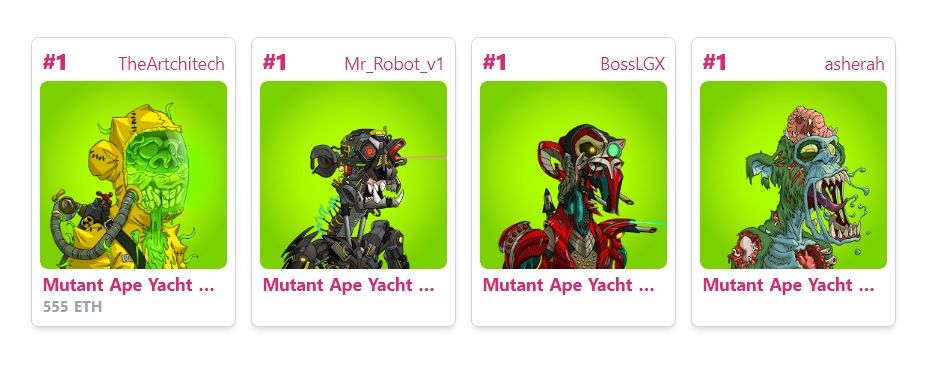 As far as the Mutant Ape strain goes, nine of them held the highest rarity score of 15071.64, earning them rank number one.
How to buy an ape?
It goes without saying that many NFT investors have made fortunes from selling these NFTs on the secondary market. If you would like to join the fold of the secret apes club for future drops, then there is only one thing to do — fill your crypto wallet with ETH.
Thanks to crypto wallet extensions, it has never been easier to participate in NFT marketplaces. All you have to do is follow this guide to install the MetaMask wallet. Then, when you open a web page for an NFT marketplace like Rarible.com or OpenSea.io, you only have to connect it to the wallet and begin your NFT adventures.
Disclaimer
All the information contained on our website is published in good faith and for general information purposes only. Any action the reader takes upon the information found on our website is strictly at their own risk.
At Learn, our priority is to provide high quality information. We take our time to identify, research and create educative content that is useful to our readers.
To maintain this standard and to continue creating awesome content, our partners might reward us with a commission for placements in our articles. However, these commissions don't affect our processes for creating unbiased, honest and helpful content.