Every now and again, we all need some help in our day-to-day duties. ChainGPT is an AI-driven SaaS platform. With its advanced AI capabilities, ChainGPT is designed to serve the blockchain and cryptocurrency community. But is this AI platform truly up to the task of smart contract programming? This ChainGPT review provides an informative assessment of the platform's capabilities and features.
ChainGPT at a glance: Our overall rating
When it comes to ChainGPT's AI performance, the platform is extremely effective. It does what it needs to do. In particular, the code auditor and generator have the added benefit of being more up-to-date in compiler versions than other AI Solidity code auditors like ChatGPT.
| | | | | | | |
| --- | --- | --- | --- | --- | --- | --- |
| Features | AI model performance | Feature set | Pricing | Use cases | Tokenomics | BIC overall score |
| Score | 4/5 | 5/5 | 4/5 | 5/5 | 3/5 | 4.2 |
Who is this ChainGPT review for?
This ChainGPT review is valuable for developers and programmers building decentralized applications (DApps) who need to create and audit smart contracts. Despite this, anyone interested in blockchain technology and smart contracts who may not have extensive programming experience can also benefit.
Lastly, decentralized application projects often rely on smart contracts for various processes. If DeFi developers and teams are short on qualified developers, they can use these tools to create and audit the smart contracts that underpin DeFi protocols.
Keep reading if you are:
Learning Solidity smart contract development
A DApp developer or programmer
General smart contract enthusiast
Keen to know how AI can supercharge development in web3
Criteria used to evaluate ChainGPT
We evaluated ChainGPT primarily based on the performance and accuracy of its AI model. We also considered the breadth, depth, and price of tools and utilities offered. Finally, we also evaluated real-world use cases, which are crucial to understanding how ChainGPT could benefit different user groups.
Lastly, we scrutinized ChainGPT's tokenomics, including staking, farming, and the unique burn mechanism. Here, we assessed whether the token economics aligned with user incentives.
What is ChainGPT?
Official website: www.chaingpt.org
ChainGPT was founded by Ilan Rakhmanov in September 2022 in the United States. It is a versatile, AI-driven SaaS (software as a service) platform explicitly designed for the blockchain and cryptocurrency industry.
This AI model harnesses algorithms and machine learning to address various challenges within the blockchain and crypto space. The features are designed to assist users in addressing challenges and tasks related to blockchain applications. It offers a wide array of tools and features to simplify the creation, auditing, and understanding of smart contracts.
ChainGPT addresses the challenge of inadequate AI tooling by positioning itself as an infrastructure provider in the web3 space. Through its platform, it aims to simplify navigation in the web3 ecosystem, making AI technology more accessible to a broader audience.
Additionally, ChainGPT offers a suite of various tools, such as an non-fungible tokens (NFTs) generator that empowers creatives with tools for generating NFTs.
All in all, ChainGPT is designed to address a broad spectrum of challenges in the industry, including simplifying smart contract development, enhancing smart contract security, aiding code debugging, and much more.
How to sign up
1. Go to the ChainGPT official website nad click "Launch App" in the top right hand corner. Then press "Connect Wallet" in the to right corner.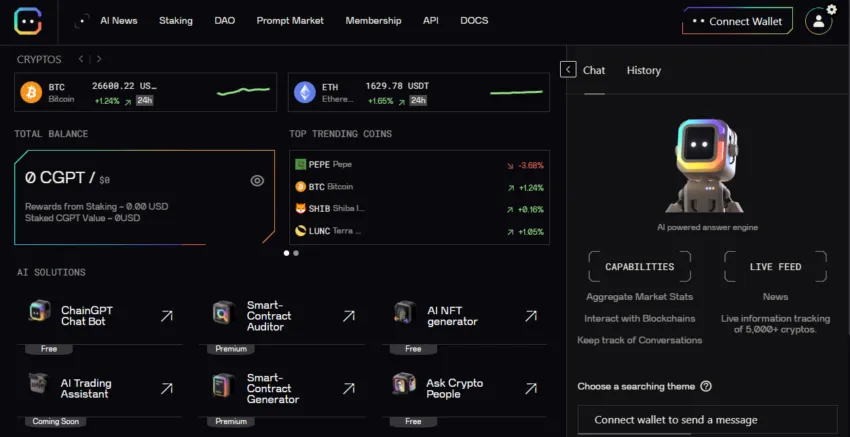 2. To connect your wallet, select "Wallet connect" and scan the QR code.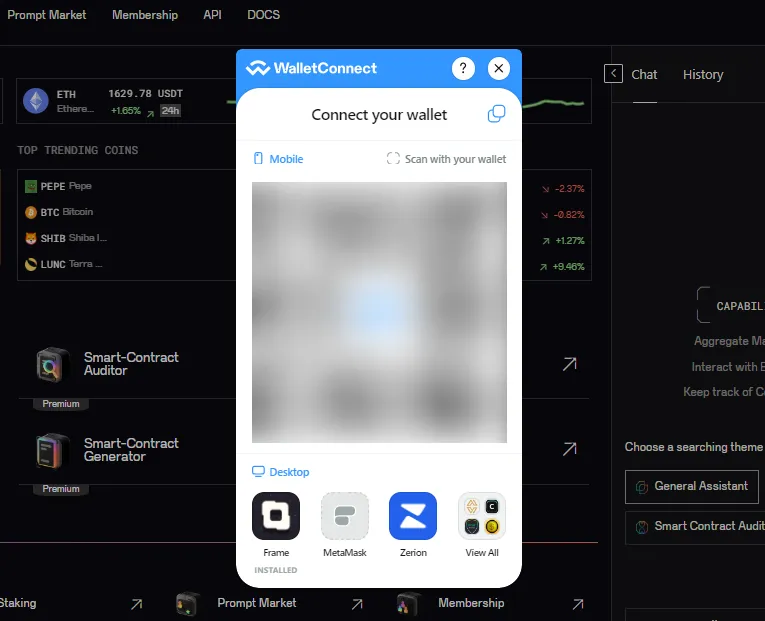 3. After this step, you are now free to use the ChainGPT platform.
ChainGPT review: Who is it for?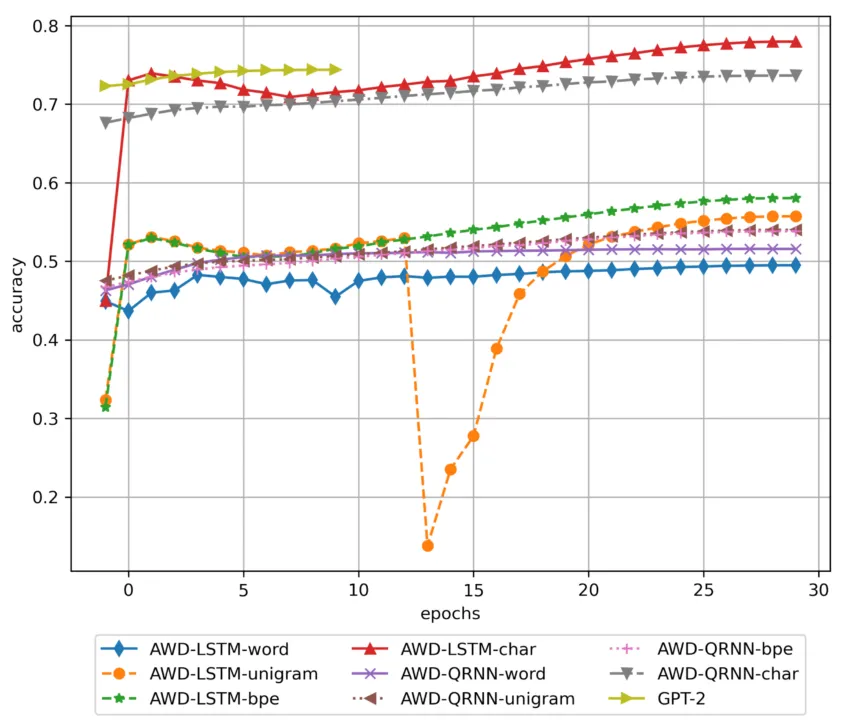 Tailored for a relatively diverse set of users, ChainGPT offers a diverse suite of features and tools to cater to individuals, developers, and businesses' needs.
As shown in the above image, AI code generation and auditing have become more accurate over time. Therefore, ChainGPT and similar services can potentially serve as a valuable resource for developers and programmers. Businesses and enterprises looking to integrate blockchain technology into their operations can also leverage ChainGPT.
In summary, ChainGPT is a powerful and versatile AI platform tailored for blockchain and cryptocurrency enthusiasts, developers, businesses, and investors.
What are the key features of ChainGPT?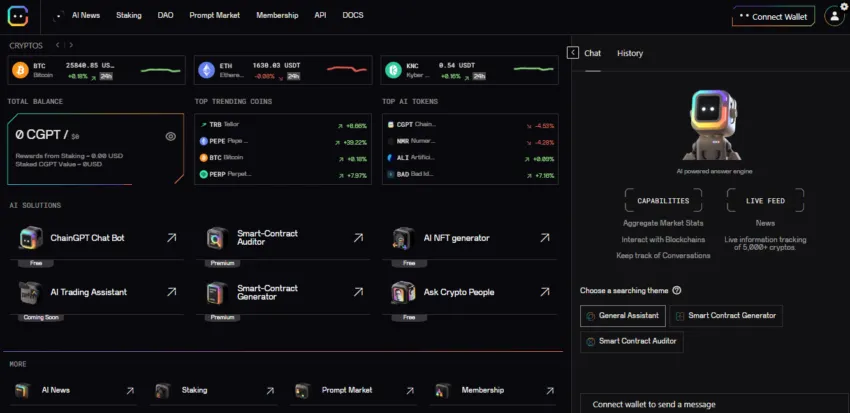 Perhaps the most interesting thing that you will notice about ChainGPT is that it is more than its AI model.
While ChainGPT's AI model is the central offering, its services are accessible through the ChainGPT Token ($CGPT). $CGPT bootstraps the platform. This utility token is the backbone of the ecosystem and offers benefits such as liquidity on exchanges, staking, and farming opportunities.
The ecosystem employs a unique burn mechanism to enhance the value of the native token. This mechanism automatically burns 50% of all transaction income, including fees for AI access and revenue generated by the platform's tools and utilities.
The remaining 50% of transaction income is reinvested in the ChainGPT platform, supporting its growth and development. This ensures the platform remains viable and continues to expand, benefiting $CGPT token holders.
AI tools and services
ChainGPT offers a suite of AI-powered tools and services tailored to the blockchain and cryptocurrency industry:
ChainGPT review: Pros and cons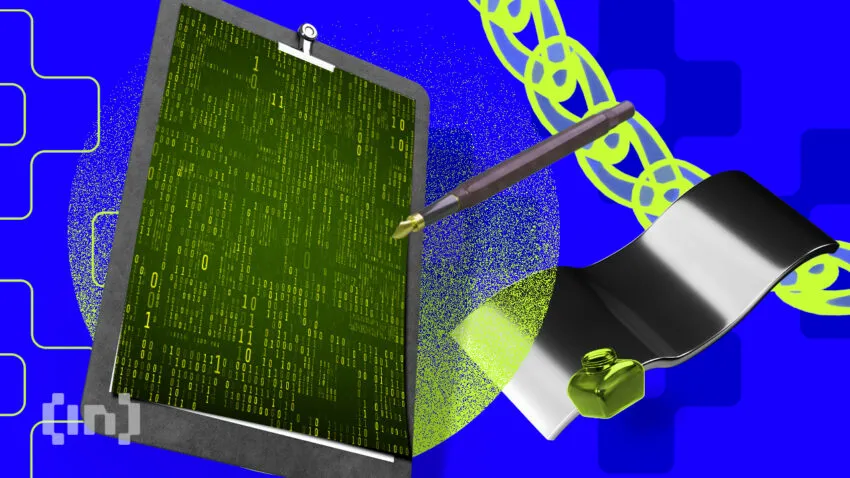 Pros
Simplified smart contract development: Users can quickly and easily generate smart contracts using the no-code smart contract generator, streamlining the development process.
Code debugging support: Developers can use ChainGPT's code debugging capabilities to identify and resolve errors in their blockchain code, improving code quality and reliability.
Technical analysis for trading: Crypto traders can leverage the platform's technical analysis tools to make informed trading decisions in the volatile cryptocurrency market.
Tokenomics: Token holders can participate in staking, potentially earning rewards and benefiting from the burn mechanism that increases the value of the $CGPT token.
Participation in DAO governance: Community members and stakers of $CGPT can participate in the DAO. They can create and vote on ideas, decide how to spend the DAO fund and decide on the ecosystem's future evolution.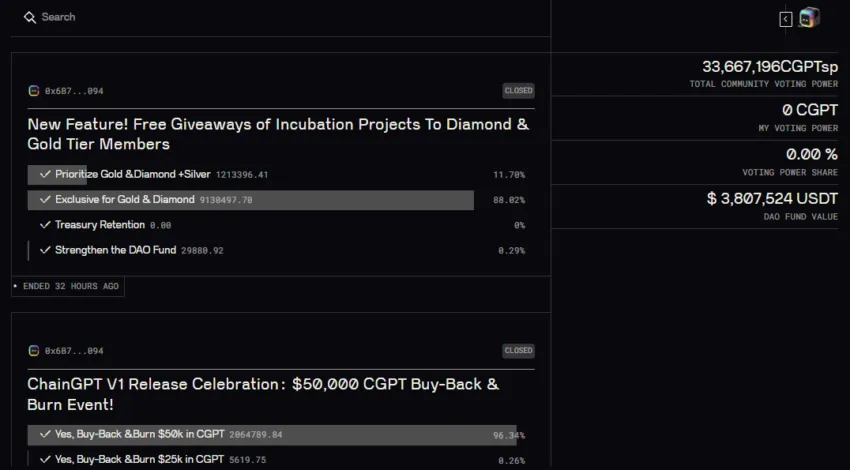 Cons
Limited audit scope: ChainGPT has limitations when it comes to auditing complex contracts. Contracts that depend on multiple files (e.g. JavaScript files, libraries, etc.) may still be vulnerable after audit.
Inability to audit complex economics: ChainGPT may face challenges when auditing the intricate economic structures and incentives of (DApps). It may not provide a comprehensive analysis of complex tokenomics, governance mechanisms, or economic models.
Dependency on tokenomics: The success of $CGPT's tokenomics model is pivotal. If the economic incentives, including staking, farming, and the burn mechanism, do not align with user interests or fail to generate value, it could impact the platform.
User concerns: Some users may be wary of using a platform that relies on its own native token for payments. They may question the platform's motives.
Token volatility: Cryptocurrency tokens can experience significant price volatility. If the value of $CGPT fluctuates dramatically, it could lead to pricing inconsistency and user dissatisfaction.
Free plan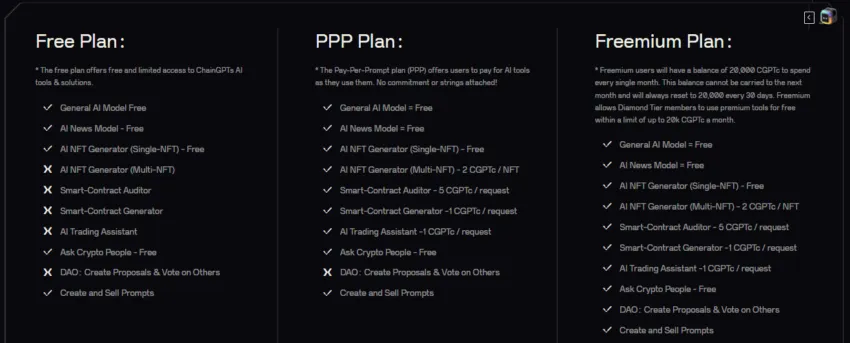 ChainGPT offers a variety of pricing plans to cater to different user needs. The free plan provides limited access to its AI tools and solutions, including:
General AI model
AI news model
AI NFT generator (single-NFT)
AI trading assistant
Ask crypto people
DAO participation
Access to the prompt market.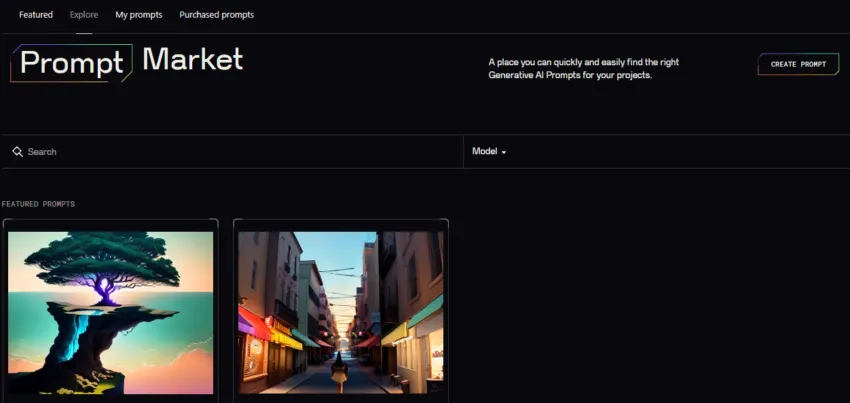 ChainGPT Pro plan (paid)
The ChainGPT platform offers individual plans at a tiered pricing model. The PPP plan (pay-per-prompt) allows users to pay for AI tools as they use them, offering flexibility without commitments. It includes access to the same features as the free plan but with varying prices per request.
The platform's multi-NFT generator, smart-contract auditor, smart-contract generator, and AI trading assistant are all available in the PPP Plan. The Freemium Plan provides users with a monthly balance of 20,000 $CGPT, which resets every 30 days and cannot be carried over.
Diamond Tier members can access premium tools for free, within the 20,000 $CGPT monthly limit. Similar pricing as the PPP Plan applies when exceeding the monthly $CGPT limit. Likewise, the Freemium plan gives members access to the same features as the PPP Plan.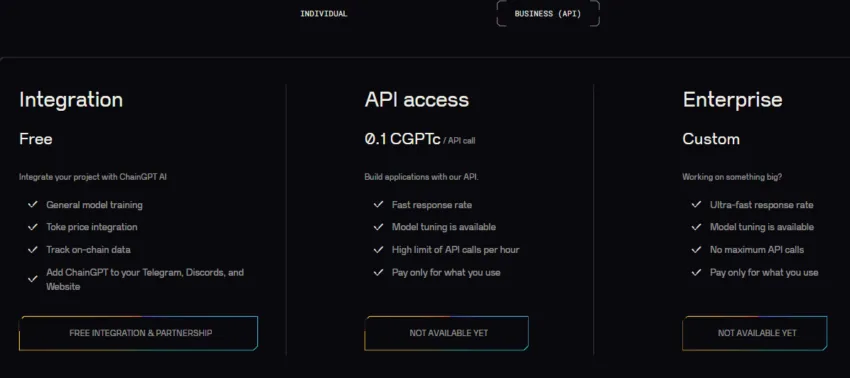 Additionally, ChainGPT offers separate Business API plans. The Free Integration & Partnership plan allows projects to integrate with the platform at no cost. It includes general model training, token price integration, tracking on-chain data, and the ability to add ChainGPT to platforms like Telegram, Discords, and websites.
For more advanced options, the API Access plan offers integration. Additionally, ChainGPT offers an Enterprise Custom plan for those working on substantial projects. However, the latter two plans are not yet available to the public.
How does ChainGPT compare with other AI platforms?
In comparing ChainGPT with other leading AI platforms in the crypto and blockchain space, including Dall-E, ChatGPT, and Midjourney, several things should be considered.
Firstly, most of ChainGPT's codebase is unknown. Only certain features, like its token contract for $CGPT, are known. While its track record and the security of its codebase and infrastructure are up for debate, its commitment to secure smart contract auditing and generation is evident. The ChainGPT platform maintains a robust online presence, offering users access to a wealth of resources. This includes informative blog updates, tutorials, and active chat groups within the community. This is generally the norm with this type of platform.
Note that with these platforms, it is akin to comparing an apple and an orange under the broad header of "fruit." While some features overlap, the purposes of the leading AI platforms differ. For example, DALL-E and Midjourney primarily focus on NFT art creation. As such, security is perhaps more important for a platform like ChainGPT, where code generation and auditing are key.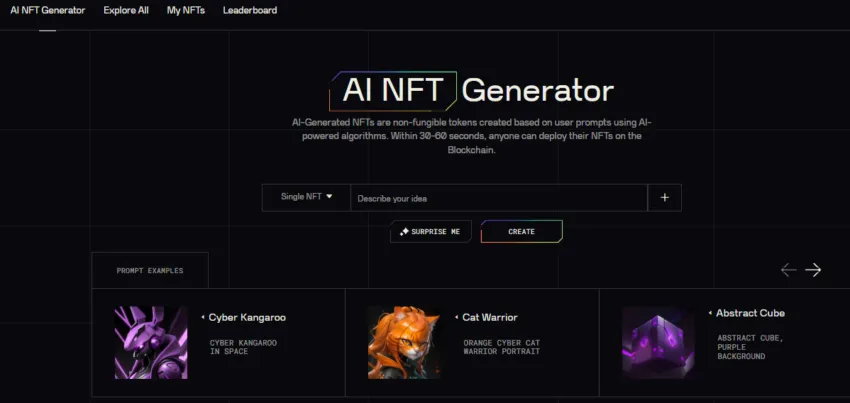 ChatGPT specializes in natural language understanding and generation, particularly in chatbots, customer support, and conversational AI applications. It can also audit code. However, in the context of Solidity code, it is not as thorough a tool as ChainGPT.
| | | | | |
| --- | --- | --- | --- | --- |
| Features | ChainGPT | ChatGPT | DALL-E | Midjourney |
| Purpose | Smart contract auditing, generation, AI | Conversational AI, chatbots, language understanding | Image generation from text | AI-generated art and NFTs |
| Technology | Language model, blockchain integration | Language model, natural language processing | Vision model, generative adversarial networks | Language model, AI-generated art |
| Availability | Public access, pay-per-use model | API access, commercial licensing | Research and access to APIs | Public access |
| Use cases | Smart contract auditing, crypto market analysis, chatbot assistance | Chatbots, customer support, natural language processing tasks | Generating images from textual descriptions | AI art creation, NFT generation |
BeInCrypto assessment
The number of features that the platform has to offer is impressive. Because there are so many features, there are many use cases for enthusiasts. Although, ChainGPT is not a panacea. The pricing itself of the platform is not terrible — at the moment. If a service requires five $CGPT for usage, at this point in time, you would pay about 20 cents.
However, because the platform relies so heavily on the $CGPT token, this could change with growing adoption and usage. For example, if the usage increases or the token suffers from MEV, the price could spike or dump at a moment's notice.
On the other hand, if a VC who seeded the project with capital dumps their holdings, the price could also tank. While this is good for users of their services, this would be bad for $CGPT stakers. The total supply of $CGPT is one billion, the current circulating supply is 112 million, and the amount sold in private funding is about 160 million. However, the private holdings are locked, with a consistent release schedule over time.
Invest responsibly
While investing can have many benefits, there are also inherent risks associated with investing. Investors should keep in mind that they should never spend more than they can comfortably afford to lose.
Furthermore, when it comes to making investment decisions, you should always consider your personal goals and financial obligations. Do your own due diligence and research regarding any investments.
Moreover, artificial intelligence (AI) may be associated with with risks that have yet to be discovered. Users should exercise caution when using AI. This review does not attest to the proficiency of the ChainGPT platform; it is for informational and entertainment purposes only.
ChainGPT review: A powerful novelty platform
When using ChainGPT, several things become clear. The AI model is powerful, especially the smart contract auditor and generator. Although, the code auditor is limited by its scope. However, this ChainGPT review finds that the native token does present some concerns from a user perspective. Interested parties should take careful consideration when using both the native token and the smart contract auditing tool.
All in all, developers can certainly use this nifty platform to support both the building and auditing of DApps. However, it should not yet be relied upon as a replacement for understanding code or as a substitute for any sort of technical ability at this stage.
Frequently asked questions
What is the use of ChainGPT?
What can I trade on ChainGPT?
In which regions is ChainGPT available?
Does ChainGPT have a mobile app?
Does ChainGPT offer any special offers or bonuses?
Does ChainGPT have good customer support?
Disclaimer
In line with the Trust Project guidelines, the educational content on this website is offered in good faith and for general information purposes only. BeInCrypto prioritizes providing high-quality information, taking the time to research and create informative content for readers. While partners may reward the company with commissions for placements in articles, these commissions do not influence the unbiased, honest, and helpful content creation process. Any action taken by the reader based on this information is strictly at their own risk.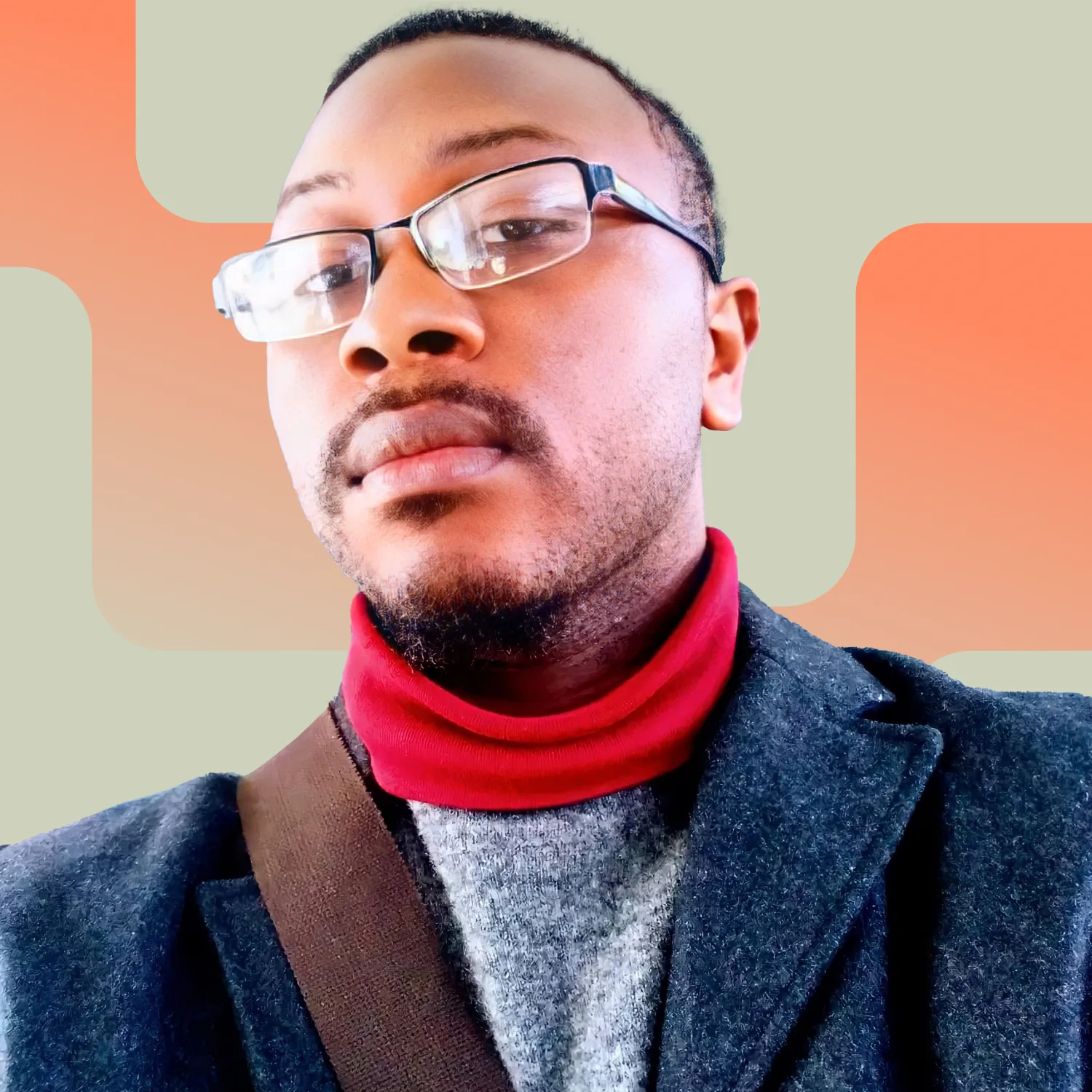 Ryan Glenn is a journalist, writer, and author. Ryan is motivated to educate as many people as possible on the benefits of web3 and cryptocurrency. He has authored "The Best Book...
Ryan Glenn is a journalist, writer, and author. Ryan is motivated to educate as many people as possible on the benefits of web3 and cryptocurrency. He has authored "The Best Book...
READ FULL BIO
Sponsored Sponsored