They say a picture is worth a thousand words. However, with DALL-E 2, you don't need a thousand words! Just express your artistic ideas in a few, and the AI art generator will produce high-quality and professional-looking images in seconds. It's little wonder this image generator has people talking. If you are interested in trying it out, this step-by-step guide explains how to use DALL-E 2. Is this the future of art? It's clear that AI-generated art will never replace human-driven creativity. However, the ease with which we used DALL-E 2 with success indicates artificial intelligence will surely become more prominent in the art world. So let's take a look at how to use this innovative generator.
Believe that AI is our future? Join BeInCrypto Trading Community of crypto-lovers on Telegram: learn more about the currency of the future and decentralized systems, start trading with our FREE Trading Basics course and discuss coin trends with PRO traders! Join now
What is DALL-E 2?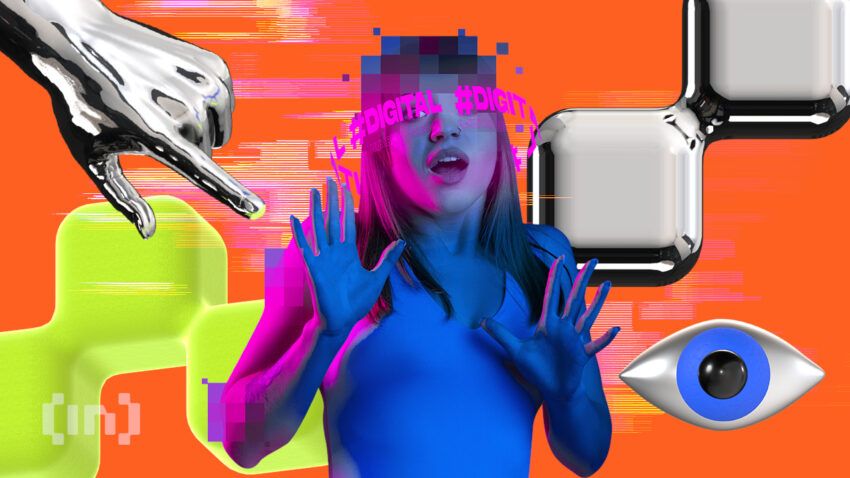 DALL-E 2 is a neural network algorithm developed by OpenAI. The program can create a picture based on a short phrase or sentence you provide. For example, we asked Dall-E 2 to create an image of a dog riding a motorbike in space. This was the result.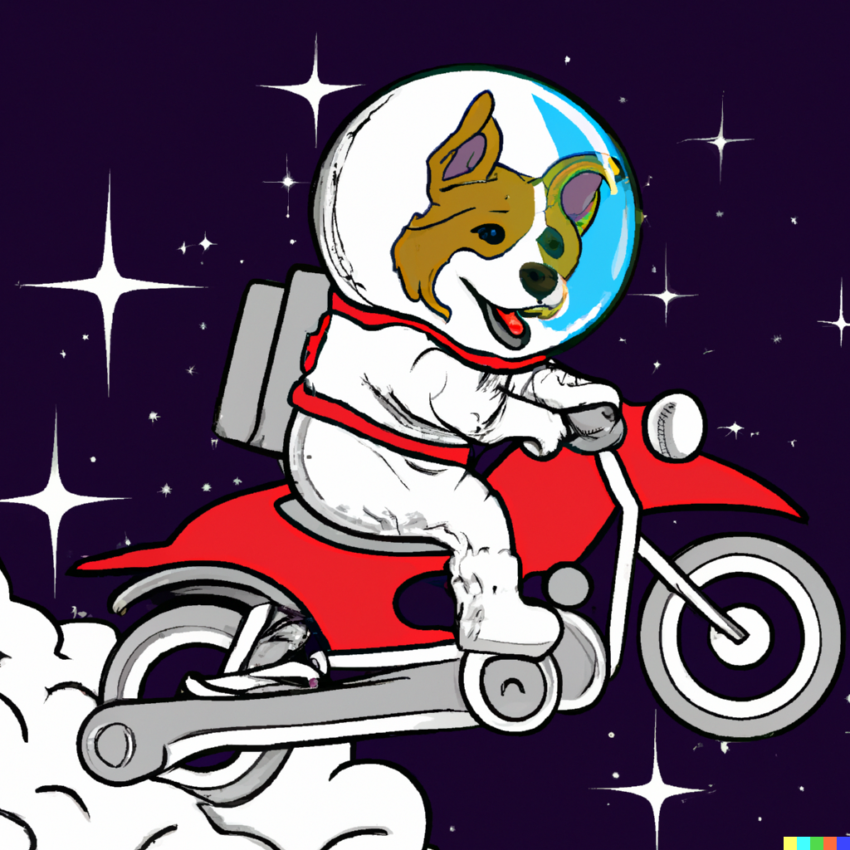 You can be more creative and detailed than that for better results, but we opted to keep it simple!
OpenAI first unveiled the program in April 2022 before making it available to the public in September. The company developed DALL-E 2 by training it with a huge collection of images with captions. Using the program is not much different from searching for an image online. You just type in a short sentence into a text box to receive your images. There is a key difference, however. DALL-E 2 creates brand-new images using machine learning rather than finding existing images on the internet.
How to use DALL-E 2?
Step 1
Visit the DALL-E 2 website and click Sign Up. The easiest, one-click option is to sign up via a Google/Microsoft account. Or alternatively, you could also sign up using any other email and a strong password. The process requires two-factor authentication, so make sure you have your phone with you.
Note that if you already have an OpenAI account, you can skip this part and simply log in using your credentials.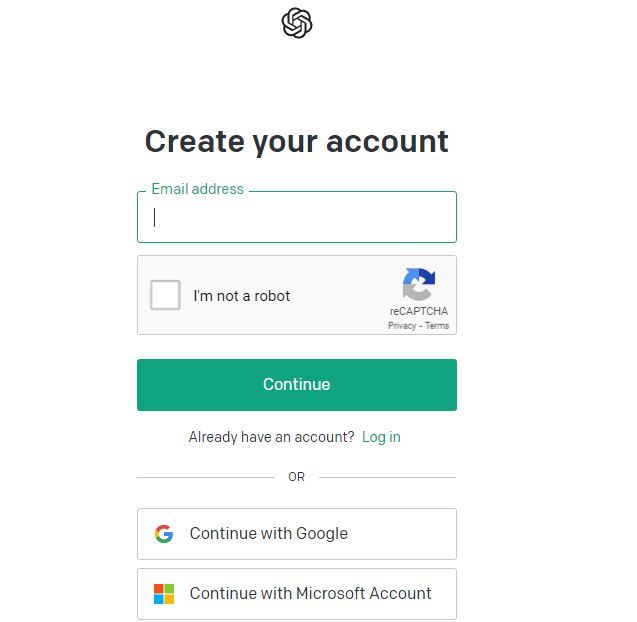 Step 2
Once the signup process is complete, you will be greeted with a welcome message. OpenAI will briefly overview what you can do with the program. Once you're done reading, hit the Continue button.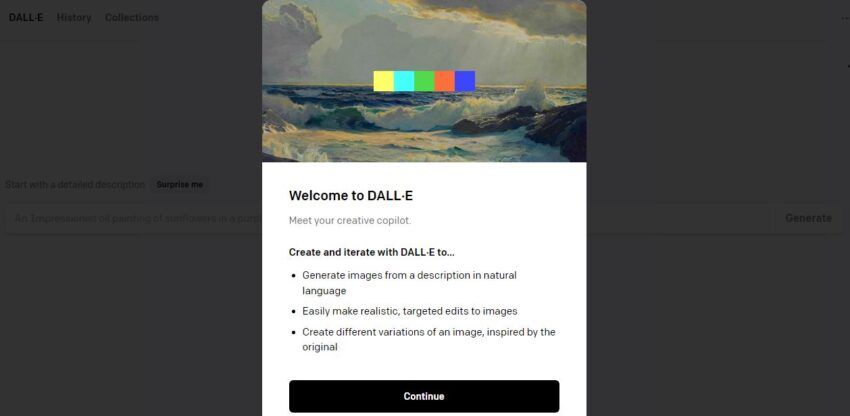 Step 3
Now, the program will give you a quick walkthrough of its "credits" system.
Note that DALL-E is not entirely free. It has a "credits" system that limits how much you can use the program for free. Users receive 50 free credits upon signing up and then 15 free credits per month.
Each credit buys you one DALL-E 2 request, meaning each set of images you generate using the program costs one credit. Users can generate four new images per request. And if you run out of free credits, you could always buy more. As of the time of writing, you can buy 115 credits for $15.
Unused paid credits roll over month-to-month, whereas unused free credits do not. All rolled-over credits remain valid for up to 12 months from the date of purchase.
Step 4
There are multiple options on the home screen to try out. For instance, you can hit the Surprise Me button. The program will then auto-generate a description to demonstrate how to phrase your requests carefully. You can also upload an existing image and ask the program to edit it based on your instructions.
Or, you could type in a description to create new images. DALL-E lets you use up to 400 characters to describe what you want. Take your time and think carefully. Sometimes, simply altering a couple of words here and there can make a world of difference. Also, feel free to experiment with different artistic imagery, such as digital art, portrait, 3d renders, and sketches.
The program creates four images per request. For instance, in the example above (dog riding a motorbike in space), we generated the following four images, each with its own distinct style.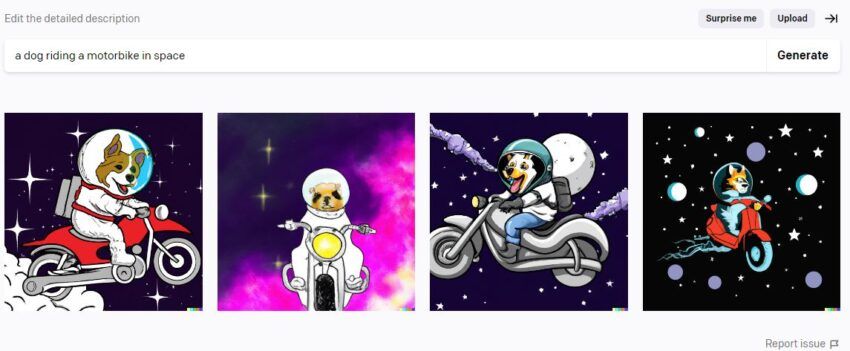 Step 5
You can click on each of these four images to do some basic editing, such as adding borders or erasing some parts. Or alternatively, you could also ask DALL-E to create different variations of that image.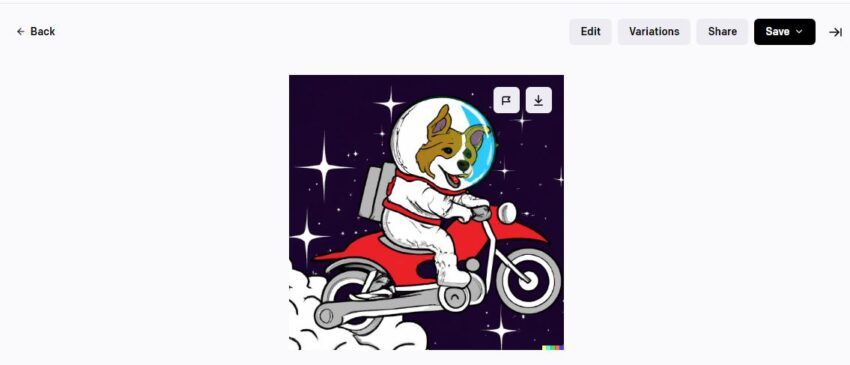 Note that creating a variation of an already generated image will cost you extra credit.

Have a go at this easy-to-use AI art generator
As this guide has shown, the program is really easy to use. It is particularly handy for visual storytellers — or for that matter, anyone with an artistically inclined mind. You could also use it for college projects or art assignments if and when allowed. The generator does what it says on the tin: creates AI-generated art with minimal effort or human input. We have a feeling that this is just the beginning. We'll likely see lots more from OpenAI and image generators like DALL-E 2 before long.
Frequently asked questions
Can you use DALL-E 2 for free?
Is DALL-E 2 available to the public?
How do I get access to DALL-E 2?
Disclaimer
In line with the Trust Project guidelines, the educational content on this website is offered in good faith and for general information purposes only. BeInCrypto prioritizes providing high-quality information, taking the time to research and create informative content for readers. While partners may reward the company with commissions for placements in articles, these commissions do not influence the unbiased, honest, and helpful content creation process. Any action taken by the reader based on this information is strictly at their own risk.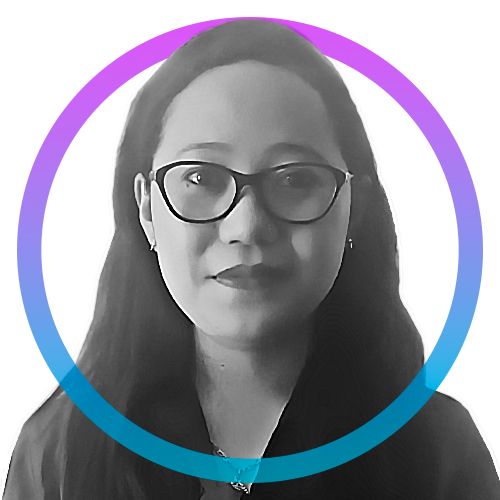 Shilpa is a freelance tech writer and journalist who is deeply passionate about artificial intelligence and pro-freedom technologies such as distributed ledgers and...
Shilpa is a freelance tech writer and journalist who is deeply passionate about artificial intelligence and pro-freedom technologies such as distributed ledgers and...
READ FULL BIO
Sponsored Sponsored