In the world of crypto, many tools cater to traders. Increasingly, these tools are powered by artificial intelligence. Bitsgap is a leading platform in this field, offering automated/ AI-driven trading bots to help supercharge trading performance. But is it as good as it sounds? Whether you are a seasoned trader seeking advanced tools or a newcomer looking to explore the world of cryptocurrency trading, this Bitsgap review aims to provide valuable insights into Bitsgap's features, benefits, and any potential user considerations.
Who is this Bitsgap review for?
In theory, nothing is more ideal than a program that can make profitable trades on an investor's behalf. If you are interested in trading bots, this review should be of interest. Traders can be retail, institutional, or even algorithmic; this Bitsgap review is suitable for all of the above. Additionally, market makers or risk managers may benefit from the information presented in this article. These professions require some menial processes that are often automated, such as dollar cost averaging (DCA).
In short, keep reading if you are:
Retail, institutional, or algorithmic traders
Market makers
Risk managers
Anyone interested in the role of AI in crypto trading
Criteria used to evaluate the app/service
We primarily critique this platform based on the effectiveness and diversity of its trading features. Bitsgap will also be judged in comparison to its competitors. Because comparing similar platforms solely based on features can be difficult, we also evaluate Bitsgap based on customer service and user experience.
Lastly, we assess the platform's price and value for money. Particularly in a bear market, affordability is a big part of evaluating a platform.
What is Bitsgap?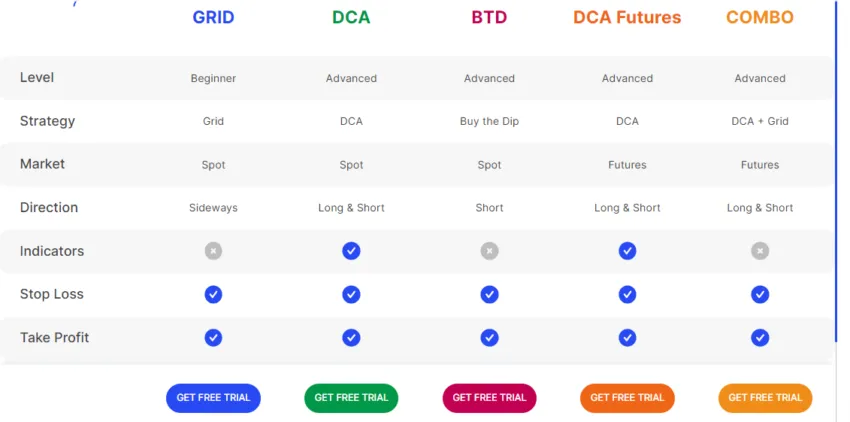 Bitsgap, founded by Max Kalmykov, is a platform tailor-made for crypto traders. One of its most notable characteristics is that it leverages AI-driven trading bots.
A trading bot, short for "trading robot," is a software program designed to streamline the process of buying and selling assets, such as crypto, stocks, or commodities, in financial markets.
In addition to its automated trading bots, Bitsgap doubles as a portfolio management platform of sorts. With it, you can aggregate all of your cryptocurrency exchange accounts under one roof.
Who is Bitsgap for?
Bitsgap is aimed at a diverse spectrum of cryptocurrency traders and investors. This platform can be a useful tool for those needing to automate their trading processes. For instance, day traders often employ trading bots to automate their rapid and frequent trading activities, executing buy and sell orders at optimal moments.
What types of trade work with bots?
Arbitrage bots exploit price differences across various exchanges, capitalizing on market inefficiencies. These types of trades are time-sensitive and require quick executions.
These quick trading activities conducted via bots can also be called high-frequency trading (HFT). Although, in crypto, we tend to call most forms of HFT by another popular name — MEV.
Searchers or trading bots do most of the MEV/ HFT in crypto. In the chart below, you can see how profitable MEV is in crypto.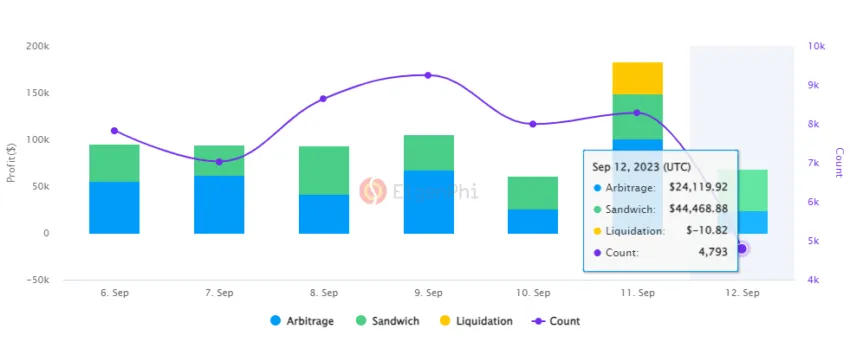 Institutional investors also deploy sophisticated trading bots to execute large orders with minimal market impact, ensuring more favorable execution prices.
Lastly, long-term investors may use trading bots to implement disciplined investment strategies, such as dollar-cost averaging, by automating periodic purchases of assets over time. In all, Bitsgap may appeal to a diverse yet niche set of serious traders.
How do you sign up for Bitsgap?
Signing up to Bitsgap is super simple.
1. First, go to the Bitsgap website and select "Sign up" in the top right corner.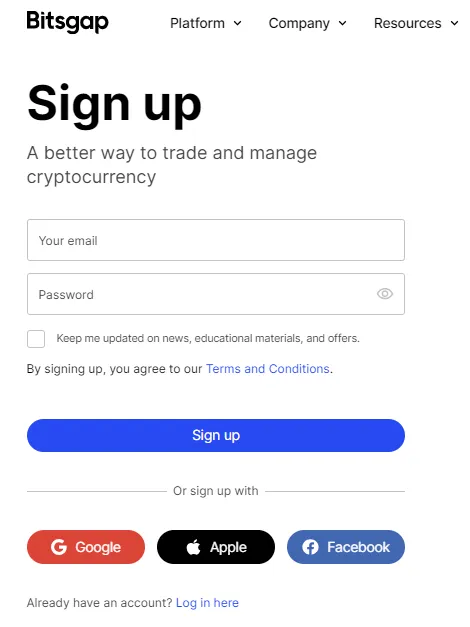 2. Next, enter your email and create a password. Check your email to confirm your registration.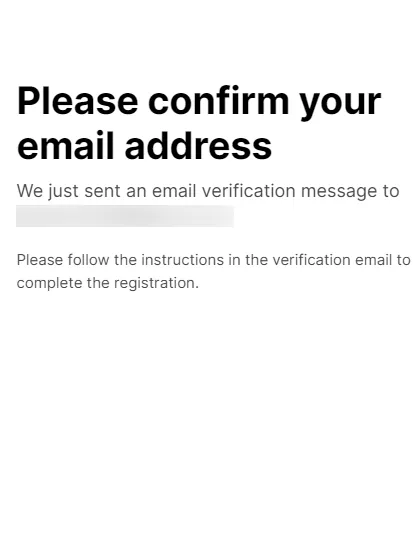 3. Once you confirm your registration, you will be brought to the page below. You will go through a quick onboarding tutorial, after which you can explore the platform.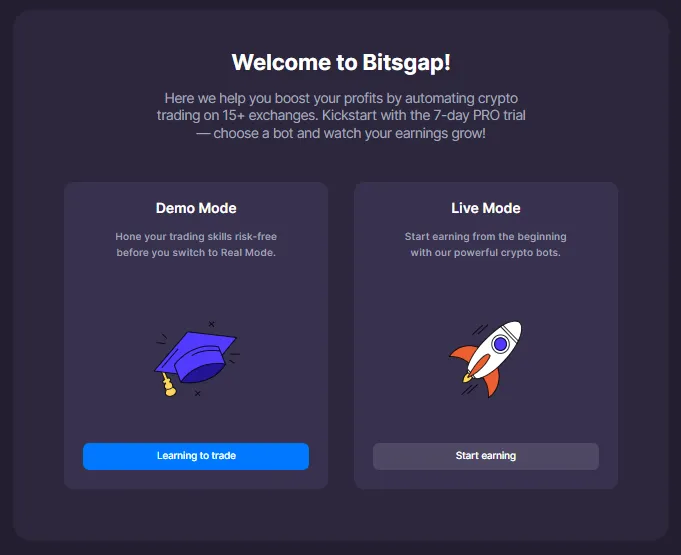 Bitsgap review: What are the key features?
Bitsgap offers a comprehensive trading platform — the features are designed to simplify the cryptocurrency trading experience. With Bitsgap, users can consolidate all their cryptocurrency exchange accounts into a single unified interface.
This means that traders can perform all the actions they would typically execute on their regular exchanges but with the added advantage of exclusive tools and features.
As a result, you can enjoy integrations with more than 10 major cryptocurrency exchanges, including renowned market leaders such as Binance, Kraken, Bitfinex, Poloniex, and Coinbase.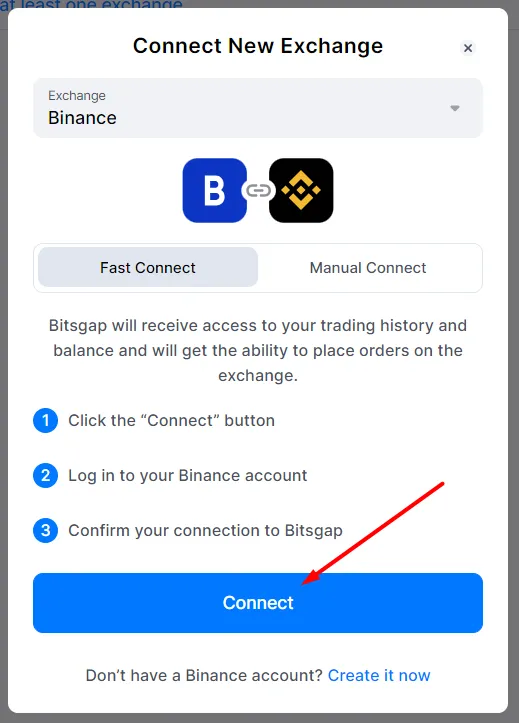 You will also have a suite of powerful trading tools that are not readily available elsewhere. Users can execute trades across all their linked exchanges from a single page, leveraging industry-leading tools like smart trade, stop-limit, and scaled orders.
Another compelling feature offered by Bitsgap is the utilization of automated bots. These bots allow traders to capitalize on every price movement in the market, generating profits even as market conditions fluctuate.
Lastly, Bitsgap goes beyond trading execution by providing users with a comprehensive portfolio tracking feature. With a live-generated portfolio, traders can gain valuable insights into their funds' performance.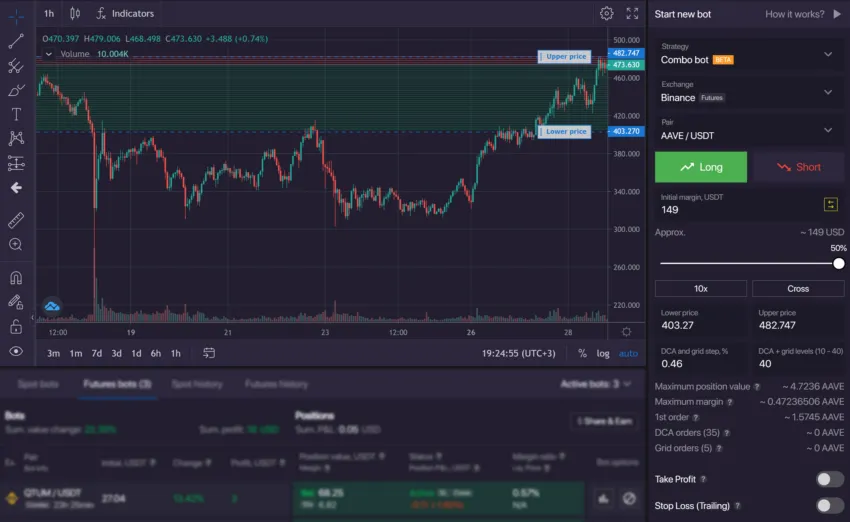 The platform boasts:
Wide exchange support: Access more than 15 supported cryptocurrency exchanges, allowing you to integrate your wallets across multiple platforms.
Demo practice mode: Hone your trading skills risk-free with a demo practice mode that simulates real market conditions without using actual funds.
Automated portfolio management: Fully automatic portfolio management lets you track your investments effortlessly.
Multi-exchange trading terminal: Trade across multiple exchanges using a unified trading terminal, streamlining your trading activities.
Smart algorithmic orders: Employ intelligent algorithmic orders to execute trades precisely and optimize your strategies.
Pre-made trading bot strategies: Benefit from pre-made trading bot strategies that simplify decision-making and enhance trading efficiency.
Extensive TradingView indicators: Utilize over 175 TradingView indicators to perform in-depth technical analysis and make informed trading decisions.
Cloud trading 24/7/365: Trade in the cloud, ensuring 24/7/365 access to the markets from anywhere with an internet connection.
Responsive support: Receive support via email and live chat to assist with any queries or issues.
Desktop app: Access the platform on desktop devices for trading flexibility and convenience.
Pros and cons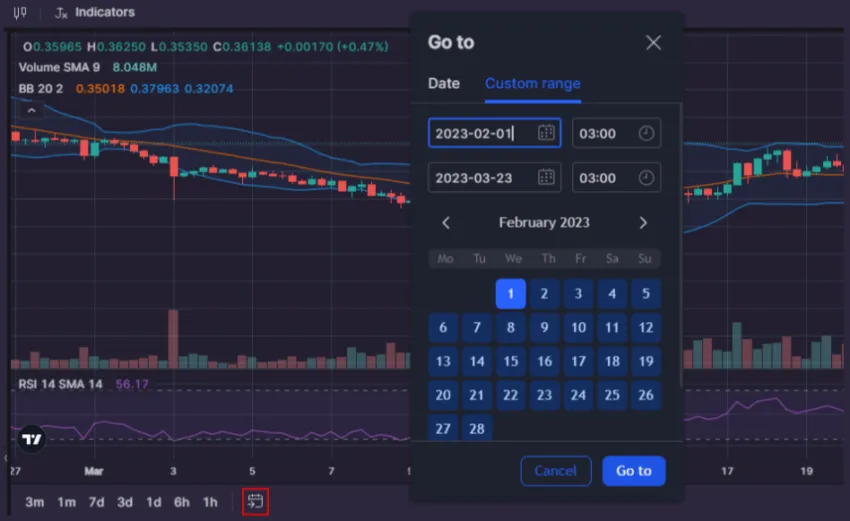 Let's dive into the advantages and potential limitations of Bitsgap. From trading tools to exchange integration and data security measures, here's why Bitsgap stands out and where the platform can improve.
Pros
Responsive customer support: User reviews indicate that Bitsgap's customer support is highly responsive and helpful, providing prompt assistance when needed.
Effective bot management: Bitsgap equips traders with signals to manage their trading bots, enhancing their decision-making process.
Variety of bot options: The platform offers a diverse selection of active trading bots, including Grid bots and bots, accommodating a wide range of trading strategies and preferences.
Demo practice mode: The availability of a risk-free demo practice mode allows traders, including beginners, to hone their skills and test strategies before using real funds.
Exchange integration: Bitsgap integrates with multiple major cryptocurrency exchanges, providing traders with easy access to a variety of markets and liquidity.
High-level data security: Bitsgap employs 2048-bit RSA encryption to ensure the safety and security of user data.
Cons
No mobile app: Bitsgap offers a web app but has not expanded to mobile.
Pricing: While not necessarily expensive, some users may find Bitsgap's pricing on the higher end, especially compared to other platforms.
Comparison with other similar platforms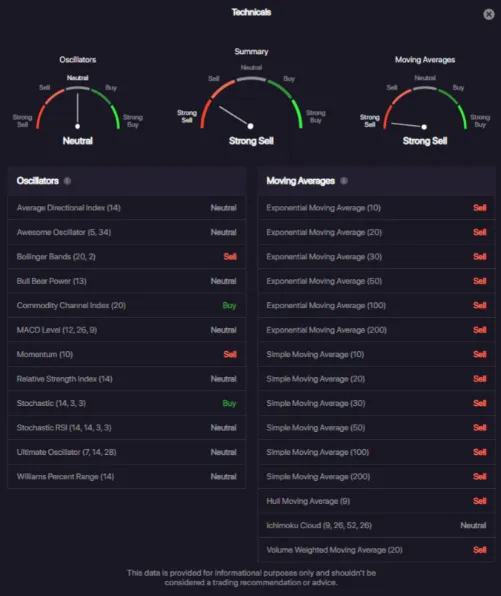 When examining competitors, such as CryptoHero, HaasOnline, and CoinRule, it's apparent that Bitsgap offers a compelling package. However, each platform has its unique strengths also.
As far as pricing goes, Bitsgap is slightly on the higher end. However, this does not necessarily mean that it is overly expensive.
To continue, Bitsgap stands out with support for an impressive 1000+ assets and 10+ multi-exchange integration, making it suitable for advanced traders looking for extensive asset coverage.
The platform's asset support is far above even the second-best competitor, HaasOnline, which only supports 800 assets. Coinrule and CryptoHero, on the other hand, provide a free pricing tier and mobile apps, which may be appealing to cost-conscious traders seeking mobile accessibility.
Platform
Pricing
App
Exchange integration
Supported assets
Demo/ paper trading
Bitsgap
$23/month,
$55/month,
$119/month
Web
Yes
1,000+
Yes
CryptoHero
Free,
$13.99/month,
$29.99/month
Android/iOS, PC
Yes
175+
Yes
HaasOnline
$7.50/month,
$40.83/month,
$82.50/month
No
Yes
800+
Yes
Coinrule
Free,
$29.99/month,
$59.99/month,
$449.99/month
Android
Yes
80+
Yes
Fees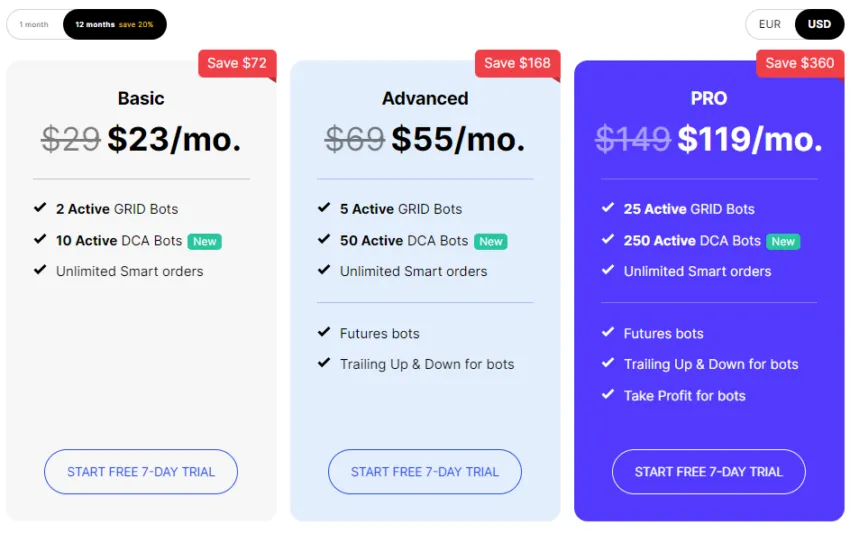 To access the Bitsgap service, users can opt for one of three subscription plans designed to accommodate various trading needs. The first tier, priced at $23 per month, provides users with 2 GRID Bots, 10 DCA Bots, and unlimited smart orders.
Stepping up to the $55 per month subscription unlocks additional features, including 5 GRID Bots, 50 DCA Bots, unlimited smart orders, futures bots, and trailing up & down options for bots.
For the most comprehensive toolkit, the $119 per month plan offers 25 GRID Bots, 250 DCA Bots, unlimited smart orders, futures bots, trailing up & down options for bots, and the capability to implement take-profit strategies for bots.
It's worth noting that while Bitsgap does not charge trading fees, traders should be aware that standard exchange trading fees still apply when executing trades on integrated exchanges. However, Bitsgap itself does not impose any additional commissions on trades, ensuring clarity and cost-effectiveness for users.
Customer support
Overall, the platform's customer support appears highly regarded and has received positive feedback from users. Bitsgap reviews consistently mention responsive and prompt assistance from the support team, indicating a strong commitment to addressing user concerns and inquiries. Users have highlighted the helpfulness of the support team when facing issues with their accounts, such as login problems.
Additionally, the availability of educational resources, such as courses for beginners, demonstrates the platform's aim to provide comprehensive support for users looking to enhance their cryptocurrency trading knowledge.
User experience

In all, we found the platform to be easy to use, even for beginners in cryptocurrency trading. Reviews of the platform indicate the same, with some users even mentioning the bots as profitable.
Moreover, the community spirit fostered by Bitsgap's responsiveness contributes to the platform's positive reputation among traders.
BeInCrypto rating
Overall, Bitsgap offers a solid user experience and a wealth of decent trading features. Coupled with strong customer support (the part that often lets down such platforms), we've scored Bitsgap highly among all key criteria.
| | | | | | | |
| --- | --- | --- | --- | --- | --- | --- |
| Criteria | User experience | Customer support | Compared to competitors | Fees | Features | BeInCrypto score |
| Score | 5/5 | 5/5 | 4/5 | 4/5 | 4/5 | 4.4 |
Bitsgap review: A platform with the edge
Overall, this Bitsgap review finds the crypto trading platform to be impressive. While the pricing structure is slightly on the higher end, the platform's features and capabilities justify the investment for traders seeking a competitive edge.
Additionally, the amount of features and diversity of trading bots that the platform offers is nothing to sneeze at. Yet the products and features are simply one side of the Bitsgap story. It is the reception of the platform's customers that is truly impressive. While we can critique infinitum the pricing of this platform versus others, customer satisfaction truly determines a business's worth, especially in the often less-than-trustworthy world of crypto and web3.
Frequently asked questions
How does Bitsgap make money?
What is better than Bitsgap?
What is the profit of Bitsgap?
How much does it cost to start Bitsgap?
Can trading bots make you money?
Can you withdraw from Bitsgap?
What can I trade on Bitsgap?
In which regions Bitsgap is available?
Does Bitsgap have a mobile app?
Does Bitsgap offer any special offers or bonuses?
Does Bitsgap have good customer support?
Disclaimer
In line with the Trust Project guidelines, the educational content on this website is offered in good faith and for general information purposes only. BeInCrypto prioritizes providing high-quality information, taking the time to research and create informative content for readers. While partners may reward the company with commissions for placements in articles, these commissions do not influence the unbiased, honest, and helpful content creation process. Any action taken by the reader based on this information is strictly at their own risk.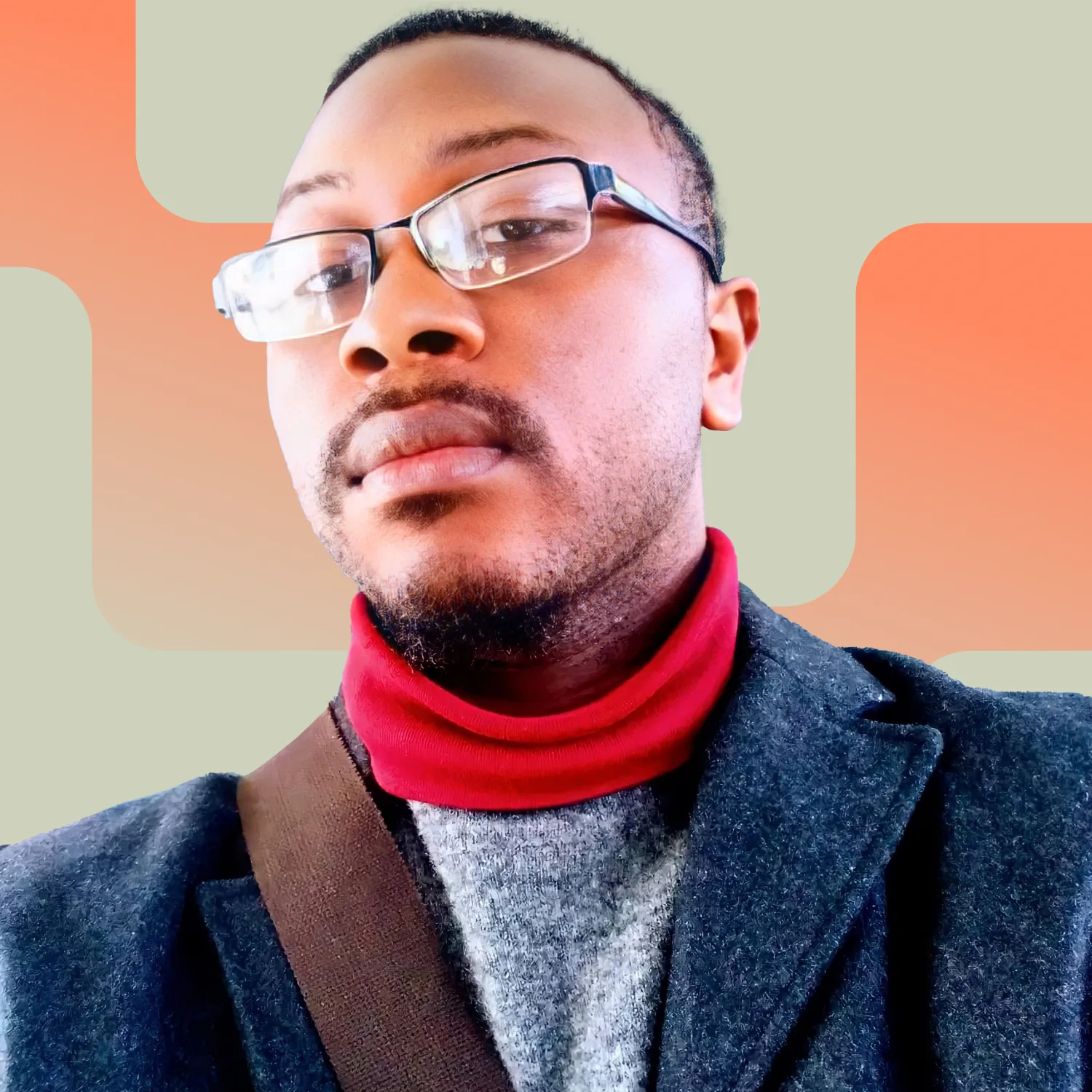 Ryan Glenn is a journalist, writer, and author. Ryan is motivated to educate as many people as possible on the benefits of web3 and cryptocurrency. He has authored "The Best Book...
Ryan Glenn is a journalist, writer, and author. Ryan is motivated to educate as many people as possible on the benefits of web3 and cryptocurrency. He has authored "The Best Book...
READ FULL BIO
Sponsored Sponsored