What's the best crypto portfolio tracker for you? With the ever-expanding crypto platforms and sheer number of digital assets, having the right tools at your fingertips is essential. We've put together a comprehensive list of the best crypto portfolio trackers and management apps for crypto investors.
These nifty platforms tackle some of the most significant challenges in managing your digital wealth. Some of the most popular features include keeping track of multiple wallets and navigating various exchanges. Some platforms provide even more info and allow you to stay up-to-date on market trends. Curious about which tracker will suit your needs perfectly? Keep reading as we dive into each platform's details, helping you decide on the best crypto portfolio tracker for you.
BeInCrypto Trading Community in Telegram: read reviews on the best crypto investment tools, discuss crypto projects, read technical analysis on coins & get answers to all your questions from PRO traders & experts!
What are the best crypto portfolio trackers?
Debuting in 2017, Delta rapidly attracted one million users within its first year. Since then, its developers have consistently introduced new features and streamlined the process of monitoring one's cryptocurrency portfolio.
Delta sets itself apart by enabling users to track not only their crypto investments but also their entire portfolio across various markets. This crypto portfolio management app supports over 300 crypto exchanges and more than 5,000 distinct crypto assets while allowing users to monitor their stock, currency, futures, ETF, mutual fund, and other market holdings.
This comprehensive tracking feature proves invaluable for many investors, as it is quite uncommon for someone to invest solely in cryptocurrencies without exposure to traditional financial instruments.
Furthermore, Delta's high level of customization enables users to focus on specific assets and disregard the market segments they generally avoid. As such, Delta can be tailored as a crypto-only app if desired.
A key advantage of Delta lies in the extensive features offered in its free version, which includes connecting up to two exchanges and wallets. While some crypto portfolio trackers require a paid subscription for such capabilities, Delta offers more functionality without additional cost.
CoinTracking
Cryptocurrency tax reporting tool and portfolio manager
CoinTracking is not only one of the top crypto portfolio trackers but also a dependable crypto tax software that allows users to analyze their trades and generate real-time tax reports.
Supporting over 24,000 coins and assets, it provides 25+ customizable crypto reports, 12 tax methods, and tax and capital gains reports for over 100 countries, along with round-the-clock professional support. The platform primarily targets advanced and professional traders, as well as businesses.
CoinTracking offers four distinct packages, including a Free Account that covers up to 200 transactions at no cost. The platform accepts payment in bitcoin and over 50 altcoins.
The software is compatible with more than 75 exchanges and 20 wallets, delivering 25 customizable crypto reports and interactive charts for trades and coins.
Available on both Android and iOS, CoinTracking provides professional assistance and features four plans: Free, Pro, Expert, and Unlimited, accommodating nine payment methods.
CoinTracking ensures security through comprehensive data protection, API encryption, and two-factor authentication. It also integrates seamlessly with TurboTax for a hassle-free tax filing experience.
– Transaction tracking 200 (If the limit is exceeded, you cannot enter any new transactions. However, you can sum up transactions with the same timestamp (or delete transactions) to create new space.)
– Manual Exchange Import (CSV) – up to 5 MB per CSV file
– Two manual blockchain transaction imports for any public key
– Tax & capital gains reporting limited to 100 entries
– Transactions and raptors exports (CSV, XLS, PDF, HTML)
– Two portfolio backup
– Limited accounts
Koinly
Cryptocurrency tax software and portfolio manager
Mobile app
Browser and Android app


Koinly is an excellent choice for a tax and portfolio app due to its wide range of features and functionalities. With automated crypto tax reporting, Koinly simplifies the process of managing your crypto taxes. It seamlessly integrates with over 400 crypto exchanges and wallets, allowing real-time tracking of transactions and monitoring of gains and losses. That's why we believe it is one of the top crypto portfolio management apps.
Koinly generates tax reports for over 100 countries, including the U.S., U.K., Canada, and Australia. It supports various accounting methods, such as FIFO, LIFO, Highest Cost, Average Cost Basis, and more, catering to users' specific needs. Comprehensive reporting of taxable events, including trades, transfers, airdrops, forks, DeFi income, and mining, ensures thorough tax compliance.
For added convenience, Koinly integrates with popular tax software like TurboTax and TaxAct. The platform's ability to import data from CSV and Excel files further enhances its versatility. Additionally, Koinly offers cryptocurrency portfolio tracking and analytics, helping users keep an eye on their investments.
Support for tax formats like Form 8949 and the capability to populate figures for Schedule D make Koinly a comprehensive solution for crypto tax reporting. It also distinguishes income from various sources, such as staking, mining, and lending, enabling accurate tax calculations.
Koinly is ideal for international traders and users with moderate trading volumes. Its free version provides a tax overview, but report generation requires payment. The software is compatible with all popular DeFi protocols and automatically imports NFT trades for EVM-based blockchains like ETH, Polygon, BSC, and Chronos.
While Solana and other less popular chains await automatic support, users can manually add their NFT trades. In comparison to its competitors, Koinly excels in supporting other countries but falls short in tax-loss harvesting capabilities.
– 10,000 transactions (you can buy additional transactions in the app)
– Unlimited wallet and exchange accounts
– Portfolio tracking
– Capital gains preview
– DeFi, margin trades and futures
– FIFO, LIFO, Average Cost & more
– Wallet-based cost tracking (Spec ID)
– Avalanche trades (group orders for the same trade to minimize number of transactions)
– Smart transfer matching (automate transaction matching to pay less in taxes)
– Exchange & transaction fee tracking
– CSV file import
– Migrate from Cointracking, Cointracker
– Email support
CoinStats
Portfolio manager platform
CoinStats is a powerful and user-friendly portfolio tracker and manager, enabling investors to monitor their portfolio's performance across various centralized and decentralized platforms. This is a crypto portfolio management app with a comprehensive dashboard that streamlines asset management by eliminating the need to visit multiple websites.
By linking accounts to CoinStats, customers can set up instant portfolio notifications and analyze the performance of specific assets or wallets. Some supported exchanges even allow direct trading of digital currencies from the CoinStats landing page.
With over 1 million active monthly users, the platform primarily functions as a portfolio tracker. To thrive in this space, CoinStats supports integration with over 400 wallets and exchanges, including Coinbase Pro, Binance, CoinSpot, Trust Wallet, and cold hardware wallets like Ledger Nano. However, direct integration with CoinStats is possible for around 70 apps, while manual portfolios can be added for other platforms. The platform is particularly compatible with the Ethereum ecosystem, ERC-20 tokens, and decentralized apps (DApps).
CoinStats' dashboard allows users to view their entire portfolio performance instantly and analyze specific holdings' trends. For instance, users can compare the earnings of their staked digital currencies to those held in a crypto savings account.
Uniquely, CoinStats offers users the opportunity to participate in DeFi liquidity mining. To simplify the process, especially for beginners, CoinStats automatically navigates through supported platforms, including M-Stable Polygon, M-Stable, Yearn Finance, and Lido.
CoinStats' earning product presents a convenient option for users seeking a straightforward way to generate passive income.
– 10 connected portfolios
– 1,000 transactions per month
– NFT management
– Option to buy crypto through third-party exchanges
Kubera
Portfolio management tool
Kubera is well-suited for individuals with various asset classes to manage. While numerous software applications enable connections to bank and investment accounts, Kubera automatically updates your home's value and connects to major cryptocurrency wallets for real-time asset valuation.
Moreover, Kubera is an excellent choice for those who wish to securely pass on essential documents to others. It is designed for individuals with more complex financial situations who may require assistance in managing their assets. Kubera simplifies information sharing with your financial management team or your power of attorney holder.
Kubera connects to major crypto wallets and exchanges, allowing you to incorporate DeFi assets into your net worth. This feature is especially useful for those new to buying cryptocurrency, as it helps keep track of tokens.
Unlike many net worth trackers and personal finance apps, Kubera provides secure storage for crucial information like account passwords and important documents. The automatic transfer of information when you're inactive adds another layer of convenience.
Kubera connects with over 20,000 financial institutions worldwide, displaying the value of connected accounts in your preferred currency for a more accurate understanding of your available resources.
Kubera doesn't offer a free plan. However, you can test the personal plan for only $1 for 14 days. After that, it will cost $150 per year.
Coin Tracker
Cryptocurrency tax and portfolio software
Cointracker is redefining one-dimensional apps by becoming a top portfolio and tax manager application.
The tool features an automatic import from exchanges and presents a unified dashboard that displays comprehensive information about a user's crypto assets. The dashboard showcases real-time token prices, historical data, deposits, withdrawals, market caps, and concisely illustrates the user's portfolio performance.
Cointracker.io is known for its unmatched features, such as historical data, market caps, price tracking, and more. It offers accounting, fintech, blockchain, digital currencies, and other financial services to users worldwide. Currently, the platform supports over 500,000 users and tracks over 2,500 crypto coins, including bitcoin, ethereum, ripple, litecoin, binance coin, and many others.
Additionally, Cointracker excels at reading CSV import files, allowing users to import and export CSV files to other devices. A free account is available for managing up to 200 trades, but upgrading is required to access all features. Key Cointracker features include wallet tracking, multiple cost basis methods, auto wallet sync, tax form generations, fee tracking, trade reports and investment performance.
– Up to 10,000 transactions
– Auto sync with unlimited exchanges and wallets
– Cost basis methods
– Transaction history and capital gains CVS downloads
– DeFi functionality
Coinigy
Multi-exchange trading platform
Coinigy is a top global digital asset exchange service in the financial market, enabling traders to execute trades across multiple exchanges and customize trading strategies using over 130 technical indicators. Coinigy allows transaction history imports and generates crypto tax reports for investors and traders, which can be shared with tax professionals.
Coinigy supports more than 5,000 digital assets and forex trading pairs, providing access to various global financial markets.
Featuring a simple, well-organized interface, traders can access multiple exchanges on a single platform. The variety of accounts and order types allows users to select the best combination for their needs, with unlimited trading and additional features. New users can subscribe to copy trading signals for Bitmex and Binance.
As a promising startup, Coinigy offers 24/7 live chat support and a knowledge base for beginners entering the crypto world. Coinigy stands out as one of the best cryptocurrency trading platforms, providing complete access to multiple exchanges, including Binance, Bitfinex, Bitstamp, Coinbase and more. Its ability to connect with over 45 crypto exchanges enables users to access real-time spot trading, margin trading, copy trading, price data, arbitrage trading opportunities, and aggregation tools.
The platform also features advanced anti-theft device technology, enabling users to monitor their crypto wallets and conduct portfolio tracking from a single location. Coinigy is highly transparent, with no additional fees charged to users, although a small subscription fee may apply after the trial period.
– Unlimited, no-added-fee trading
– HD charting w/75+ technical indicators
– 24/7 automatic portfolio monitoring
– 24/7/365 security & stability
– Mobile app access
– Email support
Cova is a convenient tool for tracking assets. Users can synchronize their bank accounts, investments, and apps to access balances and asset holdings in one location.
The register allows real-time tracking of over 150,000 global stocks and 8,000 crypto tickers, wallets, and exchanges. Cova's support for more than 11,000 financial institutions and major global crypto exchanges makes account linking easy.
Users can collaborate with a custom peer group, including financial planners, attorneys, and advisors, by granting them access to their portfolio for assistance in estate planning and other financial matters. Spouses can also be included in the collaboration, allowing users to share their net worth for loan applications.
Cova allows users to designate beneficiaries and activate the Lifechecker setting. Users receive emails prompting them to click a link to verify their activity on Cova and confirm they are alive. If users fail to verify their status after a specified number of days, their portfolios are sent to their beneficiaries.
An additional safeguard can be set up by enabling a trusted helper to inform the recipient of the portfolio if they are unreachable. A trusted helper should act on the user's behalf and in the recipient's best interest.
In addition to traditional and digital asset tracking, Cova allows users to store documents securely in a vault, making it easier to manage scattered wills, notes, videos, and other media.
Manual assets tracking; no real-time updates.
Manual liabilities tracking; credit cards, loans, etc.
Assign a beneficiary to your portfolio
500MB storage space for vital documents
Manage portfolio beneficiaries; create a deadman's switch
No cryptocurrency exchange/wallet tracking
The Crypto App
Digital asset management platform
The Crypto App aims to rival well-established crypto portfolios tracking apps like Coinstats, Coinmarketcap, and Coingecko. Over the past two years, the company has made significant progress, amassing nearly half a million active users and more than 1.35 million downloads.
The Crypto App offers a crypto wallet supporting various cryptos. Users can receive, send, exchange, buy, sell, and withdraw multiple cryptocurrencies. The platform provides several BTC purchasing methods, including fiat and crypto-to-crypto options. Users can also directly buy BTC using MasterCard/Visa with 1%-2% fees.
Users can view and track their portfolios without opening the app through app widgets. They can also set up a range of widgets, such as price charts, portfolio returns, news, and market stats. Widgets can be customized to enhance user experience.
Public addresses can be connected to track wallet balances from the blockchain, including ERC20 and BEP20 tokens. Manual input is also available to track portfolios.
The Crypto App's "price alerts" feature ensures users don't miss significant price movements by sending reliable push notifications, even when the app is closed. Users can set price or percentage increase/decrease notifications and customize alerts with features such as repeat alerts, alert tones, notes, and announcements.
Users can also access the latest cryptocurrency news from over 100+ sources in seven languages, directly on the app.
– Two market metrics
– Token metrics
– Five wallet connections
– Three crypto exchange connections
– 100 real-time alerts
– Five currency converter pairs
AssetDash presents itself as an operating system but primarily functions as a crypto portfolio management app. Developed by privacy-focused traders, investors, and cybersecurity professionals, AssetDash allows users to access the platform anonymously by default.
The software can be accessed via AssetDash's web-based platform or its mobile app, allowing users to start using it on their preferred devices without sharing personal information. However, users will still need to input their financial account details to link and import information into the portfolio tracker software.
AssetDash primarily caters to multi-asset investors, NFT and cryptocurrency traders, and those who would typically need multiple tracking apps to monitor their positions. It also enables users to track stocks, mutual funds, and bank balances. AssetDash is particularly beneficial for traders and investors with crypto assets stored across various networks and blockchains, as well as NFT investments.
The platform supports hundreds of apps, covering different financial markets. Users can link their crypto exchange addresses, track NFTs and decentralized financial (DeFi) assets, and connect stock brokerage and bank accounts.
It tracks NEAR protocol, Ethereum (ETH), and Solana (SOL) NFTs, which typically require multiple portfolio trackers.
Decentralization, often considered a significant advantage for cryptocurrencies, can complicate digital asset tracking and potentially deter new retail crypto investors and traders. AssetDash addresses this issue by allowing real-time monitoring of all crypto investments. Users can track crypto assets on over 100 top custodial digital asset platforms, including popular options like Binance, Robinhood, and Coinbase, ensuring access to real-time data.
A standout feature of AssetDash is its free-to-use nature, which contributes to the remarkably high rating for customer pricing in this review. The absence of payment information requirements further enhances user anonymity while utilizing the software.
Altrady
All-in-one cryptocurrency trading software
As a trading terminal, Altrady enables users to access various markets from a single platform. By partnering with exchanges like Binance, Kraken, Coinbase, and Poloniex, Altrady streamlines the investing process. This integration grants access to countless crypto investment opportunities by allowing trading across any partnered market.
Users can simply choose an exchange, explore coins and tokens, track market movements, and monitor their investment progress directly through Altrady.
Traders often want to examine potential trading platforms and practice placing orders before opening an account. Altrady not only allows platform exploration but also offers a 24-hour demo without requiring email verification. Users can investigate supported coins and tokens, create sample alerts, learn about various order types, and more before deciding if Altrady suits their needs.
Altrady provides constantly updating charts, making it easier for users to monitor crypto movements and determine the right time to enter the market.
For those who need to keep an eye on their crypto account and market movements without constantly checking their phone or computer, Altrady's signal bot allows setting a wide array of customizable alerts for price changes, targets, market movements, and more. Users can receive notifications via email, push notifications, or direct desktop alerts.
Altrady's platform enables easy customization of charting tools and platforms to display only the most relevant cryptocurrencies or analysis methods. Widgets offer an additional layer of personalization, allowing users to drag and drop tools, charts, or screeners to tailor their trading strategy.
The platform only offers a 14-day free trial. After the trial, it costs €25 per month.
Why do you need a crypto portfolio tracker app?
A crypto portfolio tracker app is an indispensable tool for anyone investing in the ever-evolving world of digital assets. There are several reasons why you need one in your arsenal:
Diverse investment landscape. With the expansion of the crypto market, investors are now diversifying their portfolios across various cryptocurrencies. A tracker app allows you to manage and monitor all your holdings in one place, saving you time and effort.
Real-time data and analysis. Crypto markets are notorious for their volatility. A tracker app provides real-time updates on your investments. It gives you instant insights into your portfolio's performance and helps you make informed decisions.
Streamlined organization. Keeping track of multiple wallets and exchanges can be a daunting task. A portfolio tracker consolidates all your investments, offering a clear and organized view of your digital assets.
Alerts and notifications. A crypto portfolio tracker app allows for customized alerts and notifications. That way, you'll never miss an opportunity or critical market update.
Tax and regulatory compliance. With tax regulations around digital assets becoming more stringent, a tracker app can help you maintain accurate records. These are needed for tax filing purposes and to comply with the relevant authorities.
After all, more and more digital assets are created every year. As former CEO of Google, Eric Schmidt explained in a talk at the Computer History Museum in 2014:
"Bitcoin is a remarkable cryptographic achievement… The ability to create something which is not duplicable in the digital world has enormous value… Lots of people will build businesses on top of that."
Additionally, just by looking at the bitcoin dominance chart, you can see the dynamic nature of the crypto market.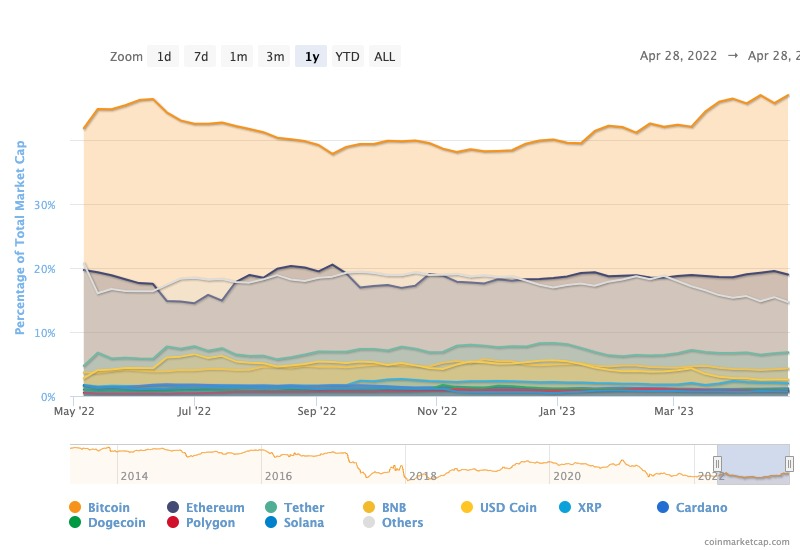 How to choose the best crypto portfolio tracker?
Selecting the best out of this list of crypto portfolio trackers is an essential step for both experienced and novice investors aiming to manage their digital assets effectively. However, it's not possible to choose one that will be the best for all investors out there.
With a variety of options available, each offering unique features, it's crucial to find a tool that aligns with your needs and preferences. When choosing a tracker, consider factors such as ease of use, compatibility with multiple exchanges and wallets, support for various cryptocurrencies, real-time data, and customizable alerts.
Additionally, prioritize privacy, security, and platform customization to enhance your overall experience. By carefully evaluating the top contenders we've discussed, you can find a crypto portfolio tracker that streamlines your investment process and helps you make informed decisions in the ever-evolving world of digital assets.
Frequently asked questions
What is the best tool for a crypto portfolio?
How do I manage my crypto portfolio?
How do I keep track of my crypto portfolio?
Is there a crypto portfolio manager?
Can Excel pull crypto prices?
Disclaimer
In line with the Trust Project guidelines, the educational content on this website is offered in good faith and for general information purposes only. BeInCrypto prioritizes providing high-quality information, taking the time to research and create informative content for readers. While partners may reward the company with commissions for placements in articles, these commissions do not influence the unbiased, honest, and helpful content creation process. Any action taken by the reader based on this information is strictly at their own risk.