Arbitrage trading is a great way to make money off the disparity in cryptocurrency prices across several crypto exchanges. This is because sometimes, opportunities arise when you're not always available to take advantage of them.
The best crypto trading bots for arbitrage will be able to seize these opportunities for transferring funds and maximizing your gains.
Understanding Crypto Arbitrage Bots
Trading cryptocurrencies is a profitable endeavor, but traders make profits in different ways. There are the Hodlers and the regular day-to-day traders, who buy low and sell high on an exchange. We also have experienced traders who engage in arbitrage trading.
At every point in time, several crypto exchanges have different prices for their trading pairs. This is so because exchanges are not connected. The buy and sell activity on a particular exchange determines the asset's price on that exchange. This is where crypto arbitrage traders make their profits.
For instance, Bitcoin could sell for $9,100 on Exchange A and sell for $9,200 on Exchange B. While the difference isn't so significant, a trader who has enough cash and can act swiftly could purchase Bitcoin on Exchange A and sell it on Exchange B.
That's a $100 gain – multiplied by the number of Bitcoin units that the trader was able to move, of course.
In the crypto space, there are several arbitrage opportunities available. The larger crypto exchanges provide higher liquidity levels, but the smaller exchanges also tend to buck the trends and prices that their larger counterparts set.
In the time taken for the smaller exchanges to get in line and comply with the larger exchanges' prices, quick-fingered traders can capitalize on the opportunity and make money.
The Best Crypto Arbitrage Bots
1. 3Commas
Website: www.3commas.com
With over 220,000 users and 18 supported exchanges, 3Commas is one of the more popular platforms for arbitrage crypto trading bots. It has a sleek and intuitive user interface and offers a series of other tools that make the whole investment experience simple. Besides arbitrage-focused crypto trading bots, it offers a lot else.
Other bots include those for options and dollar-cost averaging, so it covers quite a range of trading desires. It also features manual reading with Smart Trade, which allows for more trade efficiency. 3Commas is also available on both desktop and mobile devices. Many of the features are available on Android and iOS devices, though the desktop experience gives you much more power, like being able to carry out technical analysis of price charts on a big monitor.
However, the key selling point of 3Commas is that it has been designed as a central control console for traders to monitor all crypto activity. This includes every exchange they're using, letting them monitor all active bots and making individual trades using Smart Trade or the scalper terminal.
3Commas offers four plans, one of which is free. These are ranked in order as free, light, advanced, and pro. The latter comes with unlimited bots of all kinds, while the others have some limitations. The prices for the paid plans range from $15 to $74 monthly.
3Commas Pros
Various kinds of bots
Good portfolio management tool
Sleek design and interface
Cheaper paid plans are value for money
3Commas Cons
The free version has much less value
2. Bitsgap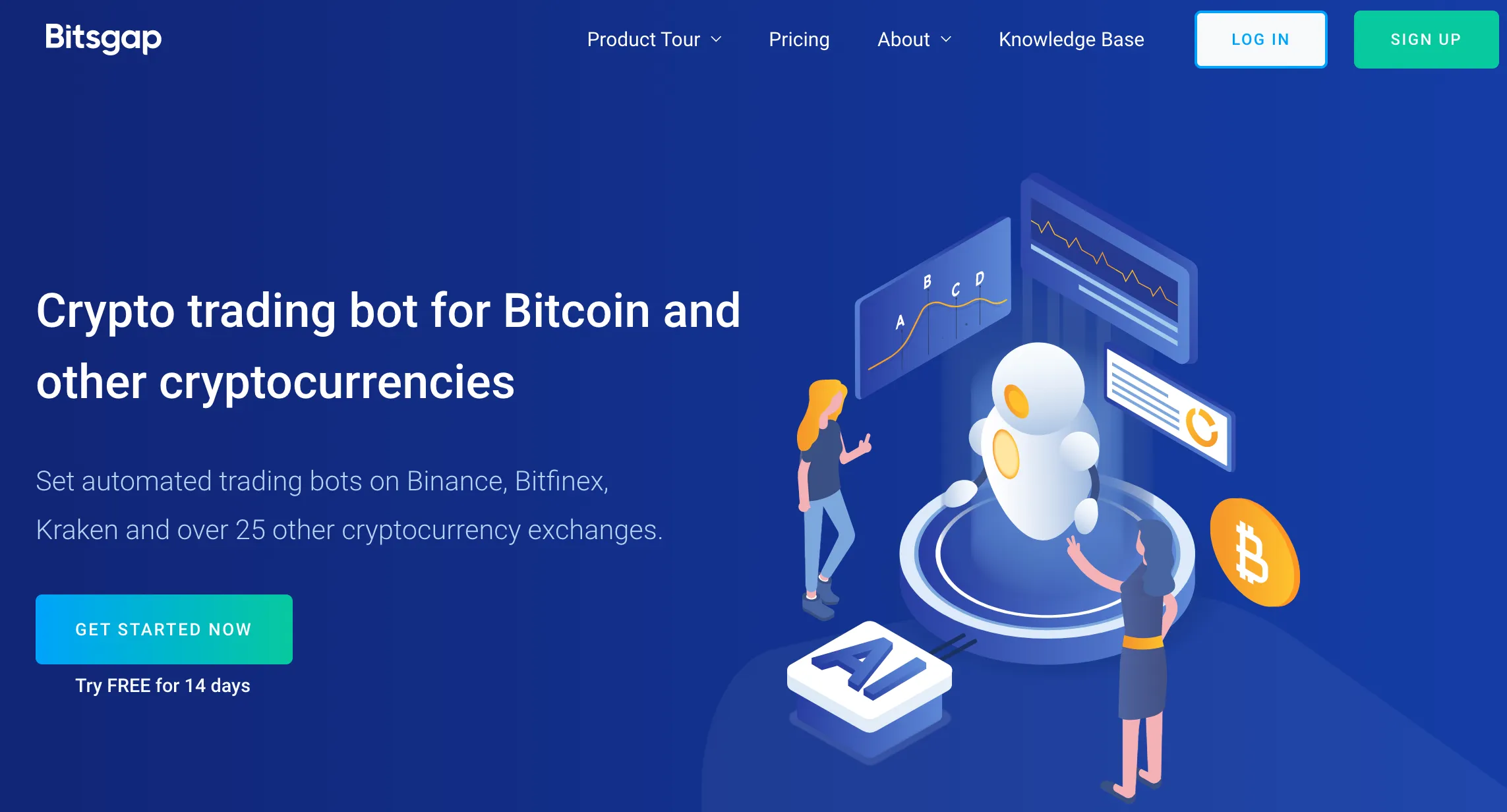 Bitsgap is a cross-exchange platform that allows you to connect several exchanges in one interface. The platform has been operating since 2018, and it has grown to be a leader as a crypto trading platform.
The bot allows users to connect to over 20 of the top crypto exchanges. It's an accessible and fast platform, with several tools, cryptocurrency trading pairs, and several other trading tools.
You also get an easy-to-follow setup guide that allows you to create your bot trading strategy in a few minutes. Several prepared strategies also exist.
The bot's charts are generated using TradingView, thus giving traders accurate, real-time insights into the crypto market at any point. This service is non-custodial. But, you have to deposit funds on the exchange of choice before adding it to your dashboard for trading. The platform supports popular cryptocurrency exchanges like Binance, Bitfinex, Kraken, Bitstamp, and others.
Bitsgap's other services include money management, trading tools, and portfolio tracking.
Bitsgap Pricing
Bitsgap comes in three pricing structures.
The basic plan: $29 per month
The advanced plan: $69 per month
The professional plan: $149 per month
Payments are billed in dollars and euros, no crypto payment allowed.
Bitsgap Pros
Supports most of the top exchanges
Smart API protects your funds
Provides sophisticated trading bots
Bitsgap Cons
Only fiat payments accepted
3. Pionex
Pionex has been around for a while. The exchange comes with numerous automated trading bots with low trading fees for makers and takers. It also aggregates liquidity from two popular exchanges and is licensed to operate in the U.S and Singapore.
Along with the trading bot, Pionex also offers a crypto exchange, allowing you to store your assets and make quick conversions.
Pionex has been around for a while. The exchange comes with numerous automated trading bots with low trading fees for makers and takers. It also aggregates liquidity from two popular exchanges and is licensed to operate in the U.S and Singapore.
Pionex offers traders access to 12 automated trading bots, as well as a dedicated trading platform. One of its major offerings for arbitrage traders is the Spot-Futures Arbitrage Bot. This bot provides annual percentage yields within the range of 15 to 50 percent with a low-risk arbitrage trading strategy.
To use the Spot-Futures Arbitrage Bot on Pionex, follow these simple steps:
Download the Pionex app. Scroll to the bottom of the bot list and select the arbitrage bot.
Choose the target cryptocurrency and your preferred leverage.
There will be a drop-down button next to the coin. Click on it to get a sorted list based on the current funding rate.
Fill in the investment amount and click on "Create bot." It will transfer some of your funds to the futures account and create a position in the spot and futures market.
To close the bot, click on the "shut down" button on its top right side.
The bot will immediately close, and you get your investment (in USDT).
Regulation
Pionex is compliant with the laws of the United States and Singapore. It has a Money Services Business license from the U.S Financial Crimes Enforcement Network (FinCEN) and regulatory approval from Singapore's Monetary Authority.
Trading Fees
One of Pionex's key attractions is its low fees. You can enjoy the full arbitrage package with just 0.05 percent in fees. The bot itself is free, so this is an incredible financial opportunity for you to make profits. Pionex is available on desktop and mobile platforms iOS and Android.
Pionex Pros
Easy-to-use interface
Liquidity from Huobi and Binance
Mobile app integration
Has license to operate in Singapore and U.S
Pionex Cons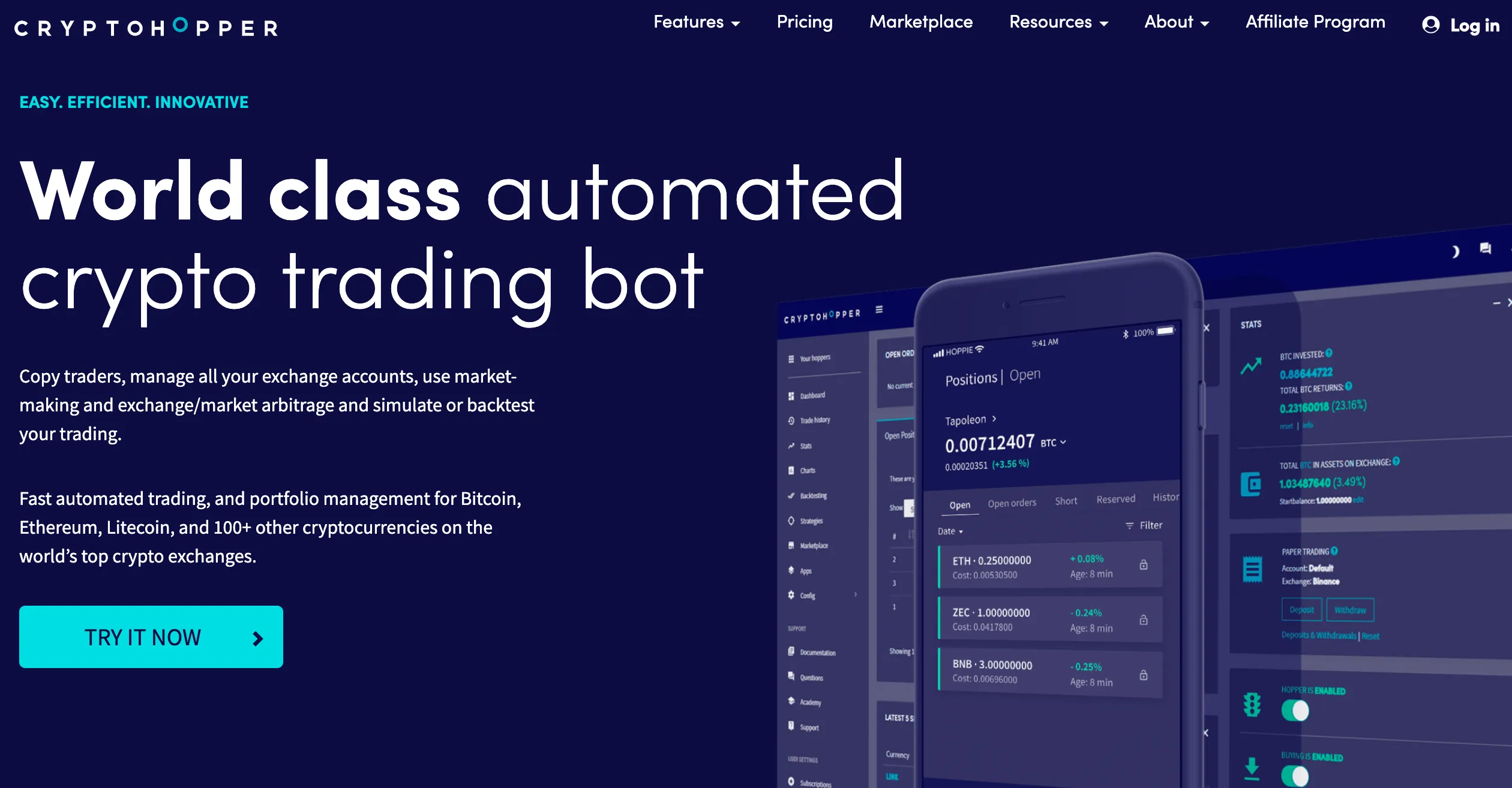 Registered in the Netherlands, Cryptohopper has proven to be one of the most seamless, most effective trading bots in the crypto space.
Cryptohopper has a friendly user interface that provides some of the most popular trading indicators to traders at their fingertips. They follow some of the most popular exchanges, so your arbitrage opportunities are quite extensive.
In terms of arbitrage trading, Cryptohopper has taken things a notch higher. The bot offers sophisticated triangular arbitrage, which will help you to make money off the price difference between multiple pairs on the same exchange.
You can also profit from Exchange Arbitrage. With this feature, the arbitrage bot hunts for arbitrage opportunities across exchanges without sending funds from one platform to another.
Cryptohopper provides unlimited cryptocurrency pairs via its autonomous mode. For newbie traders, you can also participate from its Marketplace, where professional traders share successful trading templates so you can profit from them.
Setting up Cryptohopper's arbitrage bot
To set up your arbitrage bot on Crypto hopper, check the following steps:
Log on to www.cryptohopper.com
Sign up by entering all necessary information and confirming your Email
Go to your profile and click on "My Hoppers"
Add a new hopper
You'll be presented with three options. Click on "Arbitrage bot"
Configure the arbitrage hopper. Name it, then set the maximum open time for buy and sell orders
Select the exchanges that you would like the bot to trade in, then fill in their API keys
Select the maximum amount that the bot will use for every asset and the amount per trade
Cryptohopper Pricing
Cryptohopper provides two pricing tiers for arbitrage traders.
The adventurer package: This package provides only exchange arbitrage. It goes for $49 per month, and $498.96 per year.
The hero package: Here, you access both exchange and market arbitrage opportunities. The package costs $99 per month and $999 per year
Cryptohopper Pros
Sophisticated trading strategies
Wide range of coins accepted
Different bots available for users
More trading pairs accepted
Cryptohopper Cons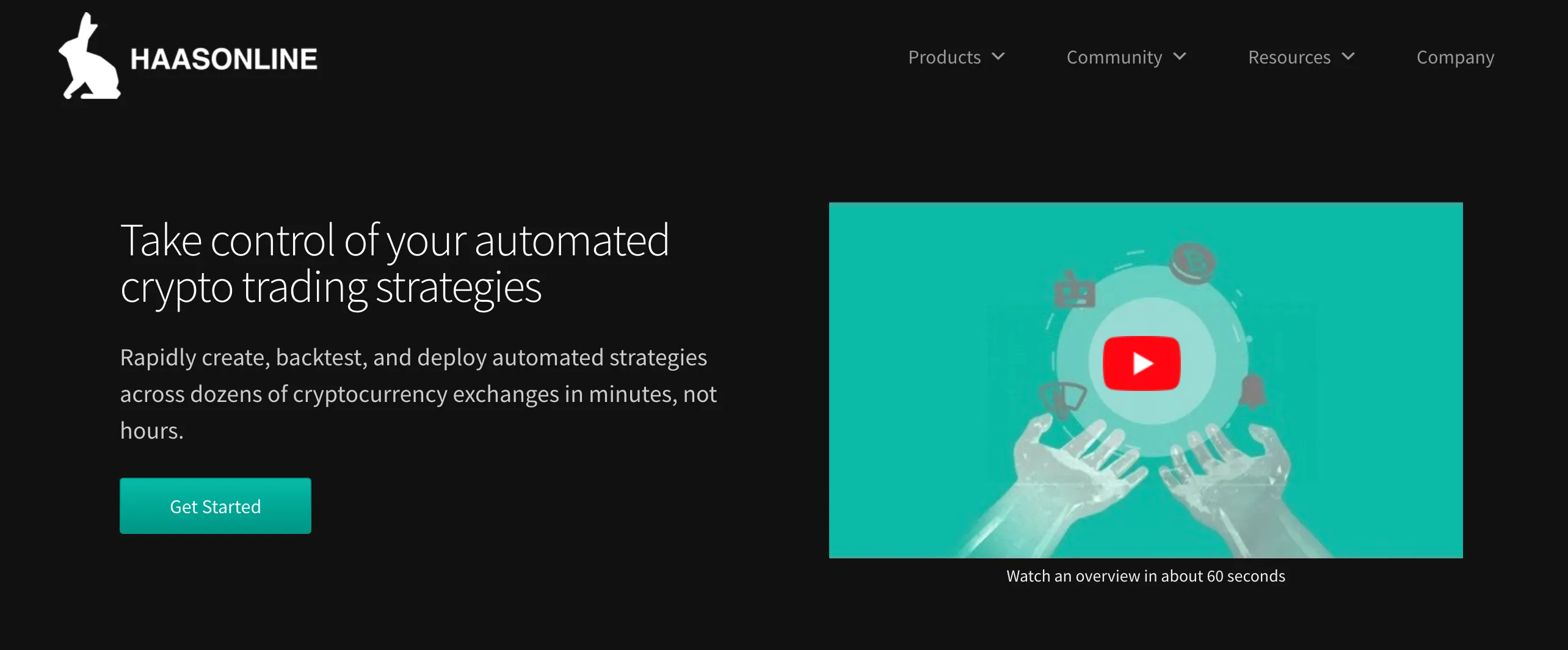 HaasBot was developed by HaasOnline in 2014. The platform functions as an automated trading service that allows investors to trade several digital assets. It uses an innovative suite of tools that includes several custom bots, indicators, and other advanced features that are targeted at both the novice and experienced traders.
One of the interesting features of this platform is its arbitrage trading service. HaasBot gains access to your wallet and account and provide you with the chance to set all necessary parameters – buy and sell limits, etc. The platform offers arbitrage opportunities using its Inter-Exchange Arbitrage Bot(profiting from price differences on multiple exchanges). It also provides an inter-market price spread ticker to monitor several price movements across multiple exchanges. The platform takes a bit of getting used to, and there's no trial version. You have to watch the tutorial videos to understand what you're getting into.
To get into arbitrage trading on HaasBot, you have two options:
Use the legacy trading bots
This service is more suited for traders who would like to configure their settings as they see fit. If you want to familiarize yourself with arbitrage and proper historical data, this is a great choice for you.
How to set it up:
Log into the HaasOnline Trade Server
Go to "Custom Bots"
Click on "+" to add your trade bot
A drop-down menu will reveal the option to select "Inter-Exchange Arbitrage Bot"
Select a name for the bot
Click on "Add bot"
Select the proper order type
Configure the primary and secondary markets
Define the trade options and settings
Click "Save"
Use the HaasBot
HaasBot runs on the automated HaasScript trading script, which is the platform's custom script. The platform makes it easy to view the bot's script and edit it as you please.
How to set it up:
Log into the HaasOnline Trade Server
Navigate to "Haas Bots"
Click on "Add bot"
Give your trading bot a name
Search for "Arbitrage" in the script library
Select "Original HaasOnline arbitrage bot"
Define your interval, amount you want to trade with, and your order type
Select a fee percentage for backtests and simulations
Select the max position for the trading bot to use
Run a backtest with the bot to check if there are any bots
HaasBot Pricing
HaasBot provides three pricing structures, all of which also have prices for each duration.
The beginner package: 0.028 BTC, 0.05 BTC, and 0.073 BTC for 3, 6, and 12 months respectively
The simple package: 0.049 BTC, 0.088 BTC, and 0.127 BTC for 3, 6, and 12 months respectively
The advanced package: 0.08 BTC, 0.144 BTC, and 0.208 BTC for 3, 6, and 12 months respectively
HaasBot Pros
HaasBot mirrors a professional trading platform the best
Experienced traders can configure their bots and protect against flash crashes
Several safety features to protect your investment
Offers discounted trial versions
HaasBot Cons
No trial version
The setup process is very complicated
6. Blackbird Bitcoin Arbitrage

With Blackbird Bitcoin Arbitrage, you have an exchange bot that focuses more on Bitcoin and its arbitrage trading opportunities. The trading system runs on the C++ programming language, and it conducts automatic long and short arbitrage opportunities between Bitcoin exchanges.
Unlike other bitcoin arbitrage bots, Blackbird short-sells Bitcoin on the short exchange. The first – and perhaps most significant – benefit of this operation is that you can execute a market-neutral strategy that makes your prospective returns immune to fluctuations in the Bitcoin market.
Blackbird is a GitHub project that searches for triangular arbitrage opportunities on Binance. Using this bot is free, but it requires a bit of programming knowledge to make sense of the code. Once this is sorted, you'll find it easy to execute successful arbitrage opportunities.
The bot doesn't require fund transfers between Bitcoin exchanges. Trading activities are done parallel on two separate exchanges at the same time. So, you won't have to deal with slow transfer or any other latency issues that have plagued the Bitcoin network for years now.
Blackbird Pros
An innovative trading strategy
Protection from Bitcoin's price swings
Free to use
Blackbird Cons
You'll need coding knowledge to begin
What to Consider When Choosing an Arbitrage Trading Bot
1. Safety of Funds
To use a trading bot, the platform would require your private API keys for your exchange. If this falls into the hands of malicious actors, your funds will disappear into thin air. One way to prevent this is not to deal with unknown or frequently hacked exchanges, in the first place. Secondly, before handing in your API keys, disable withdrawal access. This means in the event of a compromise; the hackers are limited from withdrawing your funds.
2. Exchange Integration
The best crypto arbitrage trading bots come with an integration with the top crypto exchanges. This way, you can seamlessly check out rates from these exchanges and make the most out of the trading opportunities.
Bitsgap is linked with names like Binance, Coinbase Pro, Kraken, and Bitfinex. Cryptohopper provides 12 exchanges, HitBTC, Bittrex, Bitfinex, and more. HaasBot is linked with 20 exchanges, including Coinbase, Huobi, and KuCoin. On Blackbird, you'll have access to exchanges like OKCoin, Bitstamp, the Gemini Exchange, and Kraken.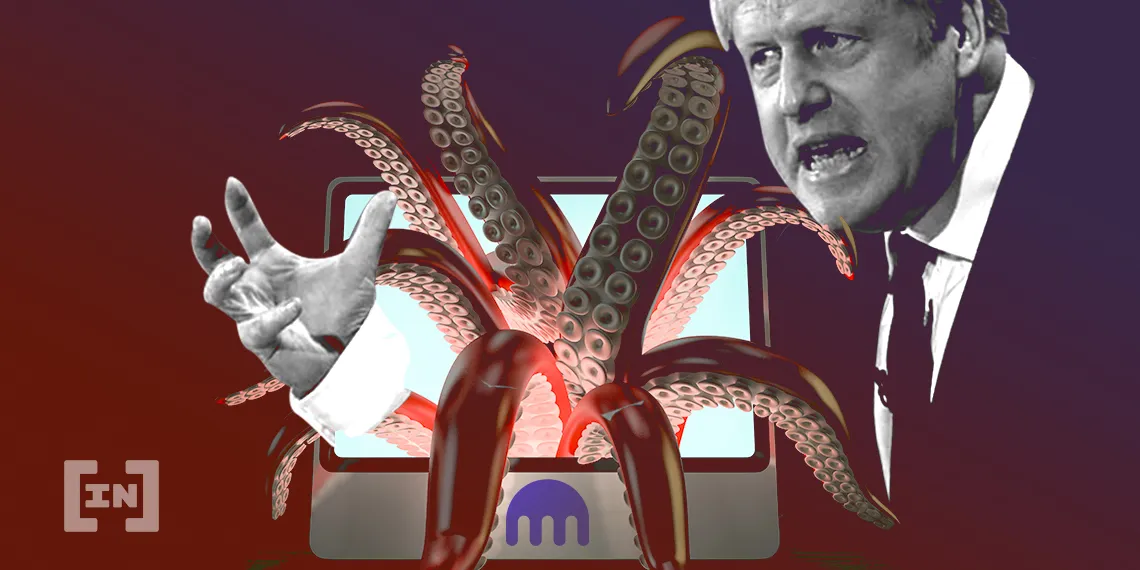 3. Fees
Money is always an important factor to be considered, so try to get trading bots that won't charge you too much to download and use their services.
The advanced plan on Bitsgap costs $44 per month and $35 billed annually. While that's not the cheapest, it does provide a healthy mix of features and affordability. It's cheaper than the adventurer package on Cryptohopper. If you're pro-Bitcoin, you might want to check out HaasBot's packages. They charge in Bitcoin.
4. Ease of Use
Crypto trading bots vary in terms of ease of use. Some are quite straightforward, while others will need a bit of coding knowledge. For instance, you will need some knowledge of coding to work with the Blackbird Bitcoin Arbitrage bot seamlessly.
5. Community
You should also consider the community of other users who have tried the bot in the past. They will be able to guide you if you experience any usage issues with the tool on your first try. Bitsgap has a community on Telegram, while you can get in touch with Cryptohopper users for advice on Facebook. You can easily engage with these users to find out how they're using the bot before investing in it.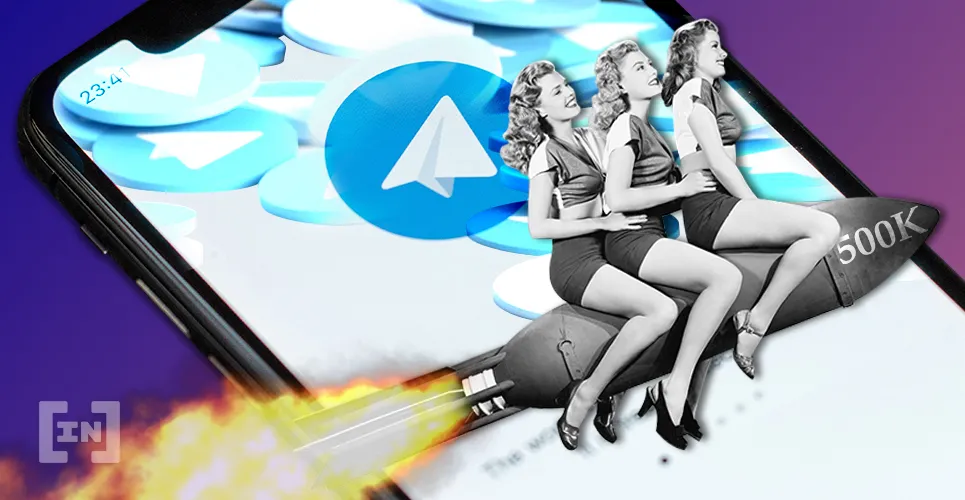 Conclusion
Crypto arbitrage is a lucrative form of trading that is getting more popular. With any of these cryptocurrency trading bots, you should be able to take advantage of the arbitrage opportunities in the industry and use them to your advantage. Keep in mind, however, that you will need a bot that is easy to set up and use or one with clear instructions that doesn't cost too much.
Disclaimer
In line with the Trust Project guidelines, the educational content on this website is offered in good faith and for general information purposes only. BeInCrypto prioritizes providing high-quality information, taking the time to research and create informative content for readers. While partners may reward the company with commissions for placements in articles, these commissions do not influence the unbiased, honest, and helpful content creation process. Any action taken by the reader based on this information is strictly at their own risk.