Tether (USDT) works on the blockchain just like regular digital currencies but with a value pegged directly to the U.S. dollar. As the world's most widely adopted stablecoin, USDT is a popular choice for many investors. If you're keen to purchase Tether, you must ensure that you have a secure, easy-to-use wallet ready to store your USDT. Luckily, you have a lot of choices. Here are seven of the leading USDT wallet options on the market.
How to choose a USDT wallet
As an investor, you must consider security, key features, whether you are looking for hot vs. cold wallets, private key control, user interface, backup, and recovery. Aside from the blockchain fees associated with every transaction, it doesn't cost anything to use a Tether (USDT) wallet.
What are the best USDT wallets in 2023?
The Ledger Nano X is a popular and pocket-friendly crypto wallet. The Bluetooth-enabled hardware wallet provides a smooth and seamless experience for storing Tether, backed with security features that make it one of the most popular hardware wallets in the market.
Despite being a physical hardware wallet, the Ledger Nano X features a highly interactive Ledger Live app for enhanced security and control over your USDT wallet.
For prolonged use of the wallet, the device features an in-built battery that lasts up to 5 hours with a five-year lifespan. As a non-custodial wallet, users can get seed words as a backup.
One standout security feature of the Ledger Nano X is its custom operating system BOLOS – Blockchain Ledger Operating System. This custom security element turns the device into a personal security device.
Moreover, the element isolates all applications on the device. Hence, it means that applications don't interact with each other. All communications must go through BOLOS — meaning security is enhanced if one app is compromised. It also isolates a 24-word recovery phase from available applications while protecting private keys stored in the device.
Note: In 2023, the market leader in hardware wallets came up against significant criticism from the crypto community, with many people looking for Ledger alternatives due to privacy and security concerns around the wallet's "Recover" feature.
However, we have still included the hardware giant in this list, noting that use of the feature is optional. If you are keen to maintain privacy in the cryptosphere, we reccomend not activating this feature, which mandates ID-based user registration.
Another reputable non-custodial cold wallet trusted by millions of users is Coinomi.
The Coinami wallet prioritizes crypto wallet security first and foremost. The platform is Seg-Wit enabled and offers advanced features to prevent hacks or breaches.
Note: While Coinami claims never to have suffered a hack, a number of Reddit and BitcoinTalk users claim that their Coinami wallets have been compromised. Coinami has rebutted some of these claims publicly.
Back to the wallet's features, the UI is notably simply for a wallet that puts security first on the priority list. When the BeInCrypto team tested Coinomi out, it was refreshingly intuitive and beginner-friendly.
Apart from supporting Tether, Coinomi supports more than 130 cryptos on 125 blockchains.
A major cause of concern for many in the crypto community is that Coinomi previously started as an open-source software. As part of the open-source software community, it allowed anyone to review their code. This helped in identifying hidden codes, malicious activities, or exploits. In 2017, the project became closed-source. The team stated the change was a response to the amount of malicious clones that were damaging the wallet's reputation.
MyEtherWallet is an open-source solution for storing ETH, NFTs, and USDT. Users can easily access the mobile wallet through an Android or IOS app. Moreover, the mobile wallet supports different web browsers and features a third-party extension.
The wallet does not charge fees for receiving or storing ETH. Moreover, there are no added costs for each transaction on the platform.
Unfortunately, the mobile wallet does not support any other related DEXs. Regarding security, MyEtherWallet is a non-custodial wallet that gives users total control over their private keys.
Unlike Coinomi, which features two-factor authentication, MyEtherWallet does not. However, it does offer a 13th-word addition to the 12th mnemonic phrase to access or recover your wallet. MyEtherWallet is also compatible with a number of hardware wallet options, including Ledger, Trezor, CoolWallet, and KeepKey.
An official digital wallet that specifically supports USDT is the Tether Wallet. It provides a secure and safe interface for storing, receiving, and sending USDT. The wallet is easily accessible and available on multiple platforms, including IOS, Android, and Windows.
One standout feature of Tether Wallet is its security measures. The wallet features advanced encryption techniques to ensure the private key or seed phrase used to access the wallet is safe and secure. It features two-factor authentication as standard. Note that the Tether Wallet suffered a serious hack in 2017 when malicious actors stole $31 million worth of USDT from Tether treasuries. The following announcement at the time:
Yesterday, we discovered that funds were improperly removed from the Tether treasury wallet through malicious action by an external attacker.

Tether team: Tether
However, since this loss, Tether has doubled down on security measures in a bit to protect investor funds and reduce the chances of any further security breaches.
eToro is a popular and reliable mobile crypto wallet that allows users to store, track, and transfer cryptocurrencies such as USDT. The eToro platform currently supports eight cryptocurrencies, including Tether. Unfortunately, it does not allow converting to fiat currencies or transferring USDT from the wallet to the eToro investment platform.
The wallet features a simple, intuitive design that works seamlessly for novice and expert investors. In addition, it features an interactive mobile app for IOS and Android. It is also free to download and use.
New users can take advantage of the advanced security measures available when opting for the platform. It comes with two-factor authentication and access to biometric data. Moreover, eToroX is not available for retail users.
eToro's brokerage side is also under licensing and regulation, with operating licenses from FCA, ASIC, FINRA, and CySEC. Therefore, users can feel secure and store their USDT coins and tokens while accessing trading features.
However, users should be aware of transaction fees linked with the wallet. Note that there is also a limit on the amount that can be converted per day.
This ad promotes virtual cryptocurrency investing within the EU (by eToro Europe Ltd. and eToro UK Ltd.) & USA (by eToro USA LLC); which is highly volatile, unregulated in most EU countries, no EU protections & not supervised by the EU regulatory framework. Investments are subject to market risk, including the loss of principal.
Trust Wallet is a popular non-custodial wallet for new users and investors alike. The wallet is easy to use and beginner-friendly. The platform has over 5 million users and is the global partner/ native wallet of leading crypto exchange Binance.
Regarding security, Trust Wallet keeps records of transactions by using two private and public keys. A public key features an address that users can send to others to receive USDT tokens, while a private key grants users ownership of the USDT wallet. The wallet encrypts all asset's private keys to develop one major private key. Afterward, it runs through an algorithm to generate a unique and special 12-word recovery phrase. Users must back up with the recovery phrase immediately.
While the wallet has not been immune to vulnerabilities, it has also cultivated a reputation for communicating openly and honestly with its customers. For example, when vulnerabilities were discovered in the Wallet's browser extension in November 2022, resulting in the loss of nearly $170,000 of customer funds, the team tweeted the following:
Customers affected were refunded.
"We want to assure users that we will reimburse eligible losses from hacks due to the vulnerability and have created a reimbursement process for the affected users. And we urged affected users [to] move the remaining ~$88,000 USD balance on all the vulnerable addresses as soon as possible."

Trust Wallet team: Trust Wallet
Finally, Trust Wallet features an in-built token-swapping tool. Hence, it removes the need for using a decentralized exchange (DEX) when trading USDT for other cryptocurrencies. All of these features make Trust Wallet a top choice for managing your USDT.
Coinbase Wallet is a decentralized wallet app — the wallet is not directly connected to the main Coinbase exchange. Therefore, users have full control of their USDT tokens and private keys.
In terms of reliability, Coinbase is a popular company with a solid reputation and one of the biggest public crypto firms in the industry. A standout feature of Coinbase Wallet is its interoperability and compatibility with hardware wallets such as Trezor, MetaMask, Ledger, and KeepKey. Like with MyEtherWallet, users can access a comprehensive system that keeps their USDT securely online and offline.
Coinbase Wallet offers an innovative vendor insurance policy to its users. The policy's design covers users during security breaches that result in loss of funds. Also, it covers malicious activities that comprise the wallet's security.
The USDT wallet also benefits from two-factor authentication. It incorporates biometric identification technology and a secure enclave for private key protection. Additionally, it features a recovery phrase for added safety in case of device loss. In all, Coinbase Wallet offers a solid, easy-to-use option for crypto beginners and experienced users alike.
How does Tether (USDT) compare to other stablecoins?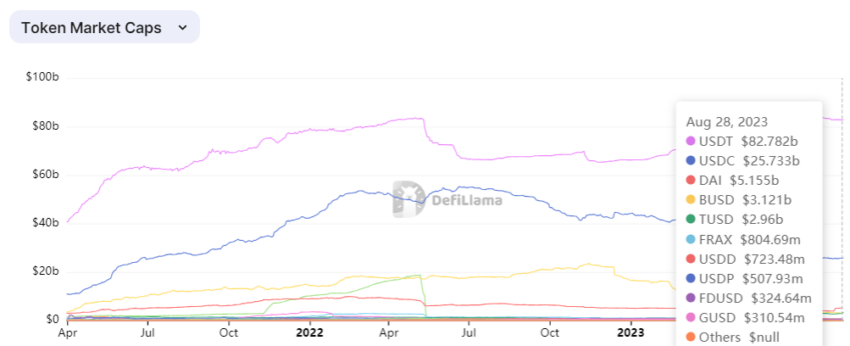 Tether is the first successful and popular stablecoin. However, it didn't take long before USDT had competitors. Today, there are a myriad of stablecoins to choose from.
While some have come and gone, others have stood the test of time and are competing with Tether for market share. Some examples of today's "stables" are:
USD Coin (USD)
Binance USD (BUSD), which will gradually cease operations
Dai (DAI)
Frax (FRAX)
True USD (TUSD)
Note that you can classify stablecoins in several ways. This ultimately plays into the comparison of Tether versus its peers. For example, DAI collateral was initially cryptocurrency alone, especially other stables.
Recently, MakerDAO has made an effort to back DAI with real-world assets (RWA), such as U.S. Treasuries. This is in line with many centrally issued stablecoins, such as USDC and Tether.
"Money market funds were regulated to hold more Treasuries a while back. It was an initial method of financial repression. Stablecoins are the next way. Increased fungibility of Treasuries and cash, thanks to mixing them as collateral for stablecoin tokens."

Lyn Alden: Twitter
By comparison, USDT holds U.S. Treasuries as collateral but also holds USD, bitcoin, commodities, money market funds, repurchase agreements, and other assets. Tether's collateral also differs from cryptocurrencies like FRAX, which is partially backed and partially algorithmic.
A stablecoin's backing, or lack thereof, can have broad implications for its long-term viability. And depending on the stablecoin's market share, this could introduce the risk of financial contagion.
TLDR: Which is the best USDT wallet?
All of the seven wallets mentioned in our above list are strong choices for storing your USDT. Whether you're looking for a beginner-friendly mobile wallet or a hardware option to hold Tether securely in the long term, there are several good options on the market. Your choice will likely depend on what other cryptos you hold and what you plan to do with your USDT.
Our team at BeinCrypto recommends Ledger if you're looking for a hardware wallet option (just don't use the "Recover" feature if you're concerned about privacy. Other good hardware options not listed include Trezor, SafePal, and CoolWallet, all of which support USDT. For beginners, the Coinbase Wallet or Trust Wallet are two excellent non-custodial hot wallet picks.
Regardless of whichever crypto wallet you use to store USDT — DYOR (do your own research), never invest more than you can afford to lose. While USDT is a stablecoin, remember that there are no guarantees in crypto.
Frequently asked questions
How do I set up a USDT Wallet?
Which crypto wallet supports USDT?
Disclaimer
In line with the Trust Project guidelines, the educational content on this website is offered in good faith and for general information purposes only. BeInCrypto prioritizes providing high-quality information, taking the time to research and create informative content for readers. While partners may reward the company with commissions for placements in articles, these commissions do not influence the unbiased, honest, and helpful content creation process. Any action taken by the reader based on this information is strictly at their own risk.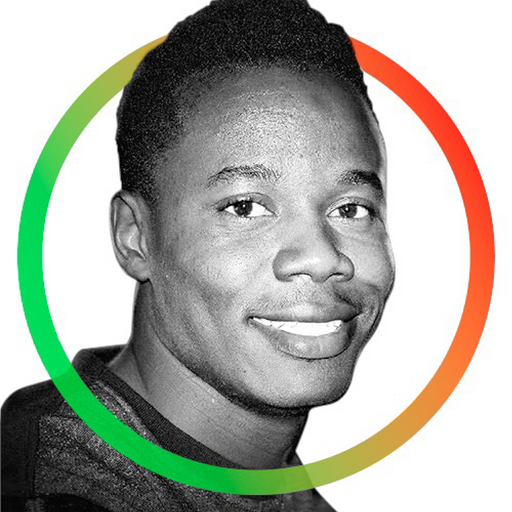 Chris Adede is a versatile professional with five years of experience in content creation, IT, and project management. He has expertise in cryptocurrencies, fintech, and...
Chris Adede is a versatile professional with five years of experience in content creation, IT, and project management. He has expertise in cryptocurrencies, fintech, and...
READ FULL BIO
Sponsored Sponsored