Sui, a layer-1 blockchain and smart contract platform, aims to make digital asset ownership private, secure, and accessible to all. Sui sets itself apart from earlier blockchain ecosystems by granting parallel processing of transactions and horizontal scaling, allowing it to maintain low transaction costs. Various SUI wallets are available on the market. But which wallet is most suitable for accumulating and managing SUI?
This comprehensive guide will look at some of the best crypto wallet options available for holding SUI — plus features that can help you get the best out of your asset holdings.
What to look for when selecting Sui wallets
Sui wallets serve as the entry point to the Sui ecosystem. To participate in the Sui ecosystem, understanding how to manage, send, and receive SUI and related assets using a reliable wallet is essential.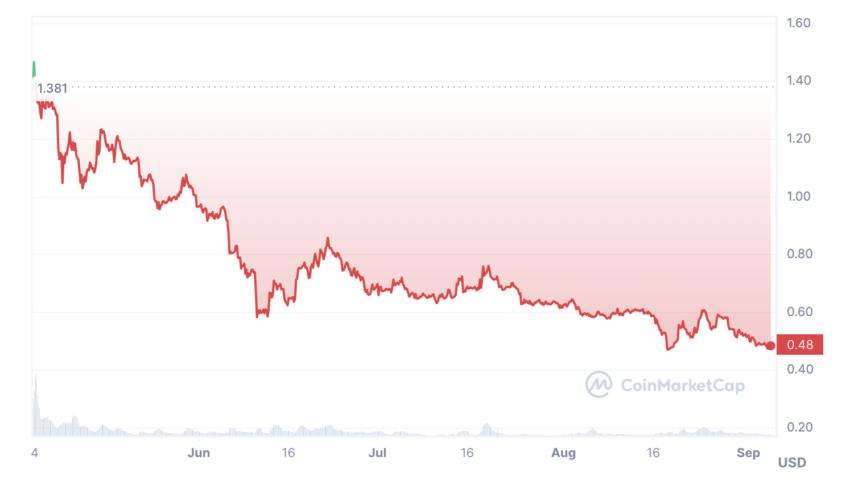 When selecting a wallet, it is essential to consider factors like security, convenience, and additional features such as DeFi tools and trading services. A wallet's features, such as security, multi-chain support, and integrated DeFi platforms, significantly shape the crypto experience. These hot and cold wallets boast distinct features and benefits tailored to a variety of user needs.
In this article, you'll find a selection of the best wallets for storing your sui, including mostly non-custodial wallets.
Best Sui wallets
Here, we offer a guide on the different crypto wallets accessible within the Sui ecosystem — along with their prominent features, aiding you in making an informed decision.
"With Sui, we are endeavoring to build a blockchain that scales with demand and incentivizes growth, eliminating middlemen, and enabling users across applications to seamlessly integrate and interact with their favorite products."

Evan Cheng, co-founder and chief executive officer, Mysten: BusinessWire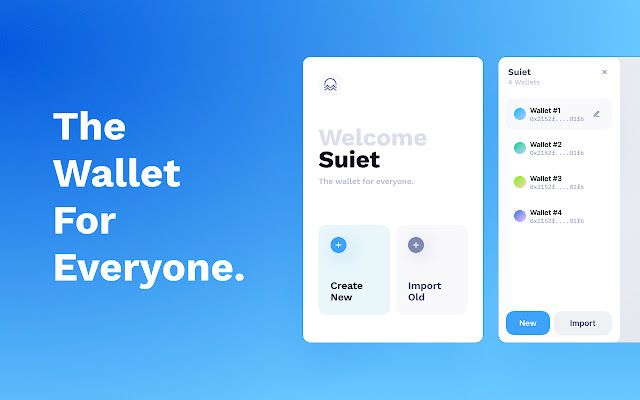 Suiet Wallet is a non-custodial wallet exclusively designed for the Sui ecosystem. The wallet was crafted by the Mysten Labs team — offering users a seamless gateway to engage with the Sui blockchain and harness its functionalities. A unique feature of Suiet lies in its capacity to both mint and display NFTs.
Suiet also facilitates wallet transitioning while allowing the personalization of wallet names and icons. This open-source wallet is accessible via the Chrome browser, and its expansion onto mobile platforms is in the works. The wallet's layout includes dedicated sections for asset assessments, NFT portfolio, DApp exploration, and a comprehensive transaction history log.
Key features
Asset management: Suiet Wallet includes sections for tracking assets, NFTs, DApps, and transaction histories, granting users a comprehensive overview of their blockchain activities.
NFT management: Apart from minting, users can seamlessly manage their NFTs within the Sui ecosystem using the wallet's features.
Suiet Wallet Kit: The Suiet Wallet Kit offers integration with all Sui wallets for Sui DApps — enabling seamless interactions with various applications.
TouchID integration: Users can enhance wallet security by setting up TouchID authentication.
Faucet functionality: The wallet provides a Faucet option, allowing users to request devnet funds for testing purposes, including transactions and NFT minting on the devnet.
Pros
It's free to use
User-friendly interface: The intuitive interface ensures ease of use for both beginners and experienced users
Security enhancements: TouchID integration and non-custodial architecture prioritize user security and asset protection.
Comprehensive asset tracking: Distinct sections for asset tracking, NFT management, DApp, and transactions
Cons:
Testnet status: The wallet operates on a Testnet, which while free, might encounter issues and limitations compared to a live environment.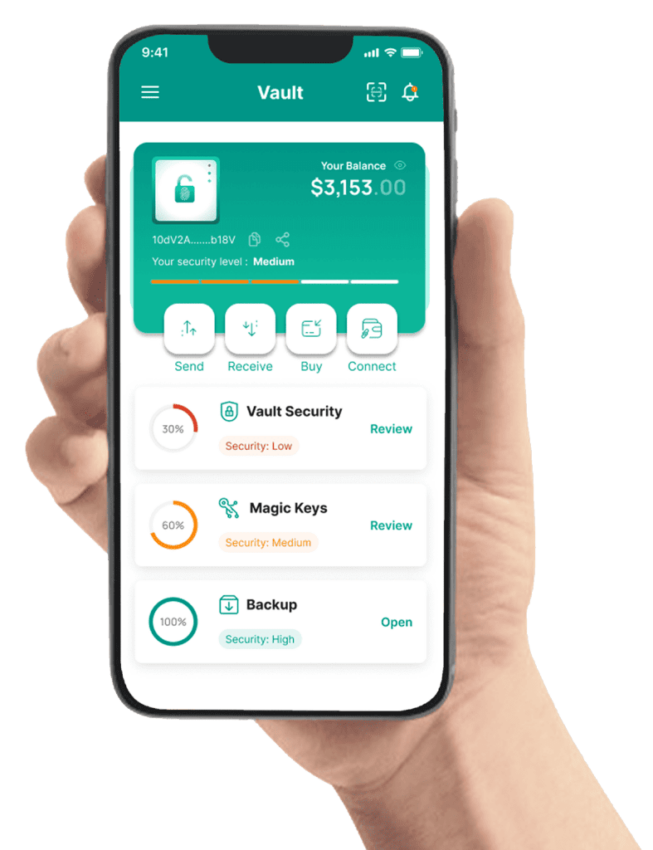 Ethos Wallet is a non-custodial wallet designed to serve as both a web3 wallet and a central hub for top-tier DApps and NFTs within the Sui blockchain ecosystem. Accessible through a browser extension, it not only facilitates sui storage and trading but also empowers users to explore and engage with DApps within the dynamic Sui ecosystem. It also provides developers with a seamless integration path for their DApps.
Developed by Nod Labs, a visionary team rooted in Silicon Valley, USA, this wallet boasts a distinctive highlight: an integrated DApp component and the unique capacity to view NFT-associated assets tied to wallet addresses.
Notably, it facilitates immersive on-chain games like Sui 8192, along with chess and checkers games underpinned by non-fungible tokens (NFTs), directly within the wallet's ecosystem.
Key features
NFT integration: Manage and view NFT-related assets associated with wallet addresses
Integrated DApp access: Integrated DApp component that simplifies user access to decentralized applications within the Sui ecosystem, enhancing user engagement.
In-wallet gaming: Users can play games directly within Ethos Wallet
Email-based wallet creation: Ethos Wallet provides an easy way for users to create wallets using their email addresses, streamlining the wallet setup process.
Pros:
Versatility: Ethos Wallet goes beyond basic crypto wallet functions by offering NFT support, DApp access, and gaming capabilities, catering to a wide range of user interests.
Enhanced engagement: DApp access and in-wallet gaming encourage more engagement
User-friendly: Simple onboarding process
Cons:
Limited function outside the ecosystem: The specialized features of Ethos Wallet might not be as relevant or useful outside the Sui ecosystem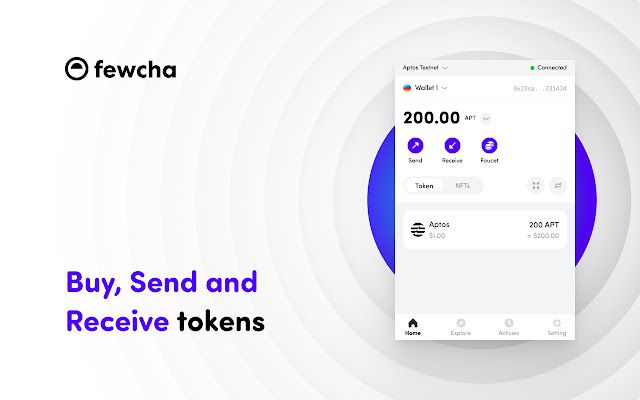 Fewcha, a non-custodial web3 wallet, supports move-based ecosystems like Aptos and SUI. It offers a move-based wallet as a browser extension and mobile app (iOS and Android).
Cyclone Labs introduced the Fewcha Wallet back in April 2022 with a primary focus on delivering a user-friendly design. This design philosophy aims to streamline user interaction — facilitating seamless engagement with the Aptos and Sui blockchains.
Fewcha enabled DApps to easily integrate with Aptos ecosystem. Like Ethos, it lets users access in-game assets, play blockchain games, manage tokens/NFTs, swap, connect securely to sites, and sign messages.
Moreover, Fewchas' web3 app ensures safe daily operations without visiting malicious sites. Security is paramount, with a patent-pending MPC technology security mechanism and Verichains as the wallet's auditor.
Key features
Move-based ecosystem support: Fewcha wallet supports move-based ecosystems like Aptos and SUI.
Security: An advanced security framework, multi-signature policy, and a secure server that ensures optimal data protection.
Cross-platform: Offers Chrome extension available on web extensions and mobile
DApp integration: Provides web3 connection for DApp creators in the Aptos ecosystem, encouraging DApp growth.
Gaming and asset management: Access in-game assets, play blockchain games, manage tokens/NFTs, and perform swaps securely.
Pros
Mobile accessibility: Mobile apps and browser extensions offer flexibility for desktop and mobile users.
DApp support: Simplifies DApp integration, supporting the Aptos ecosystem's growth.
All-in-one convenience: Manages assets, gaming, transactions, and website connections in a single platform.
Enhanced security: Standard privacy policy to ensure that all personal data are protected
Cons
No mobile app: While the wallet is available on iOS, users on other mobile platforms might find it inconvenient as there's no mention of an Android app.
Martian Wallet is a non-custodial solution that enables users to securely store, access, manage, and engage in trading activities within Aptos and Sui ecosystems. The wallet's capabilities facilitate seamless actions like sending, swapping, staking, and bridging assets directly from its user-friendly portfolio interface.
Martian Wallet originated and garnered substantial backing from prominent entities, including FTX Ventures, Superscrypt, Jump Capital, and Aptos Labs, during its initial Aptos hackathon in early 2022. While it primarily operates as a browser extension, Martian Wallet is also poised to make its presence felt in the iOS domain with an impending app launch.
Key features
Compatibility with Aptos and SUI
Native token: Martian Wallet has its native token, CHASH, which serves various purposes like governance, fees, rewards, and incentives.
Liquidity access: Provides access to multiple liquidity pools, including Uniswap, SushiSwap, 1inch, and more.
Smart routing algorithm: Utilizes a smart routing algorithm to find optimal routes for swaps across various pools, minimizing slippage and gas fees.
Cutting-edge technologies: Incorporates advanced technologies like zero-knowledge proofs (ZKPs), sharding, and state channels for improved performance, security, and scalability.
Cross-chain communication: Functions as a superhighway for cross-chain communication and asset transfer through Shardeum's bridge protocol, connecting different blockchains and ecosystems.
Pros
Smart routing: The smart routing algorithm enhances better pricing and reduces transaction costs.
Efficiency: Offers a unified platform to access various liquidity pools, execute trades, and deploy advanced trading strategies, saving time and effort.
Cross-chain interoperability: Offers cross-chain communication, integration with multiple chains, and asset transfer, expanding users' access to assets across different blockchains.
Cons
Complexity: Advanced trading features could be overwhelming for new users
Regarded as a top web3 wallet, Trust Wallet is an exceptional choice for cryptocurrency enthusiasts, with an expansive spectrum encompassing over 4.5 million digital assets – including SUI and all other ERC20 tokens. Trust Wallet extends its functions to web browsers, delivering easy access to DeFi services. Additionally, it includes features such as token swaps, staking, yield farming, and savings accounts.
Pros
User-friendly interface tailored to mobile devices and web extension
Supports an unparalleled range of over 4.5 million digital currencies and tokens
Ability to engage in staking directly from within the application
Users can seamlessly interact with decentralized applications (DApps) within the wallet.
Fiat on-ramp and token swapping
Cons
No desktop version: limits accessibility for users seeking a multi-platform experience.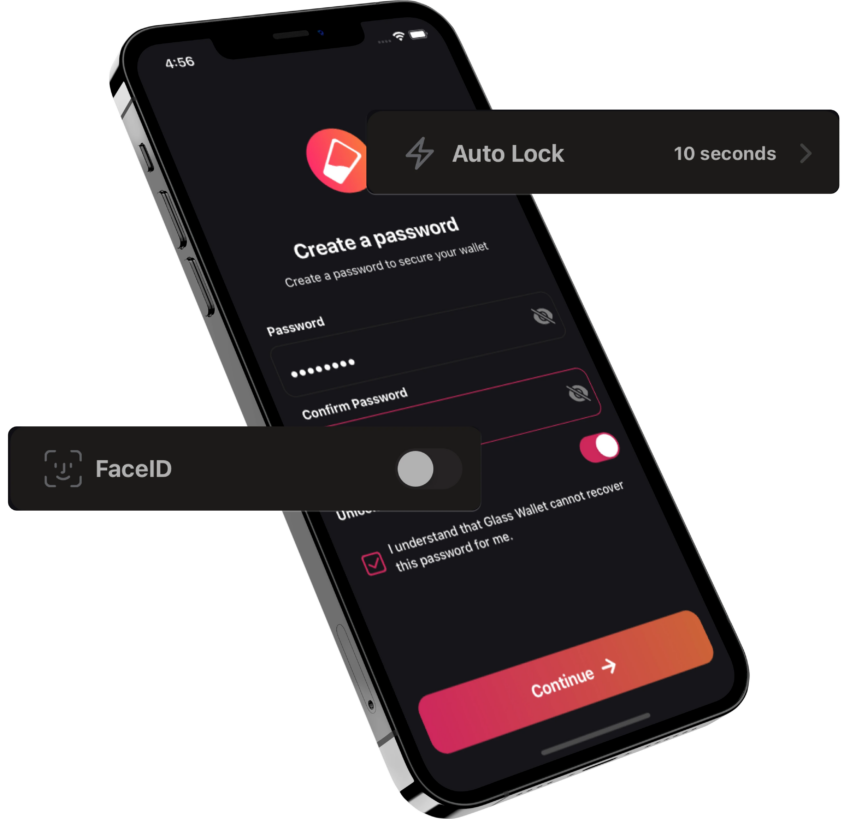 Glass Wallet is a non-custodial wallet that offers easy access to manage digital assets and access DApps such as DeFi, NFTs, Gaming, and more on the Sui blockchain. It allows you to manage your assets and connect to other DApps all in one app.
Released in October 2022, the gaming-finance crypto wallet is regarded as the first mobile wallet built on the Sui ecosystem. It ensures the safety of asset management, transactions, and DApp interactions. Moreover, upcoming enhancements comprise a web3 game mobile browser and native mobile game support.
Key features
Security: Glass Wallet's non-custodial nature ensures that users have full control over their funds and private keys, reducing the risk of hacks or unauthorized access.
DApp browser: Built-in DApp browser that provides easy access to various Sui DApps
Supports both mobile devices and web browsers
Pros
Cross-platform support: Providing flexibility and accessibility to users across different platforms.
Ease of use: User-friendly interface and quick access to DApps make it easy for both beginners
Cons
Only supports the Sui ecosystem
SafePal, a pioneering name in the crypto wallet space, has pushed the boundaries of convenience and security by integrating support for the Sui network. SafePal is a three-in-one crypto wallet suite providing hardware wallet, mobile app, and browser extension wallet solutions. As a non-custodial wallet suite, SafePal allows users to own their assets and securely trade, send, stake, buy, and manage SUI and other supported assets.
With a global user base exceeding 10 million, the SafePal platform is a beacon of accessibility, catering to users in over 15 languages. It accommodates 100+ blockchains along with their associated tokens and NFTs. Additionally, the platform extends its capabilities to encompass a comprehensive suite of crypto asset management solutions, including cross-chain swapping, trading, and yield-generating tools for its users.
Key features
Decentralized wallet solutions: SafePal offers a trio of wallet solutions: mobile software wallet, hardware wallet, and browser extension wallet.
Cross-chain swap: SafePal's in-app cross-chain swap feature for $SUI and other assets.
SafePal S1 hardware wallet: The crown jewel of the SafePal suite, the S1 hardware wallet, takes security to the next level. It operates offline, eliminating online attack vectors. With advanced features like an anti-tamper self-erasing mechanism and a true random number generator, it offers robust protection against malicious actors.
Pros
Security: SafePal's hardware wallet boasts top-notch security features, with offline operation and an anti-tamper mechanism
User-friendly: The mobile software wallet offers convenience on the go
Cross-chain capability: Users can seamlessly manage diverse assets within a single ecosystem.
Cons
Learning curve: The multiple wallet solutions and their interconnected nature might pose a slight learning curve for newbies.
OKX Wallet is a decentralized wallet that allows users to oversee and navigate their Sui-based assets through both the app and extensions. It interfaces with an array of 1,000 DApp protocols, encompassing those residing on the Sui network.
Beyond its multi-chain capabilities, OKX Wallet unlocks the gates to the dynamic DeFi services — offering pathways to yield generation. Moreover, it opens doors to immersive blockchain-driven gaming experiences, where the ownership of in-game assets translates into potential profit opportunities.
Pros
Take full ownership of the assets
Easy withdrawal process
The multi-chain wallet uses seed phrases to manage assets on 50+ networks, including SUI, ethereum, BSC, and Aptos.
Available on iOS, Android, and web browsers
Cons
Limited payment options
Advanced functions and features may be daunting for beginners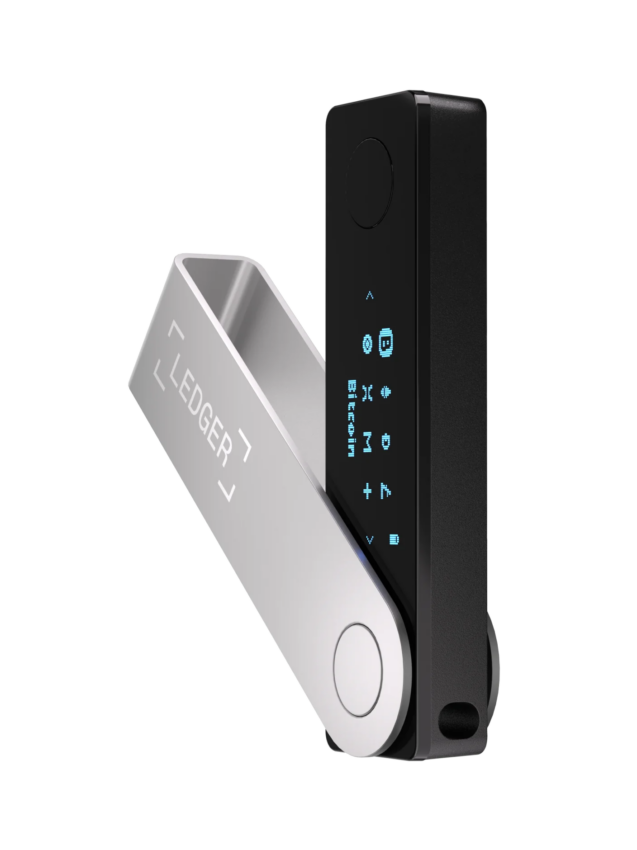 The Ledger Nano X is a top-tier cryptocurrency hardware wallet. Its extensive support of SUI and other array of crypto assets — along with enhanced security measures, make it an appealing choice for serious investors. The addition of Bluetooth and multi-platform compatibility furthers its appeal by increasing accessibility and ease of use. Hence, despite the higher price point — the Ledger Nano X stands as a secure and convenient option for safeguarding your digital assets.
Key features
Ledger Live is the software available in a web app and a mobile app
Ultimate security: Ledger Nano X offers top-tier security by being a hardware wallet. It stores your cryptocurrencies offline, ensuring protection against online hacks. Therefore, the unique BOLOS operating system and stainless steel casing enhance security further.
Design and usability: Ledger Nano X offers a wider screen and enhanced usability. Its compact size ensures portability, fitting comfortably in your hand.
Pros
Supports over 5500 crypto assets and tokens
Ledger Live
Bluetooth enabled
Supports all major desktop and mobile operating systems
Private keys stored inside the hardware wallet's chip
Stores up to 100 applications, including Sui, Bitcoin, Ethereum, and Bitcoin Cash
Cons
Fairly expensive
Bluetooth only compatible with mobile app, not desktop
SUI cannot be purchased through Ledger Nano X
Navigating Sui wallets
As sui gains popularity through various advancements, choosing the right wallet is essential. Therefore, these web3 wallets not only store digital assets but also seamlessly interact with Sui apps.
By learning more about Sui wallets, you can tap into their potential for maximizing your web3 experience. Explore the latest trends in the Sui ecosystem to make an informed decision about selecting the right wallet for your needs. Regardless of the wallet you opt for — always DYOR (do your own research) and never invest more than you can afford to lose.
Frequently asked questions
Which wallet supports Sui?
What is the difference between Sui wallet and Suiet wallet?
Disclaimer
In line with the Trust Project guidelines, the educational content on this website is offered in good faith and for general information purposes only. BeInCrypto prioritizes providing high-quality information, taking the time to research and create informative content for readers. While partners may reward the company with commissions for placements in articles, these commissions do not influence the unbiased, honest, and helpful content creation process. Any action taken by the reader based on this information is strictly at their own risk.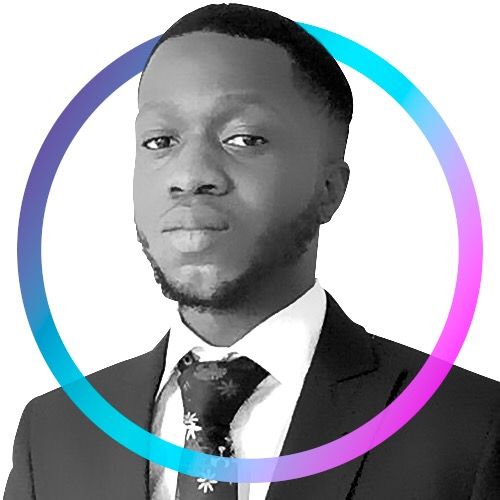 Ayotomiwa is a tech writer and marketer focused on blockchain, crypto, DeFi, the metaverse, and NFTs. Ayotomiwa works with a number of emerging tech startups and crypto exchange...
Ayotomiwa is a tech writer and marketer focused on blockchain, crypto, DeFi, the metaverse, and NFTs. Ayotomiwa works with a number of emerging tech startups and crypto exchange...
READ FULL BIO
Sponsored Sponsored