Amid the global GPU shortage and expired import tariff exemptions, is it still worthwhile to get a Bitcoin mining machine? While this may depend on whether Bitcoin remains in the bullish territory or if your electricity cost is relatively cheap, it's always prudent to take an overview of the market and figure out the best Bitcoin miners.
When it comes to cryptocurrency mining profitability, it all comes down to balancing the initial cost of the Bitcoin mining machine, its power draw, and its hash rate. Once you have these figures, it's easy to calculate your gains based on Bitcoin's block reward and your electricity cost by using this mining calculator. With that in mind, let's take a look at which ASIC miner has the optimal balance.
Top 7 Bitcoin Mining Machines
1.) Antminer S19 Pro
Power draw: 3.25 kW
Hash rate power: 110 TH/s
Price tag: ~$10,000 – $19,600
Going head-to-head with M30S++, this Bitmain ASIC miner offers 29.5 J/TH efficiency. Combined with a drastically improved boot time and user experience thanks to the updated firmware, it can be considered the best Bitcoin miner on the list. Unlike M30S++, it uses a 7nm TSMC chipset, much like the latest generation of non-mining AMD Ryzen CPUs.
Unfortunately, at press time, it cannot be obtained from the manufacturer's website due to supply chain issues, which seems to be a frequent occurrence. 
Getting the Antminer S19 Pro from the official website doesn't look like it will be happening with supply chain issues continuing into 2022, but ECOS — a crypto investment platform — is a good alternative to get this ASIC miner.
ECOS calls itself a full-fledged crypto investment platform that facilitates the generation of revenue from assets. This includes a cloud mining service, mining hardware equipment, an exchange, and crypto investment portfolios among other things.
ECOS' ASIC shop lets you choose a device, and each comes with a 6-month warranty. Options include Bitmain, Innosilicon, and WhatsMiner products. One of their most sought-after ASICs, Antminer S19 J Pro, is in stock with ECOS. Overall, the hashrate for the products available ranges from 39 TH/s to 112 TH/s.
The platform also provides hosting for your hardware. To make the process as hassle-free as possible for users, ECOS offers pre-check and setup, a connection to a mining pool, a 6-month warranty, and customer support around the clock. There also exists an app that is user-friendly and intuitive. The app will let you track all mining charges.
Lastly, ECOS provides cloud mining solutions, which start from $50. This is a highly convenient option, as you don't have to store the device locally. It's good for those who don't have the budget for an ASIC but would like to begin mining.
2.) AvalonMiner 1246
Power draw: 3.43 kW
Hash rate power: 90TH/s
Price tag: $4,000 – $5,300
Chinese Canaan Creative is a well-established player in the crypto mining arena. Some would say it is the first company to offer a dedicated ASIC Bitcoin mining machine since its first model in 2013. AvalonMiner 1246 is a heavy-duty mining machine, demonstrated by its four integrated fans, which ramp up to a very uncomfortable noise at 75dB.
This is considered very loud traffic noise, so be prepared to have a dedicated mining space with noise isolation on the door. Nonetheless, it boasts high efficiency at 38J/TH. Additionally, it comes with a one year warranty and integrated AI microchip. As with most ASIC miners, due to high demand, you may find it difficult to find but first, take a look at the official manufacturer's page.
3.) AvalonMiner A1166 Pro
Power draw: 3.4 kW
Hash rate power: 81TH/s
Price tag: $2,200 – $2,850
Almost equal hash rate power and power draw at twice less the price, AvalonMiner A1166 Pro is so highly sought after that it is even more difficult to acquire. This Bitcoin machine has a hash rate efficiency at 42J/TH, 4 higher than the AvalonMiner 1246. Although it still costs as much as a high-end PC, it's a steal at that power efficiency.
Unfortunately, it appears that Canaan cut some corners to make it this affordable, as it only comes with 180 days warranty. Also, if you are buying it directly from the manufacturer, you will have to get a minimum of 5 to get them shipped. All five would yield 405 TH/s, netting about $115 per day. It uses the same fans as the previous model, so expect the noise to be equally bothersome.
4.) WhatsMiner M32-62T
Power draw: 3.348 kW
Hash rate power: 62 TH/s
Price tag: $1,075 – $1,400
One of the newcomers to the mining arena launched last year, this super-affordable Bitcoin mining machine uses Samsung's 8nm chipset. Unfortunately, the latest doesn't mean the most efficient, as you can tell from its power draw that is comparable to AvalonMiner 1246, but 30% less efficient.
However, it is also 4 – 5 times less expensive than top of the line ASIC miners, so it's a solid investment if you intend to have your RoI in less than four months. It offers 180 days warranty and comes bundled with a power supply unit. The M32 series comes in three versions, with the most expensive one yielding 66 TH/s.
5.) WhatsMiner M30S++
Power draw: 3.472 kW
Hash rate power: 112 TH/s
Price tag: $9,900 – $14,000
Another model from Chinese MicroBT, the M30S++, is a Bitcoin mining machine beast with the highest hash rate power available on the retail market. Surprisingly, its power draw is quite low, which means it is also one of the most efficient ASIC miners at 31 J/TH. However, with a price tag at a minimum of $10k, you need to be heavily committed to Bitcoin mining.
With a moderately priced electricity cost, you can expect an ROI within 10 to 12 months, if the Bitcoin price doesn't go under its current range ($55k – $57k). Having been released just last October, it too uses Samsung's latest 8nm ASIC chipset.
6.) Ebang EBIT E11++
Power draw: 2 kW
Hash rate power: 44 TH/s
Price tag: $2,024
Chinese Ebang counts itself among top Bitcoin ASIC manufacturers. Its latest model comes in a classic, compact, tubular design with an efficient exhaust and intake fans on both sides. Its software setup is equally efficient with the "Simplify IP" setup to quickly commence Bitcoin mining directly via Ethernet.
Covered by one year warranty (half a year for the whole machine, one for the controller), EBIT E11++ is built on a 10nm chipset. Due to its hash rate efficiency that greatly falls behind AvalonMiner A1166 Pro, it should be the last on your list, if nothing else is available.
7.) Bitmain Antminer S5
Power draw: 0.56 kW
Hash rate power: 62 TH/s
Price tag: ~$500
Released all the way back in 2014, this model still holds up, accounting for its low electricity consumption and hash rate efficiency at 0.51 J /GH. Likewise, it is extremely compact at only 2.5kg, while its cooling is greatly helped with an open top design. It is a perfect fit for those who live in smaller apartments, as it has a maximum noise level at 65 dB
What Hardware Do I Need for Bitcoin Mining?
If you already have a formidable PC, you can try transforming it into a Bitcoin mining machine at no initial cost. Just as games have a minimum system requirement to be playable, Bitcoin mining has a minimum requirement in order to be profitable:
CPU – From Intel Celeron series
MBO – From B250 series
GPU – From Nvidia GTX 1070 or AMD Vega 56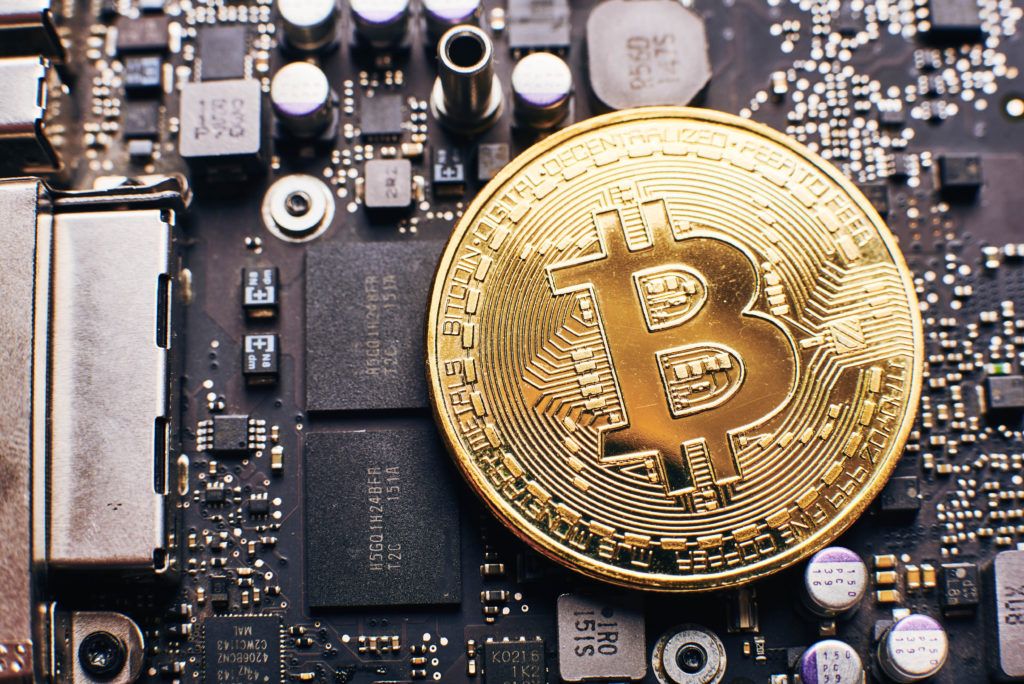 If you want the best output all-in-one — workstation, uncompromised gaming, mining — for your next PC, try AMD Ryzen Threadripper 3970X. This would be considered a supercomputer not so long ago, thanks to its 32 cores and 64 threads. It also has a massive cache of 144MB and power draw at 280W.
As far as cost-effective GPUs go for Bitcoin mining, Nvidia RTX 3070 seems to be the optimal choice, if you are lucky enough to even obtain it, let alone purchase it at its original MSRP of $400.
How Long Does It Take to Mine 1 Bitcoin?
At the current Bitcoin (BTC) price point of $55K, a single, medium-ranged Bitcoin mining machine with 50 TH/s would be able to mine 1 BTC within one year. As you can see, we have long passed the threshold where Bitcoin mining can be effectively done at such a small scale.
Nonetheless, there is an alternative form of crypto mining in the form of cloud mining. For example, StormGain offers a cloud mining service with which you can mine up to 0.0318 BTC per day. This is a legit way of mining without suspicious malware being installed on your computer, or even having to have a mining rig. Otherwise, StormGain wouldn't be a member of the Blockchain Association of the Financial Commission.
What Is an ASIC Miner?
In the early days of Bitcoin adoption, it was commonplace to employ commercial GPUs for cryptocurrency mining. While people still use that method in areas with cheap electricity, such an approach to Bitcoin mining has long outlived its cost-effectiveness.
In fact, Bitcoin was originally coded to be mined by CPU power, not GPU. Only later did Bitcoin core developers decide to harness the greater hashing power of GPUs. Eventually, even they were outclassed by specialized hardware called ASIC miner, standing for Application Specific Integrated Circuits. Any serious Bitcoin mining farm now consists of ASICs. Otherwise, it couldn't be profitable.
Which Bitcoin Miner Is Most Profitable?
Although not on the list because it has only been announced last month, it seems that Bitcoin mining machines from BitWats are poised to be the most profitable mining rigs. Out of three, the one with the lowest price, at $5,000, reportedly has 360 TH/s at 550W power consumption.
If true, this could completely upturn the crypto mining business. In the meantime, either WhatsMiner M30S++ or Antminer S19 Pro are the most favored choices among Bitcoin miners.
How Much Does an ASIC Miner Make?
A single ASIC miner, such as AvalonMiner A1166 Pro, capable of about 81 TH/s, could make about $23 per day. Of course, this is excluding the cost of the unit and ongoing electricity costs. If you are not prepared to invest in an ASIC miner, outside of cloud mining with StormGain, you could also join a mining pool.
Mining pools represent coordination with fellow miners, combining computing power to add a new block. Once the block is mined, the block reward is then shared among all the pool participants. As you would expect, most mining pools can be found in China, seconded by Malta, and then in the US. There are several mining pools to choose from:
Binance Pool
Antpool
F2pool
ViaBTC
Poolin
Foundry USA
Note that the pool's region is not relevant to the process, so that you could join a Chinese pool from the US. Also, keep in mind that mining pools are different from cloud mining; as for the former, you have to have a mining rig.
Lastly, if some unknown Bitcoin cloud mining or pool mining website seems too good to be true, it's likely a scam. The biggest such scheme was BitClub Network, when three fraudsters were arrested for pilfering $722 million worth in crypto assets. The common tactic is to promise a share in the hashing power for an initial investment. As befits a true Ponzi scheme, scammers would then also ask the investors to bring in new recruits for rewards.
Disclaimer
All the information contained on our website is published in good faith and for general information purposes only. Any action the reader takes upon the information found on our website is strictly at their own risk. At Learn, our priority is to provide high quality information. We take our time to identify, research and create educative content that is useful to our readers. To maintain this standard and to continue creating awesome content, our partners might reward us with a commission for placements in our articles. However, these commissions don't affect our processes for creating unbiased, honest and helpful content.