Founded by Anatoly Yakovenko, Solana is a fast-growing network and ecosystem with the potential to compete with the likes of Ethereum. Since its launch in March 2020, it has only grown in value, though it is still early in the project's lifespan. Here, we take a look at a Solana price prediction for 2023.
We use token analysis and other factors to make an educated guess at where the price might go. But first, let's take a look at what Solana is.
What is Solana (SOL)?
Solana is a decentralized open-source blockchain project. Its primary focus lies in the creation of decentralized applications (DApps). Currently, the Solana network boasts more than 400 projects, which span the decentralized finance (DeFi), non-fungible token (NFT), and Web3 sectors.
Solana provides great scalability because it makes use of both a proof-of-stake (PoS) and proof-of-history (PoH) consensus mechanism. Due to this hybrid mechanism, it processes a block at very fast transaction speeds of 50,000 tps (transactions per second). In addition to this, it has transaction costs of less than $0.01.
The PoH consensus runs parallel to the PoS consensus. It is a sequence of computations that makes it possible to verify the time passed between two events by using cryptography. Due to its secure cryptographic function, the output cannot be predicted by the input. Rather, it has to be executed fully in order to arrive at the output.
It is possible to both create and trade non-fungible tokens (NFTs) in the Solana ecosystem at very low transaction fees. One such project was "The degenerate ape academy," which was launched in August 2020 and sold 10,000 units in a matter of minutes.
The Solana network possesses more than 2900 nodes. This makes it more decentralized when compared to other similar blockchains. However, there is a relatively high cost of between $3000–$40000 to become a validator node.
The network has seen considerable growth in 2021, since numerous well-known projects have boarded the platform, such as ChainLink (LINK), Terra (LUNA), and Serum (SRM). However, it got embroiled in the FTX contagion, post-which the price took a dive — changing the predictions for the future.
Tokenomics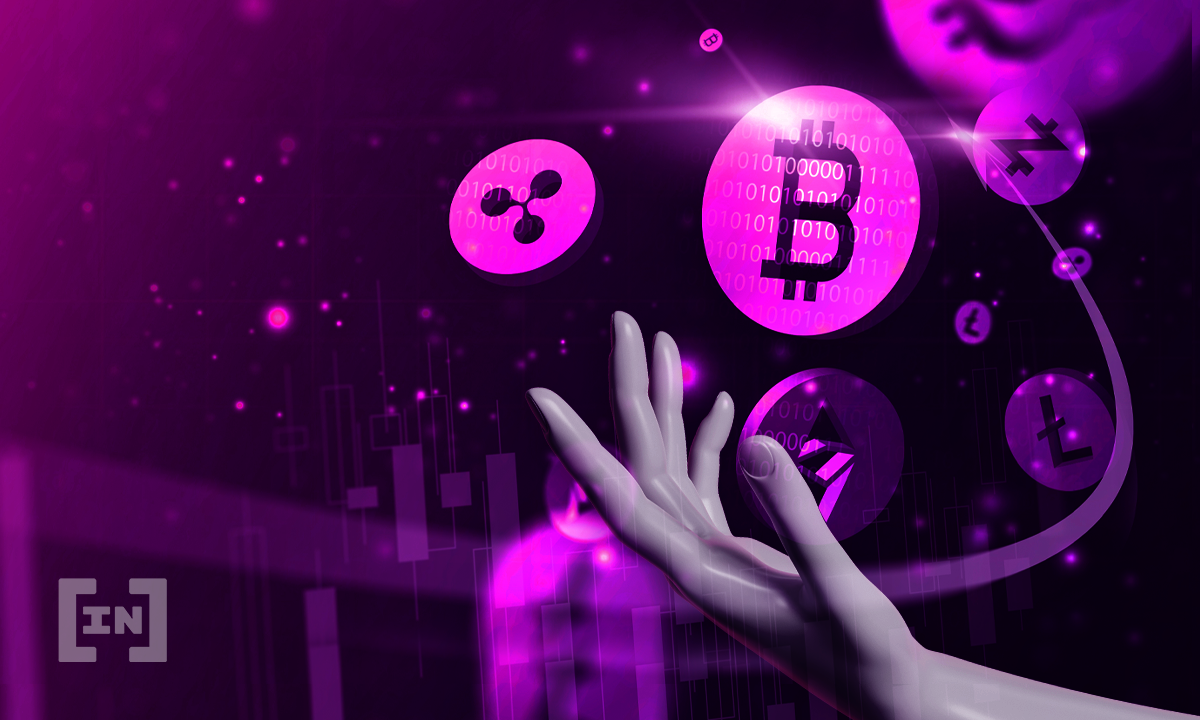 The native token for the Solana platform is SOL. It has a circulating supply of 404,523,487 tokens and a maximum supply of 489,000,000 SOL.
Holders can stake tokens to validate transactions due to the use of PoS in the consensus mechanism. In addition to this, holders have governance rights, receive periodic rewards, and pay gas fees with SOL, giving it numerous use cases.
Solana (SOL) technical analysis
SOL's price has been falling since reaching an all-time high of $259 on Nov. 6, 2021. But that was in the past. Over the past year, SOL has dipped by close to 40%, ditching its year-on-year high of $46.60 to trade at $23.61 currently. It is noteworthy that the prices went as low as $9 at one point in time. SOL prices have recovered since.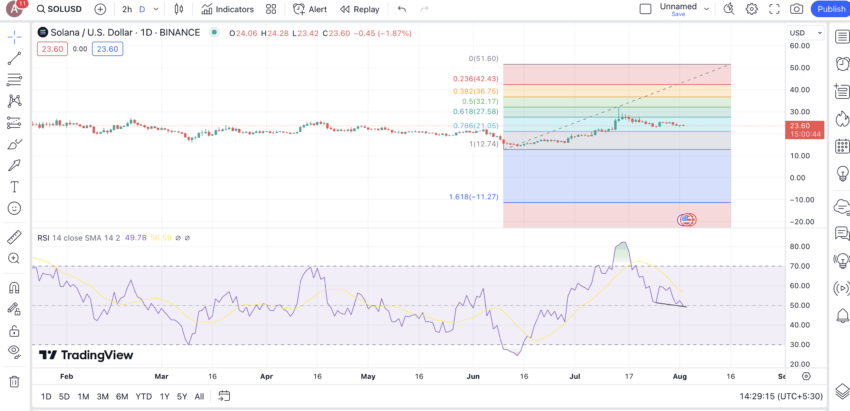 The recent high made by SOL coincides with the 0.5 Fib retracement level of $32.17. And there is strong support at the 0.618 Fib level, aligning with the $27.58 price level. Do note that on the daily chart, SOL's price has been following this support level for some time now. If it breaks, SOL might even head towards $21.05.
The RSI is making a lower low, standing perilously close to breaching the 50 level. A drop in RSI might suggest weakening momentum and a further price drop.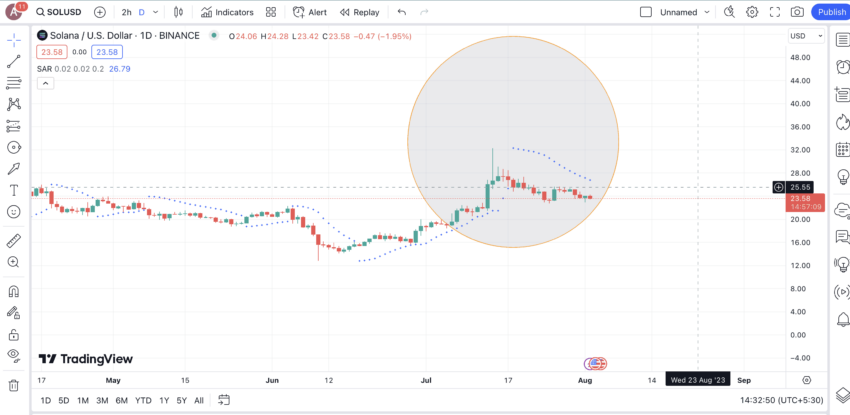 Even the Parabolic SAR indicator is hinting at a weakening trend, with the bearish parabola forming above the price candles.
Solana price prediction 2023
Here is how we charted SOL's price action for 2023.
The first upward movement for SOL transpired between April–August 2020. The token increased by 2,320% in 144 days. The second upward movement transpired between December 2020–May 2021. The token increased by 5,950% in 146 days. This was the steepest increase so far.
The third and final upward movement transpired between July–November 2021. This led to the current all-time high of $267. While the token only increased by 1,060%, the move continued for 110 days.
The previous two increases ended after the RSI crossed below 70 (red icon). Therefore, it is possible that the third one has also come to an end since the RSI crossed below 70 on November 2021.
In this case, the price of Solana would continue correcting for the majority of 2023. Regardless of the reasons, the correction has been pretty alarming for traders.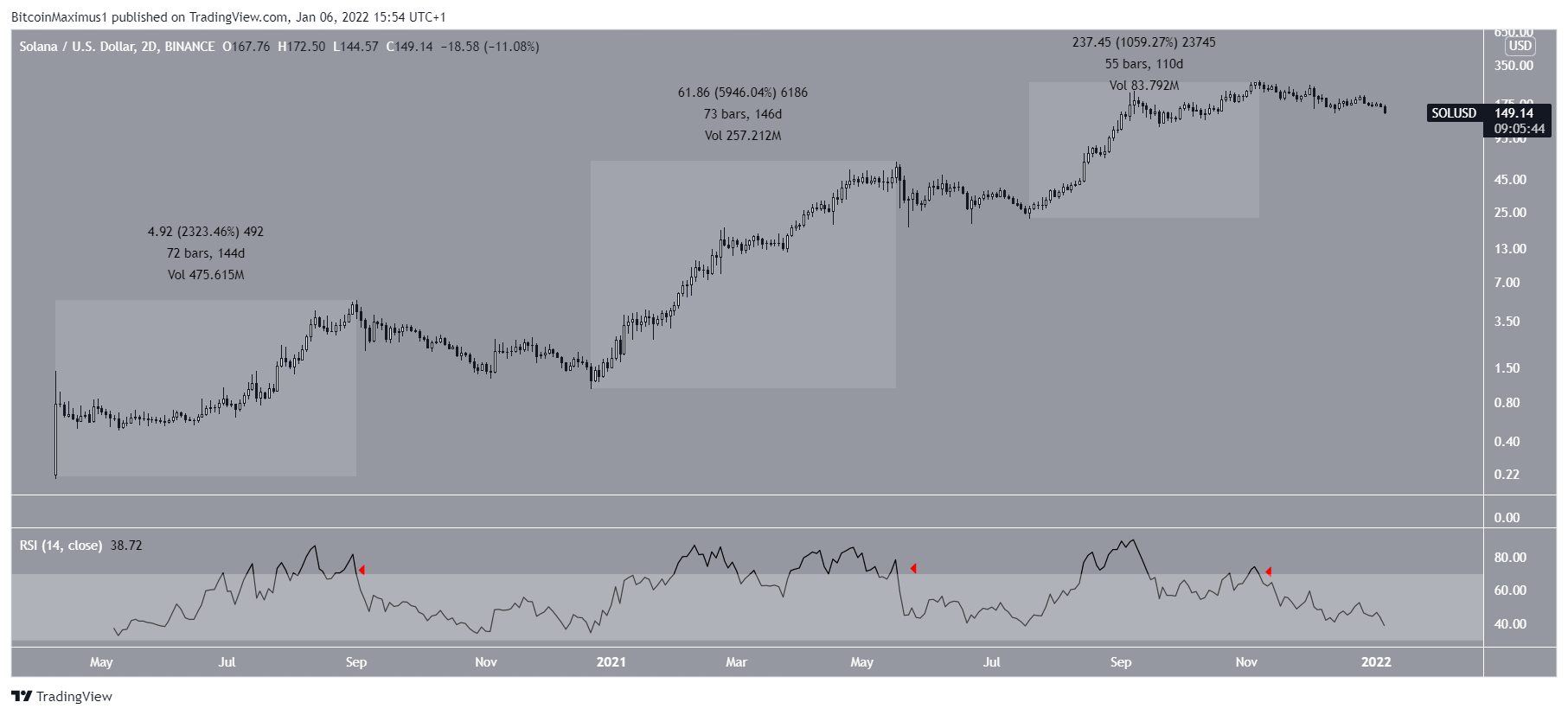 Now, if we shift our attention to 2023, it is evident that the correction is a mirror formation or, rather, a foldback pattern look-alike of SOL's broader price action.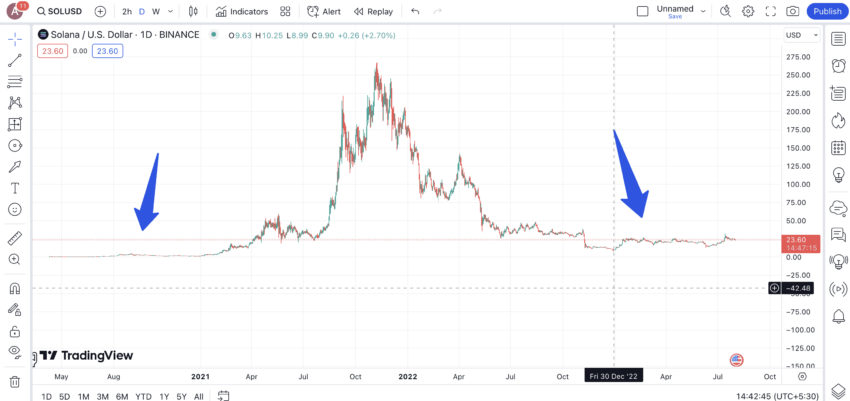 Also, if we look at the corresponding RSI patterns, the correction for each phase stopped, and the prices surged every time the RSI dropped deep in the oversold region — under 30. These points are marked by the red arrows. Therefore, for SOL's price to move up from here, we might need to see the RSI move back to the oversold zone.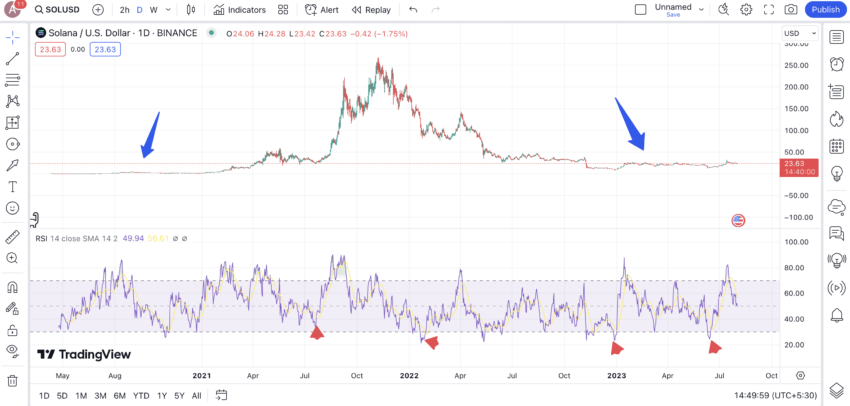 And we would need a solid bullish RSI divergence as opposed to the price action for a sustained uptrend. However, per the historical data and previous price surges, we might see SOL's price picking up pace towards the end of 2023. If you look at the daily chart mentioned above, a rising price followed by a bullish SAR and increased volume can push the prices towards $36.75 and then $42.43 — levels coinciding with the 0.382 and 0.236 of the Fib retracement indicator.
Why is Solana unique?
SOL differs from other platforms that specialize in dApp creation because it combines a proof-of-stake with a proof-of-history concept.
This gives it a great degree of scalability and very low transaction costs. The low transaction costs have been especially helpful in the NFT sector, since gas fees have consistently provided problems in the ETH blockchain.
Frequently asked questions
How much will Solana be worth in 2023?
What is the future of Solana?
Disclaimer
In line with the Trust Project guidelines, the educational content on this website is offered in good faith and for general information purposes only. BeInCrypto prioritizes providing high-quality information, taking the time to research and create informative content for readers. While partners may reward the company with commissions for placements in articles, these commissions do not influence the unbiased, honest, and helpful content creation process. Any action taken by the reader based on this information is strictly at their own risk.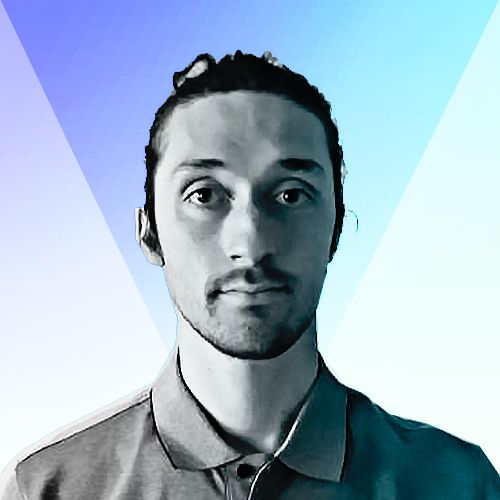 Valdrin discovered cryptocurrencies while he was getting his MSc in Financial Markets from the Barcelona graduate school of Economics. Shortly after graduating, he began writing...
Valdrin discovered cryptocurrencies while he was getting his MSc in Financial Markets from the Barcelona graduate school of Economics. Shortly after graduating, he began writing...
READ FULL BIO
Sponsored Sponsored