The DeFi market is one of the most lucrative places to invest in, but the space can be overwhelming for beginners. It can be difficult to research and track your investments, not to actually allocate your capital. That's why you must make use of the several DeFi analytics tools available to you. These will help you analyze the DeFi ecosystem and find new investment opportunities — all in a much more streamlined way.
The basics of DeFi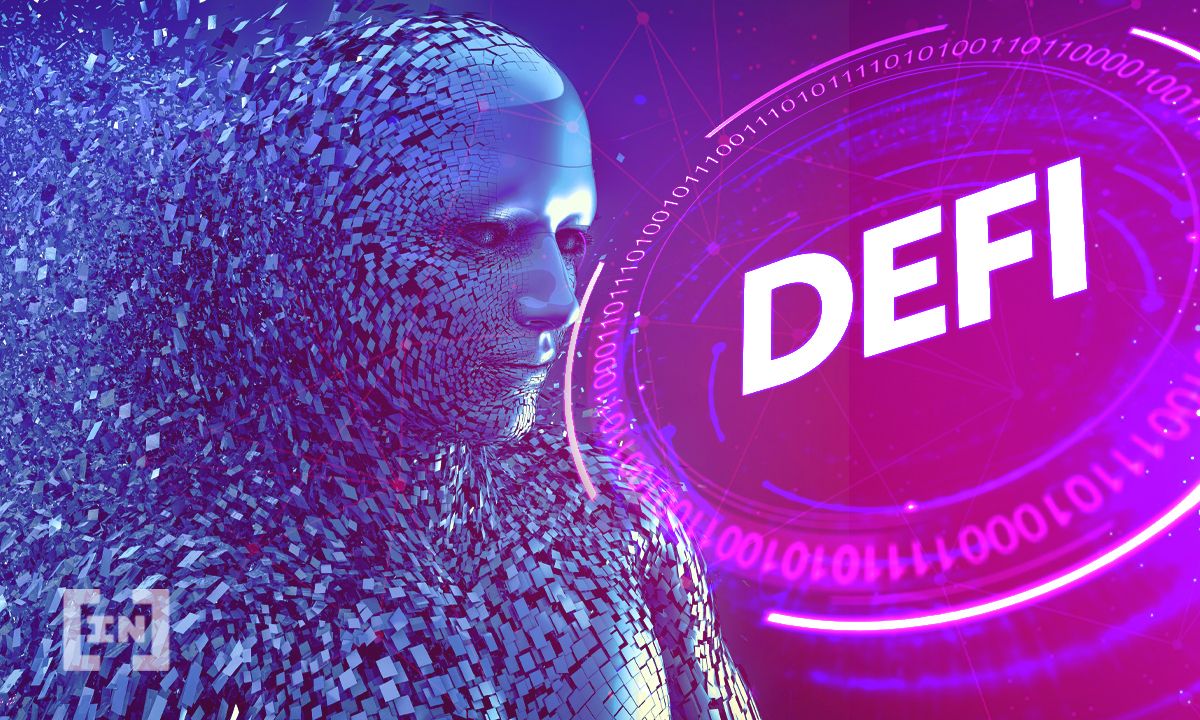 DeFi stands for Decentralized Finance, and it has emerged over the last few years as a cornerstone of the blockchain ecosystem. The DeFi market boomed thanks to Ethereum's smart contracts, enabling developers to build novel decentralized applications for finance.
In a nutshell, DeFi comprises all decentralized finance tools and DeFi platforms that enable crypto investors to trade assets, as well as offer financial services often found in traditional finance.
We have selected the top 14 DeFi tools that help crypto investors easily observe and track their holdings. Some of these tools are effectively essential for a smooth DeFi experience, while others are helpful additions.
Top 14 DeFi tools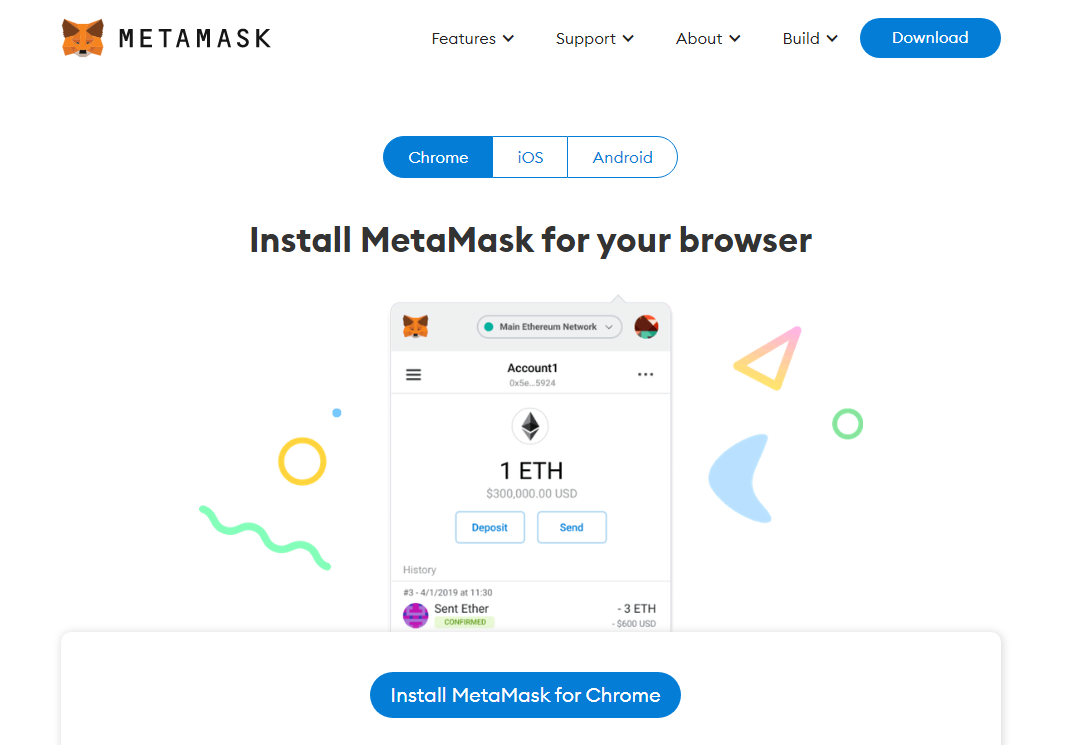 MetaMask is one of the most popular DeFi tools. Although Metamask is a cryptocurrency wallet that operates as a browser extension, it's a powerful tool because it enables users to interact with the entire Ethereum ecosystem and its many decentralized applications (Dapps).
The wallet is compatible with the most popular internet browsers (Chrome, Brave, Firefox, and Microsoft Edge). It supports the Ethereum blockchain, including ERC-721 tokens, which are used for NFTs.
DeFi users will find it effortless to use MetaMask to connect to various decentralized crypto exchanges (DEXs), making it an essential DeFi tool for interoperability between different DeFi platforms.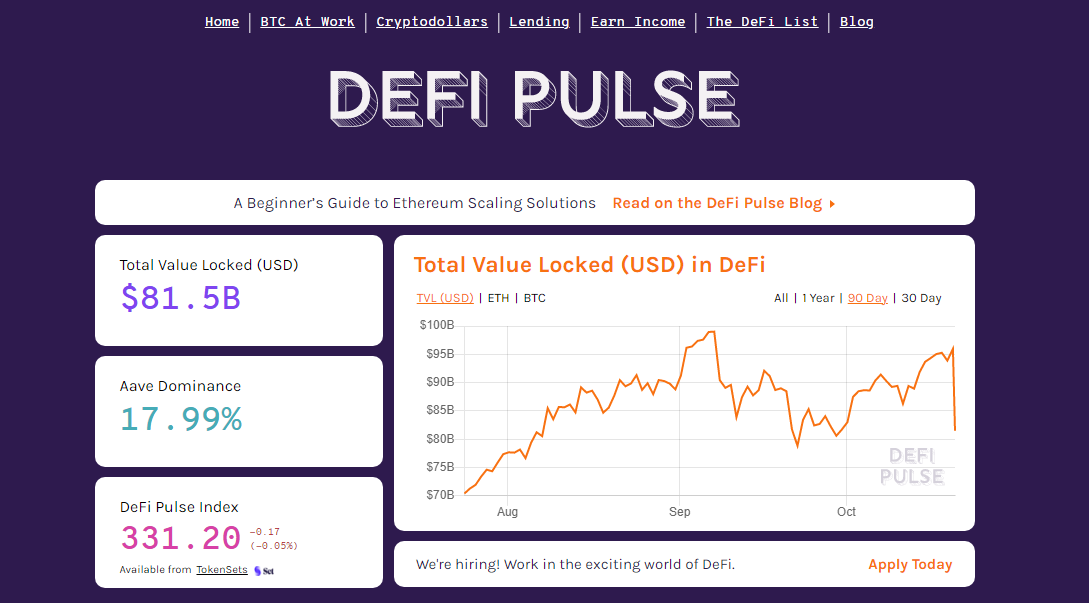 DeFi Pulse is a leaderboard of all DeFi applications. This leading resource can help you track all your DeFi assets and projects.
Crypto enthusiasts can also use DeFi Pulse to get the latest rankings and analytics about most DeFi protocols.
It tracks the total value locked (TVL) of major DeFi platforms, in addition to other metrics. Another useful feature that DeFi Pulse provides is the collection of the best DeFi resources, called the DeFi List.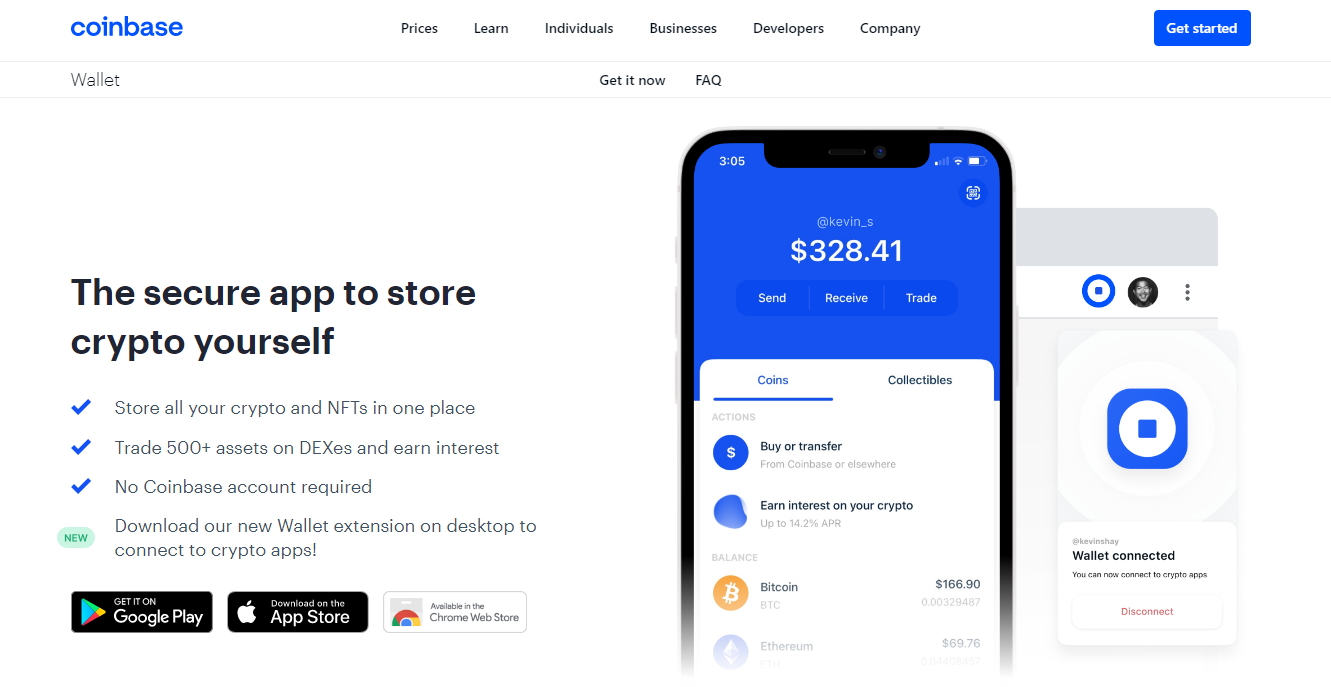 Coinbase Wallet is not the same as the popular cryptocurrency exchange, Coinbase. It is a multi-coin Ethereum-based wallet, and it also serves as a Dapp browser.
Coinbase Wallet doesn't require a Coinbase account, and it enables users to securely store and trade crypto funds and assets directly on their devices. The wallet also allows users to earn interest from their crypto funds.
Unlike Coinbase, on Coinbase Wallet, the user has complete control over the wallet and has access to the private keys. It serves as a gateway to Ethereum-based Dapps, such as decentralized exchanges and other DeFi platforms.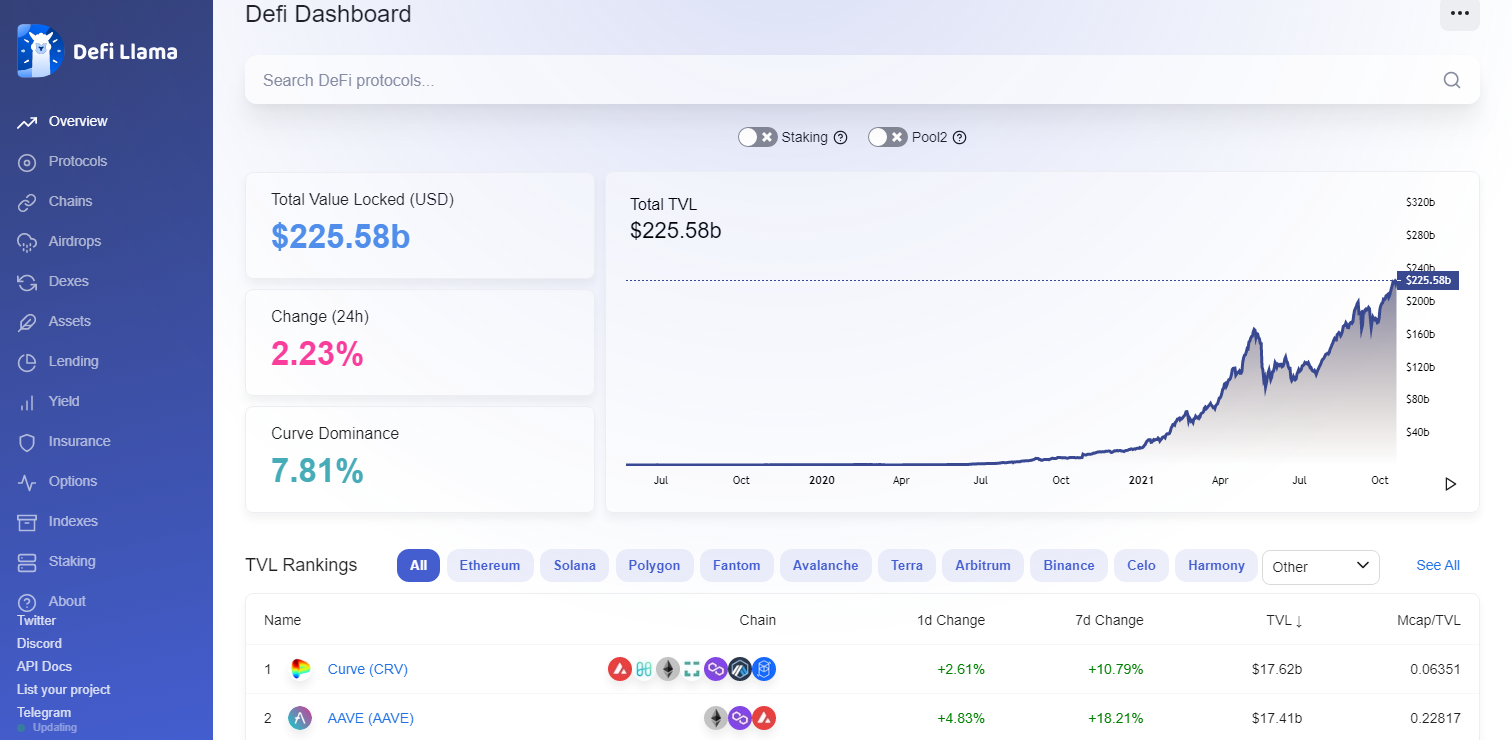 DefiLlama is a highly useful tool that tracks DeFi protocols, providing statistics that include the total value locked (TVL) and changes over different time frames.
This DeFi tool aims to include all DeFi protocols on the market, and it currently lists the platforms on Ethereum, Binance Smart Chain (BSC), Solana, Avalanche, Polygon, and more. You can find the entire list of supported chains here.
DeFi Llama also helps users easily analyze protocols based on several categories:
DEXs
Assets
Lending
Yield
Insurance
Options
Staking
DefiLlama is a potent DeFi tool that allows users to track and compare protocols across multiple blockchains easily.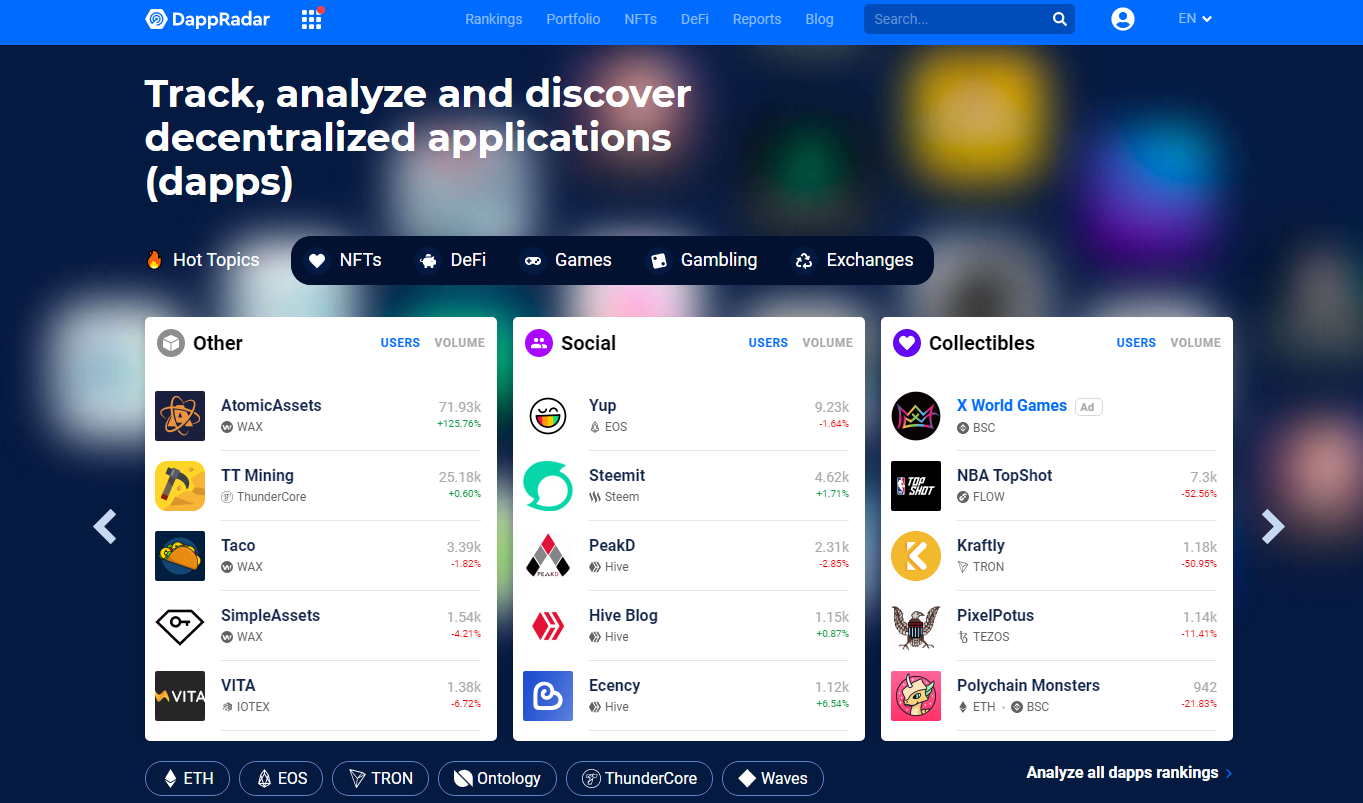 DappRadar is a platform that provides insights for over 3,000 Dapps. The startup is based in Lithuania and plans to expand and include as many components of DeFi as possible.
The main advantage of DappRadar is that it facilitates data analysis for users and developers. By analyzing all the available data about Dapps, users can make better and informed decisions. Developers use DappRadar to research and discover new Dapps, while users can pick up their data from this DeFi tool and become a consumer.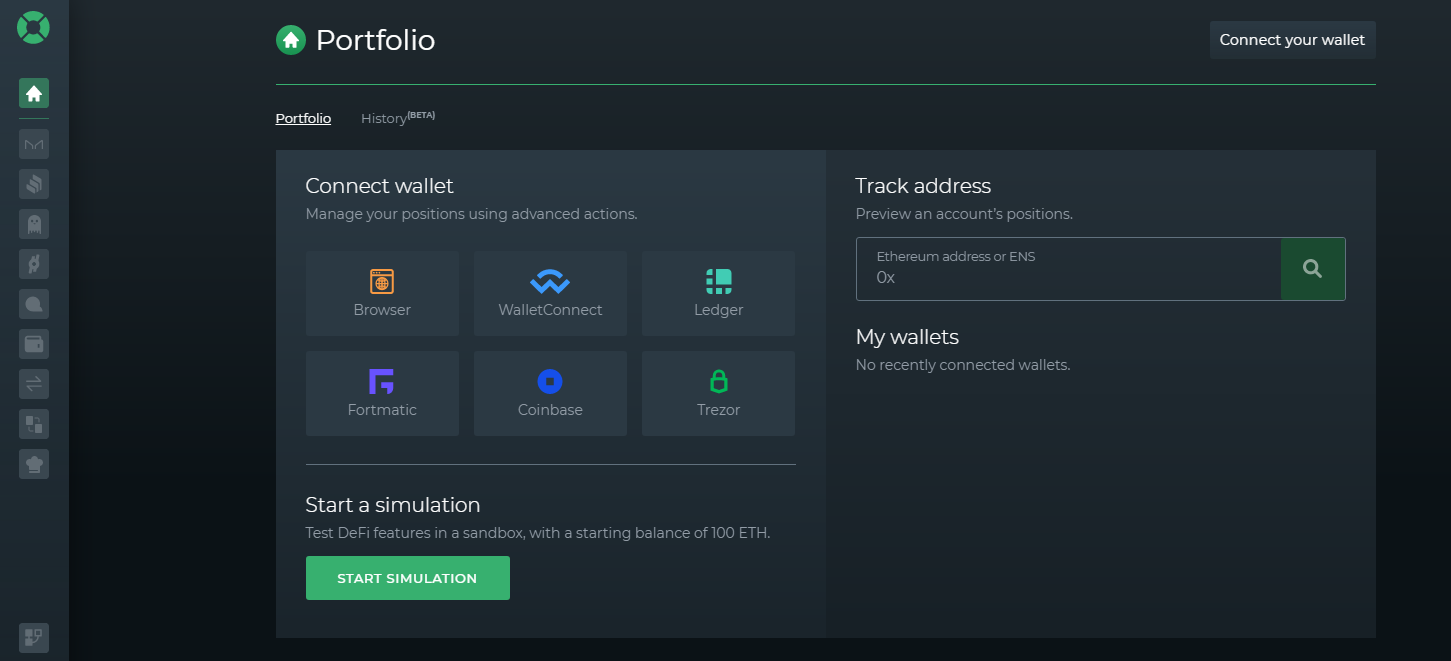 DeFi Saver is a user-friendly dashboard to allow users to manage their funds. This is a DeFi tool that allows inventors to easily manage all aspects of DeFi investments, such as changing lending protocols, refinancing DeFi loans, staking funds, or creating custom transactions.
The top features of DeFi Saver are:
The ability to create custom recipes for crypto transactions
Loan shifter
Friendly interface for managing different platforms and assets.
This DeFi tool has a simulation module, which can be very useful for new investors.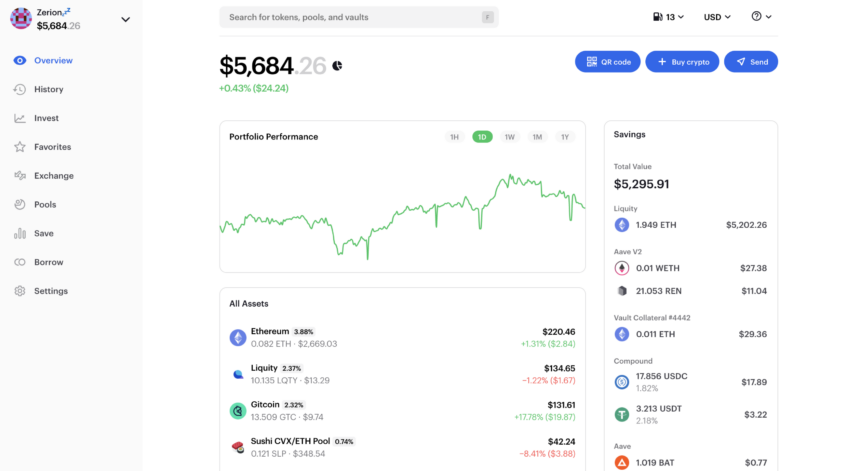 Zerion lets users manage and grow their entire DeFi portfolio from one location. The platform features such tools and products as DeFi indexes and DeFi blue chips. Users can trade DeFi tokens, transfer assets across chains and show off their NFT collections all in one place.
Multiple networks are supported, including Polygon, Optimism, Arbitrum, and BSC. Zerion also aggregates all major decentralized exchanges and Layer 2 blockchains, with no commission.
The intuitive interface allows platform users to handle several aspects of your portfolio, including pools and NFTs.
NFT owners can also see their favorite collectibles and art as widgets on their iPhones or Apple Watches and send them to friends and family in a few clicks.
LiquidityFolio helps liquidity providers manage their investment in the most popular liquidity protocols, such as Uniswap, Curve, Balancer, 1inch, and more.
The tool allows portfolio tracking and also pool research, according to some criteria, such as fees and impermanent loss.
Crypto investors can use this to find the best liquidity pools for the best yields related to ERC-20 tokens on supported protocols.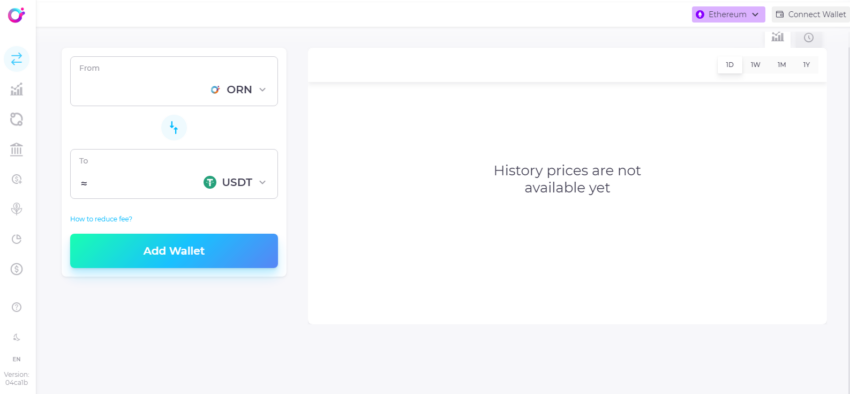 Orion Protocol calls itself a gateway to the crypto market. The platform offers several different services that make it a single point of access for most crypto needs. From trading and staking to bridge services, there's a lot to be gained from using Orion.
Both centralized and decentralized exchanges can be used through Orion, and users get the best prices and zero slippage with it. The platform also offers trading tools for market analysis, and the arbitrage opportunities can be executed without needing multiple accounts.
Other features include a developer kit, an NFT aggregator, and of course, the ORN token, which powers the whole platform.

Dune Analytics is used for blockchain research. It is one of the most popular DeFi analytics tools. Users can easily create custom queries to visualize data from a blockchain.
The tool uses SQL for queries and allows the results of the queries to be visualized in the dashboard. Users can use templates for queries or create their own. Dune Analytics allows users to extract and analyze data from Ethereum, Matic, Optimistic, and xDai for free.
The main feature of this DeFi analytics tool is the visualization feature. The only downside is that the user can only run three queries at a time on the free version.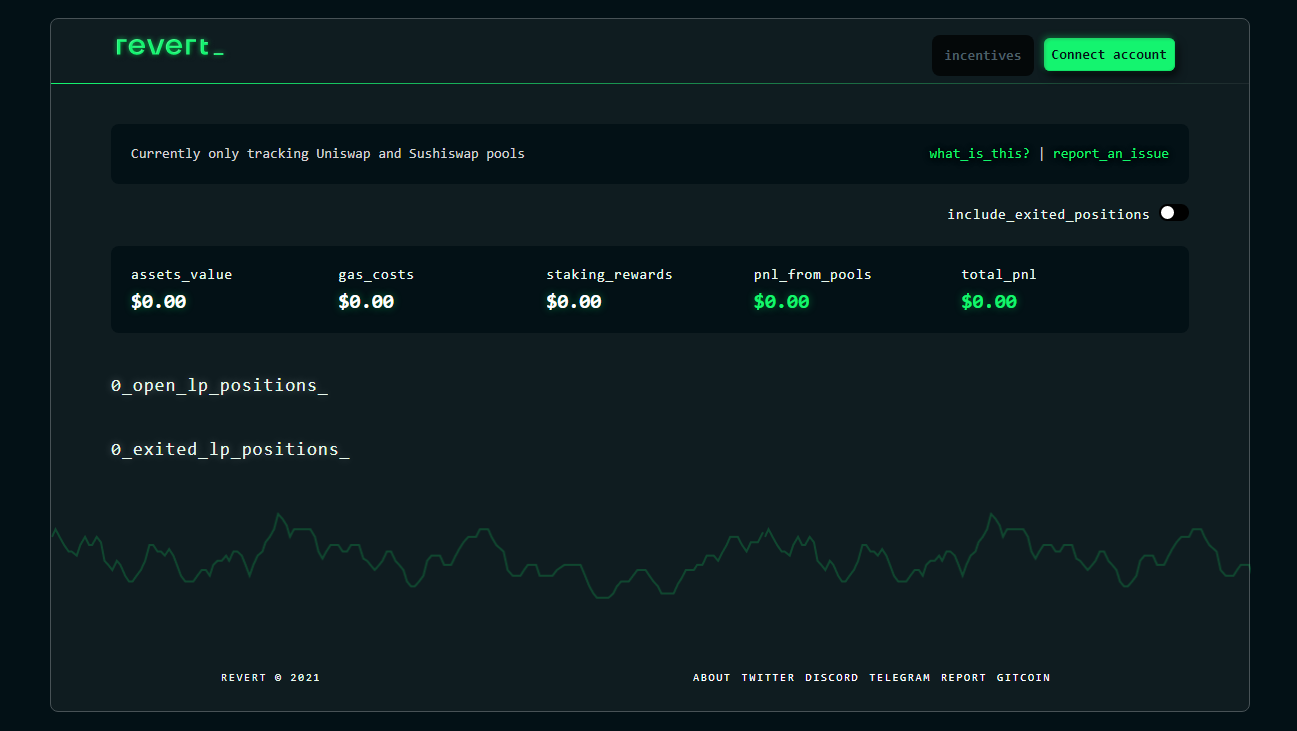 Revert Finance is a powerful analytics tool for DeFi liquidity providers. This tool aims to help investors with necessary and accurate information about liquidity pools on the UniSwap (V2 and V3) and SushiSwap DEXs.
The tool has a simple and easy-to-understand interface, and it provides users with essential pieces of information for deciding which liquidity pools to fund.
The simple and yet powerful feature of Revert Finance is that it provides the user with all crucial data at a glance. The main dashboard displays the assets' total value in USD. This DeFi tool also shows all staking rewards, their current market price, and the available LP tokens.

APY.Vision aims to be your go-to defi analytics and monitoring tool for liquidity pool providers and yield farmers.
All DeFi investors need to carefully track all the services used and investments to be able to make a profit. Fortunately, this is one of the DeFi tools to help you manage DeFi liquidity positions and impermanent loss in real-time.
Unlike other tools, APY.Vision provides insights analysis of the entry and exit positions of your investment. It can also generate data to analyze impermanent loss vs. holding income.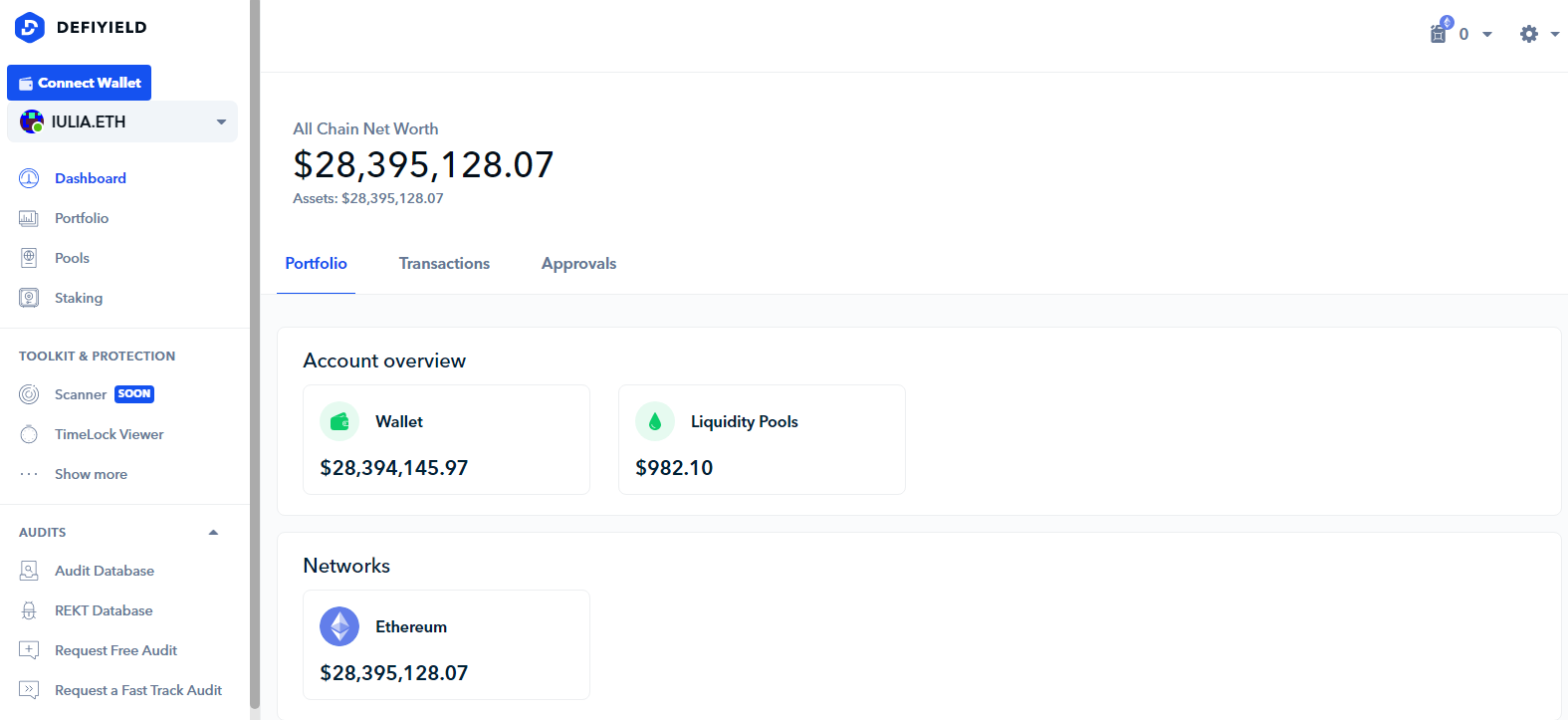 DEFIYIELD is an asset management DeFi analytics tool aiming to secure the investors' funds, provide an overall of the assets, and find the best investment opportunities.
Users can see all their DeFi tokens on the DEFIYIELD dashboard. Using the dashboard, crypto users can easily:
Monitor metrics for their investment (profit, loss, impermanent loss, and farming rewards)
Discover investment opportunities
Allocate funds for different projects across different blockchains
Stay safe and protected. Users receive a warning regarding malicious Dapps, which may have a backdoor or other ill-intended code.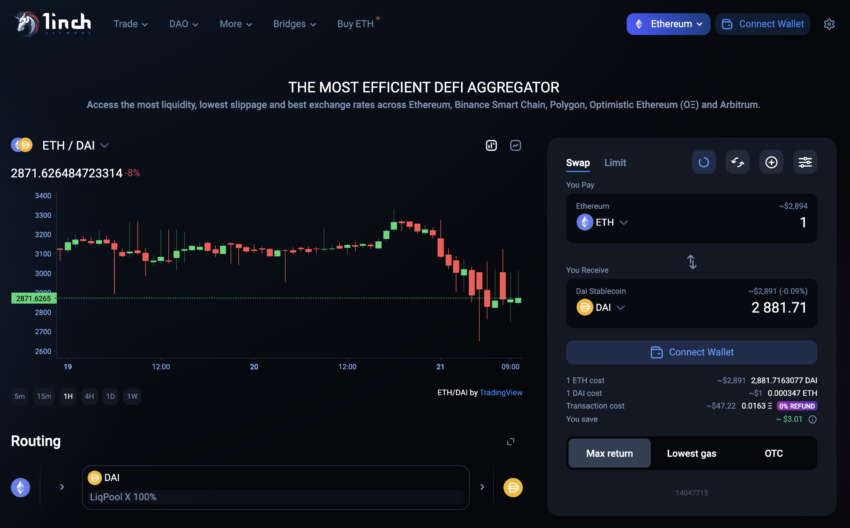 1inch is a DEX aggregator that has a range of cutting-edge protocols. Transactions are cheap, fast, and protected for DeFi users. At present, it includes three main components:
The 1inch Aggregation Protocol offers cost-efficient and secure swap transactions across multiple liquidity sources.
The 1inch Liquidity Protocol is a next-generation automated market maker that protects users from front-running attacks, offering attractive opportunities to liquidity providers.
The 1inch Limit Order Protocol facilitates innovative and flexible limit order swap opportunities in DeFi.
Liquidity sources supported include Ethereum, Binance Smart Chain, Polygon, Optimistic Ethereum, Arbitrum, Avalanche, and Gnosis Chain. There's also the 1inch Wallet, a multichain mobile platform that provides an easy-to-navigate interface with secure storing, transaction, and staking capabilities.
Honorable mention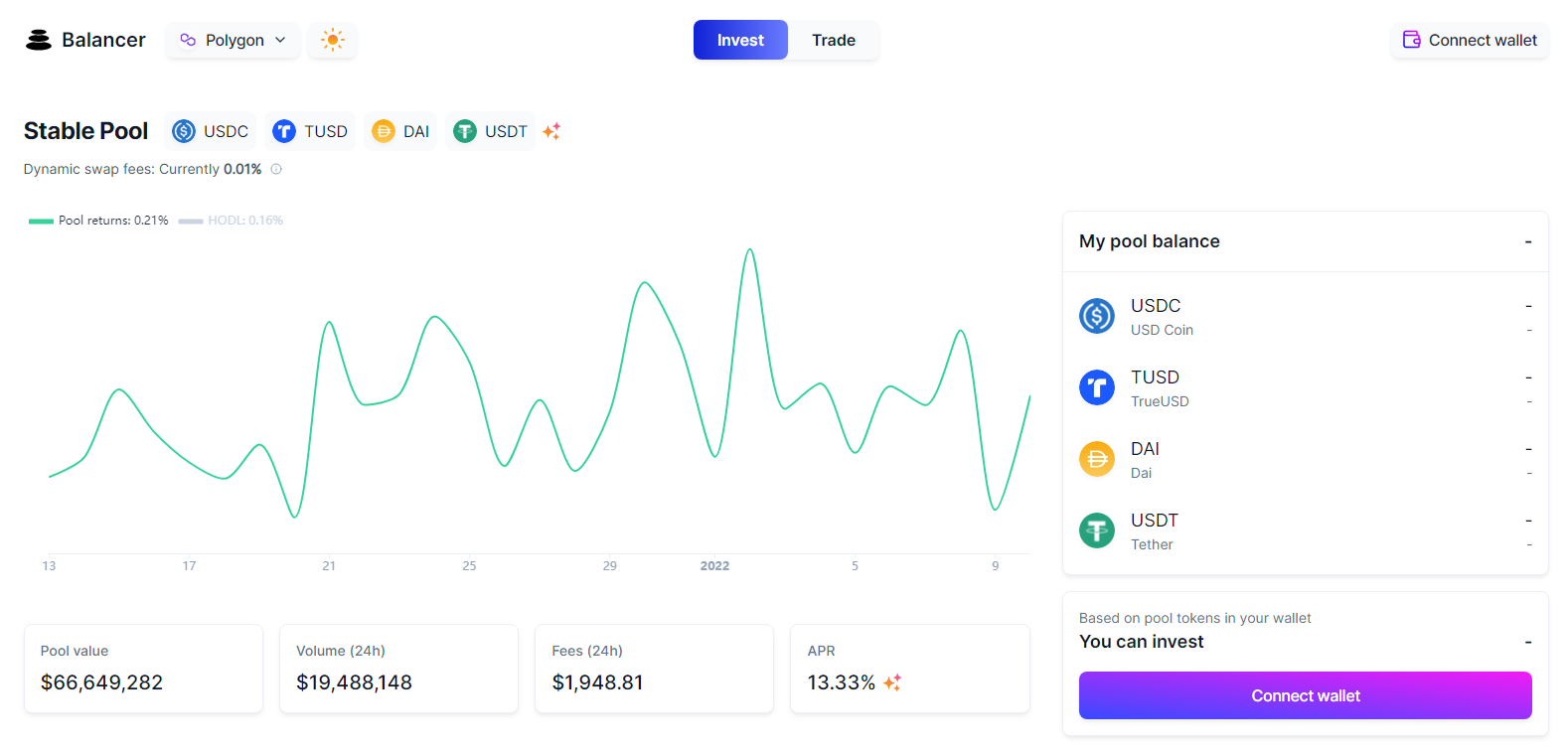 Balancer is a very well-known automated market maker (AMM) that is already quite popular with the crypto community. In addition to being an AMM, it also features a portfolio manager that automatically rebalances — and you collect fees from traders who do so by following arbitrage opportunities.
There are several features that come together to make Balancer a platform that is more than the sum of its parts. Smart Order Routing, custom token weights, and swap fees, liquidity pools that operate on any price curve, and other features result in a more cost-effective trading platform for DeFi enthusiasts. Overall, this is recommended if you want something that offers sophisticated features in a simplistic manner.
What are the best DeFi tools to use?
Each cryptocurrency investor has a different strategy and owns a different portfolio, which are the two most essential aspects when deciding the right DeFi tools to use.
It's important to pay attention to rapid changes in the market, and that's why most experienced cryptocurrency investors that are liquidity providers and yield farmers need a DeFi tool to offer real-time insights on their assets.
It's important to note that not all these DeFi tools support all protocols and DeFi tokens or platforms, and that is precisely why each investor will likely choose different tools.
< Previous In Series | Decentralized | Next In Series >
Frequently asked questions
What is the best DeFi platform?
The best DeFi platform will vary from investor to investor, as each crypto user holds different assets and has a different investment strategy. It's important to analyze the metrics you need to see and analyze for your particular investment and then choose the DeFi platform that satisfies those needs. 
What are the best DeFi tokens?
Disclaimer
All the information contained on our website is published in good faith and for general information purposes only. Any action the reader takes upon the information found on our website is strictly at their own risk.
At Learn, our priority is to provide high quality information. We take our time to identify, research and create educative content that is useful to our readers.
To maintain this standard and to continue creating awesome content, our partners might reward us with a commission for placements in our articles. However, these commissions don't affect our processes for creating unbiased, honest and helpful content.