If you're new to the cryptocurrency industry, the idea of trading Bitcoin may seem like a daunting prospect. Crypto trading is used by traders that see the potential in short-term profits from price swings and volatility. It differs from long-term investing, which focuses on storing Bitcoin with no intention to sell. In this guide, BeInCrypto will show you how to trade Bitcoin.
Although Bitcoin is a volatile asset, it's traded with high volume and frequency. Traders are able to generate healthy profits if they can correctly anticipate the market.
It's also easy to get started trading Bitcoin, even for beginners who've never traded it before.
To start trading bitcoin, you will first need access to a cryptocurrency exchange. The most popular exchanges include StormGain, Coinbase, Gemini and Binance.
For this guide, we're going to use Binance to demonstrate how to trade Bitcoin.
Registering for an Account

If you already have a Binance account, you can skip the next section.
If not, the following is a guide on how to get started with your Bitcoin trading journey —
Head to Binance.com and click on "register now".
2. On the registration page, enter the email address and password you wish to use for your account.
Enter a referral code if you have one, agree to the Terms Of Service and then click "Create Account".
Next, complete the puzzle by sliding the piece into the correct space.
4. Once completed, you can verify your account by entering the six-digit code you'll receive via email. The code is valid for 30 minutes.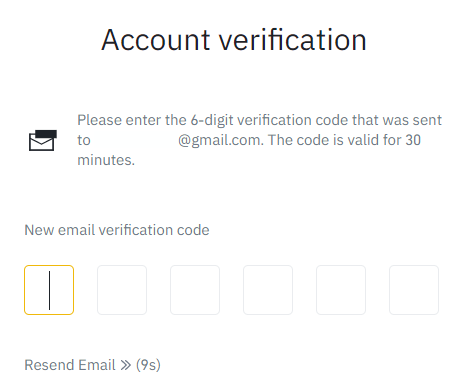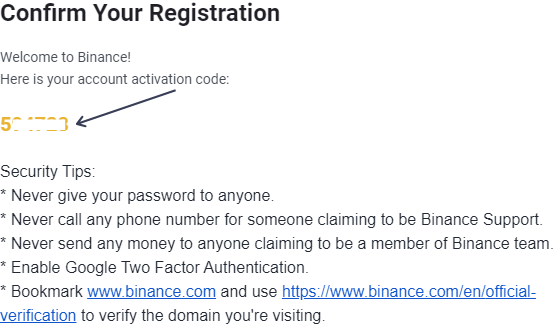 5. After you've entered your verification code, you'll be taken to the following page which shows you have successfully registered.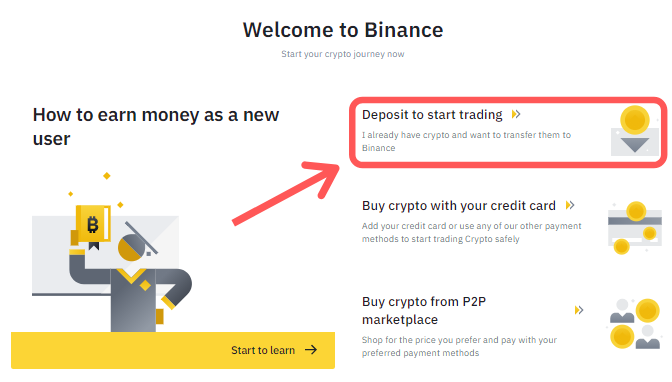 From here, you can deposit Bitcoin into your Binance account and start trading. Easy!
Security Tip – To enhance your account's security, be sure to enable two-factor authentication (2FA) after you first log in to Binance.
You can choose from either Google 2FA and SMS 2FA.
Depositing Your Bitcoin
There are many cryptocurrency wallets available that you can use to send Bitcoin to Binance.
The most popular wallets include Metamask, Coinbase, Exodus, SoFi and offline wallets like Trezor and Ledger.
Depositing your Bitcoin means you'll have to send it from your preferred wallet to Binance. This is a quick and easy process to complete.
If your Bitcoin is already on Binance, great! You can move on to the next section.
If not, follow the instructions below —
Go to your account dashboard and click on the yellow "deposit" button.

From here, you can deposit your Bitcoin using the wallet address provided.
This wallet address is unique to your Binance account, so ensure that it is copied correctly before using it to deposit funds and is only used to deposit Bitcoin.
You can also use the QR code reader on your chosen app to ensure the deposit address is entered correctly.
You should also ensure that the coin selected is "BTC" from the drop-down list and you're using the BTC deposit network.
Warning – Any mistakes made here can result in the loss of your Bitcoin, so be certain to double-check all addresses are correct before submitting anything.
Once your deposit is completed, you will receive 2 notifications from Binance, one via email and an account notification confirming the deposit.
From here, you can view your Bitcoin balance by going to your wallet and start trading!
Trading Essentials for Newbie Traders
Before you make your first trade, there are a few things you need to know to ensure you have the best trading experience possible —
1. Trading Pairs
The most popular exchanges such as StormGain and Binance provide access to hundreds of trading pairs. On Binance, Bitcoin can be traded against numerous global Fiat pairs and over 50 Cryptocurrencies.
Cryptocurrencies can be traded between themselves, Fiat pairings like USD and GBP, or stablecoins like USDT, which are coins pegged to the value of the currency.
For example, Bitcoin can be traded against Ethereum using the BTC/ETH pair, a Fiat pair like BTC/GBP or a stablecoin pair like BTC/USDT.
2. Trading Fees
When trading on an exchange, you'll pay trading fees on every trade you make. These fees are charged on all trades you make regardless of the amount traded and range from 0.1% to 1% on every trade made, so keep this in mind when trading Bitcoin.
Some exchanges, like Binance and FTX, allow you to reduce the amount paid by using their native exchange token to pay for trading fees.
On Binance, you can use their native token, BNB, to get 25% off of your trading fees. This is great for traders that make regular daily trades or those looking to pay the least fees possible.
3. Limit, Market and Stop orders
When trading Bitcoin on an exchange, you can trade using market, limit and stop orders. These can seem confusing at first but are easier to understand once you know the basics.
The two most popular options for beginner traders are market and limit orders, which are the easiest to trade with.
a. Market Orders
Market orders are trades that are designed to be fulfilled as quickly as possible at the current market price. For example, if you wanted to buy Bitcoin with a market order, the order will be fulfilled at the price of Bitcoin when it was executed.
These orders are the most basic way to buy and sell Bitcoin and provide the highest chance that an order will go through straight away. However, they leave traders open to sudden changes in prices and exposure to slippage, which means you may receive less Bitcoin than you should.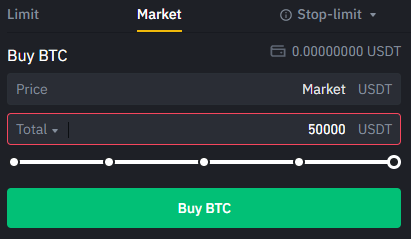 Market orders are most commonly used when you need to buy Bitcoin instantly or get yourself out of trouble from a losing trade by selling.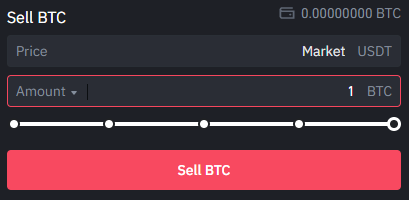 b. Limit Orders
For example, if you wanted to buy one Bitcoin at $50000 but the current price is $51000, you can set a limit order, which means your trade won't be fulfilled unless the price falls to $50000.
A limit order is an order to buy or sell Bitcoin for a specific price and is displayed via an order book. The order book shows the trades that are being made on Bitcoin, with buy and sell orders being fulfilled based on the current trades that are placed.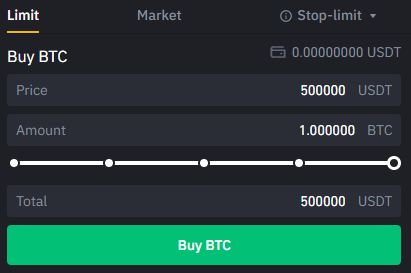 You can also sell Bitcoin using the same method, meaning the order won't be fulfilled unless the price reaches the amount you specified.
For example, if Bitcoin is trading at $51000 and you wish to sell at $52000, you can set a limit sell-order that won't be fulfilled until Bitcoin reaches $52000.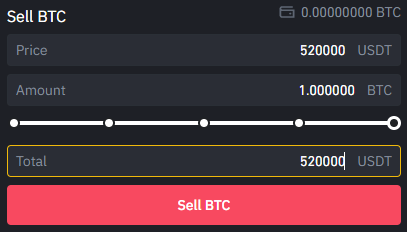 c. Stop-Orders
A stop order is an order to buy or sell Bitcoin when it reaches a certain price. Stop orders aren't recommended for beginners, and should only be used by advanced traders, as market and limit orders are far easier to complete.
If you wish to dabble in more advanced trading techniques like stop orders, you can use our handy Stop order guide to learn everything you need to know.
Making Your First Bitcoin Trade
Now you understand the trading essentials, it's time for the most exciting part — making your first Bitcoin trade.
To make your first trade, select the "Trade" button from the top-bar of Binance and then select the "Classic" option.
You can use the advanced option if you wish, but Classic provides all the tools you need to make your first trade.
Clicking on the Classic option opens the trading page of the BTC/USDT pair and allows you to trade the stablecoin USDT.
The chart interface shows the current price of Bitcoin and allows you to view the chart using different timeframes. If you wish to learn more about reading charts, you can use our charting guide to bolster your knowledge.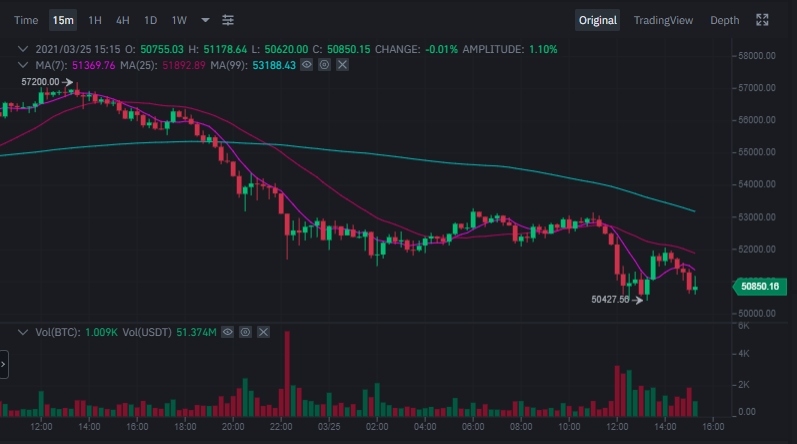 If you want to trade against another Cryptocurrency, you can select the "BTC" option at the top and select the pair of your choice. Alternatively, you can search for other Fiat or coin pairs with the search function.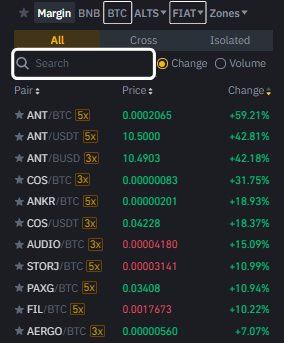 On the left-hand side of the screen, you'll find the order book, which shows the current buy and sell orders that are being placed.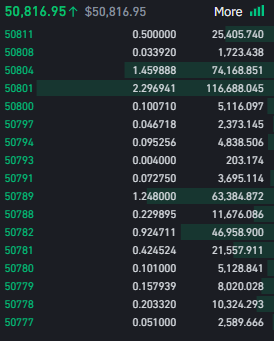 The trading interface allows you to set market, limit and stop orders, which we outlined earlier.
All you need to do is select your order type, enter the amount of Bitcoin you wish to buy or sell and submit your trade.
Once your trade is completed, you'll receive a notification saying your order has been fulfilled.
---
Time to trade
Well done! You've now made your first Bitcoin trade, You're now well on your way to becoming a veteran trader in the Cryptocurrency industry. As always, we've tried to cover as much as possible in this guide. However, If you want to learn more, you can head to our Learn section to discover how to maximise your returns from Bitcoin trading.
Good luck traders!
< Previous In Series | How to buy Cryptocurrency & NFTs | Next In Series >
Frequently Asked Questions
Is it safe to trade bitcoin?
Trading can be very profitable. However, most traders lose money or quit within the first few months.
Where can you trade bitcoin?
There are many platforms that allow you to trade bitcoin. Some of these include: Binanace, Coinbase, or Kraken.
What is Bitcoin?
Bitcoin is a decentralized digital currency. It was created in 2009 by the pseudonym "Satoshi Nakomoto."
What is cryptocurrency trading?
Trading cryptocurrencies is the act of taking a financial position on each cryptocurrency's price direction in relation to the dollar (in crypto/dollar pairs) or another cryptocurrency (via crypto to crypto pairs).
Disclaimer
All the information contained on our website is published in good faith and for general information purposes only. Any action the reader takes upon the information found on our website is strictly at their own risk.
At Learn, our priority is to provide high quality information. We take our time to identify, research and create educative content that is useful to our readers.
To maintain this standard and to continue creating awesome content, our partners might reward us with a commission for placements in our articles. However, these commissions don't affect our processes for creating unbiased, honest and helpful content.