Everybody is talking about two of the biggest tech innovations of our time — cryptocurrency (blockchain) and AI. While both are era-defining as standalone verticals, have you ever considered how well they work together? This piece will cover everything you need to know about AI cryptocurrencies.
Honestly speaking, the crypto market is rife with AI-powered crypto projects. Yet, not every blockchain-based project makes use of AI technology. Some projects are even pseudo-AI, with only a few aspects being automated or AI-powered. So this deep dive identifies solid AI crypto projects in a crowded market. We shall consider the use case, fundamentals, smart money flow, and price action of each AI cryptocurrency.
🛡Surf the Internet safely and keep your personal data private!
Use Atlas VPN with -82% discount by promo code ATLASWELCOME by THIS LINK!
Unpacking AI cryptocurrencies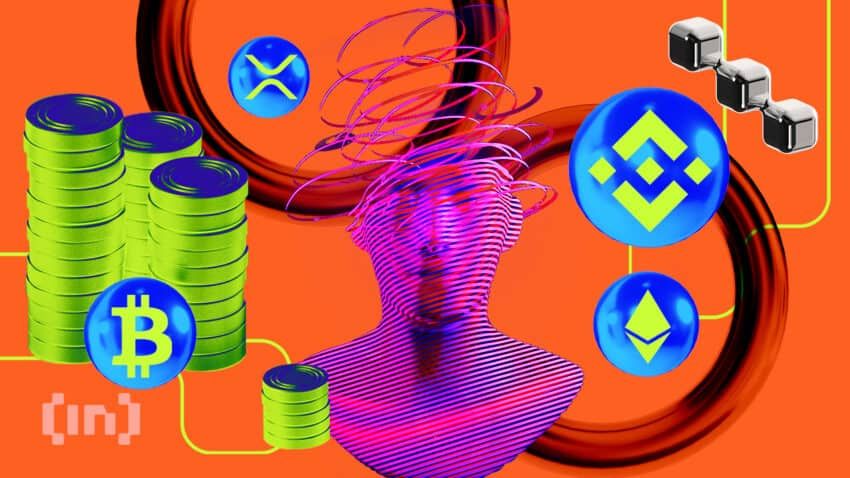 Short Answer: AI cryptocurrencies are coins or tokens associated with AI-powered decentralized projects.
Long answer: Artificial Intelligence (AI) is everywhere. Furthermore, the technology is automating several aspects of our lives — ensuring quick turnaround and improved scalability in the process. AI is more than OpenAI's ChatGPT, which focuses on the conversational aspect of the tech. And it's not about the robots we see in SciFi flicks. Instead, AI spans artwork, content creation, pattern identification, fraud detection, and more.
And these use cases make AI a great blockchain compatriot. Imagine this: blockchain — the immutable ledger technology focuses on transparency. With AI, blockchain transparency readily meets automation, security, and ease of mind. The right AI-powered approach can also make smart contracts more powerful and relevant.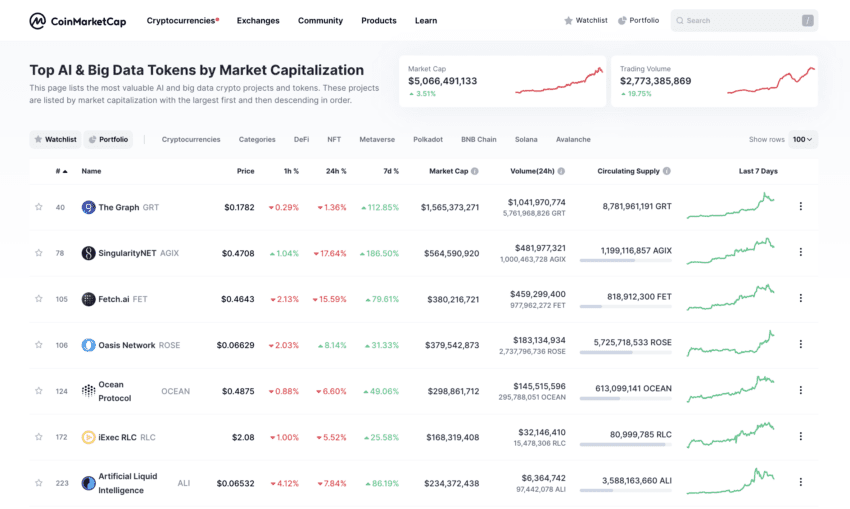 Decentralized projects like Fetch.ai, The Graph, Numeraire, Oasis Network, and more offer specific AI services or have a built-in AI ethos. So, tokens relevant to these projects are known as AI cryptocurrencies.
AI, crypto, and innovation: why do they sit so well together?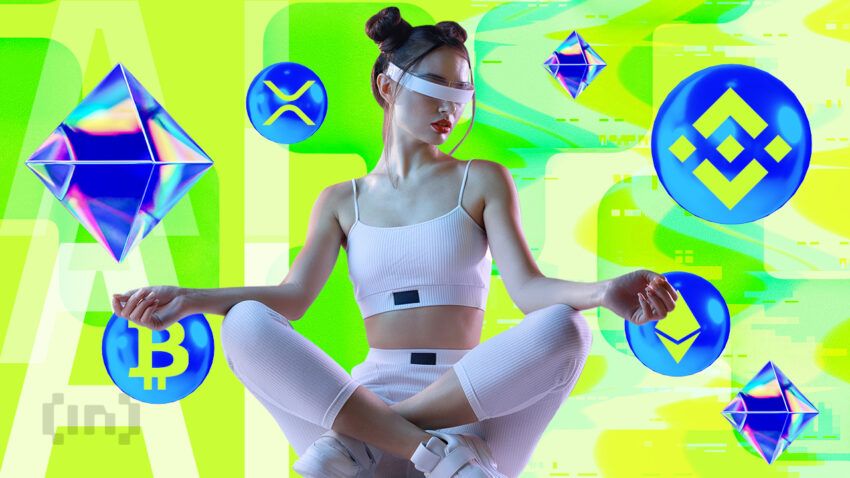 AI technology can give a facelift to crypto trading, crypto research, and even crypto selection. But that's now what we are currently focusing on. Today, the focus will be on crypto projects that offer AI services or have AI at the core of their operations.
Take Fetch.ai as an example. This project focuses on making AI technology accessible to everyone, with its FET coin working as an incentive. When paired with AI and vice versa, crypto gives users economic incentives to incorporate AI into their lives.
Moreover, with a crypto tag, organizations offering AI services, tools, and technology can work in a more transparent and decentralized manner.
Still looking for pointers? Here is what AI brings to crypto:
Assistance with predictions via predictive analysis.
Better DEXs with support for AI bots that are trained for sentiment analysis.
Improved customer experience courtesy of personalized UI/UX.
Improved security for enterprise-based solutions. This can prevent hacks and unscrupulous activities.
In crypto, AI can decentralize the entire automation space, pushing toward a more connected and perceptive world.
Distinguishable features of AI cryptocurrencies
AI cryptocurrencies are meant to power AI-led decentralized setups, preferably blockchains. And unlike other altcoin variants, they boast the following characteristics:
Associated tokens are use-case specific.
Spending AI cryptos might help you with real-world service access.
As AI helps with fraud detection, buggy project-specific smart contracts tied with token spending can be addressed beforehand.
The concerned ecosystem is often less susceptible to hacks, courtesy of AI's threat detection traits.
The supply-demand curve associated with AI cryptocurrencies is determined by service monetization, as is the use case explored by a project called SingularityNET.
Fewer token-specific manipulations, as in most cases, the tokens released to the founders and project, are used for developing the ecosystem with better training data.
They are less susceptible to broader market bearishness as the popular pro-AI sentiments might be able to push them against the tide.
And while these are some of the more relatable features, other characteristics are more network-specific and highly exclusive.
AI ecosystems and cryptocurrencies: general use cases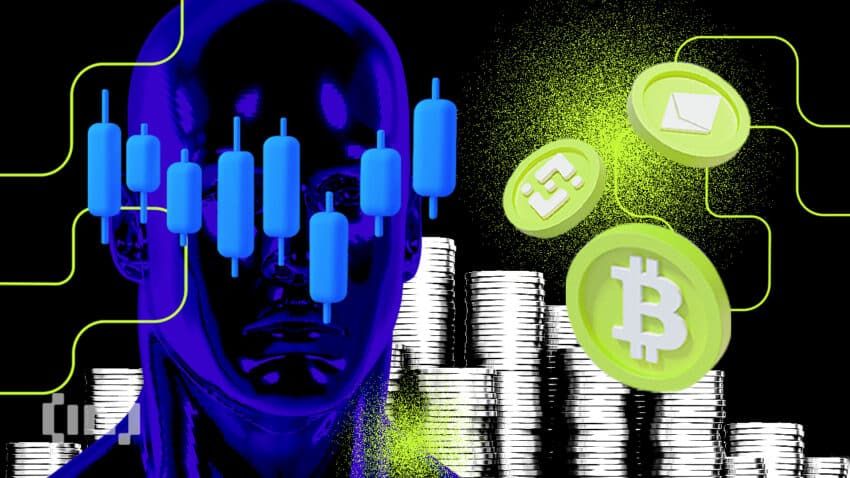 Different AI crypto projects boast different use cases. Before we go into exploring our top AI-based cryptocurrencies, these are the general use cases to be aware of:
AI-powered P2E platforms with powerful smart contracts to determine gamer progress, airdrop eligibility, and other factors.
The AI-based trading setup works like trained bots on DEXs.
AI-powered data crunching models to make crypto-specific predictions.
AI and smart contract integrations to make projects more intelligent and perceptive.
AI-powered blockchain consensus mechanisms, with Velas's AIDPoS being one of the primary examples.
AI development and data provisioning with a focus on real-world integrations.
Note that cryptocurrencies relevant to each AI use case often play a role in monetizing the services and offerings.
Note that crypto projects with AI-based use cases are increasingly emerging onto the web3 scene. However, you need to look for other project attributes as an investor to validate authenticity. These could include team size, investor lineup, and Twitter following.
Top AI crypto projects and associated cryptos
We discussed some general AI use cases relevant to the crypto space at the beginning of this article. Yet, they aren't as generic as you think. Here are some notable crypto projects based on the identified use cases and the native cryptocurrencies leading the charge.
Fetch.ai
Ocean Protocol
SingularityNET
Numeraire
The Graph
Hera Finance
dKargo
Cortex
DeepBrain Chain
Read on for the additional project and crypto-specific details.
1. Fetch.ai (FET): AI Infrastructure
More about the project
Fetch.ai is a machine-learning ecosystem with a focus on being permissionless and decentralized. It aims to build a smart AI-based infrastructure with FET tokens as the incentive to use and offer services.
Fetch.ai is more like a blockchain-specific AI lab, which aims to make AI tooling kits accessible to all. Further, DeFi trading marketplaces, energy grids, travel systems, and other industries can rely on Fetch.ai for their AI-powered infrastructure.
Use-cases
Fetch.ai aims to offer the following benefits:
Offering scalable and secure infrastructure.
Offering ready machine learning models and intelligent smart contracts.
Supporting low-latency transactions.
Implementation across logistics, energy, and finance-specific verticals.
Why is it a game-changer?
Fetch.ai is like a massive playground. Small robots (autonomous agents) within the playground can help you carry props and navigate the realm. Anyone interested in exploring the playground can request the robots. And the entire playground is built on blockchain, focusing on security and immutability.
Fetch.ai is unique as it aims to build a global market of machine learning tools.
Technical analysis
As of Feb. 8, 2023, FET — the native token of the Fetch.ai ecosystem — is up 98% week-on-week. So what does the price action look like in the short term?
The daily chart reveals that FET has broken out of a falling wedge pattern, more clearly than expected, to trade at $0.5344. However, we can expect some near-term consolidation at the counter, owing to the bearish divergence exhibited by the RSI. Further, the buying momentum seems to be waning, with RSI making lower highs.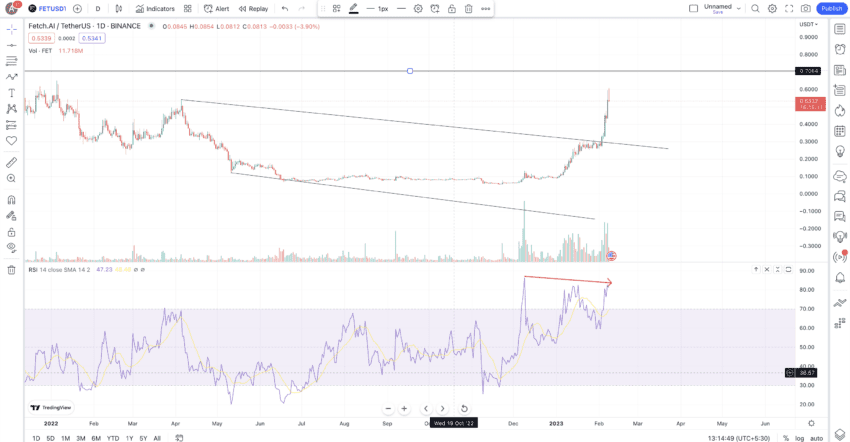 Yet, if the green volume pillars continue to march ahead, FET might invalidate any bearish trend. In that case, $0.706 is the next level to beat. 
More about the project
Simply put, Ocean Protocol is a data-sharing project primarily for AI initiatives. Even though Big Data is responsible for powering most real-world AI projects, it is still plagued by security issues and a lack of anonymity. Ocean Protocol aims to change that by introducing decentralization as part of the process.
Ocean Protocol is an Ethereum-based project. Moreover, its native token OCEAN helps monetize the aspects of control, security, and privacy.
Use-cases
Ocean Protocol works as follows:
A data exchange ecosystem, helping AI evangelists work with ready AI models.
A data access platform dealing in apps and insights supporting predictive analytics, image recognition, and NLP.
A data compliance platform to track usage and compare the same against HIPAA and GDPR guidelines.
An AI development ecosystem but with a focus on blockchain-powered decentralization.
Why is it a game-changer?
With Ocean Protocol, is it even possible to keep incrementally improving the data quality associated with the exchanged and shared data models?
Technical analysis
OCEAN, the native ERC-20 token of this AI-based ecosystem, is currently trading at $0.5177, up 50% over the past seven days. Moreover, the daily chart reveals an interesting trend. Notice that OCEAN has recently broken out of the falling wedge and might be heading towards $0.6132 — the next resistance line.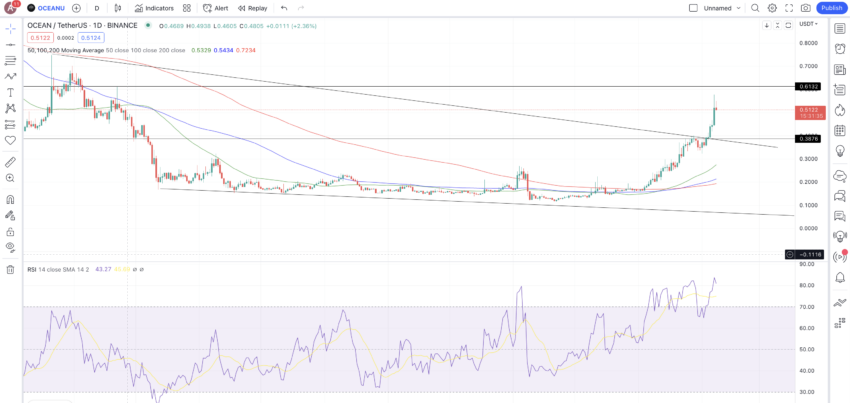 Despite the massive surge in recent prices, the RSI continues to make higher highs, which is optimistic for the near term. Plus, the 50-day moving average line (green) has also crossed above the 100-day and 200-day moving average lines, hinting that the counter still looks strong. However, if OCEAN drops lower than $0.38, it would invalidate the trend.
More about the project
If you are an AI developer and can create AI algorithms and AI models, SingularityNET might just be the right platform for you. Any individual or company trying to build an AI infrastructure can search through this ecosystem for the right apps and systems. AGIX, the native token, is the means to incentivize AI modelers.
Use-cases
The SingularityNET ecosystem offers the following:
A marketplace for AI services.
Support for AI-based decentralized development.
Improved AI accessibility
Data privacy
Monetization of AI models
Why is it a game-changer?
SignularityNET (AGIX) also supports the creation of decentralized applications with AI at their core. Therefore, if you are planning to build your blockchain-focussed DApp that comes with AI functionality, SingularityNET might be a good fit.
Technical analysis
AGIX is one of the top AI cryptocurrencies in terms of gains, having surged close to 199% week-on-week as of Feb. 8, 2023. It is currently trading at $0.514 and might be looking at some consolidation.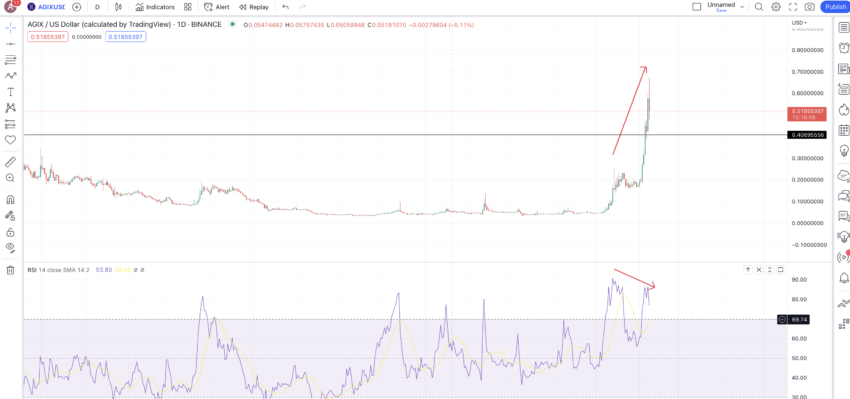 Notice that the RSI is making lower highs, whereas the price action is making higher highs. This form of bearish divergence might cause a bit of a dip, with strong support at $0.408. 
4. Numeraire (NMR): AI-powered finance
More about the project
Here is another Ethereum-based AI crypto project that works as a decentralized representation of a hedge fund. And instead of offering direct AI services, this project leverages AI technology to make financial predictions more accurate. And data scientists working at Numeraire (Numerai) are incentivized to use the NMR tokens.
Numeraire is Ethereum-based, known for AI-based financial modeling, and uses blockchain to make the entire ecosystem more secure and tamper-proof.
Use-cases
This AI-powered ecosystem is known for the following use cases.
Aims to bring decentralization to AI modeling and data science.
One of the first hedge funds to rely extensively on AI for investment strategizing.
Incentivized data scientists via competitions
Furthers the concept of secure and data-backed trading
Why is it a game-changer?
Numerai, along with its Numeraire token NMR, serves two purposes: the primary one is to improve financial trading output. The secondary facilitates decentralized AI development focusing on machine learning algorithms and AI models.
Technical analysis
Like any other AI cryptocurrency, even NMR is up, having gained close to 40% over the past week. The technical chart reveals that the price is moving toward momentum, looking strong despite the broader market correction.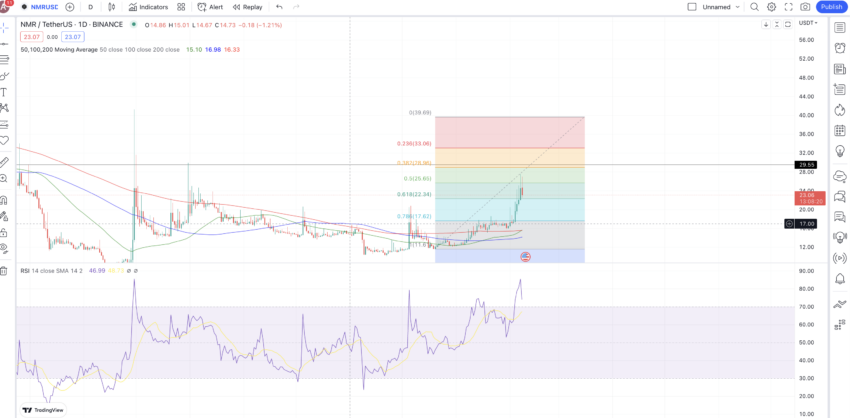 The green line (50-day moving average) is on the verge of breaking above the 200-day moving average or the red line. If this kind of golden crossover happens, we can expect NMR to surge higher, with $25.65 being the immediate target to beat. It might even reach $29.55 if the uptrend is strong and the market sentiments permit.
5. The Graph: Data querying for AI-based DApps
More about the project
In terms of market cap, The Graph is the top AI cryptocurrency. It is a go-to web3 project meant for querying data from the likes of Ethereum. And while it isn't directly linked to AI in terms of service offering or deployment, it is a reliable solution for AI developers planning to develop a model by requesting data from the services associated with The Graph.
It has a global crypto rank of 40 and has exposure across multiple verticals — Big Data, AI, DeFi, Enterprise Solutions, and more. Lastly, The Graph is also Ethereum-based, and its token — GRT — is ERC-20 compatible.
Use-cases
Even though The Graph isn't directly linked to AI, it still manages to stand for the following use cases:
Decentralized and secure data access.
Seamless data curation for AI models, machine learning, and AI algorithms.
Enabler of AI-powered DApps.
Why is it a game-changer?
The Graph can set you up if you plan on powering your blockchain-specific AI application with data from other blockchains. Therefore, it allows individuals to make room for more interoperable AI-driven DApps.
Technical analysis
GRT, the native token of The Graph, is up 113.64% over the past week. And it might just have the legs to move higher. You can see that the green line (50-day moving average) crossed the blue line (100-day MA), which started the rally at GRT's counter. Moreover, the green line is moving toward the red line, and any crossover might push the prices higher, maybe towards $0.215.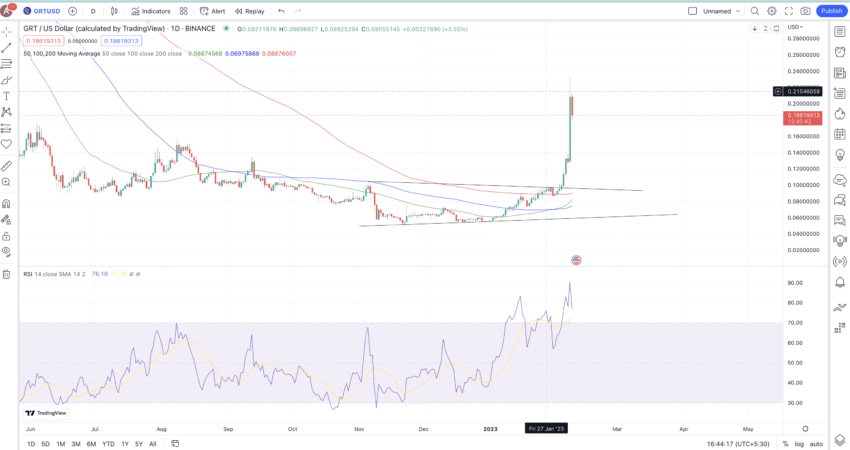 The momentum indicator also makes higher highs, which might further validate the up-trending price action. At present, GRT is trading close to the $0.186 mark. 
6. Hera Finance: AI-powered DEX aggregator
More about the project
For the unversed, Hera Finance is a DeFi project that doubles down as a DEX aggregator. And its native token, HERA, allows holders to initiate token swaps and explore other DeFi-specific services.
Use-cases
Hera Finance boasts the following use cases:
It connects market maker pools with AI models helping locate every possible route to token swapping.
The AI-powered protocol can split your massive trades into smaller fractions, finding you better liquidity across chains.
Why is it a game-changer?
As an AI-powered DEX aggregator, Hera Finance is a great choice for exploring zero-slippage swaps. And it is interoperable, courtesy of an AI-led pathfinder.
Price analysis
If you look at the current 7-day price chart of HERA — the native token of Hera Finance — you might see it making a couple of lower highs. Therefore, we would not be surprised if we saw a small consolidation at HERA's counter. It has increased by over 65% week-on-week as of Feb. 8, 2023, and is currently trading at $2.97.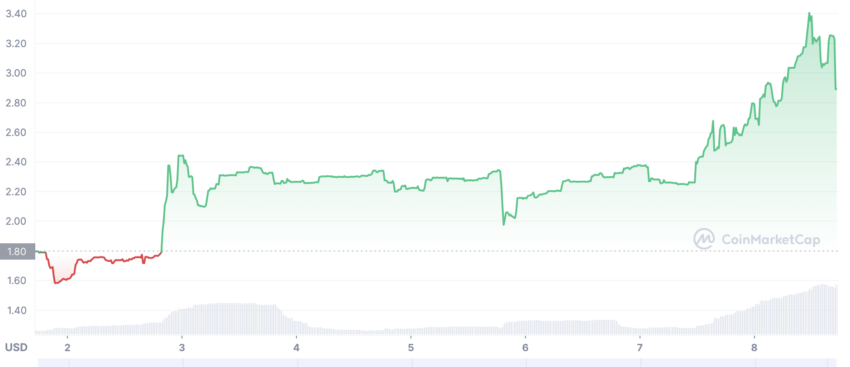 However, a move and a daily candle close above the previous high of $3.40 might invalidate the bearish trends.
7. dKargo: AI-based logistics solution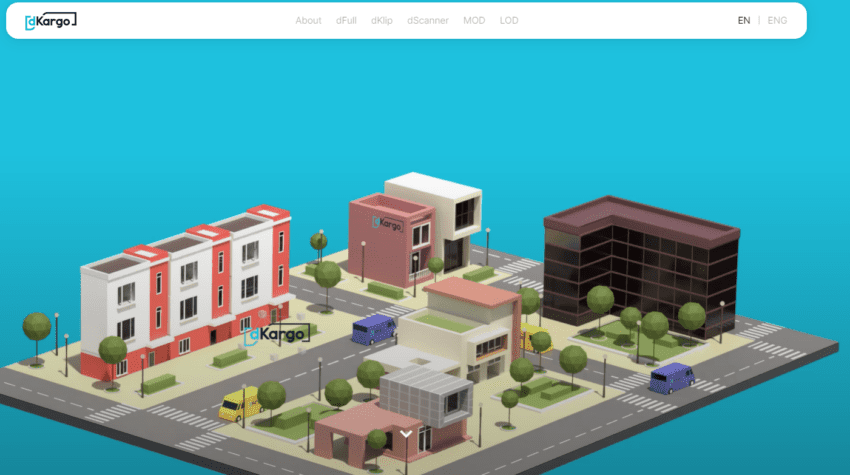 More about the project
Crypto project dKargo aims to revolutionize the global logistic sphere by offering AI-powered route optimization. As a protocol, it aims to offer credible information. This translates to a full-stack logistics solution — from the first mile to the last mile.
Use-cases
Here are the use cases dKargo promises to push:
It helps provide credible insights, courtesy of blockchain transparency.
It also allows interoperable data exchange via AI route optimization.
Why is it a game-changer?
It is one of the few web3 projects to offer real-world benefits, mostly specific to the supply chain. The idea is to bring forth an open logistics ecosystem.
Technical analysis
DKA, the native token of dKargo and one of the top AI cryptocurrencies, has been up nearly 16% over the past week. However, the daily price chart indicates dKargo is in cautionary territory for now. The moving average lines are linked closely, trading very close to the descending trendline of a triangle pattern.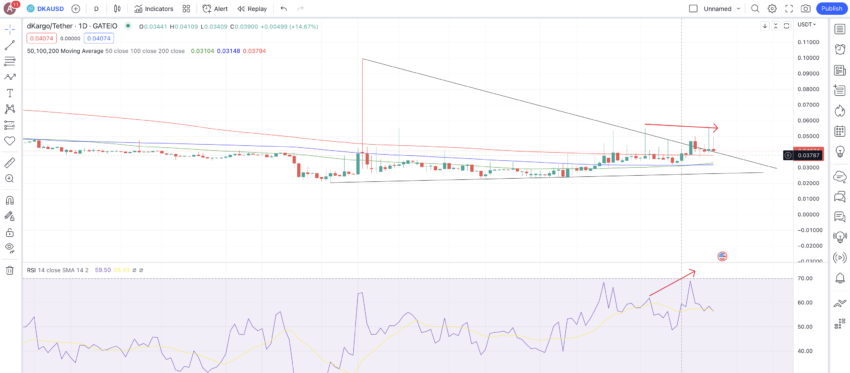 The steep RSI divergence is the only bullish lining to this cloud. Moreover, DKA is currently trading at $0.04115; any move below the red line or the 200-day simple moving average will invalidate any bullish move.
8. Cortex: AI-based marketplace
More about the project
Cortex, the project, is all about allowing users to upload their AI models to a distributed network. Further, as an open-source platform, it makes AI accessible and allows the models and logic to integrate seamlessly with smart contracts and DApps.
Use-cases
The Cortex ecosystem boasts the following use cases:
Making way for secure and AI-powered DApps.
Supports buying and selling of AI models
It also works as a marketplace for AI data.
Why is it a game-changer?
Cortex is one of the more trailblazing AI projects for various reasons — bringing AI to the decentralized world and serving as a marketplace for your diverse AI-specific needs. Further, the native token CTXC works to incentivize the space.
Technical analysis
CTXC is up 41.11% week-on-week as of Feb. 8, 2023. Moreover, daily chart A shows that a small consolidation might be imminent. Finally, notice the bearish divergence with the RSI indicator making lower highs. In contrast, the price chart is making higher highs.
CTXC is currently trading at $0.3051, and we expect it to find strong support at $0.2521, provided the dip happens.
9. DeepBrain Chain: AI development and deployment platform
More about the project
We saved the most impactful, direct AI project for the last. DeepBrain Chain is a blockchain-specific ecosystem for training, developing, and deploying AI models for a wide range of services and products.
Use-cases
As far as the use cases are concerned, here are the attributes that DeepBrain Chain is known for:
It offers cost-effective training data.
It also helps with AI-related data storage and processing. And the decentralized ecosystem keeps tampering out of the equation.
Why is it a game-changer?
The availability of a decentralized ecosystem for the development of AI models is what makes DeepBrain Chain unique. Centralized development isn't all that kind to AI developers, who often get lost in oblivion. So, DeepBrain Chain aims to change that, letting companies and individuals access AI power whilst keeping the providers at the forefront.
Technical analysis
DeepBrain Chain seems to be one of the more potent combinations of AI and blockchain technology. And that is exactly why the AI crypto rally has managed to push DBC — the native token of the project — up by 111.62%, week-on-week.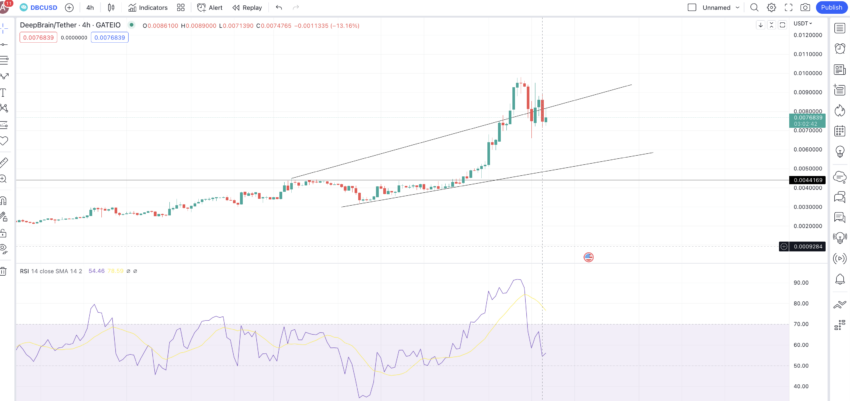 DBC is trading at $0.0076, back inside the rising wedge pattern. Notice that the 4-hour chart shows a false breakout from the rising wedge. Plus, the rounded top and the following dip look bearish in the short term. Unless DBC tries to break out above the ascending upper trendline again, we can expect the prices to consolidate slightly from the current levels.
Honorary mentions
We have listed some of the top AI cryptocurrencies that have thus far made the most impactful AI and Blockchain associations in this crypto market. Yet, there are still a few more cryptos that deserve honorary mentions.
Phala Network
Phala Network is a cloud-computing service provider focusing on preserving privacy. Therefore, it can be a handful when powering AI-based DApps. Companies that want to access AI data for sensitive use-case can use the Phala Network.
Covalent
Here is a decentralized data storage and analysis platform that uses AI to make a data-specific decision. It can be regarded as the future business intelligence and decision-making ecosystem.
Intelligent blockchains are upon us
That sums up our list of the top AI cryptocurrencies. The first clear takeaway is that AI in crypto isn't just about end-user perks. Yes, chains like Cortex do offer AI-specific services. Yet some blockchains are actually becoming more intelligent by deploying AI alongside blockchain technology.
Therefore, if you hear of a new AI cryptocurrency, consider how Artificial Intelligence is implemented and used in each context. Only if the role of AI provides true value to the users participating in the chain should you think about giving it a thumbs up.
Frequently asked questions
What is AI in crypto?
Artificial Intelligence or AI in crypto can be a set of services offered by a chain or the technology adopted by the ecosystem itself. However, a more simplistic version would be the means of incentivization relevant to the decentralized ecosystems that make use of AI in any given capacity. AI cryptocurrencies, in simple terms, signify altcoins with some kind of AI exposure.
What is AGIX crypto?
AGIX is the native token of the SingularityNET blockchain — an ecosystem that allows participants to share and monetize AI services. AGIX can also be termed as the native AI marketplace currency of the said blockchain, allowing developers to earn while lending out AI-related expertise to individuals and enterprises.
What are the best AI blockchains?
Fetch.ai, SingularityNET, and Ocean Protocol are the best AI blockchains. While Fetch.ai aims to create a decentralized economy, SingularityNET is a platform meant for AI creators and developers. Ocean Protocol is a governance-heavy blockchain-powered protocol where the focus is on monetizing data and using the native token OCEAN for staking and decision-making.
How many AI cryptocurrencies are there?
At present, there are almost 150 AI cryptocurrencies, per data available at CoinMarketCap. However, not every project is made equally, and it is necessary to exhibit caution. The Graph, SingularityNET, Fetch.ai, Numeraire, and Cortex are some of the leading projects to know about.
What are the top AI coins?
FET, GRT, AGIX, OCEAN, and NMR are some of the top AI coins. Some of these cryptos have surged by almost 190%, week-on-week in 2023, owing to the hype surrounding ChatGPT and the upcoming AI innovation Bard. However, if you plan on investing in any of the mentioned tokens, you need to DYOR even more in-depth than usual.
What crypto supports AI?
While there are over 100 cryptos with some kind of AI connection, the most prominent and well-established ones are AGIX, the native crypto of the SingularityNET blockchain; FET, the native crypto of the Fetch.ai chain; and GRT, the native crypto of The Graph ecosystem. Each of these cryptocurrencies aims at incentivizing their AI-specific offerings, whereas The Graph makes it possible to deploy GRT for building AI-powered DApps via data querying.
Disclaimer
In line with the Trust Project guidelines, the educational content on this website is offered in good faith and for general information purposes only. BeInCrypto prioritizes providing high-quality information, taking the time to research and create informative content for readers. While partners may reward the company with commissions for placements in articles, these commissions do not influence the unbiased, honest, and helpful content creation process. Any action taken by the reader based on this information is strictly at their own risk.