Polygon TVL reached new lows in the last days of May due to decreased patronage of decentralized applications (dApps) and cryptocurrencies as a whole.
Polygon has played a great role in solving the scalability problems associated with the use of blockchain technology. According to Be[In]Crypto Research, the Layer 2 scaling solution has lost 53% in total value locked since the start of the year. On Jan 1, Polygon had a TVL of around $5.44 billion, and this declined to around $2.55 billion on May 29.

Polygon is a decentralized Ethereum scaling platform that facilitates the building of user-friendly protocols or applications with low transaction fees in a highly secure environment.
It has found a solution to the blockchain trilemma (scalability, security, and decentralization) and uses its scaling solutions (Pos, Hermez, Avail, Edge, Nightfall, Miden, and Zero) to improve the performance of several Ethereum dApps.
In addition to being a major player in decentralized finance, it is among the biggest NFT blockchains by sales volume.
What contributed to waning TVL?
TVL has plunged in the last days of May due to dApps in its ecosystem falling to new lows.
Open source liquidity protocol, Aave has fallen by more than 41% in the last month. Stablecoin exchange Curve shed more than 30% of its TVL within the same time frame. Decentralized exchanges Quickswap and SushiSwap have lost more than 41% and 44% of their respective total values locked.
Others dApps that have made significant contributions to the crash of TVL include Uniswap, Meshswap, Stargate, QiDao, Beefy Finance, Balancer, Klima DAO, and Arrakis Finance.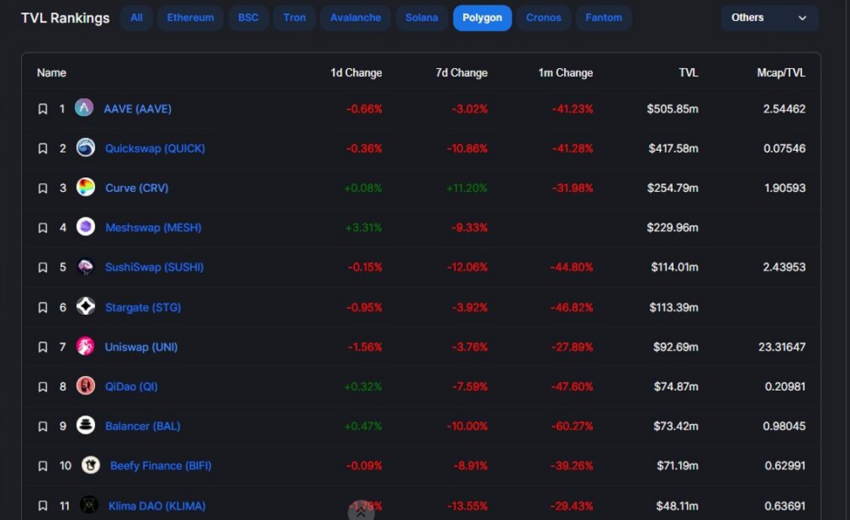 After sinking by more than $2 billion in TVL, Polygon still leads Cronos, Fantom, Near, Waves, Bitcoin, EOS, Cardano, Algorand, and Terra.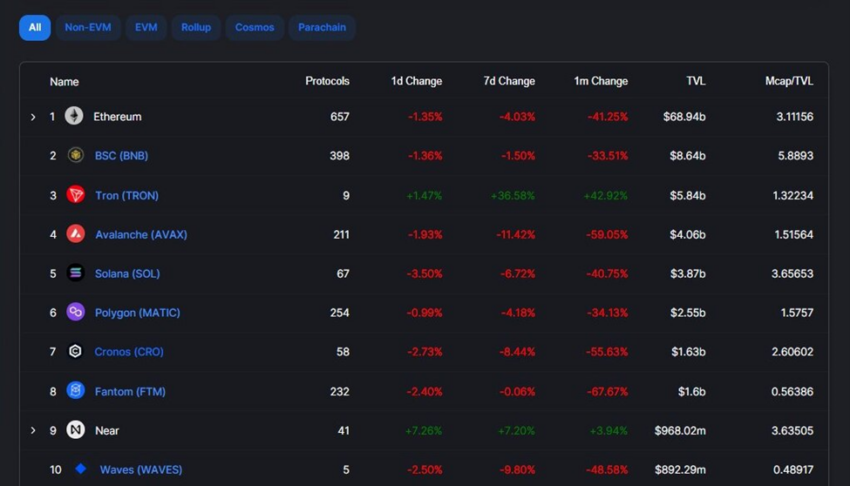 On May 27, Tether announced that its USDT stablecoin is now available on the blockchain. With more than 19,000 dApps running on Polygon, users will be able to utilize USDT to move funds in and out of its ecosystem as well as generate yield. Aside from Polygon, USDT is popular on TRON and Ethereum.
Polygon (MATIC) price reaction
Polygon (MATIC) opened the year with a trading price of $2.53, reached a 52-week low of $0.5084 on May 12, and was changing hands for $0.6285 at the time of writing.
Overall, this equates to a 75% loss in the value since the start of the year.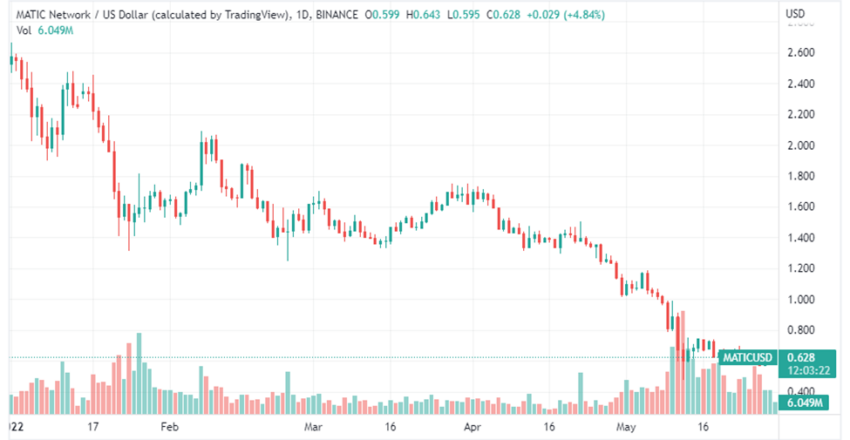 Disclaimer
BeInCrypto strives to provide accurate and up-to-date information, but it will not be responsible for any missing facts or inaccurate information. You comply and understand that you should use any of this information at your own risk. Cryptocurrencies are highly volatile financial assets, so research and make your own financial decisions.