Sweatcoin is an innovative mobile app that merges the worlds of fitness and cryptocurrency, offering users a unique opportunity to earn virtual currency simply by engaging in physical activities like walking or running.
By incentivizing exercise with a digital reward system, the app aims to promote healthier lifestyles while introducing users to the ever-evolving world of cryptocurrencies. In this guide, we delve into how the Sweatcoin app works, its features, and how to generate crypto by turning your daily steps into valuable rewards.
What is Sweatcoin?
Sweatcoin is an innovative step-tracking app that rewards users with digital currency for engaging in physical activities such as exercise. Based on the move-to-earn mechanics, the Sweatcoin app gives you a prize for walking. In a nutshell, the Sweatcoin app represents a gamification of the play-to-earn concept. Sweatcoin has a reward system whereby users who achieve a specific number of steps receive tokens that can be exchanged for various prizes.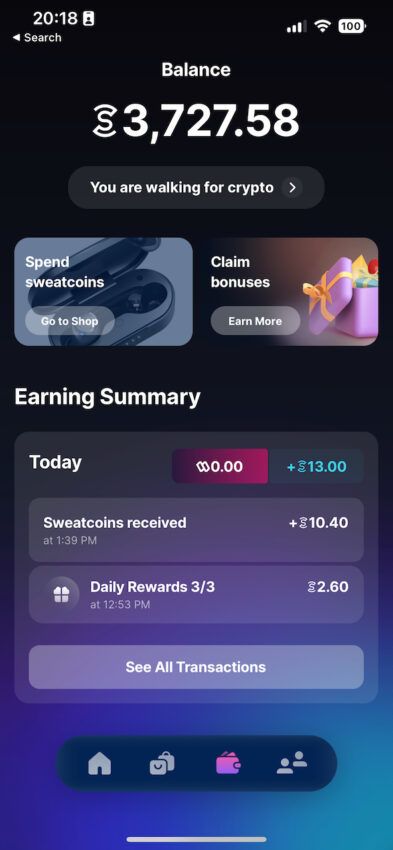 The Sweatcoin app has been around since 2014. In 2022, the app launched the Sweat Economy (SWEAT), a token that can be minted using the steps you take in any given day. In the Sweat Economy wallet, users can transfer, stake, buy SWEAT with fiat, or win prizes.
The app doesn't represent a solid income stream but aims to incentivize users to choose a healthier lifestyle. According to Sweatcoin's litepaper, the app actively contributes to monetizing user engagement and physical activities. The below chart is a representation of the in-app marketplace spending on goods and services. Users pay for these directly with sweatcoins.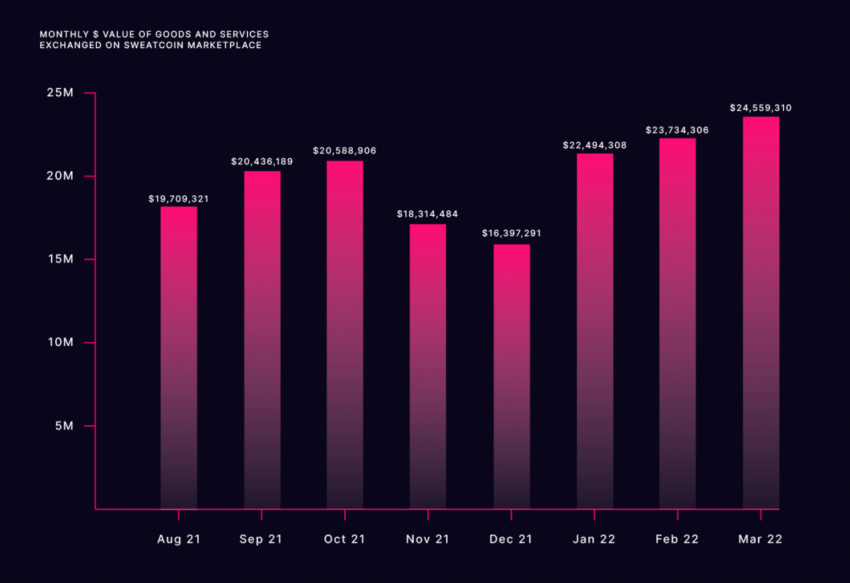 Origin
Initially, Sweatcoin was only awarding tokens, not a cryptocurrency. Though the founders were intrigued by the potential synergy between cryptocurrency and physical health, they believed their target audience wasn't ready for a crypto-based rewards system at the time of launch.
However, after six years of development, the team announced an intention to transition to cryptocurrency rewards. Sweatcoin's native currency, the SWEAT token, operates on both the Ethereum and NEAR networks.
When the team introduced the SWEAT digital currency, existing users had the opportunity to exchange their rewards for equivalent amounts of SWEAT tokens. This led to the largest-ever airdrop to active and opted-in wallets, as the platform saw an influx of more than 150,000 users within 24 hours of incorporating the crypto-based rewards model.
Since then, the number of users has continued to grow, reaching more than 110 million users. In contrast to traditional cryptocurrencies that require users to invest in costly equipment for mining or staking, Sweatcoin participants can earn SWEAT tokens simply by engaging in physical activity.
Team
Russian entrepreneurs Anton Derlyatka, Danil Perushev, Egor Khmelev, and Oleg Fomenko created the app in 2014. The idea for Sweatcoin emerged when Fomenko lost his motivation to exercise following the failure of a previous start-up.
Both Derlyatka and Fomenko recognized that people often prioritize short-term gratification over long-term health benefits when it comes to exercising. Fomenko also saw the economic value of exercise, which led to the development of a platform that provides users with immediate rewards for being physically active. Today, the Sweatcoin app has over 150 employees from all over the world.
Funding
According to Crunchbase, the Sweatcoin app received a total of $13.6M in funding over four rounds. These come from high-profile blockchain investors, including Electric Capital, Spartan Capital, Jump, GSR, and the NEAR Foundation.
With a total of 12 investors, the list included high-profile figures such as Polkadot co-founder Bjorn Wagner, Polygon co-founder Sandeep Nailwal, and Vinny Lingham, the founder of Civic.
Roadmap
In 2022, the Sweatcoin team launched the project's roadmap, which states the project's development stages up until 2024.
Sweatcoin has already made the first steps toward becoming a web3 app. It aims to implement decentralized governance, an NFT game, and turn SWEAT into a multi-chain token. The goal is to allow users to generate sweatcoins and consequently mine SWEAT tokens for other physical activities, such as cycling or swimming.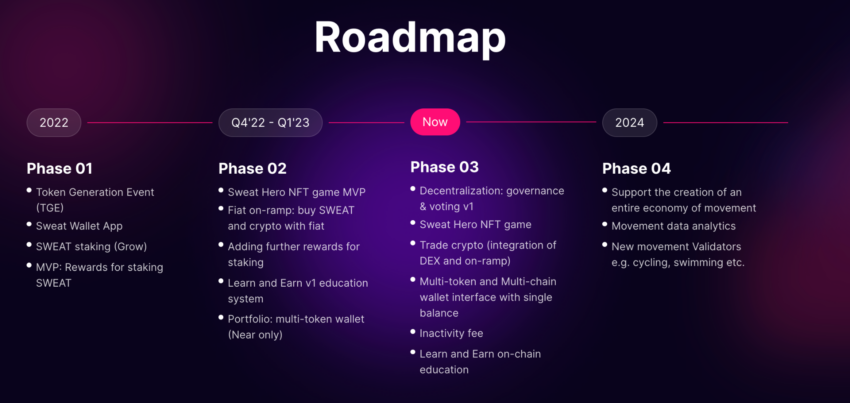 How does Sweatcoin work?
The app rewards users with one sweatcoin for every 1,000 steps. These can be then exchanged for different perks on the marketplace, such as fitness equipment, gift cards, athletic footwear, exercise classes, and even devices such as Apple watches. The offers change periodically and also depend on your geographical location.
After the launch of the SWEAT token, sweatcoins can be used to mint SWEAT tokens on the blockchain. The app also has a maximum cap for minting SWEAT tokens. You can only convert up to 5,000 steps per day (6,000 steps for premium users) into SWEAT tokens. The rest of the steps are converted to sweatcoins.
While the rate for creating the in-app tokens sweatcoins remains the same (one sweatcoin for 1,000 steps), the rate for creating crypto tokens increases over time. As time passes, the difficulty of minting SWEAT tokens increases exponentially. This means that the token has a decreasing rate of inflation.
For instance, on the first day after the launch, in September 2022, users got 1 SWEAT for every 1,000 steps. As of May 2023, you need 3,623 steps to mint one SWEAT token.
The app forecasts that by 2028, you will need over 80,000 steps to mint one SWEAT token. Also, the app charges a 5% fee when converting steps into SWEAT. That fee is needed to cover the apps' bonuses, such as referral bonuses and more. The app also makes a profit from its marketplace partners, who pay them to be featured in their app, including ads.
Sweatcoin features
The Sweatcoin app has a variety of special features that differentiate it from any other move-to-earn app on the market:
Generates rewards in sweatcoin tokens and SWEAT cryptocurrency
Allows users to spend rewards on the app's marketplace
Contributes to charitable events and enables donations
Enables a new global economy of wealth through health
It is a privacy-oriented app
The app generates value from partners and healthcare providers
Healthy lifestyle
The Sweatcoin app has a unique algorithm that collects data from your smartphone or wearable device, including GPS and movement sensors, to determine how much you've walked.
According to the British Journal of Sports Medicine, Sweatcoin has achieved sustainable physical activity behavior. They estimate a 20% increase in the activity level for Sweatcoin app users.
Charity campaigns
The app hosts weekly charitable campaigns, which set a total number of steps as a goal, and users sign up to collectively work towards that goal. When the goal is reached, with the help of the users, the app makes a donation for that campaign. Users can also choose to donate their sweatcoins.
Privacy-oriented app
The app states that they do not sell user data for profit. As such, it has developed a business model that allows it to generate a profit from other sources. Sweatcoin has established partnerships with multiple businesses that aim to connect with a health-conscious audience. These partnerships are present in the app's marketplace.
Pros and cons of Sweatcoin
As with any app, there are different perspectives that potential users might want to consider before using the Sweatcoin app.
Pros
The Sweatcoin app works well on both iOS and Android smartphones, and users can enjoy the following advantages:
Free to use. Unlike many products that claim to offer significant benefits but come with a price tag, Sweatcoin is free. While a premium membership is available, opting out won't hinder your experience.
User-friendly. Sweatcoin is designed to be accessible to everyone. The user interface is inviting and runs smoothly on both older and newer devices.
Encourages healthy activities. The app motivates users to engage in extra physical activities, like walking instead of taking the bus for a short distance.
Free rewards. Users are more likely to participate when they know what they can gain in return. Sweatcoin offers discount codes, free coupons, and real cryptocurrency for taking outdoor exercise.
Ongoing product development. Unlike many apps that are launched and then neglected, the Sweatcoin team is dedicated to continually improving its offering. The app's partners are growing, and developers strive to enhance performance and user experience.
Daily rewards. Users can earn additional tokens by completing daily quests, such as watching ads for a few minutes. On lucky days, this could result in a significant amount of Sweatcoins.
Referral program. The app allows users to invite friends to join the platform, earning tokens in return. You can even become a Sweatcoin influencer!
Cons
Despite its many benefits, the app may not meet the expectations of users with high standards. Here are some limitations to consider:
Modest payouts. If you're looking for a way to earn a substantial income through leisurely walks in the park, Sweatcoin may fall short. Even if you walk extensive distances every day, the app won't replace your job or generate significant earnings.
Limited partnership network. Although the team behind the project is working hard to expand its offerings, the selection of available rewards remains limited. Even when attractive rewards are available, they can sell out quickly, making it difficult to claim them.
No indoor step tracking. If you engage in many indoor activities, the app's activity tracker will not count steps taken inside your home, necessitating outdoor activity.
Daily earning cap. The free plan limits users to earning 10 Sweatcoins per day. To increase this cap, a $4.99 monthly premium subscription is required. But you can also get a yearly subscription for $25.
What is the SWEAT token?
SWEAT token was launched by the Sweat Foundation in September 2022. The token generation event (TGE) took place on September 13, 2022. Ut awarded users with one SWEAT for every sweatcoin they had already accumulated in the app. These SWEAT tokens are available to users on a new web3 app called Sweat Wallet. The team called it the largest airdrop in history.
Following the Token Generation Event (TGE), new SWEAT tokens can only be minted through verified movement by a Movement Validator.
After the TGE, only a user's first 5,000 steps will mint SWEAT tokens, while any additional steps will create sweatcoins. This minting limit may change with tiered minting, a reward offered in the Sweat Wallet. The limit can be increased to 6,000 steps when users purchase a premium subscription.
Sweatcoin employs a smartphone's built-in step sensor to monitor movement to prevent users from exploiting the system. The app then utilizes a proprietary algorithm to verify the data for speed, consistency, and location, filtering out any inaccuracies.
SWEAT tokens are built on the NEAR blockchain. At the TGE, SWEAT tokens will be available as ERC-20 (Ethereum) tokens and NEP-141 (NEAR) tokens.
To promote ongoing physical activity, the Foundation will introduce an inactivity fee. The DAO will charge users a fee if their activity consistently falls below a specified threshold. This approach not only aligns with the mission of encouraging regular healthy habits but also contributes to the exponentially decreasing rate of inflation. SWEAT token holders, who govern the DAO, will determine the exact fee details.
You can transfer SWEAT tokens to any other wallet or crypto exchange that supports SWEAT tokens such as 
Tokenomics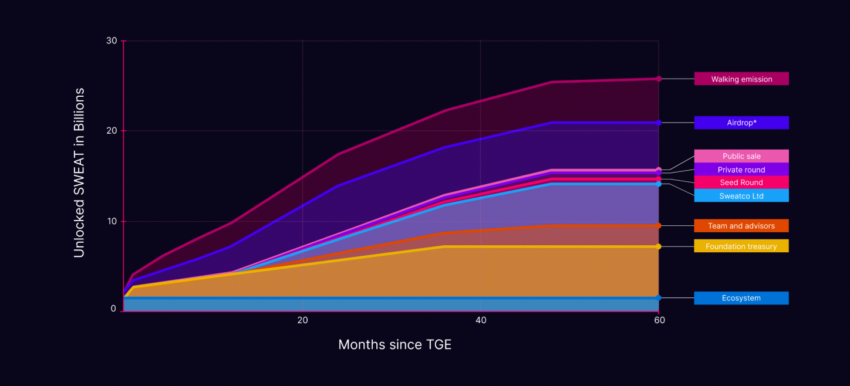 The SWEAT token has an uncapped supply. This model is designed to encourage movement indefinitely. This is counterbalanced by a controlled, exponentially decreasing rate of inflation. SWEAT minting difficulty increases exponentially, causing inflation to asymptotically approach zero.
At the same time, this token-minting mechanism promotes adoption and movement, as engaging in physical activity today yields higher rewards than doing so tomorrow.
The supply of new SWEAT tokens solely depends on the submitted physical activity. Therefore, all SWEAT tokens ever created are backed only by the value of the physical activity. An uncapped supply coupled with exponentially decreasing inflation guarantees ongoing motivation for physical activity — while simultaneously enhancing the perceived value of SWEAT.
The Sweat Foundation has committed to using 50% of the profits generated through in-app offers to buy and burn SWEAT tokens to reduce inflation. As they implement the roadmap, they will allocate revenue to the Sweat DAO, which will be governed by veSWEAT (locked SWEAT for governance).
According to CoinMarketCap, as of May 2023, there are 4,642,859,489 SWEAT in circulation. The price of one Sweat Economy (SWEAT) token is $0.008476.
SWEAT token uses
Sweat Economy (SWEAT) tokens can be used as any other cryptocurrency. Token holders can use the Sweat Wallet to manage their tokens and transfer them to different crypto wallets after minting.
While the Sweat Foundation is still working on the wallet's roadmap, the goal is to achieve the following use cases:
NFTs. Third-party NFT providers must pay SWEAT to sell NFTs to users. Users can purchase and upgrade NFTs using SWEAT or by staking large amounts of SWEAT.
DeFi functions. The Sweat Wallet will generate fees through various DeFi functions, including buying and selling crypto, exchanging SWEAT for other cryptocurrencies, liquidity provision, staking, and more. With a substantial user base, the accumulated fees will be significant.
Audience access. Projects that want to promote their tokens or NFTs to the Sweat Wallet community must pay a fee in SWEAT and/or offer users free or heavily discounted products.
Advertising. Boasting over 120 million users, the Sweatcoin and Sweat Wallet apps provide valuable advertising space. Advertisers must pay in SWEAT to access this customer base.
Alternative Movement Validators. Validators must stake a considerable amount of SWEAT to operate as a Movement Validator, for which they will receive a percentage fee, similar to the current SweatCo Ltd validator.
Data analytics. The Sweat DAO will grant individuals ownership of their data and the option to monetize it. Institutions, investors, healthcare providers, or insurers can purchase an individual's SWEAT to access data analytics.
Premium subscription services. Premium services, such as those available on the Sweatcoin app, offer various benefits, including exclusive markets, NFTs, social channels, and more. Users must pay in SWEAT to access premium subscriptions.
Distribution
Sweat Economy (SWEAT) tokens are distributed as follows:
Foundation treasury 27.71%
Lockdrop 25%
SweatCo Ltd 22%
Team and advisors 10.92%
Ecosystem 7.02%
Private round 3.33%
Seed round 2.68%
Public sale 1.33%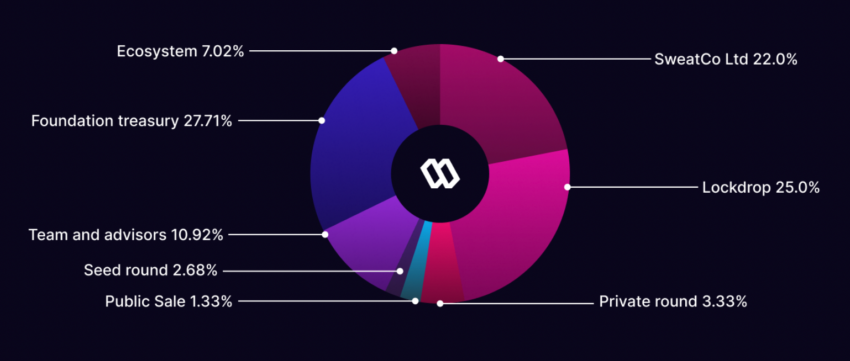 SWEAT Network wallet
The SWEAT Network wallet allows users to mint Sweat Economy (SWEAT) tokens. The wallet functions like a web3 app and enables users to stake, transfer, or swap their crypto.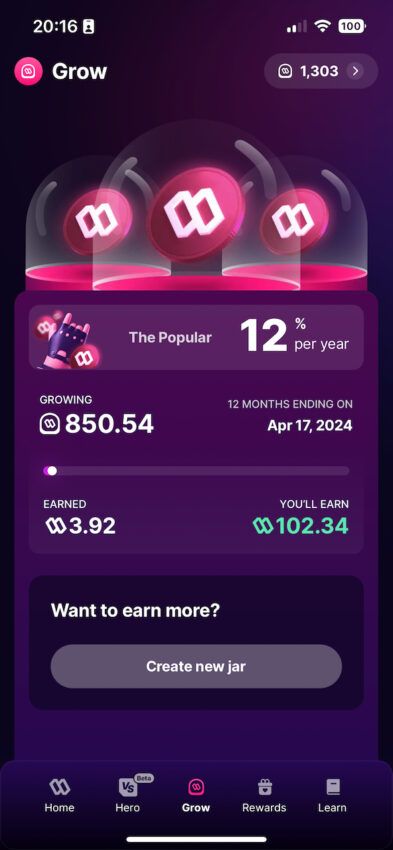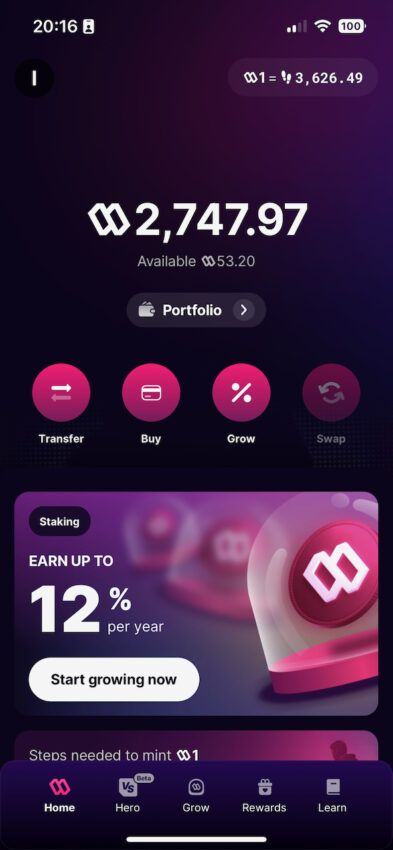 Staking was one of the first features of the Sweat Wallet. Users can use the wallet to access Growth Jars, which lock SWEAT tokens for a guaranteed reward. Users can choose between three types of Growth Jars — three months (3% reward per year), six months (6% reward per year), and 12 months (12% per year). The only downside is that users cannot unlock tokens earlier than the chosen period of time.
The Sweat Wallet also acts as an educational resource. It rewards users for learning more about the mechanism of the Sweat Wallet, as well as general DeFi concepts.
The team has yet to implement new features to the wallet, such as the planned Sweat Her NFT game. This head-to-head game takes into account the real-life steps of the player. To participate, you'll need a Legs NFT, but a standard version will be provided to anyone wishing to participate.
The wallet also announced that users would soon be able to purchase crypto with fiat through popular payment services.
The next stages for the Sweat Wallet are all about decentralization and DAO governance. In the future, users will be able to seamlessly trade crypto on decentralized exchanges (DEXs) and centralized exchanges (CEXS). Ultimately, the Sweat Wallet aims to become a multi-chain wallet whereby users can easily manage their crypto holdings.
Embracing a healthier future with Sweatcoin
Sweatcoin is a highly effective move-to-earn platform. With its ever-expanding network of partners and rewards, users can access a variety of incentives and services to support their fitness journey. By operating on the cost-effective and carbon-neutral NEAR blockchain, Sweatcoin minimizes its environmental impact while maintaining a scalable and efficient infrastructure.
Moreover, the integration of blockchain technology and tokenization through the SWEAT token introduces users to the world of crypto and DeFi in an accessible and engaging manner. This innovative approach to rewarding physical activity democratizes access to the benefits of blockchain and DeFi. Thus, it appeals to fitness enthusiasts and those new to the crypto ecosystem.
Frequently asked questions
Does Sweatcoin give you real money?
How can I withdraw Sweatcoin?
What is Sweatcoin and how does it work?
How can I earn rewards with Sweatcoin?
Disclaimer
In line with the Trust Project guidelines, the educational content on this website is offered in good faith and for general information purposes only. BeInCrypto prioritizes providing high-quality information, taking the time to research and create informative content for readers. While partners may reward the company with commissions for placements in articles, these commissions do not influence the unbiased, honest, and helpful content creation process. Any action taken by the reader based on this information is strictly at their own risk.
Iulia Vasile is a seasoned professional in the cryptocurrency and blockchain industry, working full-time in the field since 2017. With a background in computer engineering, she...
Iulia Vasile is a seasoned professional in the cryptocurrency and blockchain industry, working full-time in the field since 2017. With a background in computer engineering, she...
READ FULL BIO
Sponsored Sponsored