OpenSea is one of the most well-known NFT marketplaces. It offers a vast collection of digital art and other unique items. However, it's not the only platform available. In recent years, the number of NFT marketplaces has shot up. But are any of them genuine competition for Opensea? In this article, we'll take a closer look at some of the best Opensea alternatives and help you decide which could be right for you.
BeInCrypto Trading Community in Telegram: discuss crypto projects & NFT, read reviews on alternatives to crypto platforms & get answers to all your questions from PRO traders & experts!
OpenSea and NFT marketplace competition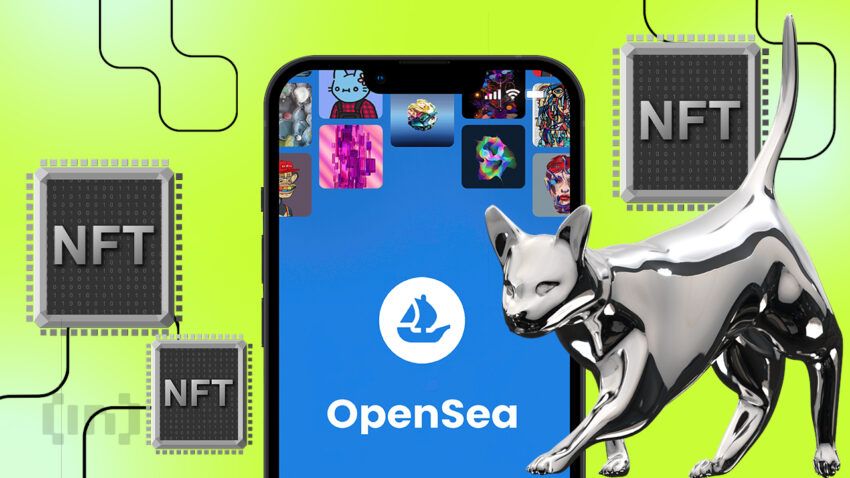 NFT marketplaces are virtual platforms where users and investors can buy, sell, and trade NFTs.
Until recently, OpenSea was considered by far the most popular platform for trading NFTS. As of February 2023, according to a Dune query, OpenSea had a market dominance of 43.7%. However, other analytics platforms give even more insights into NFT marketplaces.
By the end of February 2023, OpenSea experienced a significant decline in market share. This fall is mostly attributed to an airdrop launched by a new rival, Blur. While the airdrop declined in value, it helped increase Blur's market share by 34%. As a result, OpenSea's market share was reduced from 36% to 15%, despite restructuring their fee model and policies in an attempt to counter the competition.
Why look for OpenSea alternatives?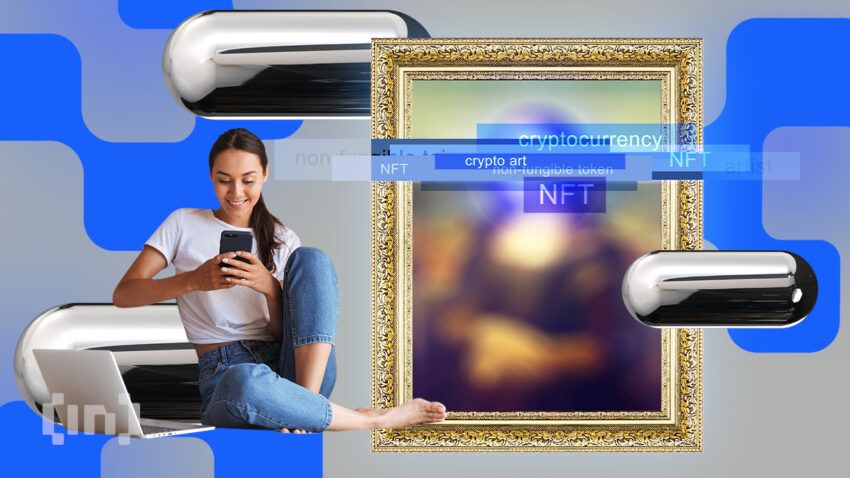 OpenSea, like any other platform, is not perfect, and there are a few reasons to consider alternatives.
Not everybody uses crypto
Some people still prefer to use fiat currency when accessing crypto platforms. The inability to pay for digital goods with fiat money may discourage those looking to enter the market. And since we already have other services that allow fiat exchange, why not have an NFT marketplace that allows fiat currencies to be traded?
Audience interest in other NFT marketplaces
Yes, OpenSea is an excellent place to sell NFTs. But there are plenty of other options available. To expand the customer base or reach other regions, niches, or countries, an NFT project or trader should explore other NFT marketplaces.
Lack of customer support is a common issue with many crypto platforms and exchanges, and OpenSea is no exception. While the platform offers basic help pages, the ability to interact with a real person would make the platform more appealing. An improvement in customer service operations is especially important for the platform to grow and acquire new users, especially those new to crypto.
OpenSea is a crowded marketplace where everyone goes to buy and sell NFTs. For buyers searching for something unique or sellers seeking new buyers, looking at OpenSea alternatives is a good idea.
The nine best OpenSea alternatives
Website: www.kraken.com
Kraken is one of the largest cryptocurrency exchanges in the world. In December 2022, it launched a test version of its new NFT marketplace, which features over 110 well-known NFT collections, such as Bored Ape Yacht Club, Azuki, Doodles, and CryptoPunks.
Kraken NFT marketplace currently only supports blockchains running on Ethereum or Solana. But it may add support for other blockchains in the future. As such, we consider it to be one of the best OpenSea alternatives.
Kraken NFT aims to provide an easy and safe way for collectors to exchange digital assets within the Kraken ecosystem. Users only need to create one wallet for purchases, sales, and trades. The platform also allows users to base their bids and offers on the popularity of specific assets, similar to other NFT markets.
Kraken NFT provides "gas-free" transactions, which means that users can exchange digital assets without paying transaction fees associated with the blockchain. However, there are fees for transferring NFTs from Kraken to another platform. The platform currently supports over 200 cryptocurrencies and eight fiat currencies.
Kraken NFT has implemented a mechanism that automatically pays creators a share of the sales revenue generated by their digital products, ensuring fair compensation.
Get started on Kraken NFT here.
Kraken NFT features
Zero gas fees. Kraken NFT allows collectors to buy and sell NFTs without incurring high network gas fees.
Royalties for the creator. A portion of the value of eligible NFTs sold on Kraken NFT goes back to the original content creator, rewarding ongoing creativity and innovation within the NFT space.
Rarity ranking. All supported collections on Kraken NFT have an accompanying rarity ranking to help collectors assess the rarity of individual NFTs, informing potential bids or offers.
200+ funding options. Kraken NFT clients can list or offer NFTs in any of the fiat or cryptocurrencies supported on the platform. NFTs can be traded in eight fiat currencies and well over 200 cryptocurrencies.
Pros
Customer support 24/7
Ability to pay with over 200 cryptocurrencies
Zero gas fees for trades
Cons
Only supports Ethereum and Solana-based NFTs
The marketplace features only popular NFT collections
It's a new platform (December 2022)
Binance, the largest cryptocurrency exchange worldwide, launched its NFT marketplace in June 2021. The platform features auctions of digital artworks by renowned artists such as Andy Warhol and Salvador Dali and includes all major genres of NFTs, including gaming, collectibles, entertainment, and art.
Binance NFT marketplace has low transaction fees and aims to maximize value for creators. For curated "Premium Event" collections, artists receive 90% of the proceeds from purchases, which sets a new standard for NFT awards.
The Binance NFT marketplace is one of the best OpenSea alternatives since it features various types of NFTs that fit into these predefined categories, such as gaming, collections, assets from the real world, real estate, or art.
Get started on Binance NFT here.
Binance NFT features
Enhanced user interface. Easy to navigate the platform, with navigation bars on top of the website. The menus include frequently used functions such as Assets, History, Favorites, Settings, Deposit, Withdraw, and My Wallet.
Improved access to assets. Binance has streamlined asset management by organizing all NFT assets into two categories: Collections and On Sale.
Mystery Box. Collections have been added to Mystery Boxes, and the total number of items drawn is now visible in the bottom left corner of the mystery box. Additionally, when you click on a collection, both opened and unopened mystery boxes will appear in the bottom right corner.
Favorites. The Favorites page allows users to add any NFT to this list.
Pros
Binance is an established and reputable brand in the crypto industry
The marketplace offers a broad range of NFT categories for users to choose from
No fees for listing NFTs
Creators can earn a 1% royalty charge from sellers, and the platform charges a low minting fee of only 0.000001 BNB.
Cons
Minting restrictions. The platform has more limited minting permissions compared to other NFT marketplaces, which may not be ideal for some creators.
New player in the market. As a relatively new platform, Binance NFT may not yet have access to the most exclusive or highly-desirable NFTs.
Minimal royalties. Binance NFT only offers a 1% royalty for creators, which is significantly lower than what other NFT marketplaces allow.
The Bybit NFT marketplace was launched in January 2022. The diverse platform provides early access to cutting-edge NFT collections from all over the world.
This marketplace has zero transaction fees. It is one of the best OpenSea alternatives since users can buy, bid, or mint NFTs from a wide range of categories, including GameFi, metaverse NFTs, digital art, and collectibles.
However, Bybit NFT Marketplace has some restrictions that may affect some creators. For example, minting permissions are only allowed on the Ethereum blockchain, and NFTs cannot be self-minted. Furthermore, the platform only supports images and videos as media types.
In terms of payment, buyers can use ETH, USDT, or BIT to purchase NFTs on the platform, depending on the price of the NFT.
The marketplace also offers Mystery Boxes, which contain randomly selected NFTs of different rarity levels: N (Normal), R (Rare), SR (Super Rare), and SSR (Super Super Rare). Bybit NFT Marketplace offers the ability to trade unopened Mystery Boxes or open a purchased Mystery Box at any time.
Get started on Bybit NFT marketplace here.
Bybit NFT features
Searchability. Users can browse and search for their desired NFTs based on their budget and other specifications.
Payments can be made using ETH, USDT, or BIT
Mystery boxes. The platform offers these mystery boxes at a fixed price, and each one contains a randomly selected NFT.
Pros
Supported by a trustworthy cryptocurrency exchange
Fair trading fees
A curated selection of unique NFTs
No requirement for an external wallet
Intuitive and easy-to-use platform
Cons
Limited to minting NFTs on the Ethereum blockchain only
Self-minting of NFTs is not allowed
NFT creators only receive a 1% royalty
Coinbase has become one of the most popular cryptocurrency exchanges, given its accessibility for non-crypto users. In May 2022, the exchange launched its Coinbase NFT marketplace, which offers a strong Opensea alternative.
Unlike other marketplaces that require the use of a non-custodial web3 wallet like MetaMask, Coinbase NFT integrates with the Coinbase exchange. This allows users to purchase and sell NFTs using credit and debit cards in U.S. dollars. Furthermore, Coinbase will store users' NFTs while enabling them to collect, showcase, and discover their non-fungibles in a single location.
However, according to a Dune analytics report, Coinbase NFT doesn't have a lot of trading volume. This is in stark contrast to other OpenSea alternatives, such as Blur.
Get started on Coinbase NFT marketplace here.
Coinbase NFT features
Coinbase's reputation as a reliable and established company is one of its biggest strengths. Coinbase has been operating since 2012 and is listed on the Nasdaq stock exchange.
Collectors can interact with each other, following the accounts of other collectors and creators and building communities around their work.
There is an introductory fee-free period for a limited time, meaning no fees will be charged for buying and selling NFTs. However, Ethereum gas fees are still applicable, as they are the cost of recording a transaction on the network. Coinbase has promised that its fees will be "in-line with web3 industry standards" when they are introduced in the future.
Pros
With a solid reputation in the crypto world, Coinbase is a trustworthy brand.
The platform offers social NFT trading, enabling collectors to engage with each other and build communities.
For a limited time, users can buy and sell NFTs on Coinbase without any fees.
The platform features an intuitive interface that is easy to use.
Cons
The platform is still in beta mode with limited functionality.
It only supports the Ethereum blockchain, restricting access to NFTs on other blockchains.
There are limited payment options available, which is potentially inconvenient for some users.
It does not support the minting of NFTs, so creators will have to use a different platform to create their tokens.
OKX launched its NFT Marketplace launched in September 2022. The platform offers one of the best OpenSea alternatives. It currently supports NFTs on various networks, including Ethereum, BSC, and Polygon. To access the NFT marketplace, users need the OKX web3 wallet.
The OKX NFT Marketplace offers some of the lowest platform fees for NFT trading in the cryptocurrency industry. There are no charges for secondary market sales; users only need to pay network fees when buying or selling NFTs. Furthermore, assets minted using OKC benefit from low gas fees and quick transaction settlement times.
The OKX NFT market is divided into four main sections: Featured, Marketplace, Primary, and Stats. The "Featured" page is the central hub of the OKX NFT marketplace, where users can discover new, top, and trending NFT collections.
The "Marketplace" is where most NFT trading occurs. In addition to the non-curated items on offer, "Primary" collections trade on this secondary market after their initial sale.
The "Primary" section features notable NFT collections and creators curated by the OKX NFT team. Users can find information about the artists and projects, as well as the time and date of a sale. Initially, sales can take one of two forms – fixed price or auction.
The last section is "Stats," which allows users to browse collections and check out key performance metrics at a glance. It features global NFT rankings sorted by volume, volume change, floor price, floor price change, number of transactions, liquidity, owners, and number of items in a collection.
Get started on the OKX NFT marketplace here.
OKX NFT Marketplace features
Supported chains. While most exchanges only support Ethereum or Solana, OKX goes the extra mile, supporting Polygon, Aptos, Binance Smart Chain, Avalanche, Arbitrum, Optimism, Klaytn, Immutable X, and their own OKC chain.
Accessibility. The OKX NFT marketplace features four distinct categories to help users easily sort through the featured NFt collections.
Deep liquidity. The platform aggregates orders from other major platforms such as OpenSea, LooksRare, Magic Eden, and IMX Official, among others.
Pros
NFT non-custodial wallet. The NFT platform is accessible through the OKX wallet (or any other web3 wallet).
NFT minting. Users can use the OKX NFT platform to mint NFTs on the OKX chain, Ethereum, Polygon, or BNB chain.
Features popular NFT collections.
Suspicious NFTs may receive warnings from the platform.
Cons
Less suitable for beginners since you need a web3 wallet to access the NFT marketplace
Users are responsible for keeping their private keys safe.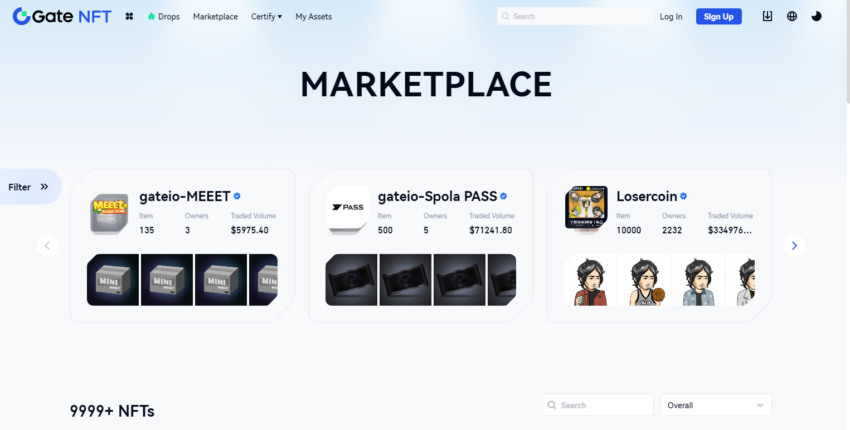 Gate.io is a top cryptocurrency exchange that aims to serve as a gateway to crypto for its millions of users. With the NFT MagicBox, users can browse listings, mint digital files for free, and check out trending collections.
The MagicBox's interface is straightforward and easy to navigate, presenting listings, prices, and usernames in a clear manner. The marketplace allows for easy sorting and toggling between collections, as well as customizing search results with filters to find the NFT or collection you're looking for.
Additionally, the marketplace features official certification tags that can be beneficial for high-value NFT purchases. These tags indicate that the NFT has undergone an authenticity verification process, providing confidence to buyers that they are purchasing a genuine item.
Get started on the Gate.io NFT marketplace here.
Gate.io NFT features
Popular NFT collections are available on NFT Magic Box, such as OpenPunks, Dreamverse, Supe Infinity, K9s, MasterHornClub, Kikoverse, iFans, and MetaverseX.
Initial NFT Offerings (INO) is a launchpad for new artists in the industry.
Creators can submit their applications and get grants for their projects.
NFTs can be created without paying any minting fees on Gate.io's native GateChain Ecosystem.
The interoperable capacity allows users to depIosit and trade NFTs built on Ethereum and other blockchains such as ERC-721, ERC-1155, and Tron's TRC-721.
NFT collectors can be certified and access certified original artwork displayed in a special area.
Certified collectors also receive essential support, such as exclusive funding for exhibitions and training.
Pros
User-friendly sign-up process. Creating an account on Gate.io is easy.
Affordable fees. The marketplace fee is only 1%, which is significantly lower than on OpenSea (2.5%) and Foundation (5%). Additionally, minting on the GateChain network has no gas fees as of the time of writing (March 6, 2023)
Mobile accessibility. Gate.io offers a mobile app allowing users to access the exchange and NFT marketplace.
Creator autonomy. Creators can choose the specific cryptocurrency they prefer buyers to use when purchasing their assets.
Cons
Not available for U.S. residents. Gate.io's products and services are not accessible to residents of the United States.
Limited selection of top ETH collections. Due to being on GateChain, the MagicBox NFT marketplace does not feature major blue chip NFT collections like Bored Ape Yacht Club and CryptoPunks.
Experienced a hack. In 2021, the Gate.io exchange suffered a hack that resulted in the loss of $2 million worth of PAID tokens. Although holders were compensated, this security breach remains noteworthy.
7. Blur NFT marketplace
Blur was created in early 2022. It aims to be the go-to NFT marketplace for advanced traders. Blur found a gap in the market: the team had not found an NFT platform that met their needs, such as sweeping NFTs across marketplaces and sniping NFT reveals. So they developed a marketplace that focuses on trading NFTs. Blur provides traders with a marketplace, an aggregator, and advanced trading tools all in one platform.
Users on the platform are not charged any transaction fees. Additionally, royalties, which are typically mandatory on other marketplaces, are not mandatory on Blur. Instead, a default royalty rate of 0.5% is recommended for buyers, but this can be customized or even set to 0. Overall, Blur offers a cost-effective and convenient platform for professional NFT traders.
The majority team behind Blur Marketplace is anonymous but consists of personnel with experience from MIT, Citadel, Five Rings Capital, Twitch, Brex, Square, and Y Combinator.
This impressive collective experience has garnered support from various investors and traders around the world, including Zeneca, Cozomo Medici, and 6529. In late February 2023, co-founder Tieshun Roquerre, aka "Pacman" doxxed himself. The 24-year-old software engineer previously worked at Teespring and cofounded StrongIntro and Namebase, which Namecheap acquired.
As of February 2023, the Blur NFT marketplace has an estimated market dominance of 78%, according to Glassnode insights. This has come after the first Blur airdrop and has dethroned OpenSea as the leader NFT marketplace.
Blur NFT features
Speed. Blur is one of the fastest NFT marketplaces, designed to support faster batch minting and faster transactions across all NFT marketplaces.
Sweeps. Blur supports NFT traders in making more accurate projections through its floor depth chart for each collection, allowing traders to purchase several of an NFT collection's lowest-priced works.
Listing options. Blur offers a variety of listing options, including trait floor price listing, floor price listing, and ladder listing, as well as deep analytical features for enhanced portfolio management.
Portfolio view. Once a user connects their wallet to their Blur account, they have access to a detailed portfolio view of their holdings, including specific activity for each individual wallet, filtering by collection, and viewing overall activity.
NFT royalties. NFT owners can establish creator royalties for their assets when they list them on the marketplace, which is one of the ways for traders to have access to a larger portion of the final airdrop. Additionally, users who list NFTs with royalties benefit from loyalty points and can receive BLUR tokens as an incentive.
Pros
NFT sweeping on multiple leading NFT marketplaces
NFT sniping thanks to NFT reveals tools (Blur updates listings 15 times a minute)
Enhanced NFT portfolio management and analytics
Cons
Users have to choose between Blur and OpenSea (can't earn royalties on both platforms)
Not suitable for new NFT traders
Limited to digital paintings. Not suitable for more specialized art forms such as 3D models, videos, GIFs, and interactive digital art.
8. LooksRare NFT marketplace
One of the newest NFT platforms is LooksRare. It takes direct aim at OpenSea's business model.
LooksRare was founded by two anonymous individuals known as Guts and Zodd. The platform aims to prioritize its users and reward them for trading on the platform.
Within the first week of its launch, LooksRare had doubled the trading volume of OpenSea, which dominated the market in the previous year. However, a significant portion of this volume is due to wash trading. Here, users trade to a secondary account they own to take advantage of LooksRare's incentive program.
For the first two years of its existence, every time a user trades on the platform, they receive LOOKS tokens that can be sold or staked on the platform. This benefit, combined with a lower trading fee of 2% compared to OpenSea's 2.5%, has attracted many investors to the new marketplace. This marketing strategy has been dubbed the "vampire attack," as LooksRare is directly targeting the previous top NFT marketplace.
Many users are now selling their valuable assets, such as Bored Ape Yacht Club NFTs, on LooksRare in order to benefit from the incentives and lower fees.
The motto of the LooksRare NFT marketplace is "by NFT people, for NFT people," emphasizing decentralization and community involvement. Even for those who are less concerned about the ideals of web3, LooksRare offers users a cheaper and more streamlined experience, with the added ability to earn through NFT purchases.
LooksRare features
Staking. Users can stake their LOOKS tokens to earn passive income in WETH and LOOKS, with two types of staking available: active and passive. The LOOKS token is distributed as a medium for giving back to active users and creators, with users earning LOOKS rewards for trading qualifying NFTs.
Low fees. The platform charges a 2% sales fee on all NFT sales, except for private sales, with WETH fees accumulated from sales being combined and distributed to LOOKS token stakers.
NFT community. As a community-first project, 100% of the revenue generated is distributed to stakers of LOOKS tokens. The platform promises to distribute 100% of the platform fees as rewards to LOOKS token stakers.
Pros
LooksRare has a 2% fee on NFT sales.
Users can earn LOOKS rewards for staking, trading, and NFT listing.
Users can bid on a whole collection instead of bidding on each item.
Cons
LooksRare does not accept debit or credit card payments. You'll need ETH or WETH to trade NFTs.
There are no category-based search filters on the LooksRare platform. LooksRare doesn't have a mobile app. Users can't mint new NFTs, as the platform only allows you to buy or sell NFTs.
Market manipulation. Because of the incentive model used by the platform, wash trading is a common practice on the platform. Users buy and sell the same NFT using different wallets. This might make one NFT more popular than it actually is.
9. MagicEden NFT marketplace
Magic Eden is the go-to NFT marketplace on the Solana blockchain. Four friends, including CTO Sidney Zhang, former Uber Eats developer, CEO Jack Lu, former FTX employee, COO Zhuoxun Yin, former Coinbase product manager, and chief engineer Zhuojie Zhou, former Facebook developer, founded Magic Eden in September 2021.
In July 2022, Magic Eden raised $130 million in a Series B funding round led by Electric Capital and Greylock, with support from Paradigm and Sequoia Capital. This brought the marketplace's valuation to $1.6 billion, following a $27 Series A in March.
According to a Dune analytics dashboard, about 97% to 99% of the daily volume for Solana NFTs is on Magic Eden.
However, in terms of daily sales across all blockchains, OpenSea remains the larger platform, recording trades worth about $15 million in Ethereum every 24 hours, while Magic Eden averages around 55,000 SOL a day, equivalent to $2.1 million.
The primary difference between the two marketplaces is network dominance, with Solana being a rival to Ethereum, offering faster and cheaper transaction fees. As such, Magic Eden is a great Opensea alternative for those looking to buy NFTs on the Solana blockchain.
The SOL token, which powers the Solana network, was popular with venture capitalists and major players like FTX founder Sam Bankman-Fried. Its value has decreased significantly since the crypto market crash in 2022, dropping from $258 in November 2021 to lows of $9 in December 2022.
MagicEden features
No listing or offer fees. Magic Eden does not charge any fee for listing NFTs or making offers. Users only need to pay transaction fees when a sale is made.
Low transaction fees. The platform charges only 2% on transactions, which is comparatively lower than other NFT marketplaces.
Launchpad tool. Magic Eden offers a Launchpad tool that helps digital asset creators mint NFTs efficiently.
Community-driven approach. Magic Eden values user feedback and suggestions, which allows for constant improvements to the platform.
Pros
User-friendly interface
Cost-effective transaction fees
A diverse range of high-quality NFTs is available
Cons
Limited mobile functionality, only for browsing.
Primarily focused on more affordable NFTs.
Uses closed-source software.
How to choose the best Opensea alternative for you
While Opensea is still a huge name in NFT-land, there are many great Opensea alternatives clamoring for their share of the digital collectible pie. The best marketplace for you will depend on a variety of factors, including the level of security, fees, user-friendliness, and the type of NFTs supported.
It is important to carefully consider these factors and evaluate each marketplace before making a decision. Start with a small investment to test out the marketplace's features before committing to larger transactions.
Frequently asked questions
Is there an alternative to OpenSea?
There are several alternatives to OpenSea, including Binance NFT, Blur, LookRare, MagicBox by Gate.io, and OKX NFT Marketplace. Each of these marketplaces has its own unique features and advantages, so it's important to do your research and choose the one that best fits your needs. Some marketplaces, like Binance NFT, offer low fees and a wide range of collections, while others, like Blur, prioritize advanced trading tools for professional traders.
What NFT marketplace is similar to OpenSea?
Binance NFT and LookRare are similar to OpenSea in terms of offering a wide range of NFTs from various collections. Both of these marketplaces allow users to mint their own NFTs and sell them on the platform. Binance NFT also offers a "premium" section for high-end NFTs, similar to OpenSea's "featured" section. LookRare has a user-friendly interface and offers various tools for filtering and searching for NFTs.
Is OpenSea the best NFT marketplace?
OpenSea is a well-established and popular NFT marketplace with a wide range of features, a large user base, and a massive collection of NFTs. However, there are several other NFT marketplaces like Binance NFT, LookRare, and Blur that also offer unique features and benefits. 
Is OpenSea the only NFT marketplace?
No, OpenSea is not the only NFT marketplace. There are several other NFT marketplaces available that offer different features and benefits to users, such as Binance NFT, Rarible, LookRare, and Blur, among others. Each marketplace has its own strengths and weaknesses, so it's important for NFT traders to do their research and choose the platform that best fits their needs.
Which is better Mintable or OpenSea?
There is no straightforward answer to whether Mintable or OpenSea is better, as it largely depends on personal preference and the specific needs of the user. Both platforms have their unique features and benefits. OpenSea is currently the largest and most well-known NFT marketplace, while Mintable is a newer NFT marketplace that prides itself on being user-friendly and accessible to everyone. Both platforms offer unique features and benefits that may appeal to different types of users.
Is LooksRare better than OpenSea?
It's difficult to say definitively whether LooksRare is better than OpenSea, as both platforms have their strengths and weaknesses. LooksRare focuses on its curation and high-quality artwork, while OpenSea has a larger user base and offers a wider range of NFTs. Ultimately, you may need to rely on personal preference and the specific NFTs you want to buy or sell to make a choice between LooksRare and OpenSea.
Disclaimer
All the information contained on our website is published in good faith and for general information purposes only. Any action the reader takes upon the information found on our website is strictly at their own risk.
At Learn, our priority is to provide high quality information. We take our time to identify, research and create educative content that is useful to our readers.
To maintain this standard and to continue creating awesome content, our partners might reward us with a commission for placements in our articles. However, these commissions don't affect our processes for creating unbiased, honest and helpful content.