Nexo is one of the most popular lending platforms worldwide and offers plenty of features that attract new crypto users from all around the world. The platform has a positive reputation in the crypto and the fintech community, and that's why we want to offer an honest Nexo review.
What is Nexo?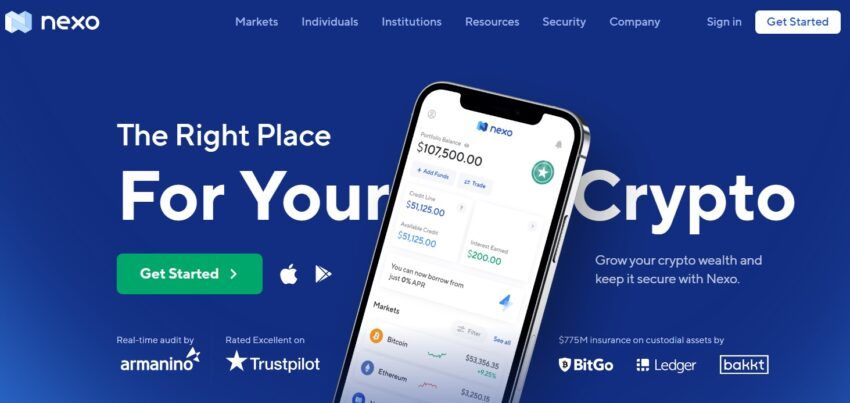 Nexo is one of the most popular centralized lending platforms for cryptocurrency assets. Since its 2018 launch, worldwide customers have been able to earn a passive income through the platform's earn program.
Nexo is often regarded as a leading digital assets institution, and its mission is to empower cryptocurrency holders by offering an extra layer of utility for their digital assets. The platform also features an exchange service, tax-efficient instant crypto crediting line, and OTC capabilities.
Cryptocurrency owners can use Nexo to deposit their funds and enjoy passive returns for funds that would otherwise sit idle in their crypto wallets. Each supported asset has a predefined APY (annual percentage yield), and the returns can be earned in the same currency. However, those who choose to receive NEXO tokens will be granted an additional 2% on top of their granted APY.
To reach the maximum available APY for each asset, you must hold in your account 10% of the total value of the wallet in NEXO tokens. These are called loyalty levels, and they also influence your borrowing rates and offer exchange benefits.
The company has licenses and registrations in many jurisdictions to ensure that its services are in compliance with all relevant local and global regulations. They also keep their operations updated with new legislative changes. The value of all assets held in Nexo is guaranteed for up to $375 million.
You can see all these licenses on the platform's official website. Nexo's assets are audited in real-time by Armanino, the world's first application that provides independent accounting reports in real-time.
Nexo welcomes retail investors from Europe, Canada, Australia, the U.S., and Asia. The platform is available for individuals from the U.K., but it is not registered with the FCA. Nexo has over 3 million worldwide clients in 200 jurisdictions.
How to create an account on Nexo?
You can create a new account on Nexo in just four easy steps.
Step 1. Go to Nexo
Open https://nexo.io/ and click on "Get Started."
Step 2. Register with email
You will be redirected to https://platform.nexo.io/register. Enter your email and desired password, go through the Terms and Conditions of Nexo and click on "Create Account" when you're done.
Step 3. Verify your email
After registering on the platform, you will receive an email to verify the provided email address. Go to your email and click on the verification link.
After your email is verified, you will be able to log in and explore the different features of Nexo. However, to begin using the platform, you will need to also verify your identity.
Step 4. Verify your identity
You can verify your identity and begin earning on Nexo by submitting a photo of your ID, a selfie, and a legal document to verify your home address. But don't worry, all of these will be done in a couple of minutes if you have your ID and a bank statement at hand.
Congrats on verifying your account! You can now top up your account and start earning a passive income for your crypto holdings. However, there are many other features available for users, such as:
The unique Nexo card
Borrowing cash and crypto
Using the exchange service
Buy crypto with your credit or debit card
Here's the complete list of features available on Nexo.
How to make your first deposit on Nexo
You can make your first deposit on Nexo following these four easy steps.
Step 1. Login to your Nexo account
Go to https://platform.nexo.io/ and enter your login credentials.
Step 2. Select your asset to deposit
On your Dashboard page, search through the supported assets and choose the one that you want to deposit, you can also use the search box on top.
To deposit an asset, click on the "Top Up" button next to it.
Step 3. Top up an asset on Nexo
You will receive the deposit address for that specific asset. Note all the details mentioned for the deposit. The platform doesn't support wrapped tokens. Furthermore, the network for the deposit must be specified.
For instance, in the case of Bitcoin, you must deposit your BTC using the Bitcoin network.
If you were to choose an Ethereum-based asset, you would be able to choose between the Ethereum and Polygon networks to make your deposit.
However, if you don't own any cryptocurrency, you can click on "Swap BTC" (or any other asset that you wish to deposit) and you will be able to buy it directly with your credit or debit card.
You can add your Visa or Mastercard to the app and input the desired amount. If you already own other assets on the platform, you may choose to swap those for BTC, for instance. To do so, choose the "Swap" option, select the asset to pay with, the amount, and the asset to receive.
Step 4. Check your deposits
After you make your deposit, you will see them in the list of all assets.
Switch on the "Hide Zero Balance Assets" toggle to only see the deposited assets.
Step 5. Check 'Transactions' to see your interest
You will be able to see all deposits and transactions under the "Transactions" tab. Here is where you will also find the paid daily interest for your deposits.
Golden rules to follow when you just start trading
Now that you have started using the Nexo platform, you need to learn more about trading and what makes the difference between a successful trader and a less fortunate one.
You need to pay attention to a few rules. These will affect your trading success over the long run. Here's what to keep in mind:
Research: Traders must learn more every day. Trading requires hard research to be able to grasp the facts. Research as much as possible before investing. Good traders have an understanding of the markets in the past and present.
Diversify your investments: This is one of the most important rules in investing. Diversification is the best way to manage risk. Losses in one investment will be less severe than others, and gains from other investments may offset them.
Think long-term: Predicting short-term market movements is almost impossible. But the two wonderful properties of time are compound interest strengthening and the possibility of a negative outcome. Investors need higher average returns to invest in volatile markets. Research has shown that most markets tend to rise over time.
Only invest what you can afford to lose: Before you invest, ensure that your trading account has enough money to cover your daily living expenses. A trading account shouldn't be used to pay the mortgage or home loans.
Don't let emotions get the best of you: Trading is all about psychological factors, such as fear and greed. Human emotions largely influence the market. You will win if you are mentally strong and don't blink when the market goes crazy. A predetermined strategy is the best way to mentally be strong. This allows you to know exactly what you are doing before you start.
Popular tokens available on Nexo
Nexo is already one of the big names when it comes to centralized lending platforms. It offers a wide range of crypto assets, and its interest APYs are some of the highest in the industry.
Here are the most popular tokens available on Nexo:
Bitcoin (BTC)
Ethereum (ETH)
Cardano (ADA)
Polygon (MATIC)
Polkadot (DOT)
Avalanche (AVAX)
Ripple (XRP)
Stellar (XLM)
Tron (TRX)
USDC
USDT
DAI
And more. There are more than 40 assets supported by Nexo.
Fees and commissions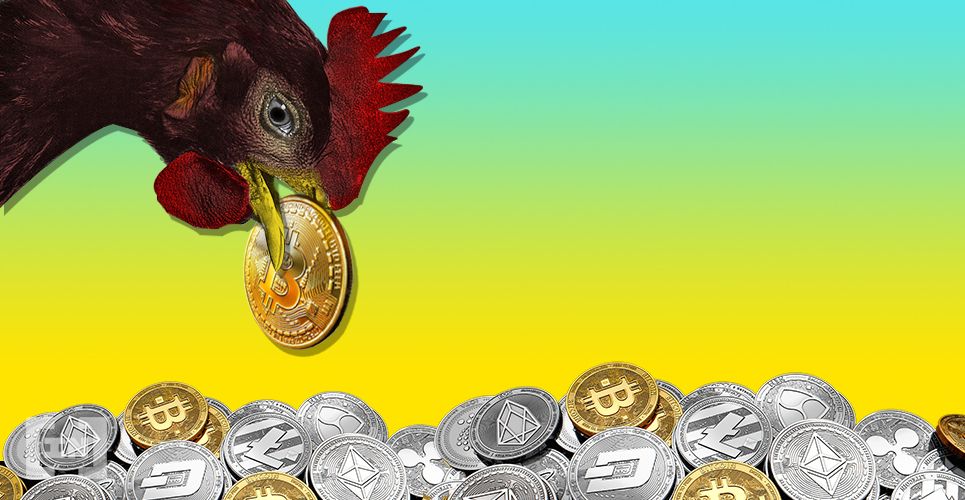 One of the most important aspects for any cryptocurrency trader and investors are the fees and commissions of the chosen platform. In the case of Nexo, there are no hidden fees charged in any transaction.
Deposit fees
There are no deposit fees for depositing fiat or crypto other than those incurred by blockchain transactions (regular gas fees) or your bank's fees for buying the assets with your credit or debit card.
Withdrawal fees
All cryptocurrency transfers between Nexo accounts are free, instant, and unlimited. You will receive one to five free monthly crypto withdrawals to your external wallet, depending on your loyalty tier. There are four loyalty levels:
Basic: 1 free withdrawal per month
Silver: 2 free withdrawals per month
Gold: 3 free withdrawals per month
Platinum: 5 free withdrawals per month
Nexo swap and card fees
There are no fees for swapping on Nexo. The Nexo card has no monthly, annual, or inactivity fees. Depending on your Loyalty tier, card users can have up to ten free ATM withdrawals per month. Read more about Nexo card fees and limitations here. For other questions regarding fees and commission, you can check the Nexo support page.
Key features you must try on Nexo
Nexo offers its services via its mobile app and desktop version. The functionality of both platforms is similar. Users can manage their credit, funds, and card in a few simple steps. Nexo mobile apps are available for both iOS and Android. Here are the top features you must try on the Nexo platform.
Earn daily compounding interest on your crypto.
Unique daily payouts are automatically sent to your Nexo account.
Industry-leading earn rates on crypto and stablecoins.
Flex terms offer interest on your crypto while letting you take advantage of the market fluctuations.
Fixed terms offer extra yield as a tool to fight market volatility.
The Nexo exchange has a user-friendly and simplified interface. It offers up to 0.5% in crypto rewards for each transaction. The price is fixed the moment you place an order to prevent price fluctuations.
The Nexo exchange offers 300+ market pairs with 100+ exotic market ones. The smart routing system that gives you the best price from the top 10 crypto exchanges.
Nexo cryptocurrency credit lines allow users to borrow fiat and cryptocurrencies. This allows them to use their digital assets as collateral. The platform automatically approves you, meaning that there is no need for a credit check. The interest rate will vary depending on the type of asset the borrower has.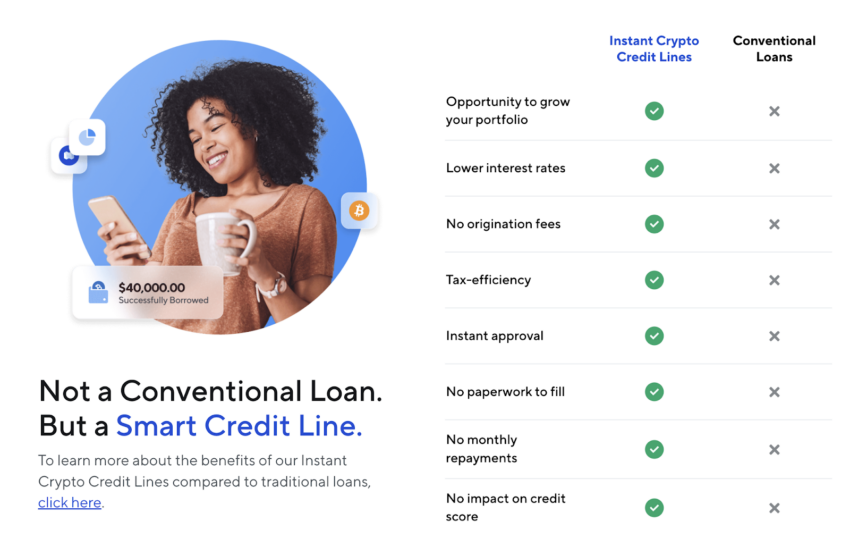 You can either send the cash directly to a bank account or add it to your debit card. Market volatility, which is almost a given when it comes to cryptocurrencies, will cause the debit card limit to adjust according to the changes in the value of the underlying cryptocurrency.
What's important to mention is the main difference between Nexo and other centralized lending platforms – Nexo does not offer traditional crypto loans. Instead, Nexo offers a crypto credit line that allows for greater flexibility.
Here is why you should consider borrowing with Nexo:
Borrow without selling your crypto at rates starting from 0% APR.
Instant approval in most cases and no credit checks
40+ currencies to borrow, including fiat or stablecoins
No Instalments. There is no fixed payment schedule, and users can pay their balance off partially or fully whenever they choose.
Easy repayment options via fiat, crypto, or a combination.NexoEasy repayment options via fiat, crypto, or a combination.
Backed by multiple assets. Convert all your crypto assets into fiat or stablecoins instantly.
When it comes to borrowing, Nexo supports more assets than any other platform and it even allows users to borrow against their NFTs. Owners of Bored Apes Yach Club (BAYC) or Crypto Punks NFTs can borrow up to 20% of the value of their digital assets.
Nexo is also a borrowing platform. Customers of the platform can boost their portfolio 3x using leverage on their crypto holdings.
Users can borrow against their portfolio to buy up to three times more crypto through Nexo's Instant Crypto Credit Line. The newly acquired assets become collateral until the outstanding credit is paid. The platform also allows simultaneous processes of borrowing and swapping to eliminate price slippage. In the case of asset appreciation, you may choose to repay your credit and pocket the rest as a profit.
Nexo allows you to spend fiat and, in return for that, you use your cryptocurrency as collateral to repay the loan. All this happens in the background every time you make a purchase using your card. Your card can be used to purchase any item you want, just like you can with any international card.
Nexo offers a unique Nexo card that is accepted everywhere they accept MasterCard. It is currently accepted by over 40 million merchants around the world. The Nexo Wallet app allows users to explore all the features and transactions that come with a Nexo Card. By using the Nexo card, you will also be able to earn instant 2% cashback for all purchases. There is no annual fee or FX fee for the card.
The main advantages of using the Nexo Card are:
Cashback up to 2%. You receive crypto rewards for all transactions, paid out in BTC or NEXO tokens.
Crypto credit from 0% APR. You get instant access to your credit line and borrowing rates starting from 0% APR.
No monthly, annual, or inactivity fees. There are no FX fees for up to €20,000 per month.
No Minimum Monthly Repayments. You may choose when and how much you want to repay for your credit.
Free virtual card. Issue free a virtual card instantly, and you may use it online and for online subscriptions, such as Apple Pay and Google Pay.
Free ATM Withdrawals. In case you need cash, you may use your Nexo Card to withdraw up to €10,000 per month. You get up to 10 free ATM withdrawals per month.
Optimize Tax Liabilities. The Nexo card does not sell your assets, so it may be a great way to optimize tax liabilities because you retain ownership of your assets at all times.
Should you use Nexo?
Many believe that the crypto lending industry is on the rise, and with the mass adoption of these digital assets, crypto lending could become a trillion-dollar business.
As crypto adoption continues to rise, lending platforms are gaining popularity. And Nexo is definitely one of the most popular crypto lending platforms worldwide. The platform allows holders to unlock their assets' value without having to give up ownership. The APYs offered by Nexo are much higher than any traditional bank institution. And, of course, you get up to 2% in NEXO Tokens or 0.5% in BTC cashback when using the Nexo crypto card.
The team behind Nexo has over 15 years of experience in the financial services industry. They have strong backing from partners and advisors from some of the most prominent names in the space. If you're looking for a great place to borrow, lend, and spend crypto, then this Nexo review might be worth your attention.
If you want further information on Nexo and how it works, check out the BeInCrypto Telegram Group. You can learn a lot about lending and trading from the friendly members.
Frequently asked questions
Which is better Nexo or Coinbase?
What country is Nexo based in?
Disclaimer
In line with the Trust Project guidelines, the educational content on this website is offered in good faith and for general information purposes only. BeInCrypto prioritizes providing high-quality information, taking the time to research and create informative content for readers. While partners may reward the company with commissions for placements in articles, these commissions do not influence the unbiased, honest, and helpful content creation process. Any action taken by the reader based on this information is strictly at their own risk.
Iulia Vasile is a seasoned professional in the cryptocurrency and blockchain industry, working full-time in the field since 2017. With a background in computer engineering, she...
Iulia Vasile is a seasoned professional in the cryptocurrency and blockchain industry, working full-time in the field since 2017. With a background in computer engineering, she...
READ FULL BIO
Sponsored Sponsored