Crypto lending platform and exchange Nexo will wind down product offerings as it looks to exit the U.S. market after failing to strike a clear path forward with regulators.
Starting on Dec. 6, 2022, the firm will discontinue its Earn Interest Product in Kentucky, Maryland, Oklahoma, South Carolina, Wisconsin, California, and Washington. Pending further notice, customers in these states will have access to Nexo's other crypto product offerings.
Nexo Fed Up With Conflicting Regulations
Despite taking several actions to comply with regulators' concerns, including offboarding clients from New York and Vermont, Nexo said that it has grown weary of turf wars between government agencies that, in its view, have complicated its efforts at being compliant. It also expressed exasperation at several states filing actions against the company without prior notice and has therefore decided to exit the U.S. market.
"Given the challenges of the confusing and contradictory U.S. regulatory regime, it is with a heavy heart that we begin the gradual and orderly departure from the U.S.," the company said in a blog post. "We will dedicate our time and effort to developing products and services for jurisdictions that understand the importance of blockchain technology in a rapidly digitizing world."
Despite the suspension of its Earn Interest Product, Nexo has assured customers that its payment processors will continue processing withdrawals.
It recently registered as a Virtual Currency Operator with the Italian finance watchdog Organismo Agenti e Mediatori.
Nexo Sued by High Net-worth Investors for Blocking Withdrawals
While Nexo claims it has enough assets to cover withdrawals, it was recently sued for blocking withdrawals for high net-worth investors who claimed the company prevented them from withdrawing parts of their $126 million in assets in March 2021.
The plaintiffs alleged that Nexo froze their accounts and tried to compel them to sell their holdings of Nexo's native ERC-20 NEXO token at a 60% discount, a claim that former Bulgarian politician and founder Antoni Trenchev called 'opportunistic.' In an interview with CNBC, Trenchev said that the company is optimistic about winning the case.
The Next Celsius?
Nexo dismissed concerns surrounding its liquidity after a fellow crypto lender Celsius ran into a liquidity crisis earlier this year that prompted the pausing of withdrawals. Celsius engaged in high-risk, complex trades to offer its customers what ultimately proved to be unsustainable yields of around 18%.
"Insolvency, bankruptcy are nowhere in Nexo's reality," stated co-founder Kalin Metodieve in a YouTube Ask-Me-Anything in Oct. 2022.
Like Celsius, Nexo grabbed the attention of regulators in multiple U.S. states, who accused the lender of offering its Earn Interest Product as an unregistered security.
Still, UTXO Management senior analyst Dylan LeClair pointed out on Nov. 27, 2022, that Nexo's yield offerings for stablecoin deposits are roughly ten times higher than decentralized lenders Aave and Compound.
While not a criticism of Nexo per se, LeClair noted that yields higher than the market rate are correlated with "taking directional risk." While Nexo may not be in trouble, it is a crypto company that makes money using a traditional banking model, providing lower yields than the interest it charges borrowers without the benefit of a lender of last resort.
Traditional financial institutions rely on lenders of last resort when other companies do not want to lend them the liquidity necessary to continue operations due to adverse market conditions. Lenders of last resort also step in when banks do not have sufficient capital to honor customer withdrawals. Central banks often function as lenders of last resort to commercial banks.
LeClair believes that crypto companies operating with this model present a significant risk to the customer.
Dune Data Reveals Troubling Asset Composition at Nexo
Another point worth noting is that according to "crypto data guy" CryptusChrist, $307 million of Nexo's $437 million in assets are allegedly made up of its own NEXO token.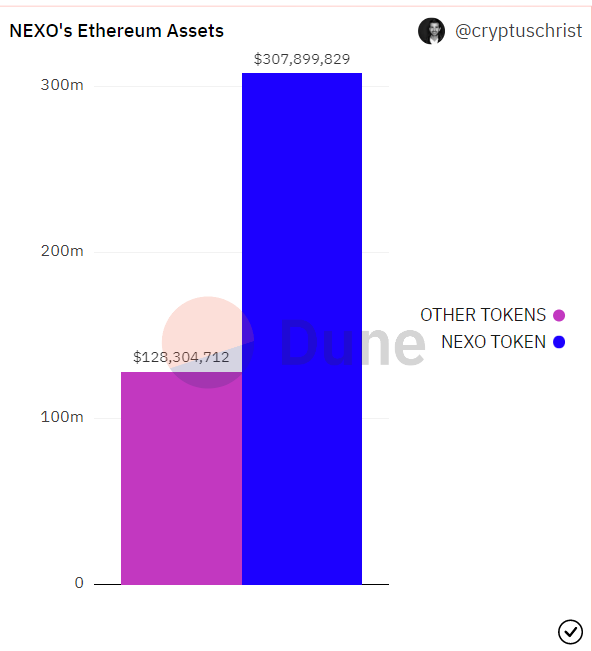 Should the value of the NEXO token plummet, this could compromise the company's solvency.
For Be[In]Crypto's latest Bitcoin (BTC) analysis, click here.
Disclaimer
BeInCrypto has reached out to company or individual involved in the story to get an official statement about the recent developments, but it has yet to hear back.