STEPN (GMT) is the native token of the popular web3 lifestyle application that turned the cryptocurrency world upside-down. Since its launch in Mar. 2022, the GMT trading volume has dominated major cryptocurrency exchanges. The astonishing price growth drew the attention of new users and now everyone wants to know how to earn more crypto using the STEPN platform.
Here's all you need to know about STEPN, the DeFi app that allows you to earn crypto as you walk.
Move-to-earn model explained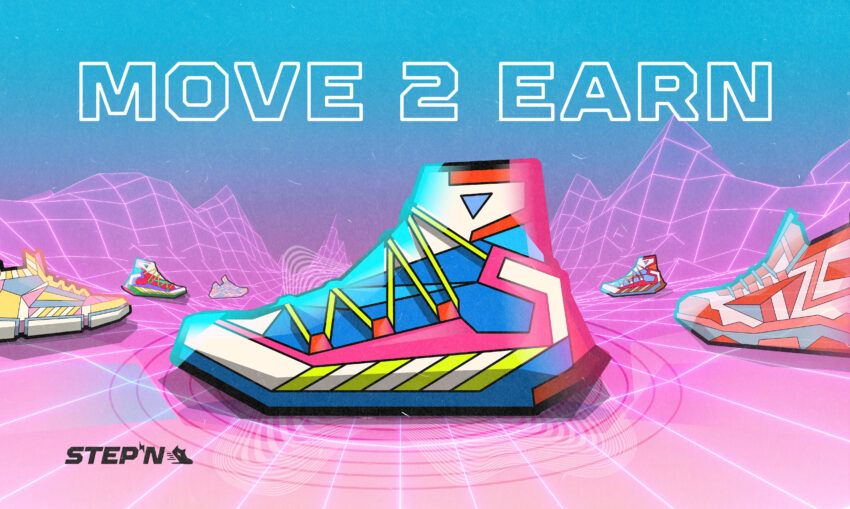 Any blockchain can connect to the real world through activities that create value and allow tokenization.
Move-to-earn (M2E) apps allow users to make passive income by engaging in regular physical activities. The move-to-earn gamification works in the same way as play-to-earn, where players have complete control of their in-game assets that can be converted to crypto or fiat currency according to their terms.
M2E allows you to tokenize the act of walking or running. Most people have already integrated the use of a fitness tracking app into their daily life. The move-to-earn app model takes these fitness apps to the next level and awards tokens and NFTs instead of worthless in-app badges. With milestones and achievements, the addictive nature of these apps makes them a great model for blockchain apps.
One of the pioneers of the M2E app industry was Pokémon Go, which created a global hysteria in 2016. Since blockchains already have the infrastructure to use oracles from real-world data, the use of geolocation could unlock token rewards in various forms.
One of the pioneers of the move-to-earn concept is STEPN (GMT), an app that promotes the idea that any physical activity can be tokenized and rewarded.
What is STEPN?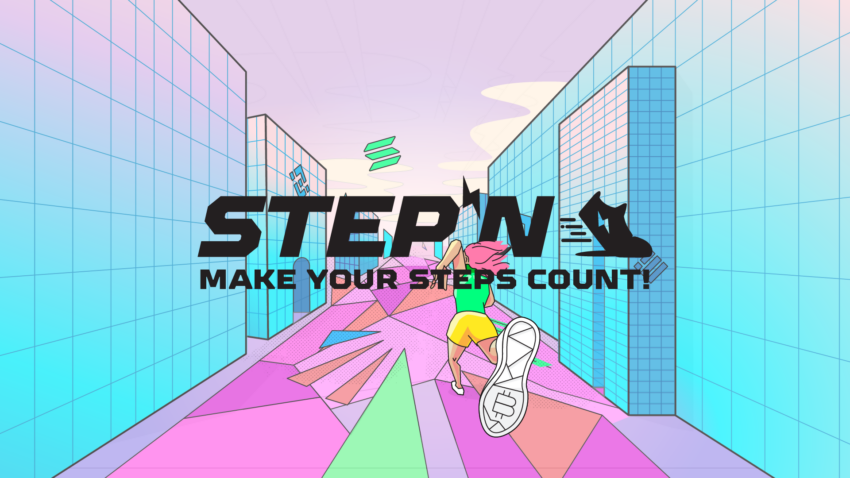 STEPN is a web3 lifestyle application that offers SocialFi and GameFi features. The goal of STEPN is to encourage socializing while also assisting users to live a healthy lifestyle.
STEPN was founded by a fintech company based in Australia, known as FindSatoshi Lab. The company became popular in the blockchain space after finishing 4th in the 2021 Solana Ignition Hackathon Gaming Track.
The STEPN app is the first sports app built on the Solana blockchain, and it combines blockchain token incentives. Users can earn tokens by walking, jogging, or running every day after purchasing sneakers (NFTs) from the marketplace. The app adds a game element, as users can find and drop treasure boxes randomly during their physical activity. Users can also upgrade the attributes of their sneakers. All these elements add up to a unique experience of exercising, earning, and playing.
The founders have strong backgrounds in crypto, gaming, and serial entrepreneurship. Advisors include both traditional and crypto-industry venture capitalists. STEPN launched the public beta version of the project within three months of participating in the Solana 2021 hackathon. The team kept improving and optimizing the code after the initial launch. The project's progress is rapid and the team's delivery capabilities are strong. The core team can be found on the app's website, as well as links to their social platforms.
The STEPN platform employs a dual token economy model — Green Metaverse Token (GMT) as the native token to pay gas fees and Green Satoshi Token (GST) for purchasing items in the app.
What is the STEPN platform?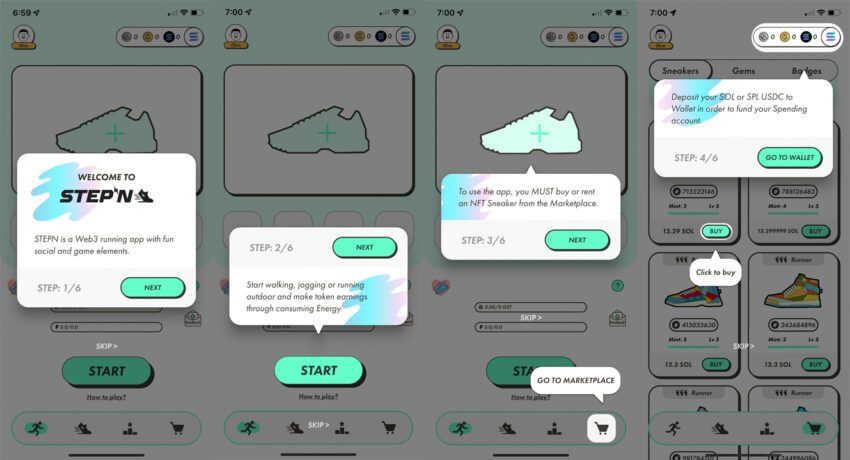 The STEPN platform was designed around moving. Whether running or walking, as long as you move, you earn. Inorder to start using it, users need to purchase a pair of sneakers, which is an NFT. Users can then start earning the game's currency by running, walking, and jogging outdoors. These currencies can be used in-game or cashed out to make a profit.
The two components that STEPN brings together are GameFi and SocialFi. With GameFi, STEPN aims at influencing millions toward a healthier lifestyle, while also discouraging high carbon emission vehicles and thus combating climate change. The SocialFi component aims to create a platform that fosters user-generated web3 content.
The STEPN app has several features, including:
Game modes: Currently, only the Solo Mode is available for users and Marathon and Background modes are under development.
Sneakers: These are NFTs that enable users to start earning GST tokens. Sneakers can have different attributes (efficiency, luck, comfort, and resilience) and can be upgraded by burning GST and customized (under development).
Gems and sockets: After reaching a certain sneakers level, users can get access to gem sockets that can be used to enhance their Sneaker Attributes.
Shoe-minting: Users can mint a Shoebox when they have two NFT Sneakers. The cost of the minting and type of received sneakers depend on the type of the initial Sneakers (common, uncommon, rare, epic, or legendary).
Badge: Users can receive different badges for completing in-game tasks. These badges can offer perks that can influence the gameplay (extra energy or bonus points), shoe-minting (lower minting costs or extra changes of leasing a Sneaker), or special governance perks.
The SocialFi elements are yet to be revealed by the STEPN team, after all the GameFi elements have been released.
STEPN's roadmap
The first design of the STEPN app was released in Aug. 2021 and the beta test was finished in Nov. 2021. The app is now in the public beta phase and by the end of 2022 is expected to release more features, such as a multi-chain wallet upgrade, and a rental and achievement system. The SocialFi element is set to be announced by the end of the year.
How does the STEPN app work?
STEPN is a web3 app, and it has several GameFi elements that aim to differentiate it from other fitness apps available today. According to the STEPN's whitepaper, the main GameFi elements are:
Different game modes
Sneakers NFTs
Shoe-minting
Gems to upgrade sneakers
Badges
Game modes
The STEPN app features three game modes — solo, marathon, and background. The last two are still under development, but users can start earning in the solo mode.
To start earning GST, users need an NFT sneaker. After selecting the Sneaker of their choice and pressing start, they can get underway. Users need Energy to earn GST. For every five minutes of activity, users receive one Energy. The app uses GPS to recognize when the users are moving organically. It can recognize when the user is on an electric scooter or has the phone strapped to his dog. These cases are called Moonwalking and are not rewarded.
Users should make sure they have Energy before they start moving. They cannot earn GST tokens without Energy. The Energy meter will start to replenish only after the user has acquired an NFT Sneaker.
The GST/GMT rewards are paid for every minute the user moves. The rate at which the user can earn tokens depends on the type of NFT Sneakers he uses, the Sneaker's efficiency attribute, comfort attribute, and speed of movement.
While moving, each user can randomly drop a mystery box that contains Gems. These help in upgrading Sneakers. Each user has four Mystery Box slots.
In Marathon, users can access the events that require registration at least 24 hours prior. You can participate in only one event at a time. Users are ranked by points and a percentage of the top users receive Gold, Silver, and Bronze NFT Badges.
The background game mode allows users to earn GST tokens as long as they have a Sneaker NFT. The steps are counted from the device's native health data, at a maximum of 3,000 steps per day. The marathon and background game modes are still under development.
NFT Sneakers
The NFT Sneakers in STEPN can be defined by their:
Attributes
Type
Quality
Level
Customization
1. Sneaker attributes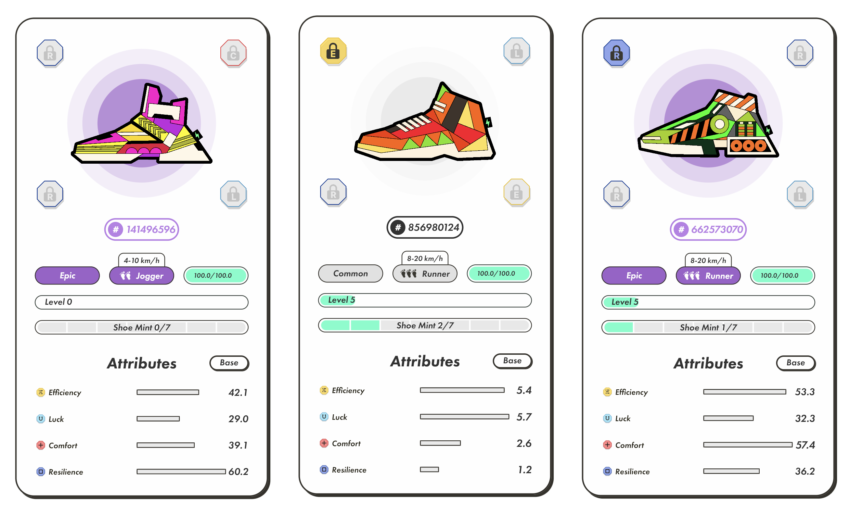 Sneakers are NFTs that need to be purchased by users before they start earning GST tokens. These NFT Sneakers can have different attributes that can increase the pace at which a user earns tokens or delivers other bonuses. The Sneakers attributes classify into four modes:
Efficiency: It affects the rate at which users earn GST tokens for every Energy spent (Solo game mode) and helps the user accumulate points faster (Marathon mode).
Luck: It determines the quality and frequency of a Mystery box drop.
Comfort: It affects the rate at which users earn GMT tokens. Still under development.
Resilience: It refers to the durability of the Sneaker NFT. For instance, a Sneaker NFT with higher resistance will have a slower Durability decay. The Durability acts as a stamina bar, which decreases when the user moves until it eventually gets worn out. Durability is important because the efficiency drops along with it.
These attribute points can be reset by burning GST/GMT tokens. These resets get more expensive over time.
2. Sneaker types
There are also different types of NFT Sneakers, which are designed for different fitness levels:
Walker (1–6 km/h, 4 GST / 1 Energy spent)
Jogger (4–10 km/h, 5 GST / 1 Energy spent)
Runner (8–20 km/h, 6 GST / 1 Energy spent)
Trainer (1–20 km/h, 4–6.25 GST / 1 Energy spent)
There are also other factors that influence the rate at which users earn GST tokens, including Sneaker efficiency, GPS signal, mobile data, and randomization. When the GPS or data signal is weak, the earnings are reduced. More info about the GMT return rates will be announced in the future.
3. Sneaker qualities
The NFT Sneakers can have five different qualities that can influence the attributes of each Sneaker, as follows:
Common (1–10 attribute)
Uncommon (8–10 attribute)
Rare (15–35 attribute)
Epic (28–63 attribute)
Legendary (50–112 attribute)
The attributes for each Sneaker are chosen at random between the minimum and maximum quality values.
4. Sneaker level
The NFT Sneakers have different levels. To upgrade the level of the Sneaker, users have to burn GST tokens. Furthermore, each level has a fixed time. As the Sneaker increases the level, it requires more GST and time. Users will also need GMT tokens to level a Sneaker to level 29 and 30.
With each level up, users will also receive between 4 and 12 attribute points, This depends on the Sneaker quality.
At the same time, users will receive access to additional features as they level up their Sneakers. To start earning GMT tokens, they will need to reach level 30. When reaching the max level, users will have to choose between earning GST or GMT tokens. They can switch between them at any time, but here is a cooldown time.
5. Sneaker customization
When a Sneaker reaches level 30, users have the option to customize Sneakers by burning GST or GMT tokens. Users can add attribute points, and change the name of the NFT.
STEPN is also looking to work with premium Sneaker brands to release branded Sneakers. They did a special event with ASICS, which awarded GMT vouchers on the Binance NFT marketplace.
Gem sockets
There are four different kinds of Gems, to correspond to each sneaker attribute (efficiency, luck, comfort, and resilience). After the Sneakers reach a certain level, these Gem Sockets are unlocked and can be used to place the corresponding Gems to boost the Sneakers' attributes.
Gems can be upgraded by burning GST tokens and combining three gems of the same type. GMT tokens are needed to upgrade Gems after they reach level 4.
Badges
The Badges feature is under development. The users will be able to earn badges that offer different perks by completing in-game tasks. Better Badges are awarded for completing harder tasks. Some of the perks that can come with one Badge are extra leaderboard points and Energy, lower minting costs, or some extra advantage for governance (more details are expected).
Dual token economy
The STEPN app has an ecosystem that operates on a dual token economy model. There are two tokens available that users can earn using different methods. The two tokens used in STEPN app are GMT and GST.
GST, or Green Satoshi Token, is an in-game utility token that can be used for purchasing goods in the app. GST has an unlimited total supply and can be created by simply using the STEPN app to record physical activity. These tokens are burned when used to upgrade your gaming mode, such as:
Shoe-minting
Repair
Leveling up Sneakers
Gems upgrade
Unlocking Socket
GMT, or Green Metaverse Token, is the native token of the STEPN project. It has a limited supply of six billion tokens. It is used for governance, but it is also needed in the game for upgrades after a certain level. Both GST and GMT tokens can be exchanged for other coins on cryptocurrency exchanges after reaching level 30.
30% of GMT tokens will be released to users through the move and earn feature and for governance participation. Every three years, the GMT release is halved. To start earning GMT using the STEPN app, users need to reach level 30 and have at least 3 Energy.
STEPN (GMT) price and price prediction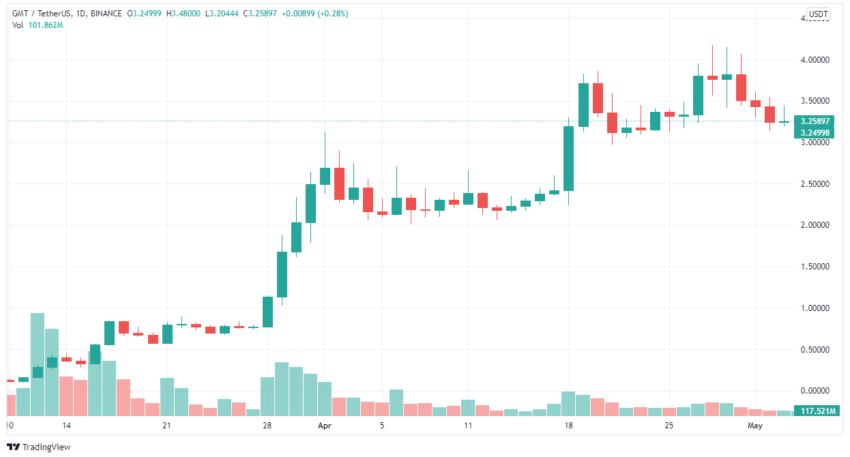 According to WalletInvestor, the price of STEPN (GMT) could reach $21 by the end of 2022, and $135 by the end of 2027. The price of the GMT token has risen by more than 2500% in recent months, making it one of the most successful web3 crypto tokens in 2022.
But remember, nothing in crypto is certain. Never invest more than you can afford to lose.
Where to buy GMT
STEPN (GMT) is listed on the most popular cryptocurrency exchanges, including Binance U.S, Gate.io, Huobi, KuCoin, FTX, Bybit, PancakeSwap, and others. 
How to buy GMT
You can buy STEPN (GMT) on any of the centralized exchanges such as Binance U.S or KuCoin or on DeFi exchanges such as PancakeSwap. If you want to buy GMT using your credit or debit card, you will be able to do so using Binance. 
To buy STEPN (GMT) coin, you will need to follow these steps:
Create an account on Binance (or any of the cryptocurrency exchanges that have listed the STEPN token). Note that you will need to complete a KYC (Know Your Customer process).
Verify your account. To enable credit or debit card purchases, you need to verify your account by completing the KYC Know Your Customer) process.
Enter the details of your credit or debit card.
Buy GMT.
A new method to earn crypto
Considering the trading volume for GMT token and the current apps developing on the Solana blockchain, STEPN appears promising.
The metaverse will probably incorporate tools and apps to help users tokenize real-world actions. And STEPN is already stepping into web3, adding game elements to an activity tracker app that most people are already used to. We're all eager to see more features rolling out on the STEPN app in the near future.
If you're going to go for a walk, why not store that effort into a token that you can trade on a cryptocurrency exchange?
Frequently asked questions
How do I get GMT on Binance?
What is the total supply of GMT?
Where to buy STEPN (GMT)?
Disclaimer
In line with the Trust Project guidelines, the educational content on this website is offered in good faith and for general information purposes only. BeInCrypto prioritizes providing high-quality information, taking the time to research and create informative content for readers. While partners may reward the company with commissions for placements in articles, these commissions do not influence the unbiased, honest, and helpful content creation process. Any action taken by the reader based on this information is strictly at their own risk.
Iulia Vasile is a seasoned professional in the cryptocurrency and blockchain industry, working full-time in the field since 2017. With a background in computer engineering, she...
Iulia Vasile is a seasoned professional in the cryptocurrency and blockchain industry, working full-time in the field since 2017. With a background in computer engineering, she...
READ FULL BIO
Sponsored Sponsored