Many investors are constantly exploring new opportunities and, as a result, have diverse portfolios and need tools for tracking their assets. In this Delta Investment Tracker review, we delve into a platform that provides crypto enthusiasts with the tools to monitor their investments and make informed decisions.
Why review Delta, and who is this review for?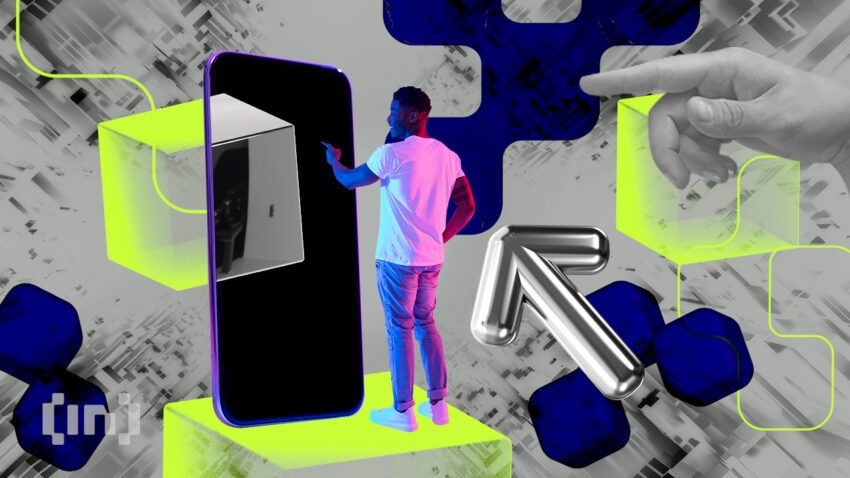 This Delta Investment Tracker review is for those who are constantly seeking investment alpha and, as a result, have a diverse portfolio. If you are a seasoned trader, this review aims to show how the Delta app can empower you to manage your investments with precision. If most of your investments are relegated to a single asset or investment app, you may not benefit as much from this review.
Many traders, even newbies, have multiple portfolios. You may like the execution quality of one broker, the diversity of assets of another, the trading fees of a third platform, and so on and so forth. Additionally, you may dabble in various assets, including stocks, currencies, etc. Ultimately, you will require a way to manage all your investments from one point. At this point, you will need a portfolio tracker.
This Delta Investment Tracker review will help you understand what the Delta app is, how you can get the most out of it, and how the Delta app compares with other portfolio trackers.
Criteria used to evaluate Delta
This review of Delta's Investment Tracker was conducted based on a set of comprehensive criteria. The app's features, including portfolio tracking capabilities, real-time price updates, third-party account integration, and support for diverse asset classes, were scrutinized for their effectiveness and user-friendliness.
The assessment also tested the platform's ability to provide insights into asset movement customization options and weighed how Delta stacks up to its competitors. Additionally, the evaluation considered the availability of free and premium plans and the value-added features offered through the Delta Pro subscription. Overall performance, ease of use, security, and the ability to cater to the needs of a broad spectrum of investors were central factors in the evaluation process.
Let's begin by explaining a bit more about the app and its purpose.
What is the Delta Investment Tracker app?
Official website: www.delta.app
Established in 2017, Delta's origins coincide with a time when the cryptocurrency landscape was notably less expansive compared to its current iteration.
At this time, Delta filled a gap in the market. The crypto industry in 2017 lacked the comprehensive solutions available today, which consolidate the tracking of various assets across multiple exchanges into a single, unified platform.
In 2023, Delta Investment Tracker is a supercharged version of the well-known Delta crypto tracker app. You can use Delta to aggregate multiple broker and exchange accounts, as well as crypto wallets, from a single app.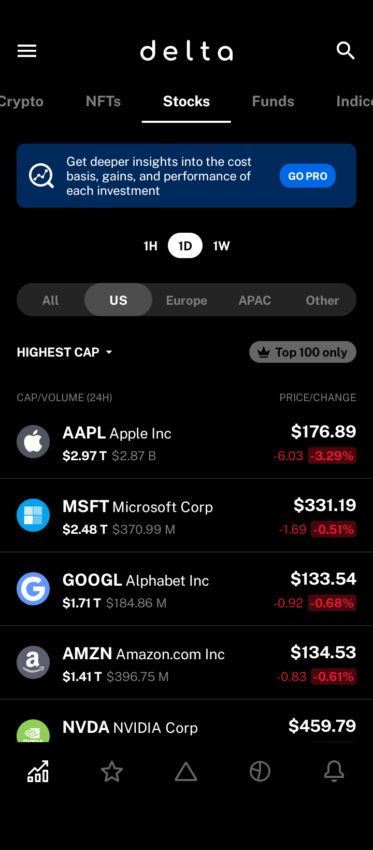 It is available on both IOS and Android. With its enhanced capabilities, Delta has expanded its scope beyond cryptocurrencies, now offering support for various assets. These include:
The app has further plans of expansion for more assets down the road. Delta aspires to provide a solution that allows users to monitor and manage any investment, encompassing a broad spectrum of asset classes. However, the app's roadmap has not been made public as of yet.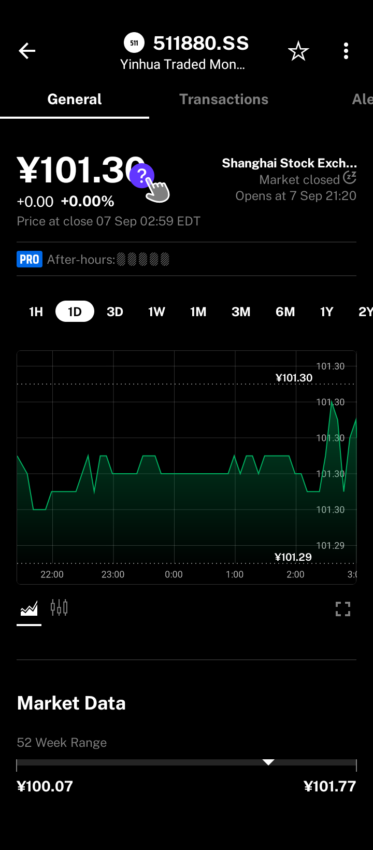 How to sign up
1. Firstly, download the Delta app, open the menu and select "Sign In/Sign Up."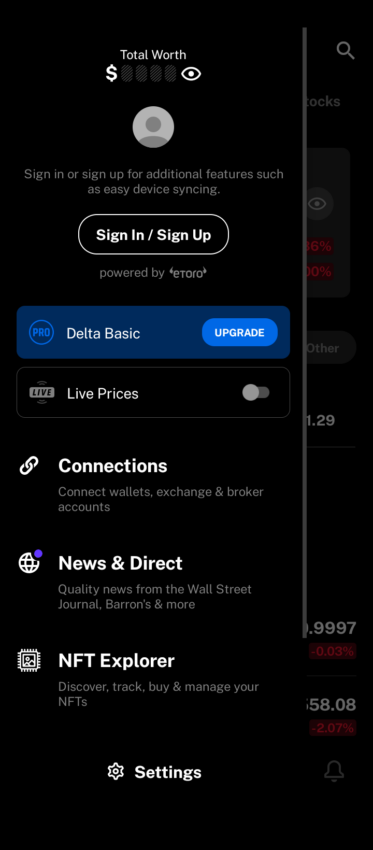 2. You will be redirected to the Delta website. In order to login you will need an eToro account.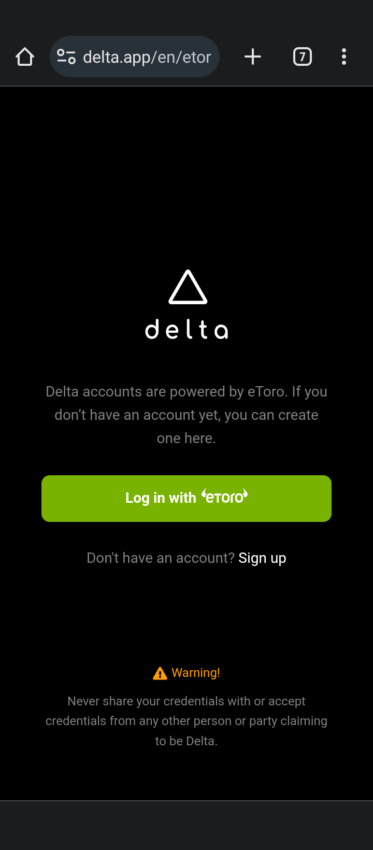 3. You can sign up for eToro by using an email or third-party account (e.g. Google or Facebook).
4. Choose a username and agree to the terms and policies to continue. For further instructions on creating an eToro account, check out this guide.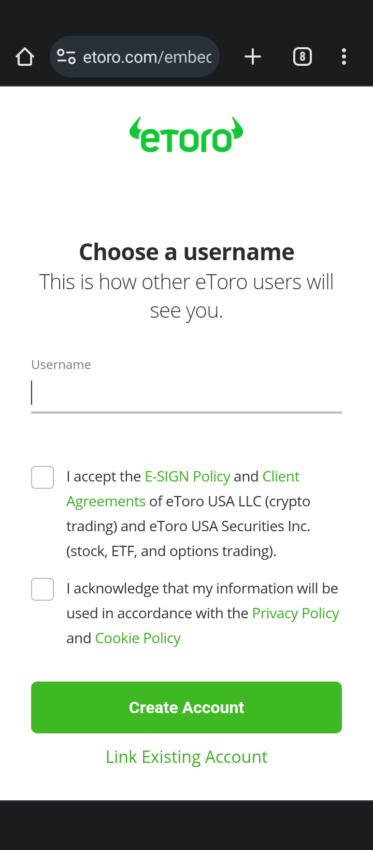 Who is it for?
The Delta app caters to individuals who prefer taking an active role in managing their investment portfolios. If you're someone who values hands-on control and enjoys making strategic decisions about your investments, then the Delta app provides you with the tools to do just that.
Moreover, if your investment portfolio encompasses a variety of asset classes, is across multiple brokerages, exchanges, and wallets, or spans diverse markets such as stocks, cryptocurrencies, and NFTs, then the versatility of the Delta app becomes a valuable asset.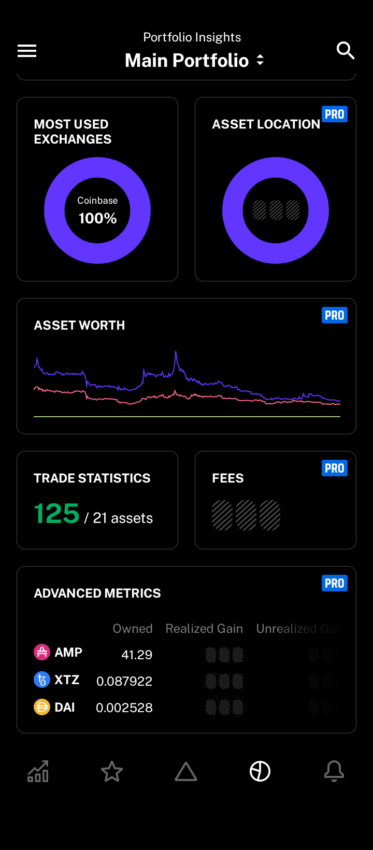 What are the key features of Delta Investment Tracker?
The Delta app offers a robust suite of features. This includes real-time profit and loss metrics across varying timeframes. The platform also enables users to delve into detailed analysis of individual assets.
Additionally, the assets have essential information such as current prices, market data, order book details, and more. Users can also take advantage of Delta Pro for enhanced privileges.
Delta review: A look at the app's features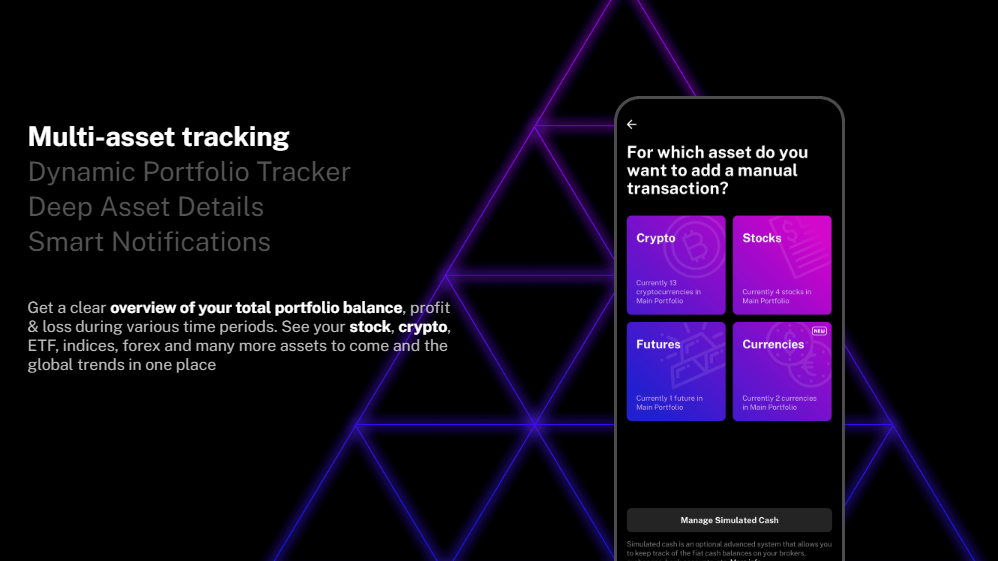 Although tracking multiple assets is a powerful tool, asset tracking alone is not enough to set this app apart. Therefore, Delta comes with other features and even more increased capabilities with a Delta Pro subscription.
Portfolio at a glance: Overview of portfolio balance, profit/loss, across time periods; support for multiple asset types and currencies.
Detailed coin analysis: In-depth asset information, including price, chart, market data, and more.
Watchlist & markets: CoinMarketCap-style list of cryptocurrencies, global market data; expanding to stocks, ETFs, NFTs, and more.
Multiple portfolios: Manage distinct portfolios separately.
Portfolio analytics: Insights into coin distribution, fee breakdowns, top exchanges, and more.
Delta Direct: Direct communication channel with asset teams for real news.
Exchange, wallet & broker connections: Sync portfolios import transactions from exchanges, wallets, and brokers.
Sync & back-up data across devices: Transfer data between devices, back up using a QR code, and connect via eToro.
Price alerts: Set personalized notifications for asset price changes and portfolio value shifts.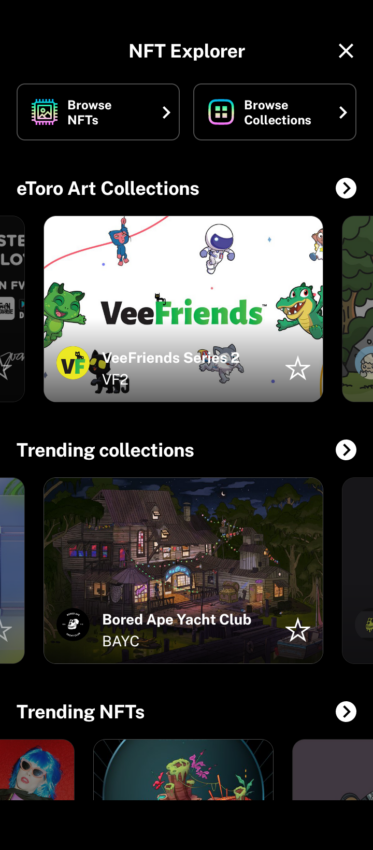 Pros and cons
Looking for a quick overview of our experience with Delta? Here's our main summary of the good and bad of using this app.
Pros
Free comprehensive plan: Access most features with the free plan.
Diverse asset support: Supports a wide variety of assets across different classes.
User-friendly interface: User-friendly interface and design.
Customizable portfolio: Tailor your portfolio and watchlists to your preferences.
Real-time live prices: Stay updated with real-time live prices.
Insightful asset movements: Gain explanations on why specific assets are moving — this feature is particularly impressive.
Cons
Limited exchange/brokerage connectivity: Not all exchanges or brokerage accounts are compatible.
Selective automatic syncing: Certain exchanges may not support automatic syncing for all exchanges.
Syncing limitations: While this hasn't been our experience, some users have reported delays in syncing data.
Free plan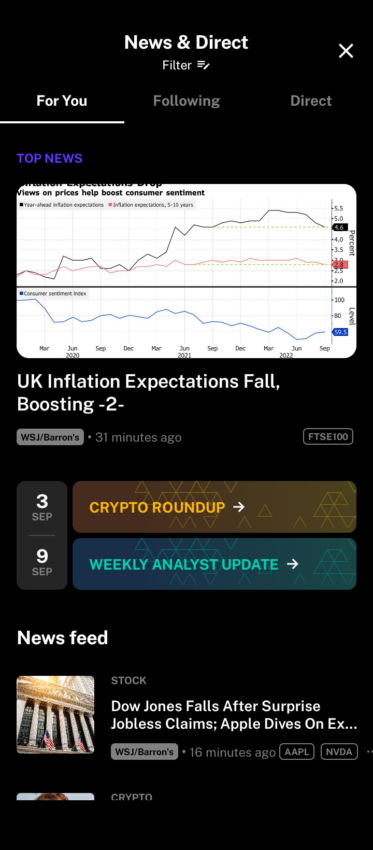 Unlike many services, the Delta app's free plan actually allows you to take advantage of most of its features. The biggest difference between the paid plan and the latter is the number of connections you are allowed to access.
With the free plan, you are only allowed two connections. This means you can only connect two brokerages and/ or wallets at a time. This is also true for device connections. With the free plan, you can only sync up to two devices at a time.
Delta Pro plan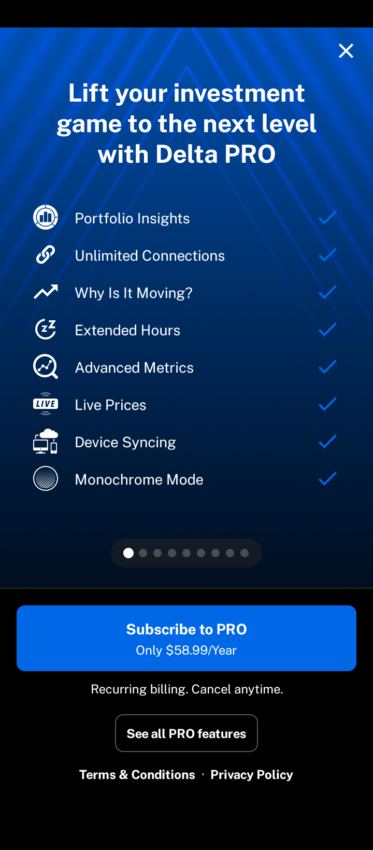 With Delta Pro, you can access a range of exclusive features designed to elevate your portfolio management experience for $58.99 a year. You can explore asset movements, both present and historical, with the "Why Is It Moving?" feature while staying informed through notifications.
Delta Pro also has advanced metrics. With this, you can take a deeper look at your portfolio by tracking realized and unrealized gains, unit and total cost basis, and more for individual assets. This is a great feature if you really want to analyze your performance and learn from any potential mistakes or losses — or, equally, replicate wins!
Additionally, staying updated with live prices is easier than ever. This provides real-time changes without the need for manual refreshes. It also ensures consistency across platforms, as Delta Pro allows you to sync up to five devices.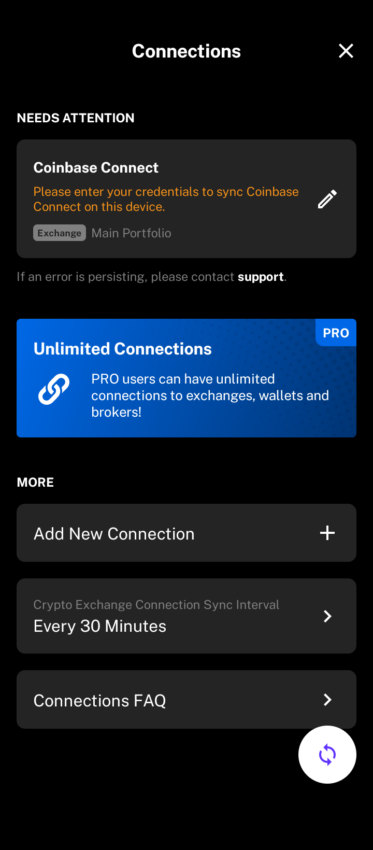 To continue, you can establish connections without limitations, connecting to an unlimited number of exchanges, wallets, and brokers. On Delta Pro, you can also gain valuable performance insights through comprehensive portfolio insights modules.
There is also an app customization feature. You can customize the app's visual style with the exclusive Monochrome Mode, tailoring it to your preferences. Lastly, you can take advantage of early access benefits, giving you a preview of new app additions, including exchange APIs, wallet connections, portfolio analytics modules, and upcoming features, before they're widely available.
Comparison with other alternatives
When compared to its competitors, like CoinMarketCap, Blockfolio, or Yahoo Finance, the Delta app is evidently unique. Many investment trackers today come standard with enhanced price alerts, PNL (profits and loss), and wallet or brokerage account integration.
However, you would be hard-pressed to find an app that aggregates both brokerage and crypto exchange and wallet services, all from one app and at a reasonable price.
Many platforms prioritize crypto or stocks or only allow asset management from a single brokerage/ exchange account. Additionally, unlike many services in general, the Delta free plan provides you with most of the features you will need already.
However, unlike Delta, Blockfolio allows you to purchase some assets (i.e., crypto or web3 stocks) from within the app. Furthermore, CoinMarketCap allows you to purchase crypto as well, with the added benefit of tracking trending crypto, among other categories.
| | | | | |
| --- | --- | --- | --- | --- |
| Feature | Delta App | CoinMarketCap | Blockfolio | Yahoo Finance |
| Crypto & Stocks | Yes | Crypto | Crypto | Stocks |
| Notifications | Yes | Yes | Yes | Yes |
| In-app purchases | No | Crypto | Crypto | No |
| Price | Free/ $58.99 | Free | Free | Free |
Delta has earned its solid reputation
Overall, this Delta Investment Tracker found the app to be a unique platform. In terms of being freemium, the offerings of this app are unbeatable. Even with the premium plan, it's like adding an extra layer to an already impressive package.
The Delta Investment Tracker is recommended for individuals who actively manage diverse investment portfolios spanning various asset classes, including cryptocurrencies, stocks, NFTs, and more. We found the app's features to be easy to use, offering clear and useful insights into not only portfolio performance but, crucially, the reasons behind the performance. As such, the app functions as both a management and a learning device. However, do note that if you are looking to actually purchase crypto or stocks from a portfolio management app, Blockfolio or CoinMarketCap may be better options.
Frequently asked questions
Is Delta app trustworthy?
What is Delta app used for?
Is Delta Investment Tracker secure?
Is Delta a good investment app?
Is Delta Investment Tracker free?
Disclaimer
In line with the Trust Project guidelines, the educational content on this website is offered in good faith and for general information purposes only. BeInCrypto prioritizes providing high-quality information, taking the time to research and create informative content for readers. While partners may reward the company with commissions for placements in articles, these commissions do not influence the unbiased, honest, and helpful content creation process. Any action taken by the reader based on this information is strictly at their own risk.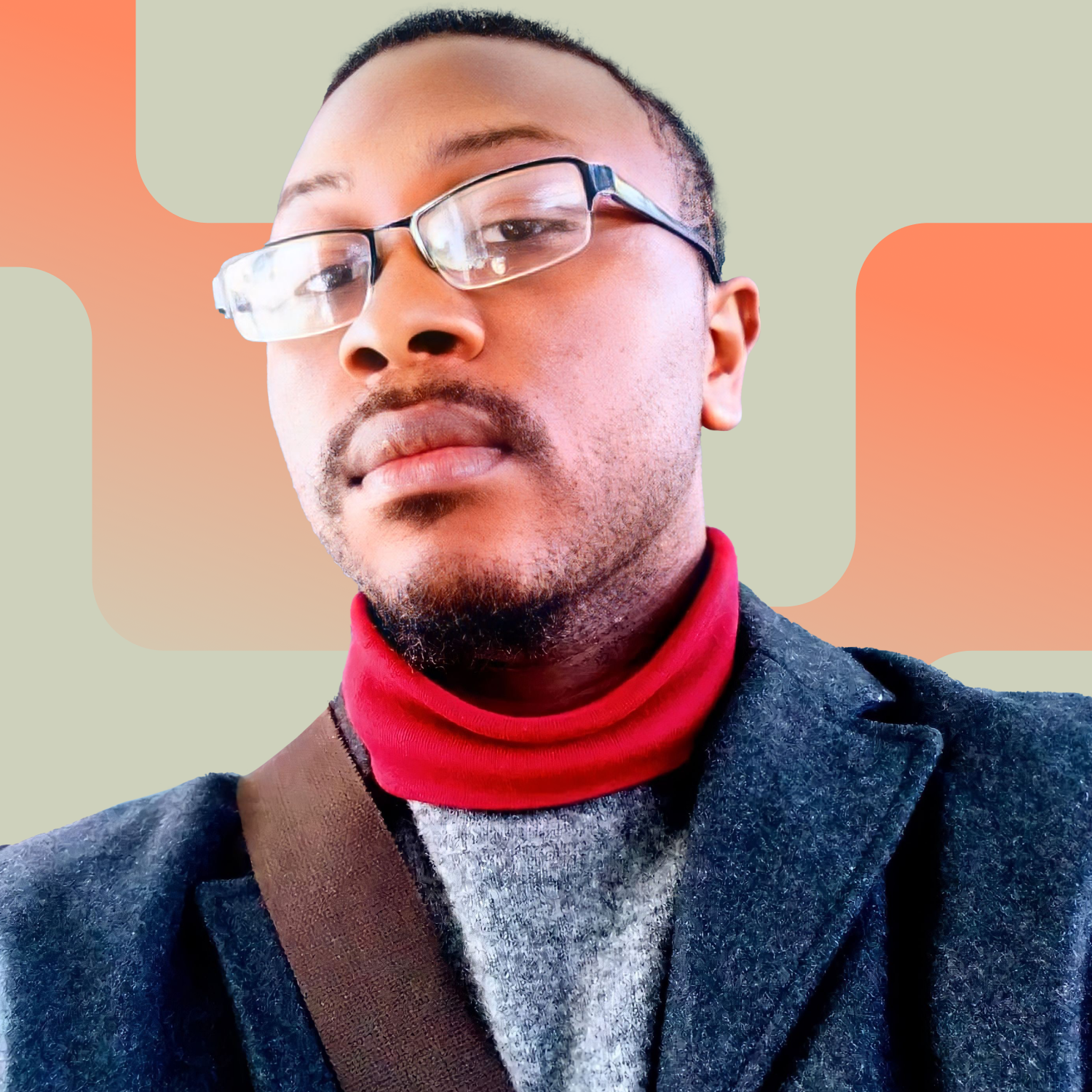 Ryan Glenn is a journalist, writer, and author. Ryan is motivated to educate as many people as possible on the benefits of web3 and cryptocurrency. He has authored "The Best Book...
Ryan Glenn is a journalist, writer, and author. Ryan is motivated to educate as many people as possible on the benefits of web3 and cryptocurrency. He has authored "The Best Book...
READ FULL BIO
Sponsored Sponsored