Decentraland, the Ethereum-based metaverse, is many things — software, a virtual reality platform, and a decentralized game with a focus on player incentivization. The ecosystem allows users to seamlessly build, monetize, purchase, and trade content. Yet unlike other metaverse realms with one native crypto, Decentraland has two — MANA and LAND. This Decentraland price prediction primarily looks at the future price potential of the MANA token.
Also, if you plan to invest in the MANA token, note that it is trading at a 90% discount on its all-time high price of $5.90. And while the feature-laden ecosystem promises a lot, the price of MANA has not always complemented user expectations. Let's take a closer look.
Decentraland price forecast and the role of fundamentals
Before we examine Decentraland fundamentals, it is crucial to note that the ecosystem will lead the Metaverse Fashion Week, set to happen anytime between 28-31 March. With the event expected to see leading fashion brands like Tommy Hilfiger, Adidas, and many more, we might hear of new partnerships for Decentraland in weeks to come.
OVER, one of the largest DeFra (Decentralized Infra) services, has also announced a Decentraland partnership, heightening the expectations of prospective MANA token investors. Yet, the current hype isn't the only exciting thing about this web3 world.
Back to the Decentraland basics
Decentraland is a one-stop digital marketplace for content creators nestled within a decentralized virtual reality platform. It is a full-fledged world with land, collectibles, and avatars.
MANA is the native currency of Decentraland and is an ERC-20 token. Think of it as the official currency of this digital and virtual world, capable of being used for trading, purchasing land, and other services. Additionally, Decentraland boasts a dual-token ecosystem, with LAND — an ERC-721 token — being the second one. Simply put, LAND tokens are more like non-fungible tokens with values dependent on exclusivity and user sentiments.
Here are some additional Decentraland-specific insights:
MANA tokens can also serve as governance tokens. Users can convert them to wMANA (Wrapped MANA) and commit them for voting via the Decentraland DAO.
The ecosystem comprises three layers: consensus, content, and real-time. This allows developers, regular users, and NFT enthusiasts to interact with the platform seamlessly.
Esteben Ordano and Ariel Meilch are the brains behind Decentraland.
The entire ecosystem is made of 90,601 pieces of LAND, both private and public.
If you are a LAND enthusiast, here is a map that you can refer to for easy understanding.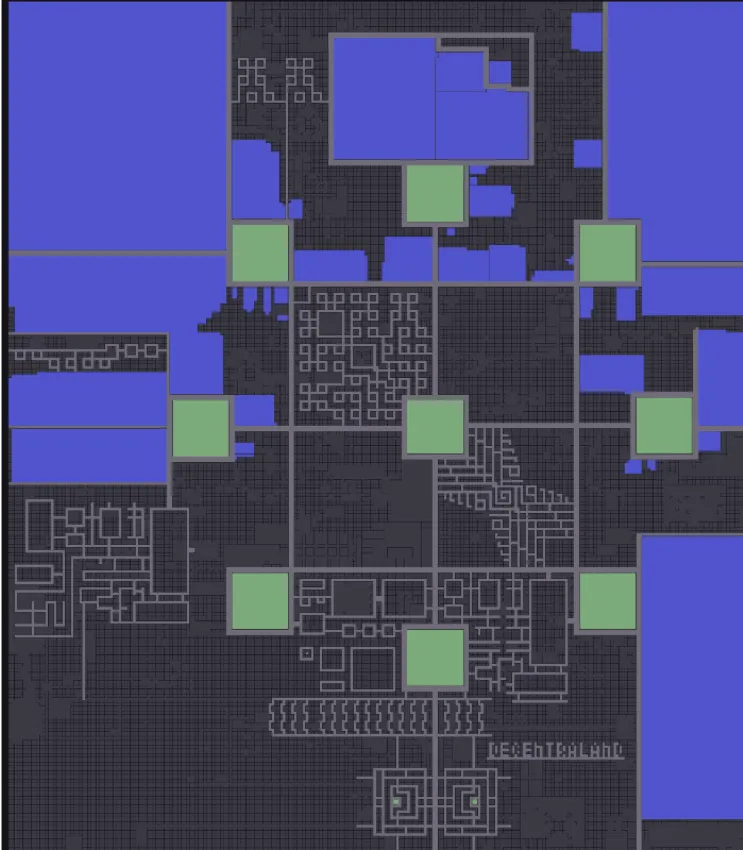 Dark grey areas are private and tradable LAND parcels, whereas the purple ones are DISTRICTS or themed communities. These aren't for sale. Large green areas are PlAZAS, attract high footfall, and aren't available for sale. Areas/Lines in light grey are ROADS and are also not meant for sale.
Decentraland and the NFT marketplace stats
The current state of the crypto market isn't particularly bullish. Over the past 30 days, most cryptos have corrected a fair bit, with MANA taking a 17% hit to currently trade close to $0.57.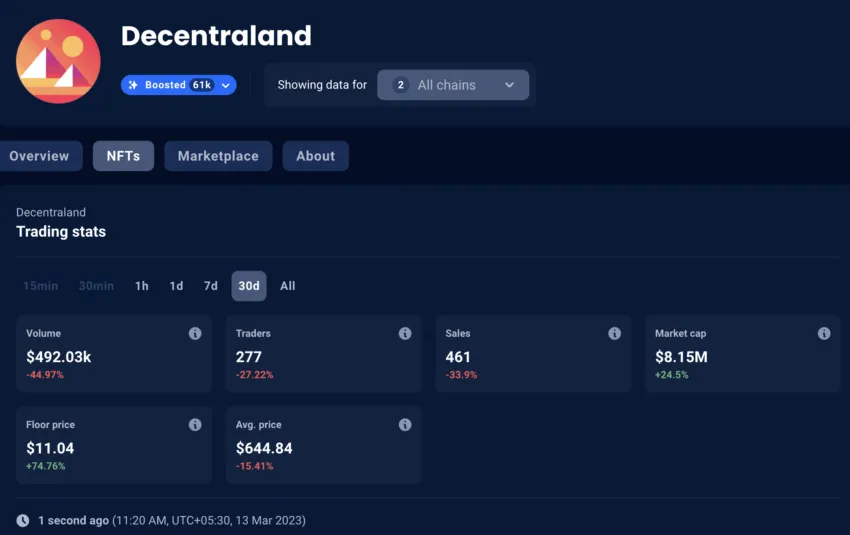 As of March 13, 2023, NFT trading volume has dipped close to 45% month-on-month. Only the NFT market cap has improved, courtesy of the elevated floor price. If you look at the 30-day trading volume, only March 5, 2023, and March 6, 2023, offer optimistic insights in an otherwise tepid market.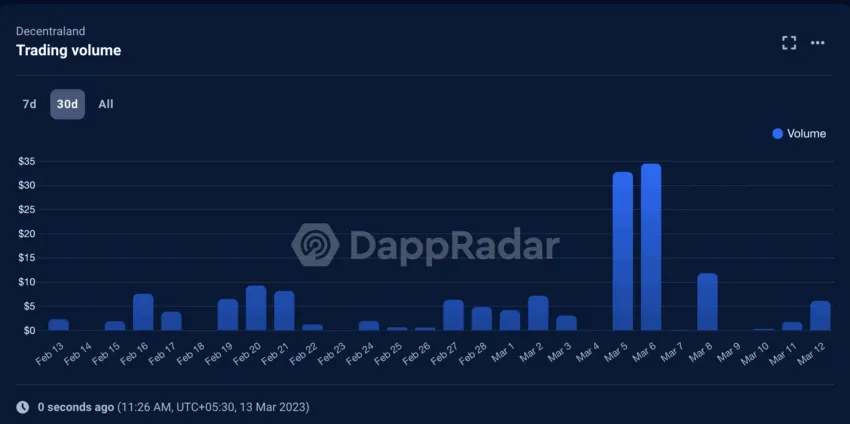 The NFT sales need to increase for the prices of MANA and LAND also to move higher.
Decentraland price prediction and the associated tokenomics
Decentrland's MANA was shelled out as part of an Initial Coin Offering in 2017. Note that 40% of the initial supply was distributed as part of an ICO, whereas three chunks of 20% went out as team allocation, community incentives, and development team or, rather, an early contributor allocation.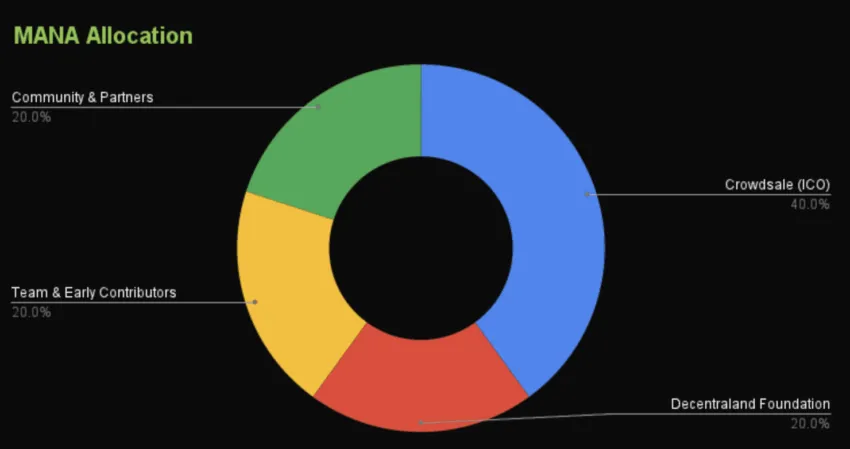 Coming to the total supply, 2.19 billion MANA tokens exist, with almost 600 million already burned courtesy of LAND auctions. At present, close to 70% of the total supply makes the circulating supply. Decentraland even has a 2.5% burn cap set to keep a tab on the growing supply.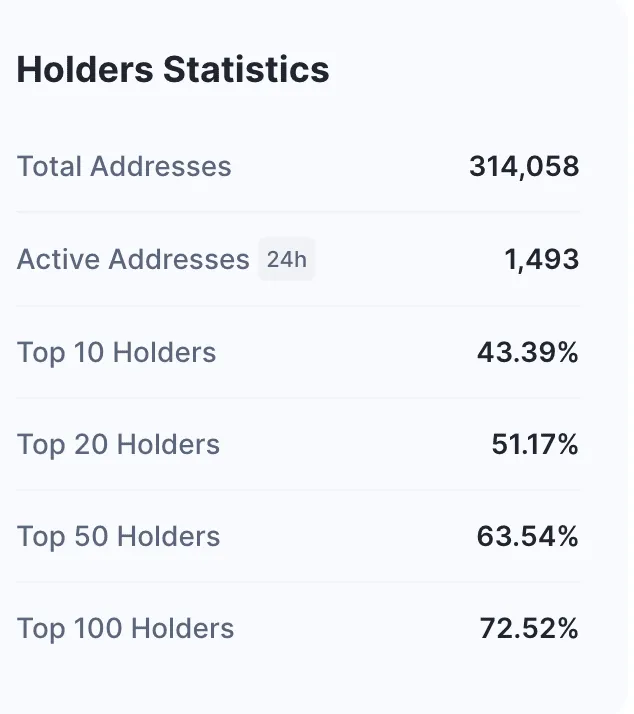 Another exciting thing about MANA is that the top 100 token holders control only 72% of the entire circulating supply. This is a better scenario than some cryptos, where the top 100 holders are in control of almost 95%.
Key metrics and the Decentraland price forecast
While we shall take a close look at the Decentraland price prediction levels using the price charts and technical analysis, let's first cover the on-chain metrics.
Even though the prices have dipped, the exchange inflows have steadily declined. This shows that not many MANA holders plan to sell their holdings aggressively.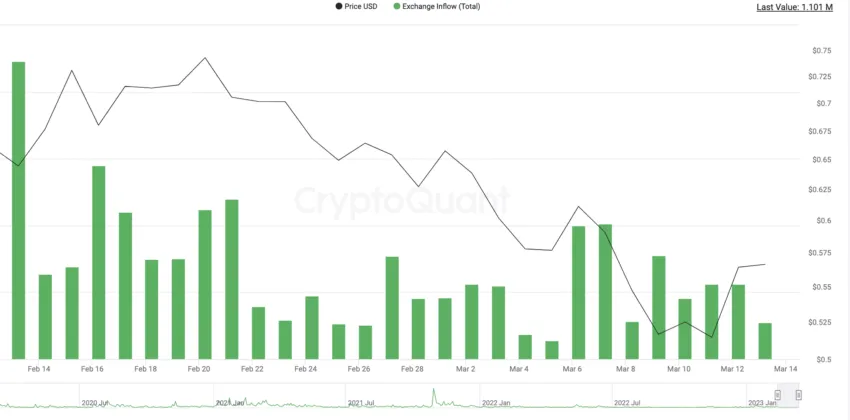 Moving to the active addresses, there has been a surge in the number of people interacting with Decentraland in any given capacity. If the active addresses keep surging, we might see the prices go up in near-time. Notice that the active address chart has been making higher highs, and the trend needs to continue for an up-move.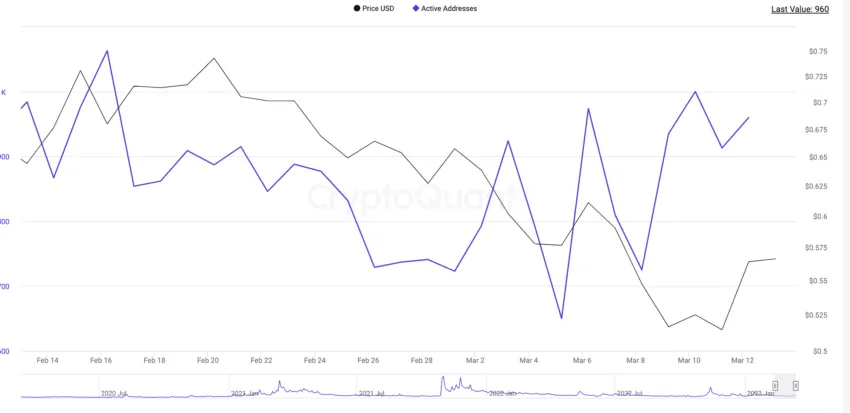 Overall, the metrics indicate positivity, which might translate into gains once the broader crypto market turns bullish.
Decentraland price prediction and technical analysis
MANA has been trading in a make-or-break zone between $0.50 and $0.80. Let us see how the price action translates into long-term and short-term price movements for MANA.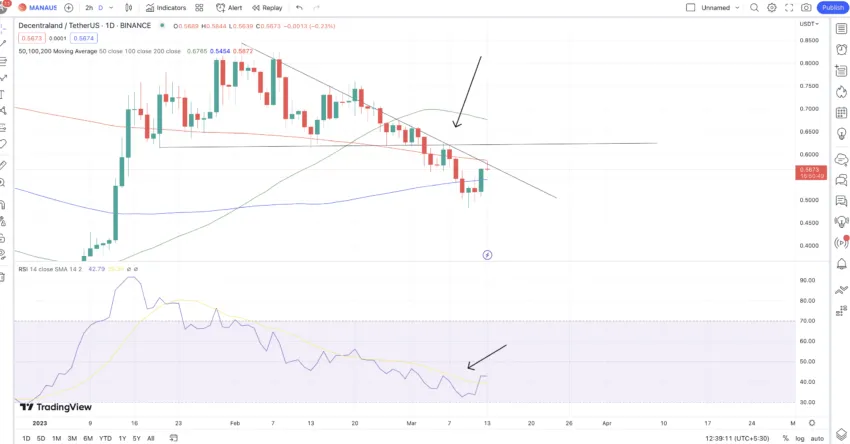 The daily chart clearly shows a breach of the horizontal trendline at $0.62. At present, MANA is trading close to $0.57, which is the next support at the 100-day moving average line (blue line). The RSI has crossed above its moving average line (yellow line), indicating some positive momentum at the counter. However, the green line or the 50-day moving average is placed at the strong resistance level of $0.68, which needs to be breached first if you want the MANA token to move higher — towards $0.80.
Price identification
The weekly price chart of MANA shows a higher high formation to the peak, followed by a lower high formation to the current levels.
Let us first mark all the maximum prices and minimum prices associated with the weekly chart to acquire usable data. Here is the marked chart.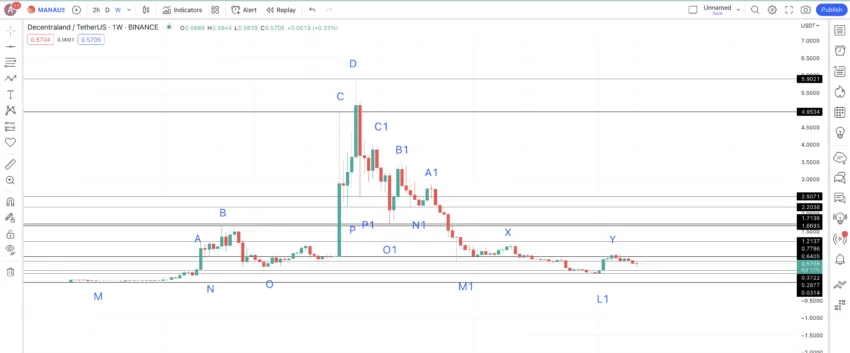 Things to infer from the weekly chart:
The RSI is forming a bullish divergence, which might hint at a trend and even pattern reversal. We can then assume that a new pattern starts soon after Y.
We would still need to locate the next low after Y, which will help us complete the pattern better.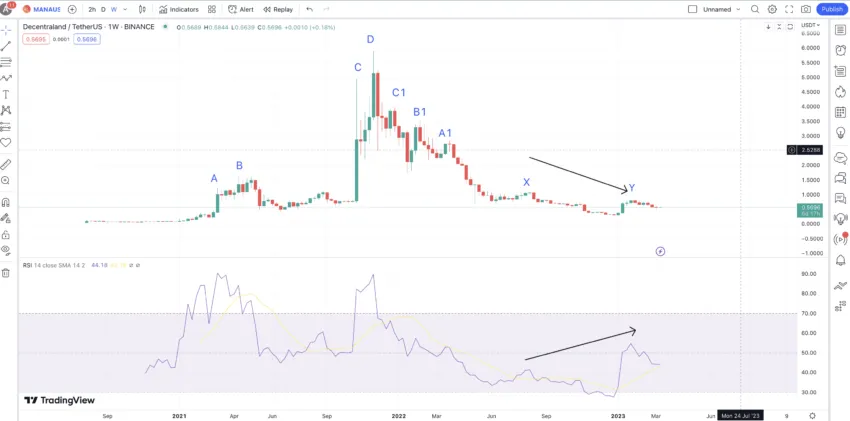 Price changes
We can find the price percentage and distance between each point corresponding to two paths: M to D and Y to D (reverse path of D to Y).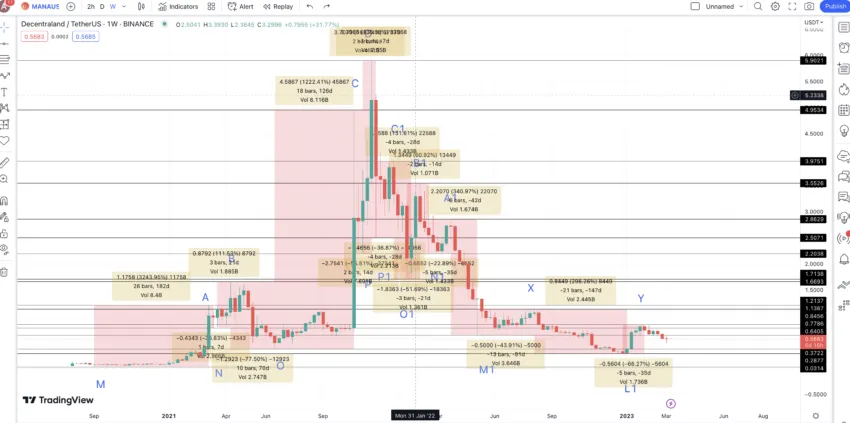 That's quite a lot of data points. We must take the average of the non-negative and negative column values to locate the probable points for the next low-to-high and the next high-to-low moves.
Low-to-high average (non-negative column values): 634.64% and in 7 to 182 days (from the tables above).
High-to-low average (negative column values): -48.81% and in 7 to 91 days (from the tables above).

The price percentages between the highs and lows can vary depending on the market conditions. They might not always adhere to the average values and can be higher or lower. We shall now use the data sets and calculated values to locate Decentraland price prediction levels till 2030 and even onwards.
Decentraland (MANA) price prediction 2023
Outlook: Bullish
Now that we have the last high at Y, we can use the high-to-low average to locate the next low, which can also be M2. Using a -48.81% drop, we can expect the next low for the MANA token to surface at $0.43 by May 2023.
If the market conditions strengthen a bit by May 2023, we can expect a new pattern to start. Therefore, the projected A2 from M2 could be at a high of 340.97% in 182 days. This is the level closest to the average of 634.64%, from table 2.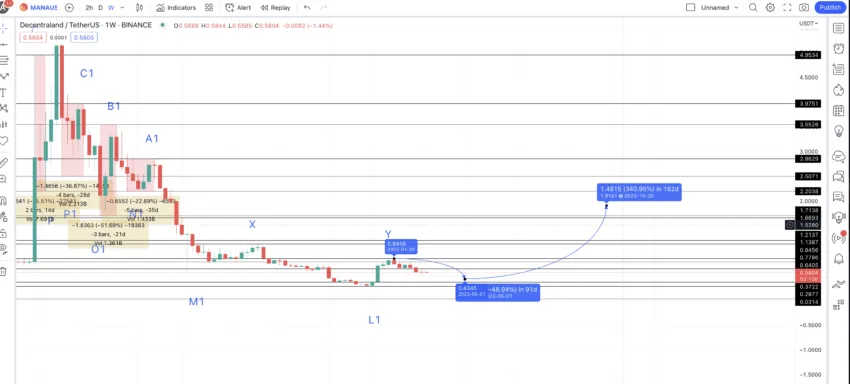 Decentraland (MANA) charted gains of almost 90% in January alone. Therefore, a 340% gain isn't unlikely in the span of 6 months or so. Hence, A2 can surface at $1.92 by the end of 2023.
Projected ROI from the current level: 242%
Decentraland (MANA) price prediction 2025
Outlook: Bullish
The next low, or N2, can be at a 48.81% dip from A2. This puts N2 at $0.97 by early 2024. Notice how N2 doesn't fall lower than the key support levels and remains higher than M2. Therefore, the next high, or B2, could move as high as 340.97% — like M2 to A2. This would place B2 at $4.30.
The metaverse market is expected to grow at a CAGR of 41.60% between 2023 and 2030, which gives more weight to this kind of meteoric price hike.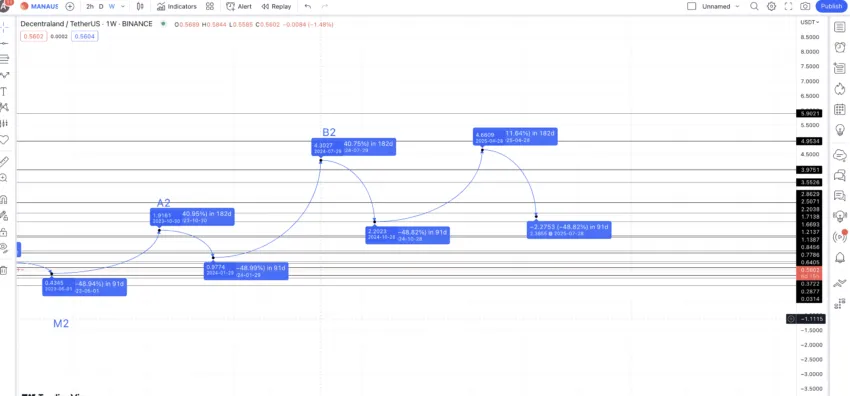 The next low from B2, using the average of 48.81%, puts the low O2 at $2.20. From this point, we can expect the MANA price prediction for 2025 to surface at $4.66. This translates into a hike percentage of 111.53%, the second lowest one from the tables above.
Note: We resorted to a lower growth percentage as after reaching almost $4.5 in 2024, long-term holders might consider getting out. Hence, the 2025 high could be a bit less aggressive. Still, we expect the MANA price prediction for 2025 to be higher than that of 2024.
The next low, or the Decentraland price prediction low in 2025, could drop to $2.386.
Projected ROI from the current level: 732%
Decentraland (MANA) price prediction 2030
Outlook: Very bullish
From the 2025 low, we can expect the next high to again follow a price hike of 131.61% — the third lowest growth percentage — as there will be new players and the onset of the bull market in sight. Therefore, D2 could surface at $5.53. It would therefore take some doing for MANA to breach its all-time high and a strong resistance level of $5.90.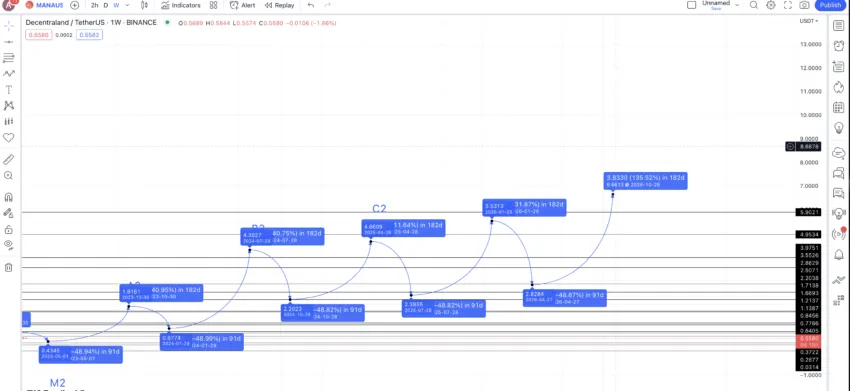 The Decentraland price prediction low for 2026 could then go as low as $2.82. The next high from this level could go as high as 135.36% (fourth lowest growth percentage). This would place the 2026 high at $6.66. Hence, we expect the price of MANA to breach its all-time high in 2026.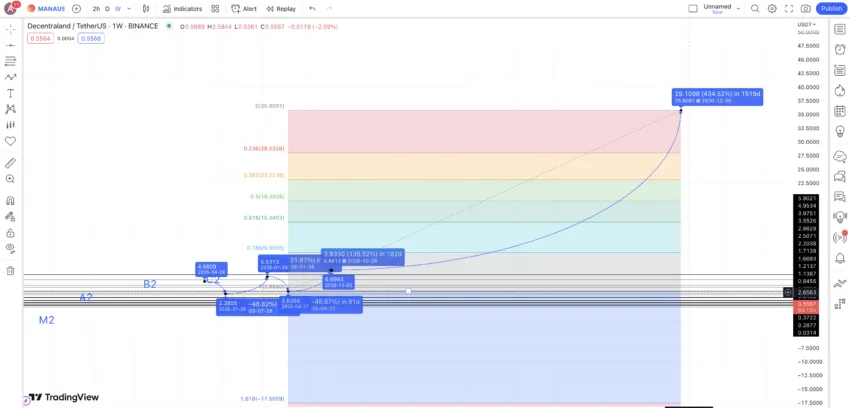 Now that we have the 2026 low and the 2026 high, we can use the Fib levels to extrapolate the prices till 2030. This extrapolation might not be completely accurate, but it does paint a picture regarding the MANA price prediction till 2030.
This puts the Decentraland price forecast for 2030 at $35.81.
Projected ROI from the current level: 6295%
Decentraland (MANA's) long-term price prediction (till 2035)
Outlook: Bullish
Now that we have the maximum prices and minimum prices for the MANA token till 2030, we can extrapolate the same to locate the price projections till 2035. Here is a table for your reference:
| | | |
| --- | --- | --- |
| Year | | Maximum price of MANA | | Minimum price of MANA |
| 2023 | $1.92 | $0.43 |
| 2024 | $4.30 | $0.97 |
| 2025 | $4.66 | $2.39 |
| 2026 | $6.66 | $2.82 |
| 2027 | $11.65 | $7.22 |
| 2028 | $17.47 | $10.83 |
| 2029 | $28.83 | $22.48 |
| 2030 | $35.81 | $22.20 |
| 2031 | $57.30 | $35.52 |
| 2032 | $74.48 | $58.33 |
| 2033 | $89.38 | $69.71 |
| 2034 | $102.78 | $63.72 |
| 2035 | $154.18 | 120.26 |
Is the Decentraland price prediction model accurate?
This Decentraland price prediction model considers the fundamentals, tokenomics, on-chain metrics, and technical analysis of this feature-laden metaverse and its native tokens. As such, we consider it to be as accurate as possible in a dynamic and often volatile crypto market. However, for each of these price levels to hold, the NFT marketplace and the market cap relevant to Decentraland must continue to grow and onboard new users into web3.
Frequently asked questions
Does Decentraland have a future?
How much will MANA be worth in 2030?
How much will Decentraland cost in 2025?
Can MANA reach $100 dollars?
Disclaimer
In line with the Trust Project guidelines, the educational content on this website is offered in good faith and for general information purposes only. BeInCrypto prioritizes providing high-quality information, taking the time to research and create informative content for readers. While partners may reward the company with commissions for placements in articles, these commissions do not influence the unbiased, honest, and helpful content creation process. Any action taken by the reader based on this information is strictly at their own risk.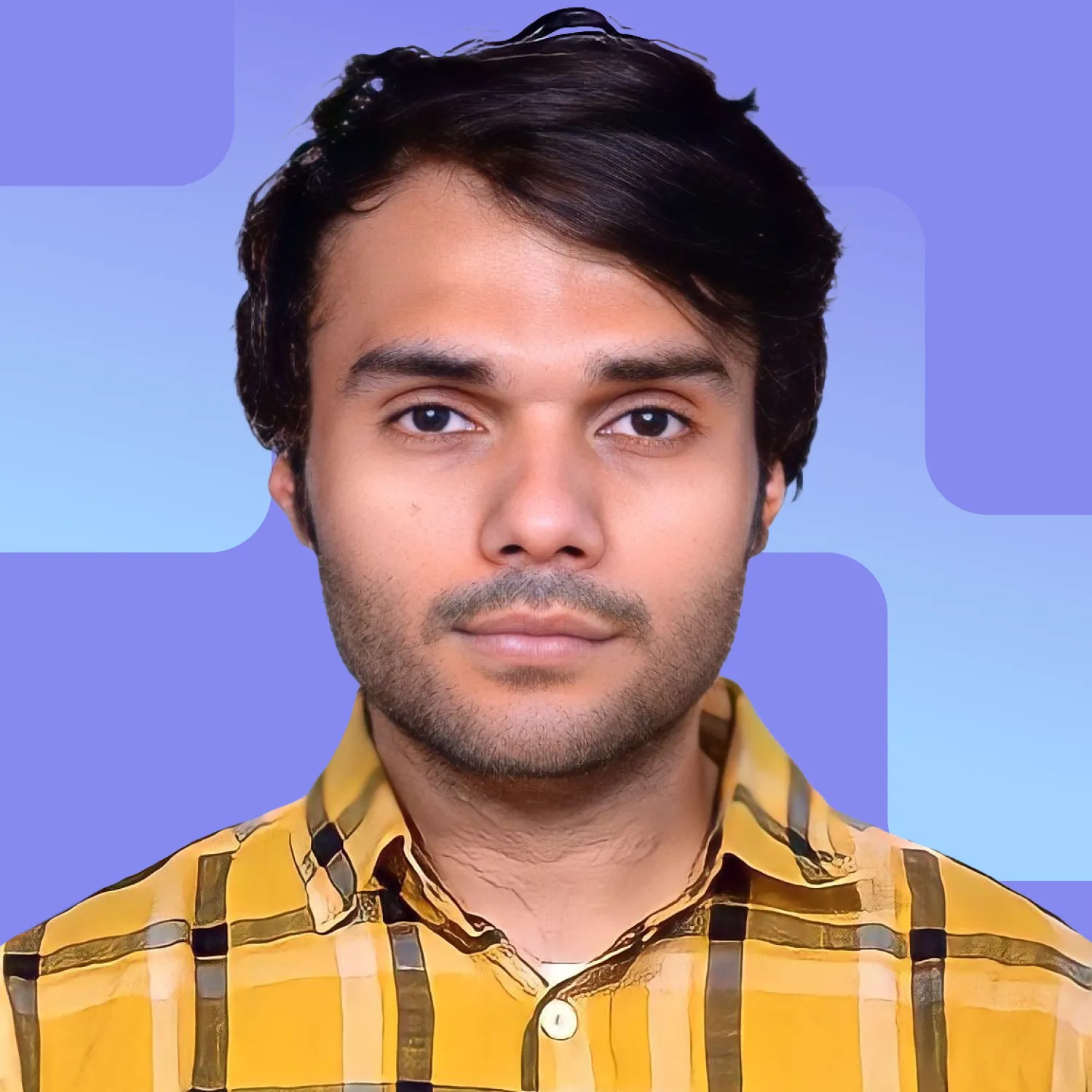 Ananda Banerjee is a technical copy/content writer specializing in web3, crypto, Blockchain, AI, and SaaS — in a career spanning over 12 years. After completing his M.Tech in...
Ananda Banerjee is a technical copy/content writer specializing in web3, crypto, Blockchain, AI, and SaaS — in a career spanning over 12 years. After completing his M.Tech in...
READ FULL BIO
Sponsored Sponsored