Despite the enduring bear market and jitters across financial markets, a splurge of new and innovative crypto projects is bubbling under the surface. A number of exciting projects are offering investor-friendly Initial Coin Offerings (ICOs). Ranging from decentralized platforms to carbon trading marketplaces, ICOs offer openings for savvy investors to buy into projects early. This article looks at seven of the best upcoming ICOs to watch out for in 2023.
What are ICOs?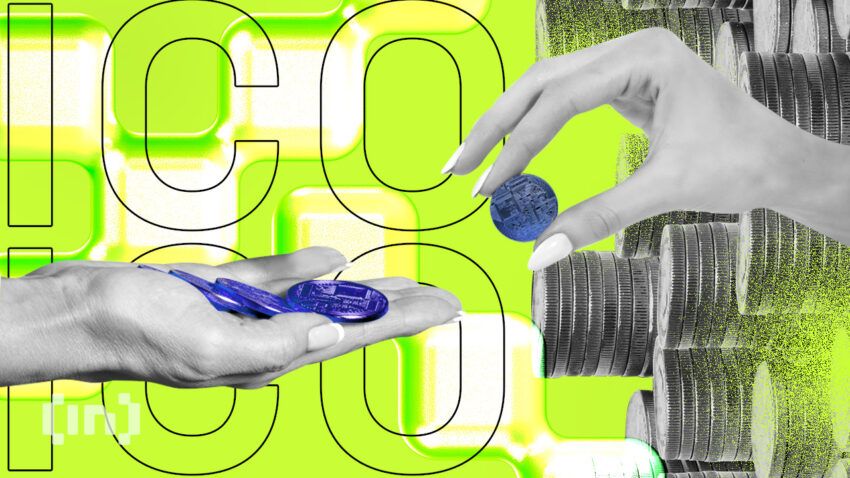 Initial Coin Offerings, otherwise known as ICOs, allow crypto projects to raise money by selling coins or tokens to investors. They are also often called presales, allowing investors to buy into a project early, before general token sales. Early buyers benefit from lower prices, which incentivizes buyers to come on board early and helps create hype and momentum behind a project.
These crypto projects come in different forms:
• Utility tokens: These are the most popular type of ICO. The token design offers the issuing company access to a particular product or service. These tokens can be used for multiple purposes, such as accessing a platform's features, playing to earn, or purchasing goods and services.
• Security tokens: These ICOs represent traditional securities such as stocks and bonds. However, these tokens fall under the purview of security regulations. Moreover, investors receive dividends or profit sharing based on asset performance.
• Equity tokens: These tokens are very similar to security tokens. However, these represent the ownership of a specific firm. Therefore, the company's equity holders are entitled to share the company's profits.
• Asset-backed tokens: These refer to tokens backed by physical assets, either gold or real estate. They offer crypto investors an investment option where value is tied to an appreciating asset.
It is important to understand the risks associated with these projects. Nothing in the cryptocurrency space is guaranteed.
With that said, let's look at some of the most promising ICOS of 2023.
Top 7 upcoming ICOs to watch out for in 2023
Minima is a blockchain and P2P network designed to be highly accessible. It is compact enough to run on both mobile and IoT devices, making Minima the only mobile native layer-1 blockchain.
Furthermore, Minima is a secure, quantum-resistant, and entirely decentralized network managed by its users. As per its motto: "The evolution will not be centralized!"
The Minima network enables people or devices to exchange value or information securely, directly, and without third-party interference. The best part of Minima is that it does not control any actions on the network; it is entirely user controlled. Each user who downloads the app gains authority in the network as an equal participant. This works as every user runs a full constructing and validating node on their device.
Minima's Public Presale is for Wrapped Minima ($WMINIMA).
Moving to tokenomics, 100% of Native Minima (1,000,000,000 $MINIMA coins) were minted at the Token Generation Event, and 12.5% of these coins will be wrapped on the Ethereum blockchain as ERC-20 tokens (125,000,000 $WMINIMA coins), in order for Wrapped Minima to be tradable on exchanges shortly after the event.
Minima has a capped supply of 1 billion coins. The protocol operates with a deflationary 'burn' mechanism, which will create scarcity over time. While the first tranche of the Presale is now sold out, investors still have a chance to buy WMINIMA in tranches two, three, and four and remain early in Minima's journey toward becoming the backbone of the blockchain mobile revolution.
Some notable partnership announcements should also enthuse would-be investors: the company is racking up a number of disruptive partners across multiple industries. These include mobilityXlab, Inferrex, Volvo, Polestar, Erricson, and Veoneer.
Minima ICO details
Presale date: Started Feb.14, 2023. Minima's Presale is live until 10:00 UTC 21st March.
Purchase methods: Fiat and crypto, including USD, EUR, ETH, BTC, and LTC
Min. investment: Tranche one is sold out. Tranches two, three, and four require a minimum of $50 investment.
Meta Masters Guild is a new play-to-earn (P2E) virtual gaming crypto platform. Users can play high-quality games to earn profits.
The project aims to become the largest mobile gaming guild in web3. It also aims to create fun and engaging titles featuring playable NFTs. Therefore, community members can benefit from trades, rewards, and stakes. The first launch saw the release of three games: Meta Masters World, Raid NFT, and Meta Kart Racers.
After buying or earning MEMAG, the native token, via gameplay, players can stake the token into the meta-masters guild to secure future rewards. Most importantly, any NFT sale from a project fetches a 5% royalty fee from the treasury. After claiming or buying MEMAG, players can use the tokens to purchase NFTs and upgrade them over time.
Active members in the community earn rewards such as NFTs, tokens, and other specialized gifts. In addition, there are regular competitions and giveaways for players.
Meta Masters Guild ICO details
Presale date: Jan. 11, 2023
Purchase Methods: ETH, USDT, Transak
Min investment: 1,000 MEMAG
Fight Out is holding an ICO in 2023 for its innovative native token, FGHT. In this innovative play-to-earn platform, players compete and earn rewards in the Fight-out gaming ecosystem. Users can easily create their avatars and complete their Fight-out training to become undisputed Fight-out champions.
The ICO project aims to disrupt the "move-to-earn" space with an innovative fitness app that rewards users by completing various workouts. Fight Out aims to reinvigorate the web3 gaming space by combining real-life achievement with play-to-earn gaming models.
The native token is available on a number of popular exchanges, including BKEX, Uniswap, and BitForex.
As an investor, getting ahead of the curb and purchasing FGHT tokens during the presale stage is highly recommended. Moreover, early investors benefit from an increase in price every 12 hours. Bonus tokens are available to investors depending on their investment and vesting period.
An attractive feature of the ICO is its innovative mobile app, which gives users a Soulbond avatar when signing up. Afterward, real-life stats become your avatar's stats during training.
The Fight Our mobile app features a premium function for content from top-level athletes. This aims to inspire users while guiding them through training levels.
After completing the training schedule, the users are rewarded in the form of REPS. Users can use these REPS to upgrade their Soulbond avatar through cosmetic NFTs and other rewards.
Fight Out Guild ICO details
Presale date: Began Dec. 14, 2022, and ongoing until May 10, 2023.
Purchase methods: USDT, ETH, Transak
Min investment: N/A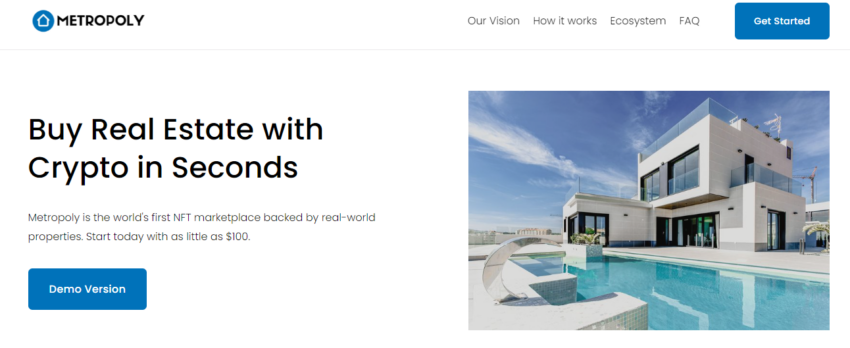 Metropoly is the first real estate NFT ecosystem that allows investors to own real estate-backed NFTs. The main intent of Metropoly is to make real estate accessible to crypto enthusiasts through a global decentralized real estate NFT marketplace. This is regardless of the investor's location or credit score.
Metropoly mints the real estate NFT, which is fractionalized and 100% backed by a physical income-generating property. Moreover, the firm inspects the physical properties beforehand.
The crypto firm finds tenants for this property. Purchased assets can accrue rent while appreciating value. In addition, Metropoly has partnered with established firms in the real estate industry, including Tenset and ChainAdoption.
The process of purchasing the first METRO product is simple.
1. Connect with your Metamask or WalletConnect, available on the Ethereum blockchain.
2. Discover and compare all available real estate NFTs.
3. Purchase your first real estate NFT!
The best part is that no papers are involved.
Metropoly ICO details
Presale date: Began Q4 2022 and ends April 1, 2023
Purchase methods: USDT, ETH, BNB
Min investment: $100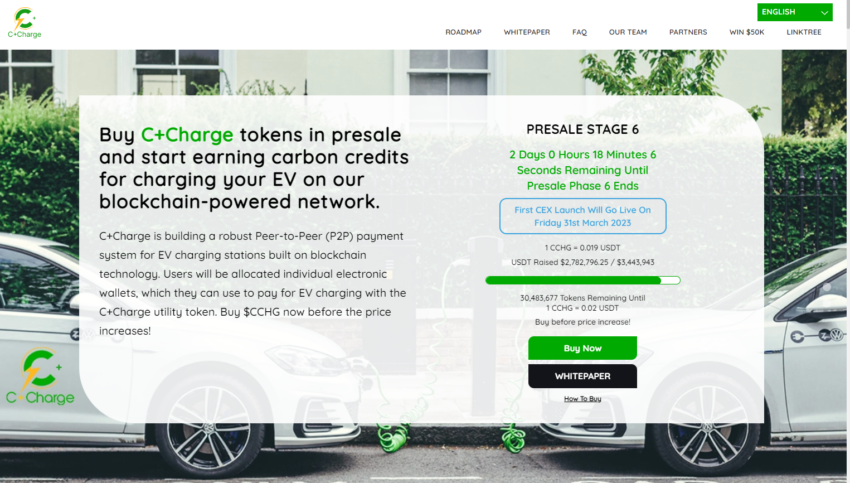 The electric vehicle market has ballooned in recent years. But the potential of the industry is hampered by a number of underlying issues. These include the efficiency and prevalence of charging infrastructure. Both of which make true scalability difficult.
Furthermore, there are currently no set standards for charging customers, and different payment getaways are used at different charging stations. In addition, under the current system. EV carmakers and charging station owners can earn carbon credits. However, drivers and owners do not receive such credits.
C+ Charge aims to change this. The EV charging solution rewards drivers with carbon credits for utilizing the C+Charge network and going electric. The company is building a blockchain-based peer-to-peer (P2P) payment system for EV charging stations. Users are allocated individual electronic wallets. Using these wallets, electric car owners can pay for EV charging using C+Charge ( $CCHG) utility tokens. Users can also earn by accumulating carbon credits and holding their tokens.
Moreover, the project's app allows users to track carbon credit balances based on real-time data and charging points close to them. Plus, it offers real-time pricing metrics and waiting times data at charging points.
Every time tokens are used for a charge payment, they are removed from circulation. This enables a constant supply of demand in the network. The total supply is 1 billion tokens, 40% of which are on sale to the public in this ICO.
The ICO has seen early success, with one whale making a notable purchase of $100,000 worth of $CCHG during stage 1 of the sale.
C+ Charge ICO details
Presale date: The presale started on Dec 19, 2022, and is due to end on April 1, 2023.
Purchase methods: BNB, USDT
Pricing: Token prices began at $0.01300. At the time of writing, the ICO is in its fourth and final stage, with the price at $0.02350.
RobotEra is building a story-led, immersive gaming metaverse. Think Sandbox, but with a focus on planet rebuilding and integrating NFT communities. Users become robots, must acquire resources, manage land and create companions, all aiming to participate in building and creating a new era.
The web3 metaverse's ICO centers around TARO. The native utility token is used throughout the RobotEra ecosystem as the basis for transactions and interactions. This is an ERC-20 utility token built on the Ethereum blockchain.
Gamers, developers, and publishers can use this utility token across different ecosystems. Thus, creators and players can exchange assets while building a user-based reward platform and sharing a unique gaming experience.
On entering the TARO planet, there are seven different continents, each offering unique attributes and characteristics. Players can gain access to these elements by holding their robot NFTs. Moreover, players can submit artwork to appear in metaverse museums, participate in challenges, earn rewards, and build an interacting ecosystem.
In addition, the project is KYC verified by CoinSniper, while SharkTeam audits the smart contracts.
270 million tokens are listed for presale, released over three phases.
RobotEra ICO details
Presale date: The presale started on Nov. 10, 2022, and is due to end on May 30, 2023.
Purchase methods: USDT, ETH
Minimum investment: 1000 TARO
Metacade welcomes players to a web3 community hub, where gamers can meet, interact, and earn crypto while playing arcade-style games.
The platform is as much a virtual hangout as it is a gaming platform. Developers, gamers, and entrepreneurs can all congregate and share interests, skills, ideas, and talent.
Metacade features a Work2Earn protocol designed to create new jobs for blockchain users while earning cryptos in return. In 2024, the platform aims to display a crypto job board that connects the MCADE community to full-time job opportunities and supports players forging careers in crypto.
Upon competition of its development roadmap, the project will be handed over to the community as a DAO.
At the time of writing, the presale is in its sixth stage (with a price of $0.017). With more than $9.3 million raised, there is high demand for the remaining tokens. The final token price will sit at $0.020 before the token is released onto multiple exchanges.
Metacade ICO Details
Presale date: The ICO began in Q4 2022 and will continue until allocated tokens are sold out.
Purchase methods: USDT, ETH.
Price: At the time of writing, the ICO is in its sixth stage with a token price of $0.017 USDT.
Upcoming ICOs offer early opportunities for on-the-ball investors
The ongoing and upcoming ICOs listed in the piece offer diverse opportunities for crypto investors to buy into innovative and forward-thinking projects at low prices. From Minima's game-changing mobile native layer-1 chain to green transport solutions from C+Charge, innovation and opportunity across web3 and in upcoming ICOs is relentless, regardless of wider market conditions.
However, investing in ICOs comes with risks. Always conduct due diligence, do your own research, and never invest money you cannot afford to lose.
Frequently asked questions
What are the best upcoming ICO?
What are the upcoming ICOs in the metaverse?
Where can I find the upcoming ICO?
What is the most successful ICO?
Disclaimer
In line with the Trust Project guidelines, the educational content on this website is offered in good faith and for general information purposes only. BeInCrypto prioritizes providing high-quality information, taking the time to research and create informative content for readers. While partners may reward the company with commissions for placements in articles, these commissions do not influence the unbiased, honest, and helpful content creation process. Any action taken by the reader based on this information is strictly at their own risk.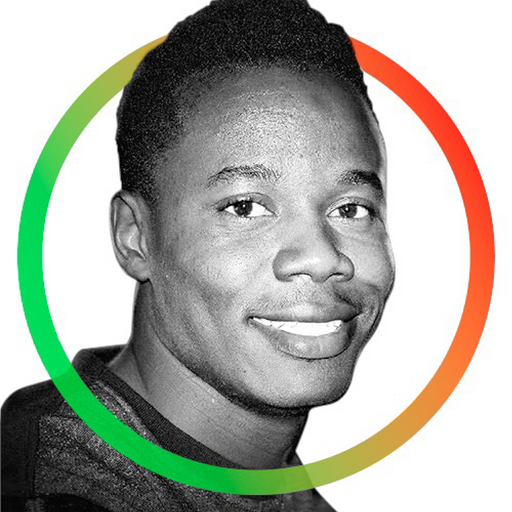 Chris Adede is a versatile professional with five years of experience in content creation, IT, and project management. He has expertise in cryptocurrencies, fintech, and...
Chris Adede is a versatile professional with five years of experience in content creation, IT, and project management. He has expertise in cryptocurrencies, fintech, and...
READ FULL BIO
Sponsored Sponsored